Last Updated on January 27, 2023 by asoulwindow
Srirangam Temple: The Biggest Vishnu Temple of the world!
About Sri Ranganathaswamy Temple or Srirangam Temple
Srirangam Temple or Sri Ranganathaswamy Temple of Tiruchirappalli, Tamil Nadu in South India is the biggest temple devoted to Vishnu Bhagwan. It is a major Hindu pilgrimage which is visited by lakhs of devotees every day.
Srirangam is the holiest sites for Vaishnavites, the devotees of Vishnu Bhagwan. Ram ji and Krishna ji were both avatar of Lord Vishnu. Kalki ji is the next future avatar of Vishnu Bhagwan.
This information packed comprehensive travel guide to Srirangam Temple or Sri Ranganathaswamy Temple of Trichy touches all aspects of the shrine. Do read more blogs on A Soul Window – the undisputed No.1 Indian blog on travel.
Soul Window Facts
Did you know that Sri Ranganathswamy Temple is a rare temple, in which Vishnu Bhagwan faces the south direction? That is not very common in Indian Hindu Temples. Read on for more such amazing facts about Srirangam Temple.
Why Srirangam Temple is world-famous?
My visit to the Sri Ranganathaswamy Temple in Srirangam in Trichy aka Tiruchirappalli, Tiruchi or Tiruchy was unplanned. Also called as the Srirangam Kovil, this ancient Hindu temple is one of the few Hindu temples devoted to Vishnu Bhagwan, one of the trinities from Brahma, Vishnu, Mahesh. In fact, this grand Vaishnava temple is the biggest Vishnu temple in India.
Of all the 106 earthly Vaishnava Divya desams (also known as Vishnu temples) as described in Nalayira Divya Prabhandam, Sri Ranganathaswamy Temple in Srirangam is the oldest one. Nalayira Divya Prabhandam is a seminal work on 12 Alvars.
This is exactly why Srirangam Temple is famous all across the world!Devotees from India and many other foreign nations visit Srirangam Temple every day.
I and my friends explored many destinations in South India during our weeklong trip on the Golden Chariot, the luxury train of South India. Till I actually visited the Sri Ranganathaswamy Temple, I had no idea about its grandeur and importance.
The moment I stepped onto the ancient temple complex of the Sri Ranganathaswamy temple Srirangam, be it the massive main gopuram, gorgeous thousand pillar mandapa aka hall or the mysterious White Gopuram, a rare feature of temples of South India, I was spellbound. These are some of the major attractions of Srirangam. Ther are so many other things to do with family and kids in Srirangam.
This is what unplanned travel does to me. I knew nothing about the sacred Srirangam Temple before visiting it. This is why I created this comprehensive guide on the famous Srirangam temple, which you must read before you travel there. Do visit the Srirangam Temple, which is also famous for being the largest functioning Hindu temple in the entire world.
Srirangam Temple Moolavar
This means the main presiding deity of the temple.
Who is Lord Sri Ranganatha?
The literal meaning of the word Ranganathan is 'leader of the Assembly place'. In ancient Sanskrit language, Ranga means place and Natha means leader or God, Lord. Nataraja, the fierce form of Shiv ji stands for the 'God of the stage' or 'God of dance'. The Nataraja mudra of Shiv ji represents the dance of destruction aka pralaya or dance of dissolution.
Lord Sri Ranganatha, the presiding deity of Sri Ranganathaswamy Temple of Srirangam in Tiruchirappalli, is a resting or recumbent form of Vishnu ji worshipped in South India. Vishnu ji is a highly revered Hindu God. In this posture of Vishnu ji, his resting head is canopied by the coiled Adisesha, also known as Ananta Shesha (First shesha), Sheshanaga or just Shesha in Sanskrit, the ancient Hindu language.
As per the Puranas, the ancient Hindu scriptures, the sacred Sheshanaga or the King of all Naags, is a multiheaded snake who sings paeans in glory of Vishnu ji with all his mouths. It is said that the Sheshanaga holds all the planets of universe on its multiple hoods.
On earlier trips, I saw Sheshnaag and Vishnu ji sculptures in the famous statue of Narsimha of Hampi and the Maha Vishnu idol with 5 headed snake in the Parsurameswar Temple of Bhubaneswar in Odisha. You will not find such detailed information in the outdated traditional guide books. I work hard on research before writing these mega articles.
Soul Window Facts
Did you know that time and again, the Shesha or Sheshanaga has taken many avatar on earth when he descended here in different eras? For example, during the Treta Yug, Sheshanaga reincarnated as Laxman ji, who was the loyal brother of Shri Ram in Ramayan.
Ram ji himself was the 7th avatar of Vishnu Bhagwan. And Sheshanaga reappeared on Earth later during Dvapar Yug as Shri Balaram, the brother of Krishna ji. Shri Krishna was the 8th avatar of Vishnu ji. To summarise, Sheshanaga never left Vishnu ji even on Earth!
Also Read: The Multi hooded snake of Lepakshi Temple
Srirangam Temple Jeeyar
Jeeyar is the person who is given the responsibility of supervising the every-day religious functions inside the temple of Srirangam. He exercises the power to control and monitor the smooth functioning of the Vishnu Temple.
Which are other temples devoted to Sri Ranganatha?
Here is all you wanted to know. You must also visit the Pancharanga Kshetrams on the banks of the holy Kaveri River. These are one of the most pious Ranganatha temples devoted to Vishnu ji. They are located close to each other. The 5 The Pancharanga Kshetrams include:
The Srirangapatna: It is located in Karnataka, also in South India. It is also known as the Adi Ranga.
The Srirangam Temple: Situated in Tiruchirappalli in Tamil Nadu, this one is the last temple or the Antha Ranga.
Koviladi or Appalarangam: This is located in Tiurppernagar, also in the South Indian state of Tamil Nadu.
Sri Renganatha Perumal Temple, Vadarengam: Located close to Sirkazhi, it is also known as Vatarangam. It is also situated in Tamil Nadu.
Sarangapani temple: This is located close to Trichy in Kumbakonam in Thanjavur district in Tamil Nadu.
Etymology: What is the meaning of Srirangam & Ranganathan?
Srirangam aks Thiruvarangam is a major temple town, located near Tiruchirappalli or Trichy in Tamil Nadu. Srirangam is a beautiful river island, enveloped by the sacred Kaveri River (Cauvery) and Kollidam (Coleroon), its tributary! The grand Brihadeeswarar temple in Thanjavur aka Tanjore is also located nearby.
Nomenclature
Nomenclature for God Ranganatha
God Ranganatha is also known as below:
Ranga
Vishnu Ji
Ranganāthar
Aranganathar
Sri Ranganatha
Sri Ranganathar
Thenarangathan
Vishnu Bhagwan
Ranganathaswamy
Lord Sri Ranganatha
Sri Ranganathaswamy
Nomenclature for Srirangam
Srirangam is also known as below:
Nomenclature for Sri Ranganathaswamy temple
Sri Ranganathaswamy temple is also known as below:
Vishnu Temple
Srirangam Kovil
Srirangam Temple
Lord Vishnu Temple
Ranganathar Temple
Thiruvaranga Tirupati
Shree Rangam Temple
Sri Ranganatha Temple
Ranganathaswamy Temple
Ranganatha Swamy Temple
Sri Ranganathaswamy Temple
Nomenclature of Tiruchirappalli
Tiruchirappalli is also known as Trichy or Tiruchy.
Location of Srirangam Temple
The first building I noticed as I stepped towards Srirangam Temple was the Sri Rengaraj Talkies, a decaying and yet charming single screen movie theatre from the old world. We walked to Srirangam Temple from Sri Rengaraj Talkies, passing chaotic lanes and busy streets fragrant with the smell of my favourite fresh Idlis.
Srirangam Temple is located near the big temple town of Tiruchirappalli (aka Trichy or Tiruchy) in Tamil Nadu in South India.
Srirangam Temple, a part of the Tiruchirappalli Metropolitan Area, is also situated near the Big Shiva Temple called Brihadeeswarar temple in Tanjore aka Thanjavur.
Location of Sri Rengaraj Talkies: 6 B_1/5, EVS St, Ranga Nagar, close to the Gopinath Hospital, Srirangam, North, Tiruchirappalli. The Srirangam Temple is also situated nearby.
Soul Window Facts
Did you know that Sri Rangam Temple was one of the largest functioning Hindu temples of the world! I realised the scale of the temple only after I visited it!
Sri Ranganathaswamy temple history
Sri Ranganathaswamy temple at Srirangam has a glorious Hindu history! From Kovil Olugu, we know much about the cultural, political and social history of Sri Ranganathaswamy Temple Srirangam.Kovil Olugu records the most authentic and complete record ofSri Ranganathaswamy temple of Srirangam.
The exhaustive records found in Kovil Olugu elucidates about the history of Srirangam between the period when the great Cholas ruled and when the East India Company took over by deceit in the 18th century C.E. It is a miracle that such vast record of history is still preserved. Kovil Olugu was documented entirely in the lesser known Manipravala dialect of Tamil language.
Soul Window Observation
This is another myth debunked that Indians didn't keep written records. We have been taught that Indians only had an oral history tradition. The truth is that much of written records by Indians had been destroyed and stolen by Islamic and European invaders.
Story of Sri Ranganathaswamy temple
There are so many interesting stories associated with Sri Ranganathaswamy temple. The more I dug deeper the more I found.
Who built Sri Ranganathaswamy Temple?
The massive structures in and around the sprawling Sri Ranganathaswamy Temple has been built over the years.
In fact, the 7 prakaras of the Srirangam temple are christened after the rulers or Kings who commissioned them. Each of these prakaras represent the planetary system. Aren't you amazed at the advanced Hindu knowledge of both astrology as well as astronomy? I am!
When was Srirangam temple built?
When was it constructed? Let us go through the timeline below to understand how the construction of Sri Ranganathaswamy Temple evolved over the years and centuries.
6th Century B.C.E. to 4th Century C.E.: The ancient Tamil literature of the Sangam era (6th to 4th century C.E.) and the Jain Tamil Epic – Silapadikaram (5th or 6th century C.E.) mentions the presence of a Hindu temple in Srirangam.
817 C.E.: Hambi, a dancer, built the inner sanctum of the original Sri Ranganathaswamy Temple.
848-871 C.E.: The early Chola Kings Dharma Chola Varma and Killivalavan (848-871 C.E.)have been instrumental in building the grand structures of the Srirangam temple which exists to date. We know about the King Killivalavan from the ancient poems of Sangam in the Purananuru.
984 C.E.: Thevassal ofWestern Ganga Dynasty, Tirumalaiah,is credited with consecrating the Srirangam Temple in 984 C.E.
12th Century C.E.: Under the patronage of a Hoysala King Vishnuvardhana and the tutelage of Saint Ramanujacharya who was a respected Vaishnava saint, the Srirangam temple also served as Agraharam or a place for learning.
1210 C.E.: From the ancient inscriptions, historians have been able to decipher that King Veera Ballala II, a Hoysala ruler had renovated the Srirangam Temple and added more structures to it!
Apart from the above, the beautiful carvings found in the Srirangam temple complex have been credited to the Vijayanagar dynasty and Mysuru Kingdom of Wodeyar Kings. Some people also mention the name of Thondaman Raja who built a portion of temples at Srirangam.
How old is Sri Ranganathaswamy Temple of Srirangam
I am quoting how the ancient scripture Silapadikaram (book 11, lines 35–40) mentions the presence of a temple in Srirangam. The Jain Tamil Epic Silapadikaram can be traced back to 5th or 6th century C.E. Yes, the site of Sri Ranganathaswamy Temple of Srirangam has been revered since centuries.
āyiram viritteḻu talaiyuṭai aruntiṟaṟ pāyaṟ paḷḷip palartoḻu tētta viritiraik kāviri viyaṉperu turuttit tiruvamar mārpaṉ kiṭanta vaṇṇamum
It means:
"On a magnificent cot having a thousand heads spread out, worshipped and praised by many, in an islet surrounded by Kaveri with billowing waves, is the lying posture of the one who has Lakshmi sitting in his chest!"
The 'lying posture of the one' clearly refers to the reclining posture of Vishnu ji. The Kaveri River still surrounds the islet. 'Thousand heads' can refer to Sheshnaag and of course, he is still 'worshipped and praised by many'!
Aren't you astonished to know how old Sri Ranganathaswamy Temple of Srirangam is?
Why is the Srirangam temple important?
Srirangam temple holds immense importance for Hindus because it is a centuries old sacred temple which has been a place of great pilgrimage and worship since times immemorial. Also, being the biggest temples devoted to Maha Vishnu Bhagwan adds to its allure and significance. Even after brutal Islamic attacks, the temple stays strong and flourishing day by day!
Why Sri Ranganathaswamy temple is also important is because it is one of the most illustrious Vaishnava Temple.
Sri Ranganathaswamy Temple Architecture
Built in typical Dravidian style, the Sri Ranganathaswamy Temple Architecture is a magnum opus. I have seen many Hindu temples across India, but I have never been to such a huge temple complex in my entire life despite travelling the world since the year 2008.
Srirangam Temple Rajagopuram height
The length and breadth of the Rajagopuram at the base measures 166 and 97 feet or 50.6 meter and 29.6 meter.
It tapers down as it soars higher. The length and breadth at the top of Rajagopuram measures 98 and 32 feet or 29.9 meter and 9.8 meter.
What's more? There are 13 glistening copper 'kalasams' which sit atop the tower. Kalash is considered very auspicious and are an inseparable part of Hindu Temple architecture. The weight of each 'kalasam' is 135 kg or 298 lb each. These are 10 ft 3 in tall or 3.12 meter high and have a diameter of 5 feet 1 inch or 1.56 metre. The brilliance of Hindu architecture never fails to impress me.
What is the area of Srirangam temple?
Hold your breath, as I reveal that the total area of Srirangam temple is 6,790,000 square feet or 631,000 square metres. It surely is one of the biggest functioning Hindu Temple in the entire world. Boasting of a perimeter of 4 km or 10,710 feet, it was impossible for me to explore Srirangam Temple in its entirety on my first trip here.
Srirangam Temple layout
The layout of Srirangam Temple is mind boggling and grand. Built on a massive scale, 7 concentric enclosures enclose the main temple. Each enclosure has courtyards, which are also known as mathil suvar or prakarams. Due to Islamic attacks on temple, the enclosures were heavily fortified with several walls and Gopurams to protect the main shrine.
Some of the prominent features found in these enclosures include 9 sacred water pools, 21 gopurams, numerous small water bodies, 100 pillar hall (Ayiram kaal mandapam), 50 shrines and 39 pavilions. Grand is an understatement!
Islamic attacks on Srirangam temple
As is common with most ancient and medieval Hindu Temple, Srirangam temple also suffered several Islamic attacks by plunderers and invaders.
Who tried to destroy Srirangam Temple? Malik Kafur, who was a slave general cum homosexual lover of Alauddin Khilji made the first attack on Sri Ranganatha Swamy temple in Srirangam along with Chidambaram. In later years, the barbaric Tughluqs from Delhi attacked Srirangam Temple. I have written in great detail about this on my blog on Islamic attacks on Srirangam.
Mystery of Vellayi Gopuram
A white coloured Gopuram stands out from all the 21 Gopurams of Srirangam. Do you know about the legend of Vellayi Gopuram?
Vellayi Ammal is credited with defending the Srirangam Temple with her cleverness. But she had to make huge sacrifices for the same. I have written in great detail about this on my blog on Vellayi Ammal.
Places to see in Srirangam
I was surprised to see that there are so many places to interest and hidden gems across Srirangam and Tiruchirappalli. Not only there are umpteen unusual things to do in Srirangam which will keep you busy, but the major attractions alone here are what makes Srirangam worthy of a visit.
Following are some of the best places to visit in Srirangam near Sri Ranganatha Swamy temple.
Srirangam Temple Golden Vimana
Shaped like Omkara (ॐ or Om symbol), the gold-plated Vimana ofSrirangam Temple is a sight to behold. In fact, it is a lesser-known fact that in the year 1976, the Indian Postal department had also issued a special cover on the same. We can view the Vimana from North and East but not from the West direction as some structures obstruct the view from there. It is a top place to see in Srirangam.
Rajagopuram: Srirangam Temple main gopuram
Several colossal Gopurams were added to Srirangam in the 12th and 17th century C.E. There are many colorful Gopurams or tower gateways in Srirangam which soar up to 2,3,4 and even 7 storeys.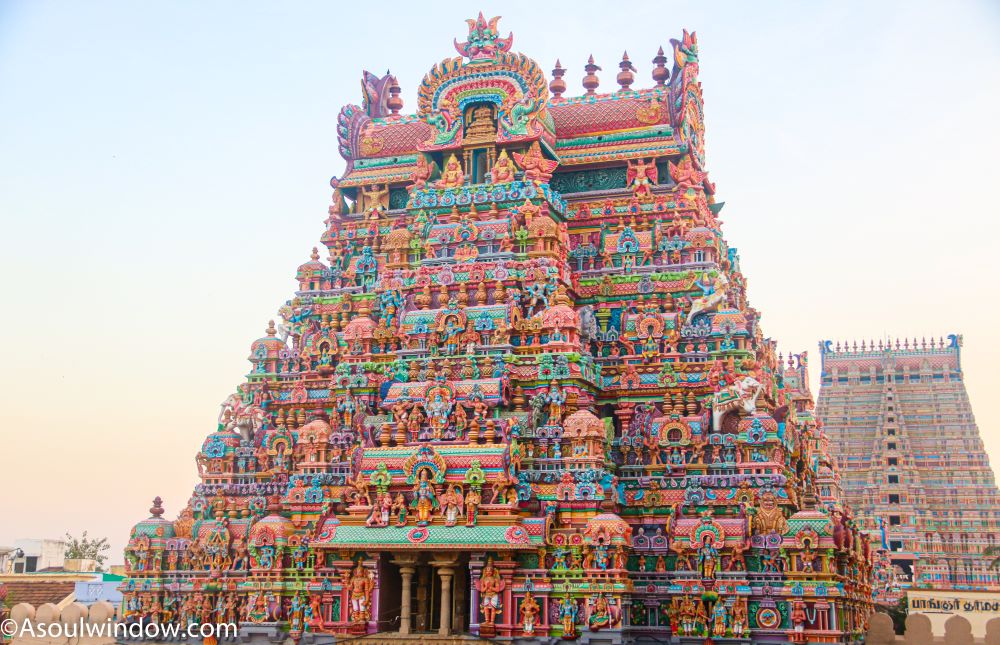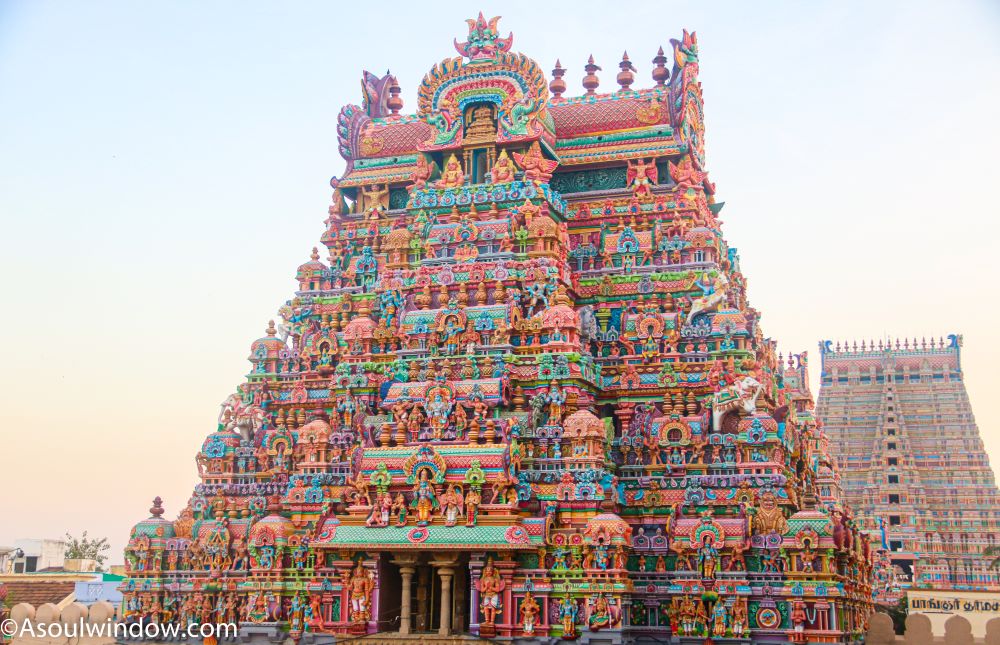 However, Rajagopuram, which is the main gopuram of Srirangam Temple has a whooping 13 storeys. Needless to say, it is also the tallest Gopurams in Srirangam.
To add, Rajagopuram is not located within the temple precincts. As I was heading towards the Srirangam temple, I was welcomed by the grand view of the impressive Rāja Gōpura on the road which led to the Srirangam Temple. Rajagopuram was constructed in the year 1987 by Ahobhila Matha. It is a historical Srivaishnava Hindu monastery.
No prizes for guessing that of all the 21 gopurams of Srirangam, Rajagopuram stands out with its sheer grandeur.
Medieval Inscriptions
There are a whooping 800 medieval inscriptions in and around the The Ranganathaswamy Temple. 640 inscriptions are located on the walls and nearby monuments alone. First inscriptions are found from as early as 9th century C.E. The last ones date back to 16th century C.E. The main languages in which inscriptions are found here are Tamil, Sanskrit, Odia, Marathi, Telugu, Kannada and Telugu.
These inscriptions were left here during the reign of various rulers such as emperors from Cholas, Hoysalas, Vijayanagara, Nayakas and the Pandyas dynasties.
Also Read: Secret of Aihole Inscription
Mystery of mummified body of Sri Ramanujacharya
Did you know about Srirangam Temple Jeeva Samadhi? Very few people know that the idol of Sri Ramanujacharya in the Ramanujar Sannidhi of Srirangam temple is actually his embalmed physical body. The mummified body has been preserved over hundreds of years and centuries.
This sacred idol in known as 'Thaanaana Thirumeni' in Tamil Vaishnava text. This is the biggest Srirangam Temple Mystery.
Soul Window Facts
Did you know about the mystery of Golden lizard in temple? Several devotees are curious about the Mystery of two Golden lizard on the ceiling of temple in Srirangam.
Not many know that the lizards were sages who had turned in to lizards because they had prepared the sacred prasadam carelessly. They were redeemed by penance. These Golden Lizards are located in Kanchipuram temple, also in Tamil Nadu.
Thousand Pilllars Mandapam
The breathtakingly gorgeous Thousand Pilllars Mandapam, which is one of the most important places to see in Srirangam was built by Tirumangai Mannan. The Thousand Pilllars Mandapam was built during the period of the great Vijayanagar empire (1336–1565 C.E.). An older temple existed at the site of the 1000 pillar Mandapa. Approximately, a whooping 985 intricately carved pillars or columns are present in the Mandapa.
Much like the Brihadeeshwarar Temple of Tanjore we visited in the morning, the 1,000 pillar mandapa of Srirangam is also built entirely of granite. As my friends got chatting as we waited for the co travellers to arrive at the bus, I made use of the time by admiring the well carved colonnade of rearing horses of the thousand pillars mandapa.
I was most impressed with the huge sculptures of warriors on horse carved on many pillars. It gave a deep insight about the lifestyle, costumes, culture and architecture of a bygone era, lost to time! Mythical animals, dancers, musicians and other sculptures adorned the pillars. It spoke volumes of the brilliant Dravidian architecture.
I visited the 1,000 Pilllars Mandapam located at the far end of the Azhinadan Tiruchutru and at walking distance from the Sri Ranganathaswamy temple during dusk. I was surprised to see that while Hindu pilgrims queued up for hours to have a darshan of the presiding deity Maha Vishnu ji in the sanctum of Sri Ranganathaswamy temple, the nearby 1,000 pillars Mandapam was empty and deserted. I found this massive theatre worth a visit for its architectural splendour.
I was told that during the annual festival of Vaikunta Ekadashi and other festivals and temple functions, the Thousand Pilllars Mandapam is inundated with Hindu devotees.The mandapa is also used for the Araiyar sevai performances and recital of Naalayira Divya Prabhandham, a collection of 4,000 ancient Tamil poems.
Araiyar sevai is a Tamil performing art, enacted only inside Vaishnavite temples such as temple at Srirangam, temple of Andal at Srivilliputhur, Azhagiya Manavala Perumal Temple, Alvar Tirunagari in Thootukudi, Tamil Nadu and Melkote temple in Karnataka.
Do visit this 'wonder of the palace!'. You can spend more time exploring many other big and small Mandapa in the temple complex of Srirangam.
Temple Art Museum
Located near the 1,000 pillar Mandapa, you can also visit the Temple Art Museum. The displays at the museum gives a deep insight about the 1,200 years old history of the place. Expect to see ancient coins, drawings, paintings etc in the Temple Art Museum.
Sri Ranganathaswamy temple Darshan
What's the best way to see Sri Ranganathaswamy Temple? It is possible to have a nice and close darshan of the reclining deity of Lord Ranganathar. However, be prepared to wait endlessly in queues because it will always be crowded. Due to this, even the darshan time allowed is hardly few seconds.
Devotees worship their Ishta or Kula Deivam before they start for Srirangam. Bathing in the sacred Kaveri River before going to worship Lord Ranganathaswamy is also advised. The garbhagriha echoes with chants of "Om Namo Narayanaya" when people have darshan. It is a spiritually uplifting moment.
Srirangam Temple darshan timings
This is a frequently asked question. Below are the detailed Srirangam Temple darshan timings. You can use this travel guide to plan your trip and not be disappointed on missing the darshan.
Vishwaroopa Seva: 6 a.m. to 7:15 a.m.
Pooja hours (Darshan not allowed): 7:15 a.m. to 9:00 a.m.
Regular Darshan Timing: 9 a.m. to 12 p.m. in noon
Pooja hours (Darshan not allowed): 12 p.m. to 1:15 p.m.
Regular Darshan Timing: 1: 15 to 6:00 p.m.
Pooja hours (Darshan not allowed): 6:00 p.m. to 6:45 p.m.
Regular Darshan Timing: 6:45 p.m. to 9 p.m.
Soul Window Tip
Now you know when you should go to the temple in Srirangam for darshan? So, use the above Darshan Timing chart and choose the right time for darshan wisely as per your personal schedule.
Srirangam Temple darshan booking
Do you need to book in advance to visit Sri Ranganathaswamy Temple? Yes, it is possible to book Srirangam Temple darshan tickets online. A maximum of 5 tickets can be booked by 1 user id. If you book darshan tickets via the e-seva Quick darshan, then you will be asked to stand in a queue separate than the regular queue which is longer.
ID Proofs such as PAN Card, Voter Id Card, Aadhaar Card, Driving License and Ration Card are valid. Once booked, the E tickets can-not be cancelled or modified. The special entry ticket counter is located near the Dhwajasthambam (Nazhikettan entrance).
At the time of entry, you must present the ID proof that you used for booking the e ticket. This is how you can have Srirangam Temple special darshan.
What is Vishwaroopa Darshan in Srirangam?
Also known as the Vishvarupa Darshan, Virata rupa or Vishwaroopa, it is the universal form of Vishnu ji through his 8th avatar Krishna Bhagwan. Hindus firmly believe that the Vishwaroopa form of Vishnu ji is his most supreme formor omniform which contains the entire universe within him!
Do you remember the scene from the Hindu epic Mahabharat where Yashoda maiyya was astonished to see entire universe in the mouth of a toddler Krishna ji? The streets of Mathura and Vrindavan in my home state Uttar Pradesh still resonate with those stories.
Most of the Hindus vividly remember the scenes from Hindi TV show Mahabharat from the year 1988 where Pandav prince Arjun ji bows to Shri Krishna who gives a grand Vishvarupa darshan of Vishnu ji to him in the battle ground of Kurukshetra. That dramatic scene still gives me goosebumps when I think of it!
How to get Vishwaroopa Darshan in Srirangam Temple?
In many temples, Vishvarupa darshan is one of the first morning seva or ritual performed in temple. Sri Ranganatha Temple of Srirangam is no exception! Devotees patiently wait for hours for the coveted Vishvarupa darshan of Vishnu Bhagwan, meanwhile chanting the sacred Hindu verse, "Om Namo Narayanaya Nnamaha"in the praise of their favourite God.
If you want to be the lucky one to have the Vishwaroopa Darshan in Srirangam Temple, you need to wake up at God's hour. The early morning is considered the most auspicious time or the God's hour in Hinduism.
Therefore, you must reach Sri Ranganathaswamy temple of Srirangam latest by 5 a.m. early morning. Make sure you are one of the first ones in the queue as it fills very fast. The space available at the Mandapam or sanctum is very small, owing to which only a few tickets are trickled out to devotees at a time. This is a wise decision to avoid chaos and stampede in the holy temple.
The ceremony of Vishwaroop darshan at Sri Ranganathaswamy temple in Trichy begins at 6 a.m. sharp with the sound of veena.
Also watch out for rituals of 'sudharshana homam', golden Kudam and the Viswaroopa Seva performed during the month of Thula masam i.e. Ippasi.
During the other Tamil months, Kaveri Theertham appears from Kollidam (Coleroon) in Silver Kudam on the North Gopuram near Thayar Sannidhi with similar paraphernalia.
You must remember that during the Margazhi month, it is not possible to have a Vishwaroop darshan at Sri Ranganathaswamy temple due to the festivities going on. Margazhi month is the time when the Utsavam festival happens for a month.
Soul Window Thoughts
I was not able to have the Vishwaroop darshan at the Sri Ranganathaswamy temple as I arrived in evening. I didn't even know before visiting that one needs to report early morning for the Vishwaroop darshan. I guess, the master will appear when the student is ready!
Srirangam Temple Prasadam
Are you fond of Prasadam– Temple food? I am! The temple Mahaprasad of Jagannath Puri in Odisha was the most elaborate one I have had. Some other prasad I looked forward to is the special prasad of Nathdwara in Rajasthan, Hanuman Setu in Lucknow in Uttar Pradesh, an austere sprouts prasad in a Sattra in Majuli river Island in Assam in North East India, the special prasad of Mata Vaishno Devi in Jammu and so on.
The tradition of prasadam in Sri Ranganathaswamy Temple in has been carried out since times immemorial and remains unchanged despite the passing of centuries. Below are the details of prasad you must have when offering your prayers in Sri Ranganathaswamy Temple in Srirangam:
Singar Sannathi: It includes the holy Theertham, Pancharmitham (mixed fruits and nuts) and sweet Pongal.
Dhanvanthrai Sannathi: It includes holy Theertham, Pancharmitham (mixed fruits and nuts) and sweet Pongal as well.
Hanumar Sannathi: It includes holy Theertham, Pancharmitham (mixed fruits and nuts) and Curd Rice.
Chakrathalwar Sannathi: It includes holy Theertham, Pancharmitham (mixed fruits and nuts) and Curd Rice.
Srirangam Temple festivals
Srirangam Temple Utsavam or festivals is when it comes alive with activity. Below are some of the major festivals, celebrated with enthusiasm every year. You must strive to do the Srirangam trip on these festivals.
Ekadasi: It is celebrated in the Tamil Month of Margazi or December and January.
Viruppan: Chithirai Ther is celebrated in the Tamil Month of Panguni or March and April.
Flag Hoisting ceremony: This 11 days long Hindu festival is celebrated in the Tamil Month of Chithirai or April and May.
Jestabishekam: It is celebrated in the Tamil Month of Aani or August September.
Pavithrothsavam: It is celebrated in the Tamil Month of Aani or August and September.
Sri Jayanthi: Krishna Bhagwan's birthday is celebrated with much fanfare, mostly in the month of August. It is also known as Srirangam Temple Krishna Jayanti.
Oonjal: It is celebrated during Aipasi or between October and December.
Kaisagi Ekadasi: This festival falls just 30 days before the Ekadasi is celebrated in December and January.
Soul Window Observations
I am not sure if it is by plan or just a co incidence that two of the biggest Vishnu Temple and Shiva Temple of the world, that is Sri Ranganathaswamy temple and Sri Brihadishvara temple, also called Rajarajeswaram or Peruvudaiyār Kōvil in Thanjavur are located in close proximity with each other.
Brahma, Vishnu and Mahesh, known as Trimurti are the 3 major primeval deities of Sanatan Dharm. I have visited the Elephanta Caves in Mumbai in Maharashtra, West India many times. One of the most beautiful and grand idols of the trinity Brahma, Vishnu and Mahesh is located in Elephanta Caves.
There are not many Brahma temples I have visited or heard of, except the one in Pushkar and Kanpur in my home state Uttar Pradesh in North India. Even temples devoted to Vishnu ji are rare for that matter. I remember visiting a shrine devoted to Vishnu ji in Shore temple in Tamilnadu, also in Southern India.
Most of the major Hindu temples of India, whether ancient or modern are devoted to Shiv Bhagwan and his family viz wife Parvati ji and sons Ganesh ji and Kartikeya ji.
Some of the Lord Shiva temples I have visited are as below
Baijnath Temple in Himachal Pradesh
Shore Temple in Mammallapuram, Tamil Nadu in South India
Bhimashankar Jyotirlinga via a trek in Maharashtra
Siva Dol in Sibsagar, Assam in North East India
Shri Siddheshwar Nath Mandir in Ziro in Arunachal Pradesh, also in North East India.
The holy Kailash Mansarovar Yatra in Tibet which is more of an experience than a physical temple. I feel it is a place where I journeyed inwards!
Elephanta caves: I have also visited the Elephanta caves in Mumbai, Maharashtra in West India. It is home to a breath-taking idol of Trimurti Brahma, Vishnu and Mahesh– The creator, preserver/maintainer and destroyer!
Souvenirs Shopping Guide to Srirangam Temple
Here is a complete Srirangam Temple shopping guide.
Shaligram: Did you know these interesting facts about Shaligram. These are fossils but why do Hindus worship them? Shaligram is considered to be a form of Vishnu Bhagwan. Many people keep it at home as well, but many do not because the failure in not being able to maintain Shaligram can bring bad luck. I had seen people selling Shaligram as I stopped at the Qomolangma National Park in Tibet during Kailash Mansarovar Yatra. This place was located near the Mount Everest Viewing platform. Shaligram is also found in abundance in the sacred Gandaki River in Nepal. It is also known as Saligrama Shila or Narayan Shila.
Devotees buy the framed pictures of Vishnu ji, the main presiding deity in Srirangam temple.
You can shop for lots of interesting trinkets, jewelleries and so on.
Iron kitchen ware sell like hot cakes in Ranga Vilas shops.
Many people buy Thanjavur tilting doll, a roly-poly toy made from terracotta. It is also known as Thanjavur dancing Dolls, Tanjore dolls, head nodding Tanjore dolls, Raja-Rani Bommai, Gundu Chatti Bommai (Round Pot Doll) or Thalaiyatti Bommai. You need to shell out INR 200-300 for a piece and more for bigger dolls. Do pack this traditional Indian bobblehead.
Thanjavur paintings: How can you visit Srirangam, Trichy and Thanjavur and not be tempted to buy the traditional Thanjavur paintings? The originally Thanjavur paintings are made with gold and silver. But if that is burning a hole in your pocket, then you can settle for the lower priced imitations of the same. Breaking the bank is optional!
Places to see near Sri Ranganathaswamy Temple
What main attractions are near Sri Ranganathaswamy Temple? There are many offbeat places to visit near Sri Ranganathaswamy Temple. You must visit all the below mentioned top places to see in Srirangam.
The historic places and top destinations near the holy temple are listed as below in alphabetical order:
Temples and religious places near Srirangam
What is there to do in Srirangam? There are many unusual places to see in Srirangam. The best part is that all the points of attractions in Srirangam is located close to each other.
Temples located close to Srirangam are Uthamar Kovil temple, Kattazhagiya Singar Kovil (1 km), Thiruvanai Kovil (3 kms), Samayapuram Kovil (11 kms). Kovil means temple in Tamil. Below is the list of places to visit in Srirangam.
Temples in and around Srirangam
Amma Mandapam bathing ghats
Athiparashakti temple
Athmanathswamy Temple
Bhahmapureeswarar Temple
Bhavani Marriamman Kovil
Brahmasira Kandeeswarar Temple
Cauvery Nagar Vinayakar Temple Tiruchirapalli
Chandra Bhagwan Temple
Erunbeeswarer temple
Gunaseelam Vishnu Temple
Hanuman Temple
Jai Nagar Pillayar Temple
Jambukeswarar Temple aka Jamukeshwarar Temple
Maariamman Temple
Meenakshi Sundareshwar temple in Tiruchirapalli
Munneswaran temple
Srirangam Narasimhar Temple
Nayyanappan Shivam Temple
Perumal Temple
Pillaiyar Kovil
Pundarikakshan Perumal Temple
Raja Ganpathi temple
Rock Fort Temple
Samayapursam Mariamman temple
Selva Mariamman Temple
Sengama Muneeshwar Temple
Shri Uttaradhi Temple
Shri Vinayagar Temple
Sri Ayyapam Temple
Sri Rangam Ranga Nathar Temple
Srirangam Melur Ayyanar Temple
Thingalur Temple
Thiruvanaikoil Temple
Ucchi Pillayar Temple
Vayalur Murugan Temple
Vayalur Murugan Temple
Veerateshwarar Temple
Vekkali Amman Temple
Venkatachalapathy Swamy Temple in Kumbakonam
Churches near Srirangam
Athumanesar Church
Saint Joseph's Church
Saint Lourdes Church
Other places of interest near Srirangam
Butterfly Park aka Tropical Butterfly Conservatory Campus, Melur (Phone: 04312414265. Timings: 9AM-6.30PM.)
Government Museum
Grand Anicut, Kallanai
Hazrat Natherwali Dargah
Kaattu Azhagiya Singar Srirangam
Kallanai Dam
Mukkombu
Puliyancholai waterfalls
Venkateshwara theatre
Vijayanagar Fort
Srirangam is not to be confused with Srirangpatna. Srirangpatna is located at a different place near Bengaluru in Karnataka. The places to see in Srirangpatnam include Nimishambha mandir, Sri Chamundeshwari Temple, Venugopala Swami Temple, Melkote, Wellesley Bridge, Samyak Yoga, Captain Bailey's dungeon, Jama Masjid, Srirangapatnam Fort, Srirangapatnam Ghat, Dariya Daulat palace and Secret Door to Fort and water gate.
You might not be able to locate the secret door on Google Maps. Do ask the local shops for direction to the Secret Door to Fort and water gate.
Vegan and Vegetarian Food in Srirangam
Since it is a holy place so expect lots of delicious vegetarian and vegan food in Srirangam. I and my friends had a plate of delicious Idli with fresh coconut chutney and sambhar at a small road side shop. It was so delicious that the taste still lingers on my lips.
So, what else is there to eat in Srirangam? You can also try out bajji, sambhar, rasam, kottuu curry, vathakuzhambu (tamarind based tangy curry), Mor Kuzhambu or Mor kulambu (curd-based curry),
Many hotels and restaurants also serve the orthodox style food. Expect to discover delicious and light Sattvic vegetarian good in Srirangam. Pure Sattvic food is made without garlic and onion.
What restaurants are near Sri Ranganathaswamy Temple?
Some of the best hotels and restaurants near Sri Ranganathaswamy Temple where you can taste delicious vegan and vegetarian food made in traditional South Indian style are as below:
Venkatesa Bhawan: The bestselling dishes in this 75 years old food joint are super cheap Rava Dosa, Vada and filter coffee. It is located near the Ranga Ranga Gopuram. Their super delicious sweets include Rava Laddu, Kesari, Akkarra Vadisal, Sevai, Bun Halwa and Jeera Boli.
Murali Kadai: Filter Coffees are famous here. Also try the idly and uthappam here.
Parthasarathy Vilas: The bestselling dishes here is the lip-smacking Ghee roast prepared with home-made ghee. Located near Thiruvanaikoil Temple, it is running since the year 1943. Food here is cooked on log fire!
Mani's Café: People head here for their 'Keerai Dosa'. They make healthy Diabetes and blood pressure friendly dosas out of wheat, ragi and corn here. It is located near Therku vassal in Srirrangam.
Is the temple at Srirangam be crowded?
Yes, expect huge crowds on most days in Srirangam. When I visited Srirangam, the devotees had thronged every flat surface available. I saw huge lines queued up for a divine darshan of Vishnu ji at the Sri Ranganathaswamy Temple.
The crowds swell even more during special festivals such as Ekadashi. Though, the crowd in Srirangam is thick even on the weekdays, expect more footfall on the weekends.
Interesting facts about the Sri Ranganathaswamy Temple and Srirangam
Did you know this intriguing fact about Srirangam that the South tower or Gopuram which is 236 feet tall was the tallest tower in ancient Asia?
Is it safe to visit Srirangam?
Yes, Sri Ranganatha Swamy Temple, Srirangam and Tiruchirappalli or Trichy are some of the safest places in Tamil Nadu. The locals are very friendly and inclined towards spiritual uplift. The markets are bustling and buzzing with activity throughout the day and even in night.
ATM in Srirangam
There are several ATMs in Srirangam and Tiruchirappalli as it is a bustling place.
Photography Tips for Srirangam
Is camera allowed in Srirangam temple? No, cameras are not allowed inside the Srirangam temple. But you can take pictures and videos with any camera outside the main temple. You can still click a lot such as Gopurams, thousand pillar hall etc.
If possible, ask one of the local tourist guides to take you to a hidden vantage point. I had actually climbed atop a local building near the Srirangam Temple. Not only did it give me amazing view of the other temples and Gopurams in the vicinity, but also some nice pictures and videos from bird's eye view.
Is Mobile allowed in Srirangam temple?
Cell phones, camera, electric or electronic gadget are not allowed inside Srirangam temple.
Hire local tourist guide at Srirangam
We had hired a local tourist guide at Srirangam, who spoke good English and even Hindi. I highly recommend hiring a local tourist guide in Srirangam. It had made a big difference to my Srirangam trip. Not only did I go off the beaten track but also learnt so much history of Srirangam which I had little no idea about! Also, it doesn't cost much to hire a tourist guide and it adds to the local economy.
Languages spoken in Srirangam
Tamil is the main language spoken in Srirangam. However, many local people also understand Hindi, English and other South Indian languages such as Telugu, Malayalam and Kannada.
UPSC Exam
Questions on Sri Ranganathaswamy Temple or the Srirangam temple is frequently asked in UPSC Civil Services Preliminary Exam for for PCS, IAS and IFS.
Toilet facility in Srirangam
There are many toilets near the Srirangam Mandir. If you fail to find a loo near you, then you can use washroom of a restaurant as well. However, it is considered good behavior to buy something from the restaurant in exchange of using their toilets.
Entry fee in Srirangam Temple
Predictable, visiting the divine Sri Ranganathaswamy Temple is a free thing to do in Srirangam. Yes, you can take a free walking tour in and around the Srirangam Temple. None of the Hindu temples in India or abroad have an entry fee.
Backpacking Budget Travel Tips for Srirangam
It is very easy to go backpacking in Srirangam, thanks to the plethora of options available. Srirangam, in fact, turned out to be one of the most inexpensive places I have travelled to. Easy public transports, low costs of every-thing, affordable dining and the cost-effective way to reach Srirangam makes it a very pocket friendly destination.
Solo Trip Tips for Srirangam
Srirangam can easily be visited by solo male or female travellers. Thanks to the multitude of options available in the bustling city of Trichy, there is something for everyone here. And if you are stuck, there is always someone to help.
Luxury travel Tips for Srirangam
Srirangam is a suitable destination for luxury travellers. There are enough luxury facilities available in Srirangam. In fact, I had travelled to Srirangam Temple in luxury since I had visited it via Golden Chariot- The only Luxury Train of South India.
Which is the biggest Vishnu temple in India?
Below are the 3 biggest Vishnu Temples of the world
Angkor Vat in Cambodia: Spread across an area of 1,626,000 square meters, it is the largest Vishnu Temple of the world.
Swaminarayan Akshardham in U.S.A.: Located in Robbinsville in Central New Jersey, it is the second largest Vishnu Temple in the world, with a total area of a whooping 660,000 square meters.
Sri Ranganathasvamy Temple of Tiruchirapalli is the largest Vishnu Temple in India and third largest Vishnu temple of the world. Srirangam Temple Complex has a total area of 6,31,000 square meter.
Which temple is dedicated to Vishnu ji?
Sri Ranganathasvamy Temple of Tiruchirapalli is the most famous temple dedicated to Vishnu ji.
Which is the oldest Vishnu Temple?
Mundeshwari temple is the oldest temple of India. Located in Kaimur District of Bihar in North India, it is devoted to both Shaivite and Vaishvanite traditions.It is a functioning temple which is mainly devoted to Shiv Bhagwan and Shakti. Idols of other Gods and Godesses from Hindu pantheon are also worshipped here such as Ganesha Bhagwan, Vishnu Bhagwan, Surya Bhagwan and Mother Goddess.
Why Lord Vishnu is not Worshipped?
There are many reasons why there are not many Vishnu Temple as compared to temples devoted to his avatars such as Krishna ji and Ram ji. There are many theories about this.
Can we see Sri Lanka from Srirangam?
No, it is not possible to see Sri Lanka from Srirangam, although the distance between the two is not much. The closest where you can get to border is Dhanushkodi in Rameshwaram and Talaimannar in Sri Lanka. But even here it's not easy to catch a glimpse. On clear day and nights, you can see silhouettes and some lights respectively.
Is Srirangam and Srirangapatnam same?
No. While Srirangam is located in Tamil Nadu, Srirangapatnam is located in Karnataka near Mysuru or Mysore. I have been to both the temples. Srirangam is much larger and elaborate when compared to Srirangapatnam.
Is Srirangam an island?
Not many know this that Srirangam Island is a prominent River Island. Did you know that it lies between River Coleroon and River Kaveri?
Which place is known as the place where Lord Vishnu sleeps?
I have been to Nepal many times. Budhanilkantha, which is located in Kathmandu valley has a sacred Vishnu temple. A colossal idol of Vishnu Bhagwan reclining on a bed of coiled snakes is worshipped here.
Vishnu Bhagwan sleeps in the sacred Kshir Sagar or the ocean of milk on Shesha Naga, who is also the king of all nagas. This is also why this day is known as Shayani Ekadashi. Four months later, he wakes up on Prabodhini Ekadashi in the Karthik month as per the Hindu calendar. The 4 months of sleep is called as Chaturmaas.
Srirangam Temple underground chambers
It is said that there are many secret underground passages in Srirangam. It was common in those says to have secret chambers and underground tunnels for temple safety and hiding treasures. Srirangam Temple after all have been a wealthy temple since times immemorial. This is still a mystery and only the temple management knows the secrets.
Srirangam Temple donation
Yes, you can donate in Srirangam Temple. You must deposit your offerings in the Hundi only. Some wealthy businessmen donate crores of Rupees to the temple. If not crore, then you must donate a few hundred or thousand rupees.
Wealth of Srirangam Temple
Since a long time, rich Hindu Kings have patronised and showered gifts on Srirangam Temple, irrespective of shifting political events. For example, Jatavarman Sundara Pandya I (1251-1268), is also known as Hemachandra Raja, because it means 'the king (Perumal) who covered the temple with gold'
Below are some of the gifts donated by Jatavarman Sundara Pandya I. Hold your brath as I tell you that all of these gifts are cast in solid gold.
Apart from above gifts, he had also covered the Vimana as well as the wall of the second enclosure with pure gold.
Soul Window Thoughts
India indeed has always been one of the richest nations of the world. This is why so many invaders from poor and impoverished nations of Europe and Central Asia attacked India.
What hotels are near Sri Ranganathaswamy Temple?
Srirangam is a pretty big and vibrant place. You can expect budget hotels, lodges, dharamshalas and even luxury hotels in Srirangam. There is no dearth of accommodation and you can easily find hotels and guest houses in Srirangam at few hours' notice or just through walk in. The modern frills exist with tradition in this ancient town! So where should you stay in Srirangam?
Some of the best hotels and accommodation near Sri Ranganathaswamy Temple are listed in below travel guide:
Budget Hotels in Srirangam
Mutt: Yes, much like how you can stay in a Buddhist monastery in Mechuka in Arunachal Pradesh in North East India, or even Nalanda in Bihar for that matter or a Hindu Ashram in Rishikesh near Haridwar in Uttarakhand, you can stay in a Mutt in Srirangam. However, you should know that many Mutts in Srirangam do not offer proper parking lots and the noise from the busy streets can be unnerving at times.
Yathri Niwas: You can expect clean rooms at low prices in Yatry Niwas, Srirangam. It is located just 2 kms away from the Sri Ranganathaswamy Temple and 3 kms away from the toll gate.
Mid-range Luxury hotels in Srirangam
KVM Hotels: One of the best hotels in Srirangam, they offer beautifully decorated rooms and offer affordable luxury. They have standard rooms, premium rooms and superior rooms available. Others service include car parking, free wi-fi, laundry service, room service etc. Breakfast is included in the tariff.
Maya residency: Expect reasonably priced comfortable rooms and pleasing décor. Both rooms and suites are available here. AC and Non-AC both room types are available. They also have a pure vegetarian restaurant, laundry service and Wi Fi facility.
Best Time to visit Srirangam?
Highly spiritual places like Srirangam are a year-round destination. A true devotee doesn't wait for the right season for having a darshan of his beloved God – Bhagwan Vishnu. Having said that, below is a guide to various seasons in Srirangam.
Winter
Winter is the best time to visit Srirangam. Do not expect bone chilling winter of North India though. I have stayed in places like Mumbai, Goa and much of South India and I know from experience that the winter of South India, especially Tamil Nadu is still very warm.
Summer
Summers are very hot in Tamilnadu plains. Hill Stations of Tamil Nadu like Ooty and Kodaikanal are colder though.
Monsoon
Despite rains, it is pleasant to visit Srirangam in rainy season. The temperatures are brought down by rains, making it a good time to visit Srirangam Temple in Tiruchirappalli. A rain here and a thunder there can easily be managed.
Dress Code at Sri Ranganathaswamy temple
What to wear in Srirangam? Sri Ranganathaswamy temple is a religious place sacred to crores of people. You must dress appropriately when entering the premises of temple. It is advisable to wear the following when visiting the holy Sri Ranganathaswamy temple:
Men: Dhoti around waist, pants, Shirt or Towel on the shoulder
Women: Sarees, half saree with blouse, salwar kameez, churidar with kurti etc.
Dresses not allowed inside the Sri Ranganathaswamy temple include shorts for men and mini-skirts, shorts for women.
How many days to spend in Srirangam?
What can I do in 1 day in Srirangam Temple? If you are planning to visit only Sri Ranganathaswamy Temple, then you can easily manage to get a darshan, admire the main gopuram, visit Sri Ranganathaswamy Temple, thousand pillar mandapa and Vellayi Gopuram within a span of few hours.
In fact, since I was on a fixed itinerary on Golden Chariot train, I has seen all the major attractions of Srirangam and Trichy within a day.
What can I do in 2 days in Srirangam Temple? However, I would recommend you to stay at Srirangam for at least 2-3 days so that you can explore the nearby temples (Plethora of it!), attend more temple ceremonies and hire a private guide for deeper understanding of the place.
Add it 2 more days if you want to visit temples of Trichy aka Tiruchirapalli and Tanjore aka Thanjavur as well. You should visit all these ancient Hindu temples at one go without worrying about the temple fatigue as you will not get bored here.
So, if you want to visit Kaveri River, Srirangam, Trichy and Thanjavur in a slow and immersive way, I would recommend a trip of one week or 7 days trip.
Itinerary for Srirangam
If you are stripped of time, then the main highlights of Srirangam (Day 1), Trichy (Day 2) and Thanjavur (Day 3) can also be covered in just 3 days.
Based on my personal experience, presented below is the route or itinerary I recommend if you want to explore the triangle of Srirangam, Trichy and Tanjore.
Day 1
Arrive early morning in Srirangam. Offer your prayers in Sri Ranganathaswamy Temple and have the holy darshan.
Day 2
Visit all the big and small Hindu temples of Trichy aka Tiruchirapalli. Stay overnight.
Day 3
Early morning leave Trichy and visit the nearby grand Brihadishvara temple, also called by its ancient name Rajarajeswaram or Peruvudaiyār Kōvil. It is located in Tanjore aka Thanjavur. You can explore it all day. Spend extra time in exploring local food and shopping. Catch an evening or late-night train/bus/flight.
However, I recommend that you should stay for more if you want to explore the delicious local vegetarian and vegan food, shopping, dances prevalent in this region. In that case, add one more day each in Srirangam and Trichy.
Local Transport for sightseeing in Srirangam
There are many sightseeing attractions in Srirangam which can be visited on shared transport. A wide variety of public transports like auto rickshaw, local buses etc ply frequently through the day and even late night in Srirangam. India, anyways has one of the most robust public transport of the world, unlike U.S.A.
Excursions from Srirangam
There are so many places near Srirangam Temple which are worth a visit. Some of the best nearby places from Srirangam are listed as below:
I have mentioned these excursions with distances from Srirangam. All the below mentioned distances are from Trichy or Tiruchirapalli:
Brihadeeswarar Temple In Thanjavur: 50 kilometres
Pudukkottai: 60 kilometres
Gangaikondacholapuram: 100 kilometres
Kallanai: 25 kilometres
Viralimalai: 30 kilometres
Mukkombu: 20 kilometres
Sittanavasal: 60 kilometres
Pachamalai Hill: 103 kilometres
How to reach Srirangam
There are many ways by which you can arrive at Srirangam.
By air
How can I reach Srirangam from Bangalore? You can take a flight. Srirangam makes for a quick weekend getaway from Bangalore and Mysore.
Tiruchirapalli airport which is located just 9 kilometers away from Sri Ranganathaswamy Temple is the nearest airport located close to Srirangam.
By train
Srirangam railway station which is located just 0.5 kilometers away from Sri Ranganathaswamy Temple is the nearest railway junction located close to Srirangam. You can also get down at the Trichy aka Tiruchirapalli railway junction or Thanjavur aka Tanjore railway junction.
By bus
Frequently available buses ply between Srirangam, Trichy, Thanjavur, Chennai, Bengaluru etc. Srirangam Temple bus stand is located in the heart of the city. Srirangam is a weekend destination from Bangalore.
By cab/car
It is a good idea to hire or self-drive a car and cover all the important places to visit in and around Srirangam. There are many ancient Hindu temples to be seen in Srirangam, Thanjavur, Tiruchy and other nearby places.
Exploring Srirangam and nearby excursions by a personal car, especially when traveling in group is a fab idea! The smooth roads help. However, beware of the crowds and busy roads of Srirangam. We parked our private bus a little away from the main gopuram of Srirangam.
Srirangam Temple car parking
Ample car parking is available at many places in Srirangam. Though it is very crowded, we had to park the bus a little ahead and we walked from there.
Conclusion: Why visit Srirangam Temple?
Is Srirangam Temple or Sri Ranganathaswamy Temple worth a visit? Yes, of course. Places of high spiritual significance like these do not need a reason for visiting.
To summarise, Sri Ranganathaswamy Temple is one of the top places to see in Tamil Nadu in South India. The rich Sri Ranganathaswamy Temple history dates back to hundreds of years.
Now we know why Sri Ranganatha temple, devoted to Vishnu ji is so famous. Do visit Srirangam Trichy and have divine darshan of Ranganathaswamy Bhagwan.
This detailed guide on Ranganathar temple is the most exhaustive articles on the same on internet. I have explained all the secrets of Srirangam Kovil in this mammoth travelogue based on my experience.
Share this compact guide with your friends and family and plan the trip to Sri Ranganatha temple soon.
The view from my Soul Window is that of spiritual coma!
Pin this blog to save the blog and plan a trip later!
Related Blogs
Miracles of Brihadisvara Temple
Top Travel Blogger from India