Last Updated on September 1, 2023 by asoulwindow
Did Padmasambhava die in Chiu Goma Monastery in Tibet?
Information about Chiu Gompa monastery in Tibet
Chiu Gompa– an ancient Buddhist monastery in Tibet is located on a craggy hill near Mansarovar lake, Rakshas Taal and sacred Kailash Parbat. Many Hindu pilgrims who embark upon the once in a lifetime Kailash Mansarovar Yatra know little about this unexplored monastery in Tibet. I am sharing some lesser-known facts about Chiu Gompa and other Tibetan monasteries in this comprehensive Tibet guide.
Below is a Tibetan proverb to start with:
"An honest man can set up home anywhere.
A dishonest man has no place to go."
Why is Chiu gompa monastery Famous?
What makes Chiu gompa monastery special is that it is one of the oldest Tibetan monasteries of the world. The School of Buddhism followed in Chiu gompa monastery is Nyingmapa or Red Hat.
The visually stunning location of Chiu Gompa which is perched atop a craggy hill overlooking Lake Mansarovar is also what makes it popular with Indian pilgrims, Chinese and Western tourists alike.
Chiu Monastery, an important Tibetan temple, is considered sacred by people of Jains and Bon faith as well. Bon people follow the indigenous religious tradition of Tibet.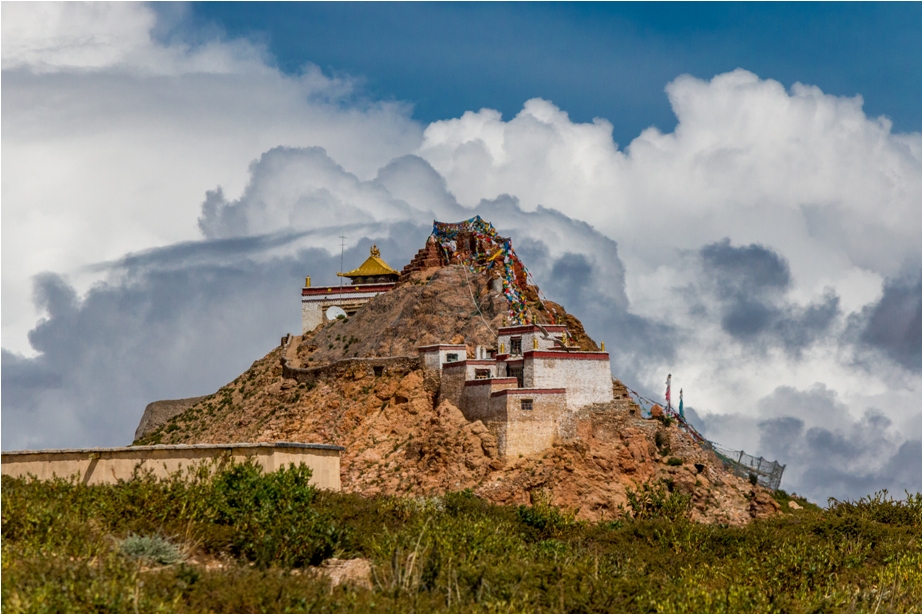 What is the height of Chiu gompa monastery?
Chiu gompa monastery is a high-altitude monastery. Chiu gompa monastery is located on a height of 4,590 meters or 15059.06 feet. This monastery in Tibet is a must visit because of the unique experience of high altitude and remoteness. It is common to see Tibetan temples in such high altitude.
Nomenclature of Chiu Gompa: Monastery in Tibet
Chiu gompa of Tibet is also known as sparrow monastery, Jiu monastery or Chiu Monastery. It is a top place to visit in Tibet.
Where is Chiu gompa monastery located?
Chiu gompa monastery, an offbeat Tibetan temple, is located in Purang/Burang County, Ngari Prefecture, in what China calls asTibetan Autonomous Region or Xizang in China in Asia. Chiu Gompa lies in Western Tibet. Located at the base of Mt. Kailash, Chiu Gompa is off the beaten track.
The Hindu Kingdom of Nepal and Lipulekh Pass, Uttarakhand and Sikkim in India are located nearby. Nepalgunj, Hilsa & Simikot in Nepal are also located close to Taklakot and Chiu Gompa.
I had actually walked to Chiu gompa monastery from the holy Mansarovar lake. Located on the north western shore of pious Manasarovar Lake, Chiu Gonpa is just 33 kms away from Darchen, the starting point for Kailash Mansarovar Parikrama.
Chiu gompa monastery is also located at driving distance from sacred Kailash Mountain, Rakshas Taal, Darchen, Deraphuk and Taklakot. Perched precariously at steep red-colored Sangtok Pelri Mountain, Chiu gompa monastery is a must visit place near Kailash Parbat and Mansarovar lake.
Most of the big and small Buddhist monasteries of Tibet are located atop a hill, much like Hindu temples of India.
Hike to Chiu gompa: Tibet monastery
The hike to Chiu gompa monastery, an unheard of Tibetan gompa is a pretty easy and quick one. While my travel companions stayed inside the guestrooms by the lake Mansarovar and meditated, I quietly walked towards the Chiu gompa Tibet.
Not many devotees who embark upon the Kailash Mansarovar Yatra visit the offbeat Chiu gompa monastery. I was the only Indian along with 2 independent Western tourists and many Chinese tourists who visited this monastery in Tibet mountains that day.
It was an easy walk on a flattened slope. The Chinese tourists had actually brought along their Land Cruisers and cars and didn't hike to the top. I and the western tourists were the only ones who hiked to Chiu gompa monastery.One of the more adventurous western tourists did not hike on the flat road path but instead chose to navigate the craggy path to the old Tibetan monastery.
Hike on either of the paths is easily navigable and requires no previous trekking experience. The hike to this small monastery in Tibet takes only about 30 minutes or so.
Architecture of Chiu gompa monastery
Though Chiu gompa monastery is much smaller than the world famous grand Potala Palace of Tibet, I could still observe few elements which resembled the typical Tibetan monastery architecture of Potala Palace.
I walked silently along the winding stone staircases, passing the very old wooden doorframes and windows of this fairytale-like monastery in Tibet. I was the only person here during my visit. Most of the other Western and Chinese tourists with their tall tripods had huddled around the nearby vantage point to soak in the spectacular views of Mansarovar lake.
History: Padma Sambhava died in Chiu Gompa?
Chiu gompa monastery has a very old history which dates back to the times of Guru Rinpoche or Padma Sambhava. The holyGuru Rinpoche cave around which the Chiu gompa monastery is constructed was the place where Guru Rinpoche once meditated in 8th century C.E. This is why this ancient shrine is highly revered.
In fact, Guru Rinpoche spent the last 7 days of his life in the cave of what is now Chiu gompa monastery. Therefore, the meditation cave of Guru Rinpoche where he passed away is a highly revered place for Buddhists. Did you know about this story of Guru Rinpoche death?
That makes this Tibetan gompa one of the most important Buddhist monasteries of the world. Footprints of Guru Rinpoche can still be seen on a rock in Chiu Gonpa.
While a small statue of Padma Sambhava sits at the cave, another bigger statue is worshipped inside the main shrine of this monastery in Tibet.
Tibetan Pilgrims come all the way to Chiu Gompa during festivals. They also come here to perform parikrama around Kailash Parbat. The Buddhist also offer their prayers at the numerous monasteries that surround the Mansarovar lake. Do visit this historic destination during your Tibet trip.
Soul Window Thoughts
Story behind Chiu Gompa Tibet reminds me of the Tiger's Nest Monastery in Bhutan and the holy cave of Mata Vaishno Devi in Jammu in North India. Do read my detailed blog on Paro Taktsang and Vaishno Devi ji on A Soul Window – ranked as number one blog of India.
The footprints reminded me of footprints of Mata Sita in Lepakshi temple in Andhra Pradesh in South India and the 5,000 years old footprints of Radha ji and Krishna ji in Barsana and Nandgaon near Mathura in Uttar Pradesh, North India.
We all known that Buddhism was an offshoot of Hinduism after all. This is why there are so many similarities between the two. Whether it is a Tibetan gompa or a Hindu temple, there are many similarities in customs.
Padma Sambhava or Guru Rinpoche in Tibet
He was a legendary 8th century Indian Buddhist mystic who had introduced Tantric Buddhism to Tibet. It was also Guru Rinpoche who had established the first Buddhist monastery in Tibet.
In the year 747 C.E., King Thī-srong-detsan had invited Guru Rinpoche to Tibet. Upon arriving in Samye (Bsan-yas), Guru Rinpoche had exorcised demons who didn't allow the construction of the monastery by causing severe earthquakes. Guru Rinpoche ensured that the monastery completed by 749 C.E.
Padma Sambhava also taught at Nalanda University of present Bihar in North India. It was a center of Buddhist studies in India. In fact, he initiated translation of many ancient Tantric books from the original Sanskrit language to Tibetan language. No wonder, there are many old Tibetan temples in India, Nepal, Bhutan and Tibet of course.
Chiu Gompa monastery library
Ancient and precious Buddhist scriptures have been preserved on the bookshelves of the Chiu Gompa Library. The red colored shelf boxes contain these holy scriptures safely. Paying a visit here is top thing to do.
This was similar to the libraries I noticed in Leh Palace of Ladakh and many ancient monasteries of Arunachal Pradesh in North East India. Did you know about the Tibetan Monastery in Delhi in Majnu Ka Teela? Have you visited any Tibetan monastery in India?
Monk Quarters of Chiu Gompa Tibet
I could also notice several modest monk quarters around Chiu Gompa. As is the case with most Buddhist Tibetan monasteries I have visited, monks also stay within the precincts of Chiu Gompa. Any monastery in Tibet displays the original authentic Buddhist lifestyle of this region. You must stay here longer and try to interact with a local monk to understand the history of Tibet better.
My visit to Chiu Gompa: Tibet monastery
As I gingerly stepped towards the main shrine of Chiu Gompa, I observed many monastery buildings which are built right into the craggy hill. Shades of white, browns, red and blacks added a mystical aura to the place. The complete absence of people in this lonely monastery in Tibet mountains added to its mystery.
I was the only person present at Chiu Gompa when I visited it. Most other tourists, whether Chinese or Western had gathered at another adjoining hill taking pictures of Mansarovar lake. Deep red prayer wheels greeted me even as countless prayer flags fluttered violently in air, as if in a hurry to send prayers to the heavens.
The moment I entered the Chiu Gompa Tibet, I could not see any human in sight. Perhaps, all the monks had retired for the day as I had visited during evening. Modern frills such as huge solar panels incongruously peeped from an avalanche of multi-hued Buddhist prayer flags.
It was a lonely place. The entire hill stood out with its unusual terrain. While all the other nearby hills and mountains were connected to each other, the hill of Chiu Gompa held its own as a standalone fortress hill.
I walked towards the main shrine of this Tibetan temple. A huge curtain was drawn over the main temple of Chiu monastery. Looked like many still lived in this Buddhist monastery retreat.
The Buddhist devotees and even non-Buddhist tourists perform a short kora around the monastery. The circumnavigation of the entire monastery complex is a must do activity here. It is a common sight in most Buddhist monasteries of Tibet. The Tibet monastery is a different world altogether.
The circumambulation takes approximately 30 minutes and also offers amazing views of the area below. Tibetan pilgrim circumambulating around the sacred Chiu Gompa is a common sight.
Views from Chiu gompa monastery
I walked towards the vantage point where a group of many Chinese tourists and few Western travelers were busy shooting Mansarovar lake from a flat land near Chiu gompa monastery. I was a bit appalled to see that no one visited this Tibetan temple. Or perhaps they had visited it before I arrived.
On a clear day, one can also see the sacred Mount Kailash at a distance in the north direction. Gurla Mandhata Peak which is 25242.78 feet tall or 7,694m tall can also be seen from here.
The bird's-eye view of the whole of Lake Manasarovar from Chiu Gompa gave me a perspective of how large Mansarovar lake of Tibet is.
Ruins around Chiu Gompa Tibet
I noticed ruins of what seemed like medieval homes. I had seen something similar during a hike in Nubra valley in Ladakh of North India, which has similar culture and customs. I observed that there was a ruin of a washroom of what looked like a broken house. It could also have been an official building.
I also noticed some withered away, man-made structures on the body of the hill that supported Chiu Gompa. It added to the antiquity of the monastery complex. I am sure this place used to buzz with activities during its zenith.
This mystical monastery in Tibet sure hides many secrets. There are many such Tibetan Buddhist monasteries across Tibet and places like Ladakh, Spiti of Himachal Pradesh and Arunachal Pradesh in India. You must visit Tibetan monastery in India and connect the dots.
Places to see near Chiu gompa monastery
I saw many Tibetan Buddhist monasteries and Tibet monastery retreat as we drove to different parts of Tibet such as Saga, Gyirong, Burang etc. Below are the top places to see and major things to do near Chiu Gompa:
Visit prayer wall at Cherkip.
Visit shoreline cave retreats.
Observe nesting birds from a distance, without disturbing them.
I witnessed a surreal sun set from the Chiu Gonpa, the monastery in Tibet with a dramatic landscape!
There are also some villages near the sparrow monastery which you can explore on foot.
You can also do birdwatching here. I saw many exotic species of rodents and birds nesting on the shore of Mansarovar lake.
You can also visit a hot spring near Ganga Chu monastery right behind the Chiu Gonpa. This small hot spring is located beside the village pipe water. Just jump into the private wooden tubs, in case you haven't had a bath in days or if you fancy a long post-hike soak.
You can walk on the shore of river Ganga Chu which flows near this monastery in Tibet and connects lake Manasarovar with nearby forbidden lake Rakshas Tal. Did you know that Ganga Chu River is the source of Sutlej River?
You can visit the holy Mansarovar lake on foot from Chiu gompa monastery. Mapam Yumtso is the Tibetan name of Mansarovar lake. Devotees of four faiths, viz. Hinduism, Buddhism, Bon faith and Jainism consider Mansarovar lake to be one of the holiest places on Earth. What makes Mansarovar lake even more holy is the fact that it is the water from the glaciers of Mount Kailash region which fills the holy lake with fresh water.
You must also walk towards the other adjacent hill of Chiu Gompa. Many colourful Mani stones with Tibetan inscriptions have been placed here along with countless Buddhist prayer flags, fluttering uncontrollably in wind. It reminded me of the high-altitude Everest Base Camp trek and Poonhill Trek I did in Nepal. Car parking and vantage point for Mansarovar lake is located at walking distance from here.
Excursions from Chiu gompa monastery
You can visit various Hindu destinations and many other Buddhist monasteries of Tibet. Some of the best places to visit near Chiu Monastery, the lesser-known Tibetan gompa are as below:
Tholing Monastery
Trithapuri Monastery
Tsaparang (Guge Kingdom)
Driraphuk Gompa
Lhanag Tso
Mansarovar lake
Rakshas Taal
Tarboche
Yam Dwar
Deraphuk, Driraphuk or Dirapuk
Darchen
Gauri Kund
Zuthulphuk
Taklakot
Kyirong
Saga
These are some of the best unusual places to see in Tibet. You will not find these historic destinations in the old school traditional travel guide books. This is why you should read my other detailed travel blogs at A Soul Window. It is listed as Top Indian travel blog several times.
Soul Window Thoughts
The above-mentioned list of places to visit can help you plan your movement in Tibet better. These points of attractions are located close to each other. However, do not treat these as mere tourist attractions as these are highly worshipped sacred places. So do not think it is some picnic spot you are visiting for general sightseeing!
Festival of Chiu gompa monastery
Buddhist festivals are celebrated in Chiu gompa monastery every year. Despite their limited resource and economic disadvantage, the devout people of Tibet take great pains to arrive at Chiu Gompa, Mount Kailash and Mansarovar lake. The immense sacrifices which Buddhists do in order to embark upon these pilgrimages is quite similar to several Hindu pilgrimages which require courage, willpower, stamina and fitness.
Earlier Tibetans used to navigate the barren land of Tibet on horseback. I noticed that modern Tibetans ride colorful motorbikes with quirky elements added to it as decorations. On a lucky day, or a festival, you can see scores of Tibetan devotees at Chiu Gompa. The pilgrims also carry tents, local food such as Tsampa, clothing etc from all parts of Tibet as they camp here during festivals. That makes it an ultimate pilgrimage tour for Buddhists.
Losar is the most important festival which is celebrated by Tibetan people. This festival, which is also celebrated at many places in Arunachal Pradesh and Ladakh in India, marks the beginning of the year as per the Tibetan calendar. It is quite similar to the Chinese calendar. Beautiful dance performances, enacting plays and playing traditional music are inseparable part of the festivities.
Saga Dawa is another major festival that is celebrated in nearby Darchen. This is also when Tibet monastery comes alive with festivities. In fact, Tibetan temples must be visited during such festivals.
Other Monasteries in Tibet
What are the other famous and important monasteries located in Tibet? If possible, you must visit the below mentioned Buddhist monasteries in Tibet, which are located at different places in Tibet:
Kirti Monastery
Tholing Monastry
Karma Monastery
Zandan Monastery
Riwoche Monastery
Potala Palace, Lhasa
Rongbuk Monastery
Deraphuk Monastery
Mindroling Monastery
Driru Country Monastery
Galden Jampling Monastery
Labrang Tashikyil Monastery
Jhada Gon Palden Khachoe Nunnery
Shak Rongpo Gaden Dargyeling Monastery
Below are some of the closed Buddhist monasteries of Tibet:
Rabten Monastery
Tarmoe Monastery
Drongna Monastery
Tibetan monasteryin Gansu
Of the above-mentioned Tibetan monasteries, Tholing Monastry is the oldest Tibetan monastery, Potala Palace is the most important and famous monastery in Tibet and Deraphuk Monastery is the highest Tibetan monastery. Do read my detailed guide on the main monasteries of Tibet.
God alone knows, how many more such Tibetan temples are scattered around this mysterious land! Have you visited any of the above-mentioned Tibetan Buddhist monasteries?
Souvenirs Shopping Guide to Chiu gompa monastery
There are not many souvenir shops around Chiu gompa monastery. As per my observation, most of the souvenir shops were located in Darchen.
Vegan and Vegetarian Food near Chiu gompa monastery
The kitchen which serves the Hindu pilgrims staying at Mansarovar lake serves piping hot Indian vegetarian and vegan food near Chiu monastery. Do not expect to eat any temple food in Chiu monastery or any other Tibet monastery. If you are lucky, you maybe offered to sample their tsampa.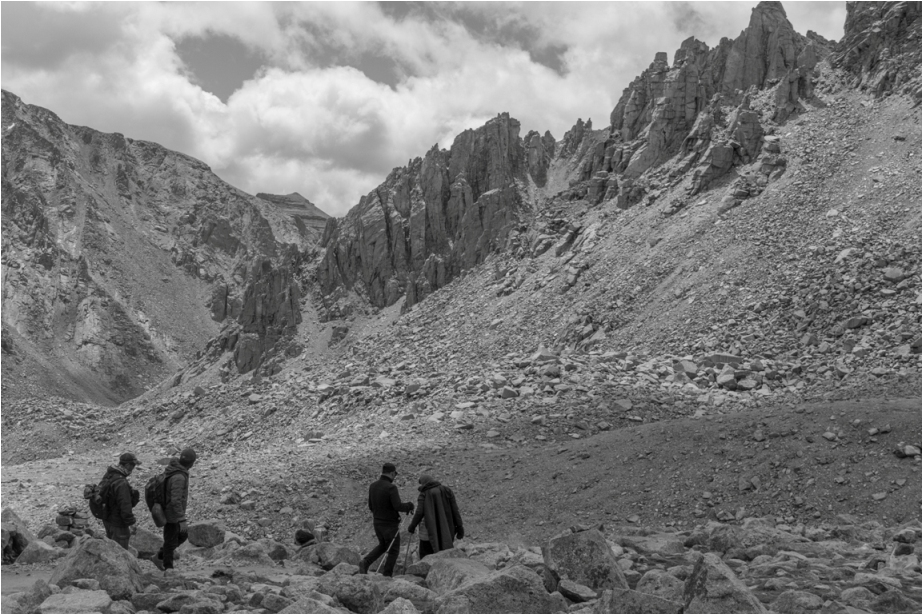 Solo Trip Tips for Chiu Gompa
I had travelled to this monastery in Tibet mountains in a group. That said I saw at least two Western solo travellers. Tibet is not an easy place for solo travellers due to strict restrictions on independent movement, distances and lack of a robust public transport system.
Backpacking Budget Travel Tips for Chiu Gompa
Chiu monastery and elsewhere in Tibet is an expensive place to get to. Lack of public transport, hiring of mandatory local guide, lack of choices for vegetarians and vegans makes Tibet an expensive place to travel to. Going on a backpacking trip in Tibet, therefore is not easy. Tibet is not a place you just pack your bags and go to. I hope solo budget travel becomes easy in Tibet.
Luxury travel Tips for Chiu Gompa
The kind of expenses which are incurred during Kailash Mansarovar Yatra makes it a luxury trip by default. However, be warned that the accommodation near Mansarovar lake would surely be the dirtiest and most basic you would have ever stayed at. Do not even expect a clean toilet and hot shower despite spending a bomb.
What currency is used in Tibet?
In present day Tibet, Chinese Yuan which is abbreviated as "CNY" and also known as the Ren Min Bi or RMB is used for transactions. The denominations of Chinese Yuan include 0.1, 0.2, and 0.5 RMB bills (or 1, 2, and 5 Mao). The other denominations are 1, 2, 5, 10, 20, 50, and 100 RMB bills.
Words Renminbi and Chinese Yuan are used interchangeably and they mean the same thing, which is currency of China. ¥ is the symbol used for RMB. CNY is the international abbreviation.
Tangka which is divided into skar or sho was the official currency of Tibet between 1764 and 1941. It is no longer in use. Coins are not used in Tibet.
ATM in Chiu gompa monastery
There are no ATMs around Chiu gompa monastery. Please carry hard cash in local currency as digital payment is also not accepted in this remote location. This is true for most Tibetan Buddhist monasteries in this vast region.
Is it safe to visit Chiu gompa monastery?
Yes, much like Tibetan monastery in India, it is very safe to visit Chiu gompa monastery. In fact, this monastery in Tibet is located near Mansarovar lake where you will see many other Hindus. This is why it is thing to do with family and kids. I am sure this sounds comforting! This monastery in Tibet mountains is not to be missed!
How to reach Chiu gompa monastery
I arrived at Mansarovar lake and Chiu gompa monastery via Taklakot on a car. My entire road trip was planned from Kathmandu to Kathmandu. I saw many old Tibetan temples en route.
Local Transport for sightseeing in Chiu gompa monastery
I did not see any local bus or vehicle. Most pilgrims come here on a tour package, like I did. You can hire a tour agency or tour operator to book a Tibet tour. You can plan a longer holiday in Tibet too. A vacation in Tibetan mountains is once in a lifetime opportunity.
Chiu gompa monastery is located approximately 900 kms away from the sacred Potala Palace in Lhasa and it takes around 4 days to cover this distance on road.
Visiting a monastery in Tibet mountains is a surreal experience, whether it is a large monastery like Potala palace or any smaller Tibetan Gompa.
I observed that Buddhist monasteries in Tibet are quite similar to Indian Buddhist monasteries in places like Yuksom and Pelling in Sikkim etc.
Distances of Chiu Gompa to Hindu Pilgrimages
Rakshas Taal: 15 kilometers
Kailash Parbat Area: 32 kilometers
Mansarovar Lake aka Mapam Yumtso: 1 kilometer
Distances of Chiu Gompa to nearby places
Gelor Co: 19 kilometers
Ashtapad: 31 kilometers
Sources of the Indus River: 41 kilometers
Dug Tso: 60 kilometers
Gago Co: 61 kilometers
Gape Co: 69 kilometers
Shaser Tso: 98 kilometers
Distances of Chiu Gompa to excursions
Tsaparang: 180 kilometers
Lumbini in Nepal: 407 kilometers
Deur Kothar: Buddhist Archaeological Site: 649 kilometers
Tope Mankiala: 823 km
Mankiala: 824 kilometers
Begana Lhakhang: 878 kilometers
Takht-i-Bahi Buddhist Complex: 967 kms
Where to stay near Chiu gompa monastery
There are not many places near Chiu gompa monastery where you can stay. Hindu Pilgrims who visit the holy Manasarovar lake visit the Chiu Gompa from here. I had stayed in one of the rooms of the simple guesthouses on the Mansarovar lake shore, right below the Chiu monastery.
During my Mount Kailash group tour, I had visited Chiu monastery solo when I stayed for 3-4 days at the Manasarovar lake.
Tibet is not as well developed as its counterpart Ladakh in North India. Ladakh has far superior facilities as compared to Tibet. Since the facilities near Chiu Gompa is below basic, so do not expect luxury hotels or even a basic hot shower despite being loaded with money.
I didn't have a bath during 3-4 days of my stay around this Tibetan Gompa. There are honestly, very few accommodation options near this monastery in Tibet.
Toilets at Chiu Gonpa
Unlike the much better organised Ladakh, infrastructure in Tibet is non-existent. The dirty outdoor pit toilets were our only option. Irrespective of how much one can pay, the richest of pilgrims had no option but to answer nature's call in either smelly and dirty tent toilets or in the open ground, exposing their bums to chilling weather and risking their lives with attacks by ferocious Tibetan dogs.
The only permanent walled toilet had no doors between Indian style toilet seats. Also, the toilets were the dirtiest I had ever seen.
Best Time to visit Chiu Gompa?
I visited Chiu Gompa during the month of August. The weather was pleasant and it drizzled lightly for just few minutes when I visited. Indians perform Kailash Mansarovar Yatra in Tibet every year from the month of June to September. This is when the temperature and weather in western Tibet is the best.
This is also a good time to visit other Tibetan temples. Much like Ladakh, winter is a harsh time in Tibet. Also, do carry a rain coat with you all the time. It drizzled very lightly two times, once when I was just returning from Chiu Gompa and secondly when I just started the Kailash Mansarovar Parikrama.
Timings of Chiu Gompa
It is advised to visit Chiu Gompa early morning till afternoon. Chances are that you might get an opportunity to witness the early morning chants and prayers like I did in Tawang Monastery in Arunachal Pradesh in North East India.
During evening, the Chiu Gompa, a must-see monastery in Tibet, might remain closed. You can still enter the premises of the ancient monastery but the main shrine will remain closed.
Entry Fee at Chiu Gompa
Unlike the paid entry to Hemis Monastery and Lamayuru Monastery in Ladakh of North India, visiting Chiu Gompa is a free thing to do. There is no entry fee to visit Sparrow monastery of Chiu Gompa
How many days to spend in Chiu Gompa?
I had spent 3-4 days at Mansarovar lake. However, I was able to explore much of Chiu Gompa within 2-3 hours of walk from my spartan guest room at Lake Mansarovar. Stay here for longer if you want to have a conversation with resident monks.
Soul Window Travel Tips on Chiu Monastery
Do carry water when you visit any of the Tibetan Buddhist monasteries.
Carrying light snack is also a good idea.
Wear sturdy shoes for easy walk on rough terrains.
Photography Tips for Chiu Gompa
The vantage point on a hill adjacent to Chiu Gompa offers breathtaking views of Lake Mansarovar and even Mount Kailash on a clear day. You can also get great shots of Chiu Gompa from the base of the hill. The Buddhist monasteries of Tibet are in general picture postcard perfect whether Tibetan temples or old Buddhist monasteries in India!
Do not click pictures of monks without asking.
Languages spoken in Chiu Gompa
Lhasa Tibetan, Chinese, Cantonese and Mandarin is widely spoken in Chiu Gompa and Mansarovar lake area. You can also see Hindu pilgrims speak various language such as Hindi, Telugu, Tamil, Kannada, Gujarati, Marathi etc. Thanks to the presence of Nepali sherpa, another language commonly spoken here is Nepalese.
Apart from Tibet, languages from Tibeto-Burman group of the Sino-Tibetan language family are also spoken in Nepal, Bhutan and Indian states such as parts of Arunachal Pradesh, Himachal Pradesh, Ladakh etc.
Conclusion: Is Chiu Gompa worth visiting?
Chiu Gompa, the ancient Tibetan Buddhist monastery perched atop a craggy and steep hill is worth a visit. It was heart-warming for me to visit such unheard-of holy places of worship in Western Tibet. Not many know that it is a top place to see near the more famous Mansarovar Lake. most comprehensive travel guide on the little-known monastery in Tibet.
Why visit Chiu Gompa? If you want to understand and appreciate the close ties of Buddhism with the barren landscape of Tibet since ancient times, you must visit Chiu monastery.
I started to question my beliefs or the lack of it as the sacredness of this region started to grow on me. I hope this Tibet travel blog answers all your questions as well. Do visit this monastery in Tibet mountains when Bhagwan Shiv calls you to perform the epic Kailash Mansarovar Yatra.
I will leave you with this Tibetan proverb which says,
"Wherever you have friends, that's your country.
Wherever you receive love, that's your home."
The view from my Soul Window is offbeat!
Pin this blog to save the blog and plan a trip later!
Related Blogs
Travel Guides on Tibet
Below are some information packed detailed travel blogs on Tibet which I wrote based on my own travel experiences here. Do read them and share with your friend and family.
Monasteries of Tibet
Mount Kailash and Lake Mansarovar
Kailash Mansarovar Yatra Checklist
Vegetarian Food in Kailash Mansarovar Yatra
Road Trip to Kailash Mansarovar Yatra
Lipulekh Pass Route to Kailash Mansarovar Yatra
How to prepare for Kailash Mansarovar Yatra
All about Kyirong
All about Saga in Tibet
All about Darchen
All about Deraphuk
Driraphuk Gompa
Who are Bon people?
Wildlife of Tibet
Everest Base Camp in Tibet
Qomolangma National Park
Travel Guides on Buddhist places
Below are my blogs on the Buddhist places I visited in India and elsewhere
All about Kushinagar
All about Piparahwa
All about Shravasti
All about Vaishali
All about Nalanda
All about Rajgir
All about Bodhgaya
Monasteries of Sikkim
Monasteries of Namchi
Monasteries of Pelling
All about Lumbini
Hemis monastery
Shey monastery
Thiksey monastery
Lamayuru Monastery
Chamba statue of Mulbekh
Tango and Cheri Monastery of Thimphu
Top Travel Blogger from India