Last Updated on June 1, 2022 by asoulwindow
Information about Mansarovar Lake
When I first saw Mansarovar lake, I was amused to see that the lake is still bereft of much human activity. Gradually, as I stayed here for longer, I saw many Hindus praying on the shores of Mansarovar Lake. Welcome to Mansarovar lake. An extraordinary place! Hindu devotees from India and other nations go on Kailash Manasarovar Yatra every year in spring, autumn, summer and monsoon months.
Needless to say, throughout the year, several pilgrims, tourists and visitors are attracted to the holy Lake Manasarovar and the nearby Mt. Kailash. It is after all, one of the most splendid high-altitude lakes in Tibet. Mansarovar Jheel is indeed the most spiritual, religious, challenging pilgrimage of entire Asia. It is also among the most-visited trips.
Since times immemorial the holy Manasarovar Lake has served as a cradle of spiritual and physical evolution of the human beings.
I am glad that I was chosen by Shiv Bhagwan to visit Mansarovaar Lake at such a young age. Only fortunate ones are chosen for this epic journey every year.
I have written this travelogue based upon my own travel experience to Manasarovar jheel. This is the most detailed travel guide on Mansarovar Lake. I have shared all the aspects of the holy Lake Manasarovar in this comprehensive travel guide. Do share this information packed blog with your friends and family. Such elaborate details on Mansarovar lake are absent in the travel guides and mainstream media.
Why is Mansarovar lake Famous?
What is special about Mansarovar Lake? What is the importance of Lake Manasarovar? Much like Mount Kailash, Mansarovar lake is also revered and considered holy by Hindus, Buddhists, Jains and people from Bön faith. Manas Sarovar is one of the top Tibet Tourist Attractions.
The gorgeous deep blue color of Mansarovar lake and the stunning beauty of the snow-capped mountain ranges around it also makes it very famous. Ashes of Mohandas Karamchand Gandhi were also sprinkled in the water of Manasarovar Lake.
What is special about Manasarovar Lake? The region around Mount Kailash and Mansarovar Lake is also said to be the "Center of the World" since ancient times. The unexceptional beauty of Mansarovar lake is also the reason why it is so famous!
Most of the devotees who visit Kailash Mansarovar arrive from India and Tibet, followed by Nepal and other neighboring nations. This is why, several travel agencies organize annual pilgrimage group tours known as Kailash Mansarovar Yatra.
Kailash Mansarovar is the place where Shiva Bhagwan resides and meditates. Mansarovar exists at only one place and this is why Hindus take great pains to embark upon this famous pilgrimage at least once in their lifetime.
Landscape of Mansarovar Lake
Needless to say, Manasarovar Jhil is picturesque! Close your eyes and imagine this! Bountiful nature, snow-capped mountains, pristine lakes, crystal clear water, huge open spaces, unending greenery, migratory birds etc define the landscape of Mansarovar Lake.
The scenic beauty of Mansarovar is hard to define in words. During all my days at Mansarovar Lake, it was difficult for me to take my eyes off the pristine lake.
My Experience of Mansarovar Lake
I was spellbound when I had my first glimpse of one of the most transparent fresh water lakes in Tibet. Clear blue water with a breathtaking backdrop of the Himalayan Range mesmerized me.
Located in the middle of nowhere, the vast lake stood out with its grandeur. It was easily one of the biggest high -altitude I had ever seen apart from Pangong Tso and Tso Moriri in the Ladakh region of North India.
While my co travelers got busy in meditation and photography, I kept myself curious and took every opportunity to visit the places around Mansarovar Lake alone on foot. I find a certain pleasure in finding some time off to travel solo even when I am with a group. Solo travels make all the difference.
Tourism in Mansarovar Lake
Here is all you wanted to know about Lake Mansarovar tourism. Such is the grandeur of Mansarovar Lake, that even atheist tourists from China are not able to resist its charms. I saw many Chinese tourists around Lake Manasarovar. I saw exactly two Western tourists exploring the picturesque Mansarovar Jhil and Chiu Gompa solo.
This part of Tibet doesn't attract many western tourists because most of them can-not afford to travel to this side of Tibet. However, some people from West do travel here once in a while! There are so many hidden gems and unusual places to see around Lake Mansarovar. There are also several unique things to do with family and kids in Mansarovar.
Story of Mansarovar Lake
There are many stories, historical facts, myths and legends associated with Mansarovar Lake. Whether it is the followers of Hinduism, Bön Religion, Jainism or Buddhism, each religion has interesting stories and anecdotes about Mansarovar Lake. Even different regions of Tibet say different stories about this holy lake.
Is Mansarovar part of Tethys Sea?
Where is Tethys Sea now? What happened to the Tethys Sea? Did you know that Manasarovar Jheel is a remnant of the ancient Tethys Sea which existed 10 crore years ago? This is a lesser-known fact about Manasarovar Lake. In earlier times, Lake Manasarovar used to be vaster. In present day Kaliyug, the size of Mansarovar Lake has been reduced to its current form. Hinduism and other religions have also supported this theory.
Tethys Sea, which is also said to be the source of all creations, is also linked to this story of Mansarovar Jhil. Being the crucible of human and other evolution of other animal and life forms, Tethys Sea has always been an important water body discussed widely over the years.
Tethys sea is usually held as the place of human civilization. It is said that all life forms came out of the Tethys Sea. Thanks to the movement of the continental plates, Tethys Sea got pushed up. It must be noted that the Tethys Sea itself doesn't exist now. However, it is still possible to visit the remnants of the lost Tethys Sea. The three small remnants of the ancient Tethys Sea which still exist include the following:
The Black Sea could also be a remnant of the much older Paleo-Tethys Ocean. The Tethys Ocean used to exist between the ancient continents of Gondwana and Laurasia during much of the Mesozoic era.
Mansarovar glacier
Lake Mansarovar is fed by the waters from the glaciers of Kailash Parbat. This also makes the water of Mansarovar Lake so holy. This is also why people queue up to take a holy dip in the water of Mansarovar Lake. It is one of the major attractions of Mansarovar region.
Apart from the melting water from glaciers, the natural rain water is another source of water of Mansarovar Lake.
Nomenclature/Etymology of Mansarovar Jheel
Together Manas Sarovar jheel and Mt. Kailash are called as "Sacred Mountain and Holy Lake". Below are various names of Mansarovar Lake in various languages.
Hindi and Sanskrit names
Mansarovar is made from Sanskrit root words Manas and Sarovar. In Sanskrit, therefore, Mansarovar Lake is also referred to as Manas Sarovar. The literal meaning of 'Man' or 'Manas' is mind and intellect while the meaning of 'Sarovar' is lake.
In ancient Vedas, it has been mentioned that Vishnu Bhagwan and Maa Lakshmi live in this place which is also known as Sheesh Sagar.
Mansarovar Lake is also known as the lake of consciousness.
Bön Name
Bon religion existed in Tibet way before Buddhism spread in Tibet. In ancient times, Mansarovar Lake was known as Matri Tso or Matri or Machui Co. This is the name of a Dragon King of the ancient Bon Religion of Tibet.
As per the followers of the unique Bön Religion, "Zhang Zhung" is a holy place in Tibet.
Tibetan Buddhist name
The Tibetan names of Mansarovar lake are Mansarovar and Mapham Yumtso, both of which mean invincible lake or Victorious Lake. Devout Buddhists also relate Manasarovar Jheel with Anotatta Lake, the place where Queen Maya, mother of Gautama Buddha bathed.
The Tibetan also call Mansarovar lake as mTsho Mapham, Tsho Mapham, mTsho Ma-dros-pa andམ་ཕམ་གཡུ་མཚོ།.
English Names
Sometimes Mansarovaar Lake is also known as the Mind Lake or Lake Mansarovar or Lake Manasarovar.
Chinese name
As per the book "Regions In Great Tang", written by monk Xuanzang, Manasarovar Lake was referred to as the holy Yaochi Lake of Nirvana. Chinese call Mansarovar Lake as 瑪旁雍錯 or Mapang Yongcuo.
Soul Window Facts
Hiuen Tsang or Chen Hui has visited and documented on various Buddhist places in India such as Assam in North East India, Uttar Pradesh, Bihar, Gujarat, Uttarakhand etc.
Do read my detailed blogs on Vaishali, Nalanda, Shravasti, Sarnath, Kushinagar, Kapilvastu, Lumbini etc. My blog A Soul Window has been awarded as the most successful travel blogger in India.
Is Mansarovar Lake in India?
In which country is Lake Mansarovar? Does Mansarovar belong to India? Mansarovar lake is which country? Why is Mansarovar in China? These are some of the most frequently asked questions.
Well, not many realize that Lake Manasarovar is located in Tibet region of China. Indians need Visa and passport in order to visit Kailash Manasarovar. Why is Mansarovar in China? Since Tibet is under control of China, therefore Manasarovar Lake exists in China.
Where is Mansarovar Lake located?
Where is Mansarovar Lake located? Where is mansarovar lake? Mansarovar lake lies in which range? Lake Manasarovar is located in the Burang county of West Tibet. Lake Manasarovar is a popular Ngari Tourist Attraction.
Situated in Ngari Province, Lake Mansarovar is a must visit place. Located in the western part of Tibet Autonomous Region in Ngari Prefecture, Mansarovar Jhil is also located near close to Taklakot or Burang/Purang and the tri junction border of India, Nepal and Tibet.
The location of Mansarovar Lake is scenic. Lake Mansarovar is situated between Kailash Parvat and the Gurla Mandhata, highest peak in this region.
Altitude of Mansarovar Lake
What is the height of Mansarovar? The altitude of Mansarovar Lake is 15060 feet or 4,590 meters. It is a high altitude and precautions must be taken to avoid AMS or Acute Mountain Sickness. Thanks to the height of Mansarovar Lake, it is advised to take rest on the first day here.
Area of Mansarovar Lake
The sprawling Manas Sarovar Lake is spread across an area of a whooping 412 square kilometers. The northern part of Mansarovar Lake is broader than the southern end of this pious lake. The total circumference of Mansarovar Lake is 80 kilometers. It is a little-known fact about Manasarovar jhil.
Shape of Mansarovar Jhil
Lake Mansarovar is shaped like a pear. Some also say that the shape of Mansarovar Lake is round. The round shape represents Sun and positivity and is often compared to the crescent shape of the adjacent Rakshas Taal which represents moon or darkness.
Depth of Mansarovar Lake
The deepest point of the Mansarovarlake is over 295 feet or 90 meters. Average depth of Mansarovar Lake is 46 meters or 150 feet.
Is water of Mansarovar Lake Transparent?
The water of picturesque Lake Mansarovar is so pure and crystal clear that one can see through dozens of meters into this sacred lake with naked eyes. Transparency of Lake Mansarovar is up to 14 meters.
This means that if a person stands by the shore of Mansarovar Jhil then he can easily see up to 14 meter deep in the lake. That is an amazing fact which not many people know about.
Soul Window Observations
The other places where I saw such clear transparent waters was at the world-famous Dawki River of Meghalaya in North East India. The water of Pangong Tso, Tso Moriri in Ladakh and Andaman were equally clear.
History of Mansarovar lake
Historical significance of Mansarovar lake is immense. Kailash Mansarovar history date back to thousands of years. I am sure no one told you about this Mansarovar story. History of Mansarovar has gone through several ups and downs.
There was a time when Buddhism was not present in Tibet. Bon religion flourished in Tibet in a pre-Buddhist era. In those times, Mansarovar was known as Matri Tso which meant 'Dragon King of Bon Religion.'
As per the Buddhist sutra 4 dragon kings used to exist in the 4 sacred lakes of Tibet. They constantly created problems and made the life of local people difficult. It was during the rule of Tibetan king Chisong Dezan, Padmasambhava demonstrated his world-famous magical powers and gained victory over the 4 unruly dragon kings.
After subduing the dragon Kings, Padmasambhava converted them to Buddhism. Eventually the same 4 dragon kings served as the 4 dharma protectors of Tibetan Buddhism. This is an interesting story about Mansarovar lake which very few people know about.
In the local Tibetan language, Lake Manasarovar stands for the "invincible lake" or Invincible Jasper Lake.Bön religion flourished in Tibet before the arrival of Buddhism. During the 11th century C.E., Buddhism had spread in Tibet and overshadowed the local Bon Religion. It was then that the local name Machui Co was changed into "Manasarovar", the literal meaning of which is "Invincible Lake". These are some amazing facts about Lake Manasarovar no one told you about!
What happened was that in the 11th century C.E. a religious war broke out between the followers of Bon religion and Tibetan Buddhism Kagyu Sect. It was a decisive war which was won by the Tibetan Buddhism Kagyu Sect. As a result of the war, Matri Tso was renamed as Mansarovar Lake. This is a lesser-known fact about the history of Mansarovar Lake.
Tibetans refer to Lake Mansarovar as Mapham Yumtso, the literal meaning of which is Victorious Lake in Tibetan language. As we see, the history of Mansarovar Lake was influenced by various factors.
Who built Mansarovar Lake?
Who constructed Lake Mansarovar? This is a frequently asked question on Lake Manasarovar. As per the Hindu history, the concept of Mansarovar jhil was conceived in the mind of Hindu deity Brahma Bhagwan, the creator God, because his 12 sons required a place to take bath after spiritual practice in the holy mountain.
What followed next was the manifestation of Lake Mansarovar in this untouched region of Earth. The visible manifestation of Manas Sarovar can still be seen today.
In the initial stages Lord Brahma (as the west calls Him) had created Mansarovar Jheel for meditation. Brahma ji meditated at Mansarovar for a long time. It led to the beginning of the creation process. In fact, this is the place from where the entire world was created by Brahma ji.
When was Mansarovar Lake constructed?
Mansarovar lake was built by Brahma ji thousands of years ago. This is why this sacred lake is a must-visit. Every Hindu craves to visit Mansarovar at least once in his lifetime.
Top things to do in Manasarovar Lake
What is there to do in Manasarovar? There are several unique things to do with family and kids around Lake Manasarovar. Some of the top things to do here are as below:
Do pooja
Sing bhajans
Meditate by the lake
Do yoga by the lake
Sunbathe by the lake
Study flora and fauna
Sit by the lake quietly
Do chanting by the lake
Observe Kailash Parbat
Birdwatching by the lake
Take a holy dip in the lake
Observe snow-capped Himalayan peaks
Perform parikrama or kora around Mansarovar Jheel
Many of these are free thing to do in Manasarovar. For example, you can easily take a self-guided free walking tour around the Manasarovar Lake.
Full Moon at the Mansarovar lake: Attain Moksha
Hindus find it very auspicious to take a holy dip in Lake Mansarovar during a full moon night. No wonder that the tour agents face a huge surge in applications from pilgrims requesting to time their journey during full moons. There are many folklores and legends associated with full moon in Lake Manasarovar.
Spending full moon night near Kailash Parbat is considered auspicious as well by the Hindus. It is undoubtedly the best thing to do in Mansarovar Lake.
However, such beliefs are not exclusive to Kailash Mansarovar Yatra alone. Since times immemorial, Hindus have considered full moons auspicious. As per the ancient Hindu scriptures, full moons are considered pious because of the release of most positive energy during this period.
Even many Buddhists celebrate most of their festivals on full moon in Sri Lanka.
Spending nights at the Kailash Parvat in Deraphuk and at Lake Mansarovar during full moon, therefore, holds immense spiritual significance. Many Shiv devotees have claimed to experience vibrant cosmic energies pulsating through the air.
It is believed that even when there is no full moon, taking a mere dip in holy Mansarovar Lake absolves the devotees of all the sins he or she did in the last seven births. So, how is taking a dip during full moon different, did you ask?
Well, Hindus believe that a holy dip in Mansarovar Lake during the full moon night rids them of the sins committed by them not only in the present birth but also in the last hundred births. What's more, devotees can also achieve salvation or moksha in the process.
Apart from the above stated spiritual significance, what also makes it totally worth it to spend a full moon night near Kailash Parvat and at Mansarovar Lake is the visual spectacle. The calm water of Lake Mansarovar, gently shimmering under the cast of the soft glow of full moon looks surreal. Not only is it a sight to behold, but also a celebration.
You will notice Hindus, clad in their traditional best, singing bhajans (religious songs) and invoking the spirituality in themselves. Many people also meditate by the Mansarovar Jheel to benefit from the positive energies.
Mansarovar Lake in Full Moon
Mansarovar jhil looks even more ethereal during the full moon. It is considered very auspicious by Hindus to spend a night around Mansarovar Lake during full moon. This is why there is high demand of rooms during full moon at Lake Manasarovar. Generally, the Manasarovar tours around full moon day are sold out very fast. Full moon is considered auspicious in Buddhist cultures as well.
The slots to stay near Kailash Parbat or Mansarovar lake during the full moon night is limited due to various factors such as lack of proper toilets, scarcity of proper rooms, difficulty in procuring supplies of vegetables and spices for mass production of vegetarian and vegan food etc. Rooms available at Lake Mansarovar are few in number and are on sharing basis.
No matter how much money you have, everyone is treated as same here. Lack of enough portable toilets often forces people to go to open fields to answer nature's calls. Availability of below basic facilities at Lake Manasarovar results in very few people able to stay at Mansarovar Lake during the full moon night.
Needless to say, that it is on a first come and first serve basis. Contact your tour operator much in advance in order to book your slots on full moon night. Watch out for full moon nights in the months of May, June, July, August and September.
You anyways have just 4 months in one year when Kailash Mansarovar Yatra is open for pilgrimage. So, it's a good idea to plan much in advance. The spaces fill fast due to low supply and high demand. Thanks to limited resources and facilities, there is a cap on number of people who can stay at most places during Kailash Mansarovar Yatra.
You sure do not want to face any last-minute disappointments! So, why not book much in advance and secure your spot. Full Moon happens just once every month, which means that you have only 4-5 such opportunities in an entire month. Do not miss out on this once in a lifetime opportunity by mere procrastinating.
Panch Sarovar
Manas Sarovar Lake is considered to be one of the 5 sacred lakes of Hinduism, collectively called as the Panch Sarovar according to Hindu theology. This is a little-known fact.
The Panch Sarovar also finds a mention in the holy Hindu scripture called Shrimad Bhagavat Puran. The 5 sacred lakes of Panch Sarovar are as below:
Mansarovar Lake, Tibet
Pushkar Sarovar in Rajasthan, India
Pampa Sarovar in Hampi, Karnataka, India
Bindu Sarovar in Siddhpur, Gujarat, India
Mansarovar: Source of 4 rivers
While visiting Tibet, I realized that Kailash Manasarovar region is also a source of 4 great rivers which flow across Asian continent. These are also some of the best offneat places to visit in Manasarovar region. What are the rivers originating from Mansarovar Lake?
Apart from the above mentioned Panch Sarovar lakes, the source of 4 of the major Asian rivers is also found near the Mansarovar Lake. I, in fact did cross the Brahmaputra River. It was overflowing and we actually drove over a road on which the water from Brahmaputra had spilled over.
It was dark and I was amused at what I was doing. So, which river originates from Mansarovar lake? It is a frequently asked question. The names of those four rivers are as below:
Brahmaputra – Also called as Yarlung Tsangpo river in Tibetan language, Luit Dilao in Assam and Siang/Dihang in Arunachal Pradesh, Brahmaputra River has its origin in Tibet. Not only is Brahmaputra River the 15th longest river of the world but it is also the 9th largest rivers of the world. The source of Brahmaputra River is located in the Lake Mansarovar region in close proximity with Kailash Parbat.
Sutlej – Also called Langqên Zangbo in Tibetan, it is located on the west of Rakshas Taal in Tibet. The origin of tributary of Sutlej is located towards the west side of Manasarovar Lake. Did you know that Sutlej River is the easternmost large tributary of the Indus?
Sindhu – Known as Sênggê Zangbo or Sênggê Kanbab or Senge Khabab in Tibetan language, it is located near Mount Kailash. There are many Tibetan chortens to mark the source of Sindhu or Indus River.
Ghaghara – Also called as Kauriala in Nepalese, Ghagra, Gogra, Ghaghara, Kongque He in Chinese, Ghaghara originates in Tibet region as well. Ghaghara river also flows in Uttar Pradesh and Bihar in India. At 507 kilometers, it is Nepal's longest and most important rivers. Did you know that Sarayu River in Ayodhya is actually lower Ghaghara? That makes Ghaghara River a very important river as it finds mention in the holiest of Hindu epic called Ramayan as well. We are all so inter-linked. Who would have thought? I had seen Ghaghra River when I traveled from Lucknow to Shravasti, Kapilvastu, Kushinagar and Lumbini in Nepal.
Mansarovar Jhil: Highest fresh water lake of the world
What is inside Mansarovar lake? It is no co incidence that the highest fresh water lake of the world is also the holiest of all. What makes Mansarovar Lake different from other high-altitude lakes of Tibet is the fact that unlike other lakes which are saline in nature, Lake Mansarovar has fresh water. Fed by Kailash glaciers, the water in Lake Mansarovar is of course very cold.
While devotees see it as a divine intervention, others relate it to science. But then, things have always been mysterious and beyond human comprehension in the abode of the first Yogi, Lord Shiva! I personally do not raise too many questions in the abode of Adi Yogi.
It is curious how a Mansarovar lake has remained a large freshwater lake on the Tibetan Plateau which mostly has several saline lakes. In spite being located in the relatively high elevation, the Mansarovar is a rare example of fresh water lake in Tibet. This is why Manasarovar Jheel is a must-visit place.
Sunset at Lake Mansarovar
The mostly blue and emerald green colored Manas Sarovar Lake changes its colors many times in the day, depending upon the Mansarovar weather and position of Sun. I was all alone at the Mansarovar Lake when I saw a breathtaking sun set unfolding in and around Mansarovar Jhil. I had just arrived solo from Chiu Gompa. It was drizzling slightly and then it stopped.
As soon as I arrived at Lake Mansarovar, my jaws dropped at the scenery. A young Indian lady excitedly walked towards me and we exchanged notes on how incredibly beautiful the lake, the mountains and the sky looked during the sun set.
In far distance, the Himalayan peaks were glowing under the evening sun. I think I was just lucky to embark upon this journey of a lifetime during my Mansarovar Lake tour. The surreal sunsets of Mansarovar are a must-see spectacle! It is not to be missed!
Is it allowed to take a bath in Mansarovar Lake?
The Chinese government does not allow taking bath or swimming directly in the Mansarovar Lake. Till few years ago bathing in Lake Mansarovar was allowed. However, bathing was banned in Mansarovar due to rising pollution in the lake.
For this, makeshift cubicles are set up on the banks of the Mansarovar Lake for those Hindu devotees who wish to take a ritual bath in Lake Manas Sarovar. As per Hindu practices, taking at least 3 dips at a holy lake or river or other water body is encouraged.
Women and men can take a bucket bath in these cubicles. The water is sourced from the Mansarovar jhil in buckets, of course. Check with your tour agent in advance about the facilities they are providing for the holy ceremonial baths. It is possible to take bath only in the season of spring, autumn, monsoon and summer because this is when the snow melts.
Also, some devotees only dip their hands and feet and splash the holy water on their head.
As per the religious customs of Hinduism faith, all the devotees must take bath in the holy water of Lake Manasarovar before they commence the epic parikrama around Kailash Parvat.
This is why devotees first visit Lake Mansarovar, followed by their stay in Darchen from where they start the parikrama in Yam Dwar of Tarboche. Needless to say, Mansarovar Lake tour is incomplete without a holy dip.
Soul Window Travel Tips
You must ensure that your body and forehead is covered with woolens after taking the dip in Mansarovar Lake. This tip will help you from not falling sick due to cold weather.
Positive Energy of Manas Sarovar Lake: My experience of holy dip
I almost didn't take a holy dip in Mansarovar Jhil, until my co traveler Sumit ji, coaxed me in to it! He said that the trip to Kailash Mansarovar in incomplete without a dip in the holy Mansarovar Lake. I had avoided taking a dip as it was very cold and also because it was not my comfort zone. I rarely swim in rivers or lake, holy or otherwise. I can actually count on my fingers the number of times I have taken a dip in a lake or river. Sumit ji said that a mere dip in Mansarovar may also unblock all the hindrances I had been facing in life.
After much beating around the bush, I agreed for a holy dip in Mansarovar Lake. The cold was extreme on the day we decided to have a bath in the Mansarovar jheel. Mansarovar weather had also suddenly changed as we neared the spot where we would take bath.
After I took the holy dip in the lake, I felt an unprecedented sensation in my body. It is not an overstatement to call it an out of body experience! So strong were the vibrations of Lake Manasarovar, that it is hard to define it in words.
Soul Window Thoughts
I felt this strange phenomenon for at least 10-15 minutes. After this my mind cleared and I fell silent. Had Sumit ji not pushed me in to taking the holy dip, I would have missed this once in a lifetime opportunity. I sincerely thank Bholenath that he chose me through Sumit ji as a medium for this beautiful experience. Only chosen few are called by Him every year! To be able to embark upon Kailash Mansarovar Yatra, so early in my life, is nothing less than a blessing!
Bath In Mansarovar Lake during Brahma Muhurat
There are many secrets and mysteries associated with Mansarovar Lake. During the auspicious Brahma Muhurat, the Gods themselves descend on Mansarovar Lake to have a bath here. This is why Mansarovar is one of the holiest places for Hindus. This Mansarovar Lake mystery is yet not solved.
Mysterious Lights at Manasarovar
Many devotees have claimed to see mysterious lights hovering over Mansarovar Lake and descending down eventually to take a bath during the Brahma Muhurt between 2:30 a.m. and 3:45 a.m.
It is one of the biggest of Mansarovar miracles. I have revealed secrets of Mansarovar Lake in detail on another blog. Do read my blog on mysteries of Manasarovar Lake. It will answer all your queries. Those who love going off the beaten track will enjoy their time at Lake Manasarovar.
Can I drink water of Mansarovar Lake?
As per a written text by the Hindu poet Kalidasa ji (active late 4th-early 5th century),
"the waters of Lake Manasarovar are like pearls and that to drink them erases the sins of a hundred lifetimes."
Hindus queue up to take holy dip in the sacred Manas Sarovar Lake. Some people drink water from the Mansarovar lake as well. They believe that by drinking water from the lake, they will get rid of all the sins they committed in the past seven births and secure themselves a place in the abode of Shiv Bhagwan after they breathe their last.
Can I bring home water of Mansarovar Lake?
How to bring home water of Mansarovar Lake? Yes, we can all bring back water from the Mansarovar Lake, especially if Tibet is visited as a road trip from India or Nepal. Road routes have less restrictions when it comes to transport liquid internationally. I had carried 500 ml of holy water of Mansarovar Jhil after the yatra.
Care must be taken that no living organism must remain in the bottle after collecting the water of Lake Mansarovar. Much like the holy water of Ganga River, the water of Mansarovar Jhil also never rots or decays. The divine water of both Ganga River and Mansarovar Jheel is kept by Hindus at their homes and use at special occasions such as purifying home, pooja or even funeral ceremonies.
Benefits of taking holy dip in Mansarovar Lake
What are the advantages of taking a holy dip in Mansarovar Lake? Not only does taking a holy dip in Manas Sarovar Lake gets one rid of all the sins committed in past but is also acts as a remedy for and mental and physical discomfort of the devotee. The souls of devotees who drink water from this holy lake are also purified in the process.
This is why thousands of devotees spend lakhs of Rupees and travel thousands of kilometers in order to get peace of mind and purify their bad karmas. Taking a bath in Lake Mansarovar also cures devotees of their ailments and diseases.
It is also said that if a devotee is able to pick a feather of a gull or bird or catch a fish or pick a stone from Manas Sarovar Jheel, then he or she will accumulate great wealth in coming future. This is seen as a reward of the Dragon King.
Is the water of Mansarovar lake cold?
I remember while taking a holy dip in the water of Mansarovar Lake, I felt very cold at the first contact with the water. Even during the warmest season, the water of Lake Mansarovar is very cold.
Predictably, the water of Mansarovar Lake during the day as well as night is very cold. If you are not able to brave the cold water, you can request the Nepali Sherpa to warm the water for you. Though I recommend taking bath with only natural water of Lake Mansarovar.
Sometime various reasons such as old age, poor health etc play a role in one's inability in bathing in icy cold water. If that is the case with you, please do not feel shy to request warm water from the lake.
All said and done, the cold water of Lake Manasarovar and the windy climate of area surrounding it is not a deterrent to a true devotee who wants to take a holy dip in the sacred water of this lake.
Why Buddhists also take holy dip in Mansarovar Lake?
The local Tibetan Buddhists believe that bathing with the holy water of Manasarovar Lake keeps one away from troubled thoughts, avaricious desires and the sins committed in past. The Tibetan Buddhists also hold the belief that drinking the water of Lake Mansarovar keeps one healthy and away from any disease.
Pooja at Mansarovar lake
I saw large groups of families and individuals performing pooja, rituals and rites on the bank of Manas Sarovar Lake. It was a satisfying feeling to see women clad in crisp saris and men in starched kurtas singing 'Om Jai Jagdish Hare' in a place as remote as Mansarovar jhil.
Meditation at Mansarovar lake
It is no wonder that Mansarovar lake is also called as the lake of consciousness. This is why, I saw many people from all faiths viz. Hinduism, Bon religion and Buddhism meditating with complete devotion on the banks of Mansarovar Lake.
I saw many individuals meditating on the banks of Mansarovar Lake with complete concentration. I also saw some groups running their spiritual discourses right at the banks of Lake Manasarovar. Group meditation was also happening during my 2-3 days stay at Lake Mansarovar. Mansarovar Jheel is an ideal place to slip in to a deeper samadhi.
It is also a good idea to sit by the Mansarovar Lake after the bath and meditate. This is the best possible way to meditate ever.
Perform Yoga at Mansarovar Lake
Doing Yoga which do not require much of physical activity (because high-altitude) is a good idea. The banks of the serene Mansarovar Lake are ideal spot to do Yoga. Devotees can try doing Kapalbhati, Pranayam and Shavasan on the banks of the lake. There are immense health benefits of doing such ancient Hindu Yogic practices. These breathing techniques have been taught since thousands of years by Hindu sages and holy men.
Chant Hindu Mantras at Mansarovar Lake
Many devotees also sit by the banks of the lake and chant Hindu Mantras at Mansarovar Lake. Chanting in the praise of the supreme lord brings peace to the mind of the devotee. Chanting specific mantras have positive effects on the mind. Being the abode of Lord Shiva (as the west calls Him), the most popular chants are:
Om Namah Shivay or ॐ नमः शिवाय
Har Har Mahadev
Shiva Shambhu
Devotees feel immensely positive and connected to the supreme God while sitting on the shores of the holy lake and chanting.
Religion and Lake Mansarovar
Let us now find out why Mansarovar lake is considered so auspicious by the followers of 4 faiths viz, Hinduism, Jainism, Buddhism and Bön. It is interesting to note that world religions like Buddhism, Jainism, Sikhism etc were born out of Hinduism or Sanatan Dharm. Hinduism after all is the oldest religion of the world. Several scriptures of different religions have described the spiritual significance and beauty of Manas Sarovar Jhil in great details.
Hinduism & Manasarovar Lake
Why is Mansarovar Lake holy to Hindus? As per Hindu history, Mansarovar Lake is the creation of the mind of Brahma Bhagwan. Why Hindus also revere Lake Mansarovar is because this is also the lake where Shiv Bhagwan and his wife Maa Parvati had taken bath.
Most of the visitors to Kailash Mansarovar Yatra are Hindus from India. Thanks to the immense historical as well as the spiritual relevance of Mansa Sarovar Lake in Sanatan Dharm or Hinduism, it is the wish for every Hindu to embark upon Kailash Mansarovar Yatra at least one in his lifetime.
Since this entire blog is written through the prism of Hinduism, therefore I am not elaborating more on this here as much has already been said in different sections of this blog.
Jainism & Manasarovar Jheel
Why is Mansarovar Lake sacred to Jains? Mansarovar Lake is also considered holy by the followers of Jainism, which is also an Indic religion which was born out of Hinduism. As per the Jain history, Lake Manasarovar is associated with the first Tirthankara, who had attained nirvana in the Himalayas.
Jains firmly believe that Lord Rishabh Deva, who was the first Tirthankara achieved spiritual liberation at Mansarovar Jheel.
Buddhism & Lake Manasarovar
Why is Mansarovar Lake pious to Buddhists? Did you know that Lord Gautam Buddha was conceived at Mansarovar Lake?
As per the Buddhist history and Tibetan legends, Queen Maya, the mother of Gautama Buddha hadtaken abath in Lake Mansarovar and this purified her body. It is said that a white elephant ran towards her from Mount Kailash and this is when Buddha Bhawan entered her womb.
Later, she gave birth to Buddha Bhagwan in Lumbini of present-day Nepal. Queen Maya was transported here by Gods. This is why Buddhist devotees perform kora (parikrama) around Mansarovar lake on foot.
It is also customary to pay a visit to all the Buddhist monasteries which fall on their path. Interestingly, unlike the Hindus, the Buddhist pilgrims do not take a holy dip or swim in Mansarovar Lake. Tibetan Buddhists only perform kora without going into the water of the lake. Buddhists believe that the water of Mansarovar Lake can get them rid of all the sins, delusions and worries of the mind.
The Buddhists also call Kailash Parvat as Meru Parvat. According to Buddhists, Gautama Buddha has also stayed at Mansarovar Jheel and meditated for hours.
Sikh religion & Manasarovar Jhil
Why is Mansarovar Lake revered by the followers of Sikhism? As per the Sikh community, it was at Mansarovar lake where Guru Nanak Dev, the founder of Sikhism and the first of the 10 Sikh Gurus learned to meditate. This is why Lake Manasarovar is considered very holy by the Sikh community.
Bön Religion & Mansarovar Lake
Why is Mansarovar Lake sacrosanct to the followers of Bon Religion? Much before Buddhism arrived in Tibet, Bon religion was dominant here. With time, Buddhism overshadowed Bon and now there are hardly any Bon people left in the world.
At present, most of the followers of Bon religion can be found in East Tibet. That said, you can still visit some Bon temples in West Tibet as well.
The followers of Bon Religion consider Lake Mansarovar pious because Tonapa Shernab or Tonpa Sherab,the founderofBon religion, had taken a holy bath in Mansarovar lake when he visited Tibet for the first time.
Mansarovar Parikrama
Devotees, whether Hindu or Buddhist or Bon or Jain gain immense merit if they perform parikrama or kora or circumambulation around the holy Manas Sarovar Jhil. This is why, thousands of pilgrims visit perform kora around the Mansarovar Jheel and take a holy dip in the pious lake.
Needless to say, for many it is the ultimate blessing in life. Do read my separate blog on the epic parikrama around Mansarovar Lake. Mansarovar Lake trek is a must-do if you have time, money and energy! Mansarovar Lake yatra is a once in a lifetime experience!
Can we see Mount Kailash from Mansarovar?
Can we see Kailash Parvat from Mansarovar? The answer is yes, we can see Kailash Parbat from Mansarovar Lake. In the north direction of Manas Sarovar, I had my first glimpse of Kailash Parvat.
Though small, I was clearly able to view the South face of Kailash from Mansarovar Lake. If you are lucky, then on a clear day, during the sunrise, it is possible to view the golden peak of Mt. Kailash. It is a spectacular sight! This darshan of Kailash Parvat from Mansarovar is indeed one of the major highlights of the yatra.
Mountain ranges around Mansarovar
While the majestic Himalayas are located towards the south of Mansarovar jhil, the steep Kailash Range of mountains is located towards the north of the lake. India and Nepal lie on the other side of the Himalayan Range of mountains. Manas Sarovar Jhil is located towards the southern foot of Kailash Parbat.
The mirror like reflection of snow enveloped mountain ranges and clouds on the calm surface of the Mansarovar Lake looks surreal. The highest peak in the surrounding area of Mansarovar Lake is Gurla Mandhata which measures approximately 25,242 foot or 7694 meters.
Gurla Mandata, which is also called as Nemo Nani or Naimona'nyi is the highest peak of the Nalakankar Himal. Sitting pretty across the Manasarovar Lake, Gurla Mandata is also world-famous because it is the 34th highest peak in the entire world (using a 500-metre prominence cutoff).
Did you know that Kailash Parvat is seen as the center of the planet Earth? 6 other mountain ranges surround Kailash Parbat from all sides. The area around Mount Kailash is therefore the focal point of the entire universe.
Rakshas Tal
Rakshas Tal, also known as Ghost Lake or Demon Lake is located just a few kilometers away from Mansarovar lake. I reached Rakshas Tal from Mansarovar on a car. As I headed towards Darchen to start the parikrama around Kailash Parbat, I had stopped for a few minutes at the jinxed Rakshas Tal.
The two lakes are as different as chalk and cheese. While Manasarovar Lake is a freshwater lake, Rakshas Tal has high salt content. This is also why Manasarovar Lake has a vibrant biodiversity such as fish and birds, I saw no sign of life in and around the waters of Rakshas Tal.
In Hinduism, this is the reason why Lake Mansarovar represents the Sun while Rakshas Tal represents the moon. For Hindus devotees, Ravan, the demon king of Lanka resides in Rakshas Tal lake.
Rakshastal is still a major tourist attraction near Lake Manasarovar. Read more about this on my detailed blog on Rakshas Taal and the difference between Mansarovar Lake and Rakshas Tal.
Ganga Chu River
Not many devotees know that Ganga Chu River or Ganga Chu Channel connects Mansarovar Lake with Rakshas Tal. If you move further towards the west direction, you will notice that Ganga Chu also flows in the famous Sutlej River. This is a major point of attraction in Manasarovar Jhil.
As per the local Tibetan people, it is an auspicious sign that the water of Mansarovar Lake trickles to Rakshas Tal. The locals also believe that if the lakes dry eventually and the circulation of water between the two lakes is interrupted, then it will bring great disasters to the world.
Birds and Wildlife around Mansarovar Lake
Every year during the summer season, flocks of swans congregate around Mansarovar lake, bringing liveliness to this remote lake. Thanks to the huge quantity of fish in Lake Manasarovar, several indigenous and migratory avian species stay at the lake to hunt the fish.
There is a great spiritual significance of why Mansarovar Lake is also the summer abode of swans! We all have grown up hearing that swans are considered very wise and sacred water birds. Swan is after all the vahan or savari of Maa Saraswati who is worshipped by Hindus as the goddess of Knowledge.
Some of the birds easily seen at Lake Mansarovar include various species of ducks, gulls, swans and ravens etc. Expect to spot migrating birds from as far Europe, Asia and Siberia at Mansarovar Lake. These exotic bird species stop at Mansarovar lake while they are on their way to India and further South.
I realized that Lake Mansarovar is an ornithologist's paradise when I spotted several species of birds here. While leisurely walking around Mansarovar Lake, I was overjoyed to spot the Ruddy shelduck (Tadorna ferruginea), which is also known as the Brahminy duck in India. I had seen many Ruddy shelduck in Pangong Tso in Tibet.
On the other hand, Rakshas Taal or "Ghost Lake" La'ang which is located only 3 kilometers away from Manasarovar Lake, is a salt water lake where no fish, animal, bird or weeds are found.
Are there fishes in Manasarovar Lake?
There is no dearth of fish in Mansarovar Lake. Since the water of Manas Sarovar are transparent up to 14 meters, devotees can easily see fish swimming even deep inside the pious lake.
As per the Tibetan legends, fish of Mansarovar Lake is capable of curing ailments such as dropsy, sterility and dystocia apart from other illnesses. While having a holy dip in the lake, I did observe several tiny orange colored aquatic organisms in the lake. I could not identify the organism though!
Fauna of Mansarovar Lake
There are many useful herbs and shrubs that are found near Mount Kailash and Mansarovar Lake. The plants and flowers, which grow abundantly in wild have immense medicinal benefits. The beautiful Nagmani flower deserves a special mention. Watch out for this unusual flower which is shaped like a snake stone.
Bicchu Ghas is also found abundantly on the shores of Mansarovar Lake. Bicchu Ghas is also called as 'stinging nettle plant'. Curing joint pain is one of the many medicinal benefits of Bicchu Ghas. It also works as acupuncture. Lotus and lilies add to the beauty of the lake.
Are there micronutrients in Mansarovar lake?
Certain researches and chemical analysis of the water of Mansarovar Lake has led to the conclusion that the lake water consists of several different types of micronutrients and minerals. Some of the micronutrients found in Mansarovar Lake are B, Li, F etc.
Is fishing allowed in Mansarovar Lake?
No, fishing is strictly prohibited anywhere in the pious Mansarovar Lake. Fishing is banned in Mansarovar Lake, keeping in mind the sentiments of Hindus and Buddhists and also considering the environmental and ecological concerns. This is why fishing is not allowed to do anywhere in Lake Manasarovar.
That said, you will still see local Tibetans selling dried fish. However, it must be noted that the local people of Tibet refrain from eating the fish of Mansarovar Lake. The Tibetans firmly hold the belief that if they eat the fish of this holy lake, it will disturb the Naga spirits. This is why the Tibetans use the fish of Lake Manasarovar only as a medicine.
Does Mansarovar Lake change colours?
Yes, I was able to see different colored water of the pious Mansarovar Lake from different angles and at different times of the day. The lake water doesn't exactly change colors but it reflects a different colour under different climatic conditions and different seasons.
I had observed a variety of color, especially during sun shine. I had seen colors such as bluish green, green, deep emerald green (towards the center), clear blue etc on the water of Lake Mansarovar. I also observed that the same lake looked different in color from same place. For example, if the lake looks emerald green towards the center, it will look blue and green at different spots from same vantage point, i.e., the shore of the lake. Needless to say, Mansarovar looks even more magical under the moonlight, especially on a full moon day!
Can I see a Rainbow in Mansarovar Lake?
It is a very commonly asked question about Mansarovar Lake. If it is a lucky day, then it is possible to see a gorgeous rainbow over Mansarovar Lake. I had actually seen a breathtaking double rainbow in the nearby Deraphuk.
So, you can also expect to see even a double rainbow at Lake Mansarovar. Seeing rainbows is pretty common in this region. It just adds more vibrancy, beauty and positivity to Lake Manasarovar.
Places near Mansarovar Lake
Chuguo Temple is the largest temple located near Mansarovar Jheel. It is also a great vantage point to take pictures of Mansarovar Lake. Visiting these monasteries is the unusual things to do in Manasarovar. Below are other sightseeing tourist attractions near Mansarovar Lake.
Qugu Monastery
King Tiger Hot Springs
Trithapuri Monastery
Gossul Monastery
Tsaparang (Guge Kingdom)
Lhanag Tso
Chuguo Temple
Zanda Clay Forest
Buddhist Monasteries around Mansarovar lake
Since Manasarovar Lake is considered a sacred lake by Buddhists, as many as 8 old gompas or cmonasteries surround the pious lake, in all cardinal directions.
However, many of the old monasteries have been destroyed except two which was now well-restored. These are some lesser-known places near Lake Manasarovar.
Chiu monastery which is situated towards the North-Western shore of Mansarovar Lake is the most famous because it is visible from the lodges near lake.
Chiu sits on top of the hill, overlooking Manasarovar and is one of the best photography spots. From the terrace of Chiu, you can see Mount Kailash in the distance.
If we walk clockwise from Chiu monastery towards the North-West direction, we will come across monasteries such as
Cherkip Monastery
Langbona (North)
Seralung (East)
Yerngo
Nyego monastery
Trugo (South)
Gotsuk, also spelled as Gossul (South-West).
Of the above-mentioned Buddhist monasteries, sadly Cherkip Gompa, Yerngo Gompa and Nyego Gompa now lie in ruins. All of these ancient Gompas are lesser-visited places.
Chiu Gompa
Also known as the sparrow monastery, this very ancient monastery can be seen from the Mansarovar Lake. In fact, it is located at a walking distance from the Lake Mansarovar. Built within a craggy cliff, the ancient shrine built inside a cave here can be traced back to 8th century C.E. It is an offbeat place to see near Lake Manasarovar. Located away from the crowds, this unexplored gompa deserves your attention.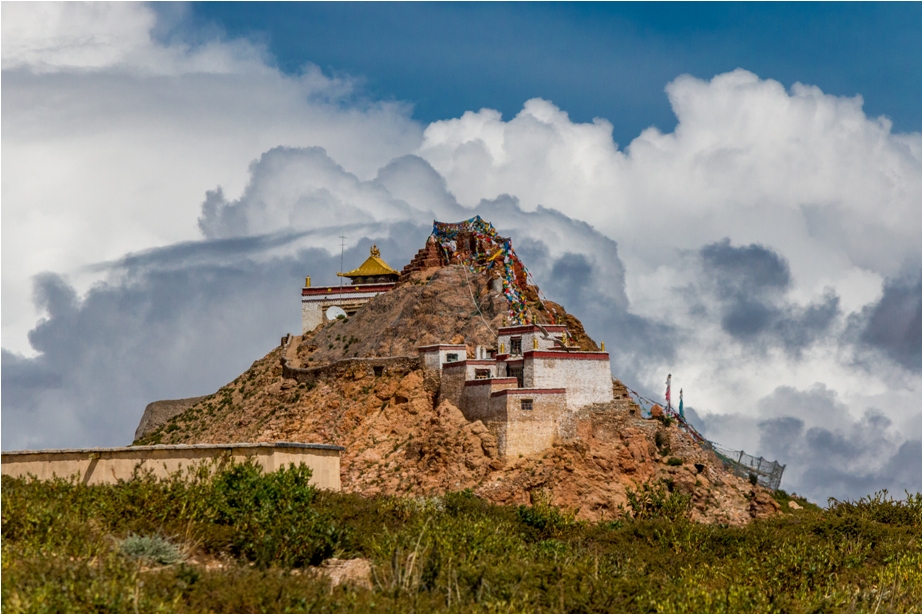 Legend
The local Buddhists believe that a sparrow had guided the revered Guru Rinpoche to this place. And this is why it was named as Chiu Gonpa. The literal meaning of Chiu is sparrow.
Places to see in Chiu Gompa
There is a meditation cave in the main shrine.
Stone footprints of Guru Rinpoche
Winding stone staircases
Stupas and Buddhist prayer flags. This is also the vantage point for getting amazing shots of Mansarovar lake. It is located just next to Chiu Gompa and can be reached by foot or car.
Also watch out for small structures around the hill
Visit the second shrine or chapel too. You can arrive here via a brief kora or parikrama. These are unusual places to see in Manasarovar.
Sacred for Tibetans
Chiu Gompa is a sacred place for local Tibetan people and Buddhists. There is also a library inside Chiu Gompa which houses ancient Buddhist scriptures in multiple shelves. Many pilgrims including tourists and pilgrims also like to circumnavigate around the Chiu Gompa. Local Tibetans can often be seen with their colorful motorcycles.
They carry along tents, clothes, basic supplies, food and drinks etc. On a lucky day, you will see many Tibetans paying a visit to Chiu Gompa Monastery. When I visited, I saw only 2-3 western tourists and more than 20 Chinese tourists. They looked rich with their fancy clothes, tripods and jeeps.
How To Reach Chiu Gompa
You can reach Chiu Gompa by just walking from Mansarovar Lake. It is an easy uphill climb. Tarred road is present here which means you can also arrive at Chiu Gompa by car, like many Chinese and Western tourists did.
Views from Chiu Gompa
The views from Chiu Gompa are not to be missed. I know many people who visited Lake Mansarovar and not Chiu Gompa.
On clear days, you will also have a really nice glimpse of Mt Kailash towards the north direction. It was cloudy when I visited.
You can also see the views on the other side. When I visited many buildings were under construction on what I thought was a small village. The more you move, the more you see.
Soul Window Travel Tips
Wear good shoes around Lake Mansarovar as the path is often uneven. It will also help in case you want to circumnavigate around the Chiu Gompa.
Excursions from Manas Sarovar Lake
Mansarovar lake is 1 of the 3 holy Lakes of Tibet. The other two lakes considered holy by the Tibetans are Yamdrok Lake and the Namtso Lake. The ruins of the ancient Guge Kingdom, Tsaparang gompa, Tholing monastery and clay caves in the mountains are a must visit places in West Tibet.
There are many more picnic spots near Manasarovar Jheel. You can book a local guide who can show you all the nearby sightseeing attractions.
Festival of Mansarovar Lake
Mahashivratri is the biggest festival at Mansarovar Lake. Celebrated by Hindus in honor of Shiv Bhagwan, it is also one of the biggest festivals of India.
Saga Dawa is an annual festival celebrated by local Tibetans. Saga Dawa is the biggest festivals of Tibetans.
Vegan and Vegetarian Food in Mansarovar Lake
The food options are limited near Lake Mansarovar because it is located in an undeveloped and remote area of Tibet.
Nutritious and healthy Indian vegan and vegetarian food is served in common canteen near Mansarovar Lake. Production and consumption of meat and eggs is strictly prohibited near Mansarovar Lake.
You can also try the local food of Tibet. Due to the remote location, do not expect much variety of Tibetan food but you can still get your hands on some of the local food. Simple Tibetan meals such as Tsampa with butter tea can be found for breakfast. I remember sampling Tsampa during Naropa festival in Ladakh. You can find these in the small makeshift tea houses.
You can also find vegan fried rice with vegetables during lunch and dinner. Vegans and Vegetarians must watch out for yak meat as it is a common ingredient in many Tibetan dishes.
There are very few shops around Mansarovar lake where it is possible to buy instant noodles, chips, wafers, fruits, biscuits etc. However, I had brought some dry Indian snacks, namkeens, farsaan, khakhra, mathri and energy bars all the way from India. You can also bring in comfort food from India such as heat and eat packaged Rajma Chawal, Kadhi Chawal. Paneer-Rice etc. There are hardly any stores near the lake.
Soul Window Thoughts
Not only did bringing comfort food from India save me cost but also saved me the time wasted in finding these quick snacks on location. I would rather focus on the destination than waste time looking for food to eat.
Being a strict vegetarian (by choice) despite being a Rajput, I was wary of trying even the vegetarian local food in Tibet. I had turned vegetarian at an age of 14 on ethical grounds. So I find it nauseating to eat even dal-rice at a meat heavy restaurant.
Is it safe to visit Mansarovar Lake?
Yes, Mansarovar Lake is very safe to visit. I also visited the nearby Chiu Gompa solo and didn't feel unsafe. However, in order to be on the safer side, get a company if you venture far on foot.
Souvenirs Shopping Guide to Mansarovar Lake
There were no souvenir shops around Mansarovar Lake when I visited. The nearest souvenir shops are located in Taklakot or Darchen. So, make sure you collect some memorable souvenirs from either Darchen or Taklakot which are a short driving distance away.
What currency is used in Mansarovar lake?
Renmbi, also known as Chinese Yuan is widely used in all the places of Tibet. Be warned that US Dollar and Indian currency are not accepted in most of Tibet.
ATM in Mansarovar Lake
There are no ATMs around Mansarovar Lake. Places like Darchen and Taklakot also have very thin options. It is better to carry lot of cash even before the yatra (journey) starts.
Photography Tips for Mansarovar Lake
Do not forget to carry your camera at the nearby Chiu Gompa. The Chiu Gompa, after all, offers breathtaking views of Mansarovar lake. In fact, I got my best shots of Lake Mansarovar from Chiu Gompa. It was as good as drone shots since Chiu Gonpa is located on a craggy hill.
If you are a photography enthusiast like me, then the best time to visit Mansarovar Lake is either in May or late September – October. This is when you can click breathtaking shots of the lake. I visited Mansarovar Lake during the third week of August and came back with stunning shots.
This is why for photographers, the best time to visit Kailash Mansarovar is before or after the monsoon. This is the time when the climate is pleasant and the weather is mostly clear around Lake Manasarovar.
The beautiful Jiwu Gompa also offers an excellent vantage point from where you can take panoramic shots of Kailash Parbat as well as Manasarovar Lake, especially when you shoot on a bright, sunny day.
Hire local tourist guide in Lake Mansarovar
Generally, the tour operator includes an Indian guide in group tours. Hiring a guide makes all the difference as he can explain the unknown facts about Mansarovar Lake on the spot. Also, guides can also help tackle communication barriers, last minute requests and even any medical emergency.
Languages spoken in Manas Sarovar Lake
Chinese language Mandarin and Tibetan are the most commonly spoken and understood language. Most of the signboards are in Chinese and Tibetan here. The English signboards are not entirely dependable as they have major grammar mistakes and is incoherent.
Books recommendation on Mansarovar Lake
It is always a good idea to read a book on Kailash Mansarovar Yatra both before and after the trip to Mansarovar Lake. If possible, reading about the place while the trip is still on is also a good idea. However, I avoid that because when I travel, I just travel. Reading a book on Kailash Mansarovar Yatra will not only help you deeply bond with the place, but also enhance your knowledge.
Toilet facility around Lake Mansarovar
The toilet facility at most places in Tibet are below basic. The common shared toilets outside the lodge were stinky and unusable. It was horrifying but there was no option. Expect harsh conditions and no bath for 2 to 4 days.
There are three toilet facilities at Mansarovar Lake.
Portable toilets
Doorless toilets – These makeshift toilets do not have running water.
Open Fields
Entry fee at Lake Mansarovar
There is an entry fee of CNY 150. This entrance fee to Mansarovar Lake is always covered in the Kailash Mansarovar Yatra tour package cost. Once you arrive at Mansarovar, there are umpteen free thing to do here.
Backpacking Budget Travel Tips for Mansarovar Jhil
Visit to Mansarovar Lake is by no means pocket friendly or inexpensive. The cost of visiting Lake Mansarovar from India is very high due to various factors such as remoteness of the place, international travel formalities, mandatory tour guide, unavailability of independent tours etc.
Solo Trip Tips for Mansarovar Jheel
You can travel to Manas Sarovar Lake as a solo traveler. However, you will most likely be clubbed with a big group pf devotee from India in a jeep or bus. This is so because it is very expensive to travel in Tibet as a tourist as a solo traveler.
Luxury travel Tips for Mansarovar Jhil
Even the basic facilities available at Mansarovar lake were horrible when I performed Kailash Mansarovar Yatra. The excuse of the remoteness of Mansarovar Lake is not valid. If they can build multi story semi-luxury hotels in the nearby Taklakot, I do not understand what stops them from building even a decent toilet on the lodges in front of Manasarovar Lake.
The bottom line is that do not expect any luxury facilities in Lake Manasarovar. I noticed that even the so-called luxury hotels of Taklakot near the Tibet Nepal border were very badly maintained.
Where to stay in Mansarovar Lake?
Here is a complete guide to accommodation at Mansarovar Lake. It is good to lower your expectation of stay option in Mansarovar because the infrastructure and arrangements here are one of the worst I have ever seen throughout my travels across the world since 2008.
Accommodation options near Mansarovar Lake are below basic and substandard. Though I inspected several guesthouses, located right opposite the shore of Lake Mansarovar but I was not impressed. The dorm style rooms with multiple beds were very basic.
The facilities at Mansarovar Lake were bare minimum for everyone. No matter if you are rich or middle class, you will have similar facilities available to you. The egalitarian nature of Kailash Mansarovar Yatra forces people to stay in similar accommodation, use the same makeshift toilets and eat the same vegetarian and vegan food.
The rooms at Mansarovar lake are very few and only available on sharing basis. Please do not request your tour agent for a private room. It is not possible as of now. None of the rooms near Mansarovar lake have attached toilets. 4 to 6 people can fit in one room.
Whether you are a politician, a celebrity or a common man, you will have similar facilities. The big leveler that Kailash Mansarovar Yatra, no one even complains. And no one should!
There are not many buildings which you can see near the Mansarovar Lake. There are just few guest houses in the name of human construction near the Mansarovar Lake. I saw a small village on the other side of Chiu Gompa or sparrow monastery near the lake. Construction work of new buildings was going on when I saw it.
Camping at Mansarovar lake
It is quite adventurous to stay at a campsite near Lake Mansarovar. Most of the people do camping near various ancient Buddhist monasteries only when they are performing a parikrama around Lake Manasarovar. It is indeed surreal to be able to camp at night under the clear sky.
Can I have hot shower near Mansarovar Lake?
Do not expect running water or hot showers at the guesthouses near Mansarovar Lake. That said, not many know that a natural hot spring is located at walking distance from the guesthouses Mansarovar Lake.
Visitors have to pay a small fee to enter the bathing area here and avail the shower facility. In fact, it is also possible to wash clothes outside the bathing area. You just need to ask the local caretakers for permission.
What to wear in Mansarovar Jheel?
The area around Mansarovar Jheel was very cold and windy when I visited in the third week of August. I had worn many layers of woolen shirts, thermal inners and a down jacket along with lowers, woolen socks and sturdy shoes. You must read my complete guide on what to pack for Kailash Mansarovar Yatra.
Timings of Manasarovar Lake
Mansarovar Lake is open all day long. I had visited the lake at all times, whether it is early morning or afternoon or evening or even night. The pious lake looks and feels different during different times of the day.
Best Time to visit Mansarovar Lake?
The best time to visit Mansarovar Lake is during the spring and autumn season. It is the perfect time to visit Mansarovar because the climate is dry during this season. Also, expect transparent sky and lack of snow on road. During spring, the lake melts and allows people to bathe in its holy water.
May, June, July, August, September and mid-October are the best months when you can visit Mansarovar Lake. Located in Tibet, expect the weather to change rapidly in this region, irrespective of whether it is summer, winter or monsoon.
Winter in Mansarovar
During the winter months, Mansarovar Lake becomes frozen, much like the Pangong Tso of Ladakh or Nigeen Lake and Dal Lake of Srinagar in India. Also, on some days, this region witnesses heavy snowfall. This makes it cumbersome and at times, impossible to drive or even walk here. The temperature dips a lot during winters in Mansarovar. In fact, so harsh is the climate of Mansarovar in winter that the lake freezes.
Heavy snowfall is also the reason why most of the guesthouses are closed and Kailash Mansarovar Yatra is not conducted during winter months. Late spring to summer is also the time when Kailash Mansarovar Yatra is open for Hindus from India and other nations.
Summer in Manasarovar
Since this region faces snow fall in winter, therefore the best time to visit Mansarovar Lake is when the weather warms up a little. However, warming up in Tibet still means that it will remain cold minus the snow on roads.
Thanks to the high elevation, temperatures in the area surrounding Lake Manasarovar fluctuates a lot. Even during the summer months, expect a sudden drop in temperature in Lake Mansarovar. As per my experience, from a sunny and pleasant +15 during the day to around 0 by the nighttime is very common in Mansarovar even in summer months.
Since it sporadicallyrains during summer in Tibet, expect the roads to be in bad condition. Elsewhere, I saw some cars stuck on patchy roads in Tibet. Always carry rain proof bags and clothes in the rainy season of Tibet.
The weather of Mansarovar Lake is usually pleasant between May and late June. In these months the sunny days last for as many as 6 to 8 days consecutively.
Monsoon in Mansarovar
The rainy season in Himalayas of West Tibet occur in the month of July and August.
However, thanks to the tall Mountain range which stop much of the rain in this region, the rains are not as torrential as we experience in the neighboring India and Nepal.
Mostly I experienced only a light drizzle on two days because Tibet doesn't receive as much rainfall as its neighboring nations. It was drizzling lightly when I was returning from Chiu Gompa to Mansarovar Lake in third week of August.
The other occasion when it drizzled lightly was on my first day of parikrama around Kailash Parbat. It was a very light rain which happened as we trekked between Yam Dwar at Tarboche and Deraphuk- the North face of Mt. Kailash.
The days were sunny and bright when I stayed next to Mansarovar Lake for many days. The nights were clear and dry as well. That said, expect irregular cloudy weather and sporadic rains during the night in July and August.
Do carry an umbrella or rain proof down jacket if you are traveling to Kailash Mansarovar in July and August, the rainiest months in Mansarovar.
Duration of Visit in Mansarovar Jheel
How many days to spend in Mansarovar lake? We spent many days by the holy Mansasarovar Lake. However, mine was a special trip as I was traveling with a company which provides vegetarian food to the yatris or pilgrims. Since we had 3 nights and 3 days around Manasarovar Lake, I explored as much as I could.
What can I do in 1 day in Mansarovar Jhil?
Most devotees have only 1 or 2 days at Mansarovar jheel. If you have only one day at Mansarovar jhil, you must ensure that you use this time to at least take a dip in the holy lake and climb up to the Chiu Gompa.
Both of these are manageable in a day. What's more? You can also pack in a ritualistic pooja, walk by the lake, sunset views and even a meditation session. All of these activities are not to be missed!
What can I do in 2 days in Manas Sarovar Jheel?
You can definitely do a lot if you have 2 or more days in Manasarovar. Apart from taking holy dip in Manas sarovar lake, visiting Chiu Gonpa, soaking in the sun down views, performing pooja and meditating, you can also do parikrama around Lake Mansarovar, visit other Gompas, wake up all night to see divine lights, see nearby attractions etc.
Itinerary for Lake Mansarovar
We stayed for 3 nights and 3 days near Manasarovar Jhil. The dates on which we stayed around Mansarovar Lake are:
19th August
20th August
21st August
22nd August
Here is a detailed breakup of our Kailash Mansarovar Yatra itinerary
We arrived at Manasarovar Lake on the night of 19th August from Saga.
On 22nd August, we made the journey from Mansarovar Lake to Taklakot because our co travelers had some official work there.
We stayed in Taklakot on 22nd August, 23rd August, 24th August, 25th August and 26th August. This means that we stayed in Taklakot for 4 nights and 5 days. However, you do not need to stay for this long in Taklakot. We stayed longer due to several official work. We also extended one more day in Taklakot because one of our co travellers was not feeling well.
After spending sometime in Taklakot or Purang, we stopped briefly at Mansarovar again on 26th August while heading towards Darchen for the epic Kailash Yatra.
We did parikrama around Mt Kailash on 26th August, 27th August and 28th August.
We left Darchen on 29th August after finishing the parikrama around Kailash Parbat.
It was a 16-hours long bus ride from to Kyirong via Saga. We took a longer route due to some road related issues. Wea arrived in Saga first from Darchen in evening and later headed to Kyirong from Saga.
The itinerary to visit Manasarovar Lake is easy.
If coming from Nepal via helicopter, you can drive to Taklakot after the helicopter ride ends in Nepal.
After acclimatizing at a hotel in Taklakot for 1-2 days, you will be driven by the tour operator from Taklakot to Manasarovar Lake.
We had arrived from Saga via Kyirong. Kyirong is the border town between Nepal and Tibet. We could have driven straight to Manasarovar Lake as we had acclimatized well at the hotel in Saga. However, since we had time and also one of us had some work at Taklakot, we chose to arrive at Manasarovar Lake via Taklakot.
How to book trip to Mansarovar Lake?
Mansarovar Yatra registration must be done with KMVN. For Indian Hindus, Kailash Mansarovar Yatra is run exclusively by KMVN, also known as the Kumaon Mandal Vikas Nigam. It is a government organization of India. Kailash Mansarovar Yatra pilgrimage is done in collaboration with China Government, Government of India's Ministry of External Affairs and Kumaon Mandal Vikas Nigam.
Local Transport for sightseeing in Mansarovar lake
There is not much of local transport available near Mansarovar Lake. I did much of the sightseeing in Mansarovar on foot. You can request your tour guide to arrange for a jeep if you want to see nearby tourist attractions such as Chiu Monastery and other monasteries in the vicinity.
How to reach Mansarovar lake
Can we visit Lake Mansarovar? Several Himalayan passes in the Kumaun and Garhwal region of Uttarakhand in North India have access to Kailash Mansarovar.
Delhi to Mansarovar
Delhi to Mansarovar is possible by a road trip from Pithoragarh in Uttarakhand or helicopter ride from Nepal or flight via Kathmandu. Mansarovar route is varied.
Bus
It is not possible to find a direct bus to Lake Mansarovar.
Air
You can take a flight to Lhasa and make a road trip to Mansarovar area. Alternatively, you can also take a helicopter to Hilsa in Nepal and drive from Nepal to Taklakot in West Tibet.
Railway
You can catch a train to Lhasa and make a road trip to Mansarovar region.
Road Trip
Thanks to the recent developments, the Hindu pilgrims from India are able to travel to Kailash Parbat and Mansarovar Lake via the Lipulekh pass in Kumaun region of Uttarakhand in North India.
Via Nepal
I visited Mansarovar via Nepal. I reached Kathmandu. After having darshan at Pashupati Nath Mandir, I left for Tibet via road borders. I was taken on a Land Cruiser via Kyirong and Saga and Taklakot. I and my co travelers had arrived via an exciting road trip across West Tibet.
We had crossed Nepal-Tibet border and enter from Kyirong, followed by Saga and Taklakote aka Purang or Burang. From Taklakot, we passed through many small Chinese and Tibetan towns.
Via helicopter
If you are short on time, you can also take a scenic helicopter ride from Hilsa and Simikot in Nepal to Mansarovar Lake.
Do read my complete guide on how to reach Mansarovar Lake.
Here are all possible ways to reach Mansarovar Lake:
Trek from Pithoragrah in Uttarakhand, North India
Via Lipulekh Pass near the tri junction border of India, Nepal and Tibet
Overland road trip from Lhasa to Manasarovar
Overland road trip from Kathmandu in Nepal to Manasarovar via Gyirong or Kyirong border
Road trip from Kashgar in Xinxiang to Lake Manasarovar.
Distances from Lake Mansarovar
Mansarovar Lake is situated southeast of the Mount Kailash. Distance between Kailash Parbat and Mansarovar Lake is around 47.6 kilometers. I even saw a small glimpse of Kailash Parbat right from Lake Mansarovar.
Manasarovar Jheel is situated only 35 kms east of Taklakot or Burang or Purang County in the Ngari Prefecture of Western part of Tibet.
Mansarovar lake is located approximately 1,200 kilometers away from Lhasa, the most important place to visit in Tibet.
Conclusion: Is Mansarovar Lake worth visiting
Why visit Mansarovar Jheel? Here are my final thoughts on the mystical Lake Mansarovar. To summarize, do not visit Mansarovar Jhil as a believer or non-believer but a seeker with no pre conceived notions. It is a unique phenomenon which is not to be missed at any cost! If you love going off the touristy trail, you will love the time spent around Manasarovar Jheel.
If devotees keep themselves open and receptive, then they can expose themselves to a whole new dimension of life they knew nothing about! In a nutshell, a holy dip in the sacred water of Lake Mansarovar is a once in a lifetime opportunity. Manasarovar is not your usual spiritual destination. It is much above that.
The view from my Soul Window is mystical!
Pin this blog to save the blog and plan a trip later!
Top Travel Blogger from India