Last Updated on May 1, 2023 by asoulwindow
What is the Wancho tribe?
Wanchos tribe is the best kept secret of the Northeast Indian state of Arunachal Pradesh. The Wancho people are one of the major indigenous tribes of Arunachal Pradesh who still practice their traditions and culture proudly. Here is the complete information about the Wancho tribe who are a Tibeto-Burmese indigenous ethnic group living in Eastern part of Arunachal Pradesh. Who are the headhunters of North East? Wanchos are also some of the lesser-known headhunting tribes in India.
Before my trip to Longding and Tirap district, I did an online search on the Wancho Tribe but not much came up. I decided to change that after my deep interactions with the Wancho people over more than a week. Here is the most comprehensive guide to Wancho people and their rich culture and traditions. All you wanted to know about the Wancho tribe is discussed below in great details.
Wancho is a tribe of which state?
Where do people from Wancho tribe live? Most of the community members of Wancho tribes live in Eastern part of Arunachal Pradesh near the border with Assam and Nagaland in North East India. Since several centuries, the Wancho people have made the verdant Patkai hills of Longding district in Arunachal Pradesh.
Wancho tribe of Arunachal Pradesh is very unique! Members of Wancho Tribe are scattered in several places around Longding and Tirap district in the Eastern part of Arunachal Pradesh. However, most of the Wanchos live around Longding.
It was only recently that the Government of India officially gave recognition to Wancho tribe, Tutsa tribe, Nocte tribe and Tangsa tribe under the Scheduled Tribe (Modification) Amendment Act, 2021.
Wancho tribe headhunter
What tribe were head hunters?
Who are known as head hunters?
What is head hunting of Wancho tribe?
When was headhunting banned in India?
Who are the last headhunters in Arunachal Pradesh?
These are some frequently asked questions. Here are your answers. As late as the year 1991, human headhunting was commonly practiced by the Naga people. However, a strict ban on headhunting was imposed by the Indian government and this is why the Wancho headhunters we met in Arunachal Pradesh were the last surviving headhunters (some in their 80s). For me it was intriguing to know that the same headhunting blood runs through the Konyaks, Wanchos, Noctes and Ollo people. I had met several tattooed Konyaks in Mon, Longwa and Hong Phui in Nagaland on another epic road trip across North East India.
What does headhunter mean in tribes? Headhunting was widely practiced by the Wanchos in old days when the heads (and often the ears or nose) of the enemy clan were severed and brought back and preserved in morungs as a trophy. Prestigious tattoos were awarded to the Wancho warriors who returned back from other villages after successful raids. The tattoos are a matter of prestige in the Wancho society. The men who earn it ensure a clear progression within the hierarchy of their society.
The Christian missionaries, in a bid to 'civilize' them had played instrumental role in influencing the banning of headhunting in these parts of Arunachal Pradesh. I have already met the Konyak headhunters of Nagaland, but I had no idea that they exist in Konsa village of Arunachal Pradesh as well. Perhaps the proximity with Mon, Longwa and Hong Phui in Nagaland is the reason. These are some of the last headhunters you will ever see because the last headhunting was done in the 90s. I am thrilled! Are you not?
Also read: Guide to Loktak Lake in Manipur
Who are the headhunters of Arunachal Pradesh? I was fortunate to meet some of the last surviving Wancho tattoo-faced headhunters who proudly shared the stories about their culture, rituals, lifestyle, centuries old practices and traditions. Is headhunting still practiced today? No, headhunting is not done today and this is why it is such a unique experience to meet some of the last headhunters in Arunachal Pradesh, right in their traditional homes.
My Experience of meeting Wancho tribe
Every time I visit Arunachal Pradesh in North East India, I end up meeting a new tribe. If my last trip to Arunachal Pradesh was immersing deeply in the Monpa culture and even attending their annual Torgya festival in Tawang, I met people from both Wancho as well as Nocte tribe of Arunachal Pradesh on this epic 8-days long trip in the Tirap Longding tourist circuit. When I received the invite to visit Pongchau and Wakka circles of the Longding district of Arunachal Pradesh to record local stories of Wancho people, I said an immediate yes. Who would let go of such an opportunity!
The Wancho King
At every village we visited, we met several local Wancho Kings. Every village had its local King or chief. As per their traditional culture, a council of elderly chieftains, who are called as Wangchu-Wangcha, Wangsa or Wangham govern the Wancho people of a village. This explains why we were greeted with several elderly men in the homes of local Kings of the remote Wancho villages we visited!
Polygamy in Wancho tribe
Polygamy is still very common and prevalent in the Wancho villages. The King we had met in Nyinu had 6 wives and 15 children. I had met the youngest queen. The father of the King had a whooping 25 wives and funnily he had no idea how many children he had and what their names were. Yes, there were so many of them to keep a count! Phew! Do read about the main reason behind polygamy in my blog on the Nocte Tribe.
Konsa Village via Pongchau
Where do the last headhunters of Arunachal Pradesh live? I didn't know that apart from Nagaland, headhunters live in the adjoining Arunachal Pradesh as well. What a great discovery this trip was for me! The first Wancho populated places I visited was Longding, Pongchau village and Konsa village on the first day. Just as I entered via the gate that welcomed us to Pongchau, I noticed Pongchau Baptist Church on a grassy hillock. Before heading to Kunsa, we also stopped at the main market of Pongchau village, populated mostly by Wancho tribes.
We met the last of the tattooed head hunters in Konsa village. It is a traditional Wancho village, unadulterated with the modern frills. We did a village walk here, witnessed cultural programs and even had a vegan lunch in the home of the King. You can also meet headhunters in Longkhaw, which is another Wancho village.
Konsa or Kunsa village was the most remote Wancho village I visited yet. Cocooned away from the modern-day frills, people lived an organic life, holding on to their traditions proudly. It was one of the most immersive experiences of the Wancho lifestyle I have ever had.
As we drove towards Konsa village, we stopped our cars and met several local villagers who were casually carrying rifles on their backs and dhau (machete) in their hands. They were followed by women carrying wood in long bamboo baskets.
I thought it's a common scene in Mon area of Nagaland or Ziro in Arunachal Pradesh. I was amused to see the same rifle love in this region as well. "It is for self-protection.", one of them told us. I am not sure! In Nagaland, they openly told us that the rifle is used to do hunting of birds and animals. In fact, they stayed for a week in deep forest for hunting purpose. Hunting of wildlife is officially banned in many parts of North East India. However, it still takes place clandestinely. I had seen men carrying dead deer, giant squirrel etc when I was on my way to Mechuka.
We had visited the newly built house of the king of Konsa. A big feast was organized after the completion of the house. Even the representatives from the 15 villages from the Burmese side had congregated for the celebrations here. The celebrations included sacrifice of 4 mithuns and 3-4 pigs.
Almost the entire village had gathered to welcome us when we arrived. Kids, women, old men, old ladies and former headhunters had gathered at the home of the King as a 'pure vegetarian' meal was cooked for the largely vegetarian group (including me) I was traveling with.
Nyinu Village
On the next day, I visited the visually stunning Nyinu village. Spending some quality time with the family of King, queen and the grandparents was one of the highlights of the time spent in this lovely village. A huge cemented Ninu Baptist Church, built right next to the wooden home of the King whispered the importance of Christianity in Nyinu. The church was established in Nyinu in the year 1991 and completed 25 years or silver jubilee in the year 2016. It shows how old is Christianity in Nyinu. A stone monolith outside the church announced:
"25 years Silver Jubilee: 1991-2016.
Theme: From darkness to light
This monolith is erected to the glory of God. In commemoration of silver jubilee celebration on 11th-13th Nov, 2016.
Dedicated by Rev. Nokthom Wangsu
Executive Secretary WBCA."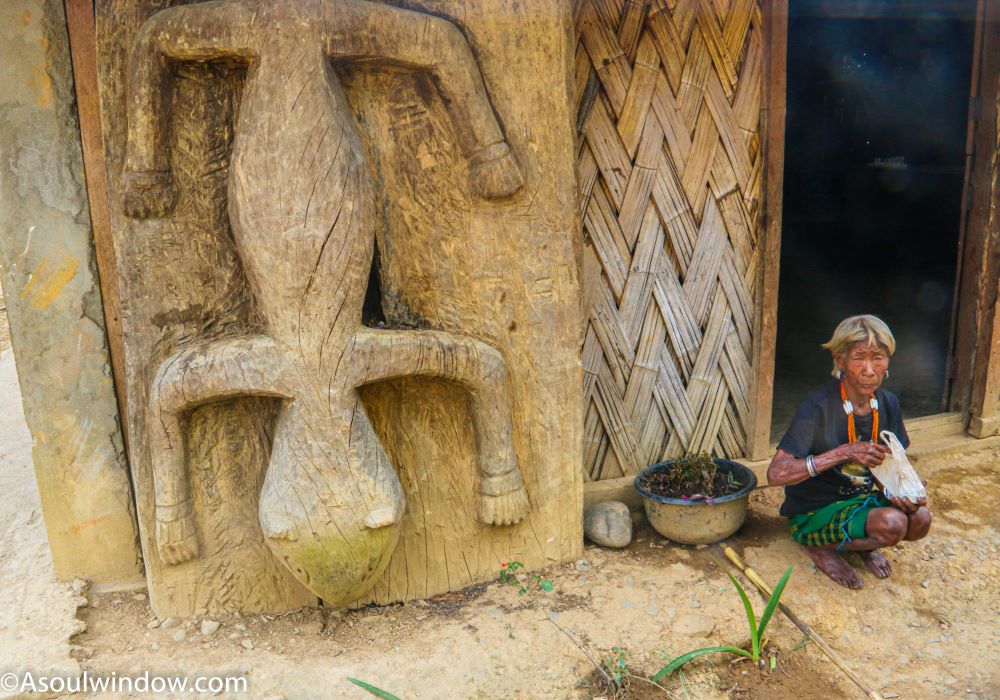 The House of King of Nyinu
The king of Nyinu has now built a new cemented house right next to his traditional wooden house. The wooden home of the King had several trophies and certificates for display, many of which were associated with the British era Nyinu massacre. Skulls of animals, pictures, Wancho style carved wooden artefacts embellished the walls of the home. My favorite sculpture was the life-size statue of the headhunter holding a rifle. The headgear, the beaded necklaces and the waistband which adorned the statue represented the true spirit of the Wancho warrior.
And the huge figure of carved tiger outside the main entrance. It looked like a lizard to me though! A figure of a headhunter, Mithun skulls, and an unusual figure of elephant decorated the wall on the other side of the main door. Below the elephant, they had also engraved the date when the building of the house was completed on: 2.5.2001
Village walk around Nyinu
We walked a little away, crossing the old wooden church to arrive at the bustling Nyinu village where the subjects of the King lived. It was bubbling with life and was chaotic when compared to the calm and peaceful area of King. We were lucky to visit at a time when a wooden house was being built from scratch. The entire village had gathered together to build the house at no fee. I was amazed to learn that it takes only 3 days to build one such house. I mean, I took more days to write this exhaustive guide on the Wancho tribe of Arunachal Pradesh.
The sense of community is strong here and everyone helps each other in building houses. The women were busy cooking meals for the local 'architects' while the elderly sat in shades and watched the young men build houses in Wancho architectural style.
Morung visits
It was heartening to see that people still build wooden houses even though right in the middle of the village, a lone cement building had come up. It was a dull morung, which lacked all the aesthetic of a traditional wooden morung. I saw another morung on an elevated platform. A huge log drum or Thum was kept here. In old days, during instances of a war or a fire, the young men used to beat the log drum as a form of announcement. These days, the log drums are also beaten during festivals, rituals etc. The thum or log drum is a monument of warfare.
It was a huge log drum which I saw. I wondered how they brought such a heavy log drum from a distant place. Since such trees don't grow in the Nyinu area, so it was carried from a faraway place. It shows the physical strength and incredible sense of community amongst the Wancho people. The tree is also made hollow with nothing but just a local dhau or machete. No machinery or equipment were used in either carrying the log drum to this hill top morung or even to carve it. "Log drum pulling ceremony in Nyinu village must have been a sight to behold!", I tell myself.
Burmese Queen
I even met a Burmese woman who was married to a local Wancho man of Nyinu village. She was also the queen of Khamai colony. She belongs to a village named as Chopkhau in Mynamar. Nyinu is a big village and many other small subordinate villages fall under its administration. They are also known as Paramount villages. The queen from Burma is also a Wancho. I explored her house. To my surprise, it was the only multi-level house I had ever seen anywhere in North East India till now.
Assamese speaking Wancho
Right next to her home, sitting at another defunct morung, I met an elderly Wancho man named as Manyai. The 70-year-old man wore flip flops, a half pant, sleeveless shirt, a blue Wancho necklace and a cowboy hat. He had Uighur Muslim style beard seen in China. Just a few white hairs dangling from his lower lip. A thin moustache completed the look.
Manyai, like an excited child, displayed his skills of writing his name in Assamese and English. What makes it special is that Manyai is one of the last people in Nyinu who could do that. Since Nyinu is located close to the border of Assam and Arunachal Pradesh, there had been a lot of cultural exchanges between what are now two separate states of India.
This is why, Assamese has been the lingua franca in these regions since centuries. In Tirap district of Arunachal Pradesh, many people can speak and write in Assamese language. It was common for them to study in Assamese medium school earlier. However, Hindi is the new lingua franca.
During my months long travels across North East India, I have observed that most of the people of Arunachal Pradesh, even in remote areas, speak very good Hindi as a result of official introduction of Hindi in schools and exposure to media.
Ngissa Village
After Nyinu, we headed to the nearby Ngissa village. Ngissa is a sub village of Nyinu. This means that people migrated from Nyinu to Ngissa over the years. Populated by Wancho people, I again noticed a huge statue of Mother Mary right at the entrance of the village. Christianity has arrived in Ngissa as well. Ngissa also has Christian schools such as De Paul School.
We visited Ngissa mainly to meet Shri Nepha Wangsa who talked about his book on the lesser known Wancho Anglo War of 1875, also known as the Nyinu Massacre. We spent a good hour with him and visited nearby homes before leaving for another Wancho village Wakka, the highest place on this trip.
A signboard outside Ngissa Village announced rudely,
"Outsiders are not allowed to settle down permanently in the village. Unnecessary nuisance in the village will not be entertained.
By order
SUN"
Another government signboard said, "Welcome to an open defecation free village. We are committed to keeping the village clean."
Wakka Villge: The mystery of the Hills
After visiting Ngissa and Nyinu, we headed towards the picturesque Wakka. The view of traditional wood and bamboo houses stacked one above another on hills is what set it apart. On other days, you can also experience fog in Wakka because it is located on a higher altitude.
An interaction with the local King of Wakka and one of his many wives left us with interesting stories which will stay with me for lifetime. Wakka is a traditional Wancho village. In Wakka, we also visited the unique graveyards of the local Wancho tribe who used to follow funeral rites akin to Tibetan and Parsi traditions before Christianity knocked at the door.
A visit to the local Morung, sharing laughter with the local kids, watching ethereal sunsets, visiting unusual wooden churches, soaking in breathtaking views and staying in a homestay of a lovely Wancho family completed our Wakka Experience! Wakka Baptist Church on a hillock is a must visit place for its unusual wooden architecture and great views.
What makes the Wancho Tribe so famous?
The warrior streak of Wancho people, their ethnic dresses, languages, food, and their distinct song, music and dances makes them world famous. This is also what attracts Indian and foreigner tourists to the villages which are inhabited by Wancho people.
A song by Shri Bhupen Hazarika of Assam also mentions about both Wancho and Nocte tribes of Arunachal Pradesh. The name of the song is: Tirap Simanta Rupor Nai Anta. This song is from the 1966 movie Lotighoti.
Nomenclature
Wancho people are also known as Wancho Naga. In places such as Longkai village of Mon Tehsil in Nagaland, people have names similar to those of Wancho people. I had met the Konyak headhunters in Mon, Longwa and Hong Phui on my last road trip across North East India. Even in the Wancho majority regions of the adjoining state Arunachal Pradesh, same names are commonly observed.
In fact, to this date, it is quite common to find similar names in both, the Wancho territory of Arunachal Pradesh and the Konyak majority places of Nagaland. On my last trip, I had deeply studied the Konyak tribes who also happen to be the most popular and the largest ethnic groups of Nagaland.
Jhum Cultivation
As we drove around various Wancho villages, especially the Konsa village, my tour guide stopped near agricultural lands and educated me about the unique jhum cultivation practiced by the Wancho people in Longding and Tirap district of Arunachal Pradesh. In this traditional agricultural process, the Wanchos clear the land, mostly terraced farms on the Patkai hills, of any trees, bushes, shrubs or any vegetation. The residue is burned down so that the potash available in the burned soil adds more nutrition to the next crop cultivated for a set period of a time. It is the natural fertilizer. This recycling method helps the natural flora to grow back again.
Jhum cultivation is quite common in the hilly areas of Bangladesh (Chittagong Hill Tracts) and neighboring North East Indian states such as Mizoram, Arunachal Pradesh and Nagaland. Jhum cultivation is also known as slash and burn cultivation or shifting cultivation. This ancient system of cultivation has been followed by the Wancho people since centuries. The concept of Jhum cultivation is based on the principle that by moving their agricultural fields from year to year, it allows the land to recover and prepare for the next crop.
Wancho Tribe Music and dance
Barely an hour would have passed when the Wancho men joined hands and started dancing in a circle with the backdrop of the house of the King or chief of Konsa. They performed a haunting dance known as Khunlok dance. It was an ancient sound!
Khunlok dance is performed during Oriah festival celebrated by Wancho tribe around Longding. It's generally celebrated in the month of February. What a day it was at Konsa Village, located just 3 hours of drive from Longding in Eastern Arunachal Pradesh via Pongchau village near the international border between India and Myanmar.
The sound of local culture reverberated in our ears as we watched them dance, agape mouthed. This sound is the preserver of the history of hundreds of years. This sound is their identity. This sound is what makes them Wangchu.
Thamchugtai song was the highlight of our trip to Konsa village. Tham means log drum, chug means to crush and tai means to sing.
In the home of the King of Konsa near Longding in eastern part of Arunachal Pradesh, we saw a group of Wancho women, dressed up in their sartorial best and singing the song of separation and love. It created a haunting symphony as the local Wancho women crushed corn in rhythmic patterns. The corn is turned into flour and used in meals. This song is sung by only Wancho girls. The meaning of the song is:
"Today we are together, tomorrow we may not, so let's cherish the moment."
This means that one day they will be married and leave the house and village, some will live longer, some may not. So, let's crush corn together, spend time with each other and make the most of it while we are all still here.
Wancho tribe ethnicity
Though the Wancho people may be culturally similar to the Nagas, ethnically they are more closely related to the famous Konyak Tribes of Nagaland and the lesser-known Nocte Tribes of Arunachal Pradesh, who we also met in remote villages of Laho and Lazo etc by keeping Khonsa as our base.
Even though Longding, Changlang and Tirap have been politically bifurcated into three different districts for rapid development, it has not changed the similarities in the culture, traditions, food habits and rituals of the various tribes. The tribes continue to maintain their relationship with each other like earlier.
Origin of Wancho tribes
Origin of Wancho tribes can be traced back to the adjoining Indian state Nagaland. The Wanchos and the Noctes share the similar migration route as the Konyaks, if not the same. Since old times, people of Wancho tribe had relations with the people of Naga tribes of Nagaland. Much like the Konyaks, the Wanchos too are mainly head-hunters, wear tattoo and practice their age-old customs, ancient traditions and rituals.
What is the occupation of Wancho tribe?
Wancho people are mostly into agriculture at present. The main economy of Wancho tribes revolve around agriculture. At present, many younger Wanchos are migrating to bigger cities for jobs in private companies.
What is Wancho language of Arunachal Pradesh?
What language do the headhunters of Arunachal Pradesh speak? The Wancho language is a part of Northern Naga languages. Not many know that the Wancho language falls under the Tibeto-Burman family.
You will be surprised to know that Wanchoo language is the lingua franca amongst the hill residents and people from the nearby plains.
Religion of Wancho people
What religion were the head hunters of Arunachal Pradesh India? The Wanchos follow a variety of religions even today. Here is a complete guide:
Animism
Despite the homogenization of society and introduction of new organised religions such as Christianity, Wancho are not deviated from the original practices of their religion. Animism is still practiced by Wancho people unlike the Nagas.
If we talk about North East India, the others who still practice animism include the Nocte tribe of Arunachal Pradesh and some Konyak people from Nagaland. Rang and Baurang, the two powerful deities are worshipped by the Animist Wancho people. As per the Wancho belief, all natural objects as well as the universe has soul. It includes plants, insects, animals, shrubs, trees and even rocks. These are some of the most striking features of Wancho tribe.
Hindu
I was surprised to find out that a small percentage of Wancho people also practice the Hindu faith.
Christianity
However, as is common in many states of North East India, many Wanchos have gravitated towards Christianity. During my road trip across Longding and Tirap, I noticed several Catholic and Baptist Churches. In fact, many Wancho homes which I visited, had a small 'home-temple' like wooden temples hanging from the wall. It houses mostly Jesus Christ or Mother Mary.
When did the head hunting stop in Arunachal Pradesh? Local Wancho people told me that Christianity played an instrumental role in shifting perspectives towards headhunting. For example, I was told by the village elders that the converted Christian Wanchos were encouraged to bury the trophy skulls which the headhunters had gathered at their home.
I could already see Wanchos losing some of their original culture and traditions due to the advent of Christianity while also retaining some of the old age practices, especially in the remote Wancho villages.
Wancho tribe culture and tradition
Wancho tribe culture is very different from that of the other 26 other identified tribes of Arunachal Pradesh. However, thanks to my visit to remote places of both Nagaland and Arunachal Pradesh, I observed something surprising! I found several similarities between the Wanchos and the Konyak Tribes of the adjacent Indian state Nagaland.
Also read: Guide to Khonoma Village near Kohima
The precise knowledge which Wancho people have about the plants, birds, animals, the climate around them and the geography needs to be preserved. The livelihood practices the Wanchos practice is unique to them.
Wancho tattoo
Much like many other tribes of Arunachal Pradesh, Wancho people also widely practice tattooing their body. For example, a headhunter man is easily identified with the tattoo that runs across his body. Traditionally, I noticed that the male members of the Wancho Tribe adorn themselves with large tattoos on their chest, abdomen, hands, legs and even face. Care is taken to spare the areas around the lips and eyes, probably due to safety reasons.
On the other hand, I met several Wancho women, as old as 70, who proudly showed their tattoos to me. From light tattooing to dark ones, I had seen it all. I met the grandmother in the home of the King of Nyinu. Since she didn't know either English or Hindi, the women with her told me in Hindi that on the day of engagement, the legs of the grandmother were tattooed. After 3 years, tattoos were made on her thighs. On the day of her wedding, tattoos were made on her chest.
Wancho tribe food
Believe it or not, I had a pure vegan and vegetarian lunch at the home of the King. In such remote meat heavy places, it was a surprise for me to find delicious and nutritious vegetarian and vegan food. Our lunch included the following:
Red rice
Daal
Mushroom
Alu Bhujia
Lai Patta Saag (leafy greens)
Soinam Saag (leafy greens)
Salad
Soi means medicine and nam means smell. So, Soinum means smell of medicine. This green leafy vegetable is also great for the abdomen, I was told.
Wancho Homes
Since I have spent more than 3-4 months in North East India, I can now begin to see the similarities and dissimilarities between the various tribes which inhabit Arunachal Pradesh and the neighboring states such as Nagaland etc. Needless to say, the Wancho homes also turned out to be very similar to the homes of neighbouring ethnic groups of Nagaland, Assam and Arunachal Pradesh which I had visited before!
One interesting feature which I had noticed was that the floor pattern of the home of the King is criss-crossed. Only the King is allowed this privilege in any Wancho village! Cane, bamboo and wood is widely used in building the Wancho houses, ladders and artefacts.
Dry palm leaves or Toku (local name) are used to thatch the roof which are closely knit so that, not a drop of the rain water enters the house. I was also told that smoke is good for the house as it keeps the pests, termites and insects away, much like the havan or yagya which Hindus do!
Wancho Morungs
Also spelt as Murung, I thought they were exclusive to the Konyak tribes of Nagaland. This is why I travel! To break my own pre-conceived notions. At every Wancho village I visited, I saw more than 2-3 morungs. In old days, huge morungs were built in each village. Young boys lived here together and were trained to be 'men' by their elders.
Soul Window Observations
The practice of staying in a morung and growing together as a community is fast going downhill. In today's times, the morungs are mostly used during a festival or ceremony etc. This explains why new morungs come up even now. Much to my horror, I observed that some of the new morungs are made of unsightly cement and tin and not the traditional cane, bamboo and wood.
Traditionally, females are strictly not allowed inside the morungs for various reasons.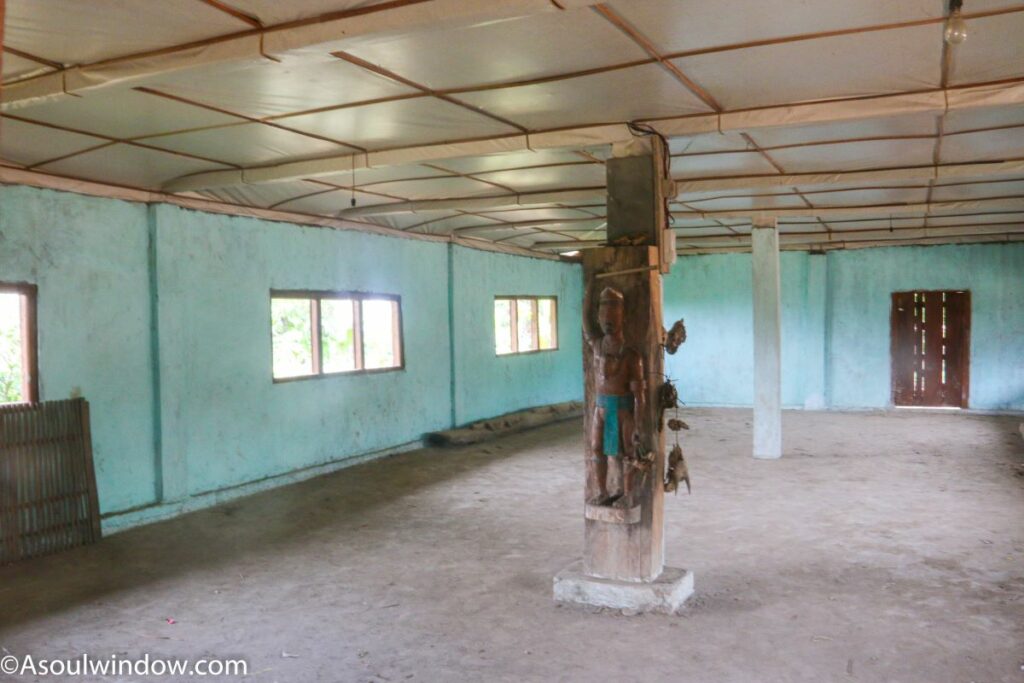 Wancho tribe language
The Wancho language is a part of the Tibeto-Burman family. Many Wancho people do not know English or Hindi because they had remained cocooned from the mainstream culture since a long time. However, I was surprised to see that many Wancho people still had excellent Hindi. Some Wancho people can even interact in English. Interestingly, our guide told us that the Konyaks and Wanchos speak the same language with little difference. This was another surprise for me.
Wancho tribe population
What is the population of the Wancho tribe? Wancho ethnic group is distributed across eastern Arunachal Pradesh. There are as many as 51,000 Wancho people at present! As per the 2001 Census of India, there are around 51014 Wancho people in Arunachal Pradesh. The Wanchos and Noctes of Arunachal together are a larger community than the more famous Konyak people of Nagaland.
Wancho tribe history
The history of the cultural practices and rituals followed by Wanchos since centuries is immense.
You will be surprised to know that much of the history of the Wancho people of Arunachal Pradesh has its roots in what is now the North East Indian state of Nagaland.
Wancho Tribe Ornaments
Both males and females wear a wide variety of colorful ornaments. Some of the Wancho ornaments are made from pearls, metal, beads, feathers of birds, animal bones, ivory and even coins. What sets the Wancho ornaments apart from the ornaments of other tribes is its unique style and unusual shapes. The ornaments are generally made at home as we saw at various places during the weeklong trip across Tirap and Longding district.
Male Ornaments & Accessories
During my visit to Konsa village, I noticed that Wancho men enthusiastically wear small beads garland and chains made of bead. It is also common for Wancho men to wear bracelets made of beads, metal and long leaves of grass. Wancho men can be seen carrying a bag known as Dakhau-Pak on Oriah festival. Likwai is an ornament made of multi-hued beads and is worn by the members of the royal family around the neck. On the other hand, Liktasp is also worn around the neck, but by common people.
I also saw many men wear their traditional cap Khohom in Oriah festival. Khohom is made up of fargesia grass, bamboo, animal skin and cloth. Men also wear Kho-Pat on their head as an accessory. It is generally made up of animal bone, wood and bamboo. Zepak is a belt like accessory which the Wancho men wear around their waist. Wancho mean wear Sia and Likhol around their legs while Nathua and Natu are worn in ears by men. Shan-fat is worn on the arms.
The male ornaments include
Zepak
Likwai
Liktasp
Kho-Pat
Shan-Fat
Khohuom
Sia and Likhol
Nathu and Natu
Female Ornaments & accessories
From bright necklaces made of beads to colorful bangles and earrings, there is no scope for dullness in their wardrobe. Lik-Kha-San is a cap like accessory which the Wancho women wear on special occasions such as Oriah festival and marriages. I noticed many women wearing Nobit during Oriah festival. Nobit is like a belt worn around their waist. Nakhothuak and Natu are worn by Wancho women on ears.
Tu and Shak Ben are worn on arms by Wancho women on special occasion. Tu is metallic while rice straw and bamboo is used to make Shak Ben which is usually worn by common people in Wancho society. Lik-Nyunlik are the necklaces worn by Wancho women. It is made up of beads and coins. I had seen women use Rs. 2 coins to make these accessories. Women also wear a ring finger known as Khaptat. It can be made up of ivory, brass or bell metal. Khap-sen which is akin to kharu of Assam is worn in hands.
The female ornaments include
Khaptat
Khapsen
Lik-Kha-Sen
Lik and Ngunlik
Tu and Shak-Ben
Nakha-Thuak and Natu
Wancho Tribe Dress
A variety of traditional dresses are worn by Wancho people. Even today, despite the external influences, one can notice the unique features of the Wancho attires. The dresses of the subjects and the Wancho King are easily differentiable. The difference denotes the respect towards the King.
The best part is that most of the traditional Wancho attires are hand woven even now by the women in handlooms. Even today, naturally occurring items, pearls and beads are used for making dresses, ornaments and accessories.
When I attended the Oriah festival, I did notice that the influence of the modern city culture on the traditional dresses of Wanchos has started to make its presence felt. The traditional Wancho dresses are commercially made in Kanubari and Khunsa in the Longding District.
Male dress
The males of Wancho tribe wear Nefa-Coat. The British had given it this name long ago. This sleeveless coat is traditionally black in color and is generally woven by women at home. Khiya Hit is an integral part of Wancho culture. I saw many men wearing Khiya Hit during the Oriah festival. It is a woolen cloth worn around the waist. Khiya stands for waist while Hit stands for wrapping. The commoners wear plain Khiya Hit whereas the King wears Khiya Hit which is adorned with colorful beads, stones and pearls. It is also an important part of the Khia-Tham folk festival.
Nyipong is a shirt like clothe worn by Wancho men. Much like the Konyaks of Nagaland, the Wancho men also wear shawls in winter and call it as Nyibun. It looks very much like the Eri Shawl of Assam. Some of the recurring decoration themes on the Nyibun are images of khohom, tooth of wild boar, tiger motifs, designs of tiger head and elephants' tooth etc.
The male dresses of Wancho people include
Nyibun
Khohom
Nyipong
Khiya Hit
Nefa Coat
Dakhau-Pak
Female dress
Wancho women love to dress in bold colours. Much like the Chador from the neighboring Assam, the Wancho women wear a piece of cloth around their shoulder known as Nyisa. It is generally made up of wool and comes in a variety of colours. Nyikhex is the skirt like clothe which the Wancho women wrap around their waist. It is also worn by the Wancho bride on the day of her wedding. Nyibun and Nyipong serve the same purpose which they serve for men.
The female dresses of Wancho people include
Future of Wancho tribe Community
The members of Wancho tribe community boast of a rich tradition of songs, music, dance, oral stories, memories and traditions, which I am afraid will be lost to time as more and more youngsters are migrating to bigger cities like Mumbai, Bengaluru, Delhi NCR in search of better earnings and modern lifestyle. The last surviving tradition bearers of the village may not be able to hold for a long time.
From time to time, local governments and village elders urge people to preserve their rich traditional culture for posterity. What I loved about visiting places like Kunsa and Laho is that the people here are still so unexposed to the outside world despite good internet. The ate fresh, followed traditions and didn't chase money. I felt it is a blessing that they stay away from the junk food such as pizza and cakes and cold drinks. But then I noticed a bakery in nearby Longding where they sold exactly that: cakes, pastries and pizza. How long will they be able to resist!
Soul Window Thoughts
The adolescents and young adults from Wancho tribe have limited interest in listening to the collective memories of the elders of village as they channelize their energies in building a completely alien life in big, chaotic megacities of India such as Delhi and Mumbai, located far away from their paradisical, noiseless villages.
In fact, on a previous visit, I was surprised to see several girls from Nagaland and Arunachal Pradesh working in the spa of a luxury resort in the Jim Corbett National Park in Uttarakhand.
Oriah: Wancho tribe festival
Since I visited the Wancho villages in the month of mid-April, we were in for a treat! It was indeed a privilege to attend Oriah festival in the Chasa Village near Longding. Watching the local Wancho people of Chasa Village in their ceremonial costumes was a visual delight! Oriah is the main festival of the Wancho people, the date of which keeps shifting as different villages celebrate on different dates. Mostly, Oriah takes places in the months of March and April. I was told that Oriah is commonly celebrated on 16th February by the entire Wancho community in the capital of Arunachal Pradesh, District headquarters, circles and blocks.
I was speechless to see a large crowd of Wancho and Nocte people, dressed in their sartorial best, gather around Jangban and say prayers, dance and sing in rhythmic patterns. Jangban is a long ceremonial pole which is an inseparable part of the Oriah festivities. I also noticed some active village elders re-enact the warrior scenes, which seemed more like an entertainment show which succeeded in its final aim: to make the audience burst into peals of laughter. Some comic relief, this!
Oriah is a pretty major festival in this part of Arunachal Pradesh. No wonder, fest is arranged in several morungs or the old-style dormitories. While it may be upsetting to the vehement vegetarian in me, but the reality is that several animals such as Mithun (or gayal/Drung Ox), pigs, buffaloes and even cows are sacrificed as a part of Oriah festivities. This is also when jhum paddies are sown!
Some of the other rituals practiced during Oriah festival is that the Pork skin is presented to the local King or village chief as a mark of respect. The local Wancho people are gift each other the local rice beer in bamboo tumblers as a symbol of goodwill, greeting and merriment! Oriah festivities may last between 6 to 12 days, depending on the village. For the Wanchos, such festivals are the best way to preserve their rich legacies which had been handed down to them by their ancestors.
Oriah is also known as Ojiyele in some Wancho villages. Different villages have different pronunciations and terms to address the same festival. Oriah is the officially recognized word for this popular Wancho festival.
Why so many foreigners meet Wancho Tribes?
Off late, many foreigners from nations such as U.S.A., France, Netherlands, Australia, Germany etc visit places like Wakka, Laho, Longding, Pongchau to get a deeper understanding of the Wancho people. While some foreigners come to do study on the rich Wancho history, some come to document it. Apart from academic pursuits, many tourists and photographers from Europe, Americas and Australia also visit these remote tribal places in Arunachal Pradesh.
What to do when you visit Wancho villages?
These are the top things to do when you pay a visit to a Wancho village:
Visit Morungs.
Talk to the local people.
Walk around the village.
Visit the home of the local King.
Visit homes of other local people.
Dance and sing with Wancho people
Take a guided walking tour in Wancho villages.
Eat the local food of Wancho Tribe. Vegetarian is also available if your tour operator informs beforehand.
How to meet people of Wancho Tribe?
Where do the last headhunters of Arunachal Pradesh live? You can meet the Wanchos in Longding, Khonsa and villages such as Konsa aka Kunsa, Pongchau, Longkhaw and Wakka etc.
Which state is Wancho dance? You can see dance of Wancho people and have meaningful interactions with them in the North East Indian state of Arunachal Pradesh. It is important to meet the Wanchos with a tourist guide, preferably a local guide.
You may miss many experiences here if you go without a tourist guide. It is not a regular tourist destination like Jaipur or Kochi which you can also explore by yourself. I suggest you book an organized trip with a local tour operator Holiday Scout. They arrange trips not only in Longding and Tirap but many other exciting destinations across North East India.
It is quite possible that the local people may not warm up to you if you go as a solo traveler, unless you have exceptional inter personal skills. Also, many people in traditional Wancho villages do not know English or Hindi. This is why it is important to visit such remote places with a trusted tourist guide.
Respect
When you visit Wancho people, please treat them respectfully. Not many of them are exposed to the outside world. While some Wancho people can be very accepting of you, some Wanchos may not enjoy being clicked by you. For example, in Wakka, many local people didn't enjoy being clicked. This is why I didn't take many pictures of the local people in Wakka. You have to respect their rules as you are in their homes and not vice the versa.
Soul Window Ruminations
With this blog, it is my small effort to document the lifestyle of the Wancho people. More needs to be done though. We need to aggressively document, record and translate the oral narratives from not only Wancho tribes but also other indigenous communities of Arunachal Pradesh and elsewhere in North East India.
We must start with documenting what the oldest Wancho villagers have to say about their history and culture. Before time runs out, more roads are built, more integration happens and 'remote' refuses to be remote anymore!
How to reach villages of Wancho Tribe?
Bad roads in remote places of Arunachal Pradesh have been a thing of the past. I was delighted to discover that new roads have come up in places which had bumpy and dusty roads earlier, such as the road to Ziro village of Apatani Tribes. The roads to the several villages inhabited by the Wancho people are as smooth as the roads that lead to Taj Mahal, although with less crowds and fresher air.
Though I miss the exciting bumpy rides (because it left me with stories to tell), I welcomed the road to progress.
Some places where Wanchos live are
Tissa
Nyinu
Ngissa
Wakka
Longkai
Longding
Pongchau
Chasa Village
Konsa Village
Kamhua Noknu
India Myanmar International Borders
Being a border junkie, I was excited to see that Longding district of Arunachal Pradesh borders the country Myanmar. There are as many as recorded 26 major tribes, 110 sub-tribes and several other unrecorded sub-tribes in Arunachal Pradesh. Wancho is one of them, most of who live around Longding and Tirap district, very close to the India Myanmar Border.
We were briefly stopped at a border check post as we neared Konsa village because it is located only 1 kilometer away from the border of India with Myanmar. Wancho Villages like Kunsa or Pongchau near Longding are located very close to borders between Myanmar and India. In fact, Konsa or Kunsa in India is located just 1 kilometer away from Myanmar.
The Nyinu Massacre
After we left Nyinu, we met author Shri Nepha Wangsa in his home in the nearby Ngissa which is a sub village of Nyinu populated by the Wancho people.
He has done deep research and has written a book on the little known Wancho Anglo War of 1875. It is also known as the Nyinu Massacre. Chief Minister of Arunachal Pradesh, Shri Pema Khandu himself released the book titled Nyinu Massacre of 1875.
In his book, Shri Nepha, a RGU scholar recounts the bloody battle of 1875 where the brave Wanchos of Nyinu village annihilated the British troops of 80 men, which was led by Lieutenant Holcombe. For an hour, he spoke about the brave men of Nyinu village who took on a formidable enemy to defend their village from invading forces.
Itinerary for Longding and Tirap Tourist circuit
Day 1: 10th April
Stayed in homestay of Itanagar
Day 2: 11th April
Left from Itanagar to Longding. Day was spent on road trip across Arunachal Pradesh and mostly lush green plains of Assam. I also crossed the famous Bogibeel bridge.
Day 3: 12th April
I met the Wancho headhunters in Konsa Village. I also stopped for an hour at the Pongchau village as we drove from Longding. I stayed overnight in Longding.
Day 4: 13th April
I checked out of Longding and drove towards other Wancho villages. I stopped ahead of Tissa bridge for a quick breakfast and 'samosa' because many people from Uttar Pradesh and Bihar live here. I met the Wancho people of Nyinu and Ngissa and learned about the massacre of Nyinu. On the same day, I explored much of what the beautiful Wakka had to offer. I stayed overnight in Wakka.
Day 5: 14th April
I left Wakka early morning at arrived at Chasa village to attend the annual Oriah festival. By afternoon, I was dropped at the big Khonsa town. Since it was still not dark, I explored the Khonsa town and market on foot. We stayed in Khonsa for next 3 days.
Day 6: 15th April
We crossed Dadam to reach Laho village. We spent all day here. We visited the home of the King of Laho along with the homes of his subjects. We spent overnight at Khonsa.
Day 7: 16th April
We explored Kheti villages and visited the holy places of Nocte people and saw the real and rare human skulls from the headhunting era. Next, we visited Lazu village to meet Ollo Nocte people. Overnight at Khonsa.
Day 8: 17th April
We left Khonsa and drove to Dibrugarh. En route, we stopped at Borduria, several tea estates, Hangpan dada memorial aka Sabu Dada memorial, Hukanjuri check post and Namphake Buddhist monastery. We stayed in Arunachal Bhawan in Dibrugarh.
Day 9: 18th April
I caught a flight to New Delhi from Dibrugarh airport which is located a mere 5 minutes' drive from Arunachal Bhawan.
Conclusion
Wancho tribe of Arunachal Pradesh still hold on to their culture and traditions. Wanchos are one of the last surviving head hunting tribes of Arunachal Pradesh. Nocte headhunting history is full of interesting facts.
This complete information about tribal community of Wancho People can help you understand their culture better. Inhabited in the Patkai hills of Longding district in Arunachal Pradesh, Wancho People have successfully retained much of their traditions, values and cultures. Being one of the major indigenous tribes of Arunachal Pradesh, it was a rewarding experience for me to interact with them.
The collective memories of the Wancho tribe community needs to be preserved for the posterity, lest they will become a part of the museums in clinical rooms bereft of the sounds and sights of the Wanchos! Since there was not much information about Wancho people online or offline, I thought it is my moral duty as a travel writer to write a detailed account on them through this comprehensive guide to the Wancho lifestyle. Do share this guide with your friends and family so that more and more people know about it.
Related Blogs
Nocte Tribes of Arunachal Pradesh
Lovely stay at Dirang Boutique Cottages
Best places to visit in Bomdila
Review of packaged tour of North East India
Orange Music Festival of Dambuk
Top Travel Blogger from India