Last Updated on January 21, 2021 by asoulwindow
Apatani Tribe of Ziro Valley – Places to see
During my Arunachal Pradesh tour, Ziro valley was one of the most rewarding destinations. I mingled with the Apatani tribe community, a dream nurtured since long. The beautiful Apatani women and their nose plugs are the main attraction of Ziro valley!
Despite not knowing Apatani language, I had a good time as most people in Ziro valley Arunachal speak and understand Hindi. Dressed in Apatani traditional dresses, the locals of Ziro were unlike any I have met before! If you have not been on Arunachal Pradesh tour, read this complete guide and plan now. Read on to know why Arunachal Pradesh is so special!
This travel guide lists down the best places to visit in Ziro.
Visit home of an Apatani Tribe
During our trip to Ziro, Holiday Scout helped us visit the home of many Apatani people. We spent a lot of time in different Apatani homes, chatting over on bonfire, learning about Apatani culture, Apatani food habits, Apatani traditions, Apatani festivals etc. Ziro is famous internationally because of the Apatani tribe and their unique culture! Your tour to Arunachal Pradesh is incomplete without sharing a lalcha (red tea) with Apatani people!
Every traditional Apatani home adheres to basic guidelines for construction and design. The hearth which is the heart and soul of an Apatani home, lies in the middle of the first room or the main hall where most of the family members and guests spend most of the time at. Both the family members as well as the guests congregate at this open fire place for all their meals and teas. The fireplace has a wooden double chambered wooden platforms dangling above it from the ceiling. This platform is used to keep items like cheese, knives, utensils, mugs, cups and much to my chagrin, massive meat blocks.
Built on an elevated platform, the house is entirely made up of wood. The walls are constructed with hand woven mats and tied together with sturdy bamboo poles.
The Apatani people happily posed for pictures and entertained all our questions we had for them. Dressed in their sartorial best, they looked stunning against the backdrop of a wooden façade. They told us that the entire Ziro valley dresses up like this during big festivals such as Mopin. This is what is Ziro famous for!
We spent a lot of time in the various Apatani homes. We were offered the local alcoholic drink, tea made on bonfire etc. My roving eyes were scanning the home for interesting objects. No matter how bright the sun is outside, these homes are always dark from inside. Sometimes a small bulb lights up a corner. I feel that is the charm of it!
With permission, I took a tour around the homes and observed the various pictures hung on wall, pots and pans, books etc. I was impressed to see that most home had modern toilets even if the overall architecture of the houses was traditional. Pretty impressive!
Architecture – The Apatani bamboo houses are single storey and sometimes made on ground and sometimes on an elevated platform, supported by low stilts in a neat pattern. I saw many elderly people, 'hanging out' at their balconies, soaking in some sun and waving to the kids cycling past them.
I also noted few cemented houses in the vicinity which had cropped up as an eyesore. Though most homes in Ziro are made in traditional way, still many homes and shops in the market area are made with brick and cement. They look odd and ugly when compared with the traditional wooden homes.
Visit home of head Apatani Tribe priest
The local culture is what ZIRO is famous for. We also visited the home of the elderly head priest of Ziro valley. The wife of the priest wore the traditional nose plugs Apatani tribe people are so famous for. Despite his old age, he showed us a midsized squirrel he had just hunted. This is one of the most exclusive places to visit in Ziro Arunachal Pradesh. Apatani tribes food is mostly foraged from the forest or grown.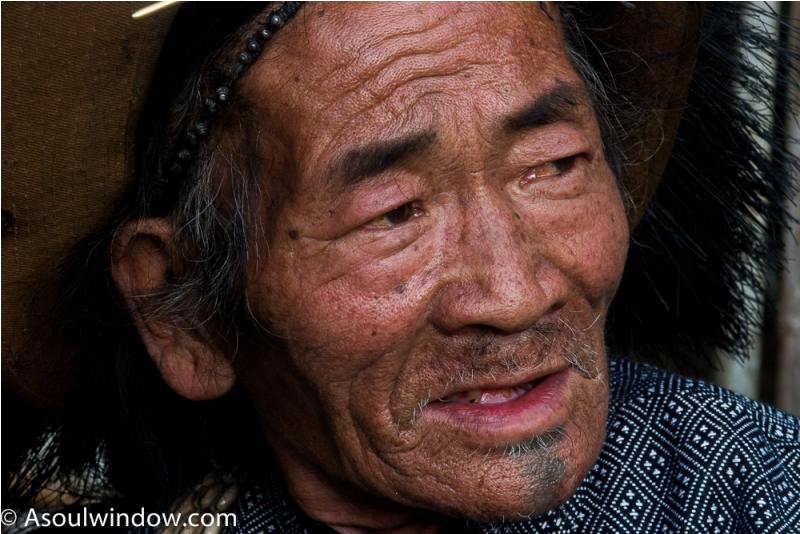 Both husband and wife spent a lot of time with us, posed happily with various things they used and also served us hot lal cha (red tea) which they had just made on the bonfire. Every traditional house in Arunachal Pradesh, Nagaland and other states of North East India has similar bonfires in the middle of the main hall. It is an amazing place to not just warm yourself up in the super cold Ziro but also interact with the owner of the house right in his living room.
The family cooks here, chats here and receives guests here. They also showed us a special wooden utensil used to pour liquids. He enthusiastically showed us his prized possessions which included weapons and accessories made with animal parts such as bear's hair, claws, wings etc. I personally do not approve of such use of animal parts in objects of everyday use but that is how it has been in Ziro and other parts of North East India. I also tasted a unique salt called Tapyo here. More on that below.
Their home was made up with a lot of wood. The external platform or balcony was not only charming but served as a great place to chill with family and friends. The balcony had an attached chamber where the hens were kept without any locks.
As I entered the main door, a huge hall swallowed me. There were some attached rooms to the main hall. I was surprised to see modern washroom in the backyard of the house. It was adjoined by a huge kitchen garden. The incongruous washroom was the only modern frills I saw in the house apart from the electricity boards, of course. How do you find this Ziro travel guide?
See Nose Plugs & Face Tattoo of Apatani women
If you are wondering why Apatani tribe women wear nose plugs and have face tattoos, you are reading the right blog. You will be surprised to know that these Apatani Tribe nose plugs, face piercing and face tattoos are not meant to enhance the beauty of Apatani tribe women but to make them look less attractive. This is why Arunachal Pradesh is so special!
As the folklore goes, in earlier times, the men of other tribes used to abduct Apatani women, smitten by their beauty. The attacks were also made, owing to the advance integrated farming practiced by the Apatanis. There are conflicted views on why the women started wearing nose plugs and face tattoos though.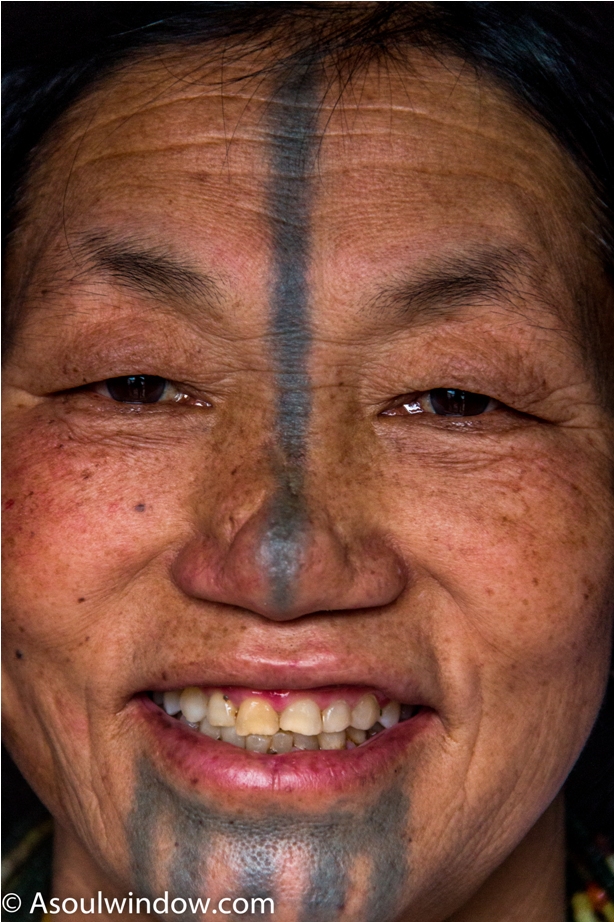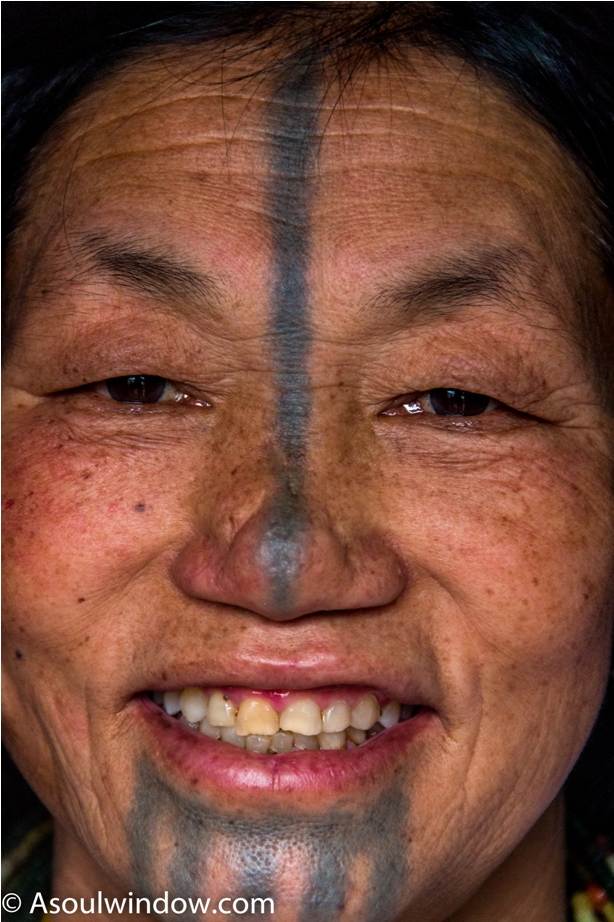 How it started –
While some believe the Apatani tribe women started wearing the nose plugs themselves, other hold the view that the elders of the community encouraged Apatani women to do the same in order to make them less appealing and attractive. The nose plugs made their nose appear bigger than they were, helping them shield their beauty and save themselves from being kidnapped.
About nose plugs & tattoos- These nose plugs exclusive to Apatani women are known as Yaping Hullo. Made from wood foraged from the jungle, it is thoroughly cleaned so that any infection can be avoided in future.
I saw some of these women in Naharlagun market also, before we even arrived at Ziro valley. These tattoos are also a symbol of pride, dignity and honor.
The face tattoos of Apatani women are known as Tippei. These tattoos are made on young Apatani girls, about the age of 10 by older Apatani women from the community. The ink, hold your breath, is derived from soot from the hearth and fat of pig. Incredible India indeed! The face tattoos are made vertically extending from the forehead to the chin. The women also wear special beaded jewellery, common to Apatanis.
Declining Tradition
Not many such women are left these days. I was probably meeting last of Apatani women who had face tattoos and nose plugs. They were the last such generation. Thanks to a Government ban on nose plugs of Apatani women, the only such women who can be seen are old, who take pride in their unique tradition and extraordinary culture.
Ban – The ban started in 1970s to protect the women from finding jobs in other cities where they could be humiliated and discriminated against. This age old custom will soon fade away soon. So, visit Ziro in Arunachal Pradesh soon.
Visit tallest Shiv Ling at Siddheshwar Nath Mandir
I have written an entire blog on this. Yes, the world's tallest naturally formed Shivling is right here in Ziro. It was not easy to find this one. Read my full travel guide on the Shiv Ling and Siddheshwar Nath Mandir. You will be surprised to meet pujaris from as far as Uttar Pradesh and Bihar manning this temple all by themselves. Also, get to know the interesting story about how this Shivling was found in Ziro. This and more on my blog! Please see the link in the box at the bottom.
Attend the famous Ziro Music festival
Ziro Music festival is an annual festival which happens in the month September or October. Ziro festival dates vary each year. This festival is also what Ziro is famous for! It is one of the best Music Festivals In India!
Scores of Urban young crowd from across India congregate at the open air concerts at the Ziro festival of Music every year. Entry tickets for Ziro music festival can be bought from the Music Festival website. You can enjoy live performances by a variety of independent artists with some local alcohol.
Some of the artists who have performed at the 4 days long Ziro Music festival are Indus Creed, Lee Ranaldo, Barmer Boys, Divine, Steve Shelley, Guru Rewben Mashangva, MONO, Damo Suzuki and many others. Now you know why Arunachal Pradesh is so special! Ziro Music Festival reviews have been great so far. Do enjoy this North East Music Fest.
Where to stay during Ziro Music Festival-
While some stay in the concrete home-stays for creature comforts, others prefer to stay near the Ziro Music festival venue in tents and camps.
Taste the Tapyo – local salt
I even tasted an indigenous home-made salt in the home of the head priest. I saw the same salt in Dwijing Festival in remote Bodoland, Assam. Known as Tapyo or popularly as brown salt, this traditional food of the Apatani is also seen as a medicinal condiment. It is a condensed form of ash juice. It is used by the local people as a preventive measure against medical conditions like goitre. Native grass and herbs like Pepu (Phragmites karka) and Sarshe (Eleusine coracana) are used for preparing the Tapyo.
Understand local Apatani culture & heritage
Babo: Our local tour guide arranged by travel company Holiday Scout took us around the Ziro town and showed us all the important places where ritualistic events take place during festivals and other occasions. He showed us various wooden structures, mostly huge in size. These are known as Babo.
Babo is erected in front of the house in the residential complexes. These represent the clan or family. During the annual Myoko festival, the entire community comes together to erect the Babo for various rituals and ceremonies. The Babo ceremony happens 2-3 months before the Myoko festival.
Lapang: Lapang is a huge wooden platform which is used as a venue for holding public meetings, community discussions and carrying out some rituals. There is also a ritual alter located in residential areas. The Lapangs also become a magnet during the Murung festival in January. People congregate on Lapangs and make merry. Murung festival is a festival of prosperity.
The cows and Mithuns are tethered to the lower portion of the lapangs. The logs on which the platform of lapang is built is very sturdy. Traditionally, male child from each clan used to bring a pole each for the construction of the base of lapang. Naturally, you can easily count how many male child there are in a clan by just counting these poles.
You can figure out how many clans exist in a particular village by just counting the number of Lapangs it has. Concrete and metallic Lapangs are also being built these days. But the authentic wooden Lapang remains popular. The construction of lapangs was a big community event in the old days.
These structures are used in carrying out various rituals during the festivals. Some cemented versions of the same had cropped up too, which he showed to us with much disdain. The cemented ones indeed looked ugly when compared to the wooden structures. We visited one such huge Lapang made out of wood and bamboo in the Hari Village.
Since it is a very authentic and original example of a lapang, it has been declared as a heritage Lapang by the authorities. The heritage Lapang is known as Nami Tilling Heritage Lapang Babo. A signboard warned strictly, "Notice: Throwing of garbages (sic) nearby Nami Tilling Heritage Lapang Babo is strictly prohibited.
The defaulter shall be imposed with a fine of Rs. 5,000 by NTYG- Hong." The people in Ziro sure are conscious of the environment and their heritage.
Some of the other Lapangs are Lapang Ho Nyimii Chama Ke and Lapang Mi Lengo Mi Darii Atii Toh. Do not miss these intriguing places to visit in Ziro.
Visit a local school of Ziro India
We even visited some schools in Ziro. Not wanting to disturb the school kids, we saw it from outside. Visiting schools gives a nice experience of the local lifestyle and values. I had also loved my visit to a school in the Majuli river Island in Assam.
Visit a Hindu Temple in Ziro
Some of the common features are that both Donyi Polo and Hinduism worship sun and moon. There are many Hindu temples in Ziro, thanks to the Hindus living here. Some of these temples are Shri Sidheshwar Nath temple, Temple of 'Santoshi Maa baideu', hill top mandir dedicated to Shiv bhagwan, Hindu temple at CRPF camp. Read interesting details in my Sidheshwar Nath temple blog. Link is shared in the box at the bottom.
Visit a Church in Ziro
There are some Churches in Ziro India which you can visit. Town Baptist Church in Hapoli is one such Church. Another one of them was visible right from the roof of our home stay in Ziro. The locals originally follow a unique religion Doni Polyo which is much like Hinduism. However, many local people were tricked by clever Christian missionaries into converting into Christianity.
The orthodox Apatanis still treat Christianity as an inferior religion. That explains why there are as few as just 1,000 Christians in Ziro India. In fact Danyii Piillo Meder Nello is a local organization located in Hari Lemba area, which aims to preserve ancestral practices, values and beliefs and guides the ignorant community members from the disadvantages of mindlessly converting to Christianity.
I saw similar agenda pedaling not only in India but also in some parts of Africa. Thanks to years of mass conversion, many Africans now have a Christian name instead of tough to pronounce (by Western standards) African names. Things are changing and the local have started to rebel. The local people of Ziro have been resisting Christian missionaries off late in order to preserve their culture, traditions and heritage. Rightly so!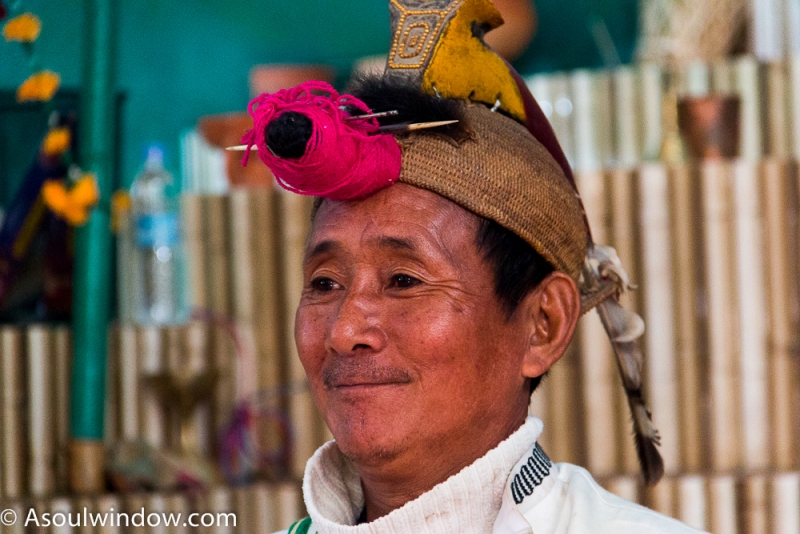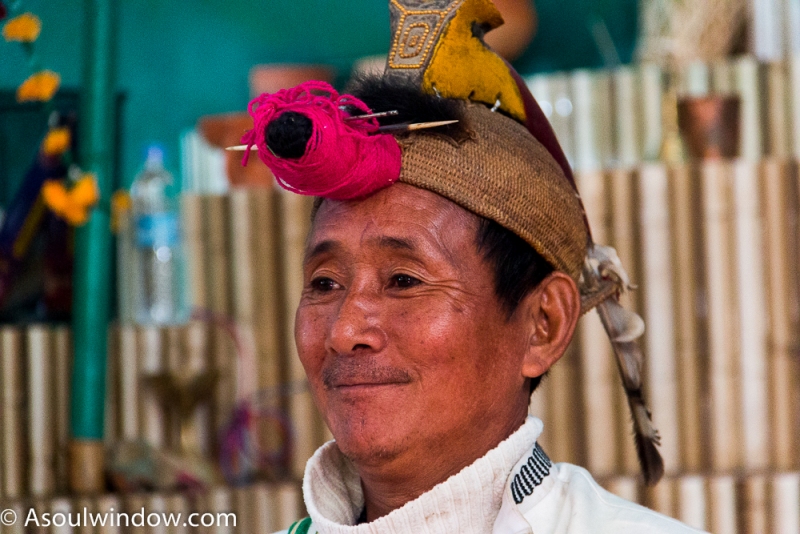 Visit a Doni Polyo Temple
Doni Polyo is a shamanic religion followed by majority of Apatani tribe people. Much like Hinduism, people who follow the Doni Polyo religion worship Sun and Moon, both of which represent the duality of nature.
The Hong village has an impressive number of people who follow Doni Polyo. During your tour to Arunachal Pradesh, you will come across many such unheard of cultures and customs. Ziro is worth visiting for sure! This is one of the best offbeat places to visit in Ziro Arunachal Pradesh.
Visit grave sites of Apatani
Most villages in Ziro have their own community burial grounds. These places are often located in remote location, undisturbed and unexploited. The very unique death ceremony followed by Apatani tribe had me surprised. I had not seen anything like that before.
The graves in Ziro are built after tying bamboo poles in a pyramid shape. Called as Biyu, the graves of important Apatani men stand out due to the larger size of the grave. When a loved one dies in Ziro, the Apatani people sacrifice an animal such as Mithun. The skull (with horn) of the sacrificed animal is tied to the bamboo structure on the grave. Special rites and rituals are also performed during the burial ceremony.
Not far from the Apatani grave site, I also observed the Christian grave. It was a flat grave on mud. Someone had offered fresh flowers on the grave when I saw it.
The more complex and ornate burial structures were reserved for the important people and shamans. The simple structures belonged to regular people. The people who died an unnatural death such as a disaster or accident were buried separately.
See local concern for environment
I saw a genuine care for environment throughout Ziro. Common signboards by P.H.E. & W.S. division of Ziro says, "Construct a compost pit. Ensure safe disposal of the kitchen waste." And "Say no to plastic bags. Plastic bags destroy the environment'. These placards were accompanied with a logo of Swachch Bharat, of course.
Eat Vegan and vegetarian food in Ziro, Arunachal Pradesh
Contrary to popular belief, vegan and vegetarian food is easily available in Ziro. Our local host at the homestay served us satisfying vegan meals for dinner in their home. It included Dal-chawal (lentil and rice) with potatoes curry, brinjal curry and tomato chutney. We had nice vegan Chinese meals at a standalone restaurant in the middle of the wide open fields. In fact many Assamese people live in Ziro too. They cook vegan food effortlessly. Also, you can get nice vegan and vegetarian meals in restaurants, thanks to the proximity to Assam.
See ritualistic egg site
This sacrifice venue which I found bizarre was another first for me. I had never seen or heard of anything like what I saw here. Scores of thin bamboo sticks were tied together and embellished with egg shells and feathers. I saw many such altars located next to each other.
Animist rituals, rites and animals sacrifices are performed here mostly by the resident of nearby Hong village. These ceremonies take place where the village goes through some upheaval, disaster or some unforeseen adverse situations. Mostly hens are sacrificed but it may include other life forms as well. Watch out for the blood stains of freshly sacrificed chicken, if any.
This ceremony is performed once in a year at a fixed spot outside the main villages and residential areas. Called as Myokum, this ceremony is done in order to ensure the welfare of the family members. This tradition passes hands through generations.
Not all families are allowed to perform this tradition. The family members whose ancestors have been continually performing these rituals over the years are the ones allowed to perform it. It is a very ancient practice.
This site is present near the Hong village in the Eastern direction. I passed a school and under maintenance dirt track to arrive here. I saw an amusing set of metal rods arranged over a drain of the dirt track to keep cows and mithuns entering this area.
A signboard on a tree read, "Not allowed to erect Myokum Ageying inside boundary. Find (Fine). Rs. 50,000. Of Bamboo Field by order of owner K. Yombin." It seemed like a private ceremony ground to me. I saw a fully loaded rifle lying carelessly on the ground. I dare not erect a Myokum here.
See locals toting Rifles casually
It is not uncommon to see local men walking nonchalantly with fully loaded rifles and guns. Mostly they use the rifles for hunting, which I do not approve of though. I did see some rifles casually thrown on the floor. I saw many more people carrying rifles everywhere I went to in Nagaland whether it was Mon or the Hongphui village near Longwa, known for its last surviving headhunters. Are you still wondering what to see in Ziro valley Arunachal?
Visit hill top – places to visit in Ziro
If you have time, you must drive to this hill top area where very few go. Enjoy the views from Ziro Putu Hillock and explore the area on foot if you can! There are surprises galore in the tour to Arunachal Pradesh. There are also some Hindu temples here. You will be amazed with great bird's eyes view from here. From Dolo Mando Hill, you can enjoy panoramic views of both old Ziro as well as Hapoli aka New Ziro.
Nanakoo Orchid Farm
What more can you do in Ziro? North East India is home to some of the most beautiful, rare and endangered orchids in the world. I saw some orchid parks and conservatories in Kaziranga National Park and on the way to Bomdila, Dirang and Tawang during my 15 days long epic trip to North East India. Distance between Nanakoo Orchid Farm and Hapoli is just 1 km.
Visit Hapoli
Hapoli town offers amazing views of the sprawling hills. You can even walk upto Hapoli from Hari village. The district museum is also in Hapoli. Hapoli is also known as the New Ziro.
Old Ziro has some charming small villages. Old Ziro has rich Apatani culture alive and thriving. Old Ziro is just 7 kms away from Hapoli. You can get there by shared cabs and Tata Sumos. That's how the locals travel.
Ziro District Museum and Craft Centre
A visit to the Ziro District Museum and Craft Centre will give you a deep insight into the local lifestyle, crafts, custom and traditions. And of course, you can pick some souvenirs as well. Do check out local crafts made from bamboo, cane etc. The intricate handloom designs by Apatani people are also worth a dekko!
There are many well preserved pine tree forests in and around Ziro Valley. Have a leisurely walk at the rolling Pine Hills, if it is allowed! Check with your local travel guide if you are not sure! The pine grooves are locally called as Myolyang. You can visit lovely towering blue pine plantations at Midey. Just ask around! Ziro sure is worth a visit!
The most 'un exotic' thing about Ziro was Ziro market. It looked like any other small town Indian market from say, Assam or even Uttar Pradesh. Ziro market is an unorganized market populated mostly by outsiders from other states. I saw many Muslim shopkeepers here and even shops selling mainstream food in Ziro market. It is run of the mill thing but you can still explore the market. Just keep your eyes peeled for something exotic or unusual.
Yes, you can even dress in an Apatani traditional dressif you fancy so. Just let the tour agent know about your desire before the trip starts so that it can be arranged for you. The ethnic dress, mostly whites looks amazing in the backdrop of verdant fields and against the rough texture of wood. Sange Tsering from Holiday Scout has a great rapport with the local people and that helped! You will see many Apatani girls wearing this dress.
Explore different villages
Ziro is huge. There are many big and small villages where you can explore. Some of the villages worth a visit in Ziro are the stunning Hari village, Hong Village etc. In fact, Hong is the second largest village of Asia. By merely taking a walk in these traditional Apatani villages you can observe how closely humans co exist with nature in Ziro. Other villages in old Ziro are Baro, Biilla, Hija,Bula, Bamin Michi, Dutta, Siiro and Mudang-Tage etc. The villages are very clean, have fresh air and are picture postcard perfect. A ere walk will tell you why Arunachal Pradesh is so special!
Go on long walks in Ziro valley
Exploring Ziro on foot is very rewarding. The fresh air, pollution free pleasant climate of Ziro and very few cars and bikes on road makes walking in Ziro enjoyable. There is a lot to see in Ziro. Arunachal is so special and Ziro is one of the reasons!
Cycling is Ziro is equally pleasurable thanks to above mentioned reasons. There are hardly any cars or pollution in Ziro. Compared to walking, cycling helps you access more parts of Ziro at your own leisurely pace. Solo cycling also helps you get better shots as you can access and explore parts of Ziro which your group might not want to see. Watch out for the puddles and zig zag paths though. The tour to Arunachal Pradesh is very soothing!
Get a portfolio shoot done
Do not forget to carry some fancy clothes and accessories for a memorable photo shoot in Ziro.
Just ask your local travel guide to click pictures for you. In my case, I requested Sange Tsering from Holiday Scout to take my pictures. Not only is he an excellent tour operator but is also great at taking pictures creatively.
The backdrop of wide open fields, wooden planks and unusual architecture of homes look beautiful in pictures. Just think of unusual angles and ideas and you are all set for a fabulous photo shoot of your own. Have a little fun while your tour to Arunachal Pradesh is still on! Because why not?
Soul Window Tip: White and brown clothes look really great in the Ziro landscape. Throw in some great creative ideas and you have a few winner profile pictures.
Have local drinks of Ziro Arunachal
Almost every home we went to, we were offered local alcoholic beverages. While we had a potent milky white alcoholic drink at one Apatani home, we tasted a slightly harder drink at other Apatani house.
We even had the sweet but very potent Poka also known as Apong. It brought back fantastic memories of my 3 month long epic trip to North East India. I had gallons of Apong during my earlier trip to Basar, also in Arunachal Pradesh. Basar is populated with Galo people. The drinking habits though still overlaps.
We even had a factory made fruit wine in a real wine factory. It was not as touristy an experience as it is in the vineyards and wine factories of Nashik in Maharashtra. It was, however, a one of its kind of experience in North East India. Read on to know more about it.
Visit fruit wine factory of Arunachal Pradesh
I even visited a real factory and had locally made fruit wine right at the factory. The factory had a kiosk where you could taste the wine and even purchase the wine right from the kiosk. Do not forget to visit this factory. You can even have a tour of wine factory with prior permission. Told you, there is lots to do in Ziro!
Stop at View Point for amazing vegan lunch.
Address: Potin 9km, Lower Subhansri District, Arunachal Pradesh.
Unique Integrated Agriculture with fishing culture
The Apatanis follow a unique culture of growing indigenous rice varieties such as Emoh and Mipya along-with farming local fish species like Kotia Ngii and Ngihi in the same field. This unique tradition of Ziro village is much talked about. February and March, which is spring season is a good time to see this. Although I am a vegetarian and abhor any sort of animal farming, but that is how it is in this region.
We have a lot to learn from the Apatani people on how to optimize the resources. They even grow millet (Eleusine coracana) on the raised partition bunds between different rice fields. Fertility of the soil is maintained by recycling crop residues. The organic waste produced by the village also makes up for the nutrient loss after every harvesting season. Below are some local related terms and meanings:
Emoh – variety of rice
Mipya – variety of rice
Ngihi- variety of fish
Mugo – Water drain
Understand local Agro-Pisciculture of Apatani Tribe
We have a lesson or two to learn from Apatani tribe on ecology and environment. What also makes the Apatani tribe community unique and famous is their extraordinary agriculture practices. The rice and fish is farmed in the same land in Ziro by Apatanis. These sustainable and self sufficient agricultural practices make Apatani people unsung Eco warriors. This is what is ZIRO famous for?
The sophisticated cultivation is done in permanent wetlands. The cultivation land is used very judiciously and best use of available resources is made. Animals and machines are not used as a mark of respect. Instead, the farming and ploughing is done with bare hands. Catch some of them immersed knee deep in paddy fields.
While rice is grown in the beds made for its cultivation, millet is grown alongside on the elevated bunds bordering the beds.
Terin Fish Farming –
Tarin fish farm is the main farm from where the locals buy fish. You can pay a visit here to get an idea of the same. It is located just 3 kms away from Hapoli.
Small channels are made near between the paddy fields for the cultivation and harvesting of fish. These channels are basically water supply systems which are mainly used for irrigating the paddy fields. This integrated rice fish farming has won praises. No wonder Ziro Valley in Arunachal Pradesh finds its mention in the tentative list of UNESCO World Heritage Sites. The world has a lot to learn from the Apatani style sustainable natural resource management.
Apatanis always leave back crop residues and straws in the paddy fields after harvesting the crops. This helps conserve the nutrients of the paddy fields. What's more? Even the animal excreta and organic garbage of the village is used to make the land more fertile. Nothing goes for waste in Ziro.
Who would have thought that our real heroes exist in a lesser known Lower Subansiri district in the eastern Himalayan region of North East India?
I also noticed swathes of agricultural fields filled with reddish pinkish water. I saw these in homes of Hari Village as well. Curious, I asked my local guide who told me that the red color is due to a natural Nitrogen fixer called Azolla Pinnata, locally called as tapang. Azolla is mixed with soil while the fields are being prepared. Azolla Pinnata is also known as water velvet, mosquito fern or feathered mosquito fern. You will see it floating on water surfaces.
What else to do in Ziro valley? Visit bamboo groves! Bamboo is also cultivated is large number in Ziro. In fact Apatanis have separate fields for dry cultivation, wet cultivation, social cultivation, terrace farming etc. There are no ordinary bamboos here. You can see some of the tallest temperate bamboos in Ziro. Some bamboo varieties grown in Ziro include Japanese tinder bamboo aka Phyllostachys bambusoides and 1 stem Monopodial bamboo.
There are also many terraced fields where Apatanis grow other agricultural products such as kiwis. There are separate storage houses as well. Such practices have continued ever since Apatani people settled in the Ziro valley Arunachal.
This festival is celebrated for almost an entire month in Ziro village. Celebrated in March every year, Myoko celebrates a sense of fraternity, friendship and prosperity for the village. Myoko is celebrated on a grand scale in Ziro.
This unique festival is traditionally celebrated by members of the Nyishi tribe in the lesser known Yazali village. Yazali to Ziro distance is 25 kms and its takes around 1 hour via NH 13 and NH 15. This is an offbeat thing to do near Ziro.
Celebrate Dree festival of Apatani
This unique festival celebrated every year by Apatani people is the main agricultural festival of this region. It is celebrated during the month of July every year. You will have a different experience if you time your visit during the Dree festival.
Murung festival happens in Ziro every year in the month of January. The local people congregate at the wooden Lapangs and celebrate this festival.
While I and other travelers huddled around the bonfire at the home of head priest, he suddenly stood up and asked us to close our eyes for a ritual. I gingerly accepted the offer. The bear skin hanging on the wall was not helping. Neither were the traditional Apatani weapons like dao.
The Priest chanted a mysterious mantra in language unknown to us. It was all silent. The only sound, apart from mantra came from the hiss of the bonfire.
Then he suddenly sprinkled 'holy water' with a leaf from a container and asked us to open our eyes. I still don't know what it meant but I had not experienced anything like this before. The tour to Arunachal Pradesh is made up of such unique experiences!
We saw many Apatani weapons in the homes of Ziro. These were somewhat similar to the weapons I saw Galo people using in Basar (see bottom box), also in Arunachal Pradesh.Some of the traditional Apatani weapons are as below:
Dao – Dao is a multipurpose weapon, which I saw was also used by Galo people in Basar. It is kept in a wooden scabbard. Dao has a sharp metallic blade and a wooden handle. It can be used to cut branches, undergrowth, or a limb or two if required. Ilyo is used for slicing bamboo.
Chiri – It is a ceremonial sword, which was used in old days for wars. In ancient times, chiri was imported from Tibet. It was procured by Apatanis through barter, mostly with Nyishi tribe.
Sala – It is a traditional sword from Tibet, also in Asia. Nyishi people call it sala.
Ahi Hipin – It is a feline lower jawbone, strapped to the ceremonial swords. I saw it also in Basar, Nagaland and the nearby north Burma.
Some related terms are:
Ilyo or pare sala – Tanii machete
Lyoli or kortu – wooden handle
Hubyu – scabbard
Takhe Hubyu – Another type of scabbard
Tarin – Plaited cane strips
Aha – strap of cane plaits which is attached to scabbard.
The fireplace is very common in the homes of Ziro and elsewhere in North East India. Every traditional bamboo house has it where they congregate, eat, sing and chat the night away. This is a must do activity when in Ziro or North East India aka chicken's neck. The fire place is multipurpose.
The hearth is used for making tea, roasting a quick snack, storing things (on a dangling basket), throwing in some junk and even smoking food such as cheese. Since most of North east India gets very cold in winters, the families and guests gather around the indoor hearth every night for some warmth. The most intimate of conversations happen here!
These bonfires are also a great place to listen to some interesting oral history of Ziro and Apatani tribe. Here is one more reason why Ziro is worth a visit. Ziro Arunachal Pradesh tourism shines bright!
Meghna Cave Temple – tour to Arunachal Pradesh
Visit the ancient Meghna Cave Temple engulfed in a dense coarse jungle in Daporji. Devoted to Lord Lakulisha, the 28th incarnation of Shiv Bhagwan, Meghna cave temple is known for its precious Sanskrit scriptures. These carvings in stone are very ancient.
It takes approximately 8 hours to arrive at Daporji on an uncomfortable sumo ride. It is located at a height of 300 feet.
Talk to the locals of Ziro
Before we talk to the local people, let's have a look at the language Spoken in Ziro
Almost everyone, including old people speak good Hindi, thanks to Ziro valley's proximity to Assam. It is easy to ask around as some people understand English as well.
The original language of Ziro Valley is Apatani which is a Tani language. It is a Sino Tibetan language spoken in North East India. The villages where Apatani is spoken are Hari, Hija basti, Biilla, Bamin Michi, Hong, Dutta and Mudang-Tage. Apatani language didn't have a script until recently the Christian missionaries seized the opportunity and Roman script became the official Apatani script. It was an endangered oral language before.
Hire a local guide in Ziro
I had hired a very knowledgeable local guide arranged by Sange Tsering from Holiday Scout. Our guide spoke in both Hindi and English and had a deep knowledge of local Apatani culture and heritage. He showed us places which we would have missed or not understood the meaning of. You will see many mysterious places and structures which can be deconstructed only by a local guide. Please get in touch with Holiday Scout for a memorable experience.
Talley Wildlife Sanctuary
Known for the rare and she clouded leopard, Talley Wildlife Sanctuary is also home to colossal silver fir trees, rare orchids, delicate ferns, tall bamboo plants and rhododendrons (blooms in spring). The forest type here is subtropical. The alpine landscape is dotted with famous rivers such as Subansiri, Pange, Karing and Sipu. Do not miss this offbeat biodiversity hotspot and wildlife reserve.
This is a beautiful place on the way to the Talley Wildlife Sanctuary from Ziro. This twin hillock, located in Talley valley is some of the lesser known gems you will see during your Arunachal Pradesh tour. The lush green grasslands and sweeping views from Dilopolyang Maniipolyang are awe inspiring!
Learn About Hinduism, Donyi Polo and other religions of Ziro
Apatani people worship Sun and moon and invented their own religion called Donyi Polo. This one of its kind religion was formed to display resistance to Christian Missionaries which were infamous for converting people to Christianity (and they did succeed through deceptive means). The Apatanis, which are often called animists, started adopting some Hindu beliefs in the 1980s and 1990s.
Many Apatani and Hindu beliefs often cross paths without interfering with each other. The worship of moon and sun is common in both Hinduism and Apatani culture with variations, of course. Both Hinduism and Donyi Polo thrive alongside each other and without losing their identity and beliefs.
1980s and 90s was also the time when Christian missionaries worked overtime to convert local people into Christianity. However, resistance against forced conversion worked and Ziro is now home to 12 Donyi Polo temples known as Meder Nellos. The Meder Nellos were instrumental in keeping many Apatani people away from the 'lure' of Christianity.
In fact, many converted people get disillusioned and return to their Apatani culture and religion over time. At present, 40 % of 60,000 strong Apatani people are Christians.
This explains the stark white Churches which stand out in the uncomplicated landscape of Ziro valley Arunachal Pradesh. I saw some mosques too. I even saw many skull capped Muslim men in small numbers. They were running shops and Muslim restaurants (as written on their signboard) in Hapoli market and other places in Ziro valley Arunachal Pradesh. Ziro Tourism has many shades for sure!
If Ziro Tourism intrigues you then you must read this as well. While navigating through the Ziro valley, I also saw some sacred groves or forests lining the dirt tracks. These holy forests consisted of trees which were planted by ancient Apatani people to commemorate their journey to Ziro village. Hunting and any nefarious activity is strictly prohibited in these sacred forests.
I saw something similar in Meghalaya as well while trekking to the Double Decker Living Root bridges in Nongriat. You must hire good travel agents in Arunachal Pradesh such as Holiday Scout to show you such hidden gems.
You will come across many signboards while traveling across Ziro which says 'Sacred Groves'. These are sacred forest areas which are of immense religious value to the Apatani people. It might be a unique concept in India, but it is very common to have sacred groves in many different cultures of the world as well as North Indian states such as Meghalaya.
You will be surprised to know that even the western ghats of Goa and Maharashtra practice the maintenance of the sacred groves known as 'Devrais'.
The Apatani people call their sacred groves as 'ranthiis' in local language. Each clan has their own ranthii. Some of the ranthiis of Ziro village are named as Hong Ranthii , Bamin–Michi Ranthii, Mudang Tage Ranthii, Tajang Ranthii and Dutta Ranthii. These ranthiis mostly belong to their corresponding village. There are as many as 3 ranthiis in the Hari Village of Ziro. Some villages might just have only 1 ranthii. There is no rule as such.
In these sacred groves or sacred forests, many trees are identified as pious, are given some association with a locally worshipped deity and any disturbance or external interference is strictly prohibited here. The trees in these sacred groves were planted by the forefathers of the Apatani village. As their descendents preserved the land, the forest grew over time.
Unchecked hunting of birds and animals is pretty common in Arunachal Pradesh and many other states of North East India. However, the locals make an exception by boldly writing on the signboards outside sacred groves saying, 'Hunting is strictly prohibited here'. The locals follow the rules as a mark of respect for their forefathers. The locals also hold the belief that many spirits live in these groves and any kind of alteration or destruction of any tree or plant is seen as a crime. Such interference with the forest is also seen as disturbing the spirits which result in misfortune for the village.
The good news is that this primitive tradition is all we need in modern times to stop environmental degradation and deforestation. Both clusters of trees as well as individual trees can be considered sacred and it is punishable if some-one is caught doing any harm to these pious forests. The ancestors of Apatani people were foresighted for sure. These sacred groves were most likely introduced by the ancestors of Ziro village as a means to protect the nature. These forests also act as a useful resource during a natural disaster.
These native forest management practices and taboos were perhaps introduced in the Apatani culture as an indigenous way of preserving the nature. It also helps preserve the rare plants and trees which might become extinct due to callous real estate sharks or carelessness of local people. Economic exploitation of these groves is strictly prohibited as well.
Until Christianity invaded the Ziro village, such practices were exclusively followed in Ziro. However, this belief in the supernatural and a traditional way of life is facing a massive threat from external forces such as Christianity and other external frills.
RANTU PUSSA OF HARI RANTU – The 6 trees in the Ranta Pussa of Hari Rantu in Ziro are a heritage site in itself. These trees are seen as the protector of the Hari village. It is believed that centuries ago when the first of ancestors of Apatani people settled in this area, the women from their clan had planted these trees.
According to a signboard I saw (interpreted in my words)–
One of the most pious and ancient groves in entire plateau is Hari Rantu. The 'Rantu Pussa' viz Pumin – Pubyan, Yalyo – Yabo, Soki – Soli, Sai – Taje . It is generally called by the local Apatani people as Pumin Pubyan trees. These tall trees stand guard to the village and protect it from all evils. The trees ensure the welfare of the Apatani people.
The trees, some of which are very tall, can be traced back to a few centuries. These were planted by a woman in ancient times when people migrated to this part. The trees are named after the woman. The trees thus represent the important roles women played in the vibrant Apatani culture ever since the ancient times.
Courtesy: Apatani Youth Association (AYA)
Inner Line Permit aka ILP for Ziro valley Arunachal Pradesh
All Indians who are not a resident of Arunachal Pradesh need to get an inner line permit aka ILP before they enter the border of Ziro, Arunachal Pradesh.
Foreigners should get a Protected Area Permit aka PAP before they start the tour of Arunachal Pradesh. It is a mandatory requirement.
Easy way – My ILP was arranged by Sange Tsering of Holiday Scout, even before I had started my 15 days epic trip to North East India. I had just shared my documents with him on mail and whatsapp and the Inner Line Permit was delivered to me very quickly. It saved me time, money and energy.
Hard way – You can also get an ILP from the state tourist offices of main Indian cities like Guwahati, Tezpur, Delhi. You can also just show up at respective offices of the state or destination you intend to visit. However, you may lose time as these offices get closed early. It gets dark early and the transport is not regular in North East India. Expect to lose 1-2 days if not planned well. Also, you will waste time in locating the address, getting there and starting the formalities. I would prefer the 'easy way' mentioned above.
Facilities in Ziro
Road Condition
The road condition of the path leading to Ziro from Assam is not the best. But once you reach Ziro, the roads are reasonably good. Some of the paths are just dirt tracks, while some remote mountainous regions of Ziro can be very rough. But that is where the thrill is!
Mobile Network
My mobile network was surprisingly working fine in Ziro. I was even able to upload pictures on Twitter, Instagram and Facebook right from Ziro.
Electricity
Electricity was not an issue when I visited Ziro. I was able to charge my electronics easily in my hotel room.
Water
Water can be an issue in Ziro. The water supply is not always good. Your hotel staff will provide stored water, in case of a failure in regular water supply. You can also get cold or hot water as per your desire.
Ziro valley weather
The Ziro valley weather is pleasant throughout the year. It can get real chilly during night and pleasantly sunny in day during winters.
Arunachal Pradesh tour package
I visited Ziro via an exciting private road trip organized by Sange Tsering who runs the successful Holiday Scout. He is a major tour operator in North East India. Holiday Scout offers tailor made Arunachal Pradesh tour package.
How to Reach Ziro Valley
Ziro valley is located in lower Subhansri district of Arunachal Pradesh, North East India. The below travel guide will give you best idea of location of Ziro as I have mentioned distances. Not many people know where Ziro valley is. It is, however, easily accessible.
Reach Ziro by private taxi/cab on road:
How to travel to ziro valley by private cab? Despite its remote location, it is easy to arrive at Ziro Valley. The road conditions in and around Ziro valley are not the very best. Expect a bumpy ride as your jeep snakes through the hilly terrains. We even stopped at many places for views and food.
Reach by shared cab
Shared cabs to Ziro are available from Naharlagun, North Lakhimpur, Itanagar etc. These, though cheap are uncomfortable and overpacked. The taxis are mainly Tata Sumo, popular everywhere in North East India. These shared cabs are packed like sardines and they make you wait till it is full. These privately owned cabs on bumpy roads can be pretty tiring but gets the job done anyways.
Just to give you a rough idea, cost of shared cab per person from Itanagar to Ziro Valley is INR 400. The cabs leave at 5:30 a.m. and takes around 6 hours (110 kms). Just in case you are wondering "How do I get to Ziro from Itanagar?"
Reach Ziro by bus:
How to go to Ziro valley by bus? There is a Ziro to Guwahati bus and vice the versa!
You can catch the overnight bus from Guwahati to Ziro. It is tiring though. This bus is a government bus and is run by Arunachal Pradesh State Road Transport Corporation. It runs for 4 days.
Reach Ziro by Air:
This guide answers how to get to Ziro valley by flight! This will also help you plan your tour to Arunachal Pradesh.
The nearest airport from Ziro valley is at Lilabari airport in North Lakhimpur in adjoining state Assam. It is located 140 kms away from Ziro valley, Arunachal Pradesh. Ziro does not have an airport.
Your next option is Dibrugarh airport, also in Assam. Distance between Dibrugarh and Ziro valley is 300 kms. It is the most expensive option. This is how you get to Ziro from Dibrugarh.
Jorhat airport which is 188 kms (8 hours) away from Ziro via NH13 is also an option. This is how to reach Ziro valley from Jorhat.
I had started my trip from Guwahati airport though. It is also known as Lokpriya Gopinath Bordoloi International Airport (GAU). This is how you can also reach Ziro valley from Guwahati
Reach Ziro by Train:
This guide will answer your query on how to travel to Ziro valley by Indian Railways. Enjoy your tour to Arunachal Pradesh.
Naharlagun: You can catch an overnight train on Indian Railways which starts at Guwahati and halts at Naharlagun in Arunachal Pradesh. From Naharlagun, it takes only 3 hours to arrive at Ziro Valley. You can get shared cabs from here. Train from New Delhi also stops at Naharlagun once a week. This is how do you get to Ziro from Naharlagun.
Dibrugarh also has a railway station connected to most major cities in India.
North Lakhimpur railway station can also be considered depending on your convenience and movement in North East India.
How to reach Ziro valley from Mumbai?– You can take a flight or train to above mentioned places.
How to reach Ziro valley from Kolkata? – You can take a flight or train to above mentioned places.
How to reach Ziro valley from New Delhi? – You can take a flight or train to above mentioned places.
Distances from Ziro to other places in North East India
Mentioned below are some distances to Ziro Valley in Arunachal Pradesh from major places in North East India. Time taken to cover the distance and route is also mentioned in this chart. This chart will also clear all your doubts on where is Ziro valley.
Distances from Arunachal Pradesh destinations to Ziro:
Naharlagun to Ziro distance – 99 kms, 4 hours 10 minutes via NH13
Itanagar to Ziro distance – 110 kms, 4:30 hours via NH13
Daporijo to Ziro distance – 167 kms, 8 hours via NH13
Koloriang to Ziro distance – 167 kms, 9 hours via Yachuli-Koloriang road.
Tawang to Ziro distance – 567 kms, 18 hours via NH15 and NH13
Distances from Assam destinations to Ziro:
North Lakhimpur to Ziro distance –117 kms, 4 hours 27 minutes via NH13
Jorhat to Ziro distance – 188 kms, 7 hours 40 minutes via NH13
Dibrugarh to Ziro distance -255 kms, 7 hours 10 minutes via NH15
Tezpur to Ziro distance – 280 kms, 8 hours via NH13 and NH15
Bhalukpong to Ziro distance – 295 kms, 8 hours 27 minutes via NH13 and NH15
Guwahati to Ziro distance – 448 kms, 11 hours 45 minutes via NH15
Excursions:
You can also travel to nearby Itanagar, Bomdilla, Dirang, Sela Pass, Tawang and Basar as I did
Best Time To Visit Ziro valley
When I visited in January, Ziro valley Arunachal was very cold but tolerable. The green fields one sees during the Ziro music festival was no-where to be seen. It was replaced by a golden field. Yes, it was harvest time in winter. Swathes of yellowed fields had a beauty of its own. I saw similar scenes during my travel to Manipur and Majuli in Assam on the same trip, same month!
September is also a very good time to be in Ziro. This is when the Ziro valley is carpeted with green and yellow paddy fields. It is a sight to behold. Most people who go to Ziro music festival Arunachal Pradesh are rewarded with this landscape.
Where To Stay in Ziro valley Arunachal
I stayed with a local politician named Mr. Hage Dolo. He runs a lovely multi story homestay in Ziro. I stayed on 2nd floor. I and my companions used to gather every night at the fireplace of his home on the top floor. At my request, his wife also roasted some raw potatoes in the smoldering aftermath of fire. It tastes great with just salt. That makes it different from other Ziro valley hotels.
The rooms at this Ziro home stay were spacious and airy. There was a balcony for some fresh air too. The roof top had amazing sweeping views of Ziro valley. We even shot a drone footage from here! There are many traditional bamboo and wooden houses near this home.
They also had a cute dog who loved me a bit too much! The vegan food which we had here was daal, rice, aalu sabzi (potato) and delicious local bamboo chutney. Please get in touch with Sange Tsering from Holiday Scout for booking a stay here.
Where else to stay in Ziro? There are many independent hotels in Ziro valley and home-stays and tents where you can enjoy a stay. The accommodation can be made of concrete or the traditional bamboo/wood. Pick one of these places to stay in Ziro as suited to your style of travel.
Is Ziro Arunachal Pradesh a safe place to visit?
Yes, in fact Ziro is safer than many other places. The Apatani people are very friendly and the wars are a thing of the past. I know many female solo travelers who have visited Ziro and had a pleasant experience. Just take necessary precautions. You also need to take care during Ziro Arunachal Pradesh Music festival when hooligans (from outside of Ziro) may create a ruckus.
Conclusion – Is ZIRO worth visiting
My visit to Ziro valley in Arunachal Pradesh and rubbing shoulders with the Apatani tribe was the highlight of the 15 days long tour to Arunachal Pradesh, Nagalad and Assam.
The friendly people, good weather, unique customs and the festivals of Ziro valley make it a very unique and rewarding destination in all of India.
Hope you enjoyed reading this detailed story on Ziro at A Soul Window, top travel blog of India.
Do read my other exciting travel blogs on North East India for exciting free travel stories and pictures!
The view from my Soul Window is one of its kind!
Save it by pinning for later
Top Travel Blogger from India