Last Updated on September 20, 2022 by asoulwindow
About Khonoma Village
Khonoma, known as Asia's first green village is best known for eco-tourism and its historical battles with British in past. The strong community ties, rich history, profound tales of valour, the unusual conservation effort and proximity with nearby Kohima, the capital of Nagaland makes Khonoma a wonderful tourist destination in North East India. Where is Khonoma village? Khonoma is located in Nagaland near Assam in North East India.
Here is a detailed travel guide on how to spend a day in Khonoma Green Village. This is the most comprehensive travel guide to Khonoma in Nagaland ever. I have written this travelogue on Khonoma based on my own travel experience here. This exhaustive guide will help you plan your trip to Khonoma. Here is all about Khonoma. Do share this report writing on Khonoma village with your friend and family.
Landscape of Khonoma Green Village
Khonoma is blessed with abundant natural beauty. The uncontaminated sub-alpine evergreen community forest from the hillsides made for a grand spectacle when I visited Khonoma with my friends after the annual Hornbill festival of Nagaland.
Set amidst sylvan surroundings, Khonoma is one of the most pristine places I have visited in North East India. It was a visual delight when I walked on the neatly laid out path along the slopes of this tiny hamlet. From steep pathways to gentle slopes and rugged hillsides, the terrain of Khonoma, I found out is varied.
Whether it is the undulating terraced ochre coloured paddy fields, awe inspiring scenery, the ruins of a historical fort, fluttering butterflies, exotic birds or abundant wildflowers, Khonoma is that secret place in Nagaland few told you about! Located on a ridge, Khonoma is a very charming village.
In this compact Khonoma travel guide, I have listed all sightseeing places and the top things to do here. The Scenic Khonoma village is a must-visit. Here is why!
Khonoma: Asia's first Green Village
Which is Asia's first green village?
What is a green village?
Why is Khonoma called Green village?
Thanks to the Khonoma green village project, this quaint village retains and preserves its pollution free status fiercely. I am answering these frequently asked questions about the 'green village' tag of Khonoma below.
Tucked in a corner of the north-eastern state of Nagaland, Khonoma is a green village known for its eco-friendly way of life! Not only is Khonoma an authentic eco-tourism village but it also has the distinction of being the first green village of Asia. A secluded and quaint village in Nagaland, Khonoma is a must-see place. It is remarkable to see the transition of Khonoma India. What was once a war cradle and a hunting hot spot is now the first green village of Asia.
The Angamis are eco-friendly tribe, much like most people of not only Nagaland but much of North East India. I noticed that during my 3 months long epic trip to North East part of India. Khonoma is known for being the venue of first forest conservation in Nagaland. Well conserved and sustainable ecosystem of Khonoma has many admirers.
Why Khonoma is known as a green village? There is an interesting story behind why Khonoma is known as a green village. Earlier, the residents of Khonoma used to do a lot of hunting. Cutting down of trees in the jungles around Khonoma was also rampant. This resulted in damage to ecology, biodiversity and environment here.
When was Khonoma declared as Green village? It was in the year 1998 when the hunting of animals and birds along with cutting of any tree in the jungles was firmly banned in Kohima. Many wise elders and experienced hunters took this decision to save the local ecology. It had become a widespread practise here.
Khonoma green village project was put into practise so that such ill practised could be kept under check. Khonoma nature conservation and tragopan sanctuary also emerged during such times when the Angami society when through several changes.
However, I feel that many locals still do it on the sly because I saw several men carrying birds to shoot birds in the Naga villages of Hong Phui, Longwa, Mon and even in the Ziro village of Arunachal Pradesh.
Is Nagaland a part of India?
"Nagas are not Indians; their territory is not a part of the Indian union. We shall uphold and defend this unique truth at all costs and always."
Khrisanisa Seyie
First President
Federal Government of Nagaland
12th July 1956 to 18th February 1959.
We learnt so much during our Khonoma day trip. This pillar welcomed as rudely as we wheeled away from Kohima to Khonoma. As Indians, most tourists take offence when they see this pillar. It is apparently a tourist attraction of Khonoma India. It also serves as a view point from where tourists can soak in the sweeping views of the green valley around Khonoma.
Many local people sell snacks, tea and souvenirs to the same people of India who they don't want to be a part of. I wondered how they even allowed this pillar in the first place. On the same trip, I saw Shri Rajnath Singh inaugurating the Hornbill festival.
I wonder if they know about this pillar. It is very ironical that on one hand the governing Indian politicians are invited for inauguration of the nearby Hornbill festival and the other hand, some Nagas want to separate from India.
Here is what I suggest if this topic makes you uncomfortable or angry. Avoid talking about the 'Nagaland is not part of India' pillar with the local people. It may lead to arguments and fights. And who knows, the locals may get in the mood to display the raw and untamed aggression of their ancestors. It is the Government who have to deal with it. If you have to write, speak or protest about it, do so only after you return back to home safely.
Is Nagaland a country now?
Is Nagaland a part of India?
What is Nagaland issue India?
Does Nagaland has its own flag?
Is Nagaland separated from India?
Which country Nagaland belong to?
There are some frequently asked questions. Here is the answer. No, Nagaland is still an inseparable part of India. Nagaland belongs to India.
When was Nagaland a separate state of India? Well, Nagaland became an Indian state only in 1963. Democratically elected Government of Nagaland was appointed in office in the 1964. Is Nagaland a part of seven sisters? Yes, Nagaland is one of the 7 states in the remote North East corner of India.
Khonoma: Offbeat place to visit in Nagaland
Hidden behind the towering hills of Kohima, Khonoma is off the beaten trail. Khonoma, the hidden gem of Nagaland gets most of its attention during the annual Hornbill Festival of Kisama near Kohima. Most tourists from outside of Nagaland visit Khonoma only during the festival. Many still miss it.
Why is Khonoma famous?
What is Khonoma known for? What is special in Khonoma? Khonomais one of the oldest and largest of all Angami villages of Nagaland in North East India. Khonoma is known for its dense jungles. In Khonoma, you can also pay a visit to some of the oldest terraced farming and cultivation in this part of North East India. This unique agricultural practise adds to the fame of Khonoma, much like the unique form of agriculture in the Apatani village of Ziro.
Khonoma is also known for the legendary courage that was displayed by the local Angami Naga people against the cunning Britisher invaders as the two waged battles in the 19th century C.E. Is Khonoma a hill station? Yes, many people from nearby Indian states of Assam and Bengal visit Khonoma round the year because the hill station of Khonoma offers great weather and unique experiences.
How old is Khonoma
Khonoma history is very interesting! Origin of Khonoma goes back to many years. Khonoma village is as old as approximately 700 years.
Area of Khonoma Eco Village
Khonoma is spread across an area of around 123 square kilometres. We were able to see the best tourist attractions during our quick Khonoma day trip.
Height of Khonoma Nagaland
Khonoma is located on an altitude of 5300 feet or 1621 meters.
Population of Khonoma Nagaland
Khonoma population isn't much! Khonoma is a tiny village with a very small population. Only around 5,000 people call Khonoma home. In a populous country like India, this is a refreshing change. More than 800 families call Khonoma their home.
Most of the people who live in Khonoma are from the Angami Naga Tribe of Nagaland. You will be surprised to known that some people from Myanmar which is located nearby also live in Khonoma. India. Some of the Burmese people may be employed in household work etc.
View of Khonoma Village
Everywhere I looked at in this magical little hamlet, I was greeted with lovely views. As we trekked down, I was bewildered to see breath-taking views of the verdant valley from the top of the Khonoma village. The gorgeous views of the step gardens in far distance and 360 degrees view of the nearby hills are worth writing home about. I saw many colourful houses in far distance as well.
The aesthetically built Angami homes, sprawling rice fields and wide-open spaces added to the beauty of Khonoma. The grand spectacle of the vast valleys and distant hills still remains with me.
Timeline of Khonoma battle and Khonoma Fort
Khonoma Fort is the most important monument here. I am sharing rare information about Khonoma fort here. This is the most comprehensive Khonoma description. Question on the Battle of Khonoma may also be asked in UPSC and IAS exams.
What was the battle of Khonoma year? As per a signboard I saw during the Khonoma trip, below is the chronological timeline of the Khonoma Fort and the famous battle of Khonoma:
1825: First completion of the Khonoma Fort
1850: First Anglo-Khonoma battle fought from the Khonoma Fort
1879: Second Anglo Khonoma battle and the first demolition of the Khonoma fort happened.
1890: The second reconstruction of the Khonoma Fort took place.
1906: The second demolition of the Khonoma Fort by the British invaders happened. It was a result of an internal conflict.
1919: The third reconstruction of Khonoma Fort completed in the year 1919.
1956: The third demolition of the Khonoma Fort happened in post independent India in the year 1956 during the Indo-Naga conflict
1990: The fourth reconstruction of Khonoma fort was completed in the year 1990.
Khonoma Fort
Where is Khonoma fort? Khonoma fort is located in Nagaland near Kohima. I am sharing more interesting facts about Khonoma Fort below.
This is written above the gate of the fort of Khonoma:
"The fiercest of battles were fought between the British and the Nagas during the years 1850-1879 in the Semoma fort of Khonoma. Khonoma Fort was described as one of the strongest in the North East India by Major John Butler of the British Army."
Constructed out of broken rocks, not much is left of what must have been an imposing fort once. Unfortunately, the Khonoma fort suffered demolitions on several occasions by the British. Luckily, despite being burnt and razed down several times, the Khonoma Fort was reconstructed by the local Angami Naga Tribe.
Still standing pretty, Khonoma Fort continues to be a matter of pride for the Angami people. Needless to say, the Khonoma Fort is the top attraction in Khonoma Angami Village. A small walk around the main Khonoma Fort will also take you to several other smaller forts across the quaint Khonoma green village.
These forts are not like the imposing forts of Rajasthan or my home town Uttar Pradesh. There are three hamlets in Khonoma. These settlements were fortified so that the Angamis could defend their territory and guard it from the British invasion. This is a lesser-known Khonoma Fort information.
You will be surprised to learn that the small forts of Khonoma are like tiny houses. During battles of Khonoma, these forts provided shelter to the elderly, women and children, keeping them safe from the attacks. What is now a prominent monument of Khonoma, once played an important role in the battles.
The three main forts of Khonoma Nagaland are
Thevomia Fort
Merhumia Fort
Semomo Fort or Semomia Fort
These are a must-visit Khonoma monuments if you want to understand the local history and culture better.
Soul Window Travel Tip
Do not miss the battle shield which is located near the Khonoma Fort. This battle shield is made from elephant hide. The village gong is also located nearby. You can also see huge bamboo baskets here.
Village walk in the Angami tribal village of Khonoma
The Khonoma village itself is a major attraction. There are so many hidden places in Khonoma which revealed themselves when I walked around here languorously. Scenes of Angami woman and men returning home from work as the sun sets over the sprawling valley are common.
The best way to explore Khonoma, I discovered, is by foot. Perched atop a tall hill, Khonoma has surprises waiting for you at every corner. You can either do a self-guided walk in Khonoma or hire a local tourist guide like we did. Personally, I enjoyed walking on the neat walkways of Khonoma.
I wish I had more time to stroll on the neatly laid out stone pathway which meanders through the clean village. I was particularly impressed with the way the local residents had maintained Khonoma village so well. The water management of Khonoma is also worth a mention. I also noticed a natural water reservoir in Khonoma Nagaland.
Visit Khwehou in Khonoma
The sense of community is very strong in Khonoma where everyone knows everyone else. There is also a women's society in the village. While walking around the hamlet of Khonoma, I was curious to see a large circular ground. Khonoma village has a common assembly ground known as Khwehou.
To give you a perspective, it is around 32 feet or 10 meters in diameters. This place is located on the lower grounds of Khonoma. I saw it while descending from the steps from the fort area.
This huge space, right in the middle of Khonoma village, is where the local Angami people of Khonoma congregate to attend community meetings, announcements and general gatherings. I also observed several small stone slabs here. These are called as 'Dahu'.
These small square shaped stones, which are placed along the periphery of the assembly ground are located next to a community kitchen. On festivals, functions and other occasions, meal for the entire village is cooked here on a grand scale.
Beautiful local homes of Khonoma
This is the most detailed Khonoma description ever. What is Khonoma like? During my long walk in Khonoma, I was delighted to observe that the homes of the local people were decorated with exotic orchids and flowers in various hues. It is indeed a pleasure to walk around the narrow lanes and alleys of village of Khonoma. These images of Khonoma village will give you an idea of how beautiful it is.
Most of the homes in Khonoma, I noticed, are built of stone. This is the traditional architectural style of Khonoma. Timber and bricks are also used in the construction of some homes. Bamboo walls and mud flooring is also quite common here. Small fences made of stones are also commonly seen across the village. Some homes are also painted in brightly coloured plasters.
The beautifully decorated homes of Khonoma are a major attraction here. You can see unusual carvings in stone around some of the houses of Khonoma Nagaland. I also came across several interesting artefacts decorated on the walls of home such as real rifles. Yes, you read that right! The old muzzle loaded long guns are displayed not for tourist. But it is an authentic reflection of the lifestyle of the Angamis.
In Khonoma, many villagers have beds and pots of flowering plants right outside their homes. Flowers in several primary colours add charm to the surroundings. I remember seeing similar scenes in the charming town of Ukhrul near Imphal in Manipur.
If you are lucky, a local villager may also invite you in their homes. I actually did end up visiting a friendly local home. It was one of my best moments in Khonoma. Unfortunately, my tour guide told me that very few houses still maintain the traditional Angami architecture.
Earlier, the roofs of all the homes of Khonoma were painted in green colour as part of the 'Green Village Project'. However, being exposed to elements, the paints have now peeled off. Due to this what we see now is more rustic and traditional appearance of Khonoma.
Khonoma Hobbit home
If you want to see a Khonoma hobbit home, you do not need to go to New Zealand anymore. A local villager of Khonoma, known as Asakho Chase has constructed his own Hobbit home in Khonoma which is getting lot of attention.
This home, located in the middle of a forest, is very similar to the little homes of Hobbits, some of us have read about from the novels of JRR Tolkien. You must have also seen the hobbit homes in the Hollywood movie called as 'The Lord of the Rings' and other Hobbit movies. There are also several beds with flowering plants and a vegetable garden here as well. Resourcefulness of residents of Khonoma is to be seen to be believed.
The house which measures 10×14 feet is a major attraction of Khonoma Eco Village. The creatively built round shaped main entry door is eye catching. The front wall of this home is built up of alder wood. The unique hobbit home of Khonoma is located slightly away from Khonoma, near the Indo-Myanmar border.
Animal farming in Khonoma
If you stay in a homestay or on a guided village walk, you will be shown around the local homes. You can also see the pets they keep and animals they farm such as roosters, hen, pigs and dog. These domesticated animals are reared in small wooden pens. The owners feed the animals at regular intervals throughout the day. Unfortunately, they are slaughtered and eaten later by the owners.
Naga Paintings
I noticed traditional Naga style painting in several houses of Khonoma. Painted with bright colors and bold batterns, these houses reminded me of similar houses I saw in other parts of Nagaland such as Kohima, Hong Phui, Mon, Longwa and even Ukhrul in Manipur which has a strong Naga influence.
I noticed that a face on one of these Naga paintings had large round eyes. Turned out, for the local Angami people, these large circular eyes represented guarding eyes of Khonoma.
Morungs of Khonoma
I saw authentic local Morungs in many places of Nagaland such as Kisama, Longwa near Indian border with Myanmar and Hong Phui near Mon. I also saw many makeshift Morungs in Hornbill festival near Kohima. Khonoma's strong sense of community is to be seen to be believed. These community centres are an inseparable part of the Angami Naga lifestyle. This is why, Morung is one of the top places to see in Khonoma village of Nagaland.
Morung Ghor are the dormitories or community houses where the elder men used to teach various skills to the young men. Several teachings of traditional and cultural knowledge are imparted to the young men by the elders of the village through oral tradition, practical, age-old folk tales, legends, folk music and traditional dance.
From traditional method of farming to martial arts and from several age-old traditions to weaving and wood craft, knowledge on many skills is imparted in the Morungs. During the battles of Khonoma, the Morungs doubled up as guard-houses. This is a lesser-known fact about Khonoma village.
During my visit, I didn't see any one staying in the Khonoma Morung or Murungs. I observed several rare artefacts and daily use items restored in the main Morung of Khonoma.
I got a glimpse of various Naga articles on display such as old utensils, aesthetically woven bamboo basket, Angami Naga style handicrafts, carved human figures, carvings on endemic animals and birds, musical instruments, masks, seating places, drum, traditional arms etc.
Burials and graves in Khonoma
The funeral rites practised by Angamis are interesting. The corpse of a male Angami is buried in the grave along with a fire stick, few spears and unfortunately a live chicken in the coffin which is covered in white cloth. On the other hand, women of Angami tribe are interred with young chicken, a reaping hook and beads in a coffin along with flat stones.
Usually, the burial grounds in most communities around the world are located far from the residential area. It is not the same in Khonoma Nagaland. I have never seen similar funeral practises elsewhere. I was told by my tour guide that in the Khonoma village, the dead and alive co-exist.
The rituals and ceremonies of burying the deceased person are carried out by their male relatives. Interestingly, the burial takes place right in front of the home of the deceased. Sometimes, the dead person may also be buried on the path of the village. The idea behind this unique funeral practise is that the Angamis believe that their loved ones should be buried near the family.
The graves of the deceased family members often come with a stone epitaph in the memory of the person buried there. The inscription is written in Nagamese language and Roman script. Along with the name of the person, the date of death is also written on the epitaph.
Battle of Khonoma: Khonoma history
Khonoma history is fully of twists and turns. Consolidation of British rule in Naga hills was a major event. The battle of Khonoma was fought between whom? It is a frequently asked question about the history of Khonoma. Did you know that even the remote Khonoma was a part of India's struggle with British invaders? Annexation of Naga hills is an important part of history of Khonoma.
The freedom struggle of India happened not only in Kanpur, Lucknow, Maharashtra etc but also in remote areas of distant Nagaland. Khonoma eventually survived and thrived as they exercised their territorial unity. The pride of the tribe and Angami community is still the same perhaps!
The British tried to capture Khonoma repeatedly but they faced stiff resistance from the valiant Angamis. Even today, the residents of Khonoma share spine-chilling accounts of the brutalities of British invaders inflicted upon the locals who were caught unawares. Through oral traditions and now written accounts, these stories are kept alive by the locals so that the younger generation understand and appreciates the sacrifices which their forefathers and ancestors made.
Soul Window Facts
The Angamis had not even seen a gun until the British invaders forced them to pick one. They were quick to learn and adapt to the situations changing around them. Forced to pick up the ammunitions and arms during the battles of Khonoma, they had no choice but to learn and master how to use them.
The surprising part is that it is still possible to see some of those guns even today in Khonoma. Just ask your guide to show them.
The battle of Khonoma year spanned many decades. The Angami men of Khonoma are known for their strategic skills, courage and heroic acts. The Angamis of Khonoma were in constant battle with the British invaders in the decades between 1830 and 1880. For 50 years, the people of Khonoma suffered due to the invasion of British. As a revolt, the Angamis waged many battles against the British.
During their illegal occupation of Khonoma, the British had forcefully recruited many Nagas as bonded labourers. The Nagas revolted and this led to several raids and conflict. The Angami Nagas disrupted the recruitment of labourers. Soon, inspired on seeing the valour of Angami tribe community, men from other nearby Naga villages also joined the fierce warriors of Khonoma.
The last battle of Khonoma took place in the Semomo Fort of Khonoma. It was a historical war between the local Angamis and outsider British. You can read the stone inscription in Khonoma which elucidates the flow of events. It will give you a good idea about the rich Khonoma Village history.
What was an important battle of Khonoma year? When the British invader GH Damant, M.A.C.S. was killed on October 4, 1879, the British laid siege to Khonoma. Several other armed British soldiers were also killed along with as many as 40 Angami soldiers during the war of independence. 4 months later, a peace treaty was signed on 27th March, 1880. This helped in controlling more violence and bloodshed.
Detailed Timeline of Khonoma battle
The tumultuous history of Khonoma village is very intriguing. The battle of Kohima fought between Nagas and British. Did you know that 2 two major British- Angami battles rocked Khonoma in mid-19th century C.E.?
What is the importance of the Battle of Khonoma? It changed the history of Khonoma forever. When was the Battle of Khonoma fought? The people from Angami tribe of Nagaland are famous for their heroics in the last Naga resistance against the British plunderers during the Battle of Khonoma which was fought between the year 1879-80.
Other important battles of Nagaland are:
Battle of Mezoma
Battle of Kikruma or the battle of Kikrüma
Soul Window Thoughts
These 30 years had seen some of the fiercest and bloodiest resistance during the Indian freedom struggle. However unfortunately, most people outside of Nagaland do not know about it. This is why I wrote this blog so that Indians know the battles waged in the remote North East India.
I am a Backpacker travel blogger from India. I have been listed as top travel influencers in India several times. Do read my other blogs on North East India.
Below is a detailed Timeline of Khonoma battle including battle of Khonoma year:
The first ever contact that took place between the British invaders and Nagas was in the year 1832.
The Nagas felt threatened when they noticed the presence of R.B. Pemberton and Francis Jenkins, who were British captains in the territory of the Angami tribe of Nagaland. What made things worse is that they were moving around with as many as 800 coolies and 700 soldiers. They were apparently looking for a path between Manipur and Assam via the territory of Angami Nagas
This led to resistance from the Nagas. Especially the numbers made them feel threatened. It resulted in several big and small clashes between the Nagas and the British invaders.
The first ever Anglo-Khonoma war happened at the Khonoma fort in the year 1850.
Captain Vincent led a force from the Jorhat Militia, Cachar Levy and Assam Light Infantry to Khonoma and Mezoma. The Cachar Levy was rechristened as the Assam Rifles after some years. He caused massive damaged to Khonoma. What is now a peaceful eco-village was burned down to avenge the death of Bhogchand. Captain Vincent stayed back in Khonoma for as long as 6 months.
29 years later, in 1879, G.H. Damant or Guybon Henry Damant was killed. G.H. Damant was a Deputy Commissioner or British Political Officer posted at Kohima, the present capital of Nagaland. Damant had invaded Khonoma with his army in spite of the fact that he was warned of the consequences by the Nagas.
This was the time when the residents of the Naga villages secretly acquired arms and ammunitions. The villagers at Khonoma had possession of a large number of weapons. G.H. Damant got a whiff of this news.
On the fateful day of 13th October, 1879, G.H. Damant paid a surprise visit to Naga Villages of Khonoma, Mezoma and Jotsoma. He was accompanied by an army of 21 rifles from the 43rd Assam Light Infantry as well as 65 constables of the Frontier Police.
Who was the political officer who was shot dead while out on an expedition in the Naga Hills in 1879? A war ensued next and many of the army men along with Guybon Henry Damant was killed in the battle. Even today, during my guided tour, I was able to see a monolith or tomb erected in the memory of G.H.Damant in Khonoma.
This memorial site commemorating the death of G.H.Damant is located at the peak of the Khonoma village. Our local tourist guide took us here via steep stone steps. This was where G.H. Damant was killed.
What followed next was a massive campaign targeting the Naga people. 42nd and 44th Regiments, detachment of the 43rd Native Infantry as well as one of the wings of 18th Native Infantry had participated in this battle which continued till as late as the month of March in the year 1880. Khonoma was taken on the 22nd November 1879.
Next day, on November 23, the British invaders discovered that suddenly everyone has deserted Khonoma village. It became a ghost town. They had moved to Chakka Forts which is located on a much higher ground of Mount Japfu.
At present Mt. Japfu is a tourist attraction in Nagaland. Many trekkers visit Mt. Japfu as it is the 2nd highest peak of Nagaland. Mount Japfu, which is also called as Japvo or Japfü is situated in the Jakhama circle of Kohima District. Mount Saramati is the highest peak on Nagaland.
The fighting capabilities of the Khonoma warriors were already feared by the British plunderers. After relocating in the tall Mount Japfu, they also had the advantage of the access to higher ground. This worried the British. For those who don't know Mount Japfu is located at a height of 8500 feet or 2590 meters. This is why the cunning British invaders blocked the route. They were weak and incapable of attacking anymore if a conflict arises.
The British had mercilessly burnt down the beautiful village of Khonoma. A group of troops were stationed in the Khonoma fortress to defend it. The garrison included as many as 200 men from 44 Infantry who reported to Major Walker. Itis a lesser-known fact about the history of Khonoma.
Shrewd that they were, the British didn't stop here. Several punitive attacks were made by British to punish the villages which took part in the siege of Kohima.
The British were successful in gaining control over Jotsoma on 27th November 1879.
The 13 Naga villages which had formed a coalition and gave tough fight to the invading British people were punished heavily by the latter. Each village was systematically damaged and occupied by the British.
What also happened was interesting as well. Not many known that a team of men from Khonoma were successful in courageously raiding the tea garden of Baladhan in Cachar in the month of January in the year 1880. It is located approximately 80 miles away from Khonoma. What is inspiring that the Nagas from Khonoma managed to achieve this daring raid despite the fact that the people of Khonoma at Chakka Forts above the village were surrounded and monitored by the British troops. It was a remarkable rebellion event which resulted in killing of Mr. Blyth along with 16 coolies. The Nagas returned only after burning much of what they came across.
The battle of Kohima ended in the year? The battle of Khonoma came to an end on 27th March 1880 when the fort above Khonoma submitted. It was a heart-breaking moment because by this time, Khonoma was razed to the ground. An outpost had now occupied Khonoma.
Strict rules were laid out for the villagers of Khonoma because they supported the army who plotted against the British.
All the villagers were instructed by British to surrender all of their arms. The residents of Khonoma were ordered to rebuild villages on new sites. Needless to say, fortification was not allowed. The villagers were even forced to pay one rupee per house as tax. They were also ordered to offer one maund of rice and a total of 15 days labour to the State per year.
To punish further, villagers who were directly or indirectly involved with the Siege of Kohima were made to pay an extra fine of rice and offer labour. The duty to collect revenue and monitor the conduct of the village was given to the elected headman of the village.
In February 1881, the chief commissioner had submitted a policy to Government of India. The policy elucidated on how to control the Nagas.
Eventually, a regiment was established in Khonoma on a permanent basis. Thereon, the entire district was administered as British territory.
Soul Window Thoughts
The atrocities of British in Nagaland reminded me of something similar the British did in Lucknow and Bithoor, both in my home state Uttar Pradesh in North Indian plains.
Religion in Khonoma
Who brought Christianity to Nagaland? When did Christianity come to Nagaland? By the year 1890, unfortunately the local people of Khonoma were converted in to Christianity in a sly manner. I noticed that even today, many people of Khonoma are converted Christian. However, the local people continue to follow many of their authentic Nagamese customs and rituals.
Language in Khonoma
Which language is spoken in Khonoma? Nagamese or Angami language is the main language of Khonoma. Some people understand and speak good Hindi and English in Khonoma. However, I was sometimes confused while talking with them.
Our tour guide told us that the Nagamese language didn't have a script. This is why Roman letters are used even today for writing Nagamese text. This practise was introduced by the shrewd Christian missionaries.
I noticed the same during my Khonoma trip. I observed that across Khonoma, many Nagamese signboards and stone slabs with inscriptions were written in Roman letters. I found it odd and wished that their mother tongue Nagamese had its own script and continued to follow their original pre-Christianity lifestyle.
Farming and agriculture: Economy of Khonoma
In old times, Angami people of Khonoma foraged much of what they ate from the forests. I observed during my trip to NE India that living of the land is still common in many tribes of Nagaland, Arunachal Pradesh and Mizoram etc. Depending largely on nature for their every-day food, not much has changed in Khonoma and it still has.
My local guide told me during Khonoma tour that the locals hardly buy anything. We grow much of what we eat. Agriculture, no wonder is the main occupation of the Angami tribe of Khonoma. The Angami tribal village in Khonoma is self-sufficient and self-sustaining. Several different varieties of vegetables, wild fruits, crops, plant species, mushrooms and also natural dyes are grown in Khonoma.
I noticed that outside most homes, everyone maintained their own private garden apart from the huge rice terrace fields. This is how many villagers grow their own fresh fruits and vegetables, reducing the need to buy it. Much of what is grown here is organic.
The unique shifting cultivation and jhum cultivation is also quite popular in Khonoma. Such traditional farming techniques help in stopping the degradation of the hills. It is a good idea to go on a long walk through the well-manicured paddy fields.
A leisurely stroll here is special. The beauty of the terraced rice fields of Khonoma is breathtaking, if not better than Bali in the island nation of Indonesia.
As I was leaving Khonoma, I was impressed when my guide told me that a whooping 60 different types of rice are grown in Khonoma annually. Also, as many as 40 varieties of different crops are also grown in Khonoma every year. Black chillies are another specialty of Khonoma.
To conclude, agriculture is the main economy in Khonoma. Tourism and tourism related services and products are the other drivers of economy in Khonoma.
Cleanliness in Khonoma
A pristine place like Khonoma deserves all the cleanliness. I was impressed to notice that there were dustbins at every few steps in Khonoma. The winding steps of Khonoma are spic and span. I didn't find any trash anywhere in Khonoma. The kids of Khonoma are taught about the need of cleanliness at a very early age. This is why the Khonoma villages manages to remain clean and clutter free throughout the year.
After every few steps, I noticed dustbins inside the Khonoma village. The dustbins would hang from the wall, railings, shops etc. Since it is difficult to find non-degradable waste in Khonoam, I didn't see any plastic anywhere in Khonoma. Not even in the dump yard! It was refreshing to see this, especially because the best of the nations are struggling with the menace of plastic use, whether single use or otherwise.
Is it safe to visit Khonoma Village?
The local families of Khonoma are very friendly and welcome tourists with a smile. Since the Angami culture is very different from what most of you have seen in your entire life, you may have objection to some of their rituals and practises because it is not aligned with your value system.
You may or may not agree with them. However, you need to remember that you are in their territory. In order to avoid any conflict or fights, it is better to look the other way if you can not do anything about it.
If you take care of these small issues, Khonoma is very safe to visit. This is why many Indian and foreign tourists and travellers stay for many nights in the homes of local people.
Toilets in Khonoma
Since Khonoma is a very clean village, expect spic and span toilets at some places in the village. Pictures of Khonoma village I have shared here will give you an idea of how clean it is. Finding a toilet right next to a Khonoma monument is not always easy. However, I was able to find some toilets after a short hike here and there.
Vegan and Vegetarian guide to Khonoma
Being a vegetarian, I was slightly uncomfortable with the food of many parts of Nagaland where they don't hesitate from eating anything that moves. From amphibians to ants, worms and even spiders, every living being is food here.
When in Khonoma, do not forget to taste the sweet Apong, also known as Poka. Apong is a local rice beer which I first tasted in the remote Basar of the neighbouring state of Arunachal Pradesh. Later, I had Apong in Dambuk music festival as well as Ziro, both in Arunachal Pradesh.
You can try and ask for some vegan and vegetarian food in Dovipie Inn. It is one of the very few restaurants in Khonoma. Contrary to popular belief, there is a rich variety of traditional vegetarian and vegan food in Khonoma and elsewhere in Nagaland which is not the same as what you get in other parts of India. I personally enjoy experimenting with local vegetarian food of the places I visit; therefore, I enjoyed trying out various dishes of the Naga cuisine.
Fermented bamboo shoot is a common ingredient in Naga cuisine. I personally love the stinky Akhuni or Axone which is made with fermented soybean. Akhuni is an iconic Naga dish on which they have also made movies in Bollywood.
The pungent smell of axone, which is pronounced as 'akhuni' is its identity. The bamboo chutney of Nagaland is another of my favourite. It is very spicy and goes so well with a plate of dal-chawal (lentil and rice), which the Nagas also eat. Boiled vegetable curry is often cooked with Axone. You can ask around if it is available.
Do people from Nagaland eat dogs?
Are dogs eaten in Nagaland?
Why dogs are eaten in Nagaland?
In which states is dog meat eaten?
Do people from Nagaland eat dogs?
These are some of the most frequently asked questions. Unfortunately, the answer is yes. Many people who keep dogs at home, don't keep them out of affection, but to eat them later. I was sad to see that most of the domestic dogs were chained all day. These were some of the things I didn't like about Khonoma.
Dogs are eaten in many parts of Nagaland. During my visit to the annual Hornbill festival, some of the food stalls were actually selling dog meat. Being a dog lover and a strict vegetarian (no eggs either), I didn't have the heart to even have a look at the dog meat. I avoided going to the stalls that sold dog meat. Many people in Mizoram eat dog as well.
But why do people in Nagaland eat dog meat? The Lotha Nagas, for example sacrifice and eat dog as they feel it will help them to win over evil spirits. In Naga tradition, dogs are seen as most cunning of all beasts. This is one of the reasons why dogs are eaten by Naga people in Nagaland. For a dog lover like me, it is very heart breaking to learn that dog meat is still not banned in Nagaland.
Souvenir Shops in Khonoma
During my walk in Khonoma, I came across many villagers who were busy weaving clothes in beautiful patterns, making bamboo baskets and wooden crafts.
I was highly impressed with the red and black Naga shawls which also had bold patterns. The thread quality and the unusual designs of the handmade Naga shawls are eye catching. To buy these local made shawls, you have to go to the homes of the weavers.
In fact, buying directly from the weavers is the most common way here because there are hardly any shops, restaurants or hotels in Khonoma. It was interesting to watch process of hand weaving out in the open.
Shop for Khonoma Traditional Dress
We visited the home of a weaver family. 5-6 women were weaving the shawls in different patterns. It is so unique to buy Khonoma traditional dress and other such souvenirs straight from the artisans who make it.
These Naga shawls are also available in the stalls of the more commercial Hornbill festival. You can also take a pick from the various bed sheets, woollen wears, sweaters, door mats, carpets etc made in typical Naga style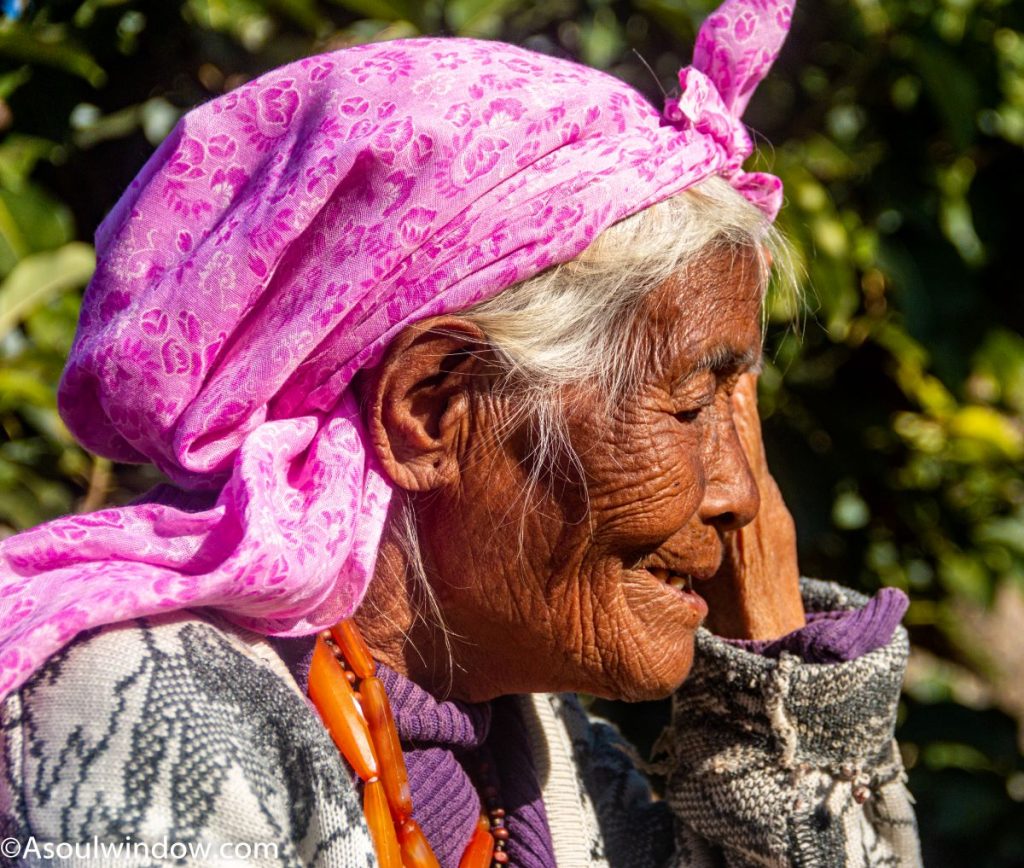 Festivals of Khonoma Nagaland
Much like anywhere else in India, the local Angami tribes of Khonoma also follow several customs, rituals and rich tradition.
The two major festivals of Khonoma Eco Village are:
Both Sekrenyi and Thekranyi festivals are festivals centred around paddy cultivation. While Sekrenyi is celebrated in February, Thekranyi is celebrated in the month of May. The Angamis celebrate these festivals with much fanfare.
The local Naga festivals are a good time to visit Khonoma as you can see the local Naga people performing their traditional dance and music. The Angamis also play several games during the festival which you can become a spectator of.
Birdwatching in Khonoma
Khonoma birds are known for their rarity and beauty. As many as 350 unique species of exotic birds are found in Khonoma and nearby areas. Below is a checklist of few bird species found in Khonoma.
Black storks
Black-headed Bulbul
Blyth's Tragopan
Brown Hornbill
Chestnut-vented nuthatch
Common pheasant
Fycatchers
Jungle fowl
Laughing Thrush
Partridge
Spot-breasted parrotbills
White-breasted kingfisher
White-winged duck
Wren-Babbler
Nature conservation and Tragopan sanctuary
Khonoma is a biodiversity hot spot and has rich flora and fauna. You can also see Blyth's Tragopan in and around Khonoma. What is the state bird of Nagaland? Blyth's tragopan (Tragopan blythii) or the grey-bellied Tragopan is the state bird of Nagaland. Before the 1990s, hunting Tragopan was very common. Tragopan Sanctuary is the best place to seeBlyth's Tragopan. There is an interesting story about Tragopan Sanctuary.
In the year 1993, during a competition, more than 3,000 Blyth's Tragopan were hunted down by local Angami people for their meat. This pushed the beautiful birds on the brink of extinction. Despite being an endangered species, hunting of Blyth's Tragopan and other birds and animals was rampant.
This event led to the formation of Khonoma nature conservation and tragopan sanctuary. With approval from the elders of village, an entire region was cordoned off and declared as protected Tragopan sanctuary. It is perhaps the first bird sanctuary of India which is led by the community. Tragopan sanctuary is spread across 20 square kilometres.
Do visit Nature conservation and Tragopan sanctuary if time and budget permit you.
Is hunting banned in Khonoma Nagaland?
Why Khonoma village is famous as hunting spot? During my travels across Nagaland, I observed that hunting and logging is rampant in not only Khonoma but most of Nagaland. I saw during my 3 months of travel in North East India that the Angamis and various other tribes in neighbouring states don't hesitate while hunting animals and birds even if its banned. It comes naturally to them.
Fortunately, Khonoma has been converted from a hunting hotspot to a nature conservation site. Hunting used to carry out in Khonoma on mass level. With time, the locals have woken up to the need to conserve ecology of their home village. You will be pleased to know that hunting, logging and Jhum cultivation, which is the practice of burning a field after the harvest is done is banned in Khonoma. From being hunters, the people of Khonoma are now eco activists of sorts.
What makes it interesting is that it is one of the few places in Nagaland where the ban is imposed. During my travel in Mon and Hong Phui, I saw that the locals openly killed wild animals and birds. In fact, I saw many of them carrying rifles as they left for shooting expedition in the jungles. I saw the local village head priest of Ziro in Arunachal Pradesh also eating a squirrel he had just hunted.
Hire tourist guide at Khonoma
It can be very confusing for a first-time traveller to Khonoma to navigate through the labyrinthine alleys and lanes of this serene village of Nagaland. A local guide can take you through the maze of Khonoma Eco Village in an organised manner. A day tour in Khonoma is more meaningful if you travel here with a local guide because they know the place best.
As I walked across Khonoma, I was engrossed in listening to the history of Khonoma and the Angami Naga tribe that live here. Had I not hired the local guide, I would have not understood Khonoma village history so well.
You must hire a local recognised tourist guide who can share all the small details of Khonoma. One of the reliable guides at Khonoma are Jievisekho Seyie. That said, any local authorised guide at the entry gate is worth going with. Avoid guides from outside Khonoma.
Several tour companies also offer tour packages to Khonoma. You can also contact a local tour operator who provide end to end tourist services such as hotel pickup and drop, cab service, entry to the Khonoma village, informative tour of Khonoma, and vegetarian/vegan food.
Entry Fee at Khonoma
A small entry fee is charged as you enter Khonoma. There are some shops and restaurants at the entry gate. The entry fee is to be paid at the small tourist information hut located near the entrance gate of Khonoma.
The entrance fee here is known as 'sustainability fee'. A board at the tourist information centre said: Office of the eco-tourism management committee (E.T.M.C). The entry fee to Khonoma monument is a part of the all-inclusive entry ticket.
Parking near Khonoma Gate
Ample parking space for cars, jeeps and bikes is available at the entrance of the Khonoma village. Khonoma Gate itself is a tourist attraction. I noticed the lovely tribal art on the Khonoma gate located in main entry.
Duration of Khonoma visit
Despite being a short trip, our Khonoma day trip was memorable! Spending a day in the unique Khonoma village amidst nature and enjoying the Naga Hospitality was one of my most special experiences in Nagaland. I and my friends visited Khonoma for only a day. Though, I feel, one must stay in a homestay of Khonoma for 2-4 days for immersive travel experience.
Treks around Khonoma
Trekking is one of the best things to do in and around Khonoma. Most tourists who visit Khonoma also consider day treks in the nearby Dzuleke and Dzukou valley. I also did the same. You can read my comprehensive guide to the Dzukou valley trek for more details.
Both Dzuleke and Dzukou valley are located just a few kilometres away from Khonoma and can be easily reached by privately booked cab. Khonoma Dzukou is a popular route. You can also join other stranger travellers and go together.
Tourism in offbeat Khonoma
Having travelled across rural Nagaland and also urban centers of Nagaland, I can vouch for the fact that rural Nagaland is far more beautiful, authentic and unique. However, there is hardly any tourist infrastructure in most of the villages of Nagaland. Neither are there any tourist friendly hotels and cafes, nor are there enough shops, clinic, restaurants serving comforting familiar food.
The lack of infrastructure in village of Nagaland is one of the major reasons why tourist who travel to Nagaland for Hornbill festival return back to their homes without paying a visit to any other Naga destination beyond Kohima, Kisama and Dzukou valley and sometimes Khonoma. Even the other popular big towns of Nagaland such as Kigwema, Wokha, Mon and Mokokchung hardly get any visitors.
This is why, Khonoma is a refreshing change. Though I found Khonoma to be a bit touristy but I also realised that making things organised helps both local economy as well as the tourists. Rural tourism is as its best in Khonoma.
The way Khonoma has developed tourist infrastructure such as home-stays, cleanliness, guide facility, maintenance of historical sites, souvenir facility is impressive.
Excursions
This is the most elaborate Khonoma description. I am also including some cool places to visit near Khonoma. Below are some of the most famous places near Khonoma.
Dzuleke
Dzuleke is another popular little hamlet near Khonoma, Kisama and Kohima. Distance between Dzuleke and Khonoma is only 20 kilometres. Surrounded with pristine natural beauty, Dzuleke is a must-visit place near Khonoma Eco Village. Khonoma to Dzuleke can be easily covered in a private taxi.
Kigwema
Kigwema is another interesting place where the tourists love to explore.
Where to stay in Khonoma
There are not many stay options in Khonoma. It is not a big city like Kohima which has a variety of hotels, lodges, hostels and luxury hotels. That said, you can still stay in the Khonoma homestays and some hills view cottages.
Luxury resorts
Do not expect any Luxury resorts with the usual modern frills such as swimming pool in Khonoma.
Homestay in Khonoma
The best accommodation option in Khonoma is to stay with a local person. The guest houses and homestays in Khonoma, much like other places in North East India are have basic amenities. However, the authentic local Naga food and interactions with the local people makes up for the lack of luxury in Khonoma.
Many local people of Khonoma have opened up their homes for the stay of the tourists. Spending a night in a Khonoma village homestay will acquaint you with the local lifestyle. Some decent hotels can be also found in Khonoma Eco Village.
Khonoma tourism is at its peak during the winter festivals. There are high chances that all the Khonoma homestays will be booked during the peak season of Hornbill festival. It is therefore advised to book a homestay in Khonoma in advance.
Best time to visit Khonoma?
What is the best time to visit Khonoma? Below is a detailed guide on the weather, temperature, climate and beast season for a visit to Khonoma.
Winter in Khonoma
The peak season in this little obscure village of Khonoma is winter. Khonoma is a year-round destination. However, most of the outside tourists visit Khonoma only during the Hornbill festival in the nearby Kisama during the first 10 days of December every year. Khonoma weather in December is very pleasant and can get very cold in nights. I experienced very low Khonoma temperature during my December visit. Howevere it was manageable and the days were balmy, sunny and bright!
I had clubbed Hornbill festival with Dzukou valley trek and a visit to Khonoma in the extreme winter month of December. In Hornbill festival, I enjoyed watching several tribal groups displaying their dances, music, colourful art forms, food, customs, rituals and costumes.
Several tribes and cultural groups of Nagaland congregate to Kisama Heritage Village to participate in the festivities. It is a good time to visit both Kisama, Kohima and Khonoma. Tourist attractions of Dimapur, Guwahati, Jorhat, Majuli are also nearby.
Summer in Khonoma
Very few people visit Nagaland in summer. If you are keen, you can still visit Khonoma during summer or even spring. It is a nice and pleasant time to be here. Khonoma temperature is moderate in the summer months.
Monsoon in Khonoma
Monsoon in North East India is fierce. I do not advise visiting Khonoma in monsoon. Expect floods, restricted tourist services and lack of services during monsoon. Also, needless to say, the temperatures are low in Khonoma during the rainy season.
Inner Line Permit for Khonoma
Before visiting Khonoma, you should ensure that you have the obtain Inner Line Permits. It is required for both Kohima as well as Khonoma and elsewhere in Nagaland.
Is Passport required for Nagaland for Indian? No, since Nagaland is an integral part of India, Indians do not require any passport or visa to visit anywhere Nagaland. Only an inner line permit suffices.
How to reach Khonoma village?
As we approached through a dusty dirt road from Kohima, we were greeted with a signboard which boldly mentions 'Welcome to Khonoma'.  The scenic hamlet of Khonoma is best accessed from Kohima, the nearest big city.
Air
The nearest airport from Khonoma is located at Dimapur. Daily flights from Kolkata to Dimapur are also available. Other nearest big airport is Lokpriya Gopinath Bordoloi International Airport in Guwahati of neighbouring Indian state of Assam.
Rail
The nearest big railhead from Khonoma is located in Dimapur on the border of Nagaland and Assam. Situated along the banks of the Dhansiri River, the dustyDimapur is the largest town of Nagaland.The Jan Shatabdi Express which runs from Guwahati to Jorhat near the picturesque Majuli River Island is a good train if your base in Guwahati in Assam.
Bus
I had caught a mid-morning bus to Dimapur from Jorhat. I got lucky as it was the last bus from Jorhat to Dimapur. Once I reached Dimapur in late evening, I somehow managed to find my way inside one of the last shared Sumo vans which were waiting for passengers right outside the Dimapur railway station.
I had reached Kohima after dark. I was traveling solo till then. I joined my friends in Kohima. After enjoying the Hornbill festival for few days, on one of our last days, we decided to visit Khonoma as a last-minute decision. I also visited the lovely Dzukou valley via trek in a similar impulsive way.
Local bus services are also available. You can find buses to Khonoma from NST bus depot in Kohima.
Private Cab
If money is not a concern, then you can book a private air-conditioned car to Khonoma from nearby places like Guwahati, Dimapur, Kohima etc. Private cars are far more comfortable. We had booked private cab from the taxi stand in Kohima market near the war memorial. Lovely vistas all along the road will keep you hooked.
Kohima to Khonoma
How to reach Khonoma from Kohima and Kisama? Khonoma distance from Kohima is not much. The sun's rays softly filtered through the dense canopy of trees, as the local taxi driver wheeled away from Kohima to Khonoma. It took us around 1 hour to cover the 20 kilometres between Kohima and Khonoma via National Highway 29.
The road was dusty and full of twists and turns. I was constantly looking out of the window as my taxi driver wheeled away on the winding uphill road.
If traveling by public transport, you can get down at Halinoma Fillers' Service Station or the Khonoma Road. You can take a taxi from here or do hitchhiking. Is hitchhiking safe in Nagaland? I had hitchhiked in Nagaland in the lorry of Bihari men while coming back from Dzouko valley to Kisama.
To sum up, Khonoma is a great choice for a one-day trip from Kohima.
Taxi from Kohima to Khonoma
Despite being budget travellers, we travelled from Kohima to Khonoma via private taxi since we were few friends travelling together. We took our taxi from a place near the war cemetery in Kohima. The drivers always overcharge in most of the places in Nagaland. We were firm and patient while negotiating the taxi rates.
If you are making a one-day trip to Khonoma, make sure that you book the return taxi and not one way taxi. Traveling from Khonoma to Kohima is a bit tricky. It is not very easy to find taxis from Khonoma to elsewhere. Most taxis agree to wait for anywhere between 2-4 hours. You can, of course buy more waiting period by paying more. Now you know that Kohima to Khonoma distance is easy to cover.
Where is Khonoma located?
Where is Khonoma green village? Khonoma in which state? Khonoma is located in close proximity with Kohima, the vibrant hilly capital city of Nagaland and Kisama heritage village, the venue of annual Hornbill Festival. Located on a cliff, Khonoma is a picturesque village which very few people know about.
This is why Khonoma Eco Village is one of the best offbeat places in Nagaland. Located in North East India near the borders with Assam, Khonoma is a must-visit place. The images of Khonoma village which I have shared here will give you an idea of how idyllic and stunning this village is.
Conclusion: Why visit Khonoma?
Is Khonoma worth a visit? Here is the bottom line. Engulfed by undulating paddy fields, unending lush greenery and towering hills, the Angami village of Khonoma near Kohima in Nagaland is a place unlike any other.
While traveling in other parts of Nagaland such as Mon and Longwa, I noticed that hunting and other ill practises are still rampant. Khonoma has set an example. It can be adapted as the right model for other villages in Nagaland and elsewhere in India.
Top Travel Blogger from India