Last Updated on August 6, 2021 by asoulwindow
Introduction to Rajasthan dresses
The local Rajasthan dresses always caught my attention during my several trips to Rajasthan. How can you unsee the colourful Ghaghra, Choli, Kanchli, Kurti and odhni worn by the women? Men have mostly been simpler and monochromatic. Their white cotton pyjama and Kurta is often juxtaposed with multi-coloured pagdi aka safa. Textiles in Rajasthan are vibrant and varied. In this blog we will talk about Rajasthani clothes for men and women.
These Rajasthan dresses add a splash of colour on the landscape of Rajasthan. It is not uncommon to see male and female tourists from India and foreign nations, dressing up in the traditional dress of Rajasthan to pass of as local people of Rajasthan.
During Pushkar Mela, I saw many local and foreign women who turned up in their sartorial best. Some of them even doubled up as models for Instagram obsessed photographers. The Rajasthan dressing style indeed can't be ignored.
Also read: Travel Guide To Jaipur
What do people wear in Rajasthan?
There are 3 main regions in Rajasthan.
Jaipur and surrounding areas are known as Shekhawati region.
Udaipur and surrounding areas are known as Mewar region.
Jodhpur and surrounding areas are known as Marwari region.
The Rajasthani clothes, costumes and accessories therefore vary from region to region.
So, what type of dress people wear in Rajasthan? Costumes of Rajasthan are not just mere dresses. The dresses of Rajasthan hold immense significance in day-to-day life and there are also scientific reasons behind why people wear what they do.
The dresses may also help in distinguishing between various regions, caste creed, financial status, marital status, gender and social standing of the people of Rajasthan. So, let us find out what do Rajasthan people wear? What is the traditional dress of Rajasthan?
Related blog: Tiger Safari in Ranthambore National Park, Rajasthan
Soul Window Thoughts!
In an increasingly similar looking globe, Rajasthan stands out. Much of the world has started wearing western pants and shirts, thanks to the colonialism. It is inspiring to see that people of not only Rajasthan but other parts of rural India have stood their ground and preserved their dialects, costumes, culture and identity despite all the global invasions.
Rajasthani dress for women
Let us discuss Rajasthani dress for ladies. What do women wear in Rajasthan? The Rajasthan dresses worn by women are famous across the world. I have seen many times how European women are so smitten by the feminine dresses and accessories of Rajasthani women. In Pushkar fair near Ajmer, I saw many European women dressed as an Indian Rajasthani bride. They looked beautiful in red ghaghras and cholis.
Yes, the traditional dress which women of Rajasthan wear are known as Ghaghra and Choli or Kachli and Kurti. It is often accompanied by an odhni. Textiles of Rajasthan has many facets to it.
Also read: Top Places to Visit In Ajmer
Ghaghra: Rajasthan dresses
The ghaghra worn by common women of Rajasthan are nothing but long pleated skirts which are often embroidered heavily and are visually stunning. These full-length skirt touches the ankle of the feet. The ghaghras, a Rajasthani poshak have a broad base and a narrow waist. It qualifies as being the most famous dress of Rajasthan.
Much like anything associated with costumes of Rajasthan, the ghaghras are often a riot of colors. The ghaghras can also be monochromatic but are mostly multi colored and intricately embroidered.
Some ghaghras might also include mirror work, various embellishments, pleats, studded ornaments etc. Ghaghras can be made with georgette, crêpe or just plain cotton.
They come in exciting prints and patterns. The fabric used to make ghaghra can be different too. During my travels in both urban and rural Rajasthan, I was also impressed to see the various prints on the Ghaghra worn by local women and girls. It is a Rajasthani base dress for women.
The Chundri print, Tie and dye, Bandhej, Mothra and Laharia are the most commonly used prints in Ghaghra. I remember local men giving a demonstration of how tie and dye is made in the tourist attractions of Udaipur and Jaipur. Rajasthani dress for ladies includes all the above-mentioned print styles on various Rajasthani fabrics. These are just some common Rajasthani fabric names.
Tie and dye print is very popular in Rajasthan dressing. It reminded me of my trip to Trat Island in Thailand where I saw how locals made tie and dye clothes!
Also read: Birdwatching in Sonkhaliyan in Rajasthan
Kanchli, kurti or Choli: Rajasthan costumes
When we talk about the Rajasthani dress for ladies, the first thing that comes to mind is kachli, kurti or choli. I have observed that women of Rajasthan commonly pair their skirts or ghaghras with different styles of kurti, kanchli or choli.
In a world of boring ready-made garments, the choli, kanchli or kurtis are tailor made as per the body measurements of the customer. Cholis are the blouse or short kurtis which Rajasthani women wear. Choli is also made up of cotton.
Needless to say, the cholis, kurtis and kanchlis are very colorful and has various design pattern which can also be a simple floral design.
It is not uncommon to see heavy mirror work, embroidery and use of beads, shells and sequins on these upper body dresses of Rajasthani women.
Kanchli, choli, kurti and Odhni are worn by most rural and even royal women of Rajasthan on their upper body. The length of Choli signifies the age, caste, region, tribe or religion of the women wearing it.
Related blog: My stay at Justa Sajjangarh Resort and Spa in Udaipur!
Odhni or Chunari: Rajasthan dresses
What else do women wear in Rajasthan? The odhni or Chunari, which women wear over the blouse, completes the overall look of Rajasthani women. Lyrically giving a glimpse of their face, the translucent odhnis are a sort of veil which the women and young girls of Rajasthan use for covering their faces.
An Odhni is very similar to the Ghoonghat, Dupatta or Chunari commonly used in North India. It is another famous dress of Rajasthan.
This traditional dress of Rajasthan can be seen in most parts of this huge state of India. Rajasthani dress for ladies is always accompanied by an odhni.
The odhni is made up of rectangular cloth which can measure between 2.5 meters to 3 meters in length and 1.5 meters to 2 meters in width. These Rajasthani poshak are popular with tourists as well.
The odhnis also come in an array of clothes. It is mostly worn by adult women as a mark of respect towards elders. Isn't Rajasthan dressing so unique and aesthetic?
Soul Window Observations
During Pushkar fair, when the foreigner men were busy playing games, my eyes got stuck at a gorgeous Rajasthani woman in the audience. The pink veil on her face poetically revealed her innocent, laughing face as she cheered gracefully and hesitantly. Show me a country more beautiful than India!
Must read: Hot Air Balloon in Pushkar fair
The long rectangular Odhni measures 1.5 meters in width and 2.5 meters in length. Since it is a translucent cloth, it is made with a fabric that is lightly printed. On the borders of these lightly patched fabric, I observed were the delicate embroidery and minimalist beadwork.
It reminded me of the traditional textiles I saw in the Nirona and Hodka village near Rann of Kutch on the India Pakistan border in Gujarat. The handlooms of Gujarat are also heavily embroidered, uses mirror work and is pretty colorful.
So how is an odhni worn? Well, the odhni is often tucked inside the ghaghra and itsometimes covers the chest before resting on the shoulders. There are many ways of wearing an Odhni. The other way of wearing odhni is that after tucking it in ghaghra, it covers the chest before resting on the shoulder or head and covering the face in an elegant manner. I have mostly seen pink and red odhnis in Rajasthan.
Must Read: Top Attractions of Jaipur
Rajputi suit
The middle class and the Royal women also wear what is known as the Rajputi suit or the Rajputi poshak. It is a Jodhpuri cotton suit for women. Typically made in the cotton fabric, it is popular with young girls and Rajasthani women alike. This Rajasthan dressing style is gaining popularity of late in other parts of India as well.
Accessories and Traditional Jewellery worn by women of Rajasthan
Rajasthani dress for ladies is incomplete without the bold accessories which have made them a famous subject of photographers and painters from across the world. The accessories which the women of Rajasthan pair with their traditional dress of Rajasthan make them stand apart.
During my visit to various top places in Rajasthan such as Pushkar, Ajmer, Haldighati, Jodhpur, Bikaner, Chittorgarh, Bundi, Kota, Jaipur, Udaipur and Alwar, I could not help but admire the dresses and accessories which Rajasthani women and young girls wear unselfconsciously.
I observed that the tribal Bhil women of Haldighati, Mount Abu and nearby places in Rajasthan dress differently. The women from various tribes such as Garasia, Meena and Bhil wear cheaper but equally beautiful jewelleries and ornaments made with white metal, silver or even brass.
I also met with Rabari and Bishnoi women near Jodhpur. The Rabari and Bishnoi women also wear somewhat same dresses and accessories. The traditional dress of Rajasthan, therefore varies from region to region.
The nathanis or naths worn by Rajasthani women are a far cry from the nath aka nose-pins worn is say, my home state Uttar Pradesh, Bihar or Kumaun in Uttarakhand. The earring worn by females in Rajasthan is known as surliya or kaanbali. The distinct Bajuband or the armlet is another accessory which separates Rajasthani women from other women in India.
Much like the women of Uttar Pradesh and Bihar, the Rajasthani women also wear bichua or the toe rings. The belly or waist chain is known as Kardhani or Tagdi in Rajasthan.
I saw many local women wearing the lovely maang tikas or Borla on their forehead. It is known as borla or rakhdi. Payal or the anklet is another accessory popular with women of Rajasthan. Some other jewelleries which Rajasthani women wear are Chura which is worn on wrists and Timaniyaan which is a choker necklace. Often these jewelleries come studded with expensive diamonds. Chura in gold and ivory tones are very popular with Rajasthani women.
These bangles are worn only by married women throughout their life. The women do not remove these arm bangles ever in life, not even when they are sleeping and bathing. Just one of those Incredible India moments!
Rajasthani women also love to wear semi-precious stone studded trinkets, 'jhumkas' in ears, gold chains, pearl chains, bangles in various colours, short necklaces, long necklaces, finger rings, nose rings etc. Rajasthan dressing includes all these and much more! Phew!
You can see floral patterns such as flowers and leave son the necklaces. Sun and Moon are also other recurrent themes in the jewellery. There are other sacred designs as well, all of which mean something and are not just ornamental with no significance.
Don't miss: 5-day itinerary of Udaipur
Bangles women wear in Rajasthan
The bangle in Rajasthan is known as Bangadi. Pearl bangadi is another version. Rajasthani women also love wearing Lac bangles.
I also saw many Bhil women wearing bangles on their upper arms in places like Pushkar and Ajmer. Traditionally the ladies from various tribes of Rajasthan wear 17 bangles on the upper arm and nine bangles on the lower arms which makes 52 bangles on both right and left hands. These bangles are known as chooda.
Royal dress of females in Rajasthan
Rajasthani attire varies as per the social standing of the wearer. The royal women of Rajasthan also wear ghaghra mostly. The ghaghra which is worn by women of Rajasthan are elegant and may have distinct patterns and designs.
The Gota Patti work from Jaipur, exquisite embroidery and antique borders are some of the common features of ghaghra worn by Royal women of Rajasthan.
Some of the accessories which affluent Rajasthani women wear with their Rajasthan dresses include different types of Rani Haar which is a long necklace which reaches the navel.
Jadau Sets or aad chokers are also commonly worn as accessories by the women of Royal families.
Also see: Jaswant Thada in Jodhpur
Footwear of Rajasthani Women
The footwear of Rajasthani Women is known as jooti or mojari. The mojaris from the pink city Jaipur, blue city Jodhpur and Golden City Jaisalmer are the most popular with Rajasthani women. You can also shop for the traditional mojaris and jootis of Rajasthan from various shop.
Most of these shops are located at walking distance from the major attractions of cities such as Jaipur, Jodhpur, Bikaner, Udaipur etc.
Rajasthani dress for men
The Rajasthani dress for men is not as colorful and varied as the costumes of women. The dress of Rajasthan which men wear includes a simple traditional dhoti and angarkha aka kurta pajama. Rajasthan costumes for men also vary from region to region. Let's see what type of traditional dress of Rajasthan people wear? Rajasthani sherwani is also commonly worn by males during weddings and festivals.
Related blog: My stay at Justa Lake Nahargarh Palace Chittorgarh
Dhoti
Rajasthan dressing for men features Dhoti. The Hindu dress Dhoti is commonly worn by men in many states of India such as my native state Uttar Pradesh, Maharashtra, Gujarat, Haryana, Tamil Nadu, Bihar and Punjab etc. I have always wanted to wear a dhoti. Dhoti is a long cloth, mostly white which men wrap around their waist. The men then tie the dhoti between their legs like a loin cloth. The men of Rajasthan often pair the dhoti with a fashionable angarkha. It is a must have Rajasthan costumes in the wardrobe of locals.
Dhoti is one of the most comfortable male dresses if you learn how to wear it. It's airy and looks graceful. With some practise and help from a local man, you can easily wear a dhoti. In day-to-day life, Rajasthani men wear plain white cotton dhotis.
On rare occasions such as festivals and weddings, the dhoti might include minimalist embroidery or zari work on the borders. Dhoti is an inseparable part of authentic Rajasthan dresses for male. It is a Rajasthani base dress for men.
Angarakha or Kurta?
The literal meaning of Angarakha is protection of body. It was the wealthy and Royal men of Rajasthan who originally used to wear angarkha. However, that said, with time, the angarkha has found its way in the home of pastoral and tribal people of Rajasthan.
The rural men of Rajasthan wear designer and multi coloured angarkha on special occasions such as festivals and weddings etc. I have mostly seen the pastoral men and common men of Rajasthan wearing the dhoti with just a plain white Kurta. That is the staple costume of males in Rajasthan.
The royal men of Rajasthan traditionally wear flared ankle length angarkha which is mostly made with cotton. On the other hand, the regular men of Rajasthan wear the simpler angarkha whichismostly knee length or lesser. Waist length plain white kurta is also a common male dress in Rajasthan.
The two different types of Angarakhas are the regular knee length long Angarakha and the frock like Kamari Angarakha.
Puthia aka angarkhi is different from angarkha and is tied with laces instead of buttons. It also has a shorter length than the angarkha.
Mufti is also worn sometimes on the upper body of men in Rajasthan. Mufti is a loose-fitting shirt. Mufti is often knee length as well. This Rajasthani attire is also popular.
Also read: My solo travels in offbeat and rural Rajasthan
Pyjama: traditional dress of Rajasthan
The lightweight pajamas are also worn instead of dhoti by the male population of Rajasthan on the lower body. Off late, the pajamas have gained popularity in not just in Asia but also many western nations because of the comfort they provide.
Rajasthani men wear Pajamas often with kurtas or muftis. The length, color, design and pattern of these kurtas and muftis vary from place to place. The Rajasthan famous clothes will look bland without a well-tailored pajama.
Pagri, Safa and Turbans
It is said that the costume of males of Rajasthan is incomplete sans a Pagdi. Rajasthan dresses never goes without this headgear. Pagdi or safa is a fine example of Rajasthan culture dress.
During my various trips across Rajasthan, I have always seen the Rajasthani men dressed up in the traditional Pagdi, Safa or Turbans. Pagdi is a mostly colorful headgear or turban, which is worn by men of Rajasthan with pride. In Rajasthan, a traditional pagdi is not just any headgear, but it is seen as a symbol of honor.
The length of most Padgis in Rajasthan measures up to 2 meters long and 0.2 meters in width. Some of the pagris can be as long as 80 feet long and 8 inches wide.
I have observed that the pagris come in various shapes, sizes and colors. In fact, the method used to tie a pagri or even the mere style of a pagri signifies a particular caste or region in Rajasthan from where the men belong to.
I have seen while travelling across Rajasthan that the everyday pagri worn by Rajasthani men is monochromatic, which can be either plain white, yellow, red or pink. However, Safas are different. Safa which is shorter than Pagri and is broader in size, is a more colorful version of the pagri.
Safa comes in various colors, patters and designs and is worn by the men of Rajasthan during special occasions such as weddings and festivals.
Also, the pagdis worn in different regions of Rajasthan are remarkably different from each other. It is no surprise given that India has immense diversity of dresses, food, climate every few kilometers. Not many foreign countries can boast of that.
The safa is worn mostly in Jodhpur, while the men of Udaipur wear flat pagdis. However, the pagdis worn by men of Jaipur are angular and colorful. We can-not think of traditional dress of Rajasthan without a colorful pagdi! No wonder that Rajasthan dressing is loved by even people from other states of India and other nations.
Soul Window Fun Facts
Did you know that Indian Prime Minister Mr. Narendra Modi wears a Jodhpuri Safa every year during his Independence Day speech on 15 august from the Red Fort in New Delhi? Every year his safas are bought specially from Jodhpur.
Jodhpuri suit
My friend from Rajasthan Gaurav told me about this unique dress of Rajasthan. A blend of Indian and western sensibilities, the chic Jodhpuri suit is often worn by the urban middle class and Royal men of Rajasthan.
It is also known as a Bandhgala suit as the neck is covered. Its roots can be traced back to the 19th century India.
The Jodhpuri suit is a formal attire worn during the special occasions such as family functions, weddings, events, Hindu festivals etc. Trousers, coat and vest together make a Jodhpuri suit. Angarkha appeared on the sartorial map of Rajasthan much before the Jodhpuri suit.
At present, the Jodhpuri suit has gained massive popularity in not just Rajasthan but all over India and other foreign nations. It is also simply known as just Jodhpuri or Bandhgala. It is the oldest formal suit of India.
This urban Rajasthan dressing style has received international acclaim! No wonder it is one of the most famous dress of Rajasthan.
Accessories with men's dress in Rajasthan
Rajasthan costumes come with a lot of interesting accessories. They wear the studs on their earlobes and it is usually black in colour. It makes quite a style statement. I saw Apatani women in Ziro Village of Arunachal Pradesh wearing similar nose plugs but on their noses.
Soul Window facts
Move over your limited perception of masculinity! Men of Rajasthan love to wear traditional Jewellery as well. There are many traditional accessories which go with men's dress in Rajasthan. I have personally seen the men of Rajasthan wearing these accessories unselfconsciously and with aplomb!
The Rajasthani men also love to flaunt their eye-catching neckpieces which may contain semi- precious stones and crystal beads.
Footwear of Rajasthani Men
Rajasthan costumes looks best with the local shoes. The footwear of Rajasthani Men is famous all over the world. The typical Rajasthani shoes are known as jootis and mojaris.
The decoration, intricate embroidery and embellishments are what make these pointed shoes of Rajasthan stand out, much like the Kolhapuri Chappals of Maharashtra in West India.
These shoes come in various colours such as black, brown, silver, golden or multi coloured. Most of these Rajasthani jootis and mojaris have no laces and are slip ons. Embroidery is done on velvet or brocade.
In fact, every time I visit in Rajasthan, I make sure I buy some footwear. However, since I am against leather and leather products, therefore I buy only non-leather shoes, belts and wallets etc. Jootis are an unsaid rule of the authentic Rajasthani dress code.
Soul Window Thoughts
I picked great looking non leather shoes from a shop located near Hawa Mahal in Jaipur, Rajasthan. I request you to avoid buying shoes/wallets/belts made with camel skin, goat leather or sheep skin. These are made with cruel methods and I am sure you are civilised enough to not wear someone else's skin.
Also read: Complete shopping Guide to Jaipur, Rajasthan.
Royal dress of male in Rajasthan
The Royal men of Rajasthan dress differently from the common men, pastoral and tribal people. Not only are their angarkha and pagdi or safa more elaborate but the same goes for their shoes, accessories and pyjamas as well.
We have talked about accessories worn by common men of Rajasthan. As for the royal men, they may also accessorise their dresses with a kamarbandh aka waistbands. I have also often seen the Royal Rajasthani men wearing a patka which is nothing but a rectangular piece of cloth resting on their shoulders.
Don't miss reading: Stay like a royal in Alwar Bagh.
Rajasthani wedding dresses for male & female
Indian Hindu weddings are celebrated on a grand scale. Not only the bride and groom, but you will see the entire attendees of wedding dressed in their sartorial best. The dresses and accessories which the people of Rajasthan wear during weddings are larger than life, bright, cheerful and vibrant.
Rajasthani Dress for brides
Rajasthan costumes for weddings are more elaborate than everyday clothes. A Rajasthani Bride typically wears a traditional Ghaghra in red. The color red is considered to be auspicious in Hinduism. The richer upper middle-class women or the women from the Royal families wear more expensive and heavier ghaghras.
These designers Ghaghras often come with semi-precious stones, gold Zari work and beads. Rich embroidery is also very common on wedding ghaghras. The translucent Odhni which a Rajasthani bride wears is also an elaborate one. Decorated with embroidery and semi-precious stones, it enhances the overall look of the bride.
The brides also wear jewelry made with gold, diamond and emerald on their wedding. Some brides also carry jholas which are often embellished with stones and mirror work. It may or may not be a part of Rajasthani dress code for brides.
Rajasthani Dress for grooms
The good news is that Rajasthani men love to dress! Unlike the males of other Indian states, the men of Rajasthan love to turn up in their best on not just weddings but everyday life as well. The Rajasthani men and boys love wearing colorful clothes, accessories, footwear, headgear, what not!
They are not afraid of wearing color or jewelries. It comes naturally to them without tarnishing even a modicum of their masculinity. Some groom also prefer wearing Rajasthani sherwani on their wedding day.
On special occasion such as weddings and Hindu festivals such as Diwali and Holi, the men of Rajasthan dress in an elaborate way. Wearing vibrant and multi colored Pagdi, Angarakha with plain pyjama or dhoti on weddings is common in Rajasthan. Both grooms and guests can wear this ensemble. The men also wear patka or kamarbandh or the waistband aka belt.
I have actually attended a Rajasthani wedding. During my Mumbai days, I traveled to attend the wedding of my Marwari office friend Gaurav Khinvsara in Jodhpur. Gaurav gave me some interesting local knowledge about Rajasthani clothes.
I remember, he carried a weapon known as a khanjar or a decorative knife on his waist during his wedding. Gaurav is from Jain Baniya Marwari community of Rajasthan. The local Marwaris of Rajasthan believe that carrying a khanjar during weddings protects them from najar lagna or the evil eye.
Why do people of Rajasthan wear Colourful dresses?
Colours are an emotion in India. Rajasthan costumes uses many colours. There is a certain reason why people of Rajasthan wear such colourful Rajasthan dresses.
The colour often signifies the occasion such as white for funeral and red for weddings. Multi coloured clothes are worn by people of Rajasthan during major Hindu festivals.
The colour also classifies people of Rajasthan based upon their age, cast, creed, stature, region etc. Colours of Rajasthan dresses also signify seasons, moods, religious affiliations etc. White is also a colour associated with masculinity. Most of the males I met in Rajasthan wore stark white shirts.
Ancient Indians had a well-developed understanding of colours which also determined the hues of the Rajasthan dresses. For example, women wear green coloured leheriya dupatta in the month of Savan or monsoon. The winter colors of Chaitya month are orange and gold while pearl pink, Kapasi aka light yellow, javai aka light peach are the summer colours. These colours help to stay cool in the hot months.
What kind of clothes would people wear in a hot place like Rajasthan Why?
First things first! Contrary to the popular perception, Rajasthan is NOT a burning furnace throughout the year. I used to feel that for the entire continent of Africa as well but I was proved wrong. I was pleasantly surprised when I visited Uganda and experienced its pleasant breezy weather. So what's the science behind the Rajasthan dresses?
I have visited Rajasthan in summers, winters and monsoon as well. While my monsoon visits to Alwar and Bhangarh Fort surprised me with the torrential rains and greenery of Rajasthan, the extreme cold of Jodhpur and Jaipur in winter months was a revelation as well.
Therefore, the people of Rajasthan wear their regular dresses in the hot months of April, May and June. They add woolen clothes to their existing clothes in the winter months of November, December and January. Now you understand the Rajasthani dress code for different seasons.
Also see: Vegan and vegetarian food in Pushkar
Rajasthani Textiles, handloom and fabrics.
Contrary to common perception the state of Rajasthan has a variety of textiles and handloom traditions. The Rajasthani fabric comes in many varieties. Here is a quick guide on Rajasthan textiles.
Do read my comprehensive blog on the main textiles of Rajasthan for a deeper understanding of the handloom styles of Rajasthan. Some of the major Rajasthani textiles include Sanganeri print from Sanganer, Barmeri print from Barmer, Kota Doria from Kota, Bagru print, Bandhani print from Gujarat and Rajasthan, Mothara print and the wavy Leheriya print etc.
Do you know any more Rajasthani fabric names? I have written a detailed blog on prints of Rajasthan. You can read it for a better understanding of the prints and fabrics of Rajasthani textiles.
Of these, Bandhani, Mothara and Leheriya prints are made with tie and dye methods. Kota Doria, Barmeri and Sanganeri print may include hand block printing.
Cotton and georgette are the most commonly used fabric in Rajasthan costumes and Rajasthan textile. Rajasthan handloom sarees are a must buy when visiting this sprawling state.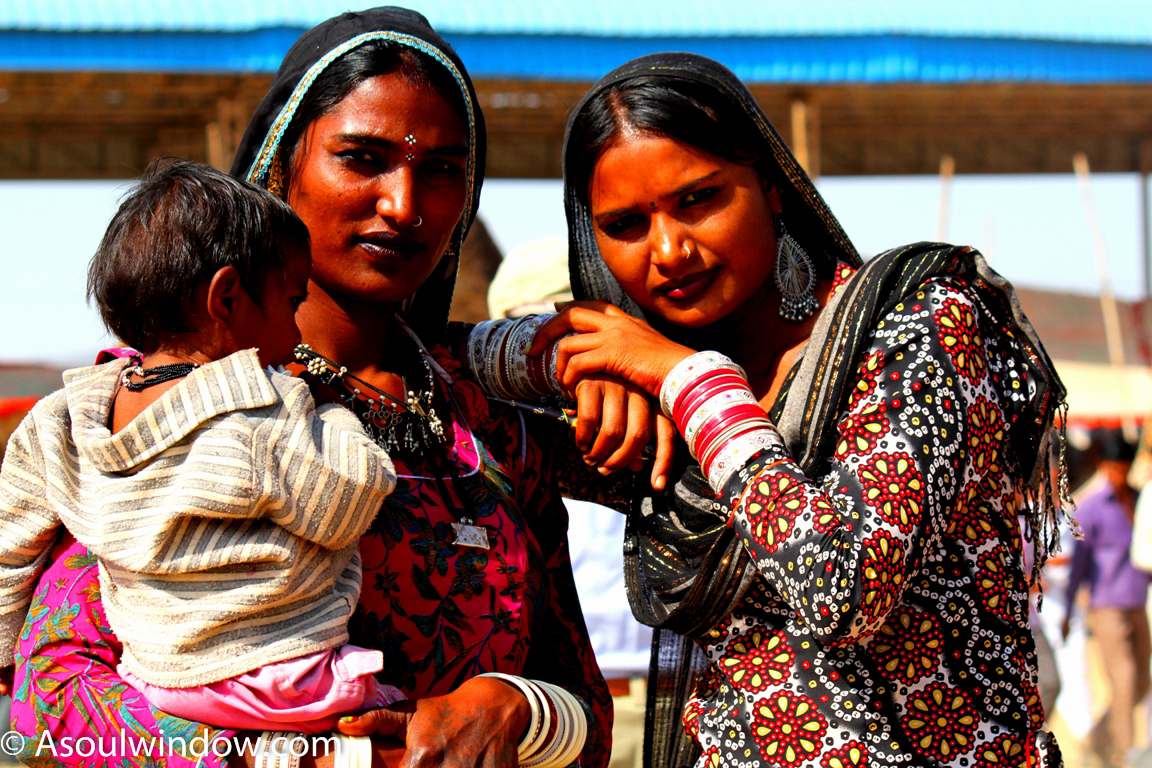 Shopping Guide for Rajasthani dress
So where to buy Rajasthani handlooms and weaves? Each big and small city of Rajasthan has many shops selling the local fabric and dresses. You may consider checking out the local markets where the residents go for cheaper option.
The shops near popular monuments such as City Palace in Udaipur or Amer Palace in Jaipur may be expensive. Markets of Johari Bazaar, Tripolia Bazaar, Chandpole bazaar in Jaipur have more variety of products and are also cheaper.
You can easily pick many traditional Rajasthani souvenirs and traditional dresses from these local markets. You can read my detailed blog if you want to find out where are the best shops for clothes shopping in Jaipur?
Also read: Famous Places for local street shopping in Jaipur.
Conclusion
I can see this distinct way of dressing even in small town Alwar in Rajasthan which is located just a 3-hour train ride away from New Delhi, the capital of India. Whether it is the elaborate and multi colored ghaghra choli and odhni worn by women or the simple dhoti kurta and studs worn by men, the costumes and dress of Rajasthan have no match.
Rajasthan dresses have gained massive popularity over the years in domestic and foreign markets. It is therefore no wonder that people tend to buy bags of local and traditional clothes, accessories and footwear.
In fact, the dresses of Rajasthan are in high demand in local and international markets. You can pick some great traditional dress of Rajasthan in cities like Jodhpur, Jaipur, Bikaner, Jaisalmer etc.
The view from my Soul Window is a riot of colours!
Top Travel Blogger from India