Last Updated on December 5, 2019 by asoulwindow
JUSTA SAJJANGARH RESORT AND SPA, UDAIPUR – OFFBEAT LONG WEEKEND DESTINATION FROM DELHI WITH FAMILY



This blog is about my stay at Justa Sajjangarh, Udaipur. I and my parents stayed in 2 adjacent suites. The newly opened property is already known for its exceptional views of the monsoon fort stop a green hill apart from the exceptional food and inimitable hospitality. It is a wonderful destination from many cities including Delhi, Noida and Gurgaon. I visited from Lucknow with parents.
JUSTA SAJJANGARH – ONE OF THE BEST LUXURY PROPERTIES IN UDAIPUR:
The last time I had visited Udaipur was a solo and budget trip. I recently visited Udaipur, the city of lakes and bravo, again with my parents. I wanted to show them the massive City Palace, spectacular sunsets at Lake Pichola and other points of interest.
What was different this time was that it was a luxury trip and was planned keeping in mind movement of parents who are not always in the best of their health. What was also different this time was that I discovered more offbeat places to visit in Udaipur.
One of them was the mysterious Sajjangarh palace also known as the monsoon palace, perched on the top of a hill, standing out thanks to its incongruity. I would be staring at this palace for the 4 days, sometimes from the al fresco dining space of the sprawling Justa Sajjangarh in Udaipur, sometimes privately from the cozy seat at the French window in my suite. If I am in the mood, then also from the attached Jacuzzi of the suite I stayed in. It was an unprecedented experience for me.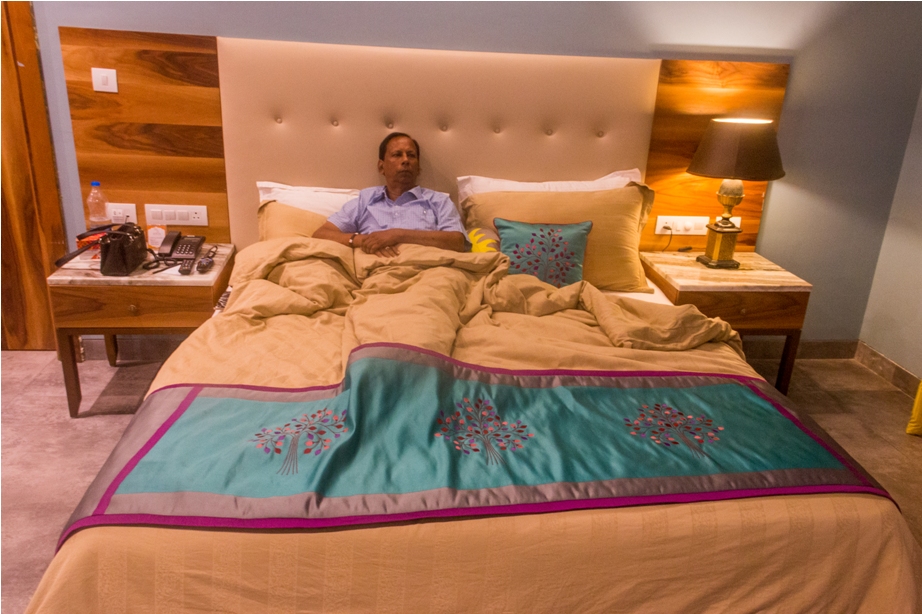 ABOUT MY STAY IN JUSTA SAJJANGARH, UDAIPUR:
I had zeroed in on Justa Sajjangarh as I had already heard a lot about their pretty rooms, food- which I discovered was par excellence and exotic location. It is a new property and within a short span it has become quite popular amongst vacationers.
When I climbed up the Sajjangarh Fort aka Monsoon palace and soaked in the brilliant panoramic view of the entire Udaipur city, what stood out was the building of Justa Sajjangarh.
The property dwarfed every other building in the vicinity with its grandeur. It also gave me the perspective of the location of the property. It was exciting for me and my father to see that it is built in the middle of a sparsely populated village and at a convenient distance from the hustle and bustle of the busy yet pleasant city.
The best part of Justa Sajjangarh property is that it is very close to all the major attractions of Udaipur and yet cocooned in the comforting silence of a sleepy village, walking distance away from the entry gate of the monsoon palace.
MY SUITE AT JUSTA SAJJANGARH RESORT AND SPA, UDAIPUR

First things first, I was amazed at the sheer size and design of the suite. As soon as I entered the suite room, different things vied for my attention simultaneously. On the writing table, a plate filled with macaroons and chocolates in different shapes welcomed me. Even the 'WELCOME' was edible.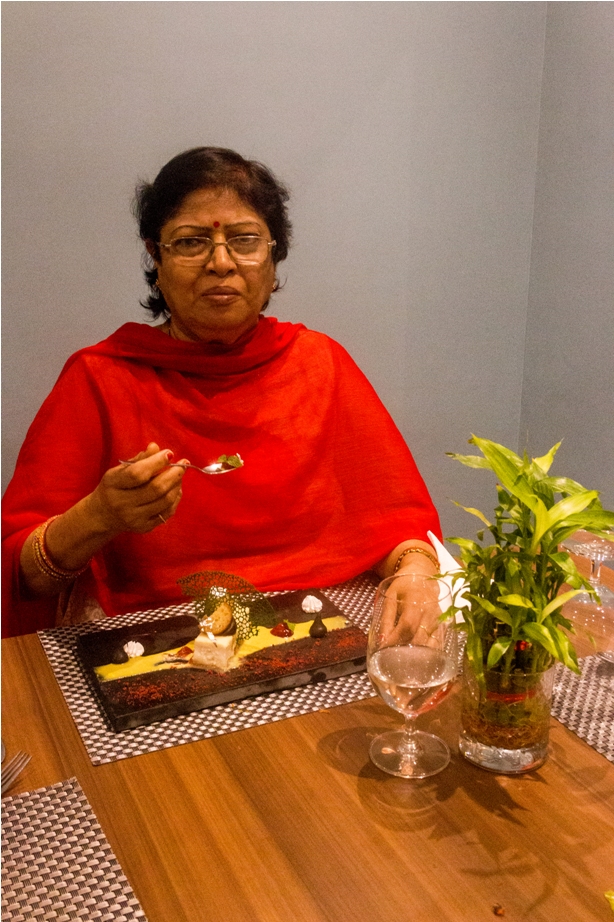 The room had 2 TVs, because as their website say, why not? The dining table was placed as soon as one enters the room, opposite the large wardrobe. Neatly placed cutleries and glasses gave it a posh touch.
The living area next to the dining table was cozy but we hardly used it as we mostly ganged up near the large bed for late night chats and joint TV viewing time. The bed and the adjoining sit-out area thoughtfully built in the lap of the French window was my most favourite part.
I could see the Sajjangarh monsoon palace all day, as I purposefully vegetated at this comfortable window seat which I mostly used as a makeshift bed.
The most favourite time of the day for hanging out here was the night time when I loved staring at the beautifully lit monsoon palace. It shone like a golden star up above the dark landscape. On one of the days, I stared at it for so long that they turned off the light at the Palace, lol.
Owing to the large size of the suite room, I was not surprised to see that it also had 2 air conditioners, both of which came with a separate and easy to use control panel. The many lamps offered mood lighting. The tastefully done interior of the room was contemporary and yet had a strong essence of tradition and local flavor.
The huge bed came with assorted pillows and a luxurious bed cover. I liked the bright yellow cushion with a moustache, possibly representing local Rajasthani men and their world famous moustaches. The room had fans as well, in case some-one prefers them over air conditioning. My mother, for example is sensitive to air conditioning and prefers fan so it was very useful for us to have that option in the suite.
The suite had lot of storage space. There was no dearth of racks, drawers and wardrobes in the huge room. All the furniture was in dark wood, making the interiors looking classy. In fact, my dad liked the design of some racks and wardrobe so much that he clicked the images to use that in our house.
THE 'JACUZZI WITH A VIEW' IN THE WASHROOM OF JUSTA SAJJANGARH RESORT AND SPA, UDAIPUR:
Who doesn't fancy a Jacuzzi in the attached washroom of the room? Well, I got that and much more at Justa Sajjangarh! There were two bathrooms in my suite (because why not). It was very convenient for us because I spent most of the time in my parent's suite and not my suite, which was next door anyways.
So, this meant that two people can use separate washrooms simultaneously. This was particularly useful in morning when we were in a hurry to leave for breakfast followed by sight-seeing.
The smaller bathroom near the door had a glass paneled shower and WC area. The bigger bathroom next to the bed had the same. What it had extra was the huge Jacuzzi bathtub, fit for two. As if this was not already delightful, the bathtub faced a large see through glass from where you can see the monsoon palace perched atop verdant hills. I soaked in on some days, always in the evening, after the tiring session of sightseeing.
BRILLIANT FOOD AT JUSTA SAJJANGARH RESORT AND SPA, UDAIPUR:
Even if Udaipur was a destination without anything to see, which it is not, I would have still enjoyed my stay at Justa Sajjangarh. Why? Because the property itself offers so many unique experiences!
On top of all the experiences which Justa Sajjangarh offers is the exceptional food. The in house chefs rustle up a great variety of delightfully international quality food at reasonable prices.
Be it a large spread of Indian and continental dishes at the breakfast buffet or the carefully crafted a la carte menu, each dish impressed with its quality, taste and freshness of ingredients.
The food here is so good that you could travel all the way to Justa Sajjangarh only for its food.
The breakfast buffet had fresh fruit juices, curds, spring rolls, idli, vada, poha, upma, savoury sewai, chola bhatura, puri sabzi, stuffed parathas, samosa, baked beans, assorted continental breads, waffles, pancakes and what not! The pastry chef Mr. Sumeet Sethi was great with all the desserts and pancakes. The pancakes served by him were one of the best I have had.
I stuck to the healthier options like cereals, fruits, poha, upma etc. I tried their pancakes on both of day. It was easily the best ones I have had till now. The second best I had was on a beach side shack in Goa. .
The flavoursome cranberries and macaroons along-with whipped cream made it all the more delightful and visually stunning. It was instagrammable food with soul.
The restaurant is also known for its dishes with activated charcoal. Executive chef Mr. Surya Kant Nirala, who sincerely monitored guest's experience with food, told me that activated charcoal is still a new concept in Indian restaurants. It has many health benefits too.
WHAT DID WE EAT FOR THE MAIN COURSE AT THE JUSTA SAJJANGARH RESORT AND SPA?
The very refreshing mojito which we were served as a welcome drink in our respective suites had set the standards for the trip. What we didn't know that the food and beverage that will follow during the stay will be exceptionally good.
My father eats only few things in the world. He only enjoys very few things which he had been eating for decades. He's not experimental with food and chooses simple food only whenever we travel.
My mother occasionally experiments with food while I eat only experimental food or food new to me whenever I travel.
To make things complex, I and my father are strict vegetarians while my mother is an occasional meat eater. The best part is that Justa Sajjangarh had something for all of us.
While my father loved the simple yet rich flavours of Rajma Chawal, Dal Rice and Dal Bati Churma, my mother shared the joy of their 4 cheese thin crust pizzas, pastas and soups.
What I loved the most was the massive vegetarian ravioli with activated charcoal. (See picture above) It was the first time I had seen single huge ravioli. I am used to eating multiple smaller raviolis tossed in Arrabiata sauce. The ravioli served here was huge and bursted with subtle flavours.
The desserts here were exciting as well. Be it the coated gulab jamun topped on a cheesecake or tiramisu or the brilliant rasmalai, their kitchen scored full marks in taste and presentation.
And to be able to eat all this in the privacy of the dining table of our respective suites or at the atmospheric open air restaurant was luxury at its best.
It was especially exciting to be able to eat in the open air in night, while cool breeze caressed you gently and the stunning visual of an old palace seduced you with its mysterious aura.
FOOD AND BEVERAGE SERVICE AT JUSTA SAJJANGARH RESORT AND SPA, UDAIPUR:
The service needless to say was as per the 5 star standards. The service staff is good with providing anticipatory services and sensitive to guest's needs without the latter asking for it. The staff is cheerful, especially the bright Nigam from Bhubaneshwar who often talked to my parents at length.
Above: Executive Chef Mr. Surya Kant Nirala and the Food and Beverage Production and Service Team
The other staff also always made a sincere attempt to strike a meaningful conversation with us and other guests. Even the chefs, including the executive chef, always visited our table and asked if the food was nice or if they could do anything else to enhance the dining experience.
This is a great thing, because I often need customization with food when ordering for parents. The room service and clearance of soiled dishes from the room was neatly done and was efficient.
OTHER FACILITIES AND ACTIVITIES AT THE JUSTA SAJJANGARH RESORT AND SPA:
Apart from their picturesque swimming pool area, I loved their rooftop dining space. It is still under construction but I can imagine how exciting it would be to be able to dine in the open air on the top of the property.
There is an enclosed bar area and a show kitchen which will serve guests once it is operational. The roof top space has lots of art just like elsewhere in the property. The art here is quirky and unique.
Above: The artefacts & Selfie truck on rooftop
For example they have installed art objects made out of spare auto parts and even utensils. What's more? They even have a selfie point.
They also have an upcoming indoor games room and spa coming up next to the pool area.
TOP TOURISTY AND OFFBEAT THINGS TO DO NEAR JUSTA SAJJANGARH RESORT AND SPA, UDAIPUR.
On day 1, we visited the Haldighati pass, the brilliant Haldighati museum, war memorial and Chetak Smark (in that order) in Haldighati. It was followed by the famous temple at Nathdwara dedicated to Lord Krishna and a quick stop at the ancient (and jaw dropping) Ek Ling Ji temple. Despite starting late, we comfortably visited all the places at a slow place which is great because when traveling with parents, I consciously slow down my pace.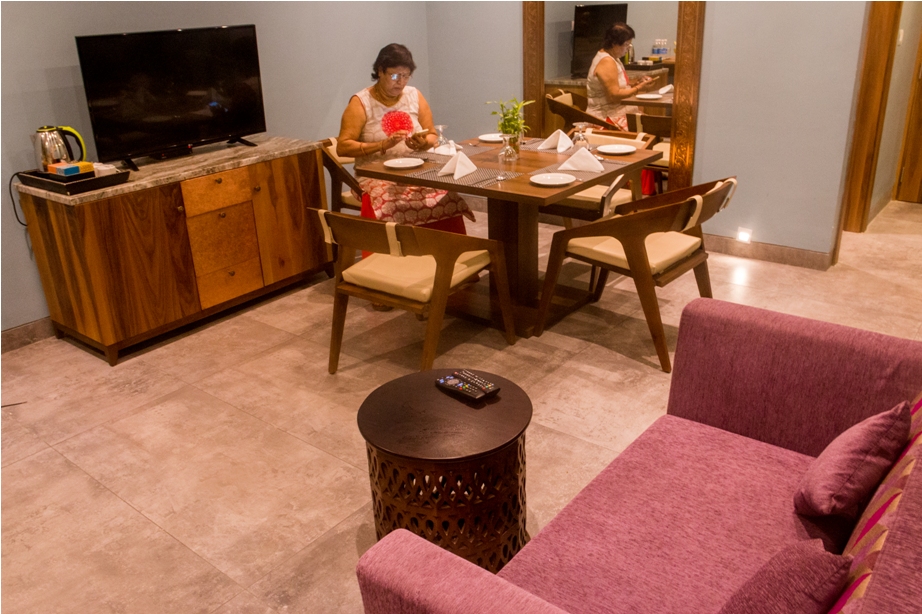 On day 2, we visited all the important places in and around Udaipur. We finished at the time of sunset. All the major places in Udaipur can be covered in a day.
If you have time, you can visit Kumbhalgarh fort which is also very close. Kumbhalgarh is where the world's second largest wall exists.
You can enjoy their suites with family or split the cost when traveling with friends. In case you desire to stay in regular rooms and not suites, worry not. Justa Sajjangarh Resort and Spa, Udaipur has many different categories of rooms to choose from. I visited some of the rooms. The amenities and the interiors were similar to the suite while the room size varied. You can choose one depending on your purpose, budget and taste.
For tariffs, distances and other related details, please check out the website of Justa Sajjangarh Resort and Spa, Udaipur.
The view from my Soul Window is plush!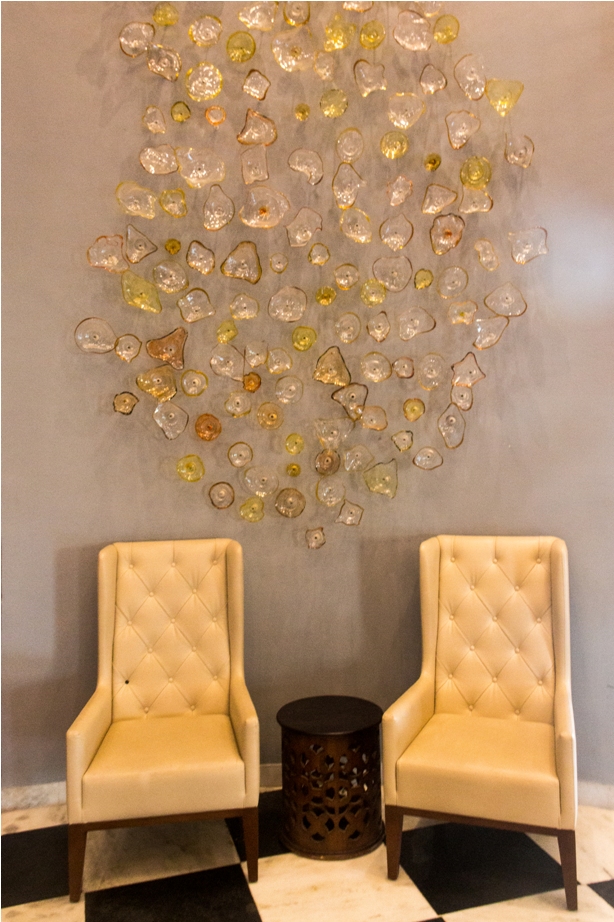 Spread the love, share this blog
Got any question/comments, ask in the comment section below so that it can benefit other readers.
Email me for collaboration: 21abhinav21@gmail.com
Be a part of my journey on social media. The travel content I create there is different from this blog.
Pls subscribe/follow/like:
Check out my Instagram posts:
Check out my tweets
Check out short video of my plush Suite at Justa Sajjangarh resort & spa #Udaipur. Amazing food, service, views & Ambiance.

'Just a' short distance from Delhi.

It's not very expensive

Check costs here.
https://t.co/X6kvWPtRi2@Justahotel#Travel #IncredibleIndia #Rajasthan pic.twitter.com/OfK0hbMcWH

— ABHINAV SINGH (@asoulwindow) October 5, 2018
I stayed with parents at @Justahotel Sajjangarh

A blend of luxury,tradition, lovely view, beyond brilliant food. #Octopussy was shot nearby

Visit & make memories. Nice long weekend break frm Delhi

Click https://t.co/jbiZHmyjpa#ASoulWindow #Travel #TravelPals #JustaSajjangarh pic.twitter.com/uJOa3RS4Hk

— ABHINAV SINGH (@asoulwindow) October 27, 2018
Staying at Justa Sajjangarh resort & spa at Udaipur with parents.

My room & Jacuzzi tub faces the hills & Sajjangarh fort. Amazing stay

My huge suite has 2 washroom, 2 TVs

It's a wonderful weekend break from Delhi.

Bookhttps://t.co/X6kvWPtRi2#IncredibleIndia #Travel pic.twitter.com/9MzR67LwsE

— ABHINAV SINGH (@asoulwindow) October 4, 2018
WARNING : COPYRIGHT TO ALL THE CONTENT SHARED HERE REMAINS WITH ME. THE IMAGES AND TEXT IN THIS BLOG ARE BY ME UNLESS MENTIONED OTHERWISE. YOU CAN NOT JUST LIFT THE CONTENT AND USE IT WITHOUT MY PERMISSION. STRICT LEGAL ACTION WILL BE TAKEN IF CONTENT IS STOLEN. YES, I AM SERIOUS.
Top Travel Blogger from India