Last Updated on October 16, 2022 by asoulwindow
Information about Yumthang Valley
Yumthang Valley is one of the most beautiful nature sanctuaries I have visited in India. Located near Lachung and Lachen in North Sikkim, Yumthang valley is known for its serene atmosphere, awe-inspiring views of Himalayan mountains, abundant flowers, tranquil vista, calming rivers, the works!
Thousands of tourists visit Yumthang each month and yet very little information on Yumthang Valley is available in the old school guide books or even online blogs. This is why I decided to write this comprehensive blog on Yumthang Valley which answers every possible query which tourists have.
North Sikkim tour is incomplete without a visit to Yumthang. This handy guide elucidates all that you wanted to know about Yumthang Valley of North Sikkim in great detail. I am answering frequently asked questions on Yumthang valley such as
Yumthang Valley is a refreshing weekend getaway from Gangtok, Kolkata, New Jalpaiguri etc. The sweeping views of the giant Himalayan Mountain ranges, therapeutic hot springs, serpentine rivers flowing gracefully, lush green meadows, snow-covered backdrop and the wild yaks grazing nonchalantly are some of the memories I brought back from Yumthang Valley. If these Yumthang Valley images will not convince you then I am not sure what will!
You can read this complete guide to Yumthang and plan your tour here on a date suitable to you. Time to pack your bags and get going!
Why is Yumthang Valley Famous?
What is special about Yumthang Valley? Why is Yumthang famous? Punctuated with picturesque beauty on each turn, Yumthang Valley is a favourite destination of nature lovers. There are several natural wonders in Yumthang which are balm to the eyes. This is why Yumthang Valley, a paradise for the nature lovers, is a must-visit place in North Sikkim. There are many factors which make Yumthang valley popular with tourists. Here is what makes Yumthang valley famous:
These are some of the major reasons what make Yumthang Valley a famous tourist spot in the North Sikkim. What else makes the Yumthang Valley special? Located in the backdrop of the majestic Himalayan mountains, the picturesque Yumthang Valley has evolved to become a popular picnic spot for not only Indians but also foreigners. In fact, I travelled to Yumthang Valley with my Assamese blogger friend Jitaditya and Jacomijn, another blogger friend from Netherlands in Europe. Yumthang Valley tour is best enjoyed with family and friends.
My Experience of Yumthang Valley trip
The reds, browns, snow-whites, greens and blues of Yumthang Valley left a lasting impression on me. The fresh snow was still lying on the roads, refusing to melt despite the bright winter sun. Snow was lapped up by the local trees which substituted leaves with spikes. It felt and looked Christmas like. I had not seen anything like this before despite having seen snow many times before!
All the vehicles were parked right at the start of Yumthang Valley. We walked from here and explored nearby places. Apart from lakes, rivers, hot springs, we also saw small frozen waterfalls, the kinds which I earlier also saw across Ladakh, Spiti, Tawang, Se La and Chadar trek. Thetrees around it had browned due to harsh weather conditions.
Yumthang Valley Altitude
Yumthang Valley altitude in feet is 11,693 feet. In meters, the height of Yumthang Valleycorresponds to3,564 metres.
Nomenclature/Etymology of Yumthang Valley
Not many tourists know that Yumthang Valley is also known as Valley of Flowers sanctuary. In fact, the literal meaning of Yumthang in the local language is "Valley of flowers'. Since tons of Rhododendrons flower in Yumthang in spring season, it is also known as Valley of Rhododendrons.
Where is Yumthang Valley located?
Yumthang Valley is located in North Sikkim. Located just an hour away from the picture postcard perfect Lachung, Yumthang Valley is also located in close proximity with other major tourist places of North Sikkim such as Gurudongmar Lake, Lachen and Lachung.
Which River flows in Yumthang Valley?
During my several visit to West Bengal Sikkim, I have seen grand views of the untamed Teesta River from buses, cars and taxis. Teesta is the most important river in this region of North East India. I was spell bound to see a tributary of the Teesta River meandering through the Yumthang valley as well as in the nearby Lachung in full force.
History of Yumthang Valley
Historical significance of Yumthang Valley is immense. It once was the route for trade between Indian and Tibet.
Places to see in Yumthang Valley
There are so many sightseeing attractions in and around Yumthang Valley that even a day is not enough! The best part is that most of the must-visit places are located just a short drive or walk away from each other. This is why Yumthang valley is a popular weekend destination from nearby places such as Darjeeling, Siliguri, Gangtok and Kolkata.
There are still so many unexplored places here which are situated away from the touristy crowds. If you want to go off the beaten track, a local guide or tour operator can help you with that.
Yumthang valley: A Valley of Flowers
Yumthang Valley Lachung trip is a visual delight! Come summers, and Yumthang valley becomes a carpet of flowers. It is known as the Valley of Flowers because during spring and summer, the valley is carpeted with multi coloured flowers in open fields. This is your best chance to see flowers of Sikkim under one roof.
The flowering season in Yumthang valley spans many months, giving you a large window period to experience the wide flower fields. You can see as many as a whooping 250 species of beautiful flowers in Yumthang. This is why Yumthang Valley Sikkim- The bowl of flowers attract so many people!
Beginning from late February, you can see carpets of wild flowers in Yumthang Valley in the months of March, April, May and mid-June. The flowery rainbow is a must-see phenomenon. Pine and silver fir trees also inundate the area throughout the year.
Soul Window Observations
It reminds me of my visit to the Kaas plateau of Maharashtra in Maharashtra and valley of flowers in Uttarakhand. It is a grand visual spectacle to see countless multi-hued flowers paint the valley in a riot of colours. Many tourists from India and foreign nations visit Yumthang valley in spring and summer only to witness this grand canvas created by nature!
Yumthang Valley flowers name list
In the spring season, you can expect to see below flowers in Yumthang Valley:
Iris
Poppies
Primulas
Rhododendrons
Shingba Rhododendron Sanctuary
The Shingba Rhododendron Sanctuary, which is spread across 43 square kilometres, is located near the Yumthang Chu River within the Yumthang Valley. The Shingba Rhododendron Sanctuary enjoys the status of being called as a reserve forest. With district headquarters in Mangan, it is centrally located. The three main forest types in the Shingba Rhododendron Sanctuary are as below:  
Alpine pastures types
Brch-Rhododendron Sorub Forest type
East Himalayan Mixed Coniferous Forest
This major tourist attraction of Yumthang is best visited in the month of May when the flowers bloom. Not only is Shingba Rhododendron Sanctuary visually stunning but you can also learn about as many as 40 different species of Rhododendron trees and other varieties of plants and shrubs here. You must carry a good camera here because there are photo opportunities galore here. The Rhododendron flowers bloom in the months of April, March and May. Towards the end of May, Rhododendron trees stop flowering.
The Himalayan flora found here is very unique. Come spring and the entire valley will be painted red, pink, yellow and purple thanks to the abundant Rhododendron flowers. Thanks to several rare Himalayan herbs, plants, trees and flowers found in Yumthang Valley, many botanists also visit here in all seasons.
Rhododendron flowering season has already ended by the time its monsoon in the valley. However, the valley stays vibrant with other Himalayan flowers which bloom in rainy season such as Primroses, Cinquefoils, Louseworts, and Cobra lilies. The peak of monsoon is June in the valley. Shingba Rhododendron Sanctuary is located some 7-8 kilometres away. This is a very unusual sanctuary which is off the touristy trail.
Soul Window Facts
Did you know that as many as 24 different varieties of Rhododendron is found in the Shingba Rhododendron Sanctuary? Not many know that Rhododendron is also the state flower of Sikkim.
During my travels, I have seen beautiful flowering Rhododendron forests in places as diverse as Roopkund trek of Uttarakhand, Darwa pass, Dodital, Mukteshwar, Nainital, Almora, Shitlakhet, Bhimtal, Manila, Kanatal and even on the famous Poonhill trek of Nepal.
I love the faint sweet smell of Rhododendron. In fact, while trekking up to the old home of Nobel laureate Shri Rabindranath Tagore in Ramgarh near Nainital, my trek guide also made me taste the sweet juice of Rhododendron flower. Since then, I always buy packaged Rhododendron flower juice when travelling in hilly places such as Sursingdhar, places around Almora and Ranikhet etc.
Himalayas in Yumthang Valley
I was spellbound to see the rugged Himalayan range at Yumthang Valley during my visit. My co traveler Jacomijn was so impressed that she did a quick Yoga pose for my camera in the backdrop of the Himalayan giants. The biome of Yumthang Valley include mixed mountain system.
Kyee Cho or Phuni Lake
Phuni Lake is one of the top places to visit in Yumthang Valley. Phuni Lake is also known as Kyee Cho. We stopped here for a long time, clicking pictures and just soaking in the views. The blue lake looked stunning surrounded by white snow all around.
Yumthang Chu River
I was mesmerized to see breathtaking views of the Yumthang Chu River flowing through the frozen winter landscape of Yumthang. It was a sight like no other! I had not seen a snow landscape as visually stunning like this before. The crystal-clear water, pollution free surroundings, secluded and remote areas and soothing sound of water made me take long walks along the Yumthang Chu River. It is also a good place for a photo shoot and that's exactly what we did. A stroll along the river is the top thing to do in Yumthang.
Hot Spring of Yumthang Valley
After crossing a river over a colorful bridge, we also visited the lesser-known Hot Springs in Yumthang Valley. It is located at an altitude of 11,800 feet. 'Wel-come You Hot Spring", read a yellow and black signboard as we walked towards it. A Yak looked at us menacingly.
The Hot Spring of Yumthang Valley which are also known as Tsa Chu locally, are known to have healing properties. The water here is rich in sulfur, which has several medicinal benefits. There are several cemented huts and beautiful wooden huts here around the hot water. I noticed that even in the bone-chilling cold weather of January, the water here was warm. These are some lesser-known facts.
We also took many pictures at the bridge. Plethora of colorful Buddhist flags attached to the iron bridge made for great pictures. We also walked below the bridge for even more unusual pictures and videos.
Hot Spring of Yumthang Valley is located in a secluded place. We could have not found the hot springs so easily had our drive cum guide didn't know about this place already. A dip in the hot springs of Yumthang helps in rejuvenation and well-being. This humble wellness paradise also helps provide the much-needed relief to frozen limbs and tired body, especially if you have travelled across Sikkim for 15 days or more like us.
What better way to comfort the stiff body than soak it up in the natural hot springs of Yumthang Valley? It is the most unusual things to do in Yumthang valley! You can also visit a temple devoted to Shiv Bhagwan, which is located 9 kilometres north of Yumthang Hot Springs.
Birdwatching in Yumthang Valley
Many resident and migratory birds call Yumthang Valley as home. Birdwatchers come here in hope for clicking pictures of blood pheasant and other endemic birds. I also saw a pair of Ruddy Shelduck or Brahminy duck (Tadorna ferruginea) in the Phuni Lake of Yumthang Valley.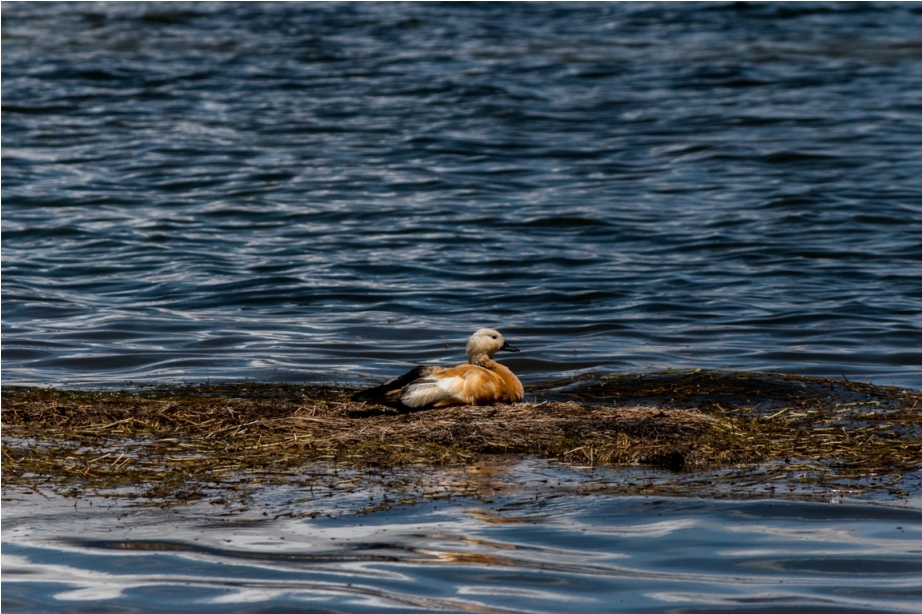 Fauna of Yumthang Valley
Faunal diversity of Yumthang Valley is impressive. Some of the mammals found in Yumthang Valley are as below. I am mentioning their local Sikkimese names as well.
Otter
Tibetan Red Fox
Siberian Weasel
Himalayan Serow or Gyara
Himalayan Brown Goral or Gya-rha
Blue Sheep or Nao
Tibetan Wolf or Chanco
Snow Leopard or Saagey
Red Panda or Hopthungka
Musk Deer or Kasturi or Lao
Himalayan Black Bear or Dthom or bhaalu
Top things to do in Yumthang Valley in winter
There are umpteen things to do with family and kids in Yumthang. So, what are the best experiences of the gorgeous valley of Yumthang in winter?
Trip to Zero Point
Play around in snow
Trek to Yumthang Valley
Visit Lachung Monastery
Excursion to Gurudongmar Lake
Top things to do in Yumthang Valley in summer
Activities in and around Yumthang Valley are many. Some of the best things to do in Yumthang Valley in summer are listed as below:
Photography
Bird-watching
Treks and day hikes
Take long leisurely walks
Visit Shingba Rhododendron Sanctuary
Some anglers and tourists also do Yak Rides and fishing in the rivers of Yumthang Chu and Puniya Chu. I do not recommend this due to ethical reasons. Animals and wildlife are not our slaves! Instead, you can spend time enjoying the above activities many of which are free thing to do in Yumthang Valley.
Excursions from Yumthang Valley
Not only Yumthang boasts of escape amidst nature and several refreshing getaways, it also leaves you rejuvenated and fulfilled. The scenic beauty of nature around Yumthang region is to be seen to be believed. Lachen Lachung and Yumthang Valley are also clubbed together by tourists due to their proximity.
Clubbing places together can also bring down the cost of travel as you do not have to pay for flight and local transport again and again. For example, the 2 nights 3 days package to Yumthang and Gurudongmar cost is also low-cost if booked together! This is why it is wise to book Lachung Lachen and Yumthang valley together like we did!
We had visited many Buddhist monasteries on our epic 15 days long trip across Sikkim. You can also plan a similar trip using this information packed guide on Yumthang Valley. Below are some of the best places to visit near Yumthang Valley.
There are many lesser-known places around Yumthang Valley. This detailed guide on Yumthang valley helps you plan your trip. It made perfect sense for us to include Yumthang Valley and Lachung on our half month Sikkim tour. You can easily club the Yumthang Valley with twin towns of Lachen and Lachung, Chopta Valley (Of Sikkim) along with Gurudongmar Lake which is also one of the rare highest natural lakes of the world!
Zero Point Yumthang Valley or Yumesamdong
Zero Point is not to be missed! Located at a high-altitude of a whooping 15,000 feet, Zero point is one of the best places to visit near Yumthang Valley. Pristine surroundings, tall snow-clad mountains, jaw dropping beauty etc make Zero Point a must-see place around Yumthang. Zero Point can be also called as Rohtang Pass of Sikkim. But there is no vegetation in Zero Point! Keep your eyes peeled for the scarce grassy patches here and there though! You can take a free walking tour here.
It is possible that while on certain days in winter, visit to Yumthang Valley is allowed but the access to Zero Point Yumthang Valley will be denied due to road blocked by snow.
Where is the Zero Point located in Sikkim? Zero Point or Yumesamdong is not exactly located within the main tourist area of Yumthang valley. Distance between Yumthang valley and Zero Point is 25 kilometers.
Why is it called Zero Point? Why is Yumesamdong called zero point? These are commonly asked queries. Have you ever wondered why is Zero Point called so? Zero Point is named so because this is where the road ends. It is the last point of all civilian roads. The road leading to Zero Point is challenging, therefore like us you should go with a trained driver who is familiar with the terrain.
What is there to do in Zero Point Yumthang Valley? Zero Point is also where the confluence of 3 rivers can be seen, the views of which are astounding. Many tourists love to drive down to Zero Point while some return back after the Yumthang Valley tour. What makes Zero point an exciting excursion is that it is the last motorable point in this region. Visitors, tourists and travelers are not allowed to visit beyond Zero Point because the Chinese border is located nearby.
What to expect at Zero Point? Do not expect much to eat here apart from the ubiquitous bowl of instant Maggi noodles. If only they sold authentic local food. Sigh! Zero Point being an unusual place to see in Yumthang Valley Region has very few facilities. And still Zero Point is one of the most popular points of attractions here.
Is there any snowfall in Zero Point? Yes, during winter Zero Point gets heavy snowfall. In fact, most tourists visit Zero Point for enjoying snow. The route to Zero Point may also be closed on some days in winters due to excessive snowfall.
The views at Zero Point are stunning. It is advised to visit Zero Point in spring or summer for even more gorgeous views. I personally like sunny weather and lack of snow. If that is your thing too then go for a summer tour of Zero Point near Yumthang Valley Sikkim.
Due to its height, it is also quite common to feel dizzy and nauseous here. I always eat Diamox, garlic and drink lots of water before visiting such high-altitude places. The breathing troubles are caused due to dropping oxygen levels at such high altitudes. Many people find it hard to breathe at such heights due to thin air. If you feel the same then immediately descend down to a lower altitude. That will solve all the symptoms of AMS.
Soul Window Travel Tips
Is Zero Point and Yumthang Valley same? No! It takes around 1.5 hours to reach Zero Point from Yumthang Valley and 3.5 hours from Lachung. This is why you should start early morning from Lachung.
Lachen
How can you visit Yumthang and not club it with Lachen along with Lachung. Like us, you can also opt for a Sikkim tour package for a tailor-made trip. Most packaged Yumthang Valley tours include a visit to Lachen as a default. The breath-taking views, Buddhist monasteries, good food, local Tongba drink, long leisurely walks keep tourists occupied in Lachen. You can also visit Gurudongmar Lake from Lachen.
Phuni valley Viewpoint
Phuni Valley Viewpoint, which is located just 18 kilometres ahead of Lachung is also a must-visit place near Yumthang Valley. People come to Phuni Valley viewpoint to learn and practise skiing. The wide-open spaces located above the snowline, is a must-see spectacle. Located at an elevation of 11,000 feet, Phuni Valley Viewpoint is a must-see excursion from Yumthang Valley for those who seek thrill and adventure! January, February and March are the best months to visit Phuni Valley Viewpoint.
Gurudwara Nanak Lama Chungthang
While returning from Yumthang Valley, I also visited Gurudwara Nanak Lama at Chungthang. It is located next to a huge water body with emerald coloured water, much like Gauri Kund in Tibet. This is where the road bifurcates to Lachen and Lachung. This is a historically important place because this is exactly where Guru Nanak Dev ji paid a visit when he returned back from Tibet during their 4th Udasi (Yatra). We even had chai and langar here (tea and food from free community kitchen) before returning back to Gangtok.
Festival of Yumthang Valley
Many Yumthang tour packages also include local festivals in the Yumthang Valley itinerary. It is a good idea to club a festival with your Yumthang trip. You can observe, experience and enjoy more for the same price. Now, who would say no to that!
Losar
Losar is the biggest festival celebrated in Yumthang Valley, Lachen and Lachung. It is a Buddhist festival which is celebrated with much fanfare here. You can also sit back and enjoy the various cultural shows and events that take place in places like Lachung during Losar. Lachung monastery for example is the best place to observe the Losar festivities.
For more immersive travel, you can wear the traditional dresses of local people, eat and drink their food and beverages and celebrate it the way locals do! Losar happens every year in the month of February or March. This is also the peak holiday season in Yumthang.
Vegan and Vegetarian Food in Yumthang Valley Sikkim
As a vegetarian, I was almost going to eat meat accidentally in a local dhaba of Yumthang Valley. We had stopped at a local wooden hut for a hot cup of tea. The lady in the house was cooking something on the stove. Salivating, I peeped inside the kadahi (vessel) for a better look. I asked her to serve some to me too. She was about to serve when I realised that it doesn't really look vegetarian.
I asked, "But wait a second! Is that meat?" She said yes! And I thanked my stars. I was about to eat it assuming it to be vegetarian. This is why never assume that the food is vegetarian when traveling to India, especially in North East India region which has a meat heavy culture. We left hungry and did our lunch only when we returned to Lachung which has a wide variety of options for vegans and vegetarians.
Thankfully, we did a heavy breakfast before leaving Lachung in the morning. Therefore, I highly recommend that you should eat a big meal in the morning before leaving Lachung. Also, carry water and some snacks in a day pack with you to Yumthang Valley. You can find healthy daal, steamed rice, bhaji, vegan momos and even authentic local food and fancy food in the homestay and resorts of Yumthang valley.
Drinks in Yumthang Valley
We had a huge serving of Tongba in Lachung and Namchi during our 10 days long Sikkim tour. It was the first time I was tasting this millet-based alcoholic beverage. I liked it so much that I had a second serving. Sipping slowly on Tongba over a bonfire on a cold wintery night in Lachung was one of my most favourite memories of travel in North East India.
Funnily, I also saw something else for the first time. As soon as we entered the Yumthang Valley, we saw few local men selling everything from beer to whiskey to rum on a road side table. Chakhna (snacks) were also being sold. We burst into giggles because we had never seen alcohol sold so openly as if it was water bottle. Not even in the chilled-out state of Goa, I had seen anything like this. We didn't buy it but if it excites you, do it (responsibly)!
Soul Window Observations
Tongba is quite popular in many places in Nepal. While heading for Kyirong in Tibet for Kailash Mansarovar Yatra, I saw the device to make Tongba at a homestay we were staying in the border town of Syabrubesi near the trek paradise of Langtang region of Nepal. Apart from Sikkim and places of Nepal, Tongba is also popular in Darjeeling of West Bengal which also has a sizeable population of Newari people of Nepal.
Is it safe to visit Yumthang Valley Sikkim?
Yes, despite being an isolated place, Yumthang Valley is one of the safest places I have visited in India or abroad. You will only see friendly locals and tourists here. Despite its desolate location, help is never away.
However, to be on a safer side, do not wander around away from your group or other tourists. It is also advised to not stay here after 5 p.m. The sun starts to set by 5:30 p.m. in Yumthang and most tourist leave by evening. If you are a solo traveller, you can get stuck here without a shared vehicle. Imagine being stuck in a desolate place in pitch dark while it snows.
Acute Mountain Sickness in Yumthang Valley
Be warned that if you already have an underlying medical condition or Asthma like issues, then the high-altitude of Yumthang Valley can cause trouble in breathing. If you feel uneasy, the best way is to immediately go down to lower altitude such as Lachung. AMS or Acute Mountain Sickness should be taken very seriously. The tourists must be well prepared for an emergency exit because there are no medical facilities available at Yumthang Valley. This is why always carry medication for high altitude sickness.
Souvenirs Shopping Guide to Yumthang Valley
I didn't see any souvenirs shops in Yumthang Valley. If you still want to buy something for back home, some of the souvenir shops are located in Lachen and Lachung. Gangtok has even more variety of souvenirs.
What currency is used in Yumthang Valley Sikkim?
INR or Indian Rupees are used everywhere in Sikkim.
ATM in Yumthang Valley
I didn't see a single ATM in Yumthang Valley. It is an inhabited place. Nearby Lachung has few ATMs but they may not work or run out of cash. Digital payment is not common in Yumthang Valley either.This is why I advise you to withdraw some cash in Gangtok which has far many ATMs in working condition.
Photography Tips for Yumthang Valley
During my winter visit to Yumthang Valley, I clicked some breath-taking shots of the snow landscape. Serene blue river piercing through the infinite snow fields make for a grand spectacle and a nice picture. Jacomijn used the opportunity well by posing for many Yoga shots against the breathtaking winter landscape of Yumthang Valley Sikkim.
In Spring and summer, you can take umpteen pictures of Yumthang Valley carpeted in various hues of flowers. 40 species of Rhododendron flowers also make for a nice subject for photography and videography in the months of March, April and May.
Hire local tourist guide in Yumthang Valley
We had visited Yumthang Valley with hired driver who doubled up as a local guide. However, there is not much you need a guidance to in Yumthang Valley. You can ask locals for hidden places like the Hot Water Springs etc. Hiring a local guide also helped us save time and save money. It also added to our comfort.
Languages spoken in Yumthang Valley
Sikkimese, Bhutia, Nepali and Lepcha are some of the most common languages spoken in Yumthang valley and elsewhere in Sikkim. English and Hindi are also spoken and understood by many here. Our driver and homestay owner in Lachung spoke very good Hindi.
Toilet facility in Yumthang Valley
There are hardly any public toilets in Yumthang Valley. You can visit a local dhaba for a tea break.  They can guide you to the nearest toilet.
Entry fee in Yumthang Valley
We entered Yumthang Valley from a huge gate built in Sikkimese and Buddhist architectural style. "Shingba Rhododendron Sanctuary", the gate announced. A small building with slopy green roof called itself as 'Rhodo Reception Centre'. We stopped here for sometime to complete formalities.
Most of the places of interest in Yumthang Valley are free to visit.
Backpacking Budget Travel Tips for Yumthang Valley
The only thing we spent in Yumthang was literally on the cab charges and fuel only. Most of the tourist places in Yumthang Valley are free to visit! Despite being drop dead gorgeous, most of the places to see in Yumthang Valley are free to visit. You can take shared cabs from Lachung to make your Yumthang trip even more low cost.
Solo Trip Tips for Yumthang Valley Sikkim
Solo trip to Yumthang Valley can be easily planned. If you are a solo traveller on a budget like me, then you can keep the costs low by taking public transports and eating at local restaurants and dhaba. Though, Yumthang valley is not as easy a solo travel destination like say, Pushkar in Rajasthan or Shri Jagannath Temple of Odisha, however it is still easily doable.
Luxury travel Tips for Yumthang Valley
There is not much you can spend on in Yumthang Valley. You can stay in a luxurious hotel and resort in Lachung. They offer the best of amenities. You can also book a luxurious car from Gangtok or Lachen to Yumthang Valley. The Innova we hired was spacious, neat and luxurious.
Where to stay in Yumthang Valley
Can I stay in Yumthang Valley? Is there accommodation available in Yumthang Valley? No! Surprisingly, Yumthang is one of those rare places I have visited in India where there are no hotels. You can visit Yumthang Valley only in the day, from sun rise to sun set. Most tourists leave Yumthang before sunset.
While walking around, the only human intervention I saw here included a weather-beaten Buddhist Stupa, few well-maintained concrete buildings, several tall Buddhist flags and even few wooden huts which seemed abandoned. We visited one of the concrete buildings which turned out to be Forest Inspection Hut.
This is a complete section on the stay options in and around Yumthang Valley. Sikkim Cab Rental Co. had also arranged our stay and food throughout the 15 days long trip. You can choose a hotel as per your preference and budget.
Resorts and hotels in Yumthang
Yumthang Valley hotels do not exist. It is not allowed to stay overnight thank to lack of infrastructure, proximity to Tibet in China and extremely cold weather conditions. Thanks to the Government restrictions on the movement of tourists in Yumthang Valley, building resorts and hotels are not allowed here. There are not any places in Yumthang valley where you can stay. While you can-not stay in a homestay in Yumthang, you can do that in Lachung, like we did.
Stay in Gangtok
We stayed in Tag Along backpackers hostel in Gangtok before we left for Lachung and Yumthang.
Stay in Lachung
Most of the tourists, whether Indian or foreigners stay in Lachung, which is also the nearest inhabited town from Yumthang valley. We had also stayed in a local home-stay in Lachung and made a day trip to Yumthang valley.
Some of the nice hotels in Lachung are
Yarlam Resort
Golden Valley
Season House
Le Cozy Resort
Fortuna Resort
Apple Valley Inn
Modern Residency
Cliff View Residency
Summit Alpine Forest
Yumthang forest rest house
The only major permanent residence located within Yumthang is a forest rest house. Having said that, I must also share a hack with you. If you have the right permissions, you can also stay overnight in the forest rest house of Yumthang.
What to wear in Yumthang Valley
What do I pack for the Yumthang trip? No matter which season you visit Yumthang valley in, always carry warm clothes with you. It is cold here throughout the year. You can also carry clothes in bright colours of yellow, red, green etc. These clothes will make you stand out against the snow-white backdrop of the gorgeous holiday destination of Yumthang.
You can also carry Diamox tablets to fight Acute Mountain Sickness or AMS. Avoid Diamox if you are allergic to sulphur-based medicines. Drinking lots of water and having garlic equally helps. Also pack in essential toiletries as there are very few shops in Yumthang and Lachung. Wearing Sturdy shoes helps me navigate through thick snow, so wear good quality shoes as well. Wearing multiple layers of clothes also helps.
Did you know that in Yumthang, you can also rent out clothes and other things such as overcoats, snow boots, gloves and other winter wears.
Also carry cash because we didn't find any ATM here. I like to travel light, which I why I pack only essentials. We had anyways left all our luggage in the home-stay of Lachung and carried just water to Lachung. But that is just me being me, eh!
Timings of Yumthang Valley
During our stay in Lachung, as soon as we got the news that Yumthang Valley is open for tourists, we headed for the same as early as possible in morning. Leaving early in morning has many benefits such as comparatively lesser crowds and less chances to get stuck in adverse weather conditions. Since I spent 3 months in North East India, I realised that it gets dark very early here.
Since Indian Standard time (IST) is the time zone which is observed across all the Indian states, so if it is bright and sunny at 5 p.m. in say, Lucknow, it could be dark and cold in Sikkim. Therefore, due to the uniform time zone of India, it gets dark early in Yumthang. This is also why it starts to get dark in Yumthang Valley as early as 5:30 p.m. The roads also become very foggy after dark. It also starts to get colder here post afternoon. Now you know why I recommend that you should visit Yumthang Valley as early in the morning as possible.
Can we travel to Yumthang valley at night?
No, Yumthang valley is closed for tourists after dark. Even if it was open, it would have been still pointless and unsafe to visit Yumthang valley in night. This worth visiting tourist destination has its own limitations.
Is Yumthang Valley open now?
When in Yumthang Valley closed? There are days when the Yumthang Valley remains closed for tourists in the months of December, January, February and March due to the heavy snowfall in the region. We were lucky that it was open during our visit!
On some days, when heavy snowfall carpets Yumthang Valley in a thick layer of snow, it can remain closed. It is possible that during your visit to Yumthang Valley in the winter months of December, January, February and even beginning of March, the valley may remain closed due to snowfall. However, fret not if you are lucky, you can still visit Yumthang valley in winter.
During our visit to Yumthang Valley in January, we were staying in the nearby Lachung. We had little hope of visiting Yumthang Valley because on our first day in Lachung, it was closed for tourists because it had snowed heavily since morning. We were surprised because Lachung didn't have any snow. However, the next day we were overjoyed when our local homestay owner told us that the road has now been cleared of snow for the tourists to enjoy. This is how, we ended up enjoying the winter wonderland of Yumthang Valley in the month of January.
Soul Window Travel Tip
When visiting Yumthang Valley in winter, do check with local guide, owners of homestay and hotels and even local people if Yumthang Valley is open or not. The local people and people employed in Yumthang Valley tourism know the best about the weather condition, temperature and climate of Yumthang Valley. If open, visit Yumthang Valley as soon as possible in the morning so that you are saved from sudden closing of the valley.
Can we visit Lachung now? Yes, Lachung is a year-round destination which is always open, irrespective of which month you visit.
Yumthang Valley snow season
Is there snow in Yumthang Valley? Does Yumthang Valley have snow? People who know that I visited Yumthang Valley in winter, keep asking me these frequently asked questions. There is no straightforward answer to this. Snowfall depends on the time and season you are visiting Yumthang in.
So, is there snowfall in Yumthang Valley? Yes, in fact, Yumthang valley is one of the best places in India where you can have an incredible snow experience. Personally, snowfall or fallen snow doesn't excite me much. I refer spring or even autumn season for a visit to the hills. But if it is your dream to walk through thick sheets of fresh snow against a breath-taking backdrop of benevolent Himalayan giants, then Yumthang Valley is the best option, especially in the remote North East India region.
Many people also ask me: Is there snow in Yumthang Valley in January? Since I visited Yumthang Valley in the month of January, I witnessed the snow paradise that it becomes in winter.
Is snow available in Lachung? No! During my January trip to Yumthang valley, I surprisingly didn't see any snow in Lachung, while Yumthang was carpeted in thick layer of snow.
Skiing in Yumthang Valley
Very few people know that it is possible to do skiing in Yumthang Valley. During my solo, independent travels since 2008, I have hardly seen any places in India which offer skiing to tourists. Auli in Uttarakhand and Gulmarg in Kashmir come to mind when I think of skiing in India. You can get in touch with a local tour operator if you are keen to try skiing in Yumthang Valley. Skiing is a very unique thing to do in Yumthang Valley.
Yumthang Valley Weather, Temperature, Climate and Season
How is the Yumthang Valley Weather and Temperature? Despite remaining cold throughout the year, Yumthang Valley witnesses all seasons such as beautiful spring, balmy summers, messy monsoon, vibrant autumn and harsh winters. Yumthang Valley temperature varies from season to season. I am explaining in detail below:
Best Time to visit Yumthang Valley?
Which is the best time to visit Yumthang Valley? How is the weather of Yumthang Valley? People also ask me these questions frequently. Although Yumthang Valley is a year-round destination, traditionally tourists like to visit Yumthang valley in months of February, March, April, May and mid-June. This is when the Yumthang weather is at its beast. However, I visited Yumthang Valley in the off season of January and it was equally enjoyable. I saw many tourists visiting Yumthang in January.
Autumn months of September and October have good weather in Yumthang Valley. During my January visit to Yumthang Valley, I enjoyed sunny Yumthang weather, clear blue sky and abundant snow. Yumthang Valley beauty beckons!
Yumthang Valley flowering Season
What is the best time to visit Yumthang flower valley? When can we see flowers in Yumthang Valley? I am sure these questions crossed your mind as well. March, April, May, mid-June are good months if you want to see flower blooms. It is also possible that on some days of may end and June, valley can remain barren and flowerless.
This is why March and April are the best flowering months in Yumthang Valley. I am explaining the seasons of Yumthang in great detail in this exhaustive blog so that you can plan the trip as per your taste and liking. Hope you are enjoying the deep insight I am sharing in this travelogue. Such information is not found in old school, traditional guide books or even You Tube V Logs. My blog A Soul Window counts as the No.1 Indian Travel Blog.
Winter
I visited Yumthang Valley in the extreme winter month of January. It is the off season here but I enjoyed visiting in winter. It was very cold in Yumthang when I visited despite being bright and sunny. However, despite the cold, it was very easy for me to move around without shivering. I wore a down jacket and layering of clothes and that helped. The evenings were warmed by Tongba and bonfire.
You should be cautious of visiting Yumthang Valley in winter if you have ageing parents and kids below the age of 6 or 7. Though Yumthang Valley is cold throughout the year due to its geography and altitude, I found it to be very cold in winter.
Winter in Yumthang starts from December and lasts till as late as March. December, January and February are the coldest months in Yumthang Valley. Be warned, March can also be very cold (but manageable) here. Expect temperatures in Yumthang valley during winter to hover between 6° Celsius to -11° Celsius. The valley is entirely covered in snow during winter months.
Winter is also the time when the sky is clear and you can enjoy the views of snow-capped mountains. You can also indulge in winter sports.
Soul Window Travel Tip
Losar: If you want to experience the Buddhist Losar festival, then plan a trip to Yumthang in February or March. The dates keep changing every year. You can conform the dates of Losar online or with your tour operator. Losar is when the festivities are at a peak, especially around Lachung and Lachen. You can see local people celebrating wearing their best traditional clothes. Cultural shows are also common during Losar.
Spring
The months of February, March, April, May and mid-June are the best months if you want to see the Yumthang valley turn into a valley of flowers. Spring is also when the entire Yumthang region is carpeted with primula and rhododendron flowers.
Why I love going to hills in spring is because this is when a riot of colours blankets the valley. It is a visual spectacle created by nature on a grand canvas. Not many people know but spring is actually the best time to a pay visit to Yumthang Valley North Sikkim.
Summer
Summer is the best time to visit Yumthang Valley. The local people observe a very unique practise known as yaylag pastoralism. In summer season, when the weather is crisp and Yumthang is bereft of any snow, the fields are inundated with grass, making it ideal for grazing. This is why, in summer, the local villagers move to Yumthang with their cattle such as cows, yaks etc. Expect snow enveloped mountains and clear skies in September, October and December. The minimum and maximum temperatures in Yumthang valley during summer range between 7° Centigrade to 18° Centigrade.
Summer months in Yumthang Valley are March, April, May and June. It is also possible to experience a sudden shower during summer in Yumthang. If it rains, it will obviously bring down the temperature.
Monsoon
Abundant rainfall, brought by the South-West monsoons, lash the Yumthang Valley in the monsoon months of July, August and September. It is still possible to visit Yumthang in rainy season, if you take precautions such as carrying umbrella, raincoat and windcheater etc.
On many days during the rainy season, access to the Yumthang Valley Sikkim is restricted due to road blockages etc. Such unfavourable weather conditions may hinder travel to Yumthang. To give you a fair idea, Yumthang Valley in November is pleasant while Yumthang Valley in December can be bone chilling cold!
Monsoon months in Yumthang Valley are late June, August and September. Expect torrential rainfall, thunderstorms and even frequent landslides. This is why most tourists avoid visiting Yumthang valley in rainy season. Expect minimum and maximum temperatures in Yumthang to hover between 8°C and 8°C in monsoon season.
Autumn
October and November make the autumn season in Yumthang Valley. Powered by monsoon, you can also see many flowers in Yumthang Valley during autumn. Expect minimum and maximum temperatures in Yumthang to hover between 10°C and 15°C in autumn season respectively.
Duration of Visit in Yumthang Valley
How many days are enough for Yumthang Valley? I am often asked: How many days to spend in Yumthang Valley? This is a frequently asked question. The answer is very simple and straightforward. What can I do in 1 day in Yumthang Valley? All tourists visit Yumthang valley only as a day trip from Lachen or Lachung. Most people like us travel from Gangtok. The tourists stay at either Lachung or Lachen overnight and make a day trip to Yumthang valley the next day.
What can I do in 2 days in Yumthang Valley? No one stays in Yumthang valley for 2 days. People are allowed to make only a day trip to Yumthang Valley North Sikkim.
If you want to visit Lachen Lachung Gurudongmar Lake, Yumthang Valley, Zero point and Kala Paththar and Tsongmo Lake on the same trip, the of course you will need more days in North Sikkim.
Itinerary for Yumthang Valley
Arrive in Gangtok
Start from Gangtok
Arrive and stay in Lachen or Lachung
Visit Yumthang valley early morning
Return
Protected Area Permit or PAP for visiting Yumthang valley and Lachung
Do I need permit to visit North Sikkim? Did you know that Yumthang valley in North Sikkim is located very close to the Tibetan border of China? This is why I noticed heavy presence of Indian army. Protected Area Permit or PAP is hence required if a tourist wants to visit the remote Yumthang valley. Without the permits, the valley is inaccessible. The security is very strict here.
In our case, our permits were arranged by tour operator Yogesh Sapkota of Sikkim Cab Rental Co. He had arranged for our permits even without a need to visit office. We just had to share our documents such as 2 passport size photographs and Identity card over WhatsApp with him and everything was sorted. Our forms were filled by the tour operator we went with. Many tour operators do it easily because they are already well versed with the security guidelines and the local officers who grant permission.
If you want to obtain travel permits by yourself, you can do so at the
While I and Jitaditya are Indians, Jacomijn was a foreigner. However, she was also able to visit Yumthang with the right permits. Here is my detailed guide on permits required for foreigners in Sikkim. I have written in great detail about the permit you will require. Once we had permits, it was smooth ride for us.
Do we need permit for Zero Point? Yes, a permit is required for visiting Zero point as well even if you are an Indian citizen of foreigner.  How do I get a permit for Lachung? The same permit allows visit to Lachung as well as Yumthang Valley. This rule applies at most Indo-Chinese borders.
Local Transport for sightseeing in Yumthang Valley
There are no local transports available in Yumthang valley. You need to hire a private taxi or rickshaw from Lachung to Yumthang valley. In case, you are a backpacker on low budget, you can take shared cabs from Lachung to Yumthang valley. If you book a taxi, make sure they wait for you while you do sightseeing in Yumthang valley because it is almost impossible to find a taxi from Yumthang.
How to reach Yumthang Valley
How do I get to Yumthang Valley? There is no way you can reach Yumthang Valley directly. You will have to make a day trip from Gangtok or Lachung and Lachen. I highly recommend visiting Yumthang from Lachung. I think that 3 nights 4 days package to Yumthang and Gurudongmar is also a great idea. There are several Yumthang Valley tour packages which can be customised as per your needs and taste. Yumthang Gurudongmar Package tour cost can depend on the facilities you wish for. Many tourists also do Pelling to Yumthang Valley circuit.
Yumthang makes for an excellent weekend break from Gangtok and Kolkata. Below are all possible ways to reach Yumthang Valley:
Road Trip
Yumthang Valley beauty can be equally enjoyed from the window seat of a car. We travelled all the way from Gangtok to Lachung in a comfortable Innova Car. We stayed in Lachung and made a day trip to Yumthang Valley on the next day of our arrival.
Most tourists stay overnight in Lachung, if they also want to club Yumthang Valley. If you have a private car, then you can also club the nearby Lachen and the most popular place in North Sikkim, i.e., Gurudongmar Lake. This is how we did it.
We also passed through interesting signboards such as, "Do not gossip, let him drive!"
Cab from Gangtok to Yumthang Valley
Lachung to Yumthang taxi fare is not much! Gangtok to Yumthang Valley taxi fare varies from tour operator to tour operator. We had hired a private cab for the Sikkim Road trip. While we were on our way towards Yumthang Valley from Gangtok, we came across several gushing waterfalls and water streams along.
We also witnessed grand views of the tall peaks with Pauhunri and Shundu Tsenpa. This is why I feel that Yumthang Valley tour is best enjoyed in privately hired cars. This is why we booked a Yumthang package for the convenience it brought us. Gurudongmar Yumthang package is also easily available. You can confirm cab fare from Gangtok to Yumthang Valley before booking.
Shared cab
If you find the Yumthang tour package to be expensive then you can also take a shared cab from Gangtok to Lachung. It costs much lesser. From Lachung, you can join a group tour to Yumthang Valley Sikkim.
By Bus
Yumthang Valley Bus route is same as that of car and cabs. You can catch a bus for very less price. Though the services are not very frequent.
By Air
Pakyong airport of Gangtok or PYG is the closest airport from Lachen, Lachung and Yumthang Valley. Private taxis, shared cabs and buses to Lachung are available from Pakyong airport of Gangtok. Bagdogra airport (IXB) of West Bengal is another option tourists use for visiting Yumthang.
By Train
Nearest big railway station from Yumthang valley is located in New Jalpaiguri and Siliguri, both in West Bengal. Station Code for New Jalpaiguri is NJP.
Gangtok to Yumthang Valley
Despite the small distance, it takes longer to arrive at Lachung and Yumthang Valley from Gangtok because of the winding hilly roads which slow down the speed of car. It is a beautiful journey. We saw several big and small waterfalls, exotic landscapes, dense forests, snow patches. Despite traveling in winter, we never had to drive on snow laden paths on the Gangtok- Yumthang Valley route. We stayed overnight in the picturesque hill station of Lachung and visited Yumthang Valley the next morning. Both Yumthang as well as Zero Point are visited as a day trip by all tourists who keep Lachung as base.
You can also book tour package from Gangtok to Yumthang and Lachung. Some tourists, depending on the time they have and their budget, also opt for package tour from Gangtok to Yumthang and Gurudongmar. We took the same route for Yumthang Valley to Gangtok.
Lachung to Yumthang Valley
It took us1 hour to travel from Lachungto Yumthang Valley in a car. Lachungis 25 kilometres away from Yumthang Valley. You can take longer if you take stops in between. We saw many yaks and beautiful vistas on the route between Lachungand Yumthang Valley. This is why many people stop en route. It is one of those places where the journey itself is a destination. The lack of civilisation and wide-open spaces as soon as we entered Yumthang Valley from Lachungwas worth writing home about!
Distances from Yumthang Valley
There are many exciting tourist magnets around Yumthang Valley. With the help of below distance chart, you can plan a trip to Yumthang valley. You can also club many of the places mentioned below with your Yumthang Valley tour.
Below is a detailed chart of distances of major tourist destinations from Yumthang Valley in ascending order.
Distance between Zero Point to Yumthang valley is 25 kilometres and it takes 1 hour.
Distance between Lachung to Yumthang valley is 25 kilometres and it takes 1 hour to 1.5 hours.
Distance between Lachen to Yumthang valley is 71.7 kilometres and it takes 3 hours and 30 minutes via Lachen road.
Distance between Gurudongmar Lake to Yumthang valley is 140 kilometres and it takes 5 hours via Gurudongmar road.
Distance between Gangtok to Yumthang valley is 142 kilometres and it takes 5 hours via Singtam-Chungthang road.
Distance between Darjeeling to Yumthang valley is 195 kilometres and it takes 7 hours and 20 minutes via Singtam Chungthang Road.
Distance between Siliguri to Yumthang valley is 211 kilometres and it takes 7 hours and 40 minutes via NH10.
Distance between New Jalpai guri or NJP to Yumthang valley is 215 kilometres and it takes 7 hours and 45 minutes via NH10.
Yumthang valley Tour Package
Yumthang Valley package tour cost depends on what you want from the holiday! The Yumthang Valley package we took was reasonable priced and covered all the sightseeing places of Sikkim.
Conclusion: Is Yumthang Valley worth visiting?
Why visit Yumthang Valley? Here are my final thoughts! Yumthang Valley is where the magic of nature can be seen in all its glory! The breath-taking surroundings and scenic views of Yumthang Valley left me spell bound during my visit!
So, is Yumthang Valley worth a visit? Yes, to sum it up, I feel that places like Yumthang Valley, which is a great weekend escape from Kolkata and Gangtok, are best enjoyed with family and friends in both summer as well as winters.
In a nutshell, Yumthang valley offers some of the most unique experiences. The bottom line is that spending merely a day in Yumthang Valley can leave you refreshed for days. To summarize, you must plan a Yumthang Valley tour using this information packed guide for a holiday which you will remember for a long time!
The view from my Soul Window changes colors like a chameleon!
Pin this blog to save the blog and plan a trip later!
Related Blogs
Lachung
Ravangla
Char Dham Namchi
11 days Sikkim winter itinerary
Things to know about Goecha La
Top Travel Blogger from India