Last Updated on October 11, 2022 by asoulwindow
Dubai in 3 days itinerary
Dubai in 3 days itinerary can be a lot of fun if you do it right! Many American and European travelers visit Dubai and other tourist places of United Arab Emirates for a long luxury holiday. Not only does Dubai have umpteen luxury facilities but also boasts of several world class experiences. How to spend three days in Dubai? I am sharing this information packed 3-day Dubai itinerary so that you plan well in advance.
Looking to spend three full days in Dubai? With so much to see and do in a compact space, pre-planning is a definite must, so that you get the best out of your limited time in Dubai. That's why I have brought this 'three days in Dubai itinerary' for you.
I have visited all the major tourist attractions of Dubai, Sharjah and Abu Dhabi many times, so I have a good knowledge on these places. I had also experienced a memorable Fort Kochi to Dubai cruise which left me with lasting memories. This comprehensive itinerary of Dubai in 3 daysensures that you will see all the must-see places in Dubai, however without leaving out the region's hidden gems and little-known cultural hubs. So, let's dive in!
3 days in Dubai can be packed with a lot of action and is a lot of fun! Here is all you wanted to know about 3 days in Dubai!
Day 1 in Dubai: City Tour, Burj Khalifa, Dubai Mall & Dubai Fountain
Morning till Afternoon
This 3 days in Dubai itinerary includes all the major places of interest in Dubai in the half day city tour. Soaring skyscrapers, fantastic sights and classic structures –a guided city tour is probably the only way to see all of them in a few hours. But, to make the most of it, make sure that you sign up for your hassle-free sightseeing tour through the most reputable service provider or best DMCs in Dubai. The rest is assured that you will see both iconic and lesser-known attractions in the company of an experienced, knowledgeable guide.
With roundtrip transfers, you will drive through the city's stunning boulevards and neighborhoods including Sheikh Zayed Road, Jumeirah area etc, besides convenient stops at Old Dubai, Dubai Museum, Jumeirah Mosque, Atlantis, The Palm Resort, and Madinat Jumeirah. This three days in Dubai itinerary covers all the major attractions.
Afternoon till Night
What to see in Dubai in 3 days? Thanks to my several visits to Dubai, it is one of the most frequently asked questioned posed at me. 3 day itinerary for Dubai packs in a lot of fun filled sightseeing!
After sightseeing, you will spend the rest of the day exploring the perennial sights and sounds of Downtown Dubai. This 500-acre modern neighborhood in Dubai is home to some of Dubai's most record-breaking attractions, mainly Burj Khalifa – the world's tallest building at a height of 2716 feet or 828 meters.
To gain access to Burj Khalifa's captivating interiors, you can get tickets to its observatory decks on 124th level or 148th level or both. Did you know it is the highest observation desks of the world. The whole of Dubai will be right beneath your feet as you stand on these astonishing viewing platforms. You also get to enjoy one of the fastest elevator rides and watch an intriguing display on the Emirati past on your Burj Khalifa tour.
You will next proceed to the Dubai Mall – a huge mall that is crammed with endless shopping, dining and leisure choices. Refuel your energy at the mall's colossal food court or head to the dining venues spread over the mall. Shoppers' can check out over 1,200 outlets (including the flagship stores of some of the most renowned brands), while adventurists and pleasure seekers are spoilt for choices with Dubai Ice Rink, VR Park, Ekart Zabeel etc. The mall also has a dedicated attraction for your little ones from 2 to 16 years, namely, KidZania Dubai.
As the night falls, step out of the mall to see the stunning Dubai Fountain Show, which is set at Burj Lake, against the backdrop of Burj Khalifa. Whether you are watching this for the first time or not, one thing is sure that you will never get tired of enjoying this aquatic performance in unmatched sync of music and light. This is a free attraction but you can reserve for yourself a premium vantage point to watch it up-close without any hindrance (for a nominal charge), such as Dubai Fountain Boardwalk or Abra Ride at Burj Lake.
Alternative Experience for Day 1
If much like me, the vivacious vibe of Downtown Dubai doesn't excite you, make a beeline to the souks or traditional Arabian bazaars that dot Bur Dubai and Deira areas. Personally, I felt that visiting Bur Dubai was the best part of my 3-day Dubai itinerary. I prefer soulful places with local culture, vibrant streets, people to people connection, rich traditions, authentic food and a little chaos! I know many people from U.S.A., Europe and Australia who prefer such places as well.
The glitzy part of Dubai can be soulless at times. This is when Bur Dubai comes to rescue. The vibrant streets, plethora of dining options, a polyglot culture and low-cost makes Bur Dubai a part of my personal 3-day Dubai itinerary. I am sharing these Dubai travel tips based on my own travel experiences and learnings!
Enjoy bargain shopping, eat on the go at its modest alfresco dining venues, hang out at Dubai creek, take the cheap dhow ride to cross the Dubai creek, visit Al Fahidi fort, visit museum, visit art galleries, explore souks and admire the unique old-world charm that cloaks this part of the city. A day trip to Bur Dubai never gets boring! What's not to love!
Day 2 in Dubai: Visit a Theme Park & Desert Safari
How to spend 3 days in Dubai in a fun way? Dubai is known for its fun and adventure packed attractions and activities. So, why not dedicate your second day in Dubai for the most thrilling experiences? 3 days in Dubai can leave you with lasting impressions!
Morning till Afternoon
You can utilize this time to tour one of the region's amazing theme parks. If you wish to experience snow and winter in the middle of the desert city, you must definitely drop into Ski Dubai at Mall of the Emirates; this indoor park is a haven to try snow activities like skiing, sledging and snowboarding to name a few.
Dubai 3 day itinerary has more in store! Now if you adore rides based on Marvel superheroes, Cartoon characters and dinosaurs, IMG Worlds of Adventure featuring five themed zones is your go-to theme park destination. Moreover, there is Dubai Parks and Resorts (with four distinct parks in its premise) for hardcore theme park fanatics.
Afternoon till Night
There are so many interesting places to visit Dubai in 3 days. Following a light lunch, embark on a guided desert safari organized through a professional desert safari company. This will take you away from the city center to the untouched and isolated desert landscape. Immerse yourself in the beauty and serenity of golden sands as you set out for an electrifying 4X4 dune bash session and further enjoy activities like sand boarding and quad biking. Isn't it the most exciting part of 3 day itinerary for Dubai? Adventure lovers like me, raise your hands!
You also get to take part in cultural activities that gives you an insight on the region's Bedouin's culture, such as henna tattooing and Shisha smoking. Before the safari ends, you will feast on a lavish, buffet style BBQ dining and watch traditional folk performances including the dizzying Tanura show and Belly Dance. These activities are the highlights of most 3 day Dubai itinerary.
Alternative Experiences for Day 2
What to do in Dubai for 3 days? If you want to skip the above experiences or looking for alternatives, there are tons of other exciting options. For instance, if you have already seen Dubai's desert or want to stay away from extreme actions, you can swap your desert safari tour with Global Village tickets. For those who are not aware, Global Village is a seasonal attraction that is open only during the winter months from October to April. You can look forward to visit 27 pavilions that represent over 80 countries here.
Day 3 in Dubai: The View at the Palm, Inside Burj Al Arab Tour, Ain Dubai & Dinner Cruise at Dubai Marina
This is the final day of the fun-filled 3 days in Dubai. Today, after breakfast, you will head out to see some of the city's newest attractions and tours. You can choose from one or two of the following or opt to enjoy all dependent on your preference.
Start off the day by enjoying the best view
For this, simply make your way to the View at the Palm! This brand-new observation deck in Dubai has been designed to provide visitors with an exclusive access over the whole of the giant, palm-tree-like, man-made island of Palm Jumeirah. Until its launch in 2021, the only way to take in this view was to go on an aerial tour like helicopter ride. But, with this standpoint on the 52nd level of Palm Tower, you can catch this view without really shelling out a fortune.
Inside Burj Al Arab Tour
There is no dearth of luxury hotels in Dubai, but the sail-shaped Burj Al Arab (opened in 1999) continues to stand out from all for its surreal settings, unequaled comforts, and mostly, dreamy location on its own private island. Till recently, access to its interiors was reserved for its elite guests only.
The good news is that anyone can now catch a glimpse of its otherworldly luxuries, thanks to the dedicated Inside Burj Al Arab tour. It is a butler guided tour that allows you to see some of the royal comforts and uber opulent segments that encompass this all-suite, five-star hotel. This little-known experience something which will attract many tourists from U.S.A., Australia and Europe.
Ain Dubai: Gem of 3 day itinerary Dubai
This latest marvel in Dubai is the centerpiece attraction of Bluewaters Island – a captivating waterfront neighborhood. Opened in 2021, it is the world's largest observation wheel that takes you to a height of over 250 meters during the approximately 40 minutes ride. You will enjoy the ride in one of its enclosed and air-conditioned capsule and the best thing is that you can select from shared or private ride. It is the highest observation wheel of the world. Kids surely will enjoy this ride. It might even end up becoming their favorite part of 3-day Dubai itinerary.
Dinner Dhow Cruise at Dubai Marina
Give a relaxed wrap up to your Dubai holiday by taking a dhow cruise at Dubai Marina that is known for its pulsating vibe, packed with the stylish ever architecture. This 90-minute-long cruise aboard a traditional wooden Arabian vessel treats your senses with an atmospheric sail enhanced by buffet dining, traditional shows (like Tanura) and of course, the breathtaking views.
There are enough food options for both vegans and vegetarians as well. A lavish Mezze platter featuring mouthwatering dishes such as Hummus, Baba Ganoush, Labneh, Lebanese tabbouleh salad, Muhammara dip etc will keep you busy! I am a vegetarian and I love to feast on Mezze Platter when traveling in Middle East.
Alternative Experiences for day 3
If you want to make your cruise activity in Dubai a more refined experience, there are high-end yacht charter tours available on hourly basis. You can easily include this unique luxury experience in your tailor-made 3-day Dubai itinerary.
What to do in Dubai for 3 days?
3 days in Dubai can be a lot of fun if you do it well. Things to do in Dubai in 3 days are many. You can choose the activities which appeal to you depending upon your likes, requirements and budget. Some of the most popular things to do in Dubai under 3 days are as below:
Things to do in Dubai in 3 days
Do Skiing
Tea Tasting
Visit Atlantis
Do Sledging
Dune Bashing
Dubai Museum
Do Desert Safari
Visit Dubai Mall
See skyscrapers
Visit Burj Khalifa
Visit Theme Park
Visit Art Galleries
Visit Al Fahidi Fort
Do Snowboarding
Visit Global Village
Enjoy Dhow cruise
Enjoy Belly Dancing
Visit Jumeirah area
Watch Tanura show
Hire a high end Yatch
Dubai Fountain Show
Visit 'The Palm Resort'
Visit Jumeirah Mosque
Enjoy Barbeque Dinner
Take a ride in Ain Dubai
Visit Bur Dubai and Deira
Walk along Dubai Marina
Visit IMG Worlds of Adventure
Take Inside tour of Burj Al Arab
Visit Observation deck of Burj Khalifa
Take helicopter ride for stunning views
Visit Souks of Dubai in 3 days
Below are some of the best souks of Dubai. Some of it are located at walking distance from each other in old Dubai or Bur Dubai.
Visit Gold Souk
Visit Spice Souk
Visit Dubai Creek
Visit Perfume Souk
Visit Textile Souk
Visit Souk Madinat
Visit Ripe Market
How much do I need for 3 days in Dubai?
3 days in Dubai budget depends upon a lot of factors and differs from tourist to tourist. Dubai can be as cheap and as expensive as you want it to be. On one of my Dubai trips, I visited with my friends on a small backpacking budget. We were able to spend very little money by taking metro trains, staying at walking distance from Metro Stations, eating at Indian restaurants and visiting free places to see in Dubai such as Dubai Mall and the fountain show etc.
However, if you are into luxury then, sky is the limit. There is no end to how much money you can spend in Dubai in 3 days. Your Dubai budget for 3 days depends entirely on the activities and experiences you choose to include. For example, money spent on a stay in Burj Al Arab is same as what you would spend on a 2 months long backpacking trip across India or South East Asia.
Are 3 days enough in Dubai?
Is 3 days enough to see Dubai? As you have seen above, much of all that Dubai has to offer can be easily covered in 3 days. You can either explore Dubai solo like me or buy the 3 days Dubai tour package. On my own visit, I was able to visit all the top places to visit in Dubai in 3 days. You can also book a similar Dubai tour.
Some tourists also tale 3 days cruise from Dubai which covers all the sightseeing places at a slow pace. If that is your thing then you can go for it. It will surely be a unique experience.
Where to stay in Dubai for 3 nights?
There are many luxury resorts as well as budget hotels and hostels in Dubai where you can stay for 3 nights in Dubai. Depending on my own experience, I would suggest staying in a central location or well-connected place so that you make the most of 3 days in Dubai. To cover all the places and activities of Dubai itinerary 3 days, it is important to choose the location of the hotel wisely. It is also a good idea to stay near Dubai international airport.
How many days in Dubai?
How many days do you need for Dubai? 3 days Dubai itinerary packs in a lot more you can think of! Since I have seen the best of Dubai in 3 days, in my opinion, 3 days as great for Dubai. You can easily cover all the tourist sites of Dubai within 3 days. Many good Dubai tours packages also help with seeing more of Dubai within 3 days.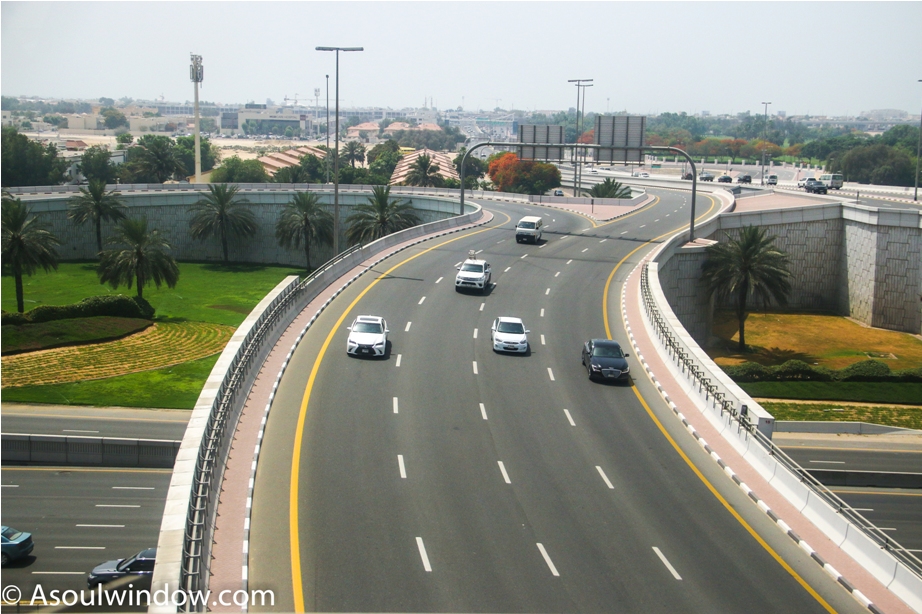 Conclusion: Final Thoughts on Dubai in 3 days itinerary
Is it worth going to Dubai for 3 nights? It is a commonly asked question about 3 days in Dubai. Yes, 3 days are more than enough in Dubai if you have less time and budget. Dubai is an Arabian city that you will never get bored of exploring. Be it your debut visit or even 10th or 50th visit, not every Dubai holiday is same.
Dubai boasts of iconic mega structures that are timeless on one side and the brand-new attractions that are simply out of the world on other. And I can vouch for the fact that this three days' Dubai itinerary will give you a slice of all!
Visit Dubai in 3 days with your friends, family or even solo for some novel experiences and cherished memories. This 3 days Dubai itinerary will help you make the most of your time and money. To sum it up, this 3 day itinerary for Dubai is perfect for most of the travelers.
Related Blogs
Business Class Lounge at Sharjah Airport
Top Travel Blogger from India