Last Updated on October 25, 2023 by asoulwindow
About Bateshwar group of temples Morena
Bateshwar Hindu temples which are located near Gwalior in Madhya Pradesh in the central part of India is a large group of ancient Hindu temples. Temples devoted to Shiv Bhagwan, Vishnu Bhagwan and Maa Shakti are scattered here over a large area. Earlier in the clutches of the dreaded dacoits of Chambal, the Bateshwar group of temples are now one of the best weekend getaways from New Delhi, Gwalior city and Agra. This detailed travel guide to Bateshwar temples is based on my own personal experience.

This is the most comprehensive travel guide to Bateshwar group of temples ever. I have shared several deep insights about this unusual temple complex near Gwalior in this information packed travelogue. Here is all you wanted to know about Bateshwar group of temples in Madhya Pradesh, India.
The statue of Hindu God Hanuman ji, painted in red vermillion stopped me in my tracks as I aimlessly strolled around the temple complex. The fresh flowers offered to His bright orange statue, injected life to the temple complex which has fallen into disuse.
Almost all the temples here are not functional, which means that no one worships any deity in these temples. They are more of a monument now rather than a functional temple. Many temples do not even have a deity inside them. However, I noticed that most of the temples had Shivalinga in them. I walk and pause, sometimes to admire a small detail in a temple (is that a woman playing with a dog?) and sometimes making futile attempts to make a new discovery under 2 hours which I spent here.
I listened to K. K. Muhammed intently as he talked about his challenges and struggles with dacoit while restoring these temples. It was a privilege indeed to be able to travel with him at a place he loved and nurtured so lovingly.
This trip was truly special in many ways. I was invited by the prestigious Times passion trails in association with Madhya Pradesh Tourism on this tailor-made trip with international participants. Leading Travel Bloggers, Instagrammars and Youtubers from various parts of India, Hungary, U.S.A. and Egypt had congregated for this epic trip across Gwalior and nearby sightseeing attractions.
Times passion Trails is known for its meticulously planned trip across India and beyond. Not only do they give attention to details but also spend time in planning and doing a recce of the place before the actual travel starts. Times Now team had also accompanied us and even took my interview, asking questions on my overall experience on the last day when we explored the visually delightful Jain temples of Sonagiri.
Why is Bateshwar group of temples famous?
What is Bateshwar Mandir famous for? Bateshwar Mandir is most known for its huge clusters of Hindu temples, association with dacoits and mammoth restoration work by Mr. K.K. Muhammed. As many as 200 temples and other ruins lie scattered in an orderly manner in the campus of Bateshwar Temple complex.
Bateshwar group of temples is also famous for the beautiful carvings done on the walls on temple. What adds to the fame of Bateshwar temples is the fact that much of its carvings are still intact.
Who is the main deity of Bateshwar group of temples of Morena?
All the major big and small shrines of Bateshwar Mandir complex are devoted to Hindu Gods and Goddesses Bhagwan Shiva, Bhagwan Vishnu and Maa Shakti who together represent the three major traditions of the Sanatan faith or Hinduism. The major medieval era Vishnu temple here is the top place to visit.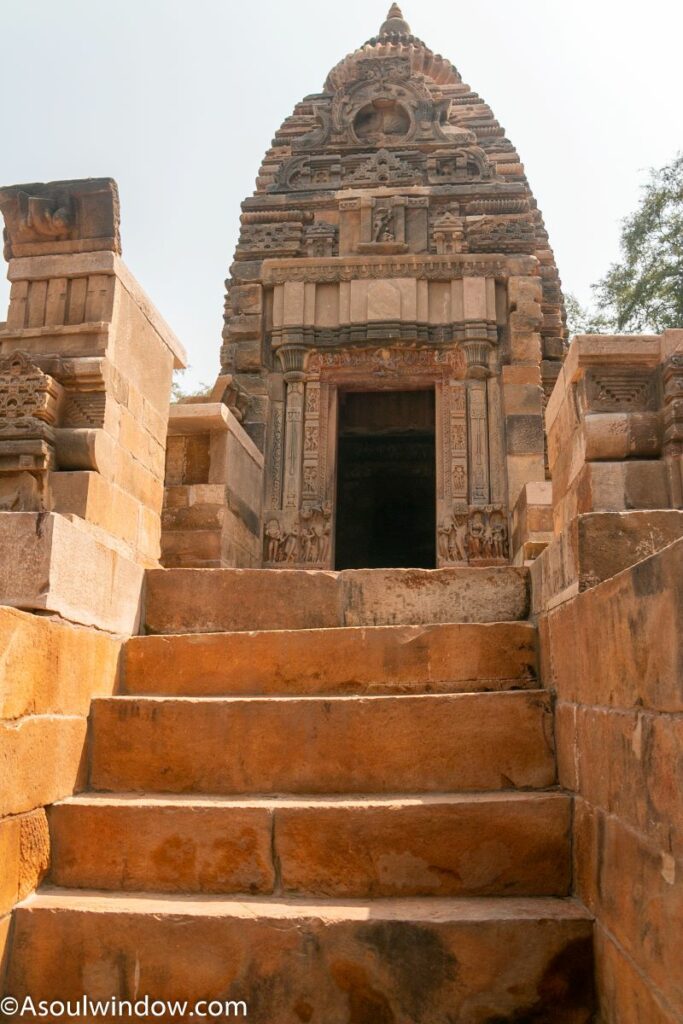 Vishnu Temple at Bateshwar
The largest temple here is devoted to Bhagwan Vishnu. Accessed by a short but steep flight of stairs, I saw no idol inside the garbhagriha of this temple. Who knows the idol lies around unidentified or buried under soil and is just waiting to be discovered. I climbed up the stairs and was treated with brilliant bird's eye view of the entire Bateshwar temple complex and the green hills in the background.
K.K. Muhammed sir helped us notice the sculptures of Ganga and Yamuna, two holy rivers of India, which flanked either side of the main gate to the garbhagriha. A carving of garuda helped archeologists identify that this temple is devoted to Bhagwan Vishnu. I walked around the temple and noticed even more detailed carvings. "Is that a woman playing with a dog?", "That looks like a woman with a child, seeing off her husband as he prepared to go on a war, sitting atop his horse."
Soul Window Ruminations
The more time I spend on studying each carving deeply, I more I discover. There are very few such remains found across the world. The concentration of such temples with inimitable carvings and scientifically made places of worship is the highest in India, making it a world class destination. It is high time Indians take pride in their collective heritage and promote it to the world.
Very few nations in the world can boast of huge forts, massive palaces, grand temples and even such rich wildlife within a few kilometers of each other.
Nomenclature/Etymology of Bateshwar group of temples in Morena
The Bateshwar group of temples in Morena is named after Bhuteshvar Temple which is also the largest temple devoted to Shiva Bhagwan at the temple complex site. Bateshwar temple complex is also known as Batesara temples site or Batesvar temples site. The temple complex has also been mentioned in historical literature as Dharon or Paravali, which later became Padavali. These are some lesser-known facts.
There is another Bateshwar Temple on the banks of Yamuna in my home state Uttar Pradesh. This blog is about the Bateshwar Temple in Madhya Pradesh. It is also not to be confused with Bateshwar hills which is situated in the Bhagalpur district in the state of Bihar.
Where is Bateshwar group of temples located?
This is a frequently asked question. Bateshwar temple complex is located within the Chambal River valley ravines. Perched atop the north-western slope of a hill near Padavali, Bateshwar temples are one of the best places to see near the Gwalior city in North Madhya Pradesh in India.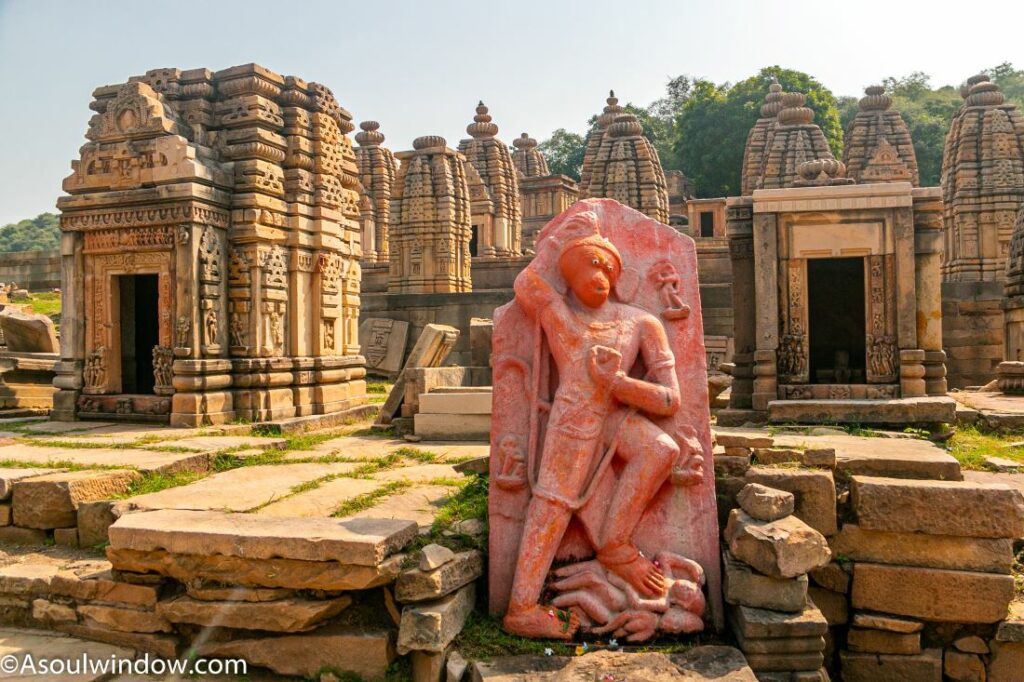 Architecture of Bateshwar temples
A walk around the Bateshwar temple complex acquainted me with the post-Gupta, early Gurjara-Pratihara style commonly observed in the North Indian temple architecture. As per the observations of Michael Meister, the Bateshwar temple site represents the conception and construction of the Mandapika shrine in Central India.
As per the signboard:
A group of ruined temples spread over the western slope of an isolated hill are situated south-west of Padawali village in the Morena district of Madhya Pradesh. Made of stone masonry, the ruins comprised of temple remains, Brahmanical icons, gateways, carved architectural members, amalakas and stepped tanks etc. These can be stylistically ascribed to post Gupta era to early Pratihara period ranging from 6th to 9th century C.E.
It shows the early stages of development of temple art. The earliest group of temples are having sanctum proper with flat roof while temples of later phases are possessed with curvilinear sikhara over the garbhagriha. One of the surviving temples, devoted to Shiva Bhagwan called as Bhuteshvara temple, shows all the striking features of the Pratihara art in all its glory.
Some of the temples in the Bateshwara complex are reconstructed by the Archeological Survey of India, also known as ASI, recently, in its original form and renovated most of the structures.
What is Bateshwar Hindu temples made up of?
The 200 plus Hindu temples of Bateshwar are made up of sandstone.
What is the area of Bateshwar Hindu temples?
I observed that most of the temples at Bateshwar Hindu temples complex are relatively small. These medieval Hindu temples are spread across an area of 10 hectares of 25 acres of land.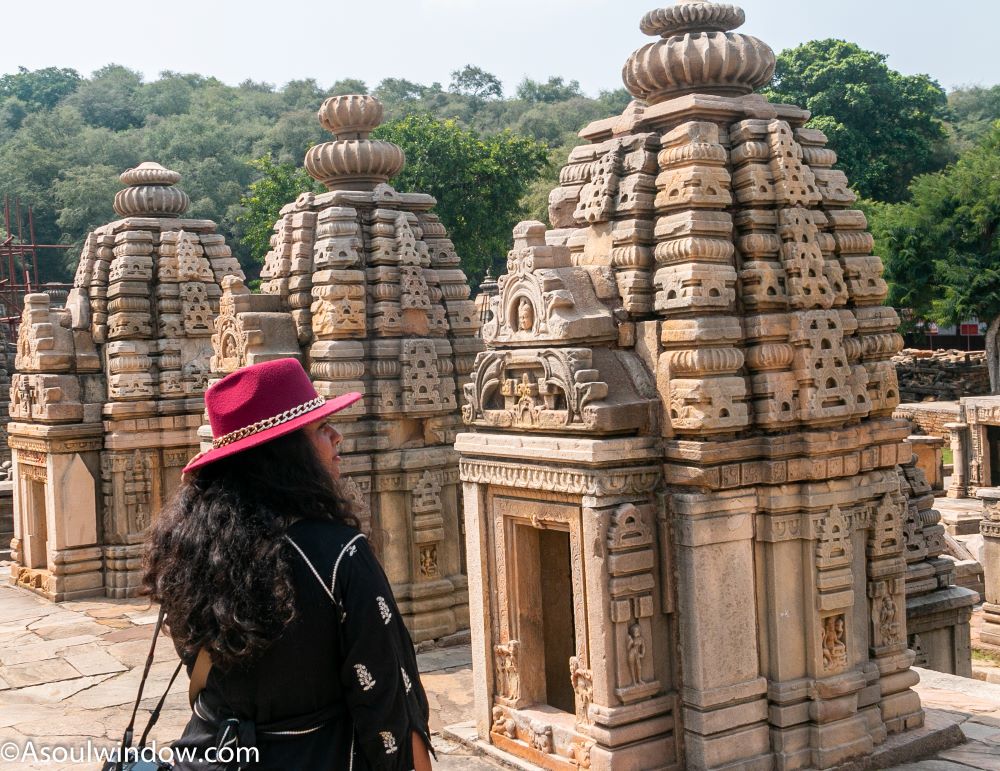 Who built Bateshwar group of temples of Morena?
Which dynasty built the Bateshwar temple? Who made Bateshwar temple? I was told by K.K. Muhammed sir that, "Bateshwar group of temples were constructed by the Gurjara – Pratihara dynasty who ruled in North India between 8th and 11th century C.E."
On further research I found out that the Pratihars were Suryavanshis rulers and the descendants of Lakshman Bhagwan Ramayana, the great Hindu epic.
When was Bateshwar temple complex constructed?
The Bateshwar temples were constructed between the 8th and the 10th century C.E. Despite being more than 1,000 years old, these temples have withstood the test of the time.
How old are Bateshwar temple? As per the findings of Michael Meister, who was an art historian and a professor, expert in Indian temple architecture, the earliest known temples in the Bateshwar temple complex date back to 750-800 C.E. era. According to Alexander Cunningham, one of the inscriptions discovered at the temple site mentioned Samvat 1107 or 1050 C.E.
What is the history of Bateshwar?
What is the history of Bateshwar temple? Not much is known about the exact history of Bateshwar temple of Morena. Though Bateshwar group of temples were declared as a protected site by the Archaeological Survey of India or ASI in the year 1920, it remained absent from the history books and public memory.
Swallowed up by the dense forests and claimed by the dacoits, the Bateshwar temple complex remained off limits till India's celebrity Archaeologist K.K. Muhammed sir decided to turn the tables.
What is the history of Bateshwar Dham? It is only after conducting ample researches, do we now know about the history of Bateshwar temple. Much of the findings about Bateshwar temple are new. Even today, archaeologists are discovering new facts about Bateshwar Dham.
Who destroyed Bateshwar Temple?
Most of the temples of Batesvar temples site remained intact until 13th century C.E. However, the cause of destruction is yet unknown. The archaeologists and historians have still not able to conclude if the Batesvar site was destroyed due to invasions or earthquake in the 13th century.
Observations of Alexander Cunningham on Batesvar temples site
Alexander Cunningham had presented a detailed report in the year 1882. Needless to say, that much of the temples were still in a state of disrepair. Barring a few temples, most of the other temples were razed to the ground when Alexander Cunningham visited Bateshwar.
This is what he famously observed about the Bateshwar Temple complex:
the site was a "confused assemblage of more than one hundred temples of various sizes, but mostly small".
Cunningham wrote in his report that the standing temple which was observed at the site was devoted to Lord Shiva. He added that the local people called the Shiva temple as Bhutesvara. However, what baffled Cunningham was the presence of a relief of Garuda on top. This made him wonder if it was a Vishnu temple originally before it was damaged and repurposed.
Who were the Chambal Dacoits?
Some of the most famous dacoits that ever existed in this region are Mohar Singh, Phoolan Devi, Thakur Maan Singh, Paan Singh Tomar, Malkhan Singh, Nirbhay Singh Gujjar, Dong-Batri brothers, Rambabu Gadariya, Sultan Singh and Putli Bai. These were social outcasts who rebelled against the political classes. They would proudly call themselves Baaghis. Shores of the picturesque Chambal, the river which flows through Madhya Pradesh, Uttar Pradesh and Rajasthan was the hideout of these local outlaws.
Later, while some of these dacoits were killed in police encounters, others surrendered to the police and now live peaceful lives as village farmers etc. Though who knows they miss their glorious days of living off the land in dense jungles, armed with rifles and riding horses.
Some of the Indian movies which depict the baaghis of Beehad or rebels of Chambal are Sholay, Mujhe Jeene Do, Gunga Jumna, Dacait, Bandit Queen, Paan Singh Tomar, Mother India, Patthar Aur Payal, Mera Gaon Mera Desh, Daku Hasina and recently Sonchiriya.
Out of these, Paan Singh Tomar was the most critically acclaimed movie on dacoits. Irfan Khan, the main lead received many awards and accolades. Sonchiriya was also praised for the performance of the superstar Sushant Singh Rajput.These movies told the tale of dacoits in 1970s, who termed themselves Baaghis, the rebels.
1960s and 70s were when many Bollywood movies were made on these daakus or dacoits. Ramgarh's Gabbar Singh from Sholay was the most famous daaku character ever. Though I am sure the reformed dacoits scoff at Bollywood's representation of them.
How Dacoits helped save Bateshwar Hindu temples?
Not very long ago, Bateshwar and much of Morena and Chambal region was under control of the dacoits. The dacoits found haven in the deep ravines of Beehad or Chambal Ki Ghaati. Such was their fear that even the cops feared visiting these areas around the Chambal River. Most of the prominent archaeological sites of Morena which remained the hideout for India's most dreaded dacoits, were thus inaccessible. This is why for a very long time no excavation work was carried out in these regions.
When Mr K. K. Muhammed sir met the dacoits, he told them, "It is because of you that the temples of Bateshwar are still so well preserved. God chose you for this work. Had it not been for your presence here, these temples would have been looted and destroyed."
While I was walking around the Bateshwar temple complex, I did notice that much of the carvings and other features of the 200 odd temples were still intact and in good shape. Unlike other ancient and medieval Hindu temples of India, the temples at Morena are better preserved. I can vouch for the fact that Bateshwar group of temples is one of the grandest I have ever seen.
Role of ASI and Mr. K. K. Muhammed in restoring Bateshwar group of temples
In the year 1924, Archaeological Survey of India (ASI) undertook the conservation of the Bateshwar ruins. However, it was not until the year 2005 when concrete steps were taken to restore the temple complex of Bateshwar. India's leading archaeologist K. K. Muhammed sir learnt about this site and it soon became his passion project, a labour of love.
Thanks to the ambitious initiative led by the Shri K.K. Muhammed, the then ASI Bhopal region's Superintending Archaeologist made all the difference to the mammoth restoration of the Bateshwar temple complex. The project to restore the temples of Bateshwar began in the year 2005. The main objective of this project was to collect all the fragments of ruins, clean them of mud, assemble them again and restore each temple with utmost care.
Since the Chambal and Morena region of Madhya Pradesh was infested by dacoits or baaghi (rebels), Shri K.K. Muhammed was warned about undertaking any project here. However, despite all the challenges and threat to life, he went ahead and did the unthinkable by visiting the Bateshwar site while the dacoits still loomed large in the region.
This bold step followed by one of the most ambitious and successful restoration works in the world ever undertaken earned Mr K.K. Muhammed awards, laurels and accolades. It is no wonder then that K.K. Muhammed sir was awarded the 4th highest civilian honour of India – Padma Shri in the year 2019.
Who is Mr K.K. Muhammed?
Who is the No 1 archaeologist in India? Kerala based Mr. K.K. Muhammed is a leading archaeologist of India. He has been instrumental in mammoth restoration works and great discoveries. When I asked him what are some of his most notable works, apart from Ram Janm Bhoomi and Bateshwar, he told me about the work he did at Ibadat Khana of Mughal ruler Akbar.
He has also worked on a Mughal Bazaar at Fatehpur Sikri near Agra and even a Christian chapel. He has also played a major role in restoring other major monuments of India such as holy Buddhist Stupas, Dantewada and Bhojeshwar temples.
He also told me that when the then President of United States of America Barrack Obama and his wife Michelle Obama paid a visit to India, he personally showed them around the Humayun's tomb in New Delhi. On a similar trip, he accompanied Pervez Musharraf, former president of Pakistan as well.
I spent a week exploring Gwalior and its nearby tourist attractions with the very humble K.K. Muhammed sir. This left me with enriching conversations and unforgettable discussions on topic such as archelogy in India etc. It indeed was a dream come true. Having admired his work since years, I had little idea that one day I would get an opportunity to travel to the temples he lovingly nurtured and protected.
Well versed with Sanskrit, during the entire trail across Gwalior and other places of interest, he dropped a shloka or two as naturally as he dropped the dates and historical trivia.
Shri K.K. Muhammed was personally motivated to restore as many temples as possible. His personal drive and self-motivation to turn a rubble into one of the most stunning temple sites in India is what makes him the most famous archaeologist of India. In a country which worships mainly cricket and actors, it is a great achievement that K.K. Muhammed ji is a household name.
In a deep conversation with K.K. Muhammed ji, he told me that,
"Bateshwar is my pilgrimage. No wonder, I visit Bateshwar temple site once in every 3 months. This grand temple complex is indeed my passion project."
Who was Daaku Nirbhay Singh Gujjar?
Nirbhay Singh Gujjar who was popularly known as the 'Last Lion of Chambal' had his control over the Bateshwar temple. At a time when most people feared even visiting this place, Shri K.K. Muhammed not only travelled here but also shamed him for smoking in the temple premises. He later convinced the dreaded dacoit to grant him permission to start renovation and restoration of the fallen temples at the Bateshwar site.
Later, Nirbhay Singh Gujjar was impressed with the restoration work. He had a smug smile when K.K. Muhammed sir told him, "It is because of you the site is still so well protected. God chose you for this work."
Infamous for over-indulging in sexual pleasures, Nirbhay Singh Gujjar ruled the land for 25 years before he was killed in a police encounter in the year 2005. Gujjar was fond of being publicized. This is why it was common for him to frequently give interviews and talk to the journalists sans inhibitions. People used this example to taunt the police asking them why can't they find Nirbhay when the journalists can. In his last days, he showed willingness for a political roadmap straightened out for him, much like how Phoolan Devi did. He was however shot dead in an encounter.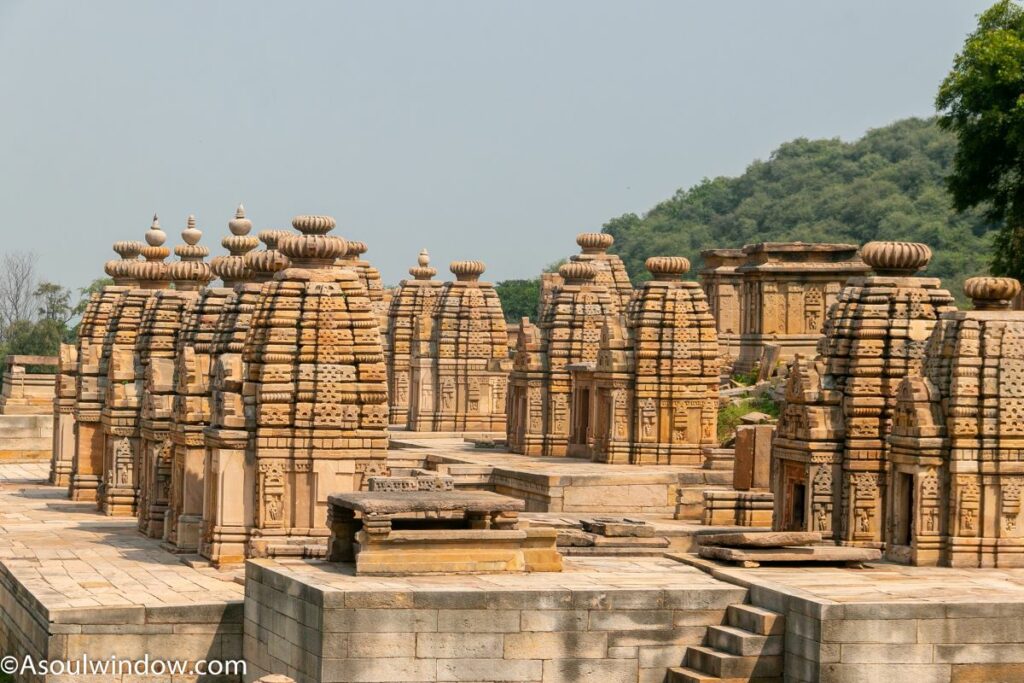 How many temples are there in Bateshwar?
The Bateshwar group of temples is one of the biggest temple clusters in India which I have ever seen. I gaped over the ruins of the vast temple complex, slack-jawed, when I noticed as many as 200 temples scattered around the Bateshwar temple complex. When I visited Odisha and Uttarakhand, I saw similar huge cluster of temples in Lingraj temple complex and Jageshwar Dham near Almora.
Dimensions of Bhuteswar Temple, Bateshwar
The mahamandapa of Bhuteswar Temple measures 20 square feet while the square sanctum measures 2.06 metres or 6.75 feet side. River goddesses Ganga and Yamuna flanked the either side of the main doorway of sanctum of Bhuteswartemple. The base of the roof which supported the tower superstructure was 4.67 metres or 15.33 feet long. This pyramidal square, rhythmically tapering off, was aesthetically brilliant.
Museum cum Exhibition
I also visited an exhibition at the site of Bateshwar temple which was more of an open-air museum. Several pictures depicting various stages of restoration of the temples were on display. I am sure this was a makeshift exhibition and in future a brick-and-mortar museum will replace it.
Selfie with Dacoit, anyone?
As we were exploring the biggest temple at Bateshwar, several guns toting dacoits appeared out of nowhere. They looked menacing, wore colorful turbans and had big curly moustaches. What followed were peals of laughter and a queue for photo ops for they turned out to be the friendliest dacoits ever.
The dacoits, in their sartorial best, were just local people dressed as dacoits. One of them however was a real dacoit who returned back to mainstream years ago. Needless to say, he was also the most composed one while other dacoits goofed around with us silly 'tourists'. It was anyways a fun way to end our trip in Bateshwar.
So, the next time you see a dacoit in crisp kurtas and turban, do not chicken out. Ask for a selfie instead!
Future of Bateshwar Group of temples
During my visit, I observed countless fallen pillars, carved stones, beautiful sculptures and friezes lying around, waiting to be restored next. Despite the brilliant restoration over several decades, many parts of the complex are still in ruins.
I was told that it is quite possible that there are many more such temple ruins buried under the sand nearby. I am sure, in future, more extensive excavation works will be carried out in and around the temples of Bateshwar.
India's leading archaeologist KK Mohammed sir told me that Infosys is helping shape the temple of Kakanamath-Bateshwar. Philanthropist Mrs. Sudha Murthy herself visited Gwalior and Bateshwar Temple Complex along-with KK Mohammed sir and is now funding the further restoration of the temples. A lot still needs to be done, as was evident during my visit. I am sure Bateshwar will look different than what it is today, a few years down the line.
Places to see around Bateshwar group of temples Morena
Who would have thought that there are so many interesting places of interest around Bateshwar group of temples of Morena that even a day is not enough! I realized this when I spent an entire day exploring the hidden gems of Morena.
Beehad Safari
Did you know that the tourists can now organise picnics and visit the secret hideouts of the dacoits of yesteryears? There was a time when no one visited these forbidden lands but now it is very safe to visit. You can book the offbeat Beehad Safari where they will show you the secret places where the dacoits hid in the 60s and 70s.
The Beehad Safari starts from Morena. Not many people realise that Chambal is also visually stunning. It thus makes sense to enjoy Beehad Safari with a large group of friends and family.Apart from soaking in the breathtaking views, the tourists can also listen to the interesting tales about the most famous dacoits of Chambal.
The route to this place is uneven. This is why only a limited number of vehicles are suitable to ply on these dirt paths. From Morena, the tourists typically arrive at Jhundpura, which is a small town and a nagar panchayat in the Morena district, in the Chambal Division. The real beehad and the awe-inspiring views of deep valleys, canyons and gorges start 6 kilometres ahead of Jhundpura. You can also enjoy sunset at Kadhavana Ghat over some tea and snacks.
What's more? You can also dress up like a daaku or dacoit, hold a fake gun and do a photo shoot. It is also easy to interact with the daaku who have surrendered and their families here.
Birdwatching during Chambal River Safari
Chambal River Safari is fast gaining popularity with the discerning travellers and birdwatchers. You can book an entire boat and enjoy the Chambal River Safari for 4 hours or more. You can see endangered species of birds such as River Terns. Chambal River is most known for spotting large colonies of Indian Skimmers, that white bird with orange beaks. It is also easy to spot gharials, crocodile or muggur, Gangetic Dolphins and Indian Tent Turtles during a safari on the scenic Chambal River.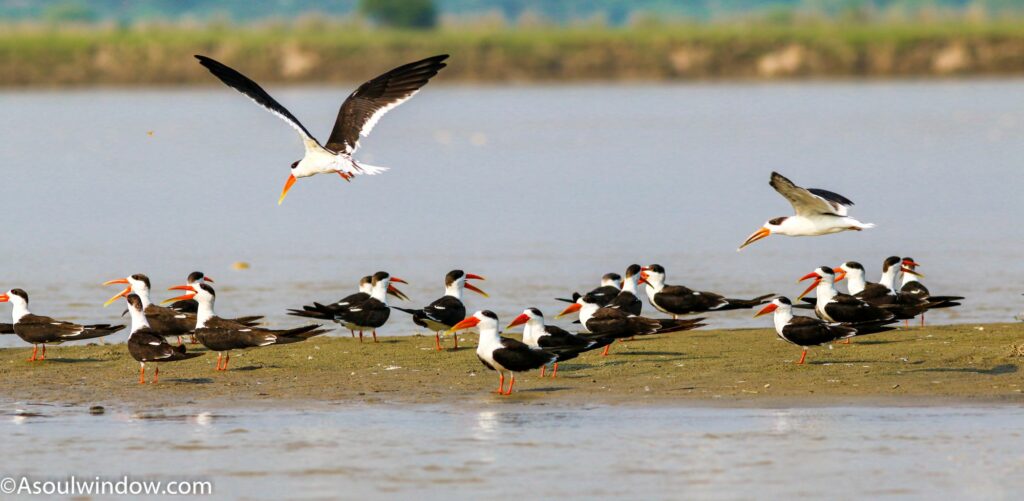 Thanks to its remoteness, unintentional protection by the dacoits and lack of industries, the Chambal River is one of the cleanest rivers you can see in India. You can also stay in one of the luxury properties in Chambal. I highly recommend the Chambal River Safari experience.
Ekttarso Mahadeva Temple or Chausath Yogini Temple of Mitawali
The Chausath Yogini Temple or Ekttarso Mahadeva Temple of Mitaoli or Mitawali reminded me of my trip to the hilltop Chausath Yogini Temple of Jabalpur while I stopped here on my way to the world-famous Bandhavgarh National Park, also in Madhya Pradesh.
This 11th century architectural gem is also known as Ekattarso Mahadeva Temple. I have never seen such unusually shaped temples in India, barring Mitawali and Jabalpur. Circular in design, it is said to have inspired the design of the 20th century Parliament Building of India.
The temple in the center of the circular courtyard is devoted to Shiva Bhagwan while the 64 chambers (chausath means 64) here once housed the Yoginis. The additional chamber is devoted to Goddess Devi. Most of the chambers were bereft of any figurine of yogini. Some shrines had Shivalinga, which I suspect could have been a later relocation of Shivalingas.
Constructed during the Kachchhapaghata reign by the King Devapala (1055 – 1075 C.E.), the Chausath Yogini Mandir survived many earthquakes despite falling in the Seismic Zone III region. I took some odd 100 steps to arrive here via a flight of uneven stairs. Needless to say, the views from here were astounding. The views of large patches of beautiful patterns of agricultural fields down below are spectacular.
K. K. Muhammed sir told me that the Chausath Yogini Temple of Mitaoli was also one of those rare places where the seekers were imparted education in astrology and mathematics based on the transit of the Sun. I visited a similar educational hub in the 10th century Survaya ki Garhi in Shivpuri later on this trip.
My co-traveler Betsy from Utah in United States of America exclaimed, "This temple reminds me of Colosseum in Rome. I wonder why no one talks about it!" This weekend break from Delhi is indeed grand in its design.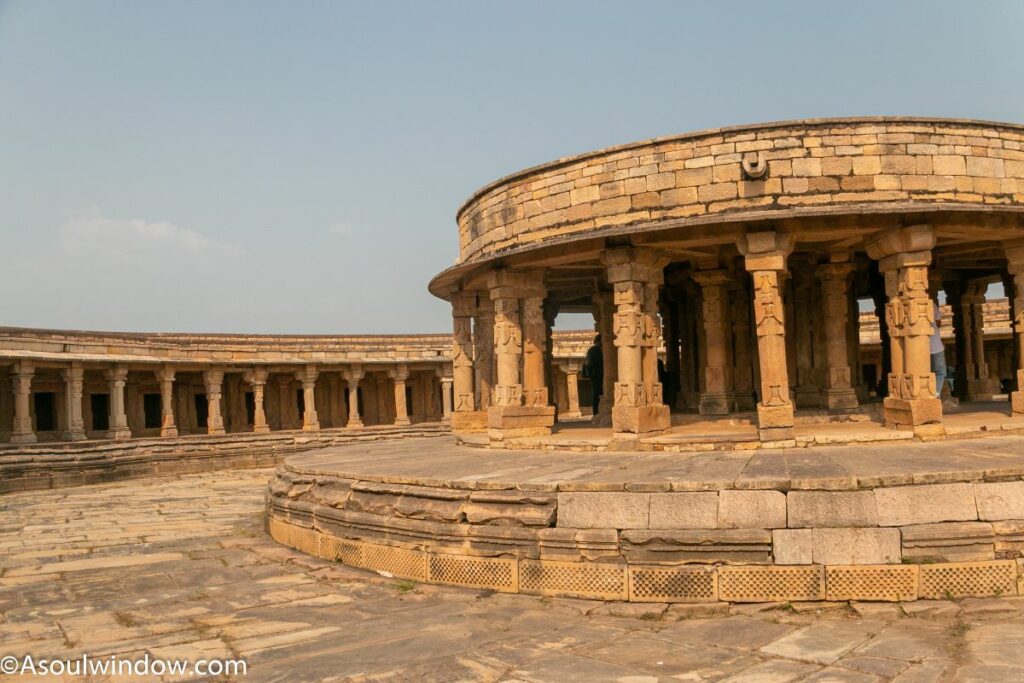 As per a signboard at the temple:
Ekttarso Mahadeva Temple: The local people call the temple at Mitaoli as Ekttarso Mahadeva Temple. Situated on an isolated hillock, various life-sized stone sculptures of Kushana period have been discovered. Adorned with heavy ornaments, these Kushana era stone sculptures are now exhibited in the Archaeological Museum within the nearby Gwalior Fort, Madhya Pradesh.
The plan of Ekttarso Mahadeva Temple is rather peculiar and is very much similar to the layout plan of Chausath Yogini Temples which contain cells in a circle around the main central temple. It is similar to the Chausath Yogini Mandir situated at Bheraghat near Jabalpur.
The Ekttarso Mahadeva Temple has an entrance from east and contains small cells against a pillared verandah. Some of these cells contain a Shivalinga. The main temple in the centre is placed on a raised circular plinth and has a Shivalinga which people worship even now.
On the basis of the inscription, Ekttarso Mahadeva Temple was constructed in the year 1323 C.E. by Maharaja Devapala.
Garhi Padawali Shiva Temple
Garhi Padawali Shiva temple, guarded by a huge stone figure of lion and a lioness at the entrance was a great discovery on this trip. Overshadowed by giants like Bateshwar and Kakanmath temples, Padhavali temple was unknown to me, until my visit here. K. K. Muhammed sir told me, "The fort like addition to this colossal temple was done in the 19th century C.E."
The original Shiva temple constructed over a considerably raised adhisthana dates back to the 10th century. The fort walls were built much later to protect the highly revered temple from the Mughal invaders." The fortification of the Garhi Padawali Shiva temple was done recently by the rulers of Jat Ranas of Gohad during 19th century C.E. Padawali Shiva Temple sure is an unusual place to visit in Morena.
However, I was crest fallen to see that the main garbhagriha or sanctum sanctorum had completely collapsed. Shivalinga was nowhere to be seen. All I saw was the damaged stone pillars and walls at the spot where a huge Shiva temple stood once.
The sanctum sanctorum or the garbhagriha which once stood here is now mostly obliterated barring the mukhamandapam which still stands strong at the entrance of this massive temple built on an elevation. A large idol of Nandi found in the premises stand witness to the presence of a Shiva temple here.
Having said that, the ornate Mukha Mandapa which I accessed first by ascending a steep flight of stairs, is still very well preserved. It gave me a fair idea about how grand the original temple must have looked like. Being the sole surviving part of the temple, I spent most of my time here, studying each detail of the mukhamandapam minutely.
The more carvings I noticed, the more I gasped in bewilderment. "How did they do it"?, I asked myself! I craned my neck to appreciate all the minute carvings on the ceilings and pillars. The attention to detail on each carving was worth applauding. No carvings were more important than the other. That's how masterpieces are created after-all. It is no surprise then that many people believe that the Padawali temple was the predecessors of the grander Khajuraho temples.
Just as I was lost in one of the carvings, K.K. Muhammed sir pulled me away from my chain of thoughts and asked me to look at the gorgeous 3 D carvings of Trinity of Brahma, Vishnu and Mahesh. "You see that frieze? What do you see there? Can you recognize scenes from Krishna Leela? He said as the crowd 'ooohed and aahed'.
Soul Window Observations
As per a signboard, "The interior of the mukhamandapam is richly carved with designs, friezes of sculptures of various divinities of Brahamanical pantheon – Brahma, Vishnu, Maheshvar, Surya, Ganesha, Chandi and incarnations of Vishnu Bhagwan. The relief also narrate the stories from the Hindu epics and puranas. The carvings reflect the rich art and culture of the period.
Intricate 3 D carvings which embellishes every inch of the ceiling, pillars and panels of the mukhamandapam of the Padawali temple deserves admiration at a slow pace. The 3-dimensional depictions of Gods and Goddesses from the Hindu pantheon were unlike anything I had seen before. My co-traveller Mihir even climbed on one of the walls of the fort for great aerial views of the village and agricultural land below. Padawali temple is indeed one of the best places to see in Morena.
Kakanmath Temple
It looks like it will fall anytime. One brick moved here and there, and the Kakanmath temple will come crumbling down like a pack of cards. Fortunately, the temple has stayed tall since the last 1,000 years.
It was a privilege for me to travel with Padma Shri Mr K K Muhammad sir to Kakanmath Temple in the Morena region of Madhya Pradesh near Gwalior. For his unprecedented passion for archeology, K K Muhammad sir was awarded the Padma Shri in 2019, India's fourth highest civilian honour. He told me that there are plans to dismantle the entire temple and rebuild it so that it stays intact for hundreds of years to come. For someone who brought back 200 damaged temples of Bateshwar to life, this should be child's play.
This building block of a temple is surely one of the most unusual Shiva temples I have visited so far (and I have visited many!). This was the last temple we visited on the first day of the Times Passion Trail in Gwalior and surrounding areas. A surreal sunset towards the back of this east facing temple painted the sky in various hues of orange and yellows, as if drawing the curtains on the closing ceremony of a fruitful day.
Before entering the main temple, I admired the beautiful carvings across the exterior walls of the temple. Every inch of the exterior walls, pillars and ceilings of the Kakanmath Temple is carved with a lot of patience and precision.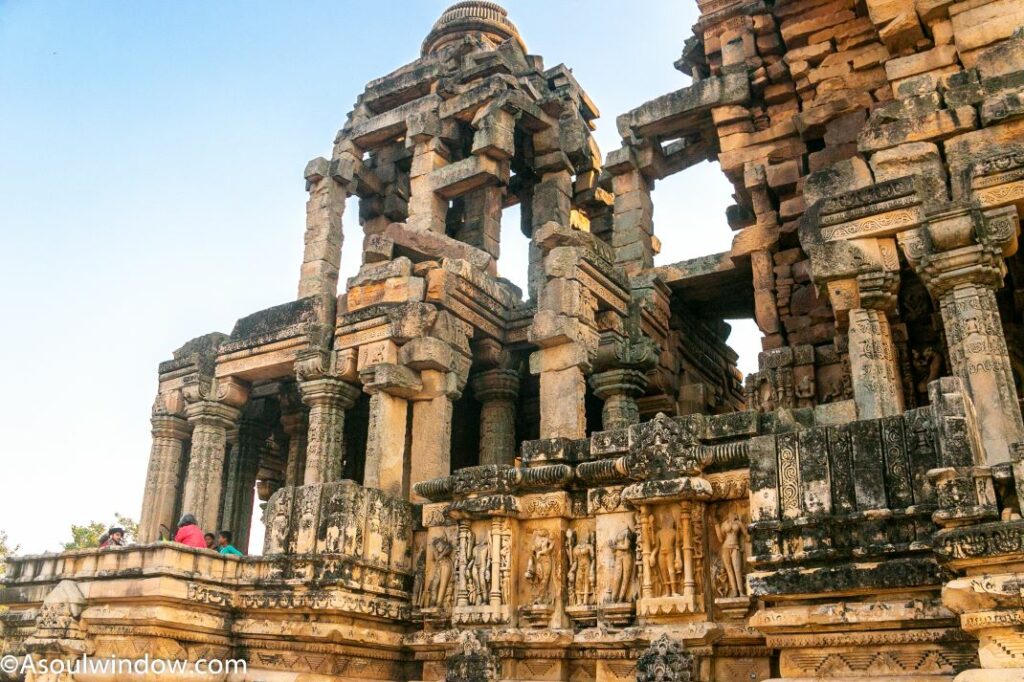 To admire the beauty of the exquisite carvings at my pace, I did a clockwise parikrama of the temple first. Each carving here is a masterpiece, to say the least. Luckily, much of the carvings are intact while some are damaged. I noticed that predictably the targets of the destruction were the faces and breasts of the figures. Is it possible that perhaps an iconoclast Mughal invader did the honors? Much like how the army of Babur target- destroyed the faces and genitals of the nearby Siddhachal and Gopachal rock cut Jain idols of Gwalior. Scholars say that a combination of invasions and earthquake must have partly ruined this 115-feet tall temple. The shikhara or the tower of Kakanmath temple is a whooping 30 meters tall.
The pyramid like Kakanmath is a pretty large temple build atop a huge raised platform called as pitha. It is not very often that I see temples built atop a platform, especially as big as this one. The platform added to the grandeur and scale of the temple. I also noticed a beautifully carved main gate and other temples in the vicinity of this historical destination.
After the circumambulation, I entered the garbhagriha via a short flight of stairs. It was a pretty large sanctum accessed through a row of pillars. A large Shivalinga is still worshipped here. I offered my prayers in complete silence in that spartan garbhagriha, bereft of any carvings or ornamentation. Perhaps, they didn't decorate the room on purpose so that the devotee can focus on the almighty and the prayers.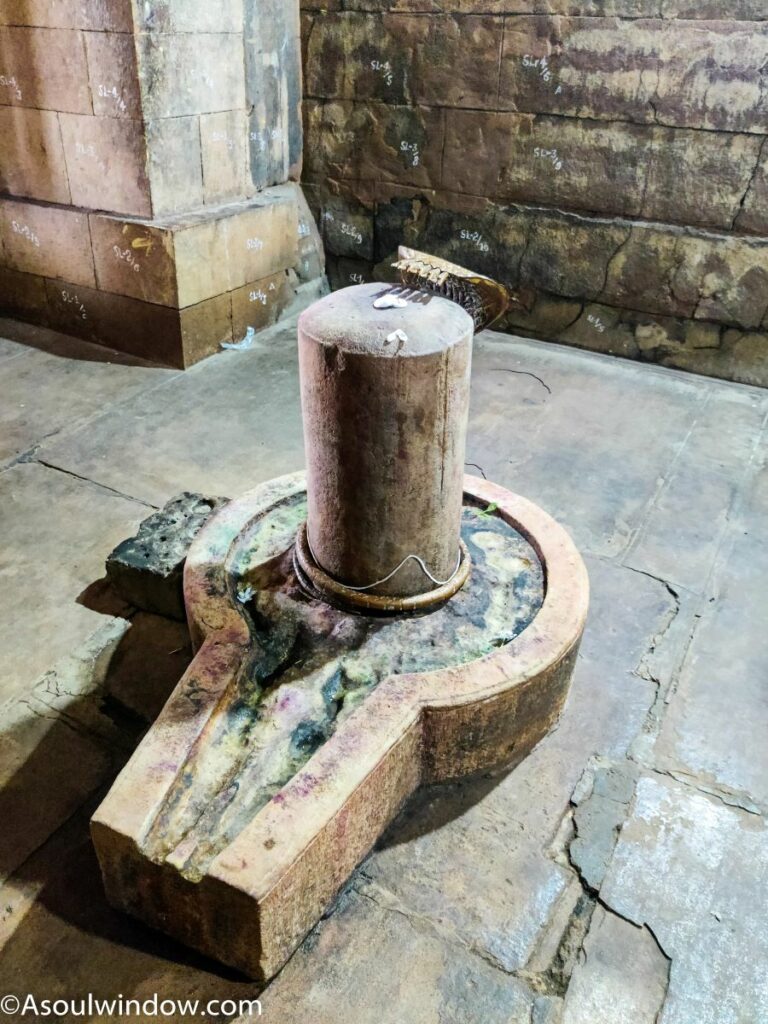 I was wondering why would anyone build such a lavish temple in the middle of nowhere. Today, all I saw was deserted roads and agricultural fields around the temple. But was the Sihoniya village always this nondescript? The answer lies in the history books. In the 11th century C.E., Sihoniya served as the capital of the Kushawahas of the powerful Kachchhapaghata or the Kachwaha Kingdom. Also known asSuhoniya or Simhapaniya in ancient times, it was a very important place a few thousands of years ago.
Several scholars, historians and archeologists have concluded that King Kirtiraj who was the Kushawaha emperor commissioned the construction of the Kakanmath temple approximately between 1015 to 1035 C.E. I couldn't help but notice that Kakanmath looks so similar to the famed temples of Khajuraho, known for its erotic carvings.
The two-storey Kakanmath Mandir, which seemingly defies gravity, indeed is a remarkable and rare artistic achievement of the 'ghosts' who built it. At first glance, some people say that it looks like aliens built Kakanmath temple. The stones used in making the temple are not found nearby anyways. Neither is any lime, concrete and binding agent used in the construction of the temple.
Let me tell you a very interesting story behind who constructed Kakanmath Mandir? Here is the legend of Kakanmath temple in brief. It is said that Shiv ji instructed bhoot (ghosts) to build this mysterious temple in one night. It's mentioned in the Puranas that ghosts also came to dance as baratis in the wedding of Shiv ji and Parvati ji. Traditionally, ghosts also worship Shiv ji. The ghosts stopped the construction of the temple midway around dawn. The ghosts left the temple incomplete when they heard a local woman grinding chakki (flour mill).
It is said that this temple was named after Queen Kakanwati. Some people hold the opinion that Kakanmath means Kanak (gold) and matha (temple). Kakanmath Mandir is situated in the Sihoniya village in the Morena district of Madhya Pradesh. Kakanmath is located approximately 65 kilometers away from the nearest big city of Gwalior. Kakanmath mandir is a must-visit place in Morena Madhya Pradesh. The best part is that this unexplored temple is located far away from the crowds.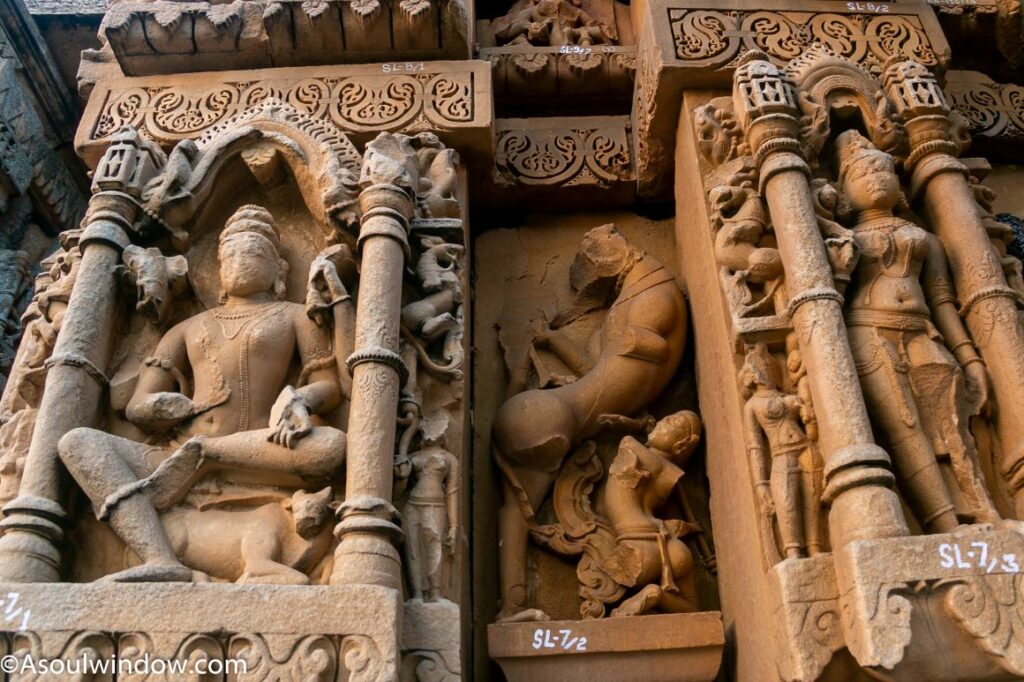 Also read: My experience of Epic Kailash Mansarovar Yatra
Visit a Gazak factory
Morena is famous for Gajak, a sweet made of til (sesame seeds) and jaggery or gud. This winter sweet is easily available in Delhi NCR from November to March. This is when it is sold and consumed the most. While visiting the temples of Morena, why not make a pit stop at any of the gazak making factory. It is very interesting to watch the process of making gazak in large quantities.
The common perception is that Gajak is famous from Agra or Malwa. However, in reality Gajak was invented in the Morena district of Madhya Pradesh. This is where you can enjoy the authentic taste of Gajak. According to some local gajak makers from Morena, "That delicious taste of Gajak sweets comes from the water of Chambal and it's natural ingredients which we use to make it."
The best quality (and also expensive) gajak is made from gur or purified jaggery, pure desi ghee, cashew nuts, pista or pistachios, til or sesame seeds, laung or cloves and elaichi or cardamom. Did you know that it takes anything between 10 to 15 hours to prepare only 5 to 8 kilograms of gajaks? You can see how it is made by visiting a gajak factory in Morena. This is an unusual place to see in Morena. If you like to go off the beaten path, then you will enjoy your time here.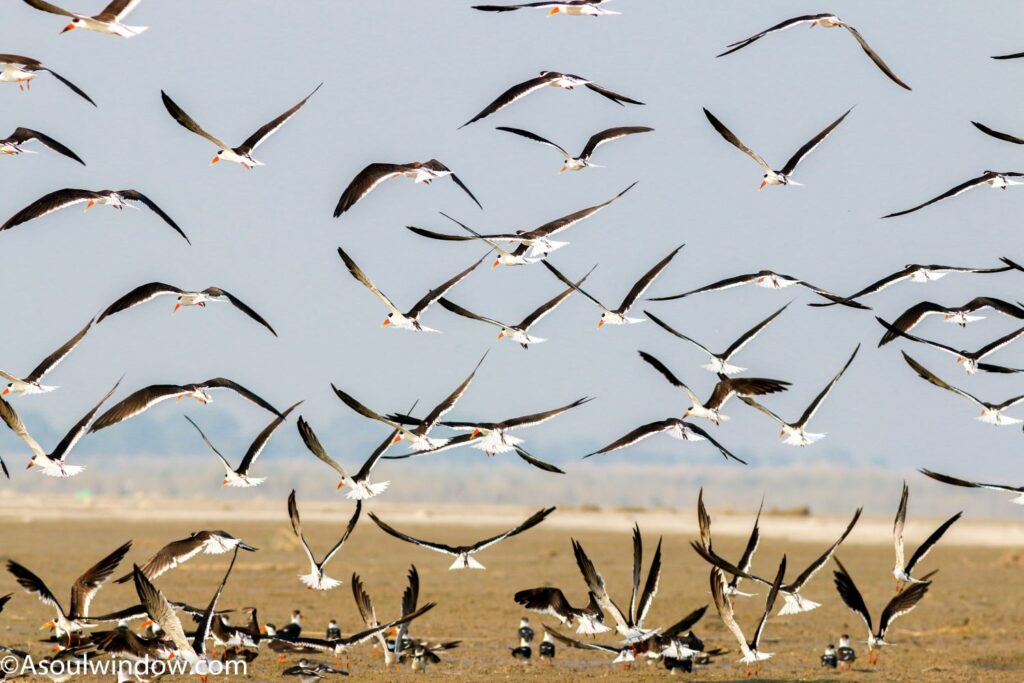 Top things to do in Bateshwar group of temples Morena
What is there to do near Bateshwar group of temples? Some of the best things to do in Bateshwar group of temples in Morena are as below:
Talking to a local tour guide
Doing Chambal River Safari
Visiting a local Gazak factory
Spotting peacocks and parakeets
Goofing around with fake dacoits
Visiting Mitawali, Padawali and Kakanmath
Offering prayers to the statue of Hanuman ji
Birdwatching along the pristine Chambal River
Observing details of each (OK, most) carvings!
Temple hopping within the Bateshwar complex
Taking nearby excursions to more tourist places
Spotting Indian Skimmer around the shores of Chambal River
Excursions from Bateshwar group of temples Morena
There are many unusual things to do in Morena. You must take excursions and explore some exciting places to visit near Bateshwar temple. There are also many picnic spots in this region which are popular with both tourists as well as the local people. Some of the best excursions from Bateshwar Temple Morena are as below.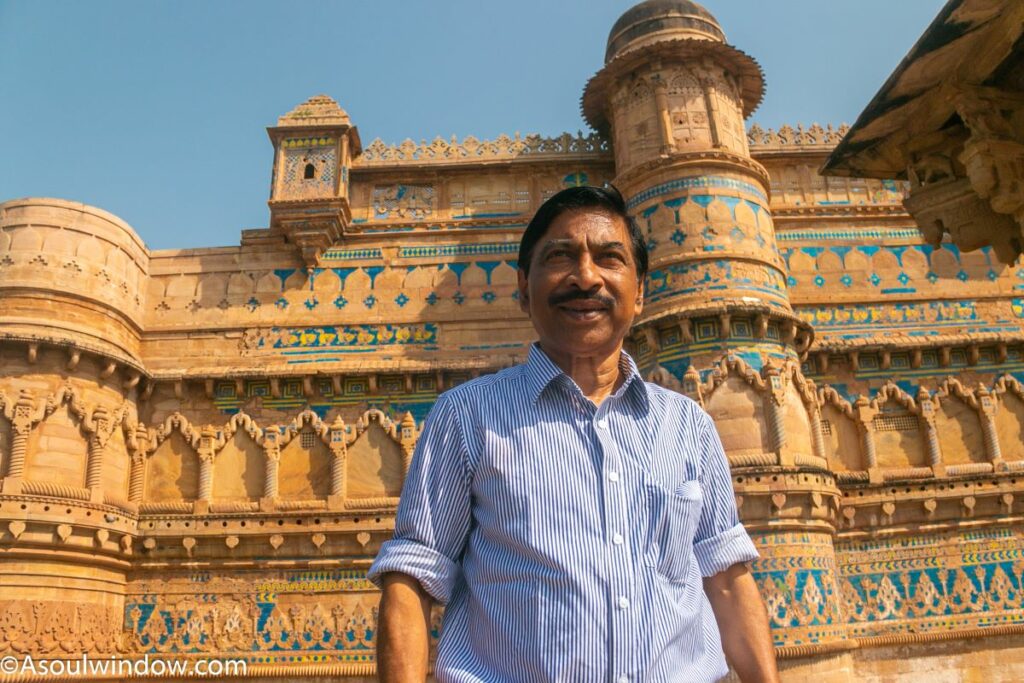 Gwalior City
Raja Man Singh Palace, Gwalior Fort Museum, Saas Bahu Temple, Gujari Mahal Museum, Teli Ka Mandir, Siddhanchal Rock Cut Statues, Gopachal Rock Cut Statues, HH Maharaja Sir Jiwajirao Scindia Museum, Baija Taal, Maharaja Bada. Lunch at Panchvati Gaurav. There are many fun things to do with family and kids in and around Gwalior.
Datia
I visited places such as Shri Pitambara Peeth or Datia Shaktipeeth, Sonagiri Jain temples, Raja Bir Singh Deo palace or Bir Singh Palace. I had lunch at the MPT Motel aka Datia Motel Hotel which also has facilities for accommodation. Read in detail about Raja Bir Singh Deo palace on my blog on Gwalior Fort.This placeis not to be missed.
Shivpuri
Shivpuri is one of the major attractions near Bateshwar. Some of the best places to visit in Shivpuri are Scindia Chattri, Survaya Gadi, the very offbeat Madhav National Park and the incongruous George Castle. I made an excursion to these hidden gems from Gwalior. Starting early morning, I was able to visit all of these lesser-known tourist attractions within a single day.
Ater Fort
I am sure most of the readers have not even heard of the name of Ater Fort despite its grandness. Situated deep inside the ravines of Chambal, this architectural delight is one of the best places to visit near Gwalior and Bateshwar temple. Situated near Bhind in Madhya Pradesh, this grand medieval palace was commissioned by Bhadauria kings Badan Singh, Maha Singh and Bakhat Singh between the years 1664 and 1668.
Some of the top places to see within the sprawling Ater Fort are Raja Ka Bangla, Rani Ka Bangla, Badan Singh Ka Mahal, Khooni Darwaza, Barah Khamba Mahal and Hathiapor. You will lose track of time in Ater Fort as you explore its labyrinthine walkways, terraced residences, secretive seraglios (harem) and elevated courtyards.
Orchha
The Bundela dynasty enjoyed a long rule in Orchha. The proofs of their glorious past are still scattered in and around Orchha in the form of Hindu temples, grand palaces, Chhatris etc. You can also enjoy river rafting in the voluptuous Betwa River or go birdwatching in the Orchha bird sanctuary.Some of the top places to visit in Orchha are Shri Ram raja Temple, Jahangir Mahal, Chaturbhuj Temple, Chhatris, Laxmi Narayan Temple and Raja Mahal.
Jhansi
Known as the Gateway to Bundelkhand, Jhasi has many tourist places. Located near Shivpuri, Orchha and Gwalior, you can easily include Jhansi in your itinerary. Jhansi is best known for being home to Rani Lakshmibai, the queen of Jhansi (1853–1858) and Major Dhyan Chand, the 'Magician of Hockey'. Some of the top places to see in Jhansi are Rani Mahal, Jhansi Fort, Jhansi Government Museum, Cenotaph of Raja Gangadhar Rao, St Jude's Shrine etc.
When I used to live in Navi Mumbai, I would often board the Pushpak Express from Lucknow to Mumbai and vice the versa. My train would slow down as it neared Jhansi. From my sleeper class window, I would crane my neck out of curiosity to observe the statue of Major Dhyan Chand, perched atop a tall hill accessed by stairs. This place also offers amazing bird's eye views from here.
Eran
Eran, sure is off the touristy trail. The ancient city of Eran, which is also called as Erakaina or Erakanya in Buddhist and Hindu texts, is one of the best offbeat places to visit in Madhya Pradesh. Some of the best tourist attractions of Eran are Old temple of Hanuman ji, Vishnu temple, Narasimha Temple, a huge idol of Varaha, Varaha temple, A group of ancient Hindu temples and Buddhagupta pillar etc. This is a must-see place if you are a history buff like me.
Pataini temple
If you love to go off the beaten track, head to Pataini temple.Also known as Pataini devi temple, this is a rare 5th century Jain temple which dates back to the rule of the powerful Gupta Empire. Situated near Unchehara town of Madhya Pradesh on the Satna-Unchehara road, Pataini temple, Alexander Cunningham visited here for the first time in 1873-74.
Ancient Vidisha-Udayagiri site
The Heliodorus pillar, an ancient stone column which dates back to 113 B.C.E. is the most talked about monument in this region. One of the oldest surviving monuments of India, the Heliodorus pillar is christened after Heliodorus, who was an ambassador of the Indo-Greek king Antialcidas from Taxila. He was sent to the Indian ruler Bhagabhadra. An ancient inscription in the Brahmi script is found on the pillar, venerating Bhagwan Krishna or Vasudeva. This establishes the popularity of Mahabharata even back then.
It reminds me of my visit to another ancient inscription in Meguti Jain Temple of Aihole, which also reveals the exact date when the events of Mahabharat took place. Located in Central India in Besnagar near Vidisha, Madhya Pradesh, it is a must-visit place.
Helliodorus Piller or Khamba Baba, Neelkantheswar Temple Udaipur, Udaigiri caves or Udayagiri caves, Charan Teerth Mandir, Bija Mandal, Hindola Torana, Bajramath Temple, Vidisha district Museum, Gadarmal temple, Udayeshwara temple, Sola-Kambi temple, Maladevi temple and Lohangi Pir are some of the top attractions in the Ancient Vidisha-Udayagiri site near Bhopal.
Sanchi Stupa: A lesson in Mauryan history
Asoka the great has been my favourite icon from history. Since childhood I was intrigued to read more and more about him and nurtured a dream to see the magnificent heritage edifice of Sanchi Stupa. 1 hour and 50 minutes away from Bhopal, the massive Sanchi Stupa impressed me much, more so the detailed carvings (on Buddha's life mainly) on its 4 colossal gateways.
The Buddhist vihara was hidden in a jungle for many years and most of the details have thus been preserved. King Asoka commissioned the original dome in 3rd century B.C.E. I was supposed to spend 1 hour here but ended up spending 5 hours minutely studying each carving. The guide and taxi driver had started saying, "Aap to yahan subeh se hai na?" (You are here since morning, right) How do I explain to them, my love for all things Asoka & Mauryan Empire. Special thanks to my female friend for waited for 5 hours under a tree so that I could indulge in my passion. Amazing patience, this!
If I were given a chance to meet any historical character it would be Asoka, without second thought. I am obsessed with Mauryan history! While returning, as I absorbed the view of orange sun drowning far away, the driver in the rickety bus played crude Bollywood songs. Such moment from my budget travels is why I love traveling solo on a shoestring budget. You can also visit Bhojeshwar Temple and Bhimbhetka prehistoric rock art near Bhpoal. There are many fun things to do in Bhopal and Indore as well.
Gyaraspur
Located in the Vidisha district, Gyaraspur is home to several medieval and ancient Hindu, Jain and Buddhist temples. Some of the best sightseeing places in Gyaraspur include Bajramath Surya Temple, Hindola Torna and Maladevi Temple.
Festival of Bateshwar group of temples Morena
It is auspicious to visit Bateshwar group of temples in Morena on Mahashivratri. It is the biggest festival devoted to Lord Shiva.
Lasting for 5 days, every December, the Tansen Samaroh or Tansen Music festival takes place at the premises of the Mughal-styled carved tomb of the musical legend, Tansen. World Class Musical maestros arrive at Gwalior on the occasion. You may get to listen to dhrupad and music from the Gwalior Gharana, both of which originated from this part of Central India. This festival is devoted to Mian Tansen who was born as Ramtanu Misra and breathed his last as Tansen in the 16th century C.E.
This major Indian classical music composer, vocalist and musician was also one of the nine jewels or Navaratnas at the court of Jalal ud-din Akbar, the Mughal King in those times. The title Mian was given to him by Akbar. It means a learned man. The ticket entry is free here. The venue for the event is: Tansen Samadhi Parisar, Hazira, Gwalior.
If you plan your visit to Morena during Mahashivratri and Tansen Samaroh, you will get more value for your money and get to attend a festival as a bonus.
Vegan and Vegetarian Food in Bateshwar group of temples Morena
I had a big buffet at the Padawali Retreat. Located in the middle of nowhere (well, in front of lofty grassy hill ranges), do not expect luxury here. But the food was good and they have clean toilets as well. This restaurant has large parking and lawn area. Even the restaurant is also pretty big. I had paneer Tikka, Paneer curry, Pulao, Naan, Mixed vegetable, Indian style Okra, daal and gulab jamun here.
Is it safe to visit Bateshwar group of temples of Morena?
When I visited Bateshwar temple complex, it was hard for me to believe that it was once forbidden to come here. Today, Bateshwar temple complex is a very safe place to visit. However, I recommend that you must return home by sunset after seeing the Bateshwar, Padawali, Chausath Yogini Temple of Mitawali and Kakanmath temples.
There are very few facilities here and the roads are deserted. You can imagine why dacoits chose this place as their refuge. The roads can be very lonely here at times and in case of a puncture or fuel requirement, the help may not be readily available. It is better to get back to Gwalior before sundown. Though I highly recommend admiring the beauty of Kakanmath temple during Sunset like I did.
Souvenirs Shopping Guide to Bateshwar group of temples
You can buy some Bundela handicrafts from shops in and around some of the temples. Gwalior Fort also have some souvenir shops.
What currency is used in Bateshwar group of temples Morena
INR is the only currency accepted at Bateshwar. Make sure you carry enough cash so that you may not face issue making payments. Since it is a remote area, cash is the only mode of payment accepted at most places here.
ATM in Bateshwar temple complex
There are no ATMs in and around Bateshwar temple complex. Also, do not expect to pay digitally in area around Bateshwar as it is located in a small quaint village. I withdrew some cash from ATM in Gwalior before I started for Bateshwar. Gwalior is a very big city and has no dearth of ATMs.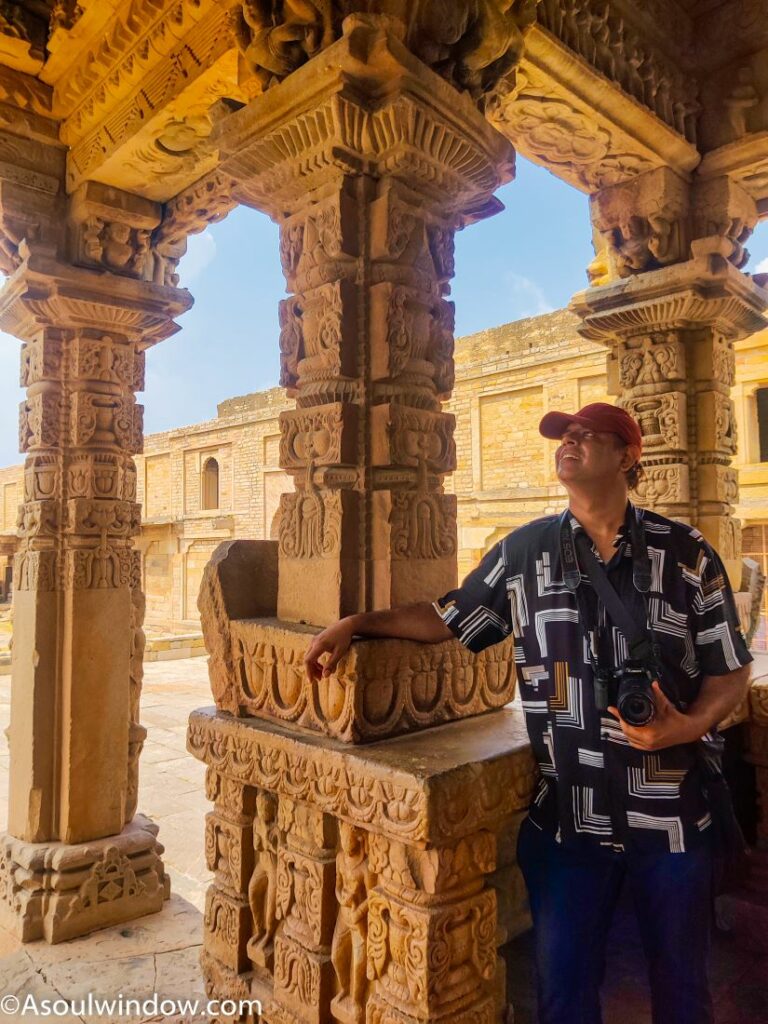 If you visit Bateshwar group of temples during early morning, you will be rewarded with several peacocks and parrots poetically sitting atop temples and other ruins. This makes for great pictures as well. There are several points of attractions around Bateshwar temples whichare perfect subject for architectural photography. As is common witharchitectural photography, the best time to shoot is during the golden hour, which is the time after sunrise (1-2 hours) and time before sunset (1-2 hours).
Languages spoken in Bateshwar
Hindi is spoken and understood by everyone in Morena. Some people may also know a little English, especially those who are involved in tourism.
Toilet facility in Bateshwar complex
I was impressed to see clean toilets right next to the entrance and ticket window.
Entry fee for Bateshwar temple complex
Is there an entry fee for Bateshwar temple complex? This is a frequently asked question. Yes, you need to buy entry tickets for yourself and the camera before you enter Bateshwar temple complex. The ticket window is located next to the main entry.
Hire a local tourist guide in Bateshwar group of temples, Morena
The temples in and around Bateshwar has such rich history, which can be best explained by a local licensed tourist guide. You can hire a local tour guide from Gwalior. Many hotels can arrange for an English-speaking tourist guide. The guides here also know many other languages such as German, French, Italian etc.
How To Book a trip to group of temples in Bateshwar, Morena
Several tour operators offer trips to Bateshwar, Padavali, Mitawali, Kakanmath and other sightseeing places in and around Gwalior. Taj Mahal in Agra is also located very close to Gwalior. So, if you are an NRI or a foreign traveler from U.S.A., Australia, Canada, New Zealand etc, it makes sense to buy a tour package that includes road trips to nearby cities such as Agra, Delhi and Jaipur.
Backpacking Budget Travel Tips for Bateshwar group of temples, Morena
This is a commonly asked question. Yes, it is very easy to visit Bateshwar group of temples and other temples of Morena on a shoestring budget. Public transport runs to Bateshwar frequently. However, it is not easy to find public transport in Morena around sunset. The entry ticket is also very low for both foreigners and Indians.
Solo Trip Tips for group of temples in Bateshwar, Morena
Long before Bateshwar became a major tourist attraction near Gwalior and a little later after it was freed from dacoits, my blogger friend Jitaditya Narzary had visited Bateshwar and nearby attractions on a solo budget travel. It was not very easy to reach Bateshwar back then.
But the good part is that it was still manageable. Today, however, things are very different. Not only is it safe to visit Bateshwar alone, but also very convenient.
Luxury travel Tips for Bateshwar Temples
I travelled to Bateshwar in luxury. I stayed in a luxury property in Gwalior and made a day trip to Bateshwar and other temples of Morena. Gwalior has many world class facilities which suits the taste of luxury travellers. Being the epicentre of Royal family in this part of the world, the royal touches also reflect in the 5-star hotels and other luxury establishments in the city. Thus, you can enjoy a luxurious vacation to Bateshwar and Gwalior at reasonable prices.
Books on Bateshwar group of temples, Madhya Pradesh
You must read Njan Enna Bharatiyan which translates to "I, the Indian." This Malayalam-language autobiography of Shri K.K. Muhammed is full of many interesting facts. In this book, he also vividly elucidates the findings of his archaeological excavations at Ram Janm Bhumi site in Ayodhya. According to his findings and the book, remains of a pre-existing Hindu temple were found right below the mosque.
Where to stay near Bateshwar group of temples, Morena?
For me, it made sense to stay at the luxurious Taj Usha Kiran Palace in Gwalior and make a day trip to the temple monuments of Morena. Taj Usha Kiran Palace, sure is one of the most luxurious places to stay in Gwalior. I stayed in one of its spacious heritage rooms overlooking the al fresco restaurant down below.
There are some places in Morena also where you can stay but Gwalior has more luxurious options and a wide range of hotels. Places like Mitawali and Sihoniya are so remote that they do not have accommodation facilities. This is why it makes sense to stay in Gwalior or Morena.
What to wear in Bateshwar group of temples, Morena?
I visited Bateshwar on 28th September, just before the onset of winter in North and Central India. It was still hot in the end of September during the day. I was still able to visit the temples comfortably as I dressed in an appropriate manner.
White cotton shirts and Jeans or thin lower are great for summer months. Avoid wearing shorts and skirts though because it is a religious place and we must be respectful.
During winter, wear woolen clothes even during the day as it gets very cold in Gwalior and Morena, especially in the month of December and January.
Timings of Bateshwar temples complex, Morena
What is the timing of Bateshwar Temple? Bateshwar Temple is open from 8 a.m. to 6 p.m. daily.
Best Time to visit Bateshwar group of temples, Morena
What is the best season to visit Bateshwar group of temples, Morena? Here is a detailed guide to climate, temperatures and weather in Bateshwar in various seasons.
Bateshwar temples in Summer
I visited Bateshwar group of temples, Morena in the last week of September. This is when summer ends and pink winter begins in North and Central India. April, May and June can get very hot in Bateshwar. This is why you will see fewer tourists in Bateshwar in the summer months.
While the afternoon was hot and sweaty in Bateshwar temple in September, early morning and evenings are pleasant. I suggest you to visit early morning because it is the best time to visit Bateshwar and other temples of Morena in September or other summer months.
Bateshwar temples in Winter
October to March is the winter season in Central India. Winter months are indeed the best time to visit Bateshwar. January and December are the coldest months in Central India, so make sure that you pack in a lot of woolens when traveling to India in winter. Winter is also when you can attend the Tansen Samaroh in Gwalior and enjoy some delicious seasonal food.
Bateshwar temples in Monsoon
The beauty of Bateshwar temples can also be enjoyed in the rainy season. In fact, rainy season is one of my favorite times to travel within India due to less crowd and low prices. Monsoon is also when there is abundant greenery, the weather is pleasant and the monuments are bathed in fresh rainwater. It rains the most in July and August, though sporadic rains are also observed in June.
Duration of visit in Bateshwar group of temples, Morena
How many days to spend in Bateshwar group of temples, Morena? What can I do in 1 day in Bateshwar group of temples, Morena? 1 day is enough to visit Bateshwar group of temples, Chausath Yogini Temple at Mitawali, Padavali and Kakanmath temples. That is how I did it. Since I had a private car with me, it was easy to cover all these historical temples within one day from Gwalior.
Soul Window Travel Tips on Bateshwar
Even at snail's pace, you will be easily to visit all the above excursions from Gwalior within a span of few hours. What makes it easy that all of the above-mentioned temples are located just 1-2 kilometers away from each other.
What can I do in 2 days in Bateshwar group of temples, Morena? Most tourists do not stay at Morena and rather make a day trip from Gwalior. In case, you want to dig deeper or spend more time here, then you may stay at one of the hotels in Morena. Though, better hotels are available in Gwalior. I was told that there are more archaeological sites in this region. So, if you have more time and budget, you must explore those ruins as well.
Quick Itinerary for Bateshwar group of temples, Morena
Here is a quick itinerary for Bateshwar group of temples in Morena which I followed. You can also repeat this or alter this as per your budget, time and interest.
This is the exact itinerary I followed to visit Bateshwar, Padavali, Mitavali and Kakanmath:
| | | |
| --- | --- | --- |
| Start Time | End Time | Activity |
| 07:45 | 10:00 | Travel to Bateshwar |
| 10:00 | 12:00 | Explore Bateshwar |
| 12:00 | 13:00 | Explore Padavali |
| 13:00 | 14:00 | Lunch at Padavali |
| 14:00 | 14:15 | Travel to Mitavali |
| 14:15 | 15:15 | Explore Mitavali |
| 15:15 | 16:45 | Travel to Kakanmath (with 15 mins tea break) |
| 16:45 | 17:30 | Explore Kakanmath |
| 17:30 | 19:30 | Travel to Gwalior |
| 20:00 | 21:00 | Dinner |
Local Transport for sightseeing in Bateshwar group of temples, Morena
Local Transport for sightseeing around Bateshwar group of temples and other tourist places of Morena is not very easily available. It can get even more difficult to flag down a bus or autorickshaw in the evening. Since the temples of Morena are located in remote places, I highly recommend a personal vehicle.
How to reach Bateshwar group of temples, Morena?
Morena is an easy and quick weekend destination from Gwalior in Madhya Pradesh. It is fairly easy to reach Bateshwar group of temples in Morena. Below are some of the best possible ways to reach Morena from Gwalior and elsewhere.
Railway
Morena junction and Gwalior Junction are the nearest railway stations. Gwalior is a bigger railway station and connected to more major and small cities of India.
Bus
You can catch a public transport bus to Sihoniya from both Morena as well as Gwalior. However, be warned that all the above-mentioned temples are located a little away from the main road. Finding a local transport after the bus drops you can be a bit tricky.
Via Road Trip to Bateshwar
I arrived at the Bateshwar group of temples via a short road trip from my luxurious hotel in Gwalior. The roads here are in excellent condition, which makes it pleasurable to self-drive here. I explored Bateshwar, Padawali, Mitawali and Kakanmath temple between 7:45 a.m and 5:30 p.m. If you have your own car, then you can easily visit all the temples of Morena in a day at your own pace.
Via flight
The nearest big airport is located in Gwalior. It is connected to all the major cities and towns of India.
Distances from Bateshwar group of temples, Morena
Bateshwar group of temples is located approximately 35 kilometres away from Gwalior and 30 kilometres away from Morena Railway Station.
What is the distance between Bateshwara and Gwalior? How far is Agra from Bateshwar by train? How far is Bateshwar Mandir from Agra? These are some commonly asked questions. Here are the detailed answers.
Distance between Gwalior and Bateshwar temple Morena is 31 kilometres and it takes around 1 hour via Tansen road.
Distance between Datia and Bateshwar temple Morena is 110 kilometres and it takes around 2 hours via NH44
Distance between Agra and Bateshwar temple Morena is 114 kilometres and it takes around 2 hours and 30 minutes via Chennai – Delhi Highway/Mumbai – Agra National Highway /Srinagar – Kanyakumari Highway.
Distance between Jhansi and Bateshwar temple Morena is 135 kilometres and it takes around 2 hours and 40 minutes via NH44
Distance between Orchcha and Bateshwar temple Morena is 154 kilometres and it takes around 3 hours via NH44
Distance between Shivpuri and Bateshwar temple Morena is 159 kilometres and it takes around 3 hours via NH46
Distance between New Delhi and Bateshwar temple Morena is 334 kilometres and it takes around 6 hours via Chennai – Delhi Highway /Mumbai – Agra National Highway/Srinagar – Kanyakumari Highway and Yamuna Expressway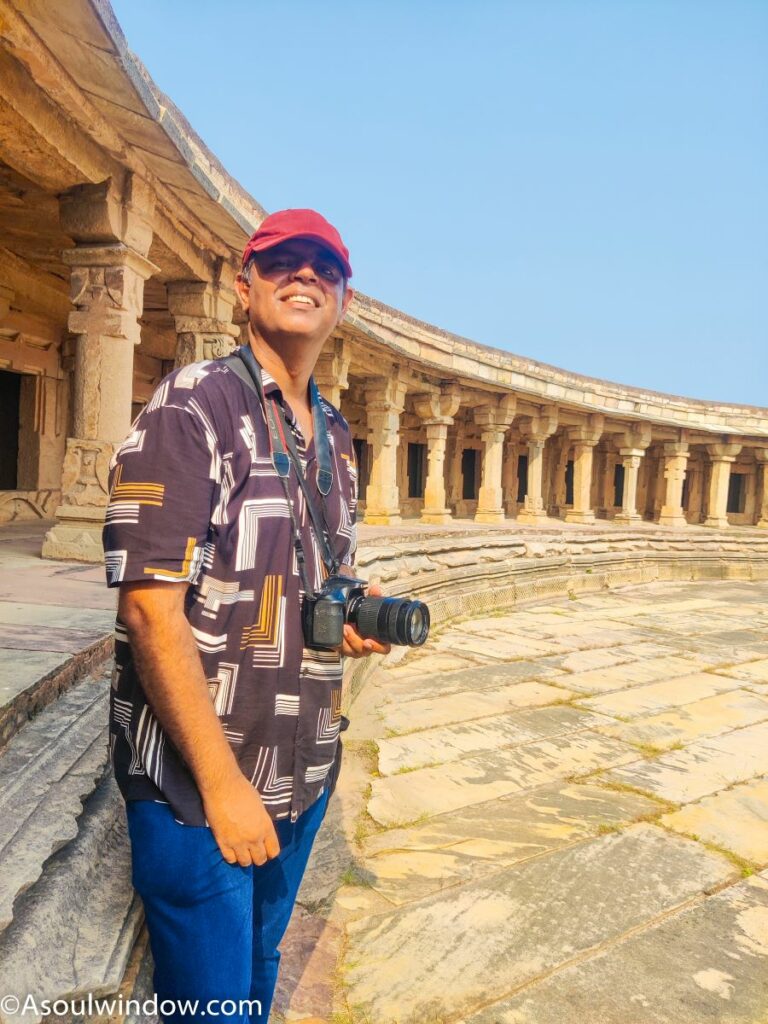 Is Bateshwar worth visiting? Why visit Bateshwar group of temples, Morena? Well, here are my final thoughts. Well of course, Bateshwar merits a visit even if you live outside of India. Where else can you see so much grandeur. Whether it is Bateshwar temple complex, Padavali, Mitavali or Kakanmath, each temple left me inspired. Do not miss this amazing weekend escape from New Delhi and Gwalior.
It makes complete sense to spend a week exploring the medieval temples of Morena along-with the nearby imposing fort of Gwalior and other tourist attractions such as Siddhanchal Rock Cut Statues, Shivpuri, Madhav National Park, George Castle, Chambal River Safari and Beehad Safari etc. I did all this and much more over 7 days in and around Morena and Gwalior.
In a nutshell, if you want to experience the grand past of India, you must head to Gwalior. The bottom-line is that there are very few places around the world where you get to see so much in close proximity of each other. It is a pity that despite traveling solo since 2008, I took so long to arrive at Gwalior. To summarize, I feel Bateshwar temple complex and other temples of Morena are totally worth your time and money. Restored to their former glory with precision, the temples of Morena are a must visit.
The view from my Soul Window is greater than expectations!
Pin this blog to save the blog and plan a trip later!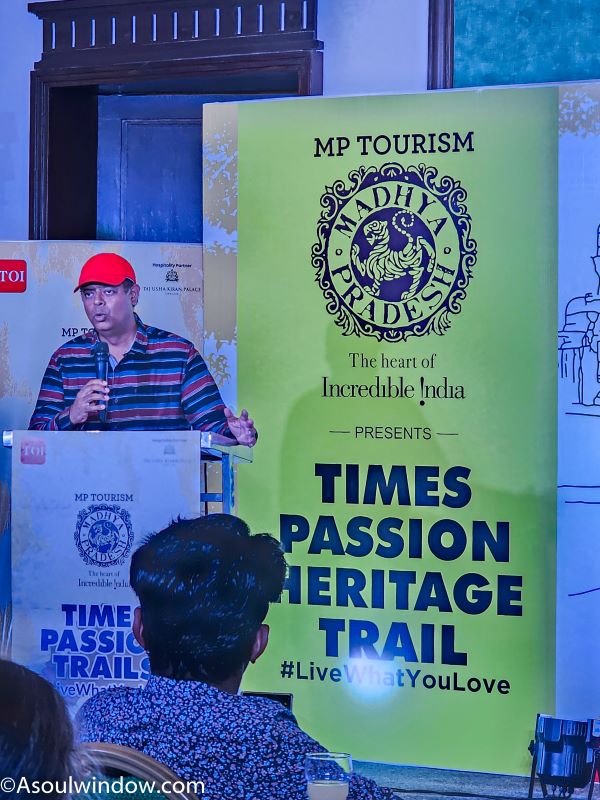 Biggest Travel Guide to Gwalior Fort
Birding in Pench National Park
My first Tiger Safari at Bandhavgarh
Biggest Travel Guide to Pench National Park
Biggest Travel Guide to Satpura National Park
Top Travel Blogger from India