Last Updated on June 30, 2023 by asoulwindow
Tawang, Arunachal Pradesh- 50 Top places to visit!
Top places to visit in Tawang are many! The stunning Tawang valley is punctuated with pristine lakes mirroring the green pastures, lofty snow clad mountains, nice climate and pollution free air make Tawang ideal for few days of vacation. Tawang in Arunachal Pradesh is famous for Sela Pass, Tawang Monastery, Bumla pass, Bomdila-Dirang-Tawang circuit and Jaswant Garh war memorial. Dirang to Tawang is a beautiful route!
Tawang is a touristy place and yet an offbeat destination in all of Arunachal Pradesh. Why I am saying that is because not many people make it to Tawang despite its popularity. Apart from the usual suspects such as tourists from Arunachal Pradesh, Assam, West Bengal, Sikkim and even the neighbouring countries such as Bhutan, not many foreigners or Indians from other states such as states from North India, South India and West India visit Tawang in Tawang Arunachal Pradesh, North East India. It's a pity because they know not what they are missing out on. I could not control but take many Tawang pics.
Let's have a look at the top things to do in and around the offbeat Tawang in NE India.
Top 50 Places to see in and around Tawang Arunachal Pradesh
1. Tawang Monastery, Arunachal Pradesh
Who built Tawang Monastery?
Ta means horse and literal meaning of Wang is Blessing. That explains why Tawang Monastery is called so. Though, I am sure you do not know the intriguing back story to how Tawang Monastery came in to existence. As per the local folklore, it has to do with the legend of Merag Lama Lodre Gyamtso. He was on a quest to scout for a celestial land for the construction of a holy Buddhist monastery. He wanted to please Ngawang Lobsang Gyatso, who was the fifth Dalai Lama.
Failing to locate such a sight, he prayed for divine intervention. His prayers didn't go unanswered. His missing horse led him to a scenic hill, as beautiful and pure as his prayers. And thus began the construction of the Tawang Monastery. What happened next is history!
Potala palace in Lhasa, Tibet is the largest Buddhist monastery in the world. The second largest monastery of the world is Tawang monastery in Arunachal Pradesh, North East India. Tawang monastery was built between 1680 C.E. to 1681 C.E. by Lodre Gyatso. Yes, this is how old is Tawang monastery! Also check out thangka by Palden lhamo. It is the top Tawang tourist place. Did you enjoy my Tawang pics?
Location of Tawang Monastery, Arunachal Pradesh, North East India!
Tawang is located in the western most corner of Arunachal Pradesh. It shares its border with two beautiful places I have been to, Tibet and Bhutan. Having travelled to Tawang, Bhutan and Tibet, I can vouch for the fact that all the 3 places, divided by border are as different from each other as yak is from Mithun.
The food habits (Ema Dhatsi, a cheese and chilies dish, is common though in Bhutan and Tawang), costumes, languages, facial features, religion, culture and even the landscapes etc in these region are very different from each other despite sharing the borders. I even saw phallic symbols which I saw for the first time in Bhutan. The now famous Penis drawings at Chimi Lkakhang in Bhutan has amused outsiders time and again. I have a full blog on it. Do read!
Visit Kitchen of Tawang Monastery
The plus point of traveling with local expert like Sange Tsering from Holiday Scout was that I go special access inside the huge kitchen of Tawang Monastery. I got to see monks at work. Huge containers, local breads and tea making machines gave us an exclusive insight into the lifestyle of monks at Tawang monastery. Not many get to experience this during Tawang tourism. No wonder Sange Tsering from Holiday Scout is one of the best Tawang travel guide. He will show you places you didn't know existed!
The sense of community is to be seen to be believed. Thanks to Sange, I was able to interact with the kitchen staff and get a deep insight into their daily lifestyle. The bird's eye views of Tawang from here were amazing as well. Hope you are enjoying these exclusive Tawang pics! Tawang Arunachal Pradesh is full of surprises!
2. Visit Museum of Tawang Monastery
There is a small museum right next to the Tawang monastery. Do visit when you get time. It will take not more than half an hour to visit the Tawang museum. The history of Tawang monastery dates back to 17th century. You will love to see some very ancient artefacts, relics, urns, parchments etc in Tawang museum.
3. Tawang War Memorial
"How can man die better, than facing fearful odds, for the ashes of his fathers and the temples of his Gods."
This was written at the Tawang war memorial entrance which is dedicated to the 2,420 unsung heroes who laid down their lives during the 1962 war between India and China in Kameng sector.
We have all grown up hearing about the Indo Sino war of 1962. The war between China and India led to massive damaged. As many as 2420 brave Indian soldiers laid their life in the battlefield. The Tawang War Memorial commemorates their supreme sacrifice. I visited Tawang War Memorial on my last day in Tawang. It was a poignant moment. I and my co travelers turned silent as we walked around the war memorial. Some of the guns and belongings of soldiers have been preserved here.
The War memorial was blessed by H.H. 14th Dalai Lama himself. He had gifted idols of Buddha in various mudras and forms alongside holy scriptures. These are now installed within the Stupa. You need to take a flight of stairs to arrive here.
The war memorial is built as a traditional Buddhist chorten which venerates the departed souls in traditional Buddhist custom. It signifies the eternal spirit and has been built as per the local religious practices. The chorten was blessed by Buddhist monks and local people of Tawang.
Personally anointed by H.H. Dalai Lama, you can also see idols of Lord Buddha, scriptures, silver and gold ornaments, idols of Arya Avoloktheswara here.
There are just two rooms which house the memorabilia from the 1962 Indo-Sino war. Photography is strictly prohibited outside the War Memorial as it is an army base. You can take pictures inside the war memorial. You can also see a canon in the same campus. Huge parking space for 4 wheelers is available here. India China border is very close to Tawang Arunachal Pradesh.
Other places at Tawang war memorial include Bumla talkies, helipad, amphitheatre, station headquarter and even a shopping complex. Do share this biggest guide on 50 Top places to visit in Tawang.
4. Urgelling Gompa – Tawang tourism.
The Urgelling Gompa, though very small holds immense importance for Buddhists around the world. Urgelling Gompa is the birth place of Gyalwa Tsangyang Gyatso (1683 C.E. – 1706 C.E.). The literal meaning is 'the precious ocean of pure melody, the VI Dalai Lama.' No wonder, it is a protected heritage site. I even saw a room where a row of ancient stupas were housed. The stark white stupas looked divine and pure. I also saw some rare ancient manuscripts and hand-made notes. These paper works were yellowing due to its age. This room is nothing less than a museum.
The campus of Urgelling Gompa is also dotted with some heritage elements. I saw an ancient tree which is worshipped by locals and pilgrims alike. Covered with Buddhist flags and other paraphernalia, this tree exists on the right as you enter the main entrance of the Urgelling Gompa. It is a very silent and pious place, so please maintain decorum here.
Let me quote a board I saw at Urgelling Gompa:
Ugyenling temple was constructed around 1487 C.E. by Ugyen Zangpo, who was also the youngest brother of Terton Pemalingpam, the great treasure revealer. He is also credited with the foundation of 2 more Nyingmapa Temple known as Sangyeling Gompa and Tsogyeling Gompa in its vicinity. 2 centuries after the foundation, in 1683 C.E. H.H. the 6th Dalai Lama took birth here to Tashi Tenzin, who was a direct descendant of Ugyen Zangpo and Tsewang Lhamo of the royal family of Berkhar.
Evidences of miraculous deeds and performances by Tsangyang Gyatso, H.H., the 6th Dalai Lama is seen even at present. The tale of plantation of walking stick by Tsangyang Gyatso holds immense importance for the pilgrims. While he left Tibet, Tsangyang Gyatso had planted his walking stick here and prophesized that he will come back to Tawang only when the 3 trunks which grow out of the stick attain equal height.
It eventually did happen, but due to strong winds in 1959, one trunk perished. The Buddhist pilgrims saw it as an ominous sign of H.H. The Dalai Lama returning to Tawang one more, this time as the much celebrated H.H. the 14th Dalai Lama as he left Tibet for his exile in India. That makes it one of the most important of Tawang tourist places. Isn't that an amazing tale?
5. Rigilling Gompa and the Sacred forest
As the cab snaked towards Tawang monastery, I read a signboard which said, "Beware! This is sacred forest of Rigilling Gompa. Hunting wildlife and illegal felling of tree is strictly prohibited." Such sacred groves are found in many places in Arunachal Pradesh. They were more common in Ziro. I saw many such sacred forests in Ziro. You can read about Ziro at the link in bottom.
There are around 101 identified sacred groves in Arunachal Pradesh alone. The GFAs or Gompa forest areas are managed by regular Monpa people and lamas associated with the Buddhist monasteries such as the offbeat Rigilling Gompa. These protected forests are often devoted to local deities of Arunachal such as Thouw-gew, Ubram and Ubro.
The immense respect for nature, plants and wildlife has made the people of Arunachal Pradesh unsung Environment warriors. Some of the most popular trees found in such sacred forests are Peepal, Banyan, Harada, Bela, Ashoka etc.
The sacred groves of Arunachal Pradesh are commonly found in Tawang, West Kameng, Ziro, Siang district and Lower Subansiri regions. The culture of North East India is indeed very different! Tawang tourism is full of such discoveries! You will love the Tawang tour!
6. Ani Gompa aka Nunnery
There are various nunneries in and around Tawang which can be visited. Since times immemorial, Tawang has been home to many nunneries such as Brama Dung Chung Ani Gompa, Singsur Ani Gompa and Gyangong Ani Gompa. The Brama Dung Chung Ani Gompa is the oldest nunnery of Tawang. It dates back to 1595 C.E. Built by Karchen Yeshi Gelek, Brama Dung Chung Ani Gompa is just 12 kilometers away from Tawang. Around 45 nuns reside here. Ani means Nuns. Do visit the nunneries of Tawang if you can! It is an offbeat experience!
7. Old bazaar of Tawang
Do have a visit are the old bazaar or Tawang market. The snow from previous night was still there when I visited. I walked in the old bazaar area for some time, visited local Gompas, monasteries, checked out local stores, handicrafts and had a good vegan lunch at a local restaurant. I had amazing momos and Tibetan thukpa (noodles soup) at the Hotel Shangri La in Old bazaar line. They also have clean loo and a balcony overlooking the market area.
8. Buddha Park
This Buddha park is located near the circuit house. You can see various statues of Lord Buddha in different forms and mudras here. The most impressive statue is a very tall one. You can arrive here by a car. This place also offers sweeping views of the Tawang valley below. You can even meditate or offer prayers here. Not many people crowd this place. It is silent and is thus ideal for some meditation or yoga.
If you are facing the giant statue of Buddha, on your right you will see a large Indian Army base. Please do not take any pictures, videos or selfies in this direction. You can land in trouble as it is a protected area. Indian army keeps a strict vigil on any miscreants (which could be you by mistake) taking pictures. Take it seriously.
9. Gyangong Ani Gonpa – Offbeat Travel
Located 9 kilometers away from Tawang in the North West direction, Gyangong Ani Gonpa was founded by Merag Lama Lodre Gyamtso. He made it for his sister. It is also known as Jangchub Choeling Nunnery. Offering spectacular views of the verdant mountains, it is built on a hilly area.
Maitreya Buddha or the future Buddha is the presiding deity here. It is one story tall. The nunnery at Gyangong Ani Gonpa is home to as many as 50 Buddhist nuns. It is a very important Buddhist monastery and has many sacred shrines scattered around the vicinity.
Gyangong Ani Gompa is connected to Tawang Monastery by a cable car. It may not be working all the time. I prefer to walk anyways. Ask the locals for direction. It is just 1.5 kilometres away from a passage north of Tawang Gompa. This is a stone path, so wear sturdy shoes when walking here.
10. Brahmadungchung Ani Gompa
Brahmadungchung Ani Gompa which is also known as Thukje Choeling is home to sacred images of Avalokestesvera, Tsong Khapa and of course Lord Buddha. This Gompa was founded in 1926 by Kachen Yeshi Khapa, who was a Buddhist monk. This is one of the most offbeat of all Tawang tourist places. So much to see in Arunachal Pradesh!
11. Government Craft Center – Tawang Tourist Place.
Tawang region is also rich in local traditional art and craft. You can see workers making different had made items. The good part is that you can buy directly from the artists. Take your pick from show pieces, wood work pieces, utensils, hand-made Buddhist incense sticks, hand woven rugs and carpets, Buddhist Thangkas (religious wall paintings, painted by hands), carves wood artefacts, woolen outwear, caps and what not!
You can also see the various traditional handloom products being made by Monpa people in the Government Craft Center. Some places sell silk too but I do not support it as they boil silk worms alive to make beautiful dresses for you. You sure do not want to earn some bad karma, do you?
12. Khinmey Gompa
Also known as Sang-Ngag-Choekhorling, Khinmey Gompa is home to scores of monks from various Buddhist nations. Khinmey Nyigma Monastery is a great place for monks to study both ancient Buddhist classics as well as modern subjects under the tutelage of a qualified Rinpoche.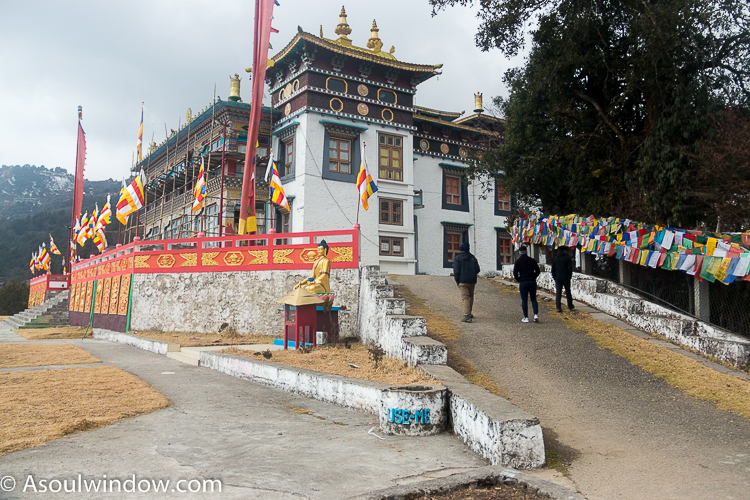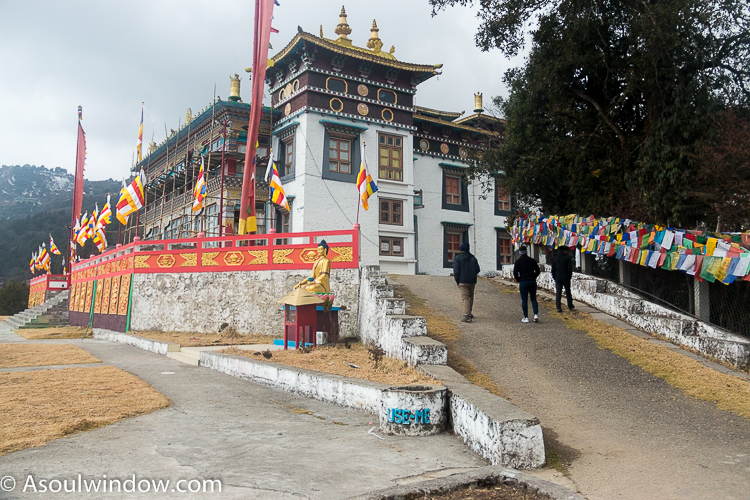 More than 100 people from mixed background such as the local people from Monpa community, Bhutanese people, Nepalses people and Indian from other regions study at the Khinmey Gompa at one time. We saw many yellow hat monks at the monastery which was built in 1440 A.D. Do check out the medicine Buddha statue.
13. Dorjee Khandu Memorial Museum
Built as a tribute to chief minister of Arunachal Pradesh, Dorjee Khandu by his supporters, friends and family, Dorjee Khandu Memorial Museum is located in Famla Village. There is a nice garden surrounding the beautiful Buddhist Stupa in the centre.
14. Kushang Nang
This place is very sacred to the followers of Buddhist religion. It has great historical and spiritual value to Buddhists around the world. Kushang Nang is after all, the home of the royal mother of the 6th Dalai Lama, Gyalwa Tsangyang Gyasto. The royal mother's name was Gyalya Tsewang Lhamo. It doubles up as a museum, what with original belongings of Gyalwa Tsangyang Gyasto and other antiques still displayed here.
This spiritual heritage has been well preserved over the years. This famed house if located around 15 kilometers away from main Tawang town. Located in Bekher in Kitpi Circle, you can also pay a visit at the house of Lama Tanpei Dronme. It is just a furlong away.
15. Chak-Zam
There are around more than 100 ancient iron bridges across many regions in the Himalayan range. The construction of these iron bridges is credited to Tangton Gyalpo. He was a disciple of 1st Dalai Lama, Lama Chag Zam Wangpo (1385 C.E. -1464 C.E.). Not only was he a thinker, but also an architect and philosopher. He was on an iron chain bridge building spree, some of which you can see till date. Have a walk at the 6 centuries old Chakzam bridge.
16. Chumey Gyatser, the holy water falls.
The Chumey Gyatser waterfall is considered to be sacred by the Buddhists. Its water is believed to possess immense medicinal value. Gifted with supernatural powers, this pious waterfall is also a visual delight. The cascading waterfall, fluttering Buddhist flags and breezy air make it a memorable experience in Tawang Arunachal Pradesh.
17. Nuranang waterfall or Phong-phongma waterfall
This beautiful waterfall falls from an impressive height with great intensity. Located next to Tawangchu river in Jang, Nuranang waterfall is great for picnic with friends and family and even a nice portfolio shoot. This thunderous waterfall is surrounded with unparallel beauty. Think of lush green water, gushing river, rocky formations!
From Jang, you need to drive for 2 kilometers downhill in order to reach the Nuranang waterfall. It is located in Nyamseir. Nuranang waterfall was made famous by Indian actress Madhuri Dixit when she danced here to Tanhai Tanhai song from the Hindi film Koyla. Do make a detour here as you indulge in Tawang tourism.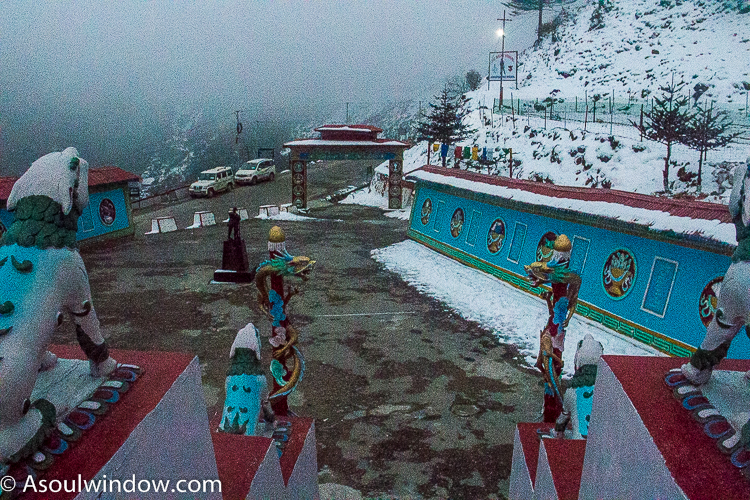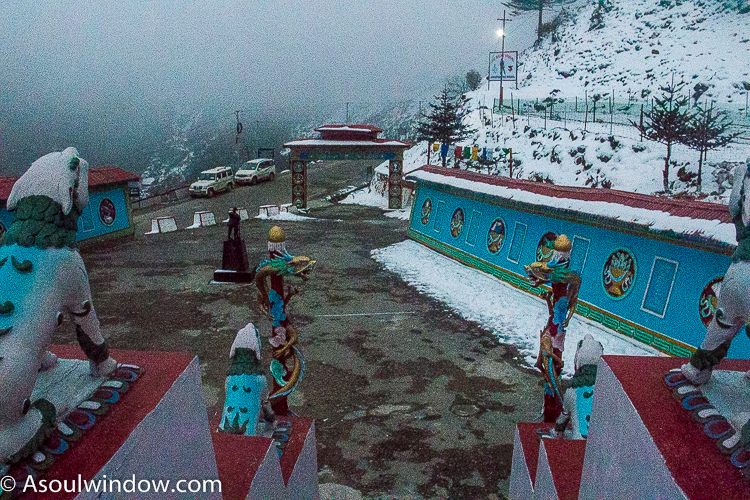 18. Jaswanth Garh War Memorial – Dirang to Tawang
We paid our respects at the Jaswanth Garh War Memorial while driving to Tawang from Dirang via Bomdila and the gorgeous high altitude lake at the Sela Pass. The famous Jaswanth Garh War Memorial was built to honour and commemorate Mahavir Chakra Awardee (posthumous) Shri Jaswant Singh ji. He belonged to 4 Battalion Garhwal Rifles. He had emerged as a war hero from the 1962 Indo-Sino war.
During the war between India and Chinese in 1962, Shri Jaswant Singh ji single handedly faced and resisted the unruly Chinese intruders. The unmatched valour and admirable courage of Jaswant ji is still being talked about. For 72 hours, he was successfully fighting with the invading Chinese and holding them from further intrusion in the Indian Territory. He achieved this feat all alone.
Unfortunately he was martyred in the end. His belongings and other displays from the war have been put in the memorial. There is a small museum a little ahead of the memorial where you can see more displays from the war. Also, do not miss the original bunkers from 1962 on the way from memorial to this museum. The bunkers are on the right side as you walk from memorial to museum. We owe a lot to the Indian army and people like Jaswant ji, don't we? Goosebumps guaranteed. Maybe a few tears too!
Smriti Sthal: To commemorate the sacrifice made by RFN Jaswant Singh Rawat ji, a memorial calld Smriti Sthal was constructed near Jaswant Garh Memorial in 2016. There is a preserved tree inside Smriti Sthal where Jaswant ji breathed his last after being hit by a bullet during the 1962 war between India and China. It was overwhelming to see the dresses, rifles and belongings of RFN Jaswant Singh Rawat ji inside Smriti Sthal. You can also see photographs of the commanding officer, 4 GARH RIF, COY CDR and also of those martyrs whose role was important in the battle of Nuranang. It was snowing when I visited and was dark inside due to lack of electricity. So do carry a torch. Do not miss this top tourist place near Tawang.
Soul Window Tips:
It can be dark even in day here due to lack of electricity and bad weather. Do carry a flashlight or mobile torch here for viewing the objects better. It was snowing when we visited. It can snow anytime, so always carry umbrella and wear sturdy shoes. Free clean toilets are available on the other side of the road. You need to take few down-hill steps.
19. Sela Pass and Lake – Tawang to Dirang
Ideally Sela pass should be called as just Se La. La itself means pass and we don't need to use the word pass with it. Just like Pangong Tso lake in Ladakh should be called just Pangong Tso because Tso already means lake. Sela Pass weather is always volatile and changes regularly. Thanks to the low Sela Pass temperature and high altitude,it is not advised to stay here for a long time. AMS or Acute mountain Sickness can happen if you stay here for long.
This high altitude Sela Pass, located at the height of a whooping 13,700 feet took my breath away. It's stunning beauty and stark naked landscape is stuff dreams are made up of. Se La demarcates the boundaries between Tawang valley and West Kameng regions of frontier state of Arunachal Pradesh. It was full of snow when I had visited.
When I visited Sela Pass, a biker's gang, clad in professional gears, was busy getting a photo shoot done against the quirky (and colorful) welcome gate of Se La. This is the main access route to Tawang. No matter if you are coming from Dirang or Bomdila or any other place, you have to cross Sela pass. The splendid views of Himalayan landscape were picture postcard perfect!
The two lakes near the Sela Pass were equally gorgeous. The enchanting views which these lakes provide you will stay with you for a long time. As per my experience, if you change your angle you will notice a different view and new patterns of the lakes. You can even walk down to the lake via stairs. The other prominent nearby lakes are Kham Kher Tso, Nagula Tso, Klemta Tso et cetera.
It is believed to bring you good luck if you spot a pair of swan in the Sela lake. It is considered to be a good omen. Hallucinating doesn't count of course. Sela Pass to Tawang distance is 73 kilometers and it takes around 3 hours via NH13.
Soul Window Tips: We even had an amazing Maggi lunch at a road side dhaba. Gathered around the hearth in the kitchen of the dhaba, we warmed ourselves and made weird experiments such as mixing Assamese mustard paste in Maggi and mixing Old Monk rum with coffee. It tasted like Baileys Irish Cream Liqueur, trust me. Do not try this at home though. We were under the influence of high altitude lunacy, of course!
Clean Loo Guide: I would advise you to take a leak here, as you will be driving on roads with no toilets for a long time. If you face the main entrance gate of Se La, you will find a clean toilet on the right hand side.
We had an amazing Maggi Lunch here.
I saw a board by Tawang Forest Division ,mentioning distances from Sela Pass which I am presenting below:
Restoration of wetland projects GIM – 32 kms
Nuranang water fall forest eco lodge, Jang – 44 kms
Rhododendron Park, Tawang – 77 kms
High Altitude Arboretum – 78 kms
Botanical garden and High Altitude nursery – 78 kms
Nature Interpretation Center NIC – 79 kms
Red Panda and Black Necked Crane site at Zemithang – 148 kms
CA Plantation, Bletang at Bhutan border – 150 kms.
Contact:
Police Control Room, Sela Pass – 03794-222278
Jang Police Station – 03794-254808
20. Dolma Lhakhang, Lumla
Initiated by His Eminence Tsona Gontse Rinpoche in October 2006, the 18 feet high Dolma Lakhang is located in Lumla. It sits pretty at the height of 11,000 feet at Lumla peak. The white Tara Devi project aka Jetsun Dolma, includes a devoted meditation center and a prayer hall as well.
Lumla is located around 35 kilometers away from Tawang headquarters. Lumla lies between the Tawang Zemithang route. being close to Bhutan, you can even see views of Bhutan from Lumla in India.
21. Mukto for traditional paper making
Mukto, home to just 700 people, is an offbeat place to visit near Tawang valley. Apart from being a popular spot on trekking trails, Mukto is also known for indigenous method of making paper. The paper, which is made using the bark of a locally available tree called shuk shang, is used by the Buddhist monks to write religious scripts. Thanks to the remote location of Mukto, this unique method of paper making is still alive. Tawang to Mukto is just 90 minutes drive away.
22. Bapteng Kang Waterfall
The locals call it simply as BTK waterfall. Cascading from the height of whooping 100 feet, it looks beautiful. No wonder Bapteng Kang Waterfall is popular with both tourists and locals alike. It is located 80 kilometers away from Tawang to Zemithang. Distance between Bapteng Kang Waterfall and Lumla is merely 30 kilometers.
The other waterfalls in the Tawang valley region are Bludhifall, Dugti waterfall, Zigtsang Rong, Chumo-rong fall, Mangnam waterfall, Gorsam waterfall and many others. Needless to say, keep your eyes peeled while driving around Tawang. This is an offbeat Tawang tourist place.
23. Gorzam Chorten, Zemithang
Did anyone tell you that you can see a little of Nepal as well in Tawang? Modeled after the famous Boudhinath Stupa of Nepal, Gorzam Chorten is a beautiful stupa located around 92 kilometers away from Tawang. The sky kissing stupa was commissioned by Lama Prathar in 13th century C.E. Lama Prathar belonged to Kharman Village in Zemithang. I had seen similar stupas in Namche Bazaar and other random places during my epic Everest Base Camp Trek in Nepal. This 93 feet tall (Yes, you read it right!) stupa stands at 186 feet at the base.
Much like Nepalese stupa, this stupa tapers to a pyramid at the top and has two eyes on all the sides of the stupa. Distance between Zemithang and Tawang valley is around 90 kilometers.
Gorzam Kora Festival: Large number of pilgrims congregates at the Gorzam Chorten every year to celebrate the Gorzam Kora Festival.This festival falls on the last day of lunar calendar's first month.
24. Tak Tsang Gonpa
Tak Tsang Gonpa is very revered by Buddhist from across the world because this is where Guru Padmasambhava stayed for one week in the 8th century C.E. What is believed to be the footprints of the master and his horse can still be seen here. Founded by Lama Rinchin Wangchuk, you can feel ate aura and power of Guru Rinpoche here. Tak Tsang Gompa is considered as one of the holiest sites of Buddhist people. This Gonpa is under Pamgchen Dignduk.
25. Jonga Tseir Tso
This gorgeous lake was naturally formed as a result of an earthquake in the year 1950 C.E. Also known as Sange Tseir Lake or Jong Nga Tseir Lake, was a grazing ground of Shok Sten Village which belongs to the Zemithang administrative circle. The long bare trees, standing tall around the lake, as if guarding it are a sight to behold. Jonga Tseir Tso is located in the north west direction of Tawang valley.
26. Bumla Pass
This Indian Chinese border has become quite a tourist attraction off late. Located at the high altitude of 15,000 feet, Bumla Pass is carpeted with snow during most part of the year. Part of most of the typical Tawang itinerary, Bum la Pass, has no border. This is so, because the LAC or the Line Of Actual Control, is a de-facto border.
Bumla Pass is located 37 kilometers away from Tawang headquarters and can be accessed easily via a short road trip. Visiting Bumla pass at Indo-China border is a must if you are a border junkie like me. Bumla Pass is sometimes also spelt as Bum La Pass. Tawang Tour is full of excitement!
Permission for Bumla Pass: Presenting a gorgeous view of the Tibetan plateau, Bum la pass requires special permission to go here.The special permission to visit Bumla Pass is issued by the office of Deputy Commissioner of Tawang. You can obtain the permission for Bum la Pass yourself or ask your travel agent to do it. It is the highlight of Tawang tourism.
27. Sungetsar Tso or Madhuri lake – Tawang to Bumla Pass
The gorgeousSungetsar lake aka Madhuri Lake or Shonga-tser lake is located on the way to Bumla pass from Tawang valley. Sungetsar lake is a high altitude lake perched at a height of 15,200 feet above sea level. Distance between Sungetsar Tso and Tawang city is 6.4 kilometres or 4 miles. Also enjoy the breathtaking views of Taktsang Chu river meandering through this place. The Taktsang Gompa is also located merely 2.4 kilometers or 1.5 miles away. The Sungetsar lake got its name Madhuri lake after the Bollywood actress Madhuri Dixit who danced here for the movie Koyla (coal). During winter months the Sungetsar Tso will be mostly frozen.
28. Panggateng Tso
We have all heard of the Pangong Tso in Ladakh, but have we heard of the more offbeat lake called Panggateng Tso in Arunachal Pradesh? Also known locally as just PT Tso, it is a gorgeous blue lake. The background of snow capped mountains adds to its beauty. Great for picnics, lazy lunches or even a photo shoot, Panggateng Tso is a must visit. Panggateng Tso is located approximately 17 kilometers away from Tawang main town in the north direction. Do not forget to carry a camera and pack in the empty SD cards and charged camera batteries before you head here.
29. Lamai Zabshe
Lamai Zabshe is another spiritually significant place around Tawang. It is believed by the Buddhist people that Dalai Lama VI, when he was young, left his foot prints on a rock here. That rock is known as 'Lamai Zabshe' He was on his way to Tsona when he crossed Lamai Zabshe.
29. Lakes of Tawang
Besides Sela Lake and Panggateng Tso, there are many more gorgeous lakes in and around Tawang Arunachal Pradesh. Thanks to low population, absence of commercial activities and gorgeous views, these lakes are loved by both locals and tourists alike. Most of these lakes are concentrated around the northern and eastern borders of Tawang district.
The high altitude lakes of Tawang are scattered at different places. As per the local people, as many as 108 lakes dot the landscape of places in and around Tawang. You will also see many Buddhist flags fluttering on some of these lakes because they are protected and revered by the local people. Therefore, I request you to please respect these lakes and do not litter or shout here.
Main Mountain Peaks in and around Tawang
30. Tsong Tsong La Peak
Located just 90 kilometers away from Tawang in Bongkher, Tsong Tsong La Peak stands tall at the height of 14,000 feet.
31. Gorichen Peak
One of the highest peaks in not just Tawang but entire world, Gorichen Peak stands tall at 22,000 feet. Needless to say, it has caught the attention of many mountaineers from around the world. Many experienced mountaineers have nursed a dream to scale the heights of Gorichen peak. It is located at around 164 kilometers away from Tawang. Locally known as Sa Nga Phu, Gorichen Peak is already known in the mountaineering circles.
32. Geshela Peak – Tawang tourism.
The good news is that Geshela peak or Geshila peak is more easily accessible than the Gorichen peak. Not as high as the latter, Geshela peak is located just 25 kilometers away from Tawang. On a clear day, you can even have splendid views of Tawang from the Geshela Peak. Expect Rhododendrons (in spring), pristine lakes, trekkers and cyclists here!
33. Hot Water Springs
While driving across Tawang, you will see many hot water springs here and there. I am writing below the main hot water springs of Tawang which you can visit. The water in these hot water springs has immense medicinal value to it. The same can be attributed to the presence of sulphur content in high quantity. Known to cure myriad skin ailments, these hot water springs are popular with both travelers as well as local people. Most of these hot water springs can be accessed via a trek or drive.
34. Grengkhar Hot Springs
People come here in large numbers seeking cure for back pain and joint pain. Grengkhar Hot Springs is located approximately 40 kilometers away from Tawang town. Distance between Grengkhar Hot Springs and Kitpi diversion is around 12 kms.
35. Mago Hot Springs
Again, patients of joint pain and back pain queue up at the Mago Hot Springs. In fact there are many hot springs across Mago. Most of these are located near the bank of Goshuchu river. Apart from 4 other hot springs in this area, Topkey Hot Spring is the most popular one here. The volume of water which gushes out of the ground is impressive.
People bathe in the crystal clear water to get rid of their ailments. People love a swim here as the temperature of the water is just right. The temperature regulated here is much to the liking of everyone. Do not forget to pay a visit to this beautiful hot water spring.
36. Tsechu Hot Water Spring
Local people have been heading to Tsechu Hot Water Spring since hundreds of years. Here, the water bubbles up straight from the ground. What makes it even more popular is its lovely setting. The gorgeous valley and picture postcard perfect landscapes make it visually stunning. It is not close to Tawang tough. Tsechu Hot Water Spring is located around 100 kilometers away from Tawang headquarters. You will have to take a route through Jangda village to arrive here.
Watch out for one more hot water spring near Tsechu Hot Water Spring. You will notice the water to be in myriad shades of brown and grey here. Ask the locals for directions to reach here. It is said to have medicinal properties as well.
37. Tawang Festival
This calendar tourism event happens every once in a year, mostly in the month of October. Tourists from different parts of Arunachal Pradesh, other states of India and many other nations head to Tawang to make merry during this mega festival. Not only can you enjoy the kaleidoscope of cultures followed in different parts of Arunachal Pradesh but you can also sample authentic food at different stalls.
The entire Tawang city comes alive during the much popular Tawang festival. Local people from different parts of Arunachal Pradesh and other states of North east India and even Bhutan show up during Tawang festival. International and Indian tourists also come to Tawang in large numbers during this festival. You can also buy handicrafts or other local artefacts, caps, dresses etc from the street vendors during the Tawang festival. Be wise and time your Tawang tour around festivals.
Tawang festival is not only a great opportunity to meet the various monastic tribes of Arunachal Pradesh but also to get a deep insight into their daily lifestyle. Tawang festival is also a photographer's paradise. You can click portraits of people, various mask dances, tiger dance etc during the Tawang festival. Do not miss the 3 days long festival. Thank A Soul Window Travel Blog later!
38. Torgya festival, Tawang
I visited Tawang during January as I wanted to attend the offbeat Torgya festival on the premises of Tawang monastery. What an amazing festival it was. The lesser known Torgya festival is an annual festival celebrated by Monpa people. The festival is celebrated in order to protect the people from any natural disaster or external harm.
During the 3 day festival, I enjoy various watching mask dances, monks reciting prayers and chants, monks beating drums etc. The local vegetarian and vegan food also made me curious. The 3 feet tall image is created 16 days before the Torgya festival is held and worshipped. This unusual image is crated with barley, desi ghee, molasses and milk.
The most popular event at Torgya festival was the mask dance in colorful costumes. I had my eyes peeled as the dance regaled adults and kids alike. Not only did the well choreographed mask dance held my attention but also the beautiful faces of people of Arunachal Pradesh. There was an element of humour also in the mask dance frequently. Pha Chan is a popular mask dance performed during Torgya festival. Losjker Chungiye, another dance form is performed by the monks of Tawang monastery. He dancers regaled the crowd, wearing a variety of masks in the shape of animals such as sheep, monkey, tiger, goat, cow etc. Monkey, of course took the cake!
For me, it was interesting to see people from various communities. I also spotted many people from Bhutan dressed in their traditional dress of gho and kira. This is how it must have been like in ancient times!
39. Thingbu Hot Water Spring
The water here is really hot. People generally add some cold water so that they can enjoy a bath here. The water here bubbles right from the sand. Again, steam bath is popular here as it is believed to be a cure for skin rashes and joint pain. Thingbu Hot Water Spring is located near the Magochu river at Nguikteng. Distance between Thingbu Hot Water Spring and Jang is 20 kilometers.
40. Adventure in Tawang
Such is the landscape of Tawang city that it serves well as an adventure destination as well. Adventure sports such as trekking, hiking etc are very popular in Tawang. Popular with mountaineers, Tawang has an impressive range of flora and fauna. The warm hospitality just adds to it. The magnificent peaks, voluptuous rivers, gorgeous high altitude passes, cascading waterfalls and mysterious hot water springs which dot the landscape of Tawang make it ideal for adventure sports.
41. Treks and Hike trails in Tawang
I am listing down popular trekking routes in and around Tawang as below:
Lumla-Bongleng-339 Border Pillar-Tsong Tsong La
Mukto-Chaksam-Shernup-Grengkhar-Jamkhar-Kushangnag-Kitpi
Mukto-Gongkhar-Gyamdong-Khet-Bomja-Kharung-Bongleng-Kungba-Namtsering village.
The Tawang trekking route for pilgrims:
You can take these trekking trails if you want a slice of spirituality as well. You will come across many places which are sacred for the local people.
Khromten-Thespa-Geshela-Panggateng Ts o aka PT Tso
Geshela via Thongmin-Khromten Gonpa-Thespa- Khinmey
Tawang Monastery- Gyangong Ani Gompa- Brahmadungchug Ani Gompa-Manmagalam
42. Meet the Monpa people of Tawang – Culture and lifstyle
The land of dawn lit mountains, Tawang is mostly inhabited by the Monpa people. Sange Tsering, our tour operator who runs Holiday Scout is also a Monpa. He accompanied us during this 15 days long North East India trip across Arunachal Pradesh, Nagaland and Assam. Travelling with Sange gave us deep insights about not just Monpa community but all of the places we travelled to in North East India.
Monpa people belong to the Tibeto-Mongoloid race. Originally, Mon people are Bon faith followers. It is a very small (in terms of number of followers) religion. I met some people of Bon faith during Kailash Mansarovar Yatra in Tibet too. It is the holiest of Hindu pilgrimage. However, Buddhist and Bon people undertake this pilgrimage as well. The sacred Kailash Parbat is as sacred to Buddhists and Bon people as it is to Hindus.
Monpa people now primarily follow Buddhism. The spiritual life of Monpa people in Tawang city adheres to the Gelupa sect of the Mahayana Buddhism. People of Tawang have had close ties with people of Bhutan, Tibet and Nepal. This reflected in the local lifestyle, conversations and food. I saw many people from Tibet and Bhutan during the locally famous Torgya festival. Details below.
43. Meet the Brokpa People of Arunachal Pradesh
It was early morning (5 a.m.) when Sange pulled us out of our blankets and dropped us unceremoniously in the middle of curious yaks and their Brokpa masters. The dense mist, extreme cold, constant movement of yaks and muddy puddles made me want to run back to the jeep. The fresh snowfall and fog made it difficult to even see huge yaks and huts. I was missing my blanket!
However, the bells of yaks and the Buddhist chants by our host attracted me. Soon I was drawn into the interesting lifestyle of the yak herders of Arunachal Pradesh. Meet the Brokpas!
As I entered the modest 1 room home of the Brokpa family, I felt as if I am in the middle of a National Geographic documentary. The woman churning yak cheese and butter soon became the center of attraction. Though it was a dark room, the visibility was better than the roads outside. The only light source the room had was from the hearth below. We gathered around the fireplace as observed the spartan room. Carelessly kept huge gunny bags (containing perhaps grains), utensils and spices filled the room. My eyes were on the cheese left to be smoked above the hearth.
I visited another house which was more modern. It has 2 rooms, a T.V. and other such modern gadgets. We were served salted butter milk over some heartwarming conversations which I didn't really understand! I had similar butter tea in Nepal during Everest Base Camp trek.
During the winter months, that is when I visited, the Brokpa people stay on the main town and nearby areas itself. During summer months, the nomadic community leaves for hilly areas in search for grazing lands for their cattle which includes yaks as well. Facilitating deep cultural experiences such as these make Holiday Scout a pioneer of travel in North East India.
44. See the pretty houses of Tawang – Architecture
I could not help take my eyes off the gorgeous houses of Tawang. Traditionally, the typical features of the houses in Tawang include carved wooden doors, exquisite window frames, beautifully arranged stones or bricks and a sloping roof (because it snows heavily in Tawang during the winter months). The interiors of the homes and hotels in Tawang here are equally tastefully done.
Watch out for creative bamboo furniture, hand woven carpets and rugs, interesting art pieces/wall hangings/thangkas depicting teachings from Buddhism and the rich folk art of the Tawang and nearby regions etc. The kitchen in the home of Tawang has a hearth which could be a bonfire, a metallic chimney or even an electric heater.
Thanks to the extreme cold of Tawang during the night, family members and guests both prefer to sit here all day instead of living rooms.
45. Tong Shong Pho/Cave
An offbeat place to visit near Tawang is the Tong Shong Pho/Cave. In earlier times Buddhist pilgrims, devotees, merchants and traders used to halt here during the night as they made journey through this region.
It is an upcoming tourist place in Tawang. Not many people know about it which makes Tong Shong Pho/Cave and offbeat place to see in Tawang.
46. Thonglek Village: Top places to visit in Tawang
This little known village has immense importance. When Dalai Lama escaped from Tibet, he moved around Bomdila, Diranga and Tawang. In fact, Dalai Lama stayed in Thonglek village before proceeding further. This quiet village also has a monastery built in order to mark the event. This is offbeat travel at its best. Distance between Tawang and Thonglek is around 25 kms. In case rural travel excites you, considering staying in Thonglek is not a bad idea after all! Surprises galore in Tawang tour!
47. Dirang- Bomdila-Sela Pass-Tawang Circuit – Road Trip To Tawang
The road journey to Tawang is a long but not dull. So many places on the way to Tawang are a destination in itself. This is why I recommend going with Holiday Scout as they can take you to secret places which not many know about. The journey in itself is a photographer's paradise. You sure do not want to miss out on this once in a lifetime opportunity by taking the public transport. A private cab helps you stop as much as you want to like we did. Private trips also help you choose your own pace.
You will come across many beautiful waterfalls, untamed rivers, pristine lakes, quaint villages, religious places etc on the way to Tawang. My personal favourite was the incredible gorgeous snow patches in and around Se La and Jaswant Garh War Memorial. The spectacular landscape was surreal for sure! I had not seen something as beautiful as this since a long time. You will remember this journey for a very long time.
Told you, the journey to Tawang is a destination in itself. We also stopped at many beautiful snow patches, small bridges and other places en route. I do not suggest stopping for too long at the snow patch as the weather can go wrong any time and you can be stuck without food and water. So it is better to take quick pictures and move on, like we did. The car can get stuck in snow as well. We heard of many bikers who were not able to ride on the snow patches here.
A treat for the adventurers and nature lovers, the winding roads in this region appear like a stairway to heaven. Arriving at 14,000 feet is no easy feat. So pat your back as you float on clouds. I am sure it will be one of your best trips in life! Make sure you stay at Bomdila and Dirang too for few days. They are a complete destination in itself. Dirang Boutique Cottages in Dirang is a lovely homestay overlooking a river. Do not miss staying here. Most people who are going to Tawang make a stop at Dirang and Bomdila.
48. Eat Vegetarian and Vegan Guide to Tawang
Despite Tawang being so close to the meat heavy China, the soul of Tawang is very desi aka Indian. Vegans and vegans can get good quality roti (chapati), daal, sabzi (curry), steamed broccoli, chutneys etc. Ema Dhatshi and butter milk, though vegetarian are not vegan as they contain dairy. You can also get western food at some restaurants. I particularly enjoyed the thick roti eaten across Tawang. I saw the roti inside Tawang kitchen as well.
49. Talk to locals- Languages spoken in Tawang
Almost everyone, including the old people speak and understand Hindi. Many people also speak English. People in Tawang are well educated, well mannered, content and very polite. If you face any problem, just ask around. Apart from these, of course Monpa languages are spoken and understood by all.
50. How Modern is Tawang?
Despite the remote location of Tawang and its proximity to China border, Tawang is a very modern city, much more than I had expected. You will get all the creature comforts and modern frills in Tawang. Good quality schools, hospitals, restaurants, hotels, home-stays, ATMs etc are present in Tawang. Electricity, however is not regular. But I found that charming. You must carry Tawang map for easier navigation through the Tawang town. The roads of Tawang are also well maintained. In fact it is a pleasure to drive on the Tawang roads. Tawang hotels are very comfortable, clean and have good service.
How To Reach Tawang – Dirang-Bomdila-Tawang circuit route
Tawang is easily accessible from various parts of Arunachal Pradesh and Assam. I took the following route to reach Tawang:
Dirang-Bomdila-Tawang circuit route – Lucknow-Guwahati-Kaziranga National Park via Nagaon-Bhalukpong-Dirang-Bomdila-Sela pass-Tawang-Back on same route.
You can replace Lucknow with New Delhi, Mumbai, Bangalore, Chennai, Kolkata etc.
Most people travelling to Tawang stay at 1 or 2 days at Dirang and Bomdila to break the journey.
I would suggest a stay at the stunning property called Dirang Boutique Cottages. It is an experience in itself and very affordable. If you have time, you can also explore the nearby Sangti valley. Dirang also has some amazing places such as the ancient Dirang Dzong.
Holiday Scout helped me explore this little known medieval village. It was a one of its kind experiences. I highly recommend 2 days stay at both Dirang and Bomdila. You will love it!
We took 1-2 days stops at all the above places except Se La of course. I was on a 15 days long epic trip to North East India with Holiday Scout. Tawang was one of the highlight of our epic trip.
Taxi: Daily shared taxis to Tawang are available from Texpur, Bhalukpong and Bomdila. It can take anything from 10 to 12 hours depending on the weather and road conditions. I would prefer a private cab from Holiday Scout as it really is a very long journey.
Not only can you stop at various beautiful places but also choose your own pace. And of course it is far more comfortable than shared taxi where they stuff more people than they should in the cab.
Distances from Tawang
Guwahati to Tawang: 550 kilometers
Itanagar to Tawang: 507 kilometers
Tezpur to Tawang: 350 kilometers
Bomdila To Tawang: 185 kilometers
Dirang to Tawang distance: 140 kilometers
Zemithang to Tawang: 93 kilometers
Dudunkhar to Tawang: 65 kilometers
Lumla to Tawang: 50 kilometers
Jang to Tawang: 40 kilometers
Bhalukpong to Tawang distance:271 kilometers (10 hours)
Inner Line Permit for Tawang
For entry in Arunachal Pradesh, Inner Line Permit is mandatory for both Indians from other states as well as foreign travelers.
In my case, I recommend Holiday Scout. They had arranged my ILP for Arunachal Pradesh as well as Nagaland, much before I had actually arrived in North East India. I just had to mail them my documents. It was swift, quick and I didn't have to wait for long or even needed to follow up with them.
You can do it on your own too but that is not convenient and wastes your precious time. You can lose 1 or 2 days if you do it yourself. You must submit an application and apply at the Deputy Resident Commissioner's Office at various places such as Tezpur, Kolkata, Shillong, Lilabari, Guwahati, New Delhi and Jorhat etc for obtaining your ILP or Inner Line Permit.
Inner Line Permit on Arrival
You can also receive you ILP on arrival from EAC Office Bhalukpong in Assam and Guwahati Asom Parytan Bhawan located close to Nepali Mandir and Guwahati airport.
Online Inner Line Permit aka ILP
You can apply for Inner Line Permit online as well. You can check out www.arunachalilp.com for more details.
PAP (Protected Area Permit) aka RAP (Restricted Area Permit)
Indians do not need PAP or RAP. It is required for foreign nationals travelling in Arunachal Pradesh. Only locally approved tour operators such as the excellent Holiday Scout are authorized to apply for the PAP for foreigners. The foreign nationals are required to pay USD 50 per person as royalty to the government of Arunachal Pradesh.
PAP (Protected Area Permit) aka RAP (Restricted Area Permit) is required for foreign nationals traveling to Tawang, if they are in a group of 2 or more people. PAP or RAP is issued for a period of 30 days. It can be obtained from below offices:
The Secretary Tourism, Government of Arunachal Pradesh, Itanagar
Government of India, Ministry of Home Affairs, New Delhi
The Resident Commissioner, Government of Arunachal Pradesh, New Delhi.
Fact File On Tawang
Area: 2,172 square kilometers
Population: Male-29,361; Female- 20,589
Number of villages: 235
Main Tribe: Monpa Peeople
Boundaries of Tawang
North – China or The Tibet Autonomous Region (TAR) or Xizang Autonomous Region
South-Bhutan
East- West Kameng District
West- Bhutan
Main Contact numbers and helplines
Although Holiday Scout take very good care of all your need and mostly you will not need these services. I am still listing down, just in case of an emergency you might need these.
Tourist Information Officer: 09402713632
Deputy Commissioner : 03794-222221
District Tourism Officer: 03794-222567/09402713632
Is Tawang safe to visit?
Tawang is very safe to visit. In fact it is the safest place to travel in India. Local people are friendly and Tawang being a well developed town has all the facilities you can think about. Despite its remote location, crime rate in Tawang is low. Tawang roads are very safe to drive at also.
Where to stay in Tawang- Tawang Hotels
If you are wondering if you can stay in Tawang Monastery to experience life and find inner peace, well the answer is yes. You can stay in the monastery with special permission. Apart from Tawang monastery stay, you can also stay at the many Tawang tourist lodges and Tawang Hotels.
Tenzin Paying Guest House, Damyen: I stayed in a lovely concrete home stay called Tenzin Paying Guest House arranged by Sange Tsering from Holiday Scout, pioneers of travel in North East India. The warm host made engaging conversation around the indoor heater over some delicious vegan and vegetarian food such as Bhutanese Ema Dhatshi (My favourite), rice-daal (very comforting!) , delicious red chilly chutney etc.
Their pet dog, though huge and intimidating, was equally friendly. The rooms were huge, including the balcony and offered beautiful views of Tawang valley. It is located close of all the main attractions of Tawang.
There are many such gorgeous boutique home stays in Tawang Arunachal Pradesh. I am sure you enjoyed reading on these top 50 Top places to visit in Tawang.
Best Time To Visit Tawang
If you are wondering how many days are sufficient to visit Tawang, then I would say keep 3-4 days, especially when traveling during the Tawang festival. However, if you wish to see places near Tawang, do keep a week aside or 7-8 days to enjoy the beauty of Tawang and nearby places fully! Is it possible to visit Tawang in December and January? Yes, very much!
January – In fact, I travelled to Tawang in January! I enjoyed traveling to Tawang in winter. The snow all around made the landscape beautifully. I hate walking on snow, so I liked that there was no snow on Tawang roads. However, I did see a lot of snow on the way to Tawang from Bomdila and Dirang.
October is also a good time to visit Tawang as you will see gorgeous blooms of various flowers carpeted on hilly slopes.
April – In months like April, it might rain a bit.
The views from my Soul Window are mind blowing!
Pin and save these for later!
x
Top Travel Blogger from India