Last Updated on May 20, 2018 by
OFFBEAT THAILAND FOR FAMILY: THE WORLD'S FIRST & BIGGEST CARTOON NETWORK THEMED WATER-PARK IS IN PATTAYA.
Not many know that the first and only Cartoon Network themed water park in the world is in Pattaya, Thailand! This is family friendly destination and offbeat Thailand at its best! I also discovered offbeat Bangkok on my last trip to Thailand.
It was a revelation to me too. I did not know about it until I visited it myself. There is still (as on 2018) no other Cartoon Network themed water park in the world which is a big thing considering the immense popularity of the Cartoon Network.
No wonder, families and group of close friends throng here and enjoy it all day long. That is what I witnessed when I paid a visit to Cartoon Network Amazone myself. The large campus has everything you can think of viz. shops, clean loos, food courts, spa, the works! And oh, they have free wi-fi too. But who wants to use the wi-fi when there is so much of action happening here! Both locals and foreign tourists love visiting this water park. What makes it easily accessible is the fact that it is just 20 minutes drive away from the bustling city of Pattaya.
WHY YOU SHOULD VISIT CARTOON NETWORK AMAZONE WITH FAMILY & FRIENDS?
The Cartoon network Amazone appeals to both kids and adults. It has something for every-one. There is so much to do here, be it rides or shows, or food and beverage outlets, there is never a dull moment here! It is ideal for families and group of close friends and even office buddies.
There are many activities to keep you busy all day. The kids would love to hang out or even party with their favourite toon characters from BMO, Princess Bubblegum, Marceline, Ice King, the Land of Ooo and others.
Please read below to know more.
FOLKS AT CARTOON NETWORK AMAZONE WELCOME YOU IN STYLE:
No sooner did I step inside the Cartoon Network Amazone, drumbeats attracted my attention. I along-with my co travelers made a semi circle to watch the show which had just begun. Young girls and boys did jaw dropping  stunts and dance moves and kept the audience enthralled.
The boys spewed fire from their mouths while girls danced like a dream balancing fire on both their hands. The complimentary show also included acrobatic jaw performances. It lasted for around 20 minutes. Known as 'The Polynesian fire show', it is performed daily at 6 p.m. So, make sure you do not miss it when you are here.
Pls read below to know what else you can do at Cartoon Network Amazone, Pattaya, Thailand:
Some of the world class rides which you can enjoy with your family and friends are as below.
Cartoonival: It is the biggest attraction. Slip, slide and allow huge buckets of water to unleash on you. So much fun!
The Omnitrix: The loops, twists, turns and high drops will keep the adrenaline flowing! As you start from 82 feet of height, your final destination will be Omnitrix, which is the world's only fully enclosed water dome.
Rainfall Rainicorn: Want to feel what it is like to fly on a rainbow? Then, give Rainfall Rainicorn a shot!
Alien Attack: You will pass through 3 dark alien space shuttles. Starting with the sweeping views of the scenic Bang Saray shoreline at 82 feet height, what will follow is twists, turns and adventure galore!
Goop Loop: The trap door beneath your feet will open and you will experience a 12 metre free fall.It is followed by a 360 spin! Not for the faint hearted!
Intergalactic Racers: You can race with your friends or even strangers. Expect twists, bumps, serpentine tubes before being finally launched in to an open flume.
Humungaslide: Be devoured by Humungousaur as you race with your friends on 213 meter long slide. Exciting, isn't it?
XLR8-TOR: With a super fast drop of 18m, XLR8-TOR is one of the tallest and steepest water park ride in all of Asia!
Jake Jump: Experience weightlessness in this exciting ride. What goes up, must go down! Got the drift, eh!?
Banana Spin: Thanks to the centrifugal force, you will fall vertically before being deposited at the swirling vortex at the bottom.
Riptide Rapids: For the lazy bums, the 335 meters long slow ride will take you through Omniverse Zone, the Adventure Zone and the Surf Arena of Cartoon Network Amazone. Watch out for surprises en route!
SURFing Pop's ARENA:
You can test your surfing skills or even learn under the tutelage of experts in this corner. This is the only Flow Riding attraction in Thailand. It is suitable for both amateurs and professionals.
The massive wave pool:
You will of course want to slow down at some point during your day at the Cartoon Network Amazone. You can't subject yourself to high intensity rides all day. The wave Pool is the answer. You can still be in the water without exposing yourself to twists and turns and drops.
You can float on a tube with your family and friends on shallow pool water. It is a good idea to chill out and chit chat in this cool location which is also the venue of the concerts and events which happen late night mostly. A large screen is set up at the far end of the pool playing cool videos. When under adult supervision, it is safe for kids to. Especially the shore area is very shallow and ideal for the kids to play and frolic around.
WHAT TO EAT AND DRINK AT CARTOON NETWORK AMAZONE, PATTAYA, THAILAND
Foodville: You name it, they have it. The multi cuisine food court caters to different food preferences. Expect different types of pastas and wood fired pizza, burgers, and even Asian cuisine. The vegans and vegetarians can stick to Pizza and pasta and most Asian food contains fish sauce.
Street Food:  There is a lot to choose from! Think tornado potato chips, grills, Thai salads, the works!
Tiki Toon Bar and Grill: It is a lively circular bar area located near the surf area. I sat here for sometimes and relaxed over some drinks and indulged in people watching.
Dexter's Ice Cream Lab: We all know Pattaya is humid. You will crave for ice creams and they have the solution. From custom gelato, flown in from Italy to waffle towers, super sundaes and frozen chocolate desserts, there is a lot to choose from. Drooling already?
WHAT ELSE YOU CAN DO AT CARTON NETWORK AMAZONE, PATTAYA, THAILAND?
Spa Go: You can also use the rest time productively by indulging in the famous Thai massages, herbal massages and foot massages.
Private Cabana: You have had enough of rubbing shoulders with strangers and want some 'Me Time' or private 'family time'? They have it sorted for you! The private cabanas are available on rent here.
Shop Till You Drop: The Cartoon Network Amazone Store sells Cartoon Network themed knick knacks, souvenirs and even clothes.
HOW TO REACH CARTOON NETWORK AMAZONE,
PATTAYA, THAILAND:
It is easy and convenient to reach Cartoon Network Amazone. You can spot it easily as it is located next to the main road.  It is just 20 minutes drive away from Pattaya. Located on the picturesque Eastern Seaboard of Bang Saray, it falls somewhere in between the Sukhumvit Highway and a picture postcard perfect stretch of the Na Jomtien / Bang Saray coastline. You should stay in Pattaya and make a day trip to the water park. It is better to hire a private vehicle to arrive here.
The view from my #SoulWindow is fun filled!
RELATED BLOGS WHICH YOU MUST READ:
Art in Paradise 3 D Museum- Offbeat Bangkok
Why You should stay at Montien Riverside Hotel in Bangkok
Avani Pattaya Resort And Spa is a cozy cocoon in bustling Pattaya
Spread the love, share this blog
Got any question/comments, ask in the comment section below so that it can benefit other readers.
Email me for collaboration: [email protected]
Be a part of my journey on social media. The travel content I create there is different from this blog.
 

Pls subscribe/follow/like:
WARNING: COPYRIGHT TO ALL THE TEXT SHARED HERE REMAINS WITH ME. YOU CAN NOT JUST LIFT THE CONTENT AND USE IT WITHOUT MY PERMISSION. STRICT LEGAL ACTION WILL BE TAKEN IF CONTENT IS STOLEN. YES, I AM SERIOUS.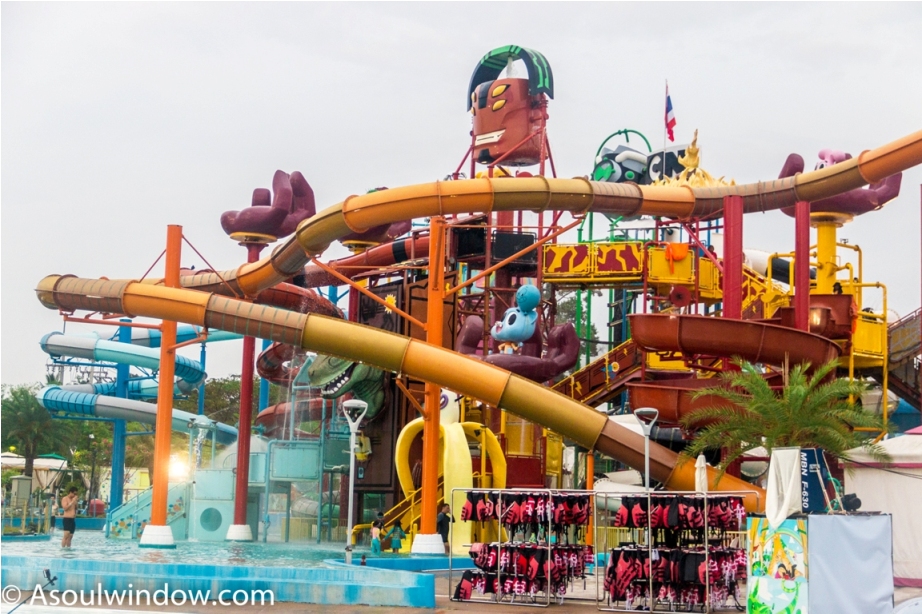 Disclosure: As is common in the travel industry to host the writers and bloggers for reviews and media reports, I was also invited on the press trip to cover it. However, my views are not influenced by the sponsorship. It is my responsibility to give truthful information to my readers on my blog and I have adhered to that personal policy while writing this blog.  This particular trip was supported by TAT Delhi, The Tourism Authority of Thailand.