Last Updated on April 2, 2022 by asoulwindow
BIRD-WATCHING & TREKKING IN SHITLAKHET, ALMORA
Anant Rasa in Shitlakhet is not only an offbeat destination for a regular vacation with family and friends but it is also a great place for birdwatchers to stay. Thanks to its location near Almora in Uttarakhand, it is a great weekend destination for people from New Delhi, Gurgaon, Noida or even Lucknow.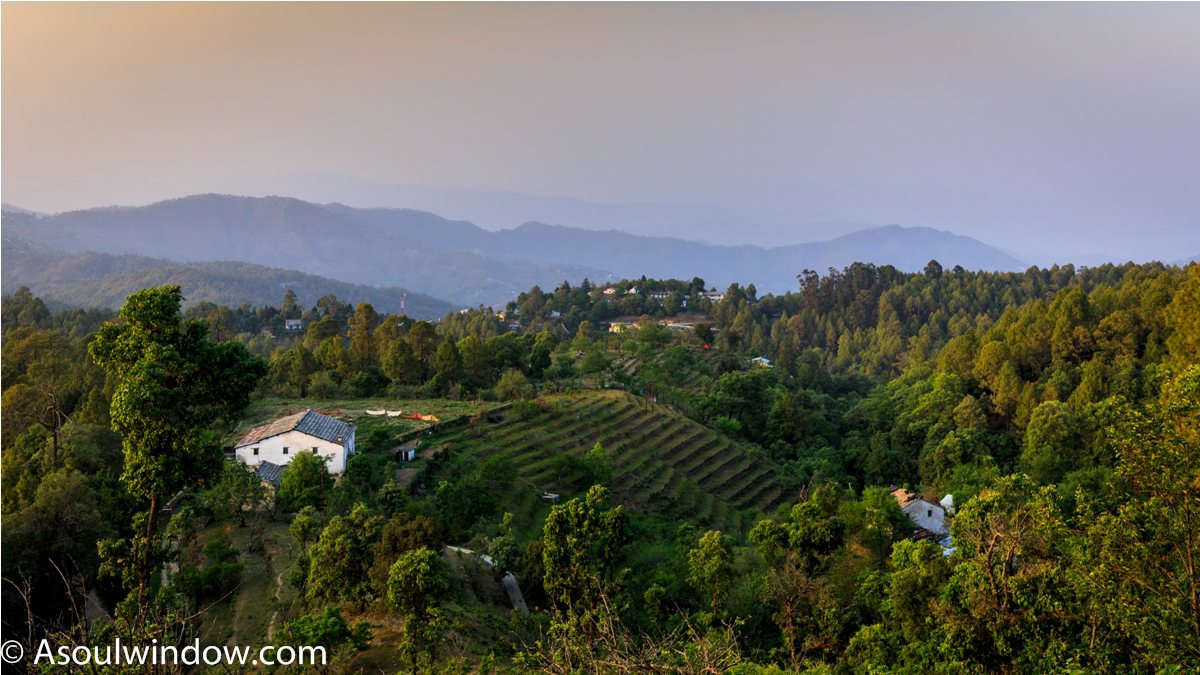 Yes, me and my friend Sudeep drove all the way from Lucknow and after making a 2 day bird-watching stop in Bhimtal, we moved next to Anant Rasa, which is just 2 hours away from Bhimtal. So, after Bhimtal, I moved to Shitlakhet tucked far and away from the urban civilization, enveloped by thick oak, pine and rhododendron forests. No wonder the British called it home during pre independence era.
Anant Rasa – An Amritara Private Hideaway is one of the finest properties I have stayed in. It's simple, yet luxurious, it exudes both class and warmth and its location is unparalleled.
LOCATION OF ANANT RASA, SHITLAKHTET, UTTARAKHAND IS A REFRESHING CHANGE!
Many properties off late have started calling themselves remote in a bid to attract the young, discerning traveler who wants a quick escape from their daily grind! However, not all are able to deliver the promise. The 'remote location' is often marred by a DJ floor, a bustling market or streets filled with, ugh, cafes.
Anant Rasa is remote in truest sense. It's in the middle of nowhere. As we headed to Shitlakhet from Bhimtal via Bhowali, we came across a board. The left sign indicated Ranikhet while the straight sign indicated Almora. We took the Almora route.
The road was scenic. We snaked our way through the narrow roads on the mighty brown mountains. There were hardly any vehicles here. As we gained more height, the scenes became even more dramatic. Stopping for soaking in the views was out of option since the roads were narrow and there was a sheer drop of 'God alone knows how many meters.'
We still caught glances of sceneries from the 'Soul Windows' of the car. The breathtaking views of terrace farms, small villages and lush green forest in a distance were a visual delight. I saw a new face of Uttarakhand on this trip.
We hardly saw any humans or (even animals) on this road except for 1 or 2 very small settlements which can't even be called a proper village. I was surprised to see a Ladakh like remoteness just few hours away from bustling cities, towns and villages.
Anant Rasa, an Amritara private hideaway is the property where you would come to switch off. Located in Shitlakhet, it's very close to popular destinations like Ranikhet, Nainital, Bhimtal, Almora and Mukteshwar. However it's much different from these destinations.
WHY ANANT RASA, SHITLAKHET IS GREAT FOR BIRDWATCHING:
I spent quality time doing bird-watching here assisted by the in house naturalist Mr. Lokesh. Almora and particularly Shitlakhet are rich in wildlife, especially avian life. Mr. Lokesh has himself spotted more than 200 species of birds in and around the property ever since he moved here. He showed us a list of birds he had spotted here and documented. It included some rare birds too.
As is common in many places in Uttarakhand, they had a 'Hide' within the property. The hide is a cloth setup with tiny holes in it so that the photographer can click the birds without disturbing them. The birds can not see humans due to the opaque cloth. Food like rice, peanuts, papaya, grains and water bowl etc are kept a bit far away from the hide to attract birds.
We sat for sometimes in the hide (even had our snacks there) but moved to forest after some time. We ventured out 4 times in search of elusive birds around the property. Twice in morning and twice in the evening!
Mr. Lokesh took us through dense oak, pine and rhododendron forests telling us which area belongs to which birds. He even knows which birds can be found at what time.
We spotted many birds as we trekked through the forest. On one of the days, we also walked towards the village area where we not only picked yellow mulberries from the shrub but also got good birds shot.
The winter is the best time to spot upper Himalayan birds here. We met a local who told us it is very common to spot many varieties of pheasants such as kokal, kalij pheasant, black francolin right at his home garden every other day. We did spot the kalij and black francolin.
THE BUDGET BIRDERS' VILLA AT ANANT RAS, SHITLAKHET
They even have a dedicated birders villa, which is right in the middle of the forest. It is a subsidized shared accommodation where birders love to stay for many days, till they are content with bird watching or photography.
Pics above: Birders' villa. At Anant Rasa, Shitlakhet, Uttarakhand. Incredible India.
For a reduced all inclusive tariff, they also get access to the fancy restaurant within the main property as well. The birders villa also has a shared pantry and room service can also be ordered. Food is inclusive in the tariff. Please check with them for the updated tariff. Details are shared below.
ROOMS OF ANANT RAS, SHITLAKHET
The sprawling property offers sweeping views of snow capped Panchachuli range. Right from the comfort of your room! Though I visited not exactly at the right time for watching snow capped mountains, I could still see a glimpse of the mountain ranges from my room and the balcony. Some of the rooms are elevated on higher platforms to facilitate the same. Winter is the best time if you want to see the snow capped mountains, be it Uttarakhand, Himachal Pradesh or Nepal or even Bhutan.
The rooms of Anant Rasa were simple yet luxurious. Each room had a lovely balcony. Pots inundated with colorful flowers either hung from the ceiling or lined the floor parallel to the railing. Sudeep was excited to use his macro lens to click some amazing flower shots while I snoozed in bed. In fact, the entire property was heavy on flowers.
The balcony was my favourite part. I spent most of my time here either reading, dining or just lazing. The rooms are large, has comfortable beds and a sofa set. The TV was placed above wooden tables. The wardrobe was huge and helped us organize our luggage. The lamps with yellow lights helped allowed mood lighting.
The bathroom was pleasant. The shower area and W.C. area was separated by curtain. There was no bath tub. The temperature of hot shower was perfect.
TREK TO THE SYAHI DEVI TEMPLE, SHITLAKHET
I even trekked through dense forests. It reminded me of the Roopkund trek I did in Uttarakhand. We woke up at 5 a.m. and headed to the medium level climb to Syahi Devi Temple. It is a much revered temple.
The main motive of our trek, however was not faith but feathers. Also, the lure of a better view of snow clad Panchachuli range also pulled us upward. Sudeep has asthama, so we took more frequent breaks in between huffs and puffs.
The scene we witnessed after arriving on top was nothing less than a surreal. It is indeed the best vantage point to soak in unhindered views of the mountain ranges and other mountain town and cities. The staff carried water and fruits for us which we had along with a unique ginger water. It was milk boiled with ginger, spices and sugar. As good as tea, minus the tea leaves.
We had our 'pre breakfast meal' in the balcony of a small shop near the Syahi Devi Temple. Exotic colorful birds flitted through the woods, but this time we just shut our cameras and appreciate their beauty not through lens but naked eyes.
It was an interesting place. Sudeep was delighted to spot a school in such a beautiful location. There are many houses that line the cobbled path to the Syahi Devi Temple. The small charming houses are two storied. The top floor is occupied by the family while the bottom floor was reserved for domesticated cows and water buffaloes. It is quite similar to the homes I saw in Nepal and Bhutan too.
HERITAGE TRAIL, BRITISH AND OTHERWISE: NEAR ANANT RASA, SHITLAKHET
During our evening walk, as we wandered in the forest, we arrived at a clearing. An old British ruin stood incongruously in the middle of nowhere. When I enquired Mr. Lokesh, he told me this area was a favourite with the British. The ruin we saw was a hunter's villa. Hunted animals used to be brought here and their carcasses preserved and hung on the walls as trophies. Silly, evil and pointless exercise! But it was a norm then.
Mr. Lokesh also showed us a 150 year old house built in the local architectural style. We also came across 150 years old water tanks in the middle of the forest.
THE FOOD AT ANANT RASA IS ORGANIC, FRESH AND EXCEPTIONAL
Sudeep was raving about the food even after many days of our stay at Anant Rasa in Shitlakhet. It is a big deal because Sudeep is not a foodie; he eats frugally and he hardly praises food at most hotels we have stayed in. BUT, I was happy to see him eat more than his normal diet here. The food here is undoubtedly one of the best I have had. Their ingredients are fresh, organic and locally sourced. They bake their own bread and grow their own vegetables. The cheese chilly toast they had served was 'the best one' I have ever had.
I can see why he is so impressed. The food at Anant Rasa is indeed one of the best I have sampled. I have stayed in many luxury and budget properties before. Very few of them excel in the food department. So, it is sheer delight when a property makes sincere efforts to make sure that the guests are served fresh, organic, delicious and well presented food every single time. They grow their own vegetables which explains why the food tasted so fresh and organic. We both are vegetarian, so we sampled only vegan and vegetarian food. This is my first property review where the food section is so long.
Breakfast at Anant Rasa
Of all the breakfasts we had enjoyed here, we unanimously loved the idli, poha, cut fresh fruits and pomegranate juice. It is my most preferred breakfast as it is filling, light and healthy. I never opt for deep fried food for breakfast as a habit. The idli came in 2 versions- rice and rawa. Both were well done, though I liked the rawa one better. It came with sambhar and two thick chutneys.
On the second day we had stuffed parathas, upma and cut fresh fruits. I preferred upma. It was delicious and came with 2 thick chutneys.
Lunch and dinner at Anant Rasa
The lunch and dinner was so good that we always anticipated what's next! We particularly loved the local food of Uttarakhand which comprised of maduwe ki roti (ragi bread), bhat ki daal (lentil), Kumauni Raita (Yogurt with pungent mustard and spices, yummy).
Of the continental dishes we sampled, cottage cheese steak with pan tossed exotic vegetables stood out.
Desserts at Anant Rasa
Desserts at Anant Rasa need special mention. Not only were they a visual delight but also an explosion of flavours, sometimes subtle, at times bold. I loved the yellow mulberry based dessert with jelly and other fruits in it.
The apple pie and mousse were equally good and garnished with caramel threads and rose petals. The Indian kheer (rice based sweet) was subtle and contained crunchy dry fruits in it.
The flawless room service and presentation of food
It deserves special mention. Thanks to our busy birding schedule, we ordered room service 3 times and we can vouch for the fact that the service was prompt, smooth and impeccable. High standards of service matched (and at times surpassed) with service of luxury 5 star hotels in big metro cities. The dishes were neatly brought on a large salver. The food was always covered with aluminum foil or metal lids. The dishes were quickly cleared once a phone call was made. And with a genuine smile!
The presentation of the food won our hearts! Be it the rose petals which came with all the desserts or the fresh fruits and caramel threads which were served as garnish, the desserts here are 'Instagram ready'!
ECO FRIENDLY PRACTICES AT ANANT RASA, SHITLAKHET
I prefer properties which practice eco friendly methods without compromising on luxury. First things first, I was impressed that the rooms in Anant Rasa has glass bottles which can be refilled upon a phone call. Refilling is so much better than opening a plastic bottle many times in a day. In most hotels, I have to request the staff to take away plastic bottles and stock filtered water in my room. Here, I was delighted to see it in my room already.
They also have solar panels in the property. And we all know how solar panels help save the planet!
The view from my #SoulWindow is refreshing!
HOW TO REACH ANANT RASA, SHITLAKHET, ALMORA
Address of Anant Rasa is:
Anant Rasa – An Amritara Private Hideaway, Syahi Devi Estate, Village Syahi Devi, Post Shitlakhet, Almora – 263678, Uttarakhand, India.
CONTACT OF ANANT RASA, SHITLAKHET
You can contact them on below numbers and email. Pls check their website for more details.
Telephone: +91 86500 00635, +91 86500 00638
Email: [email protected]
THE BIRDS WE SPOTTED IN AND AROUND ANANT RASA, SHITLAKHET
(Post trip identification by Sudeep Garg)
1) Black Francolin
2) Kalij Pheasant
3) Himalayan Woodpecker
4) Great Barbet
5) Himalayan Cuckoo
6) Slaty-headed Parakeet
7) Plum-headed Parakeet

8) Rock Pigeon
9) Oriental Turtle-Dove
10) Himalayan Griffon
11) Black-headed Jay
12) Red-billed Blue-Magpie
13) Large-billed Crow
14) Scarlet Minivet
15) Ashy Drongo
8) Rock Pigeon
9) Oriental Turtle-Dove
10) Himalayan Griffon
11) Black-headed Jay
12) Red-billed Blue-Magpie
13) Large-billed Crow
14) Scarlet Minivet
15) Ashy Drongo
16) White-throated Fantail
17) Blue-capped Rock-Thrush
18) Blue Whistling-Thrush
19) Grey-winged Blackbird
20) Dark Sided Flycatcher
21) Ultramarine Flycatcher
22) Verditer Flycatcher
23) Grey-headed Canary-Flycatcher
24) Grey Bushchat
25) Chestnut-bellied Nuthatch
26) Barn Swallow
27) Himalayan Bulbul
28) Black Bulbul
29) Striated Prinia
30) Oriental White-eye
31) Russet Sparrow
32) Cinereous Tit
33) Rusty-cheeked Scimitar-Babbler
34) Streaked Laughingthrush
35) Black-throated Tit
36) Peregrine Falcon
37) Greenish Warbler
38) Grey-hooded warbler
Spread the love, share this blog
Got any question/comments, ask in the comment section below so that it can benefit other readers.
Email me for collaboration: [email protected]
Be a part of my journey on social media. The travel content I create there is different from this blog.
Pls subscribe/follow/like
WARNING: COPYRIGHT TO ALL THE TEXT SHARED HERE REMAINS WITH ME. YOU CAN NOT JUST LIFT THE CONTENT AND USE IT WITHOUT MY PERMISSION. STRICT LEGAL ACTION WILL BE TAKEN IF CONTENT IS STOLEN. YES, I AM SERIOUS.
Top Travel Blogger from India