Last Updated on September 25, 2018 by
GARBA GYRATIONS GALORE IN UNITED WAY, VADODARA: BIGGEST DANCE SHOW IN INDIA
Thousands of them had spilled on to the roads, mostly impatient and on a bike. They were stuck in a traffic jam. It was the first time I saw traffic jam on the roads of Vadodara which are clean and wide. A small town in Gujarat, west India, and Vadaodara is known for its Garba dance celebrations of epic proportions. It was the most fashionable traffic jam I had ever seen.
Young boys and girls dressed in their best ethnic wear paraded (and stuck) on the unending ramp on a bike. Reds, blues, greens, silvers and golden embellished their bodies. They could have passed off as apsaras and devs (fairies and Gods). But their interests were more mortal. They were heading to the mega dance show which is also mentioned in Book of records.
My host Soniya Shah had invited me and my other Mumbai friends cum colleagues (Nishant, Vinayak, and Pradnya) to Gujarat to attend the mega festival on a short notice. I lived in Navi Mumbai at that time so it was easy and cheap for me to show up. You can either take a train or bus or flights to Vadodara from most major cities of India. For Mumbaikars it is very easy to attend the event as there are many Mumbai to Vadodara flights of short distance, which makes it a quick weekend getaway. All you have to do is-pack your bags, book your flights and show up in the cultural capital of Gujarat, also known as Baroda.
We arrived at the famous United Way Garba Grounds after braving the crowds on our ramshackle bikes. We were underdressed and were completely overshadowed by the men and women who masqueraded as peacocks and peahens on the sprawling grounds.
Pics above: Me, Nishant, Vinayak, Soniya and Pradnya enjoying by the road side at 1 a.m. in Vadodara post the Garba at United Way. Incredible India
Huge cut outs of green parrots and numerous flags hung from wires above our heads. It added to the festive atmosphere. After buying the tickets, we were left to fend for ourselves. We got 4 empty seats near the barricade which separated us from the dance grounds. It gave us a fabulous view of the grand spectacle.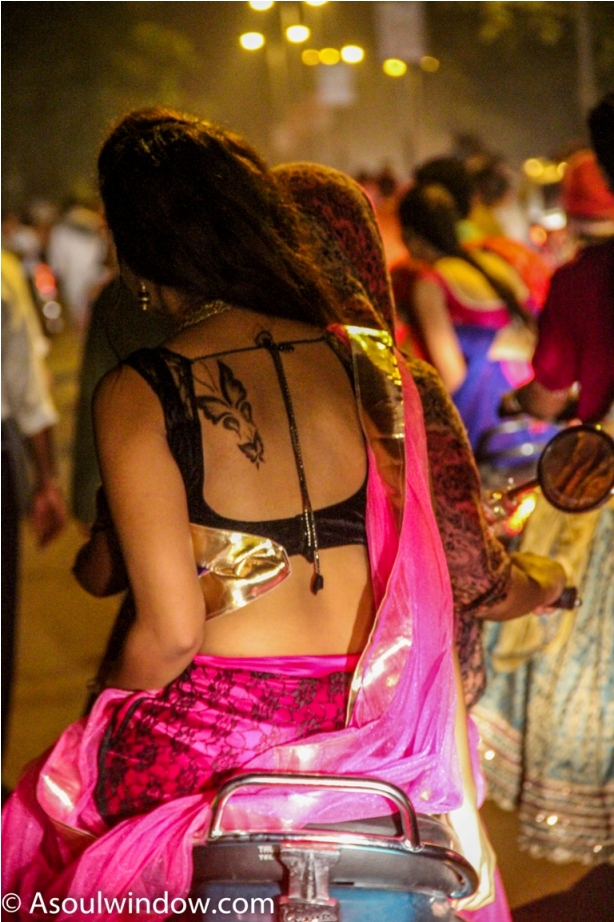 What followed next was jaw dropping. Men and women of all ages moved in synchronization and without missing a single step, they move like one giant whirligig. I can imagine I would have made a fool of myself. I would have bumped into some one, punched someone by mistake or fallen or hit someone with dandiya sticks. The way they moved their sticks and their body was admirable. It was an eye catching mélange of grace, skill and poise.
In Between the ground is a tall machan(raised platform)like stage on which are caged the singers and the musicians. They sing in a buland(deep-mouthed) voice, peppered with a hint of mischief and unbridled masti (joy). I didn't understand a word except the bhai which was repeated incessantly and is an inseparable garba jargon anywhere in the world. It was fun to say that and has become a part of my everyday lingo after this trip.
ATTEND SMALL GARBA JIGS IN VADODARA GUJARAT TOO:
My friend Soniya, being a local, took us to a small garba congregation too much of the participants of which were either friends or extended family of Soniya. Me, Nishant, Vinayak and Pradnyasat incongruously on the periphery of the small dance ground as Soniya introduced us to anyone who passed by. Jai Shri Krishnas (Greetings) were exchanged as we immersed ourselves deeper in a culture we knew zilch about. Hours passed.
We were exhausted but still wide eyed. We slipped into mundane activities like people watching and idle talking. It was punctuated by our triumphant 'Eureka moments' when we, the outsiders, caught a nuanced step or figured out the method to the madness or spotted an interesting move or song style or even a word. It was cool. It was the coolest dance show I had seen on earth. And I was upset with myself that why I had no idea that something like this existed.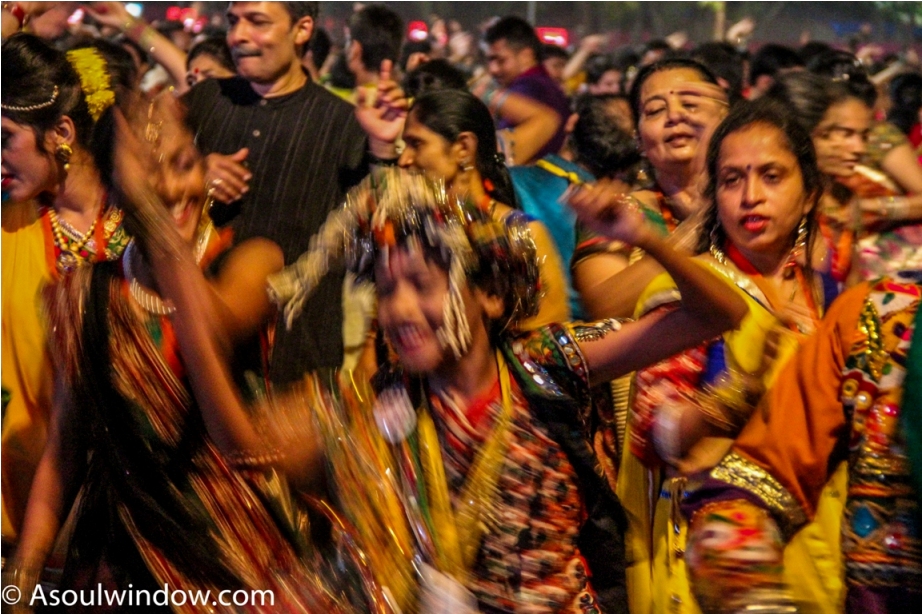 Thanks to Sonia for dragging us from all the way from Mumbai to see the grand show. I was skeptical when she invited. Who travels to another city to watch dance? I was wrong! It is worth traveling to from anywhere, let alone Mumbai. Post the dances, we binge ate the food available at the stalls. It was a private community affair unlike the public gathering at United Way garba. Soniya quipped about how people are not sticking to the Jain section (No onion, no garlic, no meat,egg,and fish) but lined up at the non Jain vegetarian section. I smiled and ate to my heart's content while observing the behaviour, speech and actions of people.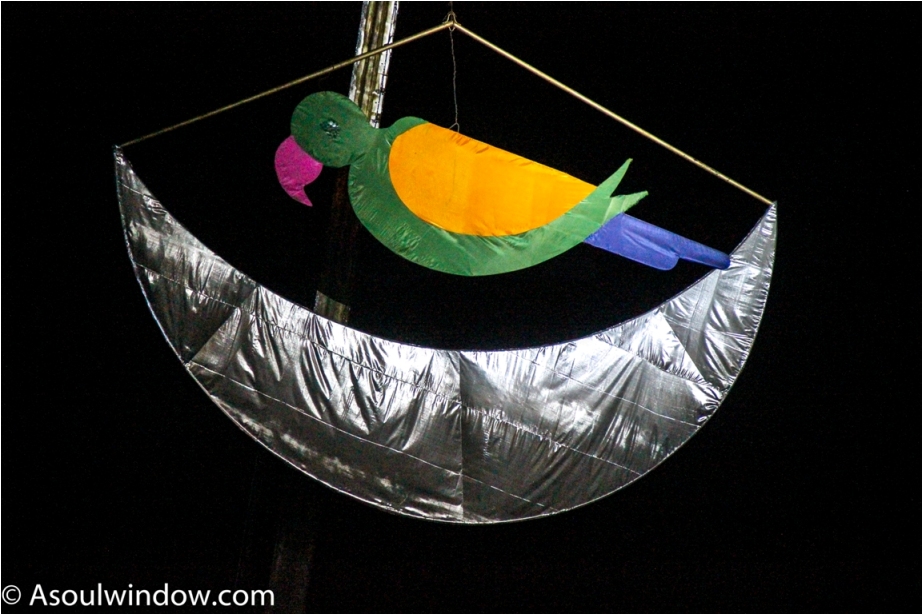 TIBETAN/CHINESE GARBA ANYONE? NOT IN GUJARAT THOUGH!
I was recently in the Tibetan region of China for the epic Kailasha Manasarovara Yatra. One day in Kyirong,I saw a garba like dance going on. Kyirong is the small town in China bordering with Syabru bensi in Nepal. In front of the ancient Pakba Monastery, there is a large ground. Every night a large group of Tibetans move in a similar garba style fashion on loud and often ridiculous music on this ground. It is so similar that I had named it Chinese Garba. It was fun to watch it and strongly reminded me of the United Way Garba. Except they don't say 'bhai bhai'.
In fact, a large group from Gujarat also visited while I was there. We were dining when I joked to them you should join the group tonight and upstage them. Excited, they readily agreed, with an eagerness that said, "We are ready to steal the thunder". One of them asked me, "Kitne baje aana hai?" I bottom-upped my chaas and looked away. Told you, a Gujarati is not a Gujarati if he or she can not pull off a garba jig on demand (or even without it).
In fact, Soniya told us that in Vadodara, mother in laws aggressively cross check through vishwasniya sutras (trusted sources)that their prospective daughter in laws knows the steps of garba before saying yes to the marriage. I am sure it was not joke. I am sure the eviler ones also make the damsels in distress pass through a garba test. Vadodara indeed is the cultural capital of Gujarat!
POST GARBA PARTY IN VADODARA
After the dance extravaganza we headed to the Ratri Bazaar for midnight snacking. The open air dining area is a great place to sample local cuisine like papdi nu lot, sev khaman, dhokla etc. Read about it on my vegan guide to Vadodara. Link is shared at the end of the blog.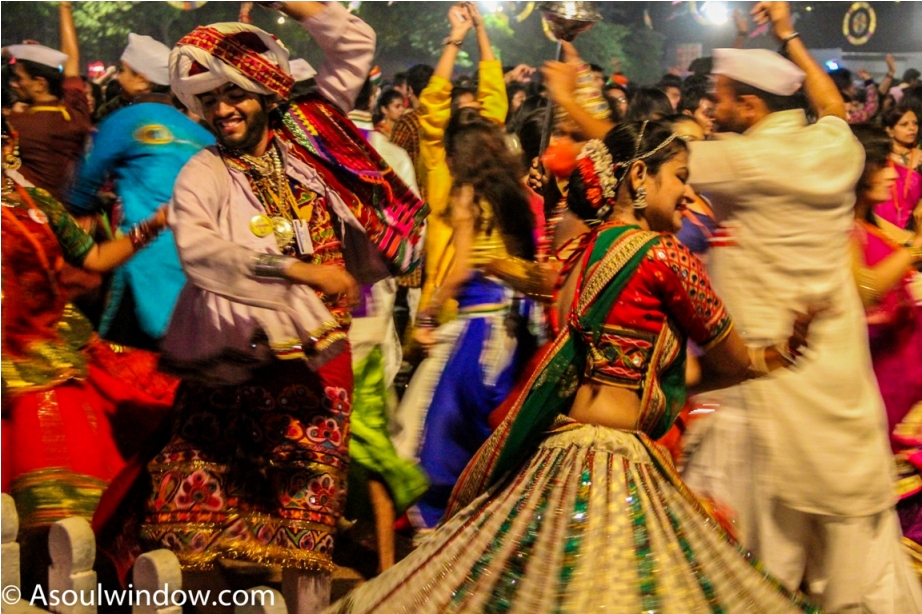 SOME COOL FACTS ABOUT GARBA MAHOTSAV IN VADODARA, GUJARAT!
It was formed in 1987 as a not for profit organization. It supports the underprivilegedcommunities and small NGOs.
Atul Purohit is a very well-known Garba singer who performs across the world but reserves his 9 days every year for Vadodara only.
Can you believe more than 30,000 to 50,000 people visit it on a day?Around 30,000 dance together and without any stampede or bad behaviour.

Garba at United Way, Vadodara, Gujarat. Incredible India

In 2011, more than 1, 00,000 people visited. (Source: Times Of India)

United Way is mentioned in Limca book of Records as the largest garba ground in the world.
Sample the local Gujarati food at the many food stalls set up here. I favourite is khaman, papdi nu lot, khandavi etc.
Garba festival and similar group dances can also be experienced in other cities of Indian state of Gujarat such as Ahmedabad, Surat, Rajkot, Jamnagar etc.

Garba at United Way, Vadodara, Gujarat. Incredible India

                                    'Chogada Tara'

                          'Rangila Tara'

'Chabila Tara'

These recurring words in Gujarati navratri songs mean- "Your Lover "

Garba at United Way, Vadodara, Gujarat. Incredible India

Garba starts at 7 p.m. and becomes more and crowded as the night progresses and thins out eventually. Pls reach early to avoid traffic jams, no matter how glamourous the jams are.

Best time to leave the ground is 11:30 p.m. as garba ends at 12 a.m. making it a midnight traffic nightmare.

Garba at United Way, Vadodara, Gujarat. Incredible India

Hang out at the late night al fresco Desi food court Ratri Bazar after garba. It serves amazing Gujarati food at throw away prices in an open air setting.

The event is a fashion explosion. Get ideas for what you want to wear in your next cousin's wedding. Or what Canadian Prime Minister Justin Trudeau should not wear when he is in India.
Vadodara is a very safe city for women. It is very safe for women solo travelers as well. Yes, even during the night!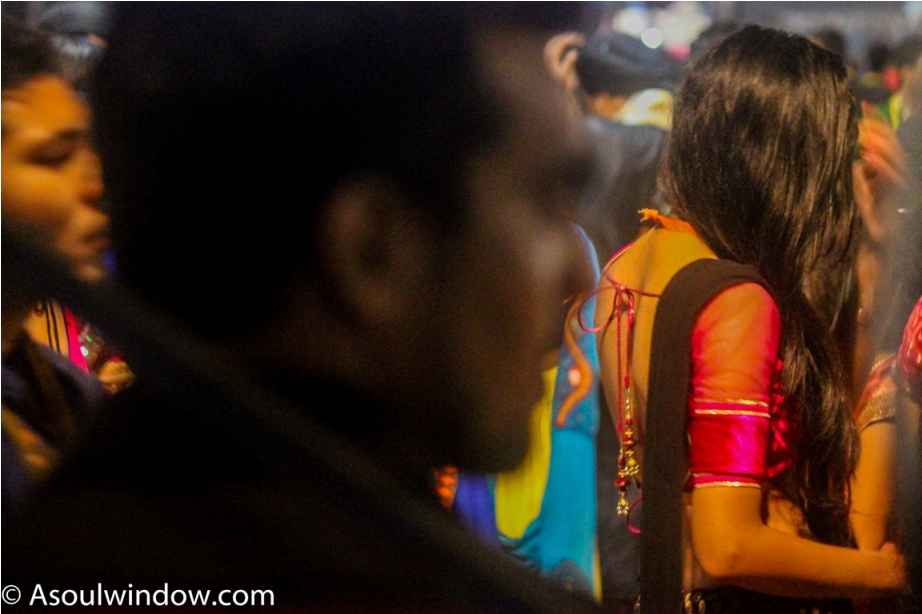 If you want to participate, I would suggest you register in advance due to high demand and limited capacity. You can register for the event online.
BEST TIME TO VISIT UNITED WAY GARBA IN VADODARA:
The phenomenon is experienced only once in a year during Navratri. Navratri is a 9 day long Hindu festival where each day represents the nine manifestations of Hindu Goddess Durga. The dance is performed on each of the 9 day. When I was in Navi Mumbai, I used to watch dandiya and garba dance every year on roads. It is very common but no match to what goes on in Vadodara every year. Navrati falls mostly in October every year.
HOW TO REACH VADODARA AKA BARODA, GUJARAT:
Vadodara is a big and important city. It is well connected with all the major metros and small towns of India. Nearest big city from Vadodara is Mumbai in Maharashtra which is just 411 kilometers away (7 hours, 30 minutes). You can take an overnight train or bus from Mumbai and can easily reach Vadodara.
A LOCAL'S PERSPECTIVE ON GARBA:
As if Sonia's perspective was not enough, I bring to you another local's perspective. Mayuri is an Indian travel blogger who runs a blog called Fernwehrahee . Let's hear what she has to say on the Garba Gyrations.
The most glorious festival of Gujarat is Navratri and Vadodara is famous for its biggest Navratri called 'United Way of Baroda'. Any Garba Lover cannot miss United Way as it is one of the most organized place for playing garba with soothing music and melodious voice of 'Atul Purohit' jee.
Formed in the year 1987 as a nonprofit organization, it supports communities, local NGOs and government for sustainable improvement in quality of life of less privileged people in and around Gujarat.
Venue: United Way, Alembic City Ground, Gorwa, Vadodara, Gujarat around Gujarat.
Mayuri Patel in all her Garba glory! Garba at United Way, Vadodara, Gujarat. Incredible India. Pic courtesy: Mayuri Patel
Venue: United Way, Alembic City Ground, Gorwa, Vadodara, Gujarat around Gujarat.
"I go every year to United Way for Garba", said a stranger girl from Pune during my journey from Mumbai to Surat. This is the charm of United Way.Even I see many foreigners who visit here especially during the Navratri and you will not easily get accommodation during the festival.
The Garba Ground is also amazingly decorated in bright rainbow colours with different themes every year.It is always eye captivating every year and visitors always get charmed by its intoxicating ambiance.
The reason for being famous is also Mr.Atul Purohit who is most famous Gujarati folk singer. His Group named 'Rutumbhara' has been singing for United Way for more than 22 years.The Garba they sing are traditional Gujarati songs and very unique. The most famous among them are 'Tara vina shyam, mane ekaldulage' and 'haiyerakhihom, marechitravuchhe nom' etc which gives more enthusiasm to the rhythmic movements of garba players.
One more thing I love about united way is their organization and marketing skills.You cannot enter in the Garba ground without Garba Pass.They issue Garba Pass for 10 days of Navratri festival. One has to pay nominal fee for male and female participants(less for female). One has to do registration at one of the centres of United Way in Vadodara city.
After few days of the registration, you can collect the pass from them .You can do registration online with courier options.Generally online registration starts before the two months of Navratri. The female participants can get refund after 10 days if they want.They also issue viewers Pass for just watching the Garba if you are not good at playing.
As per Past records, more than 80,000-90,000 people attend United Way Garba every year and it claims to have one of the largest gathering of people during the Navratri. It also holds a record in the Guinness book of Records as the biggest garba grounds in the world.
If one has to see the true colours of Gujarat and especially the cultural capital-Vadodara, Navratri happens to be the best time to visit.
The view from my #SoulWindow is bhai bhai!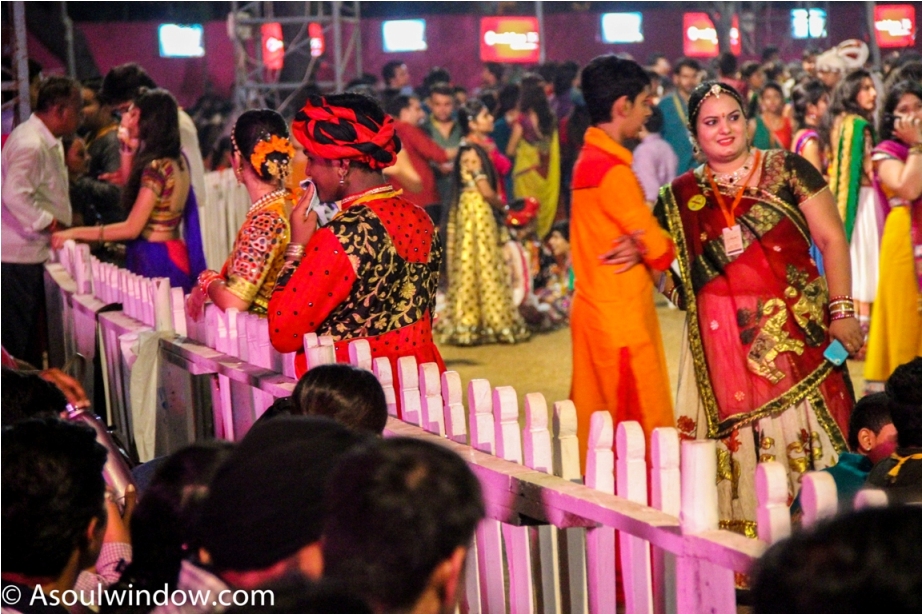 Spread the love, share this blog
Got any question/comments, ask in the comment section below so that it can benefit other readers.
Email me for collaboration: [email protected]
WARNING : COPYRIGHT TO ALL THE CONTENT SHARED HERE REMAINS WITH ME. YOU CAN NOT JUST LIFT THE CONTENT AND USE IT WITHOUT MY PERMISSION. STRICT LEGAL ACTION WILL BE TAKEN IF CONTENT IS STOLEN. YES, I AM SERIOUS.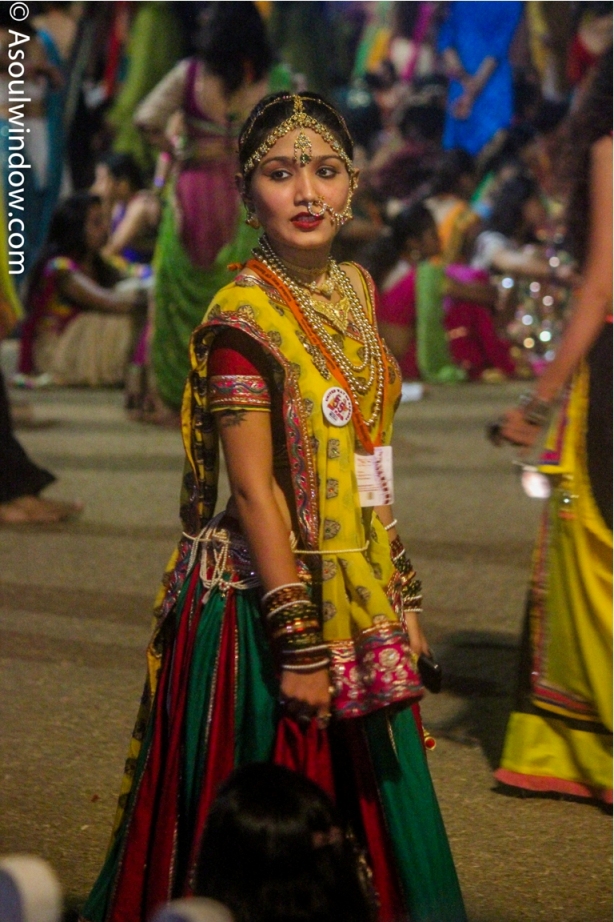 Be a part of my journey on social media. The travel content I create there is different from this blog.
  

Pls subscribe/follow/like: