Last Updated on April 4, 2023 by asoulwindow
SHOPPING GUIDE TO SRI LANKA- SOUVENIERS, GEMS, MEDICINES, TEA AND MORE.
This blog is a shopping guide to Sri Lanka. From exotic Ceylon tea to attractive wooden masks and precious gems and spices, there is a lot you can buy in Sri Lanka. Carry an extra bag. Or better still, buy a local cool bag from one of the chic stores.
Shopping Guide to Colombo
You have a passion for shopping? Colombo will make it even better! There is a lot you can shop for when in Colombo. I had personally shopped for some unique local stuff like magnets, key chains, handicrafts, clothes, jewellery (for gifts) and of course the Sri Lankan tea in bizarre elephant shaped boxes or souvenirs like masks, statues etc.
What I didn't shop for in Colombo were Gems. They cost a bomb and I have no plans to go on my knees anytime in future. But if you have deep pockets and names of 4 girlfriends saved on your phone as Rakesh (or worse Christopher), then why not! The finest blue sapphire and moon stones and other precious stones are produced in Sri Lanka. Even Marco Polo had agreed!
Different types of teas also known as Ceylon Tea, spices and products made with carved wood, local packaged food and the batik products must also make their way to your Sri Lanka shopping cart. I had visited the government emporium to pick up these souvenirs. The products sold at the Government backed places are authentic and of good quality. You can also buy from independent shops some of which sell good quality products and in huge variety.
Colombo gives you many options if you are a shopaholic. This shopping guide will help you narrow down some of the best things which you can buy in Colombo or in most places of Sri Lanka.
These products are available for shopping in not just big super markets of Colombo but also shopping malls, local shops and even carts. Good quality products and reasonable prices are what which makes shopping experience in Colombo stand apart.
Sri Lanka is so much like South India and yet so different. To a foreign visitor who has not been to India, many of the products available on the shelves will offer a novelty. That said, many products available in Sri Lanka are still unique to the country. Though big brands and international chains are pretty common in Sri Lanka, I realized that much of the Sri Lankan products are locally grown and made.
Local brands are popular and cheaper than its international counterparts. Also, though it was easy to find international faces (including many Indian film stars) on hoardings and billboards, I was happy to see many local celebs and everyday people endorsing products on the street side advertisements, which were often a quirky video display as well.
I am not much of a shopper but Sri Lanka tempted me to shop. I hate to hoard things for myself but I did end up buying gifts for my family and friends. Below are some tips on what to buy in Sri Lanka:
WHAT TO SHOP FOR WHEN IN SRI LANKA?
CEYLON TEA: SHOPPING GUIDE FOR SRI LANKA
We visited a tea garden as well as a tea factory. We saw the tea making process and couldn't resist buying some for home. The tea in Sri Lanka comes in many varieties. They are also creatively packaged. I received a gift of a beautiful porcelain elephant containing choicest of Sri Lankan tea. The most popular tea brand in Sri Lanka is Dilmah.
WOODEN MASKS: SHOPPING GUIDE FOR SRI LANKA
The wooden masks painted in bright colors are unmissable. I saw many masks workshop on the coastal road as I was on my way to Galle. Ambalangoda is the main hub where the masks are made. The wooden masks are traditionally used to ward off evil spirits and also used in ritual kolam dances. Tourists do buy these masks to display on the walls of their homes. The frightening mask, it is said, saves you from evil forces. I did pick mask shaped fridge magnets and keyrings at 100 Sri Lankan Rupees each.
FOOD: SHOPPING GUIDE FOR SRI LANKA
I am a big time foodie and this time too I shopped for food. While it was not possible for me to take home perishable street food, the packaged food is convenient to buy. The spiced peanuts they sell in packets are quite addictive. It was hard to resist once I opened a pack. Tempered with spices and curry leaves, it had a taste which I had never experienced before. You can also buy hoppers flour, local red rice, local curry powders and spices, the work! Just keep your eyes opened and you will find something which is local and interesting. My tip is to go to both local markets and the super stores.
HERBAL MEDICINES AND OILS: SHOPPING GUIDE FOR SRI LANKA
A visit to the spice garden in Sri Lanka reminded me of my visit to a similar spice garden in South Goa called Sahkari farms. We took an interesting tour which educated us about everyday plants which we take for granted or know little about. Who would have thought that the humble turmeric or red pineapple or aloevera has so many health benefits?
The store I visited had locally made ointments, oils, balms, creams, cosmetics and even curry powders. From aphrodisiacs to pain relieving oils to local lifestyle products, you will find it all here. The best part is all of it is organic and natural.
GEMS: SHOPPING GUIDE FOR SRI LANKA
I do not have much of an expertise in gems. That said, it is impossible to miss out on gems when traversing the streets of Sri Lanka. A source told me that some of the gems easily available in Sri Lanka are Aquamarines, spinels, corundums, zircons, amethysts, star stones, tourmalines, topaz, garnets, cats' eyes. Sapphire and Rubies are what most people shop for. Sri Lanka has many ancient rocks and thus the abundance. However, beware of touts and fakes. The best way is to stick to Government approved shops.
How to identify real gems – Avoid Travel Scams!
My guide in Colombo told me that the real gems will always be imperfect and will have some impurity. The fake gems will look all shiny and flawless.
From where to buy gems in Colombo
The shops in Hatton Garden in Colombo are reliable for shopping of gems and other precious stones. Always buy gems from reputed stores which have a proper license. If you still have doubts, then the verification can be done by the Sri Lanka Gem and Jewellery Authority in Colombo or Ratnapura. It's Sri Lankan Government's facility to foreigner travelers and is made available free of cost. Just ask your shopkeeper when in doubt.
TERRACOTA POTS AND PANS: SHOPPING GUIDE FOR SRI LANKA
You will find many street side vendors selling terracotta pots and pans. From an Indian style karahi (wok) to ladles made with coconut shells, you will find innovative products. If you are into kitsch, do buy the quirky animals painted in loud colors.
OTHER SOUVENIERS TO BUY IN SRI LANKA:
No one is allowed to click pictures of the centuries old paintings on one of the walls of Sigiriya. To make up, you can buy postcards of the same paintings while you exit. It is also easy to pick Sri Lanka themed magnets and key chains in most of the cities. The Barefoot café in Colombo also stocks some great souvenirs to pick. Many shops in the very 'Dutch' Galle sell fashionable clothes and quirky artefacts. The beautiful Bodhi tree is also common, especially near the religious places.
Buddha statues are also available in many forms. Pettah Bazar in Colombo is where you can find affordable products. As you leave Kandy, watch out for Dumbara mats and baskets made with hand woven fabric. Shopping malls such as Crescat, Majestic City and Liberty Plaza are quite popular among locals. You can also buy handicrafts, books, garments, etc. Most of the shopping malls are fully Wi-Fi enabled.
Night Bazaar – A Weekend Shopping destination in Colombo!
You must head to the night market which is located close to the Ananda Coomaraswamy Mawatha if you are in Colombo on a weekend. Apart from the local people of Colombo, the night market is also a great place to hang out for the foreign travelers. Apart from shopping of course, good entertainment and delectable food is also on the cards. It is a busy night bazaar and a good one at that!
SHOPPING CASHLESS IN SRI LANKA
When you are traveling in a new country, shopping cashless is a blessing, as you do not have to worry for dwindling cash or finding the exact change. Most big shops in Sri Lanka accept credit cards. In fact, my co-travelers bought products worth INR 12,000 at the spice garden with a simple swipe of credit card. It sure makes life much easier. For the uninitiated, you can apply for credit cards here. It is especially more convenient to do transactions with credit cards when you deal with big money.
For example, bills for gems run in lakhs so it makes sense to pay cashless. The best part is that using credit cards come handy not only when you travel internationally but also when transacting within India. You must avail credit card offers for the best deals. The future of shopping is cashless. Post demonetization in India in November 2016, more and more Indians are making a transition towards cashless. So, it makes sense in buying the one suited to your needs and spending habit.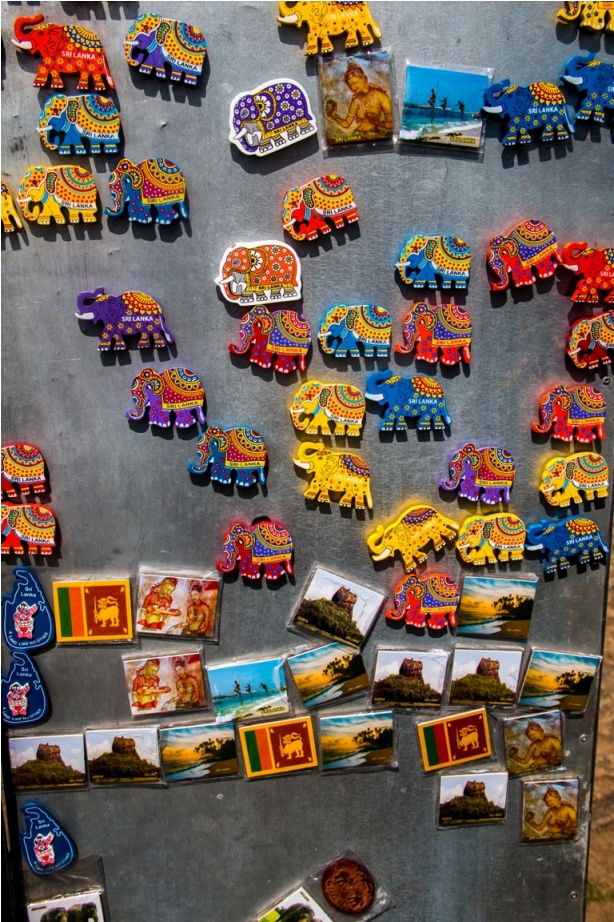 SHOPPING WITH CASH IN SRI LANKA
Indian Rupee is just the double of Sri Lankan Rupee. Some shops in big cities do accept Indian notes of high value. However, it is not advised. It is better to carry certain amount of petty cash for products of lower value such as snacks, cab and tuk-tuk rides, souvenirs etc.
I also like to collect currency for my numismatics collection, so I did bring along some notes of value 20, 50, 100, 500 and 1000. Coins are not much in use in Sri Lanka and appears to be phasing out. However, I did manage to take back a 1 Rupee and 2 Rupee coin.
Shopping Scams in Colombo – Gems and other precious stones
Sri Lanka is a great destination to buy gold, silver, gems, moon stones and precious stones. When in Colombo, beware of the gem scams though!
Beware of the scams when in Colombo or elsewhere in Sri Lanka. A tuk tuk driver offered me a cheap rickshaw ride to what he said was 'Once in a year' gems fair and it is organized just for 1 day and today is that day. (I always attract the wrong kind of luck!)
I knew something was wrong, I still agreed to go with him as I saw a potential (quirky) story there. Like I agreed to go with a Pakistani in Dubai, U.A.E. who wanted to sell me an Indian hair oil in Dubai to get me some hair on my head. More on that in a separate blog!
Anyways, coming back to Colombo, the rickshaw or tuk tuk guide had charged me just 20 LKR (8 INR). As I had expected, he dropped me at a permanent gem shop which was no-where close to a fair. I have never bought any gems in life nor do I intend to ever. The shopkeeper started showing me different gems.
He demonstrated me some methods to prove that the gems were real. I was laughing in my head. He said that I can get it home delivered in my home city as the processing and finishing touches take time. I later learned that they send fake gems later. I quickly moved out and joined my friends again. It was a breezy and cheap ride!
ALSO READ
THE ULTIMATE VEGAN & VEGETARIAN FOOD AND DRINKS GUIDE TO SRI LANKA
VEGAN RECIPE OF POL SAMBOL AND KATTA SAMBOL
LUXURY CRUISE FROM DUBAI TO FORT KOCHI
OFFBEAT AL NOOR MOSQUE IN SHARJAH
Spread the love, share this blog
Got any question/comments, ask in the comment section below so that it can benefit other readers.
Email me for collaboration: [email protected]
Be a part of my journey on social media. The travel content I create there is different from this blog.
Pls subscribe/follow/like
WARNING: COPYRIGHT TO ALL THE TEXT SHARED HERE REMAINS WITH ME. YOU CAN NOT JUST LIFT THE CONTENT AND USE IT WITHOUT MY PERMISSION. STRICT LEGAL ACTION WILL BE TAKEN IF CONTENT IS STOLEN. YES, I AM SERIOUS.
Top Travel Blogger from India