Last Updated on September 9, 2023 by asoulwindow
About La Sagrada Familia Catholic Church
La Sagrada Familia is the iconic landmark that immediately comes to mind when thinking about Barcelona. This incredible church remains an unfinished masterpiece, a feature that has even found its way into Spanish cultural humor.
When someone makes a promise, people often say, "When La Sagrada Familia is completed," implying that the completion of the promise might be uncertain, similar to the ongoing construction of the Sagrada Familia.
One thing is certain: it's a must-visit for those planning a trip to Spain, offering the chance to uncover its architectural marvels and discover a slice of Spanish culture.
My Experience of visiting La Sagrada Familia
I've had the privilege of visiting the Sagrada Familia on several occasions, each marking distinct phases of my life. This makes it an incredibly meaningful place for me — a silent witness to my growth.
The memory of my first Barcelona trip remains vivid. Back in 2014, fresh from my summer job, a spontaneous trip with a friend led us there to visit another friend on an Erasmus program. While the distant silhouette of the Sagrada Familia captivated us while we roamed the city, it wasn't until we reached the spot that we truly grasped the imposing and majestic presence it holds.
During another visit, I could barely enjoy its beauty. Still, I remember it vividly. It was a conference trip, a point in my career when my 9-to-5 journey took off. During a team-building event, I caught a quick glimpse of the Sagrada Familia as I headed back to the hotel after dinner.
Why is La Sagrada Familia famous?
Finding a church building quite like it throughout history is likely an impossible task. The Sagrada Família is celebrated for representing Antoni Gaudí's distinctive fusion aesthetic, blending aspects of Art Nouveau, Catalan Modernism and Spanish Late Gothic architecture.
Gaudí's design revolves around the theme of nature, evident through symbolism and the incorporation of organic shapes and forms. This famous basilica encapsulates the essence of his groundbreaking approach and artistic vision, surpassing not only the expectations of his time but also holding relevancy in the present day.
La Sagrada Familia holds profound cultural significance, transforming it into a testament to unwavering dedication and incredible craftsmanship. It stands as a reflection of generations deeply committed to realizing Gaudí's visionary creation.
Besides its iconic architecture and its history, the Sagrada Familia also displays the cultural heart and soul of Barcelona, Catalonia, and Spain in general.
It's like a worldwide symbol of the city's, region's, and country's history, art, and the mix of old and new. Being a UNESCO World Heritage Site, it attracts people from everywhere, promoting sharing and understanding of different cultures.
Who is the patron saint of La Sagrada Familia?
Holiness and spirituality are enclosed in this masterpiece of 18 towers dedicated to important biblical characters. This is reflected in their dimensions- 12 of them represent the apostles, 4 the evangelists, one the Virgin Mary, and the tallest one, Jesus Christ.
The person taking care of the Holy Family, Saint Joseph (in Spanish: San José), patron saint of La Sagrada Familia church is not included in the towers.
It's fitting that the one chosen to take care of the Holy Family became the church's patron, built to spread the Christian values of La Sagrada Familia.
Etymology of La Sagrada Familia
At that time, Barcelona was undergoing a process of deep social and economic transformation. The most conservative sectors of society felt threatened by the liberal ideas that were beginning to spread, and even the church spoke of a crisis of values and faith.
Josep Maria Bocabella, the founder of the Association of the Devotees of Saint Joseph, which later promoted the construction of La Sagrada Familia, decided to promote the values that at that time represented "the family", formed by Mary, Joseph, and Jesus. Hence the name La Sagrada Familia. The full name is Temple Expiatori de la Sagrada Família.
Where is La Sagrada Familia located?
The Sagrada Familia stands as an architectural piece in the heart of Barcelona, Spain's capital of the Catalunya Region.
The city's ground plan from above reveals winding streets and bustling squares that converge around this unique church. The basilica stands tall with its towers, creating a unique focal point in the cityscape, making visible its distant silhouette from other points of the city.
Strategically located, its presence blends with the daily life of Barcelona being in a central location, highlighting its role as a cultural and religious symbol rooted in the very essence of Barcelona.
Who built La Sagrada Familia?
The architect behind this one-of-a-kind temple is none other than Antoni Gaudí. But, in 1877, the first to receive the commission from the Asociación de Devotos de San José to build the Sagrada Familia church was Francisco de Paula del Villar y Lozano.
Villar thought about a neo-Gothic design, but only a portion of the crypt was ever realized. By 1883, he stepped away from the project due to disagreements with other people involved, and Gaudí entered the scene, who not only assumed the project but transformed it into his magnum opus.
Gaudí dedicated tireless efforts to his project until he passed away, tragically struck by a tram in 1926. By then, 15 to 25 percent of the total design, had been realized. Afterward, a series of architects took on the responsibility of carrying forward his visionary heritage.
The attempt to finish the construction of Sagrada Família church has faced numerous hurdles over 130 years. In 1936, during the Spanish Civil War, vandalism destroyed several of Gaudí's detailed models, and in 2011, additional setbacks arose when a fire washed out the sacristy. The completion is expected to be in 2026, a century after Gaudi's death.
Influence of Antoni Gaudí
Antoni Gaudí left a remarkable influence on La Sagrada Família and also on the city of Barcelona as a whole. His creative vision transformed the basilica into a unique church, blending aspects of Art Nouveau, Catalan Modernism, and Spanish Late Gothic architecture. It's a way different style than the one started by Francisco de Paula del Villar y Lozano.
Gaudí incorporated his devotion to nature into every detail. His focus on fusing spirituality, nature, and innovation gave the Sagrada Familia a deeper meaning.
In fact, mysterious elements can be found, like the magic square, which always adds up to 33, the age of Christ, or the pelican on the Nativity Façade- believed to be an ancient symbol for Jesus Christ.
As for Barcelona, Gaudí helped shape its architectural identity. Characteristic works such as Park Güell and La Pedrera are integrated into the urban landscape, leaving a mark of originality and beauty.
The Sagrada Familia, in particular, has become an inseparable symbol of the city and the country, attracting millions of visitors and consolidating Barcelona as a cultural and tourist epicenter. Gaudí not only influenced the city's physical appearance but also its creative spirit and relationship with modern architecture.
When was La Sagrada Familia constructed?
More than 140 years later, the Basilica is still not completed. Below is the chronology of its construction.
1881
Josep Bocabella Bought a whole block in the Eixample district.
He raised funds to construct a temple dedicated to promoting the cult of the Holy Family.
1882
Project by Francisco de Paula del Villar and first stone placed.
1883
De Paula del Villar abandoned the project. Antoni Gaudí takes over.
1885
St. Joseph's chapel in the crypt is inaugurated, and the first masses are celebrated.
1891
Beginning of the Nativity Façade.
1926
Gaudí dies.
1930
Completion of the Nativity Façade.
1954
Beginning of the Passion Façade.
2000
The vaults of the central nave are restored, and the Façade of the Glory begins.
2018
The Passion Façade is finished.
2020
Work on the Façade of the Glory is resumed.
2022
Completion of the central towers and start of the second sacristy.
2026
Completion of the basilica.
Places to see around La Sagrada Familia
Exploring the Sagrada Família goes beyond its doors; it's a great opportunity to discover the treasures in the surroundings. In fact, there are plenty of significant places that are well worth a visit in Barcelona.
La Antigua Fábrica Damm is definitely one of them. You'll have the opportunity to discover how the beer was produced, and you will also enjoy a beer tasting.
Plaça Catalunya is the important point from which the Rambla (avenue) descends to the sea and from which Passeig de Gràcia, another popular avenue, originates.
And let's not forget Gaudí's two artwork buildings, Casa Milá and Casa Batló, where you can enjoy a view of the Sagrada Familia from their terraces.
Lastly, El Nacional is an incredible gastronomic concept featuring four restaurants and four bars under a single roof. Indulge in a variety of authentic Spanish dishes and experience the beauty of this culinary space. Want ideas for more things to do in Barcelona? Here is a 2 days itinerary of Barcelona.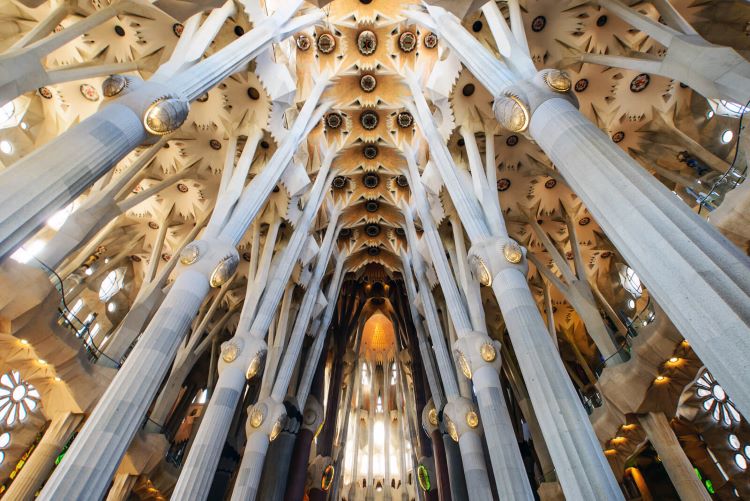 Is it safe to visit La Sagrada Familia?
La Sagrada Familia is a popular tourist attraction, so security measures are in place to ensure the safety of visitors.
However, as with any tourist destination, it's advisable to be aware of your belongings and surroundings, especially in crowded areas and busy streets.
Avoid taking tours from individuals stopping you on the street. It's common to come across unverified tourist guides.
It's also frequent for strangers to offer to take your picture. Be aware, as accepting might risk your phone's.
Overall, the Sagrada Família is a well-visited site, making it a safe and pleasant experience.
Souvenirs Shopping Guide to La Sagrada Familia
Aside from the classic fridge magnets that you can find in shops on all the main streets of Barcelona, there is a world of souvenir options to explore.
Sagrada Familia itself offers a store with unique pieces you can buy to bring a memory of your experience.
Among the things, you'll find signature rosaries, ornaments, decorative reproductions of iconic church elements, Christmas bowls, and much more.
And for those who love to bring with them culinary souvenirs, do not worry—I've got your back! Two must-visit stores for gastronomic delights are undoubtedly km0unio for wine and olive oil and Cal Sarda.
Photography Tips for La Sagrada Familia
The Sagrada Familia is one of the most iconic monuments in Barcelona. Its unique architecture makes it one of the most visited tourist attractions and a favorite spot for bloggers and influencers.
If you're passionate about photography and want to capture an unforgettable memory, we recommend considering these locations for your photos:
From Avenida Gaudí, you can catch a glimpse through the trees.
From the Ayre Hotel Rosellón Rooftop, imagine yourself at the table, with a cocktail and the church in the background.
From the side of the pond, allowing a reflection of the church in the water, especially at night.
Entry fee for La Sagrada Familia
The standard fee of La Sagrada Familia goes between 26 and 40 euros, depending on whether you want to include a tour guide and add a visit to the towers.
Discounts and reduced prices are available for seniors, students under 30, kids, and people with disabilities. Additionally, being a single parent or large family allows you to have a discount, and unemployed residents can benefit from discounts as long as they can show valid proof of their working status.
Keep in mind that buying your ticket online through their website will be cheaper and recommended.
How To Book a trip to La Sagrada Familia
Booking a trip to a place you've never visited can be overwhelming, so we'll help you step-by-step with planning your trip to La Sagrada Familia.
First, decide on a travel budget: Once you know how much money you can spend, it will be easier to decide on flights, accommodation, and holiday activities.
To reach La Sagrada Familia by metro you'll need to get line 2 (the purple), and depending on where you're staying, you'll have to switch one or two lines.
For accommodation– l'Eixample is a great option- a larger and less touristy area, very safe, and very well communicated. The neighborhood's best area is the Eixample's left side, which extends from Plaza Catalunya to the left of Paseo de Gracia.
Be sure to plan ahead and buy tickets and tours weeks in advance because this is the most visited monument in Spain!
What to wear in La Sagrada Familia?
La Sagrada Familia is a religious site of Catholic morality and faith in Barcelona.
For this reason, to preserve the holiness and sanctity of the basilica, visitors are required to dress appropriately, following a dress code similar to the one observed in any active Catholic church.
Hats and caps should be removed. Shoulders, back and navel need to be covered. Trousers and skirts should cover below mid-thigh.
As a religious institution, the Sagrada Familia has the right to refuse entry to the basilica if visitors violate the dress code, so make sure to bring appropriate clothing.
Timings of La Sagrada Familia
| | | |
| --- | --- | --- |
| Opening Hours | Days | Time |
| November – February | Monday to Saturday | 09:00 to 18:00 |
| | Sundays | 10:30 to 18:00 |
| March – October | Monday to Saturday | 09:00 to 19:00 |
| | Sundays | 10:30 to 19:00 |
| April – September | Monday to Saturday | 09:00 to 20:00 |
| | Sundays | 10:30 to 20:00 |
| Special Opening Hours | | |
| 25 and 26 December, 1 and 6 January | | 09:00 to 14:00 |
International Mass
Every Sunday at 09:00 the Archdiocese of Barcelona celebrates international masses in several languages.
Anyone can attend the Mass free of charge. However, seating is limited, so you'd better arrive early to secure a seat.
Best Time to visit La Sagrada Familia
Barcelona has a pleasant climate all year round, although summers tend to be very hot and winters windy.
Spring and autumn are usually the best months to visit Barcelona and the Sagrada Familia. The weather and the temperatures are typically pleasant (between 15 and 22 degrees Celsius), prices are lower in the low season, and there are usually fewer tourists, allowing you to explore La Sagrada Familia with more ease.
You can enjoy the beach if you travel in September, May, or October. Although October has the most rain, the sun will still shine.
How to reach La Sagrada Familia
Based on your starting point, here are the transportation options to La Sagrada Familia:
From Barcelona El Prat Airport:
Whether you arrive at terminal T1 or T2, you can get the AEROBUS, which will bring you to Plaza Catalunya. From there, get the purple Line L2.
Alternatively, you can opt for bus 50. If using the Barcelona tourist bus, a stop is located at Plaza Catalunya. If landing at T2, a train connects you to Passeig de Gràcia.
From Sants Station:
By metro. Line L5 departs from Sants station and leads you to La Sagrada Familia.
From the Port:
If arriving at the World Trade Center or Terminal Marítima Internacional Maremagnum, you can get the V11 bus. Afterward, transfer to metro Line L2. A shuttle bus awaits for terminals A, B, C, or D, bringing you to the Columbus monument. Then, Line L3 at Drassanes metro station and transfer to Line L2 at Paral-lel station.
Conclusion: Is La Sagrada Familia worth visiting?
Without a doubt, the Sagrada Familia is a must-see because, among all of Gaudi's works, this is truly his masterpiece!
Moreover, the Sagrada Familia is the symbol of the city. A trip to Barcelona wouldn't be complete without seeing its main attraction.
But, when planning your visit to Barcelona, remember that it's not only the basilica that makes it attractive. The lively culture, neighborhoods, and historical richness also make it very appealing.
It's so appealing that you might even wonder what living there would be like, especially since it's considered one of the best places to live in Spain for families.
Top Travel Blogger from India