Last Updated on September 5, 2023 by asoulwindow
About Shymkent sightseeing
Shymkent is a gem of a destination for those who love to go off the beaten path. The geography lessons came alive as I dived deeper into the Silk Road history of the lesser-explored Central Asia, during my weeklong visit in Shymkent in South of Kazakhstan. Being one of the biggest cities of Kazakhstan, Shymkent has several tourist attractions. I am sharing a detailed list of places to visit in Shymkent in this mega guide.
Thisdetailed travel guide lists down all the top places to see in Shymkent and Sairam in South Kazakhstan. This is the most comprehensive travel guide to Shymkent ever. I have shared some deep insight in this information packed travelogue of Shymkent based on my week-long trip here.
You will not find such information on mainstream media, other blogs or old school, traditional travel guide books. This elaborate blog itself is like a mini guide book on Shymkent. Here is all you wanted to know about the top places to visit in Shymkent.
Connection of Shymkent with the Silk Road
In olden days, Shymkent fell on the famous trading route between China and Europe, which the famous traveller Marco Polo had also traversed on. When I visited the ancient Silk Road city of Otrar near Shymkent, I was excited to learn about the rich history of this place. All the geography lessons were coming alive as I explored one ruin at a time.
Historical places such as Turkestan, Shymkent and Taraz in southern Kazakhstan were important stops of Silk Road in that era. Even today, when I visit the markets of Shymkent or Turkestan, the bustling bazaars transport me back to a bygone era where various nationalities met and did business. "This is how it must have been in those times too", I tell myself.
Are the present-day markets of Shymkent similar as the Silk Road era? While the silk has been replaced by cheap Chinese products like plastic toys, clothes, electronics and super cheap shoes, the markets of Shymkent are still worth a visit. I feel that the only vestiges from the glorious Silk Road days which are now left in the markets of Shymkent are the shops which sell dry fruits, culture, the local breads and street food such as samsa (India does Samosa better though!). The other remnants of the Silk Road which can still be visited are the mosques, holy shrine and mausoleums scattered in and around Shymkent.
Soul Window Thoughts
I often look at the world map and wonder why India or China are not connected to Europe or Middle East or even Central Asia via railway, bus and road? The distance between New Delhi and Shymkent is only 1657 kilometres. To compare, distance between Dibrugarh to Kanyakumari in India is 3,722 kilometres.
Clearly, money is surely not the problem, geopolitics is. India is very much capable of building infrastructure on this route single handedly. I hope things improve. Our ancestors in the Silk Road era surely were smarter when there were no international borders.
Earlier, I had visited places like Petra in Jordan which was also an integral part of the Silk Road. Did you know that for 4 centuries beginning in 200 B.C., Petra stood at the crossroads of the Silk Road? It also fell on the path of the spice routes which connected powerful nations such as India, China and Arabia with markets in the neighbouring country of Syria, Greece, Egypt and Rome etc.
My Experience of visiting Shymkent
I have always yearned to explore Central Asia but somehow it always eluded me. I am so glad that the opportunity to visit Shymkent finally came my way. Shymkent will always be that city which served as my introduction to the Central Asian region. The ancient trade ties between India and Central Asia via the legendary Silk Road was the main reason why I wanted to visit Kazakhstan and other nations in Central Asia. And I was not disappointed.
During my visit, I realised that Shymkent is still one of those unexplored places, cocooned away from the crowds which are waiting to be discovered. Perhaps this is why Shymkent still retains its innocence and authenticity. There are so many unusual places to visit in Shymkent that I was always excitedly anticipating the next day of the trip.
While visiting the green market of Shymkent, I was also interviewed by the Uzbekistan channel "Dunyo bo'ylab". Dunyo Bo'ylab Telekanali is a leading satellite and internet television station headquartered in Tashkent, Uzbekistan. It is known for its Entertainment and News shows.
While visiting Shymkent I got an opportunity to visit monuments built by Timur or Taimur or Tamerlene, a prominent historical figure whose stories I have been reading since childhood. I always had my grey cells activated, whether it was visiting the ancient settlement of Otrar or the UNESCO World Heritage Site of the grand Mausoleum of Khoja Ahmed Yasawi or looking at the green marble brought by Taimur all the way from India, probably from Rajasthan.
This trip to Shymkent also taught me about the grandeur of the powerful nation that USSR was. Even decades after the breakup of USSR, its influence can still be seen in the buildings, language, food, culture, costumes etc of not only Shymkent but rest of Kazakhstan as well. Exploring the vestiges of the Soviet era was surely one of the highlights of Shymkent Tourism for me.
What is the area of Shymkent?
The total area of Shymkent is 1,170 square kilometres or 450 square miles. It is the third largest city of Kazakhstan after all. However, do not feel overwhelmed with the huge size of Shymkent. During my road trip across Shymkent, I realized that most of the tourist attractions of Shymkent are located at very close distance from each other.
Soul Window Facts
During my road trip across South Kazakhstan, I realised how big and sparsely populated this nation is. With a total area of a whooping 2,700,000 square kilometres or 1,000,000 square miles, the area of Kazakhstan is same as that of Western Europe. I am sure you already know that Kazakhstan is the 9th largest country in the world. Kazakhstan is also the largest landlocked country in the world.
It made me wonder; how big the original USSR must have been. Well, the total area of USSR was a whooping 8,650,000 square miles (22,400,000 square kilometres). This was 7 times the size of present-day India and 2.5 times bigger than USA. USSR was spread across 1/6th of the land surface of Earth. The eastern half of the present-day Europe as well as much of the northern third of the Asian continent were a part of USSR back then. Those are some mind-boggling facts. Isn't it?
Why is Shymkent famous?
Why is Shymkent famous? This is a frequently asked question on Shymkent tourism. There are so many reasons why Shymkent is so famous the world over. Below are some of the top reasons why Shymkent is so famous:
Shymkent is a border town.
Shymkent is very inexpensive.
Shymkent has several pilgrim sites.
Shymkent is known for its rich history.
Shymkent offers many exciting excursions.
Shymkent has an important railway junction.
Shymkent is the third largest city of Kazakhstan.
Shymkent is the biggest city in South Kazakhstan.
There are several natural wonders near Shymkent.
Shymkent is known for the huge Soviet era Brewery.
Shymkent falls on the route of the ancient Silk Road.
Shymkent is known for its wide variety of local breads.
There are many Soviet era churches around Shymkent.
Shymkent is famous for its several beautiful mausoleums.
Shymkent is a major cultural and industrial centre of Kazakhstan.
Shymkent has low-cost amazing restaurants, including rooftop ones.
Shymkent is home to some of the most beautiful tulips in the world.
Shymkent is located just 2 hours away from the pilgrim sites such as the Mausoleum of Khoja Ahmed Yasawi in Turkistan. It is the Mecca of the Central Asia, I was told.
Shymkent is one of the 3 big cities of Kazakhstan. The other two are Astana and Almaty.
Shymkent is located only 2 hours cab ride away from Tashkent, the capital of Uzbekistan.
Not many people are aware of the fact that Shymkent played a very important role during the World War II. As many as 17 factories were constructed in Shymkent during WW-II in order to produce spare parts for tanks, shells and metal lead. That made Shymkent a prominent city in Kazakhstan during the second World War.
Now you know there are so many cool things to do in Shymkent. Use this detailed Shymkent guide and plan your Shymkent holiday now!
Nomenclature/Etymology of Shymkent
Did you know that until the year 1993, Shymkent (Шымкент) was known as Chimkent or Čimkent? After Kazakhstan gained independence from USSR, Chimkent was rechristened as Shymkent. I noticed that both Shymkent, Chimkent and the nearby Tashkent in Uzbekistan have the same suffix of kent. Tashkent has Turkic origins where tash and kent, together mean Stone City or the City of Stones.
But what does Shym and kent in Shymkent mean?
The earlier name Chimkent finds its origin in the two Sogdian words, i.e., chim which means turf and kent which means city. Shym also means turf or meadow. I learnt that kent or kand literally means city in Turkic language.
I also noticed that Kazakhstan is the only 'stans' of Central Asia which doesn't have an 'I' unlike Kyrgyzstan, Uzbekistan, Turkmenistan and Tajikistan.
Where is Shymkent located?
Shymkent is located in the South of Kazakhstan near the international border with Uzbekistan and Kyrgyzstan. In fact, Tashkent, the capital of Uzbekistan is merely 2 hours of cab ride away from Shymkent.
Soul Window Trivia
Did you know that the Baikonur city of Kazakhstan has a special status because it is currently being leased to Russia with Baikonur cosmodrome until 2050?
Baikonur was previously called as Leninsk. In the Soviet era, it was known as Zvezdograd which means Star city. Situated on the northern bank of the Syr Darya River, it is one of the least explored places in Kazakhstan. At present, Baikonur is leased and administered by the Russian Federation as an enclave for as long as the year 2050.
This is why, foreigner travellers require a written approval from the Russian authorities if they wish to visit Baikonur and the Cosmodrome. This approval is totally separate from the regular tourist visa of Russia. Local people also celebrate Nauryz (Nowruz or Navroz) which is an Iranian or Persian (Parsi) new year.
I am sure, no one told you these lesser-known facts about Kazakhstan geography! This is why you must read more detailed and exhaustive blogs on my popular travel blog A Soul Window. It has been listed as one of the top travel blogs of India several times.
Places to see in Shymkent
Did you know that Shymkent is the third-largest city of Kazakhstan's. As I explored major attractions of Shymkent for a week, I concluded that Shymkent has more of a small-town vibe to it which I find very charming. There are so many unusual things to do in Shymkent that even a week is not enough!
Traditional and yet modern, the cityscape of Shymkent is peppered with umpteen parks, shopping centres, interesting sculptures, museums and monuments of national importance. This is a comprehensive list of the best things to do in Shymkent. You don't need to look any further.
Mausoleum of Ibrahim Ata: Top place to visit in Sayram
Mausoleum of Ibrahim Ata is the final resting place of the father of the spiritual medieval poet Khoja Ahmed Yasawi whose grand mausoleum I visited in Turkistan, 2 hours away from Shymkent. Did you know that the famous Sufi poet Khoja Ahmed Yasawi was born in the ancient settlement of Ispijab which isnow called as Sayram and forms a suburb or Shymkent. What makes Mausoleum of Ibrahim Ata so significant is the fact that Ibrahim Ata, the father of Khoja Ahmed Yasawi was buried right here. A 3 kilometres or 1.9 miles long drive towards the southwest of Ibrahim Ata's Mausoleum will take you to the Mausoleum of Karashash Ana who was the mother of Khoja Ahmed Yasawi.
I didn't spend much time here because it is a very small one chamber square building. There is not much to do here except for admiring the architecture, enjoying the scenery around and participating in the local prayers. When I entered the dark chamber of Mausoleum, the local people were already engaged in reciting holy verses, their hands raised in reverence. The architecture of the present-day mausoleum which is reminiscent of the cupola monuments typical of medieval era Islamic buildings is shockingly simple and straightforward.
The original structure of the mausoleum has been lost over the years due to natural and man-made calamities. Not many people know that in the 1950s, the mausoleum building was also partially broken down due to an earthquake. These are some of the top sights in Shymkent.
I was a bit surprised to see that a mausoleum so important is bereft of any decoration or grandeur unlike the visually stunning Mausoleum of Khoja Ahmed Yasawi in Turkistan.Turns out thatthe original mausoleum which was constructed in the 16th-17th centuries C.E., ceases to exist now. It was destroyed and reconstructed several times through the course of the history.
The present building which I saw was built only in the 19th century C.E. Despite being a recent building, I was impressed to see well preserved elements of internal and external décor from the medieval era. Unlike the colossal Mausoleum of Khoja Ahmed Yasawi in nearby Turkistan, the Mausoleum of Ibrahim Ata measures merely 26 feet or eight meters tall.
In those days, 11th century C.E. to be precise, Sayram was the hub of the spread of Islam in these parts of Central Asia. Several noted spiritual gurus, religious teachers, advisors and scholars called the ancient Sairam city their home as it served as one of the centres for the spread of Islam religion. Back then, Ibrahim Ata was one of the major such influences on the region. Becoming a renowned spiritual leader and a revered preacher at an early age, he left a lasting impression on the socio-cultural-political fabric of South Kazakhstan.
Of course, his privileged background of being associated with a wealthy and educated family helped!
How to reach Mausoleum of Ibrahim Ata? Ibrahim Ata Mausoleum is situated on the outskirts of the north-west part of Sairam village near the road to Aksu village. A private taxi from anywhere in Shymkent or Bus number 130 from the Ozero (The Lake) bus stop near the Central Bazaar can take you to Mausoleum of Ibrahim Ata.
I loved how organised and tourist friendly things are in Kazakhstan. Outside several historical monuments of Shymkent, including the Mausoleum of Ibrahim Ata, I noticed huge signboards with QR codes, which give quick access to detailed information about such historical monuments of national importance.
Mausoleum of Ibrahim Ata is a major pilgrimage site which attracts tourists and pilgrims from several Turkic countries. There is a well-manicured garden surrounding the mausoleum. The views from the terrace here are also worth a dekko. I also noticed several graves in and around the sacred mausoleum. Ibrahim Ata Mausoleum is indeed one of the top places to see inShymkent under 24 hours.At present, theMausoleum may not look like its original version but it is, nonetheless, restored very well.
Karashash Ana Mausoleum
Mausoleum of Ibrahim Ata, Ahmed Yasawi's father, is located merely 3 kms or 1.9 miles northeast of the Mausoleum of Karashash Ana, the mother of Ahmed Yasawi. The real name of Karashash Ana was Aisha Bibi. She was the daughter of Sheikh Musa. In those days, she was one of the most educated and respected women in this region. Karashash Ana Mausoleum is one of the best places to visit in Sayram.
Karashash Ana Mausoleum issituated in the ancient city of Ispijab (now known as Sayram) in the Turkistan Province. The original construction here was done during the 13th century C.E. but it was rebuilt many times due to wear and tear. The present building was constructed in the 19th century C.E. Pilgrims come from far and wide to offer prayers to the tomb of Yasawi's mother, lined with marble tiles.
There are many such holy shrines located around Shymkent and all-over South Kazakhstan. Both locals and foreigner tourists visit these mausoleums. Some tourists come here to appreciate the grand architecture while locals from Kazakhstan and neighboring nations such as Uzbekistan, Tajikistan and Kyrgyzstan come seeking cure to their illnesses or to even ask for offspring. These holy places in and around Shymkent are surely worth a visit.
Minaret of the Prophet Khyzyr in Sayram
Minaret of the Prophet Khyzyr is one of the holiest places of Shymkent. It is the only remaining minaret located in the ancient Sairam region. This minar or minaret is christened after Prophet Khyzyr Payghambar, who also finds a mention in the Quran as the unnamed companion of Moses or Musa. Dating back to the IX-XII century C.E., it is a must-see place in Shymkent. In those days, Sayram was a major trading city and was known by the name of Ispidzhab city.
No wonder, even today, we still see remnants of the Great Silk Road in form of ruins and cultural practises handed down from one generation to another. The Khyzyr minaret is one such relics of the past which stood the test of time. There were many such minarets here but unfortunately only one minaret survives now. The highly revered mosque of Khyzyr Prophet, also once stood right here in the ancient city of Sairam.
In fact, the ethnographer Alexander Gaines has clearly mentioned about the existence of the mosque of Khyzyr Prophet in his famous book "Journey to Turkestan" written in the year 1866. This means that the medieval mosque existed here as early as mid-19th century C.E. The now lost mosque was found safe and sound during the ethnographic tour of Alexander Gaines. As per a local folklore, even today prophet Khyzyr regularly pays a visit to the shrines of his father Sylyk Khoja and mother Bibigiyas-Ana to pay his respects on every Friday after sunset.
There are also remains of a kitchen and underground tunnel here. The once revered mosque of Khyzyr Prophet also existed here. However, it could not survive the test of time and perished due to human intervention and natural calamities.
I also visited the home of the local caretakers who live right opposite the minaret. Their family has been living on the same premises since centuries and have seen the history unfold before their eyes. Sairam village is situated around 10 kilometres away from the centre of the Shymkent city. Now you know why Minaret of the Prophet Khyzyr is one of the most visited places in Sayram.
Old Sairam Green market near Minaret of the Prophet Khyzyr
For someone like me, who is highly interested in the culture and history of the Great Silk Road, the old market near the Minaret of the Prophet Khyzyr was an exciting destination. This place is off the beaten track. I was transported to the bygone era as I visited the Old Sairam Green market. This is how it must have been like during the Silk Road era. I noticed that it is a very vibrant market.
I enjoyed watching the local people make samsa and local breads in Kazakh style tandoors. We walked along, our eyes peeled as we joked, "Sayram sounds like Sai Ram, deities of India." This is a free thing to do in Sairam. This is one of the top sights in Sairam.
Historical Museum of Sairam
One of the top places to visit in Sayram is the grand Historical Museum of Sairam. It is also known as Sairam Museum of local history. I was in complete awe of its colossal exterior. As I entered the Greek style tall columns flanked on either side of the main gate, I was engulfed in the rich past of Sayram. From ancient excavated items to antique phones, cameras and typewriters etc, this museum gave me a deep insight into the old way of living in this part of the world.
There was also a room here which is dedicated to The Uzbek people and their lifestyle. Many Uzbek people still live in any places of Sairam. Another gallery acquainted me with the flora and fauna of the place. Some fossils were also displayed here. Some manuscripts and other precious excavated items which were unearthed from Sairam are on display here. I also enjoyed the section where they displayed daily use items associated with the unique Kazakh culture. This museum is one of the top places to see in Sairam.
Baidibek Bi Monument
What is the famous sculpture in Kazakhstan? Baidibek Karashauly (1356-1419) is a highly revered figure of Kazakhstan who is credited with playing a very important role in uniting the Kazakh people. Baidibek Bi Monument is undoubtedly thetop sight in Shymkent.I watched in awe as I came face to face with the colossal Baidibek Bi Monument, located in the northern suburbs of Shymkent, Kazakhstan.
My tourist guide Mr Islam Kalani told me that the height of the towering Baidibek Bi Monument along with the pedestal measures a whooping 75 feet or 23 meters. I craned my neck to admire the grand statue of the tribal leader, the figure of which alone measures an astonishing 33 feet or 10 meters tall.
Why is Baidibek Karashauly so famous? What makes Baidibek Karashauly a significant historical figure of Kazakhstan is the fact that he played an instrumental role in unifying the nomadic tribes of Kazakhstan. Apart from being a wise and honest man with exceptional oratory skills, he also motivated the people and trained them to protect their native land from invasive armies. Baydibek Karashauly is also the legendary ancestor of the Elder Juz (Kazakh tribes) – alban, suan, dulat, sary uysun, shapyrashty, ysty, oshakty.
Baidibek Karashauly was also known for resolving any dispute with aplomb. This is portrayed in the statue as he is shown with his arms outstretched to the big wide-open sky. This posture symbolises his honesty, sense of judgement and pure thoughts. Erected on a hill in North Shymkent in South Kazakhstan, Monument of Baidibek Bi is a must visit place.
Baidibek Bi Monument is a must-visit place in Shymkent as it is also the highest monument in Kazakhstan. It is also one of the highest of its kind statues in the world. Baidibek Bi Monument was installed in order to commemorate the 80th anniversary of the South Kazakhstan region.
It is said that inspiration of the statue was taken from the famous statues in Rio de Janeiro in Brazil, Volgograd and the Statue of Liberty in United States of America. I was surprised to learn that Baydibek Karashauly, the famous Kazakh warrior was also an associate and a friend of Timur, known in west as Tamerlane.
A major symbol of unity of the Kazakh people, Baidibek Bi Monument is the top place to see in Shymkent in South Kazakhstan. Famous architect Bahytzhan Ashirbayev and Kazakhi sculptor Nasir Rustem are credited with the construction of the Baidibek Bi Monument. You may also want to visit the monument of Baidibek Bi after dark when it is lit beautifully. The steps which take you to the park nearby are long and look grand. Do not miss it!
Miniature of tourist attractions: I also took a nice stroll in the shadows of the trees around the Baidibek Bi Monument. There are also nice shades in its precincts. There is a very large park here which is home to the miniature models of the nearby places of attractions, most of which are medieval tombs and mausoleums. Most of these tourist places make for great weekend getaway from Shymkent.
Entry Fee: There is no entry fee to visit the Baidibek Bi Monument. You can take a free walking tour here like I did. It is incredible that the well-maintained highest monument in Kazakhstan is a free place to visit. A Ferris wheel and huge amusement park are also located nearby.
Timings: Sunrise to sunset
Duration of visit: You can spend more than 1 hour here because there are many other monuments and places of attractions such as museums at walking distance from here.
Park Abaya: Hidden gem of Shymkent
When visiting Shymkent, you may also want to include Park Abaya in your itinerary. Located in the central part of the bustling city, it is one of the major points of attractions in Shymkent. A large war memorial which was constructed to commemorate the sacrifice of the Soviet pilots who gave up their lives in the World War 2. Do not miss this impressive war memorial monument devoted to the fallen soldiers. Monument of military jet fighter-bomber Su-7B, sculptures of Soviet era tanks and that of a soldier with his dog is worth a mention here.
Strolling along the Walk of Fame and a lovely park is the top thing to do here with friends and family. Cocooned from the traffic and noise on the streets outside, the calm and peaceful atmosphere here is perfect for long walks, running or spending time with friends and family. The clean and green surroundings of park Abaya only adds to its charm. Locals also come here to enjoy sports activities such as working out, playing tennis or playing football and basketball. What's more? You can also sit and relax at a cool café here. Or grab an ice-cream! Park Abaya is located near the Political Oppression Museum. Some monuments were moved to the Abaya Park from the central city square Ordabasy.
Museum of Political Oppression, Shymkent
The well-preserved museum of Political Oppression was constructed in order to pay homage to the victims of Soviet political oppression. During my conversations with several local people of present-day Kazakhstan, I realized that their previous generations faced oppression during the Soviet rule. Not only were the Kazakhs politically disadvantaged during the Soviet era but were also discouraged from practicing their culture, something we can see happening in some other big expansionist countries as well even today.
If you are a history buff like me, you would love to spend time here seeing the recent history of Kazakhstan unfold, one gallery at a time. It will give you a fair idea of what life of Kazakh people was like under the Soviet rule. You can also learn about the relationship which present day Kazakhstan shares with modern Russia.
Sometimes, it is also known as the Museum of Victims of Political Repressions. Museum of Political Oppression is situated in close proximity with N Torequlov Street and Ryskulbekov in Shymkent.
Regional museum of southern Kazakhstan: Best Place to visit in Shymkent
Also known as the South Kazakhstan regional historical museum or Regional Museum of local lore in southern Kazakhstan, this is a must visit for those who love ancient and modern history. The very well-presented museum has galleries on several floors. As I walked around its various galleries, I learned about the local geology, excavated items from the iron age, burial mounds, fossils unearthed in Kazakhstan, the Kazakhi way of living, the works!
My favorite part however were the fossils from the Jurassic era, burial mounds, ancient coins and archeological findings unearthed from the historical Silk Road city of Otrar which I visited later while I was on my way to Turkistan from Shymkent. Findings excavated from Saravan are also displayed here.
There are also displays here which showcase the ancient Kazakhi lifestyle. You can also pose with a yurt here in case you are unable to find a real one (which is unlikely). What I also found intriguing was the gallery on ancient pots and pans and another on ethnography. The impressive collection of traditional silver jewelries and traditional musical instrument is also worth writing home about!
Also visit the art gallery of the Beisbekov family "Altyn Orda". Founded by the Beisbekov creative dynasty, the Altyn Orda Art Gallery is a complex that includes an exhibition hall, a souvenir shop, a conference hall, a fashion design hall, as well as craft workshops.
Regional museum of southern Kazakhstan is situated in the northern outskirts of Shymkent. Clean toilets are available here. It is also known as Yuzhno-Kazakhstanskiy Oblastnoy Istoriko-Krayevedcheskiy Museum or Ethno Museum Kyluyet. The recreation of the medieval Caravan, with sculptures of camel make for a great photo op. This is located near the museum.
South Kazakhstan Regional Russian Drama Theatre
Russian Drama Theatre is another top attraction of Shymkent of live theatre attracts you. Located in in the Al-Farabi square of Shymkent, the South Kazakhstan Regional Russian Drama Theatreis popular with the local people. You can catch original plays here by talented performers. It is also an important historical place of Shymkent because it is one of the oldest theatres in all of Kazakhstan. It is the most unusual things to do in Shymkent.
Visit the abandoned Palace of Culture of Shymkent
All the information you need to plan a great trip to Shymkent is right here. I have made this mammoth effort so that you can find all the information on Shymkent in one page. This surely is one of the most unusual places to see in Shymkent. Here, you can see the lost glory of the Soviet Era. The elaborate mosaics and stained-glass windows, which I also saw in Soviet era brewery of Shymkent is a reminder of the Soviet era architectural style.
Did you know that as many as 1,40,000 'Palaces of Culture' were constructed across USSR during the peak of Soviet era? Now that the Palace of Culture of Shymkent has been entirely abandoned since the fall of the USSR, it makes for an interesting visit. I am sure no one told you about such offbeat places to see in Shymkent.
Shymkent Brewery: Soviet Era Brewery
One of the major highlights of my week-long trip across Shymkent was my visit to the unusual Shymkentpivo (Шымкентпиво), better known as the Shymkent Brewery or Shymkentpivo brewery. Shymkent Brewery plant has been producing beer in Kazakhstan since the year 1976. My tourist guide Mr. Islam told me that the famous Shymkent Brewery is one of the largest beer producers in entire Kazakhstan. The Shymkent brewery has a rich and successful history since it dates back to the Soviet era. Union of Soviet Socialist Republics or USSR was still a powerful nation when the Shymkent Brewery came into being. While walking around, I also noticed Soviet era trucks and vehicles.
Soul Window Connections
Just 10 days before my visit to the overwhelming Shymkent Brewery, I had seen the intriguing wine making process at the picturesque Champhai winery in Mizoram in North East India. Earlier, I had experienced the same at Sula Vineyards in Nashik in Maharashtra in West India.
Established in the year 1976, the company still enjoys lion's share of the draft beer market in the south of Kazakhstan. As I travelled across Shymkent and Turkistan, I noticed that the brand Shymkentskoe was pretty popular with the local Kazakhstani people. During my visit, I had been given a guided tour of the Shymkent brewery where I was taught about the art of brewing.
In terms of the volume of bottled products, Shymkent Brewery LLP is in the leading positions, and in the bottling segment it is one of the leaders of Kazakhstan brewing. I was NOT surprised to learn that the production capacity of the plant is a whooping 20 million decalitres per year. At present, 4 different varieties of draft beer and 1 brand of bottled beer are produced in the Shymkent brewery.
All the products of the Shymkent Brewery are sold not only across Kazakhstan but also exported to Russia, Kyrgyzstan as well as the neighbouring Uzbekistan. The brewery was very bust when I visited, which is not a surprise given, as many as 1,000 employees work at Shymkent Brewery LLP at present. This makes the Shymkent Brewery one of the largest employers and taxpayer of the South Kazakhstan region amongst other manufacturers.
The best part is that the Shymkent Brewery LLP is developing and working without any foreign capital or aid. Being the largest brewery of Kazakhstan (and also one of the oldest), the Shymkent Brewery merits a visit for sure! A visit to the Shymkent Brewery acquainted me with not only the beer making process but it also gave me a glimpse of the rich past of the now divided USSR.
Address of Shymkent Brewery: Shymkentpivo, 198, Sayramskaya Street, Shymkent, 160008, Kazakhstan
Phone: +7 (7252) 57-11-10
Fax: +7 (7252) 57-11-21
Website: Shymkent Brewery
E-mail: [email protected]
Soul Window Facts
Kazakhstan was one of the 15 nations which was formed when the powerful Union of Soviet Socialist Republics disintegrated. The short-lived state of Transcaucasian Democratic Federative Republic (TDFR; 22 April – 28 May 1918)or South Caucasus comprised of Georgia, Armenia, Azerbaijan and some parts of modern-day Turkey and Russia.
The entire list of nations which took birth from USSR are as below:
Latvia
Russia
Belarus
Estonia
Georgia
Ukraine
Armenia
Moldova
Tajikistan
Lithuania
Azerbaijan
Kyrgyzstan
Uzbekistan
Kazakhstan
Turkmenistan
Tulip Fountain or Fontan Tyul'pan in City Centre of Shymkent
As I was heading to the Mega planet mall of Shymkent in the city centre, the stunning Tulip Fountain, which is also known as Fontan Tyul'pan vied for my attention. As I walked past the famous Tulip fountain in Shymkent on a hot and sunny day in the third week of August, I turned back towards the fountain again as an afterthought. I couldn't resist to stop here and sit for a while. The wide-open spaces here and the water element complements my personality style. Also, this is a free thing to do in Shymkent. Tulip Fountain is one ofthe most visited places in Shymkent.
"Forget Netherlands, not many know Kazakhstan is the motherland of Tulips. We just don't market it as well as the Dutch. Come April and you will see a wide variety of Tulip fields scattered across countryside in abundance", said my English-speaking suave guide Mr. Yerzhan Orynbassarov on the trip to the nearby Sayram-Ugam National Park a few days ago. I can't agree more! In my experience, many Europeans nations (even Australia and USA) are indeed geniuses in turning mediocre places as desirable piece de resistance by sheer marketing. The shape of the deep red Tulip fountain in city centre of Shymkent is modelled after the wild tulip Greigii, which grows in wild in and around Shymkent in regions such as Sayram-Ugam National Park and Aksu-Zhabagly Nature Reserve.
I crossed the Tulip fountain several times but the fountain was switched on only in the evening. This is why the best time to visit the Tulip fountain is after 6 p.m. the Tulip fountain anyways looks more stunning and atmospheric after dark. I noticed that the flower beds surrounding this unusual water fountain were flooded with seasonal flowers in myriad hues. Special lighting only added to the unique character of this picnic spot within the city limits.
What's more? If you visit Shymkent in spring season, keep your eyes peeled for the flower beds inundated with tulips in various sizes, shapes and colours. It is a sight to behold! Situated at the corner of Tauke Khan and Momyshuly avenues, the Tulip fountain is one of the major sightseeing attractions of the Shymkent city. Measuring a whooping 10 metres tall, it is the highest fountain across Shymkent. Previously, I had seen gorgeous Tulip gardens in Srinagar in Kashmir and Canberra in Australia.
Aq Meshit Mosque or White Mosque
Aq Meshit Mosque is one of the main attractions of the Shymkent city. It is one of the most visually stunning and grand building I saw in Shymkent. The largest mosque in Turkestan province, Akmeshit mosque is a must-visit place. The first thought I had when I saw Akmeshit mosque was that I had never seen a similar mosque ever elsewhere.
Also known as Shymkent Central White Mosque, Aqmeshit mosque and its lofty minarets look picturesque on a sunny blue-sky day. One of the Top sights in Shymkent, Aq Meshit Mosque is a must-see place of interest. It is located on the route between the Shymkent airport and Megapolis Hotel near city centre where I stayed. It is a very large mosque which is visible from a far distance.
Independence Park of Shymkent: Best place to see in Shymkent
Independence Park was opened to public as recently as October 2011 in order to commemorate the 20th Independence Day Anniversary of Kazakhstan. The First President of the Republic of Kazakhstan Mr. Nursultan Nazarbayev had also participated in the event. There is no entry fee here. You can take a free walking tour here.
As I entered through the central entrance, decorated with an arch, big wide-open spaces engulfed me. As I walked through the central walkway, I noticed pillars or granite boards at every few steps on which the history of Shymkent was written year wise. The most important historical events which took place in Kazakhstan between the years 1991 and 2011 are written on these granite boards.
A singing fountain and several flower beds dotted the vehicle free landscape. Being a pedestrian zone, it was a pleasure for me to walk around without worrying about the traffic or noise. I was told that some flowering plants here are brought from as far as Netherlands. Dancing on the tunes of Kazakh music, this unique singing fountain here is a major tourist attraction.
Altyn Shanyraq or Golden Shanyrak
My tourist guide Mr. Islam pointed towards an unusual monument which was also visible to me from the nearby Citadel perched atop a hill. This monument which signifies the unity of Kazakhstani people is called as Altyn Shanyraq. This monument of unity is also known as Golden Shanyrak. As many as 137 metal elements were used to create this exhibit. The 137 metal elements represent 137 ethnic identities who call the territory of the Republic of Kazakhstan their home.
Soul Window Moments
I was impressed to learn that the total area of ​​the Independence Park of Shymkent is a whooping 82,000 square meters. I have been to many countries such as Australia, Jordan, United Arab Emirates etc but I have never seen a park as big as this. This park surely deserves more applause and attention than it gets. However, it is not a surprise. Kazakhstan, after all, is the 9th biggest nation in the world.
Tall Flag Pole
There are so many unusual tourist places in Shymkent and this is one of them. The 164 feet or 60 meters tall flag pole installed in the above-mentioned Independence Park in the direction of the Ordabasy Square is also worth a mention. It is undoubtedly one of the tallest flag poles in all of Kazakhstan. I craned my neck to admire the huge blue and yellow flag of Kazakhstan. This surely is one of the best places to see in Shymkent.
Soul Window Observations
I was surprised to notice that unlike other Islamic nations, the moon is nowhere to be seen on the flag of Kazakhstan. Instead, a sun is seen which is more reminiscent of Hinduism or ancient pagan cultures. I recalled the words of the earlier guide who said passionately, "We worshiped Sun in ancient times. This is why you see Sun and open blue sky in our flag. This is why you see Swastika symbols in medieval buildings like mausoleum of Khoja Ahmed Yasawi in the Turkistan Province of Kazakhstan and elsewhere in Central Asia." Vasudhaiv Kutumbakam (The world is one big family!) indeed!
Granite obelisks and lamp posts
7 tall Granite obelisk and lamp posts stands tall right next to the flag pole in the Independence Park. These tall granite obelisks or pillars represent the 7 generations of Kazakhi people, my tour guide told me. Just below the Granite obelisk and lamp posts, the iron bridge begins. It is accessible only by stairs. It is a must-see place if you have only one day in Shymkent.
Golden Bridge: Long iron bridge at Ordabasy Square
Right below the Granite obelisks, exists an iron bridge, which is more of a symbolic installation than a public facility. My tour guide Mr Islam educated me, "This is the longest iron bridge of Shymkent. This bridge acts like a symbol which connects the past of Shymkent to its present." At one end of the iron bridge, I saw the Independence Park while the other end connects with the New Memorial at Ordabasy Square. I haven't seen a more thoughtfully designed symbol of national integration!
As my co-travellers stopped to take drone shots from the bridge, I rather enjoyed the moment and soaked in the panoramic views of the cityscapes and the wide roads and gardens that lied underneath the bridge. Evening is a good time to be here because I noticed beautiful patterns of railings and iron grills falling on the floor of the bridge. The steep stairs leading towards the Ordabasy Square from the Granite obelisks delighted me with grand views. The Shymkent railway station is also located near the iron bridge, my guide told me.
Water Fountains at Ordabasy Square Shymkent
The large square that falls right after the steps of the iron bridge boasts of two lovely water fountains on either side. The large water fountains made the Ordabasy Square even more atmospheric.I even saw a small rainbow on one of the water fountains. I sat here for some time before proceeding to my next tourist attraction in Shymkent. I am sure kids and adults, whether local or tourist, love this place equally. The water fountains at Ordabasy Square look even more glamorous in the night!
Soul Window moments
"Those who eat kurut made by me, live as long as me." Maya, a young Kazakh girl who accompanied me translated the words of the smiling old lady who was 80 years old. She sat at the bottom of the stairs of the iron bridge and proudly sold kurut balls made by her. Clad in her traditional dress, she looked beautiful. Kurut is dried yogurt, the ever-preservable cheese. I tasted some of her kurut. It was high in salt but delicious nevertheless. Can I call it dry hung curd or dry labneh balls minus the moisture and olive oil? It is commonly sold in the markets of Uzbekistan and Kazakhstan.
New Memorial at Ordabasy Square or Al-Farabi Square
This newly constructed impressive memorial is built at the site where the city of Shymkent was found. I arrived here by taking the stairs from the Granite obelisks and crossing the long iron bridge. This colossal monument was recently constructed. Ordabasy Square is also known as Al-Farabi Square. This crossing in the city of Shymkent in South Kazakhstan is a major tourist magnet. Located on the intersection of three main busy roads, this is one of its kind of monument in all of Shymkent.
My guide Mr Islam told me, "First international hotel, first restaurant of Shymkent and an old trading centre are located at walking distance from the Ordabasy Square.In fact, I was told that the unusual mosque here is also one of the oldest mosques constructed in this region."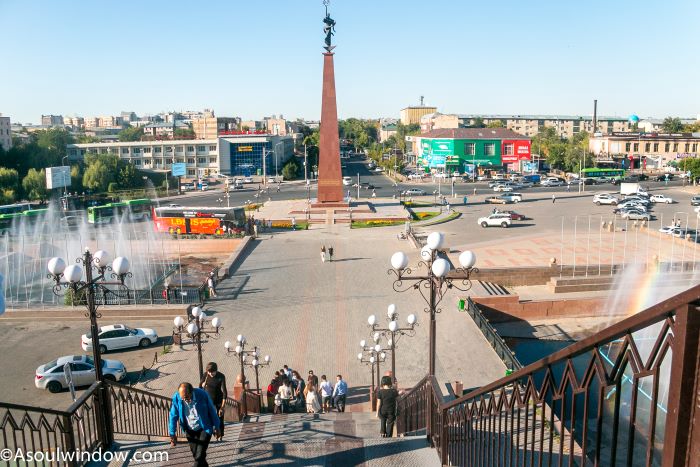 You must include New Memorial at Ordabasy Square in your one-day Shymkent itinerary. The very atmospheric Ordabasy Square is also a great place to do people watching and observing the local lifestyle. Did you know that around 150 years ago, a bustling local market existed where the present day Ordabasy Square stands now. However, it was recently relocated to the Upper Market, which is also one of the oldest shopping areas of Shymkent.
I took several historical and cultural guided tours in and around the Ordabasy Square with local tourist guides. Other nearby major tourist attractions in this area include Philharmonia, the ancient Citadel, a nice park area mentioned above and the new yurt-like museum which was constructed recently. The holy spring of the Koshkar Ata river is also located at the Ordabasy Square.
Soul Window Travel Tips on Shymkent
Here is another insider tip: You can board a low-cost, shared taxis to Sairam from Ordabasy square. I am sure, no one told you about this!
Monument Jer Ana at Ordabasy Square
It is one of the top sights in Shymkent. Easily one of the most iconic modern monuments of Shymkent, Monument Jer Ana is a must-see place. Situated in the centre of the Ordabasy Square, this 111-feet or 34-meters tall monument is visible from a far distance. The impressive 26 feet or 8-meters tall female figure of Jer Ana or Zher Ana (Mother Earth) represents Mother Earth. It is a symbol of the unity of ethnicities of Kazakhstan. The statements of the famous leaders of Kazakhstan, Aiteke bi (or Ayteke Bi), Kazybek bi and Tole bi are inscribed on each side of the three-sided stele of this unique monument. These 3 wise leaders of Kazakhstan are credited with laying the foundation of unity of the Kazakh people. The Ordabasy village is nearby.
You can also see national ornaments embellished on the base of Monument Jer Ana. There are also three streets named after them which also begin from the square. This unusual monument was funded by local businessmen of Kazakhstan. I took a languorous free walkig tour here.
Tauelsizdik Sayabagy
The tourist spot of Tauelsizdik Sayabagy can be reached by a short walk on the picturesque footbridge from the tall, Mother Earth–topped Independence Monument. It was inaugurated in the year 2011 when Shymkent was celebrating 20th anniversary of the independence of Kazakhstan from the USSR. It highlights Ramizder alany (Symbols Sq) which comprises of several ethnic-Kazakh and national symbols. The aim behind such symbolism is to inspire a sense of national unity amongst the people of the huge nation of Kazakhstan.
It is dominated by the tall Altyn Shanyrak monument which I have mentioned above in this exhaustive travel guide to Shymkent city in South Kazakhstan. It represents the central roof opening of a traditional yurt.
Visit public buildings of the Soviet era
Since the Ordabasy Square is located in the oldest part of Shymkent, not only can you immerse in the authentic Kazakh culture but you can also visit several public buildings of the Soviet era when USSR or Union of Soviet Socialist Republics was one big nation. Many old buildings from the Soviet era are located in and around the Ordabasy Square. An authorised local tour guide can not only help you identify these buildings but also share interesting facts and rich history of South Kazakhstan.
Some of the public buildings of the Soviet era are located in the Kazybek Bi Street near Ordabasy Square. The Shymkent Brewery itself belongs to the Soviet era. What's more? You can also see vehicles, old cars and trucks from the Soviet era still running on the roads of Shymkent. Keep your eyes peeled.
New Hippodrome
New Hippodrome is a venue for national games and equestrian competitions of international level. This is a major point of attraction in Shymkent which is visited by both local people as well as international and domestic tourists. It is one of the best offbeat places to see in Shymkent.
Arbat Walking Street of Shymkent
Walking in the Arbat pedestrian quarter was rewarding for me. One of the liveliest places I visited in Shymkent in the night was the Arbat Walking Street of Shymkent. This vehicle free, pedestrian zone which is situated in the Beibitshilik Avenue of Shymkent is a major sightseeing attraction for not only the tourists but also the locals. The beautifully illuminated sky in the shape of celestial angels and umbrellas made the atmosphere festive. A little ahead, the sky was hijacked by lights in beautiful umbrella shapes.
As many as 700 seedlings of white birch, spruce, chestnut, and over 1000 roses have been planted here thoughtfully. As I strolled here, I noticed several small water fountains, benches and bike paths in this area. While some vendors sold cut fruits in plastic mugs, others lured kids with light emitting cheap plastic toys. While my friends goofed around with the mandatory Turkish ice cream guy, I stole time and bought some fridge magnets from the Yurt shaped souvenir shop right on the main street. A languorous walk here is one of the best things to do with family and kids.
Soul Window Connections
I also met a local musician who played an indigenous string musical instrument. I was told that a similar instrument is known as Chang in Uzbekistan and gusli in the Russian culture. A similar qanun is popular in Azerbaijan. It was originally known as Zhetigen. I thought it looked like the Indian Santoor.
The Kazaki musician I met told me that he knows the famous Indian santoor player Pandit Shivkumar Sharma. He plays some soulful tunes for us and added more charm to the lovely evening!
Arbat is a favourite walking place for residents and guests of the metropolis. The atmosphere of the pedestrian street is created by numerous street musicians, artists and souvenir dealers. Cozy coffee shops hospitably open their doors, inviting you to drink fragrant coffee and enjoy the unique light installation in the form of 12 fluttering angels and colourful lighted umbrellas. Arbat Walking Street of Shymkent was opened to public in June 2018 on the eve of Capital City Day.
City Centre of Shymkent
City Centre of Shymkent is a great place for shopaholics. Since the city centre was located merely a kilometre away from the Megapolis Hotel Shymkent where I stayed, I would often walk up here in evenings. This is one of the biggest upmarket shopping areas of Shymkent. From high end brands to street food, from classy restaurants to mobile shops and currency exchange counters, you will find everything here. City Centre is also home to some of the most popular shopping malls of Shymkent. Most of the best tourist places in Shymkent are located around the city center.
Shymkent Plaza for shopping in Shymkent
Shymkent Plaza is popular with both locals as well as tourists because it is one of the largest shopping malls in this modern city of Kazakhstan. It is also a popular entertainment hub which attracts large numbers of footfalls even on weekdays. On weekends, the numbers of visitors go further up. The infrastructure here is in harmony with the international standards.
Situated in the heart of the bustling Shymkent city, Shymkent Plaza is a must-visit place. Other sightseeing attractions of Shymkent such as Al-Farabi Square and Regional Drama Theatre are also located in close proximity with Shymkent Plaza. This complete guide will help you travel like a local in Shymkent.
Mega Planet Mall in City Centre of Shymkent
I spent 2-3 hours at the centrally air-conditioned Mega Planet Mall which is located in the heart of the city centre. In fact, the Megapolis Hotel Shymkent where I stayed was at walking distance from the city centre, Tulip fountain, University and the Mega Planet Mall. It is not a very big mall (when compared to the malls of India) but it is not a small one either. From clothes, bags, large grocery stores, toy shops and cafes, you will get a wide variety of products at very reasonable prices here.
I bought 4 shirts from Mega Planet Mall while my co traveller bought female boots at throw away prices. The washrooms are clean (and free to use) here, so you may also want to visit for a loo break. There is also a food court here on the top floor.
Hyper House Mall
Located a little away from the main city of Shymkent, I made a quick stop here when I was on my way towards Sayram-Ugam National Park or Sairam-Ugam from Shymkent. It is a pretty big shopping mall. I visited a huge grocery store from here and even bought some bananas for the journey. There are also many ATMs here.
Address: Turar Ryskulov Street 19, Shymkent, Kazakhstan.
Bowling and Pool table
What is there to do in Shymkent? I have never enjoyed Bowling and Pool table, but if that excites you then please head to Tauke Khana and Kunayewa which are located in the heart of Shymkent. You must visit Maharaja Entertainment Complex upstairs. It is located right next to the Spartak sports complex. Though, I would rather spend my time, out in the open, mingling with the locals.
Shymkent loves Bollywood!
My favourite moment at the Qyrgy Bazar was a chance conversation with a local male cloth vendor who excitedly told me that he is a big fan of Mithun Chakrabarty, a yesteryear Bollywood superstar. Most of the people in Kazakhstan and neighbouring Uzbekistan are a major fan of Bollywood especially stars from 90s such as Mithun Chakraborty, Amitabh Bachchan and Shahrukh Khan.
Not many people know about Salman Khan or Aamir Khan. No one knowns about new actors such as Deepika Padukone, Ranvir Singh, Ranbeer Kapoor etc. I had experienced the same when I explored Amman in Jordan in the Middle East.
Qyrgy Bazar/Green Market: Top Place to see in Shymkent
Do not miss this incredibly vibrant market of Shymkent! Qyrgy Bazaar is one of the oldest markets of Shymkent which still thrives. In olden days, Russians, Arabs an Austrians sold their products here. Even in the 19th century C.E., it used to be a bustling market. The first mention of the Qyrgy Bazar or Upper Market recorded in the documents dates back to the beginning of the last century, and according to the elders, trade in this place has been conducted for more than 300 years. Today, Qyrgy Bazar is not only a place of attraction for locals, but also tourists.
Since I visited the Qyrgy Bazaar in a large group of Instagrammars from India, Azerbaijan, Uzbekistan and even Türkiye, we were exploring the market together so that none of us gets lost because most of us didn't have a local SIM card or internet in our phones. Many of us bought chocolates, dry fruits such as walnuts, almonds, cashew nuts and raisins.
You can also buy several quirkily shaped cookies, honey, chocolates and even cakes in a box. Local inexpensive breads, fruits, vegetables and dairy products are also sold here. Carpets, clothes, dirt cheap shoes, sunglasses and toys are also sold here. Salted and unsalted clay sold here is good for the bones. I tasted some and quickly rinsed my mouth. It was like eating mud.
Situated in the Tashenov Street of Shymkent near a water spring and high court, Qyrgy Bazar is a must-visit place. You can take a self-guided free walking tour in Qyrgy Bazar.
Anya Bazaar
Also known as Aaina Bazaar, it is one of the most popular markets of Shymkent. It is mostly visited by the local people who come here in large numbers to do shopping of cheese, dairy products, clothes, handicrafts, toys, household items, grocery, fruits and vegetables etc. What makes it so popular with the locals is the fact that food sold here is very fresh and cost of most of the commodities is very low and reasonably priced. Thanks to the cheap prices, foreigner tourists also love to explore Anya Bazaar. It is very easy to get to Anya Bazaar. You can take a cab anywhere from Shymkent and reach Anya Bazaar.
Bazar Samal
If you want to get a taste of the rich trading history of Shymkent, visit its bazaars. Situated next to the busy Samal bus stand on Ryskulov, Bazar Samal is a must-visit place.Being one of the largest markets of Shymkent, Bazar Samal sells all that one may need. It is a "You name it, they got it!" kind of a place. From the exotic (and dirt cheap!) breads of Kazakhstan to fruits, vegetables, honey, dry fruits and vegetables, there is a lot you can buy in Bazar Samal.
For a wide eyes tourist like me, who visited Kazakhstan for the first time ever, places like Bazaar Samal are great for observing the daily life and culture of the local people of this vibrant nation. Koktem Bazaar is also worth a visit.This market of Shymkent is off the touristy trail.
Borte Milka Dairy: Best offbeat place to visit in Shymkent
My visit to the Borte Milka factory to observe the production of dairy products was very unique. I took a guided a tour of the dairy plant with a tasting of several dairy products including the most famous kurt which is a dried, slightly salty cottage cheese and a traditional national dish of Kazakhstan. Borte Milka Dairy was one of the most unusual places I visited in Shymkent.
I visited the farm where they keep the female cows in a shed and use water sprinklers to keep them cool. I was amused when I saw that they had even kept a large brush with which the cows used to scratch their backs when they felt like. Funnily the cows knew how to use it as one of them demonstrated it to me organically. The highlight of the trip was my visit to the shed where they kept calves. I noticed that my friends had crowded around one of the calves. Turned out the calf had a clearly visible heart shape marked on her forehead.
I was given a tour inside the dairy and was even made to taste their dairy products. I loved the taste of the local packaged curd. I had never tasted anything like this before. Even the local Kazakhi people who travelled with me were amazed with its taste. I tasted other milk products such as butter, cheese, shakes etc. Ayran, the Turkish Yoghurt Drink tasted a bit like Chaas of India. This is the most unusual places to visit in Shymkent. If you have some extra time, do visit the Borte Milka Dairy for an unusual experience.
Old Citadel of Shymkent: Best Place to see in Shymkent
Citadel is one of the oldest buildings in Shymkent which is still around. Also known as the Shymkent fortress, it is the top place to see in Shymkent. Situated in the old heart of Shymkent, this open-air museum took me back to the rich history of South Kazakhstan. This Citadel was a well-armed military base during its zenith. The historians made valuable discoveries about the past of Shymkent through persistent excavations over the years. The Citadel has now been restored and some parts of it are reconstructed to bring the glory of past alive. The historical and cultural complex Shym Kala is a must-visit.
As soon as I entered, I was greeted with the local staff dressed in their traditional best. While the men played lively local music, the women threw candies at us. It was the most fun welcome I ever received. Soon after I entered, I came across reconstruction and restoration of old-style hearths and buildings.
Next, I joined my friends at a modern amphitheatre here. Right opposite the amphitheatre are 2-3 rooms which display life like exhibits showing statutes of humans from that era engaged in various activities. Dressed in their traditional attire, these statues bring alive the bygone era. The best part is that even the modern-day Kazakhs dressed up as their ancestors in traditional attire and enacted a bridal ceremony which was quite similar to 'moohdikhai' of India.
A few stalls next to it sold juicy watermelons, handicrafts, camel's milk, horse milk and even encouraged us to try our hands at pottery. I remember drinking milk of camel in Bikaner in Rajasthan. I enjoyed that more! What's more? I also barged in a yurt, where everyone was taking turns to dress up like Kazakh Queens and Kings of the bygone era. Lemme know if I look right?
The Citadel was an important place during the reign of Khanate of Kokand between the years 1810 and 1864. Being the important military base for the Khanate, tall fortress walls were built here and cannons were placed at strategic locations. I also noticed several inner walls here. Over the years, the Khans of Kokand improved the fortification of the towers, walls as well as the stock of military equipment.
I spent a lot of time at the Citadel and explored every corner of it deeply.
Here is a travel tip: You can climb up the fortified walls of the Citadel and enjoy the breathtaking panoramic views of the busy city below as well as the holy river Koshkar Ata blessed with the fresh water from the lofty Sairam-Ugam mountains which I visited earlier on the same trip. Perhaps this is why they decided to build a citadel here. Constant fresh water supply, fertile land and a high elevation indeed make for an ideal habitat.
Prior to the year 1864, the area around the Citadel was surrounded by a chaotic maze of winding streets. I peeped out from a higher ground and noticed that even now the streets of the old city of Shymkent around the Citadel are crowded and busy. Perched atop a hill, the Citadel was constructed on a higher ground so that the residents could keep an eye on the approaching enemies. Even today, after so much modern construction, the Citadel remains perched on a high elevation.
Where is the Old Citadel of Shymkent located? Right after the lunch at the scenic Piala Restaurant, I visited the famous Old Citadel of Shymkent which was followed by a visit to the Independence Park (Тәуелсіздік саябағы), Iron Bridge and Ordabasy Square (Ордабасы алаңы), all of which are located so close to each other. If you enjoy walking like I do, then you can follow this route. Walk from the Shymkent train station to Qabanbay Batyr Avenue, take left and arrive at the Independence Park next. Take right from here and you shall see the main gate of Citadel. Still confused? Ask around or use Google map or local taxi Yandex.
As I noticed archaeological work goes on even now in and around the ancient citadel of Shymkent, Kazakhstan, which dates back to the Bronze Age, some 3,000-5,000 years ago. Hills of rubble mark the sites of lost cities along the Silk Road of Central Asia. However, unfortunately, much has been lost to time. Only a few remnants of the past are being discovered, excavated and reconstructed so that people can reconnect with their glorious history. Do visit Citadel; there are so many cool things to do with family and kids in this area of Shymkent.
Museums of Citadel
Several artifacts belonging to the Bronze Age were unearthed near the citadel indicating the human activity in this region aeons ago. Some erudite historians claim that the first permanent settlers arrived in this region around 2nd century B.C.E. Several pieces of ceramic handcrafts excavated deep in the ground substantiated this claim.
There is a well-maintained museum here which I explored deeply for hours. Several interesting excavated items such as ceramic vessels, medieval hookah, coins, clothes, arms and ammunitions were displayed in the few galleries, the balcony of which overlook the busy city below. On exploring further, I came across large patches of ruins right in front of the museum. There is a proper ramp made here for closer viewing without harming the precious finds from the past.
History of Shymkent: Russian Conquest on Citadel
Did you know that the Khanate of Kokand was founded in the year 1710 C.E and was abolished after the Russian conquest on 19 February 1876?
Not many people know about the story behind Russian Conquest on Citadel. In the past, the Russian general Mikhail Chernyayev under Czar Alexander II attacked Shymkent and wanted to conquer it. Initially the Khan of Koknad gave them a tough battle and resisted the advances of Mikhail Chernyayev valiantly. The impregnable fortress was hard to invade for the Russians. However, upon much brainstorming the Russians figured out a way in the fortress territory through the water supply.
This clandestine expedition was carried out during the night. The Khan of Koknad would not have anticipated that a harmless vaulted opening in the fortress wall would be their undoing. Needless to say, the garrison of the Khan was caught by surprise by the invading soldiers of Mikhail Chernyayev. Without much resistance, the fortress was occupied by the Russians.
However, later during the peak of the Russian Empire, a new city centre for Shymkent was built nearby. Due to this, the Citadel fell into disuse and over the years, it was blanketed under thick layers of rubble, shrubs and mud. Oblivious to the historical importance of the place, the local people even attempted to build houses on the site of Citadel but fortunately, they faced resistance from the archaeologists, historians and scientists, the custodians of the old heritage of Shymkent. Intense excavations in Citadel began around the year 2007 and by the year 2018, the reconstruction work of the old walls of Citadel began.
The Shymkent University
I was also privileged to visit the huge Shymkent University (Kazakh: Шымкент Университеті) which was founded as recently as the year 2001. This is one of the top higher educational institutions in Shymkent. The Shymkent University is located at walking distance from places such as Megapolis Hotel Shymkent, City Centre and Mega Planet Mall etc. As I entered inside the University, I realised how big it is and yet so simple in its architecture and interiors. I had a seminar there with the tourism officials, which is how I got access to its seminar room. You may request the local guards for a visit inside the University.
Shymkent State Medical University
Medical University of Shymkent known as Shymkent State Medical University is very popular with Indians. Not many people know that there are many Indian students who live in Shymkent and study in the medical University of Shymkent. This world class MBBS college is popular with Indian students because it offers affordable fee structure and high-quality education. It is located in the Al-Farabi Square. I visited this area and noticed that some Indian restaurants such as Nando also run in the streets here. In the evening, many Indian students can be seen roaming around the streets of this area.
Central Park of Shymkent: Offbeat place to visit in Shymkent
Straddling between the former Russian residential areas and Kazakhi populated areas, Central Park is mostly popular with the local people. This is why you must visit Central Park so that you can get a feel of how the locals live and while away their leisure time. This place may not be a top tourist attraction in Shymkent but it sure makes for a great venue for people watching! There are several water fountains, large statues, art installations here. The dense tree cover here makes for a great cocoon from the hustle and bustle of the city. The flower beds here make for a great photo-op. Also watch out for the unusual birds and macro-life found here.
Fontan water Park: Best thing to do in Shymkent with family and kids.
The Fontan Water Park is an international-level water park in the very centre of Shymkent, located in the same complex with the Shymkent Grand Hotel. This water park is very popular with both locals and tourists. Since there are so many exciting things to do with family and kids here, it always stays vibrant and active.
I had never seen a water park right in the middle of the city until I visited here! The area of the water park is 2 ha and includes the below:
Aqua Bar
Wave pool
2 restaurants
Main pool for all ages
Swimming pool for adults
Trestles for large companies
A huge water playground, for our youngest visitors
6 adult slides, one of which is more than 20 meters high
Top things to do in Shymkent
This complete travel guide is about the best things to do in Shymkent. Some of the best things to do in Shymkent are
Trying local food
Museum hopping
Visiting shopping malls
Visiting dairy and brewery
Visiting parks of Shymkent
Shopping in the medieval markets
Visiting Statues and monuments of Shymkent
Map of Shymkent
This map of Shymkent will help you understand how far the tourist attractions are from each other. I try to provide every minute details so that you can plan the trip to Shymkent well.
Map of Sairam
You will get a fair idea about the Sayram area near Shymkent with the help of this map. Some of the top thing to do in Sairam are mentioned in this map.
Top places to see in Sayram as seen in this map are as below
Shahabiddin mosque
Sairam Museum of local history
Kavurchak Mosque
Ibrahim Ata Mosque
Uzbek Drama Theatre
Koper Mosque
Mausoleum of Abdel-Aziz-Baba
Mausoleum of Shah Qalandar Baba
Mausoleum of Mariam Ana
Mausoleum of Kazy Baizaui
Gaypo Ata Mausoleum
Mausoleum of Khoja Saremi
Mirali Baba Mausoleum
Sayram Dast Mosque
Mausoleum of Karashash Ana
Mausoleum of Botbai Ata
Park Nauryz
Khazyr tower
Sairam College
Orta Aziyalyk Medical College
Amir Timur Street
Old Green market
Festivals of Shymkent
I have always wanted to participate in the Central Asian events & festivals. It is a great idea to plan a trip to Shymkent during a festival. The spring festival of Nauryz-the Kazakh new year and Eid are some of the most celebrated festivals of Shymkent. The Shymkent Cherry Blossom Festival, held in April is also a must-see. Also watch out for the Pilaf festival and the 3-days long National Sports Festival.
Vegan and Vegetarian Food in Shymkent
Much like India, Kazakhstan is also falls in the top 10 largest nations of the world. A nation this vast must have a variety of regional and national food, some I which I was lucky to sample in Shymkent and Turkistan on my first ever visit to Kazakhstan. But there is a problem here. I am a vegetarian (no eggs either) in a meat-heavy nation!
I realised, the vegetarian and vegan versions of local Kazakh dishes are available only on request. It is better to pre order so that the chefs can procure the ingredients. It is common for restaurants to run out of basics such as potato. Therefore, always order in advance, when possible. I had cottage cheese salad and pizzas almost every-day. Mare milk called as Horse milk and camel milk was also served to us daily. I found it a bit sour since the milk was fermented in both cases.
Restaurants in Shymkent and other places in Kazakhstan have this unique culture of flooding the table with big platters of fruits, muffins, Tohax bread and other sweet breads, sometimes with smooth sweet cream inside. These are like starters which are served before the main course.
The local vegetables and fruits of Shymkent left me begging for more. I particularly loved the very juicy watermelons, musk melons, grapes and the melt-in-mouth big sized apricots. I had never seen such huge and juicy apricots earlier.
Other popular breads of Shymkent include the onion bread (tastes like pyaz ka paratha), naan, baursak (Kazakhstan Fried Bread) or baursaki, lavash and shelpek. Sometimes you can also find Katama, which is Kyrgyz Swirled Onion Flatbread.
The traditional flatbread and samsa (a pastry stuffed with meat) are very popular here. Vegan version of samsa includes potato filling and vegetarian version of samsa has cheese filling. I also loved eating Syrne or sirne. On my request, they made a vegetarian version with carrot. It was one of the most delicious and delicate Kazaki dish I tasted during my visit to Shymkent. It is not to be missed.
When visiting Shymkent, you must also try dry fruits and kumys which is a traditional fermented drink made from the milk of mare. I also tastedAiran, a diluted yogurt drink on many occasions in Shymkent and Turkistan. "Airan tastes better in Turkey.", someone told me though!
A wide variety of chic cafes serving local cuisine are available in both central Shymkent as well as Sairam. Take a pick from one of its various cafes and restaurants which have a variety of food on their menu and boast of excellent service. You can also visit the oriental bazaar and take a master class on cooking tandyr bread. They also serve lentil soup across South Kazakhstan which I had with steamed rice many times.
The hotels where I served had enough options for vegans and vegetarians such as lentil soup, potato wedges, cereals, porridge, hash browns (make a quick burger?), salads, assorted breads, cut fruits, cottage cheese, flavoured yoghurt, dry fruits and even assorted chocolates.
Soul Window Tips for vegans and vegetarians in Kazakhstan
Yaytso means egg while Net Myasa means without meat. I used these words a lot when I ordered vegetarian food. Many times, the local restaurant staff would consider even fish and chicken to be vegetarian, so you have to tell them clearly.
Top Restaurants of Shymkent
Restaurant hopping is one of the top things to do in Shymkent. I noticed that Shymkent is home to some of the finest world class restaurants in Central Asia. Below is a list of best restaurants to visit in Shymkent. I visited these restaurants myself and can vouch for their excellence.
Piala Restaurant: ThePiala restaurant was one of the most visually appealing restaurants I visited in Shymkent. The large garden area had sculptures of a man dressed in traditional Uzbeki attire (many Uzbekis live in this area) and a huge kettle hanging from the sky, pouring water in the pool below. The interiors of this restaurant are equally stunning. I had delicious pizza here.
Jeti Tandyr: On one occasion, I also had lunch at the Jeti Tandyr. It is the first typical restaurant in Shymkent, the former "Aral", built in the Stalinist Empire style, where the citizens' favorite place has long been a chaikhana or teahouse (a kind of type of public building – a "club" in the region). Now there is an oriental restaurant there.
Sandyq: I also had dinner at the Neokazakh cuisine restaurant known as Sandyq. I had vegetarian Sirne here.
Bozyra Qazaq Meiramhanasy: The interiors of this restaurant are stunning. They have private as well as public dining spaces. They even have a corner here where you can dress up in traditional Kazaki wear and take pictures for free.
Zolotoi Tapchan is also a great place to eat. I loved the lavish interiors and al fresco dining option here. It is adjacent to the Grand Hotel of Shymkent. Visit Shymkent office is also located in Grand Hotel. It is near the Fontan water park mentioned in this blog. I also had amazing local style Shashlik made with vegetables such as capsicum, mushroom etc. I ate it with steamed rice. I saw a signboard here which said: Ulttyq Tagamdary.
Chechil Pub and restaurant: I enjoyed my time at the Chechil restaurant in the heart of Shymkent. Despite being a luxurious rooftop restaurant, the prices here are very low. Chechil means long dry cheese. I had the best vegan and vegetarian food here. Even their citrus beer was one of the best I had in Shymkent. My order included beer with potato wedges, pizza, salad served above a delicious local bread and a unique sweet and sour aubergine dish (so good!). It is also easy to find pasta and Turkish desserts such as Baklava in many restaurants of Shymkent.
Chechil roof top restaurant is a chain of trendy pubs and is present elsewhere in Kazakhstan as well such as Almaty and Astana. I was also impressed with the indoor dining available with trendy interior decoration. Though I prefer the outdoor seating as it offers amazing panoramic views of the colourful Shymkent city and the mountains in the background. The sunset I saw from Chechil pub was surreal. It was one of the most beautiful sunsets I ever saw in my life. They also provide blankets as it gets a little cold here in the evening even in the summer months.
Craft Terrace: Another al fresco restaurant I enjoyed was Craft Terrace. Not only did I have good vegetarian and vegan food here but I also danced the night away to Bollywood songs such as 'jara sa jhoom loon main' and 'Jimmy jimmy jimmy Aaja aaja aaja'. My friends from Kazakhstan and Uzbekistan also joined me as these old songs are very popular in this part of Central Asia. I loved their hukka as well as the vegan grilled vegetables with mashed potatoes.
Indian restaurants: You can have Indian food such as Paneer dishes and Alu ka paratha at the Taj Mahal Restaurant located in the walking street. Nando is also very popular with Indians who live in Shymkent.
Exciting Excursions from Shymkent
Shymkent is a gateway to some very interesting things to do in the vast South Kazakhstan region. Shymkent is a good base to travel to other lesser-known unexplored places of interest in the Kazakh desert area such as the historical Turkestan, Otrar, Aq Mishit and Taraz. In fact, I had also planned to cross borders overland and visit Tashkent in Uzbekistan which is merely 2 hours away from Shymkent.
I also visited places like a Soviet era church known as Church of St. George in Tole Bi village apart from another abandoned Church known as Church of All Saints nearby when I travelled towards the Sairam Ugam National Park. I also trekked along the voluptuous river and towering mountains in the offbeat Sairam Ugam National Park. Aksu-Zhabagly Nature Reserve is another hidden gem near Shymkent which is known for its wild tulips, come spring! I also visited the cave of Ak-mosque as we drove from Shymkent to Turkistan.
Also known as Akmechet, which means "White Mosque" it is a natural underground site which is situated around 5 kilometres away from the village of Kenestobe in the holy Turkestan region. The hidden gem of Akmechet is located around 150 kilometres away from Shymkent. I also visited the holy Mausoleum of Khoja Ahmed Yasawi in Turkmenistan and the amazing boat show and 8D show at the Karavansaray. You can also visit Taraz from Shymkent
Whether it is the visually stunning nature of Kazakhstan which lies right at the doorsteps of Shymkent or the historical monuments, there is something for everyone in this megapolis. From visiting the offbeat Sairam-Ugam National Park, the abandoned Churches from the Soviet era, holy water springs and stunning historic city of Turkestan to exploring the visually delightful Aksu-Zhabagly Nature Reserve, here are the top things to do near Shymkent.
Using this detailed guide, you can make day trips to these tourist attractions around Shymkent, like I did. Some of the top places to see near Shymmkent are as below:
Arystan-Bab mausoleum
Southern part of Kazakhstan is known for its spiritual shrines which attract devotees and pilgrims from not only different parts of Kazakhstan but also nearby Turkic countries such as Türkiye, Kyrgyzstan, Tajikistan and Uzbekistan etc.
Since Arystan Bab was the spiritual mentor of Khoja Ahmed Yasawi, a celebrated Turkic Sufi and poet, his mausoleum is equally revered by the people even today. He is also said to be an associate of the Prophet Muhammad. One of the holiest places in the Turkistan Province, it impresses with its traditional Islamic architectural intertwined with European and Russian architectural styles. You can also see the ancient handwritten Quran here which is an exquisite example of medieval calligraphic art.
Domalak-Ana mausoleum: Excursion from Shymkent
Domalak-Ana Mausoleum is an architectural marvel. I haven't seen a mausoleum as unusual as this. Situated on the sunny Karatau area, in the valley of the Balabogen River, it makes for a great weekend getaway from Shymkent. This highly revered mausoleum was constructed at the burial site of Nuril Ali Slankiza, who was called as Domalak-Ana. For those who don't know Nurila (Domalak-Ana) was the 3rd wife of Baidibek-Ata, the national hero of Kazakhstan.
Sairam mausoleums
The ancient city of Ispijab, located strategically on the world-famous Great Silk Road, is known as Sayram in present day world. It is a very important suburb of Shymkent as many important historical sites can be visited in this sparsely populated region near the border of South Kazakhstan and Tashkent in Uzbekistan, both in Central Asia.
The ancient city of Sairam (Ispijab) was a major center of trade and the spread of Islam in the bygone era. Sairam was captured and destroyed several times. You can visit mausoleums of the XVII–XIX century in Sairam. My tour in Sairam included a visit to one of the earliest preserved monuments of domed mausoleums of medieval architecture – the mausoleum of Father H.A.Yasavi – Ibrahim ata (XVI – XVII centuries), Karashash ana mausoleum (XVIII century) and Khizir Paigambar minaret (IX-XII centuries).
Keme Kalgan Monument
This monument is situated approximately 45 km away from the city of Shymkent, on the Shymkent-Tashkent highway. Located close to the lofty mountains of Kazygurt, it is situated at an altitude of 910 meters above sea level. Also known as Noah's Ark, it is one of the top places to see near Shymkent. As per the local legend, prophet Nuh (Noah) landed on Mount Ararat around 2,000 years ago. The local people address this monument as Keme-Kalganw which means the place of Noah's Ark.
Otrar
I was surprised to notice that many of the towns and structures in the region which date back to the Silk Road era are so well-preserved. They look beautiful even in ruins. I stopped here as we drove from Shymkent to Turkestan on glass smooth roads.
Backpacking Budget Travel Tips for Shymkent
Is Shymkent expensive? It is a commonly asked question. Well, some of the best things to do in Shymkent are also very cost effective. This is a complete guide to backpacking Shymkent. Shymkent and much of Kazakhstan is some of the cheapest places I have ever been to. It is a backpacker's haven waiting to be discovered by the hippies. The chilled-out vibes, cheap eats, low-cost accommodation, cheap taxis etc make Shymkent a paradise for backpackers. Even in chic rooftop restaurants, my bill was shockingly low.
Solo Trip Tips for Shymkent
Cities like Shymkent are ideal for solo travellers like me. Though I visited Shymkent in a group, but I noticed that it is actually quite easy to travel around Shymkent solo. Friendly people, great public transport, low costs, organised way if living, short distances between points of attractions, great flight connections make things very easy for solo travellers in Shymkent.
Luxury travel Tips for Shymkent
Luxury travellers are spoilt for choices in Shymkent. Not only are there many luxurious hotels and restaurants across Shymkent but you can also hire a luxury car for your sightseeing in and around the city area. Shymkent is a pretty big town and has all the imaginable luxury facilities you yearn for.
Itinerary for Shymkent
Day 1 (14th Aug)
Arrive in Shymkent
Check in at Megapolis hotel and do currency exchange few streets away
Have a late lunch at the nearby Istanbul Cafe
Do pub hopping after dark
Day 2 (15th Aug)
Trek in Ugam Sairam National Park
Day 3 (16th Aug)
Visited museums and tourist attractions of Sairam such as the mausoleum of Father H. A. Yasavi – Ibrahim ata, Karashash ana mausoleum and, Khizir Paigambar minaret
It was followed by visit to Citadel, Independence Park, Golden Bridge and Ordabasy Square.
Day 4 (17th Aug)
Excursion to the Regional Museum of Local Lore.
Visit to Borte Milka dairy
Visit to Shymkent Brewery
Evening walk in Arbat pedestrian quarter
Day 5 (18th Aug)
Visit to the Qyrgy Bazar (Upper Market).
Visit to FONTAN water Park
Visit to the city center
Day 6 (19th Aug)
In the morning at 9 am, we left for Turkistan and visited the under-ground mosque Akmeshit and Otrar on the way.
In evening, I visited the Mausoleum of Khoja Ahmed Yasawi, followed by enjoying the boat show called as 'parades of show' in Karavansaray Tourist Complex in Turkistan.
Day 7 (20th Aug)
Much of this day was spent walking around other tourist attractions of Turkistan such as Farab Library, local mosques etc. By afternoon, we explored the busy markets of Turkistan and left for Shymkent by 5 p.m. after a hearty lunch.
Day 8 (21st Aug)
Time to leave Shymkent after an eventful week!
FAQ: Frequently asked questions on Shymkent
Is it safe to visit Shymkent?
It is a commonly asked question on Shymkent. Many of my friends asked me how safe is Shymkent to visit?
So, is it safe to visit Shymkent. Yes, in my personal experience, Shymkent is one of the safest places I have travelled to. Crime is really low here and people are friendly. I have walked safely on the roads of Shymkent even after dark.
Souvenirs Shopping Guide to Shymkent
What are the things to buy in Shymkent? You can buy local ceramic plates, bowl, fridge magnets, figurines, religious items, key chains etc from Shymkent. Some of the best places in Shymkent to buy souvenirs are Taukexana Street and Park Ken Ba Ba. I and my friends bought raisins, cashews, almonds, local breads, halwa, dairy products, local cookies etc from the markets of Shymkent. You can also pick clothes and shoes from markets of Shymkent which are available at very low rates.
What currency is used in Shymkent?
Shymkent is great for solo budger travelers like me. You will still need the local currency, right? Tenge or KZT is used across Shymkent. Some shops may also accept USD but it is not very common. In my personal experience, most people like to be paid in the local currency of Tenge.
ATM in Shymkent
There is no dearth of ATMs across Shymkent. I saw many ATMs across streets and even in shopping malls. City centre also has many ATMs. It is better to carry local currency as not many shops accept international card payment.
Photography Tips for Shymkent
Shymkent mostly has opportunities for architectural buildings and people shots. These are clicked best during the golden hour which is morning and 2-3 hours before sunset, depending on the season. In Spring, you may also want to click pictures of wild Tulips which bloom in abundance here. It reminds me of my visit to Floriade in Canberra, Australia or Srinagar in Kashmir. The historical monuments are also best clicked during the golden hour.
What are the languages spoken in Shymkent?
The melting pot that Shymkent is, this multilingual city speaks many languages. Kazakhi language, Russian and Turkic languages are very popular in Shymkent. English is spoken and understood by few people, especially those who are employed in restaurants, hotels and tourism sector. While the female waitress Pakeezah in the Istanbul café knew good English, another waitress in a different pub struggled with my orders. Even explaining water to her was a task. This is why, always take a local SIM card and get things done via Google Translate.
How are toilet facility in Shymkent like?
Clean toilets are available at most of the tourist attractions and museums of Shymkent. I also used the toilets at the restaurants, cafes, shopping malls and even Universities of Shymkent. All of them are free to use unlike nations in Europe.
How to hire a local tourist guide in Shymkent?
It helped me to have local tourist guide at all times during the trip. Not only did the local tourist guides knew the sightseeing places of Shymkent well, but they also show hidden gems and share deeper insights into the history, food, craft and culture of Kazakhstan.
Mr. Islam Kalani was my tour guide throughout the trip. He can be contacted at +7 7074390099. Mr. Yerzhan Orynbassrov is another guide who can be contacted at +77029307711. They can also take you to excursions around Shymkent and can even arrange for a day trip to Tashkent (if you have the visa, that is!).
Ismail from Turan Tours helped me explore Turkestan. He can be contacted at +77770953845. These guides will help you explore South Kazakhstan more deeply and meaningfully.
How To Book a trip to Shymkent?
There are several tour operators in Shymkent who can arrange a sightseeing trip. You can buy a customised Shymkent sightseeing tour package from a tour operator of your choice.
What are the books on Shymkent and Kazakhstan?

You may want to read these books:
Shymkent City: A Rose of The Silk Road
Atomic Steppe – How Kazakhstan gave up the bomb by Togzhan Kassenova
Gold of the Great Steppe: Kazakhstan
Book of Words (for Kazakh Literature and Poetry). It is written by Abay Qunanbaiuly, the national poet of Kazakhstan
Where to stay in Shymkent?
It is not much of a problem to find a place to stay for the night in Shymkent, thanks to the plethora of accommodation options available such as hostels, hotels, inns, lodges, guesthouses and luxury properties. I stayed in the Megapolis hotel which is the first 4-star hotel of Shymkent. I love its location. Situated merely 3 kilometres away from the railway station of Shymkent, it is centrally located.
I exchanged currency several times at the counters located at walking distance from here. There are some grocery stores just 2 minutes of walk away from here. I also dined at several local pubs and cafes here such as the al fresco Istanbul café. Even the city centre and mega planet mall is located at walking distance from here. Here is a top tip: Book their room with the small balcony. The views from here are far better than the rooms without balcony as the latter face a bland road.
Address of Megapolis hotel Shymkent: 8JC3+Q4F, Zhylkyshiev St 35A, Shymkent, Kazakhstan.
What to wear in Shymkent?
Irrespective of which season you visit Shymkent in; I would suggest that you should wear full sleeved shirt or top and full length trouser or Jeans. Half pants, shorts, miniskirts etc are not allowed inside mausoleums, tombs, mosques and other holy shrines. If you still want to wear the clothes you like, then do carry a longer dress in your small backpack maybe.
While T shirts, jeans, skirts, and shorts are OK for summer, autumn and rainy season, do pack in a lot of woollen clothes if you travel to Shymkent in the winter months. It gets very cold here in winter.
What is the best Time to visit Shymkent
What is the best time to visit Shymkent? Well, here is a detailed guide on temperatures, climate and weather conditions of Shymkent in various seasons.
Summer in Shymkent
I visited Shymkent during summer season. Though it is considered off-season in Shymkent, I found the weather to be very pleasant. I travelled in and around Shymkent between 14th and 21st August. Despite being the third week of August, I didn't feel the weather to be very hot.
To compare, Delhi at the same time was hotter and humid. Even during the trek in Ugam Sayram National Park, I never sweated or felt uncomfortable. Turkstan, due to its altitude was slightly hotter at the same time, but it is still bearable in August. I was told that June is very hot in Turkistan.
Spring in Shymkent
One of the best times to visit Shymkent is during the pleasant spring season. This is also when the local people celebrate the Nowruz festival with much fanfare.
Rainy Season in Shymkent
On some days, it rains in Shymkent in the month of April and May. However, my tour guide proudly told me that April May is also the best time to visit Shymkent if you want to see abundant wild tulips in the nearby Aksu Zhabagly Biosphere Reserve which is situated in the north-West of Talasskiy Alatau and the south of Karatau in the West Tien Shan.
Autumn in Shymkent
I enjoy traveling to natural places like Ladakh in autumn. This is when the autumn colours paint the town yellow. Do consider a trip to Shymkent to enjoy the spectacular fall colours.
Winters in Shymkent
It gets very cold in Shymkent during the winter months. However, you can still visit Shymkent in cold weather. Some nature parks around Shymkent, however, may become inaccessible during winters. Yu must bear this in mind when you plan a trip to Shymkent in winter season.
What is the Shymkent Time Zone?
The territory of Kazakhstan spans 4 geographical time zones (from +3 to +6). However, standard time in Kazakhstan is either UTC+05:00 or UTC+06:00. Kazakhstan does not observe Daylight saving time. This is why, these times are valid round the year.
Soul Window Observations
However, evening means different in Shymkent. In mid-August, when I visited, sun set used to happen around 9 p.m. only, which is great because we got extra time to do more sightseeing in Shymkent. This reminded me of my trip to Kyirong in West Tibet in China. I made a memorable road trip, also in mid-August, across West Tibet for the epic Kailash Mansarovar Yatra, when I realised that the sun sets around 9 p.m. in Tibet in August as well as China follows a uniform time zone. China Standard Time (CST) is 8 hours ahead of the Coordinated Universal Time (UTC+8:00).
How many days to spend in Shymkent?
3-4 days in Shymkent are ideal if you want to explore it fully.
Duration of Visit in Shymkent
How many days do we need in Shymkent? I spent around a week in Shymkent, discovering it one layer at a time. I realised that most of the outdoor things to do in Shymkent such as visiting Independence square and shopping are best enjoyed in evening. There are so many interesting places to see in Shymkent and Sayram that even a week is less.
What can I do in 1 day in Shymkent?
1 day is way too less for a vibrant city like Shymkent. However, if you have paucity of time and budget, then I suggest that in one day, you should visit the Minaret of the Prophet Khyzyr, Mausoleum of Ibrahim Ata, Baidibek Bi Monument, Tulip Fountain, Aq Meshit Mosque, University, Qyrgy Bazar, Mega Planet Mall, City Centre
What can I do in 2 days in Shymkent?
You may add the dairy and Shymkent Brewery to the above list. Both are located a little away, so you may have to reserve half day for both. It is better to visit these in the first half of the day, so that evening can be spent in a relaxed manner. If you have more days at hand, then you can include the other places of attractions which I have mentioned across this detailed travel guide to Shymkent in South Kazakhstan.
What is the local Transport for sightseeing in Shymkent?
The roads across Shymkent are very wide, in excellent conditions and are divided by large beds with ornamental trees and flowering plants. You can easily flag down a taxi anywhere in Shymkent. In fact, many personal vehicles may also give you a drop for money. You just need to stand at roadside and wave your hand at vehicles plying on the road. Old cars such as Contessa, Lada Classic series etc still play on the roads of Shymkent. Most of these do not have air conditioning, which I feel is OK.
Local buses are also very commonly available. However, language can be a major issue when boarding or deboarding a bus. Use Google Translate and discuss your day with the hotel staff you are staying in.
Shared taxis known as matryoshka or marshrutkas also form a major part of city transportation in Shymkent. If you are getting late or just tired of waiting for the marshrutkas to fill up, you can offer to pay for the empty seats. The private taxis via apps such as Uber and Yandex are also easily available in Shymkent.
How to reach Shymkent?
All the information you need to plan a great trip to Shymkent is right here. Shymkent is the 3rd largest city of Kazakhstan and hence it is easily accessible from any major city of Kazakhstan such as Astana and Almaty by train or plane.
Flight
I arrived in Shymkent from New Delhi on a low-cost flight which took only 2.5 hours. I was surprised that apart from being a backpacker's heaven, Shymkent is also located so close to India. I mean it takes longer to fly on some routes even within India. New Delhi to Bangalore, for example, also takes around 2.5 hours on a flight. Fly Arystan is a low-cost subsidiary of Air Astana. This is why you must visit Shymkent as and when possible.
Train
Shymkent is well connected with other big cities of Kazakhstan such as Almaty and Astana. In fact, I met many Indian students in Shymkent airport who told me that they have booked cheaper flight to Shymkent from New Delhi and now they will catch train to Astana or Almaty. You can try this idea too.
Soul Window Travel Tips
Here is another secret tip. Whenever you fly to Shymkent, always take the window seat. I was treated with amazing breathtaking views for 2.5 hours throughout the flight. Thanks to the snowcapped peaks, inaccessible blue lakes in the background of brown mountains, long serpentine roads in the middle of nowhere and beautiful pattern of clouds, it surely was one of the most visually stunning and beautiful flight experiences I have ever had.
In my experience, I think only Ladakh in North India and Kathmandu to Lukla flight during Everest Base Camp Trek in Nepal came closer. Flying across length and breadth of Uganda in a Russian helicopter was also one of my best flight experiences.
How to reach Tashkent from Shymkent?
This is one of the most fresquently asked question I get on Shymkent and Tashkent border crossing. My guide Yerzhan Orynbassarov told me that the name of the border on both side is Chernyavka. For bus to Tashkent from Shymkent, you can reach Bekzhen Bazaar. There is a Toyota showroom here. From Kolos, you can reach Tashkent in Uzbekistan in a minibus or shared taxi. Kolos is a Bus stop located at Respublika Avenue of Shymkent.
Alternatively, you can also book a reserved taxi from any place in Shymkent to the border crossing area.
What are the distances from Shymkent?
Below are some of the distances from Shymkent in descending order:
Domestic
Distance between Ugam Sayram National Park to Shymkent is 106 kilometers and it takes around 2 hours and 11 minutes via A-2
Distance between Turkistan to Shymkent is 167 kilometers and it takes around 2 hours and 30 minutes via M-32
Distance between Taraz to Shymkent is 185 kilometers and it takes around 3 hours via A-2
Distance between Almaty to Shymkent is 687 kilometers and it takes around 8 hours via A-2
Distance between Astana to Shymkent is 1,509 kilometers and it takes around 20 hours via M-36
International
Distance between Tashkent to Shymkent is 127 kilometers and it takes around 2 hours via A-2
Distance between Bishkek in Kyrgyzstan to Shymkent is 508 kilometers and it takes around 6 hours and 30 minutes via A-2
Distance between Dushanbe in Tajikistan to Shymkent is 591 kilometers and it takes around 10 hours and 20 minutes via M-34
Distance between Ashgabat in Turkmenistan to Shymkent is 1,454 kilometers and it takes around 20 hours via M-37
Distance between New Delhi to Shymkent is 1,670 kilometers
Distance between Baku in Azerbaijan to Shymkent is 3,102 kilometers
Distance between Istanbul in Turkey to Shymkent is 4,760 kilometers
Conclusion: Is Shymkent worth visiting?
Is Shymkent worth visiting? Why visit Shymkent? Here is an overview. Shymkent is a major city located in the south of Kazakhstan. What adds to its significance in the world history is the fact that Shymkent was once an integral part of the famed silk road of Kazakhstan.
The precious historical ruins of Sairam only adds to the never-ending list of places to see in Shymkent. There are so many exciting places to see in Shymkent and Sayram. Weekends escapes such as Turkestan, Taraz and Tashkent make it worth spending a week in Shymkent.
In a nutshell, I would say that Shymkent gives more value for money for any other similar destinations which I have visited earlier. The fact that there are so many exciting things to do in Shymkent for history and nature lovers, makes it a perfect destination in Central Asia.
To summarize, Shymkent is one of those places which offers more bang for your buck as you discover one tourist attraction after another. Also, much of Shymkent is still off the beaten track. Visit Shymkent before it becomes more touristy.
Here are my final thoughts. The bottomline is that whether it is shopping or sightseeing or enjoying the local culture and food, there is no dearth of exciting things to do with family and friends in Shymkent and Sairam. If you enjoyed this blog, please share it with your friends and family. This is the biggest blog ever on Shymkent and Sairam, whether on internet or otherwise!
The view from my Soul Window is in a time warp!
Pin this blog to save the blog and plan a trip later!
Related Blogs
Top Travel Blogger from India