Last Updated on January 4, 2022 by asoulwindow
About Gulmarg
Gulmarg is one of the most beautiful destinations of Jammu and Kashmir in North India. Gulmarg is home to ancient Hindu temples, mosque, church and major tourist attractions such as tallest Gondola rides, snow-capped Himalayan mountains, golf course, pristine lakes etc. There are many places to visit in Gulmarg all of which are explained in great detail in this comprehensive guide to Gulmarg in Jammu and Kashmir.
Gulmarg Nomenclature
Gulmarg is known by many names. The literal meaning of Gulmarg is path of flowers. Gul stands for flowers and Marg stands for path.
Soul Window Facts
Gulmarg originally had a Hindu name Gaurimarg. As was the norm in those days, Gauri Marg was rechristened as Gulmarg by an Islamic chieftain Yousuf Shah Chakh in medieval India (15th or 16th century). Yousuf was also responsible for forceful conversion of Kashmiri Hindus.
The literal meaning of Gauri Marg is 'Path of Gauri.' Gauri is alternate name of Mata Parvati, wife of Shiv Bhagwan. Similarly, the original Hindu name of Baramullah was Varamulha and Pampore was Padam Pur. Kashmir itself was once called as Kashyapameru by the Hindus who originally lived here. And the original name of Pir Panjal was Panchaladeva, named after Hindu deity Panchala.
Why is Gulmarg famous?
Gulmarg is world famous for many reasons. What makes Gulmarg most famous is the presence of one the highest Gondola or cable car here. Gulmarg also has the highest gold course in the world. What adds to the immense popularity of Gulmarg is the abundant snow one gets to experience in Gulmarg.
What is special about Gulmarg? Well, the delicious vegetarian Wazwan, local sightseeing and breathtaking views of conifer trees, Pir Panjal mountains and endless snow fields make Gulamrg one of the best places to see in Kashmir.
Top places to see in Gulmarg
There are umpteen places to visit in Gulmarg, Kashmir. Things to do in Gulmarg include skiing, snow sports, taking gondola rides and visiting several sightseeing places. Some of the best things to do in Gulmarg are concentrated around the Gondola. The food part is that most of the points of attractions of Gulmarg are located in close proximity from each other.
Below is a comprehensive list of places to visit in and around Gulmarg in Jammu and Kashmir of North India.
Gulmarg Gondola
You must be proud to know that the Gulmarg Gondola is the second highest cableway project of the world! The other high cable-cars of the world are the Dagu Glacier Gondola in Sichuan in China, Jade Dragon in Yunnan andMi Teleferico in Bolivia in South America.
Built on three levels, the Gondola ride is the most popular tourist attraction of Gulmarg Hill Station. As many as 6 people can sit at a time during one Gondola Ride. You can also have a view of Nanga Parbat from here on a clear day!
The Gondola ride at Gulmarg is best enjoyed in winter months when it is entirely covered in snow.
Entry Fee
Below are the details on entry fees of the Gondola Ride of Gulmarg
Phase 1: INR 700
Phase 2: INR 900
Chairlift Fees: INR 300
Timings: 10 a.m. to 5 p.m. It is subject to change in weather.
The boarding pass of Gondola ride is valid for 3 hours. It is thus advisable to start early. Since the last cable car is at 5 p.m., you may be able to spend less time here due to shortage of time. Suppose if you arrive at Phase one at 3 p.m., you will have just 2 hours to enjoy in snow.
Gulmarg Gondola Car Riding Levels
There are three phases of Gulmarg Gondola. The entire stretch of Gondola cable car ride is a whooping 5 kilometers long. You can even see Line of Control or LOC from the top. It is the top thing to do in Gulmarg!
Phase 1: Phase I of Gondola stops at Kongdori. Height of Kongdori station is 2600 meters or 8530 feet. It takes around 9 minutes to reach here via cable car from the base. Children under 3 are not allowed here. If you have heart diseases or breathing issues, you must not go beyond Phase one. The Gulmarg to Kongdori phase was completed as recently as the year 1998.
Phase 2: Phase II of Gulmarg Gondola cable car stops at Aparwath peak. Height of is 3747 meters or 12293 feet. It takes around 12 minutes to reach here via cable car from the Kongdori Station.Kids under the age of 3 are not allowed here. Phase 2 is operational since 28th May, 2005.
Phase 3: Phase III of Gulmarg Gondola is the highest one. This is why kids below the age of 11 are not allowed on the chair cable car.
Timing of Gondola: The Gulmarg Gondola operates between 10:30 a.m. in morning to 6:30 p.m. in evening. It is open for 7 days a week.
Soul Window Travel Tips
I highly recommend that you carry along a goggle to protect your eyes from the blinding effects of snow. Even in Phase one, I had my eyes watering because I was not wearing sunglasses.
Snow blindness happens due to overexposure of UV (ultraviolet) rays on high altitude. Your cornea may suffer a sunburn, so it is advised to wear a sunglasses Phase 1 onwards. I faced similar issues while trekking on snow at several places in India and beyond.
Other Cable Cars in India
The other cable cars in India I took are as follows:
North India
Ultra-modern cable car of Vaishno Devi in Jammu
Mount Phatruin Solang Valley in Himachal Pradesh.
Naina Devi ropeway in Himachal Pradesh
Parwanoo ropeway in Himachal Pradesh
Mansa Devi Udankhatola in Haridwar in Uttarakhand
Chandi Devi Udankhatola in Uttarakhand
Gun Hill in Mussoorie in Uttarakhand
Auli ropeway in Uttarakhand
Maihar Devi in Madhya Pradesh
Dhuandhar Falls in Madhya Pradesh
Salkanpur Ropeway in Madhya Pradesh
Rajgir in Bihar
Karni Mata Ropeway in Rajasthan
West India
Mahakali Pavagarh in Gujarat
Ambaji ropeway in Gujarat
Saputara Ropeway in Gujarat
Raigad ropeway in Maharashtra
Jivadani Temple, Maharashtra
East India
Darjeeling ropeway in West Bengal.
Gangtok ropeway in Sikkim
Dongargarh Ropeway in Chattisgarh
Deogarh in Jharkhand
South India
Glenmorgan Ropeway in Ooty in Tamilnadu.
Srisailam Ropeway in Telangana
Malampuzha garden in Kerala
Kongdori Phase one
The Phase one of Gulmarg known as Kongdori is the most famous attraction of Gulmarg near Srinagar. It is perched on a height of 8,530 feet or 2600 meters. Taking Gondola ride to Kongdori Phase one is the thing to do with family and kids in Gulmarg.
It is neither a hidden gem nor an offbeat place and yet it is one of the best places to visit in Gulmarg! Offering gorgeous views of the mighty Nanda Devi and Pir Panjal Range, Kongdori is a famous destination of Kashmir. The beauty of Kongdori is often compared with that of the Baisaran valley in Pahalgam. Attractions of this popular tourist spots are many.
I and my friends arrived at Kongdori after a short 9 minutes long Gondola ride. The tourist magnet that it is, Kongdori was abuzz with various adventure activities and people toting selfie sticks. Not only is it Ski lover's paradise but also popular for colorful snow bikes. You can enjoy biking on the snow for a reasonable fee. Kongdori is also a favorite with the snowboarders and skiers from India and abroad.
If adventure is not your cup of tea, then like other tourists you can just chill by playing in snow. Make a snowman, throw snow balls at each other or wear a bright yellow sweater and pose against the stark white snow for a beautiful picture!
Also, there are many food stalls located there. From dumb calories of instant noodles to nutritious Alu Ka Paratha, there is a lot of vegetarian and vegan food you can fill your face with! Proper chairs and tables are laid out here for dining.
However, be warned that the order takes time. My simple 2-minute noodles took more than half an hour due to crowds. But a hot tea and hot food is comforting after spending 2-3 hours in nail biting cold!
You can also hike up till Kongdori but I recommend cable car for the mesmerizing bird's eye views that it offers. It is also advisable to rent a pair of snow boots before taking the Gondola ride. Snow boots are available at the base ticket counter.
The bowl-shaped paradise of Kongdori is a must visit when traveling in Kashmir! Kongdori lies midway between Gulmarg and Apharwat mountain range.
Soul Window Observations
Did you know there is another Srinagar located in Pauri Garhwal in Uttarakhand? I was born in the home of Shrinet Rajputs. They originally lived in Srinagar of Uttarakhand before migrating to Baansgaon in Gorakhpur near India and Nepal border.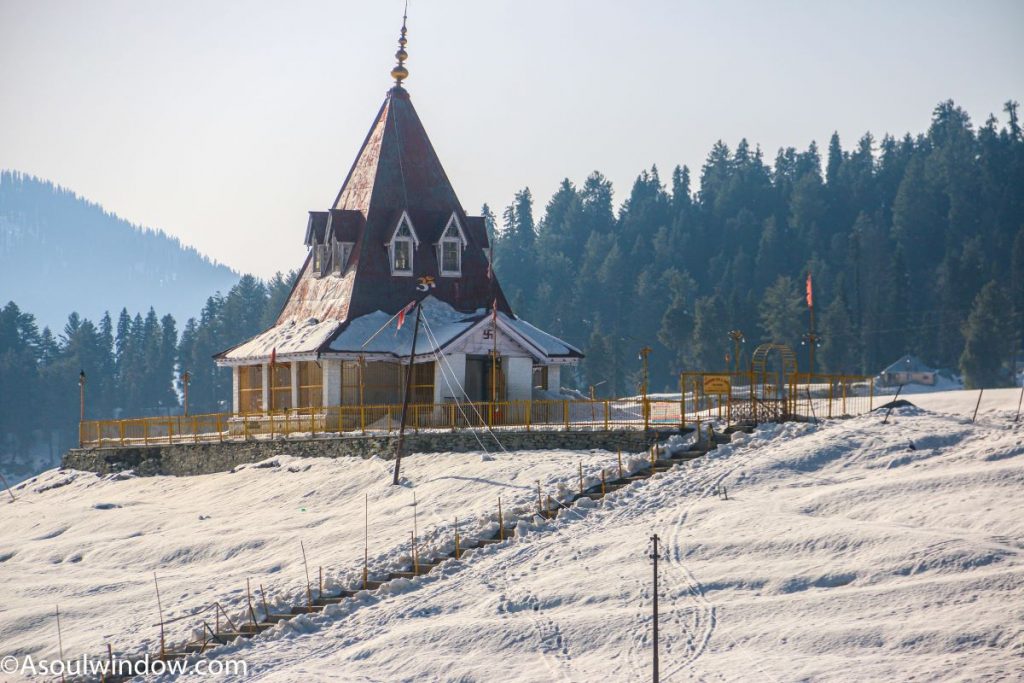 The Maharani Temple
This much revered Hindu temple known as The Maharani Temple is devoted to Shiv Bhagwan and Mata Parvati. Mohini Bai Sisodhia, wife of Maharaja Hari Singh, is credited with building the Maharani Temple in the year 1915. I walked on the snow to admire its beauty.
I noticed that the Maharani Temple was built in typical Hindu style of architecture with a seamless blend of Kashmiri architectural elements. Do visit this century old Hindu Temple. It is a free thing to do in Gulmarg. Donating money to the temple is a good idea though!
Since it is located on a small knoll or hillock, there are some steps which takes on to the Maharani Temple. In winters (as late as April), the areas around the temple are drowned in snow. In summer and monsoon, expect green meadows to replace the snow with grass.
The erstwhile princely state of Jammu and Kashmir was ruled by the great Dogra dynasty. The Maharani Temple of Gulmarg was the royal temple of Dogras.
It is not possible that you visit Gulmarg and not see the tower of the Maharani Temple.
The Maharani Temple of Gulmarg is also known as the Mohineshwar Shivalaya or simply the Rani Temple because it was built by a queen. The queen used to offer prayers regularly at this old Hindu Temple. Even after so many decades and political unrest, the temple is well maintained.
I found the location of the Maharani Temple very peaceful and serene. In summers and monsoon, the temple is surrounded by lush green meadows. The nearby soaring alpine trees and lofty mountains stick around throughout the year though.
The crowds swell at temple during the Hindu festival of Mahashivratri. Do visit this temple as it is the last few remnants from the Dogra legacy. Maharaja Hari Singh was the last King of Kashmir.
The temple suffered when the Kashmiri Hindus were unfairly and violently forced to leave their home and settle at different places in India such as Mumbai and New Delhi and abroad.
The best time to visit Maharani Temple is when Aarti takes place here twice a day, daily. The temple stays open between 6 a.m. to 9 p.m. Thanks to its elevation, it can be seen from all parts of Gulmarg. Its bright red sloping roof stands out in stark white snow in winters.
Many old hotel and huts of the Bakharwal community, the Muslim nomadic tribes are close in close proximity of the Maharani Temple, which is a top place to see in Gulmarg. It is also located near the famous Gondola ride of Gulmarg. This historic destination is a must see place in Gulmarg.
Soul Window Facts
I had visited Taklakot near the tri junction of border of India, Nepal and Tibet during the Kailash Mansarovar Yatra which included a visit to places in Tibet such as
Kailash Parbat
Mansarovar Lake
Rakshas Taal
Chiu monastery
Gauri Kund
Dolma La pass
Zuthulphuk
Darchen
Saga
Kyirong
Deraphuk
Did you know about the great Dogra commander known as General Zorawar Singh? He had played a vital role in shaping the map of India as we know it now. You must read my detailed blog on General Zorawar Singh on A Soul Window – one of the best Indian travel blogs. I have shared many amazing facts in my blogs which you must read!
To appreciate the rich history of India, a little reading is all that we can do! It is interesting that how all the places I had visited in Jammu and Kashmir and Tibet and Nepal are interconnected with each other through the annals of history.
The Old Mosque of Gulmarg
A small and decades old Islamic Mosque exists right in front of the century old Hindu Maharani Mandir. It looked like a Hindu Temple to me. It is a very small structure with a Shikhara (tower) like roof found in Hindu Temples.
The Kalash like balls and flag on top of it were also identical to the similar structures I saw atop the Maharani Mandir. This is one of the oldest mosques of Gulmarg. Some say it was built in the year 1991. Not much is there to see here except a very small building.
Soul Window Facts
Did you know that the famous 'Jai Jai Shiv Shankar,' song from the old Rajesh Khanna and Mumtaz starer film 'Aap Ki Kasam' was shot at Maharani Temple in Gulmarg?
St Mary's Church of Gulmarg
My leg was half buried in snow as I walked towards the St Mary's Church in Gulmarg.Enveloped by snow from all sides, this vintage Church stood out from a distance.ButI was wary of walking on snow when my co traveler Manjulika coaxed me into it.Chuckling, we made our way to the famousSt Mary's Church of Gulmarg, a 100-year-old vestige of the past.
Located near the Golf course of Gulmarg, the St Mary's Church was built by the British in the year 1902. Constructed in typical British architectural style, this ancient Church is a grim reminder of the plundering and illegal occupation of India by the British.
Its façade was renovated in the year 2003, i.e., 100 years after its construction. It was closed when we visited. Regular Sunday masses also do not take place in this Church. Managed by Diocese of Amritsar, Church of North India, this Church is surrounded bygolf course on all 3 sides and mountain on one side.
The St Mary's Church of Gulmarg was not as huge or elaborate as the British era churches I saw in Old Goa or for that matter the Church at Pachmarhi Hill Station in Madhya Pradesh or the Churches of Fort Kochi in Kerala in South India. The St Mary's Church of Gulmarg is rather a small church, akin to a small countryside chapel.
I inspected its grey stone walls, taking advantage of the solitude provided by no other tourists in sight! The green tiles of the roof peeped from the whites of melting snow. And just as the designs on its wooden walls vied for my attention, it started to dawn upon me on how ancient the Church is. The Victorian architecture of this Roman Catholic Church took me back in time.
As is common with most churches including the huge Church I saw in the Union Territory of Pondicherry in South of India and Chanthaburi in Thailand, the St Mary's Church also has beautiful stained glass artwork. You can also see scenes from Bible on the frescos located inside the Church.
The 20th century St Mary's Church, which is located near the Gulmarg Gondola is free to visit. You can reach here only by walking. The cars can be parked at the entrance of the church from where we walked our way to Church. It is an easy few minutes' walk during summers. However, we experienced knee deep snow when we visited during the peak of snow season of Gulmarg.
In the right weather condition, the Church remains open from 7 a.m. to 5 p.m. It looks beautiful in night, when lit.
Gulmarg's Children Park
Popular with kids and adults alike, tourists come to Children Park of Gulmarg to enjoy its scenic beauty. There are toy trains, swings, zorbing and slides to keep the kids busy here. The adults can soak in the views of towering conifers, mountains and cotton balls masquerading as clouds.
At places like these I prefer to take a long stroll, whether solo or with a nice company. Do visit the Children's Park to slow down and see what heaven feels like!
Gulmarg Golf Course
Gulmarg Golf Course is unlike the other snobby golf courses I visited in India or abroad. It is not a stand offish exclusive all boy's club but seamlessly woven within the everyday life of Gulmarg.
Soul Window Facts
Did you know that the public golf course of Gulmarg is the highest green golf course of the world? Located at a height of 8,690 feet or 2,650 meters, the golf course of Gulmarg is amongst the best we have in India.
The Golf course was covered in a thick layer of snow when I visited in April. Once the snow starts melting towards the end of April, the golf course remains open till the month of November, which is the start of winter in Gulmarg.
The now 18-hole Golf Course of Gulmarg was built by Neville Francis Fitzgerald Chamberlain, a British man in the year 1890. Many tournaments still take place here. I am not very fond of Golf courses but this golf course attracted me thanks to its visual beauty.
What's more? The Gulmarg Golf Club, which measures a whooping 6,863 meters or 7,505 yards is also the longest golf course of India.
Ziyarat Baba Reshi shrine
Christened after Baba Payam uddin Reshi, a Sufi saint, the Ziyarat Baba Reshi Shrine is one of the best places to visit near Gulmarg. Baba Reshi is also the name of the village in Kashmir where this shrine is located.
Also known as Ziarat of Baba Reshi, it is that those who ask for a wish here are often granted one. Those whose mannat (wishes) have come true visit the shrine again to thank the saint. It is believed that many childless couples visit this 500-year-old medieval shrine in the hope of fulfilling their wish to bear a child.
Ziyarat Baba Reshi Shrine is a quiet place. We were the only tourists present when we visited it. Before we moved to the grave of the Sufi Saint in Noor Khwan inside the shrine, I stopped to observe the big minaret outside the shrine.
The grave was draped in green cloth with verses of Quran embroidered around it. The glass and exquisite Kashmiri style woodwork of Noor Khwan stood out. I saw similar designs in many houseboats and hotels in Kashmir.
The ancient Ziyarat Baba Reshi Shrine was originally constructed in the year 1480 in the typical Mughal and Persian style of architecture with Kashmiri elements. However, it was razed down by a mysterious fire on 2nd September 1989. What we see is the modern 3 storey building. Baba Payam breathed his last here in the year 1480. His last days were spent in prayers and meditation.
Bod Shah or Zain-ul-Abidin was the 8th sultan of Kashmir. This 15th century King lived a simple life and abandoned his material possessions, devoting his life is serving his subjects. Bod Shah used to live and meditate at the same spot where his tomb and shrine exists today.
This is an unusual place to see near Gulmarg. You will not find these destination ideas in the outdated and old school traditional travel guide books. This detailed travel guide lists every possible place to visit in and around Gulmarg in a comprehensive manner.
Soul Window Thoughts
Baba Payam Uddin happened to be a courtier of Zain-ul-Abidin both of whom had renounced worldly ties and gave up on material pleasure. I am a minimalist ever since I could remember. I hate to buy physical things even if it is just an extra spoon.
As I am inching towards complete material renunciation, I sometimes wonder if I will ever be able to give up on my DSLR camera, laptop (my work) and the things of emotional value which I had inherited. Time will tell!
During the festival of Urs, Baba Reshi Shrine is inundated with Muslims from near and far away places. Urs is an annual festival which is celebrated on the anniversary of Baba Payam ud din Reshi.
Baba Reshi Shrine is located in Ramboh village in Baramulla district near Kunzer, Tangmarg and Gulmarg. We made a stop here while returning to Srinagar from Gulmarg.
This 15th century shrine is a must visit when in Gulmarg. You can reach Ziarat of Baba Reshi by NH-1A from Narbal via Magam in Budgam district. It is located near Al Pather Lake. Distance between Ziarat of Baba Reshi and Gulmarg is just 13 kilometers.
Alpather Lake
Not many know about this hidden gem of Gulmarg. One of the best offbeat places in Kashmir, the Al Pather lake is accessed by an easy trek. It is one of the most beautiful places of Kashmir. Its beauty is no less than the lakes one sees on Kashmir Great Lakes Trek.
Also known as the Frozen Lake, it freezes during the months between November and mid-June. Since it is an easy trek, it can be classified as a one-day trek or a half day trek, depending upon your fitness level. When it is frozen you can witness the amusing sight of ducks walking on the lake. During summer, you can see many sheep grazing on the grass here.
Alpather lake is nestled on a height of a whooping 14402 feet or 4390 meters. Luckily this high-altitude trek to the lake lasts only 1 hour up and down. It is accessed on the top of the Gulmarg hill at the second Gondola stop. Due to high altitude, oxygen levels are low here due to which one might face breathing issues and a little difficulty while trekking here.
Alpather lake is fast gaining popularity amongst discerning travelers for the breathtaking views and photo ops that it allows. In winters it is covered in snow while in other season such as summer, you can see verdant meadows and multi-hued wildflowers. Indeed, it is a photographer's paradise!
It takes around 15 minutes to walk down from the stop of Gondola ride. To come back again from the lake, one needs to walk up for 30 minutes or so. Some people may take longer due to fitness level, age and other factors. The trek is easy, though a little rocky, which is why you must watch your steps.
A Guide is not must here as it is an easy trek. However, it is good idea to have a company. It is very cold at the Alpather lake in all seasons, so please dress accordingly. Much like any other trek, carrying 1 liter water each person and some finger snacks is advisable. Wearing sturdy trekking shoes and loose pants is a plus.
Also note that Gondola Level 2 may remain closed on some days due to unfavorable weather conditions. Guides are available at the Gondola stops.
Distance between Alpather Lake and Gondola Phase II of Mount Apharwat is just 1.5 kilometers. Alpather lake is located 13 kilometers away from Gulmarg. However, much of this distance is covered by the Gondola Ride.
Soul Window Travel Tips
Gulmarg is located close to international border of India with Pakistan. Other exciting Indo Pak borders I visited was in Jaiselmer in Rajasthan, Attari Wagah Border in Amritsar and Rann of Kutch in Gujarat in West India.
You can also see a Wagah Border like parades and Zero Line at Suchetgarh in Jammu. Jammu has a 192 kilometers long sensitive International Border (IB), which keeps seeing ceasefire violations from Pakistan since 2003.
It is a proud feeling to see BSF aka Border Security Force at work here. Sialkot is located just 11 kilometers and Lahore in Pakistan is located just 141 kilometers from Suchetgarh in Jammu, North India.
Twin Aparwath Peak
The above mentioned Alpather Lake is located on the foot of the twin Apharwat peaks which are 14,800 feet above sea level or 4511 meters tall. Aparwath Peak is the most popular skiing destination of Gulmarg since it is enveloped by snow most part of the year.
Many people also visit the nearby Ningle Nallah located here. This mountain stream has its origins in Aparwath Peak. It eventually ends up merging with the Jhelum River. There is a viaduct ending in Khilanmarg, where you can cross the Ningle Nallah.
Kanchenjunga Museum of Gulmarg
Kanchenjunga Museum is a must visit when in Gulmarg which was established in order to celebrate and commemorate the first summit of Indian army to Kanchenjunga in the year 1997. The climb to Kanchenjunga is considered fatal and even more difficult than the climb to Mount Everest from both Nepal as well as Tibet side.
The gears such as ropes, grappling tools etc used in the first successful expedition of Indian Army on Mount Everest is also exhibited here. Much like any other Indian museum, you can also see many plaques describing the events and usage of the product on display.
Inside the Kanchenjunga Museum, you can see displays of various mountaineering equipment and gears used by the powerful Army of India. Exhibits of modern warfare are another feature of the museum. It was initially supposed to be a High-Altitude warfare school.
Indian Army is one of the strongest and most powerful in the entire world. Not only is Indian Army intelligent and has muscle power, they are also equipped to guard their land deftly at some of the harshest international borders in the world. You must pay your respect to Indian Army by paying a visit to the Kanchenjunga Museum.
Timings of museum
Summer: 9:00 a.m. to 5 a.m.
Winter: 10:00 a.m. to 4 a.m.
Wular Lake near Gulmarg
Wular Lake or the Wullar lake is one of the largest fresh water lakes of Asia. Wular Lake, which is located in the Bandipora district of Jammu and Kashmir is one of the best offbeat places to see near Gulmarg. Spread acrpss 130 square kilometers, Wular Lake is located just 60 kilometers away from Srinagar. Srinagar to Wular lake takes around 2 hours.
Also visit the manicured garden which is located atop a grassy knoll near the Wular lake. There is also a toilet inside the garden. Nominal fee is charged to enter the garden. This place is off the beaten track which also means that you will not find crowds here. You can also visit Khir Bhavani temple and Mansbal lake which lies on the route to Wular lake. Distance between Mansbal lake and Wular lake is just 19 kilometers.
Gulmarg Biospeher Reserve
Gulmarg Biospeher Reserve is a must visit excursion from Gulmarg from the wildlife enthusiasts.
You can spot rare animals in Gulmarg Biospeher Reserve such as the red fox, snow leopard, Himalayan musk deer, the brown bear, black bear etc. Needless to say, Gulmarg Biospeher Reserve is also a birdwatcher's magnet as it attracts many migratory birds, especially in the peak of winters.
Do visit this offbeat destination near Gulmarg where you can study the best of fauna and flora of Kashmir in its natural habitat.
Strawberry Valley of Gulmarg
This is a hidden attraction of Gulmarg which not many tourists know about! Some of the finest quality strawberries are grown in Kashmir. The sweetest, juiciest and fleshiest strawberries I had in India were in the hill station of Mahabaleshwar near Panchgani and Wai in Maharashtra though.
The strawberry field of Gulmarg is not as well established or large as the one I saw in Mahabaleshwar. In fact, the tourism of Mahabaleshwar is built around strawberries. The same can't be said about Gulmarg. The strawberry valley of Gulmarg is just a small piece of land which looks lifeless in non-strawberry season.
Warning: Go here only when it is the strawberry season. Some local guides will paint a false picture of the beauty of Strawberry Valley and force you to go here in order to get a commission. Go with them only if it is the strawberry season otherwise you will be disappointed. There is nothing to see here when it is not the strawberry season. Strawberry Valley of Gulmarg is open from Sunrise to Sunset.
Ferozepur Nallah
Do visit this offbeat mountain stream located in Gulmarg. Located between Nurpur Pass and Chinamarg, Ferozepur Nallah is surrounded with natural beauty in every possible direction that you see. It is a good idea to just relax and read a book here. However, I fail to read books at picturesque locations like these as I am easily distracted by nature.
It is a favorite picnic spot of both locals and tourists. Much like anywhere else in Kashmir, the sky piercing pine trees, lush green meadows and snow enveloped mountains will be your constant company in Ferozepur Nallah.No wonder the camera never stays inside the bag here.
Ferozepur Nallah is also called as Shinmahinyu by the local people of Kashmir. The water at the stream here is so clean and clear that the locals here use it for drinking. The locals also belive that the water from Ferozepur Nallah is blessed by the spirits of mountains.
Some people also trek to Tosamaidan from Ferozepur Nallah via a 3 days trek. Tosamaidan is located some 50 kilometers away from Ferozepur Nallah. This unexplored hidden gem is a lesser-known place near Gulmarg.
Can I see Nanga Parbat from Gulmarg?
This area also offers stupendous views of Nanga Parbat aka Diamer or Deo Mir in Tibetan. At 26,660 feet or 8126 meters, Nanga Parbat is the 9th tallest mountain of the world. Nanga Parbat is made up of Sanskrit language and means 'The naked mountain'. It is located in Gilgit Baltistan in Pok. You can hike up the Aparwath Peak between 9 a.m. and 7 p.m.
Soul Window reflections
I have been lucky to trek to the foot of Mount Everest during Kailash Mansarovar Yatra in Tibet and Everest Base Camp Trek in Nepal. I also had amazing views of Mount Kanchenjunga, the 3rd highest mountain from Darjeeling Hill Station in West Bengal and Pelling and Gangtok in Sikkim. Kanchenjunga is the highest peak of India. It is considered to be a difficult to climb peak even by experienced Everesters.
Can I see Pakistan from Gulmarg in India?
Did you know that the twin Apharwat peaks are located very close to POK. In fact, you can see the Pakistan occupied Kashmir from the twin Apharwat peaks! Needless to say, it is an army stronghold as well. An Indian army post exists right at the top of the Mount Apharwat.
There is a road which reaches the top of Mount Apharwat. But it can not be used by civilians for tourism as it is a strict army area. There are some more army check posts and small villages along the sensitive border between India and Pakistan. By the way, I was also able to see the panoramic views of Pakistan from Kalo Dungar or the Black Hill in Rann of Kutch in Gujarat in West India. It is the highest point of Kutch!
Festivals of Gulmarg
Gulmarg Winter Music and Adventure Festival: Timing your Gulmarg trip during the Gulmarg Winter Music and Adventure Festival can be rewarding. Started in the year 2003, this unique festival aims at promoting music, dance, adventure sports and tourism in Gulmarg.
Expect adventure activities, dance performances, music bands, feature films, photography and delicious vegan and vegetarian food of Kashmir. You can also shop for rare souvenirs and local handicrafts from the flea bazar of Gulmarg during the festival.
Tulip Festival: Every year in the month of April, the Tulip Festival of Srinagar attracts lakhs of people who come to appreciate the beauty of nature in all its glory. Do read my comprehensive travel blog on Tulip Festival at A Soul Window – the leading travel blog of India. A Soul Window has also been listed as No.1 travel blog from India.
Excursions from Gulmarg
There are so many exciting destinations and places of interest near Gulmarg. You may consider visiting the below mentioned excursions from Gulmarg:
Martand Sun Temple: For the beautiful lost Sun temple of Kashmir. Do read my blog on Martand Sun Temple based on my personal experience.
Awantipura Temple: Devoted to Shiv ji and Vishnu Bhagwan, Awantipura Temple is another major Hindu Temple of Kashmir. You should read my comprehensive guide on Awantipura Temple to know more about the place.
Drang: The unknown Hindu Temple of Drang is a must visit. It falls between Srinagar and Gulmarg. I have penned a blog on Drang as well.
Srinagar: The very touristy Srinagar is still worth a dekko for its beautiful gardens, expansive lakes and ancient Hindu temples like Shankaracharya Temple which is located on a hilltop.
Pahalgam: A favorite of the nature lovers.
Shankaragaurishvara Temple: This lesser-known Hindu temple located in Pattan in Baramulla is a must visit.
Pampore: For Saffron Fields. This nearby place is a must see during saffron season.
Vegan and vegetarian food in Gulmarg
Contrary to popular belief, it is easy to go vegan and vegetarian in Gulmarg. I had delicious vegan and vegetarian Wazwan thali in Khyber Himalayan Resort and Spa. We even had sumptuous local Kashmiri food such as Dum Aalu, lotus stem curry etc on road side restaurants between Sri Nagar and Gulmarg.
You can try below mentioned vegan and vegetarian dishes in Gulmarg.
Modur Pulao
Dum Olav
Nadir Monji
Lyader Tschaman
Kashmiri Rajma
Kashmiri Baingan
Butter tea
Momos
Khambir
Sheermal (bread)
Souvenirs Shopping Guide to Gulmarg
Most of the shopping areas and souvenir shops are located around the tourist attractions of Gulmarg. You can buy local handicrafts, local utensils, clothes, shawls, winter wears, local pickles, jams, jellies etc from Gulmarg.
How many days are enough for Gulmarg?
Based on my experience, I would advise 2-3 days to enjoy the beauty and vibes of Gulmarg. You can see the best of Gulmarg in a day as it is a very small town. However, I would advise a minimum of 2 days in Gulmarg if you want to see other nearby places such as the Baba Reshi Shrine, Ferozepur Nallah, Strawberry field, Al Pather lake etc.
Gulmarg Biosphere Reserve deserves another day devoted entirely to it. Add more days if you want to just sit, relax and absorb the Gulmarg vibes.
Some picnic spots of Gulmarg are located a bit far off and takes more time to visit. Since these places are worth a visit, therefore you must try to visit Gulmarg for a longer time. Gulmarg tourism has been popular since times immemorial.
Is one day enough for Gulmarg?
In case you have shortage of time then you can easily see the top places of Gulmarg in a day. Most of the major attractions of Gulmarg can be seen in a day.
However, be warned that you will have to start very early for the Gondola ride and come down by afternoon if you want to see other major attractions such as Maharani Temple, Golf Course, St Mary's Church etc.
These are the only places you can cover in a day in Gulmarg if you plan well. I had visited most of the top tourist attractions of Gulmarg within a day in car. I could have also walked to all the best tourist places in Gulmarg if I had more time at hand.
Is Gulmarg safe to visit?
Gulmarg is one of the safest places I have been to. Being a major tourist attraction of Kashmir, it has all the modern frills and creature comforts available. From police to medical shops to clinics, you can find it all in Gulmarg. The tourists have never faced any issue while visiting Gulmarg.
When can I see snow in Gulmarg?
Contrary to popular 'snow behavior' of Indian tourists and otherwise, I hate to walk in snow, whether it is a high-altitude trek such as Roopkund trek and Dodital Darwa Pass trek in Uttarakhand or Yumthang valley in Sikkim. I like it dry! That's said, I still say that Gulmarg should be enjoyed only in snow as it is one of the finest snow destinations of India.
Where to stay in Kashmir
I stayed at the famous Khyber Himalayan Resort in Gulmarg. In fact, actress Deepika Padukone stayed in the room next to mine when she stayed in Gulmarg. Many other Political, Business and Bollywood celebrities have stayed in Khyber resort such as Nana Patekar, Sara Ali Khan, Saif Ali Khan, Ranbir Kapoor, Aditya Roy Kapoor, Kalki Koechlin, Arjun Rampal, Neha Dhupia, Sunny Leone, Raj Thakrey etc.
Business tycoon Adanis and Mukesh Ambani and Tina Ambani stayed in the presidential suite of Khyber Resort.
Which month is best to visit Gulmarg?
Gulmarg experiences different climate, weather and temperature in different seasons.
You can expect different sceneries in different months as Gulmarg offers a smorgasbord of terrains in different seasons.
Summer: In summer the same snowy landscape of Gulmarg is abundant with lush green meadows.
Winter: Winter is when you can see abundant snow in Gulmarg. I visited Gulmarg in the month of May. It had snowed 2 days after we left.
Monsoon: Most people avoid visiting Gulmarg in monsoon due to rains.
Is there snow in Gulmarg in April?
Yes. I visited Gulmarg between 11 and 15 April in Gulmarg. There was a thick layer of snow everywhere in Gulmarg in April when I visited. In fact, it snowed every few days in April.
What should I wear in Gulmarg?
Srinagar, on the other hand was completely bereft of snow and dry when it was snowing in Gulmarg when I visited in April. It was same like my visit to Sikkim in January. The popular Lachung was dry while Yumthang Valley was completely covered in snow at the same time when I visited.
Despite being located so close to Gulmarg, Srinagar has a different climate, weather and temperature than Gulmarg. I was able to manage in just a T shirt in Srinagar while I needed sunglasses, gloves and jackets in winters in Gulmarg. This is why it is wise to pack both light and heavy clothes, especially in months like March and April.
Backpacking Budget Travel Tips for Gulmarg
How expensive is Gulmarg? Gulmarg is as expensive as you want it to be! The maximum money you can spend in Gulmarg is on the Gondola ride.
You can also choose to stay in an ultra-luxury hotel such as The Khyber Himalayan Resort which is very expensive. That said cheaper accommodation options are also available in Gulmarg.
Apart from these food, local public transport, souvenirs etc are very low cost here. Be wary of the irritating local touts and local guides who might scam you and force you to buy an activity you don't need. For example, I do not enjoy the Pony Rides for both ethical reasons and also because it is irritating. Why not just walk. It is pleasurable and free!
Luxury travel Tips for Gulmarg
Some of the finest Luxury hotels such as Khyber Himalayan Resort and Spa is located in Gulmarg. I had stayed in this property which is one of the most expensive and luxurious 5-star hotels of India. Apart from splurging in expensive stays and fine dining, you can also spend on booking a cab for your entire Gulmarg tour. Luxury travellers can also try their hands on skiing and golf. There is not much else you can spend on in Gulmarg.
Skiing in Gulmarg
Gulmarg is an apt choice for the Ski-aficionado. As I arrived on the top of the Gondola Ride, my local guide at Gulmarg showed me a video clip on his mobile. A man clad in skiing gear, was effortlessly skiing from the top of the colossal white mountains. Within seconds, his speed quadrupled and he arrived at the base of the mountain in a jiffy. I thought it was some international destination and the man was some professional skiing celebrity. I gasped when the man told me it was him in the video. Skiing indeed is an inseparable part of people growing up and living in Gulmarg.
Why go to the ski resorts of South America or crave for skiing in Europe or spend a bomb on the overpriced skiing destinations of U.S.A., New Zealand, Japan and Canada when you can Ski at a shoestring budget right here in Gulmarg in North India. Gulmarg is one of the best skiing destinations of India.
Gulmarg has everything going for it! Whether it is the abundant snow, long unhindered slopes, easy accessibility to the big snow-clad mountains or beautiful backcountry, Gulmarg is the popular skiing destination of India for a reason!
One thing you need to keep in mind while skiing in Gulmarg is that there are avalanche prone slopes here. Also, a lot still needs to be done to make Gulmarg a world class skiing destination.
Other key skiing destinations in India are
Pahalgam
Solang Nala
Rohtang Pass
Narkanda in Himachal Pradesh
Kufri near Shimla
Johar Valley in Munsiyari
Auli in Uttarakhand
Dayara Bugyal
Mundali
Tawang in Arunachal Pradesh in the far North East India.
Yumthang Valley in Sikkim
How much it cost to ski in Gulmarg?
The skiing costs in Gulmarg varies depending upon the season and location.
Phase 1: Skiing cost in Phase 1 is INR 740 for Indians and INR 1,210 for foreigners
Phase 2: Skiing cost in Phase 2 is INR 1,210 for Indians and INR 1,900 for foreigners
How to reach Gulmarg?
Gulmarg is an easy to visit place. Gulmarg is not really a weekend destination from Delhi NCR but if you have a long-extended weekend, you can easily visit Gulmarg via flight! Gulmarg definitely is an weekend getaway from Srinagar which is located just an hour's drive away.
By Air: How can I fly to Gulmarg? There is no straight answer to it! I had arrived at Gulmarg via a flight from New Delhi. The nearest airport from Gulmarg is located at Srinagar, where I landed. From here, we took a taxi to reach Gulmarg. Prepaid cabs and shared taxis are available at Srinagar airport. The Srinagar airport is connected with Delhi, Mumbai, Amritsar etc.
By Bus: Public Buses from Srinagar, Sonamarg and Pahalgam to Gulamarg run regularly. Buses are also cost effective and cheap mode of transport.
By Train: can we go to Gulmarg by train? Well, the answer is no! There are no train stations in Gulmarg. Nearest railway station from Gulmarg is at Jammu. From Jammu one can take a taxi or bus to Gulmarg.
By Road Trip: It is a pleasure to drive up to Gulmarg either by self-drive or by a private cab. I prefer to just sit and enjoy the views, so private cab or window seat of public transport works best with me.
Which is more beautiful Gulmarg or Pahalgam?
Though both Gulmarg and Pahalgam are beautiful destinations in Kashmir, Gulmarg wins hands down. Being a more developed place, Gulmarg offers better services and more accessibility to breathtaking views around the year when compared to Pahalgam.
While Pahalgam is not that picturesque in summer, Gulmarg is awash with multihued flowers blooming everywhere. Even in the winter months, the charm of Gondola ride and snow activities in Gulmarg easily pips the things you can do in Pahalgam at the same time.
Having said that, in my opinion, Pahalgam is also worth a visit thanks to its unique beauty and charm!
Conclusion: Why visit Gulmarg?
Gulmarg is worth a visit for sure!
Gulmarg is not only one of the best skiing destinations of India but also the venue of one of the highest cable car and highest golf course of the world. Gulmarg being the top place to visit in Kashmir, attracts tourists mostly in the snow season. Whether it is the thicket of looming alpine trees or the Pir Panjal mountain range or the magical Gondola ride to Kongdori, there is no dearth of beauty in Gulmarg.
Do plan a memorable honeymoon vacation or a fun trip with friends and family in Gulmarg. Thank me later!
The view from my Soul Window is snow white!
Pin this blog to save the blog and plan a trip later!
Below are some travel blogs on Jammu and Kashmir
Best time to visit Vaishno Devi Mata
Helicopter Ride of Vaishno Devi
General Zorawar Singh and his battles
Other related Blogs
Pavagarh Temple in Gujarat
Manila Devi of Uttarakhand
Durga Mandir of Aihole
Radha Rani temple in Barsana
Maharana Pratap of Haldighati
Top Travel Blogger from India