Last Updated on January 2, 2022 by asoulwindow
About Mata Vaishno Devi Mandir in Katra, Jammu
I visited Mata Vaishno Devi twice. This blog is based upon my personal experience in the holy Hindu shrine. It is said that the benevolent Mother Goddess, Mata Vaishno Devi fulfils all the desires and wishes of a true bhakt or devotee. Mata Vaishno Devi is also known as Mata Rani, Vaishnavi, Ambe and Trikuta.
Maa or Mata, which is commonly used as both suffix and prefix for Vaishno Devi ji means mother in Hindi.
How was Mata Vaishno Devi formed?
In the Treta Yuga, the 2nd Yuga as per Sanatan Dharm aka Hinduism, the combined energies of the trinity of Hindu Goddesses Maa Saraswati, Lakshmi ji and Maa Kali have merged to form Mata Vaishno Devi.
Bhudevi, also known as Vasundhara or Bhumi is the Earth Goddess. Since Sita Maa from the Hindu epic Ramayan was born from Earth, Bhudevi is also known as mother of Sita ji. Being a consort of Varaha, the boar like 3rd Avatar of Bhagwan Vishnu, Bhumidevi is often also referred to as Varahi.
When Goddess Bhumi was being harassed by the evil forces that stated dominating on Earth, she went to the male trinity of Brahma, Vishnu and Mahesh for help but to no avail. Seeing the male trinity helpless, their consorts, the female trinity of Saraswati ji, Lakshmi ji and Parvati ji (Maa kali), came to rescue.
The female trinity of Hindu Goddesses combined their most powerful qualities and energies to create a new Goddess Mata Vaishno Devi. She waged one war upon wars until she emerged triumphant. Impressed with her power, the trinity asked Vaishno Mata to remain on Earth and serve as its permanent protector.
Soul Window Thoughts
Show me another mainstream religion apart from Hinduism where women are so powerful and famous and I will show you a live dinosaur!
Why is Mata Vaishno Devi famous?
Mata Vaishno Devi is so famous because the faith of crores of people are associated with this holy Hindu shrine. Without any modern marketing gimmick or advertisement campaign, crores of devotees pay a visit to Mata Vaishno Devi throughout the year. It is one of the most famous Hindu Temples in the entire world.
The Ramayan Connection of Vaishno Devi
Apart from the above mentioned Bhumidevi connection of Vaishno Devi with Ramayan, she also has an interesting story with Shri Ram, the seventh and the gentlest avatar of Vishnu ji. Much after the above-mentioned incident, Mata Vaishno Devi was born on Earth again as the daughter of a Brahmin couple. Ever since she was a child, she was a true bhakt or devotee of Vishnu Bhagwan. She wanted to marry him when she grows up.
To make her wish come true, and impress Vishnu ji, Mata Vaishno Devi used to meditate for hours in a cave. Her tapasya showed results when Vishnu ji, manifested in the form of Shri Ram, appeared before her. Since Sri Ram was already married and searching for his wife Mata Sita who demon King or Asura Ravan had abducted and taken to Sri Lanka, he expressed his inability to marry Mata Vaishno Devi.
Also Read: Lepakshi Mandir
However, seeing her heartbroken, Ram ji promised her that some-day he will come back to her and will get married to her only if she is able to recognise him. True to his word, Shri Ram, known as Lord Rama in West, returned to Mata Vaishno Devi as an old man. She failed to recognise him and thus they could not marry in Treta Yug.
Kalki Connection
Being the noble soul he was, Shri Ram promised Mata Vaishno Devi that he will marry her when he reappears in the form of Kalki, the tenth and final avatar of Vishnu Bhagwan. Kalki will appear at the end of the current Kali Yuga we are living in. He will eliminate the evil from society and start Satya Yuga, the golden age.
Interesting Facts
Did you know that you can see a beautiful statue of Kalki Avatar, riding a horse on one of the walls of Rani Ki Vav in Patan in Gujarat?
The Mahabharat Connection of Vaishno Devi
It is believed that before the epic war of Mahabharat at Kurukshetra commenced, Arjun had offered his prayers to Devi for blessings, as instructed by Shri Krishna, the 8th avatar of Vishnu Bhagwan. Delighted with his devotion, Devi appeared in the form of Mata Vaishno Devi. Arjun recited a strotam, 'Jambookatak Chityaishu Nityam Sannihitalaye'. It means that 'You who stay in a temple on a hill in Jambhu." Historians believe that Jambhu might have been the ancient name of Jammu. Vaishno Devi is thus considered a temple from the Pre Mahabharat era.
It was Shri Krishna who advised Arjun to visit Jambhu and seek blessing from Maa before the famous Kurukshetra war begins. In fact, it is widely believed that it was the Pandavas who built the first temples at Bhawan and Kol Kandoli. The 5 stone structures located on a mountain adjacent to Trikuta Hills represent the 5 Pandava brothers. This hill overlooks the holy cave.
What are three Pindis in Vaishno Devi?
I noticed during my visit that instead of any huge idol inside the Mata Vaishno Devi Gufa, devotees here worship the Goddess in the form of a huge rock with 3 heads or 3 holy Pindis. These sacred rock formations are worshipped by crores of Hindus from across the globe. This is a 5.5 feet tall rock. I noticed portraits of some other Hindu Gods such as Hanuman ji.
The three Pindis in Vaishno Devi represent Mahakali, Mahalakshami and Mahasaraswati. I was told their feet are washed by the waters of nearby holy Banganga rivulet. As I finished praying, I noticed pilgrims offering Laal Chunari (a red drape), fresh flowers, dry fruits, cash, silver products, gold jewelleries, cholas, prasad and even sarees to Mata Vaishno Devi.
Soul Window Facts
Did you know that people from the nearby Punjab also see Mata Vaishno Devi as Maa Durga or Maa Sherawali, the one who rides a lion? Her mount or vahan/savari is a lion (sher)
Soul Window Tips for Good Darshan
I was very lucky that during my visit it was not crowded and I had full 8-10 minutes for darshan in the main hall. And I didn't pay anything extra for this. Very few people get this opportunity because on most days, devotees are allowed just few seconds for darshan. You can also get a good darshan if you plan to go early morning, on a weekday or in low season of offbeat months.
Tunnel for close Darshan of Maa
After the prayers, I was directed by the pujaris towards a narrow tunnel which gave me close darshan of the holy Pindis. Despite the long queue, again I got a good darshan of Pindis. I navigated the narrow tunnel which had a railing which divides the people who are going in for darshan and leaving from the passage on the other side of the metallic railing.
This is done to ensure smooth and swift movement of huge influx of pilgrims without any fear of stampede, accidents or chaos.
Earlier the ancient cave path was used to get darshan of Maa. But owing to huge crowds a new path has opened to avoid mishaps and stampede. The ancient path is sometimes opened in the month of January and February, given the crowd is less than 10,000 per day.
Is camera allowed in Vaishno Devi?
Soul Window TIP:
Photography and Videography is strictly not allowed inside the Cave temple of Mata Vaishno Devi. There are free lockers in Bhawan where you can submit your cell phones, wallets, cameras, tripod, lenses etc. No one however, stopped me from shooting from mobile during the trek from Katra to Bhawan. I had left my DSLR camera in hotel itself. I took pictures and videos for my travel blog A Soul Window and You Tube channel from the good quality camera phone of Kavita, my co traveller.
Is Mata Vaishno Devi a Shaktipeeth?
Yes. Vaishno Devi is the most revered Shaktipeeth because this was the spot where the head of Sati Mata had fallen. Vaishno Devi is one of the 108 Shakti Peeths located across India, Nepal, Bangladesh and even Pakistan.
The other Shaktipeeth I visited was Mahakali Mandir in Pavagarh, Gujarat. It is located just 5 hours from Ambaji, another important Shaktipeeth.
Who discovered the Gufa of Mata Vaishno Devi?
A Hindu Pujari known as Pandit Sridhar has been credited with the discovery of the sacred cave of Mata Vaishno Devi. It is believed that Mata Vaishnavi herself instructed him about the directions to the gufa on Trikuta Hills in his dream.
Determined, the pujari or the priest embarks upon a journey and finally succeeds in locating the cave or gufa, as per the directions received by Mata herself.
Pleased with his devotion, Mata Vaishno Devi herself gave him divine darshan and further blessed him with 4 sons and a boon that he and his generations will be the final custodian of the holy cave.
It was Sridhar who started doing pooja (or worship) of the 3 pindikas present in the gufa or cave of the temple. To this date the descendants of Pandit Sridhar are entitled to take care of the holy Hindu shrine.
Do remember this story of Vaishno Devi when you offer your prayers at the sanctum sanctorum of this holy temple in Jammu.
The Story of Ardhakuwari Gufa Mandir
Hindu devotees, even today make sure to visit and offer prayers to Ardhakuwari Gufa Mandir as well, though it is not mandatory.Ardhakuwari holds immense religious significance as during the chaseMata Vaishno Devi hid here from the misguided Bhairon Nath for 9 months. She meditated and did Tapasya in this cave. She killed Bhairon Nath, soon after leaving the gufa at Ardhkuwari.
Also known as Garbhjoon Gufa, the rock worshipped in Ardhkuwari is shaped like the womb of a mother. It is a miracle in itself that even the tallest of men can easily enter this small cave. It is believed by Hindu devotees that the people who pay visit to Ardhkuwari Gufa are released from the cycle of life and death and attain Moksha, the final destination as per Sanatan Dharma. Also, if they devotees end up being born on Earth again, then their new birth remains a happy and prosperous one.
Located halfway between the base town Katra and the Bhawan area, Ardhkuwari is believed to be the original abode of Mata Vaishno Devi. Hindus firmly believe the story that confirms that Hanuman ji himself protected her while she was doing Tapasya aka penance in this holy cave for 9 months at a stretch. Hanuman ji therefore didn't allow Bhairon Nath for 9 months in the cave which is now revered as Ardhkuwari.
Vaishno Devi history
Not many people, including those who visit frequently know the true Vaishno Devi history!
Mata Vaishno Devi took birth on Earth as Vaishnavi. The Goddess who manifested her in human form instructed her to spend her life on Earth while aiming to achieve the highest level of consciousness. Mata Vaishno Deviwas a major devotee of Vishnu ji and Shri Ram, an avatar of Vishnu ji.
As instructed by Prabhu Ram, she established an ashram on the foothills of the Trikuta Hills. She used to spend her time in the Ashram, meditating and attaining a high level of spirituality.
Bhairon Nath and Mata Vaishno Devi story
There is an age-old story about the past of Mata Vaishno Devi Temple, 900 years to be precise. As per the oral tradition, we know that Mata Vaishno Devi who was reborn as Vaishnavi here had taken a vow of celibacy. She was an ardent bhakt (devotee) of Vishnu ji.
She once asked Sridhar, a local Brahmin from nearby village in Hansali to hold a Bhandara, a community feast, for the people of the area near Bhumika Stream. Hansali village is still present near Katra.
The feast was going well. However, a local tantric or Demon God, known as Bhairon Nath starteddemanding meat and liquor. Vaishnavi refused stating that only strictly vegetarian fare will be distributed in Bhandara as it was a feast for the Brahmins.
Bhairon Nath however beganlusting after her. Bhairon Nath was actually sent by his guru, Mahayogi Guru Gorakh Nath ji to test if Mata Vaishnavi had achieved the pinnacle of spirituality or not?
Interesting Facts
Did you know that the Gorakhnath Mandir of Gorakhpur, my native town in Uttar Pradesh is named after Mahayogi Guru Gorakh Nath ji.
Bhairon Nath deviated from his path and lost his sense of purpose. He fell in love with her and pursued her with the wrong use of the Tantric powers he was a master of. He pestered her to marry him. Mata Vaishno Devi went to what is now the holy cave temple at Darbar in Bhawan area. She thought she would be able to do her tapasya and meditation in complete silence and peace in the quaint hills. However, Bhairon Nath followed her desperately.
Upon reaching the Gufa or the cave, using a sword, she killed Bhairo Nath after assuming the form of Mahakali or Chamundi, the fierce form of Maa Kali. He was beheaded in the same cave temple of Mata Vaishno Devi, which is revered by crores of people today. The force was so immense that while his torso remained at the main entrance, the head fell as far as the current Bhairon Temple. I noticed that the torso of Bhairav Nath has become rock now. You can see it within the main gufa in sanctum sanctorum of the temple.
Bhawan is now the final home of Mata Vaishno Devi where to this date she gives darshan to her bhakts in the form of 3 pindikas aka pindi or rock formations. This is why Vaishno Devi is so famous and visited by millions of people every year. I visited both the cave temple of Mata Vaishno Devi Bhawan as well as the Bhairon Nath temple. It is quite a distance and accessed by an ultra-modern state of the art ropeway or a walk.
Interesting Facts
Did you know that during the great chase, Mata Vaishno Devi made pit stops at various places such as Banganga, Charan Paduka and Adi Kumari before she stopped at Bhavan. To my surprise I found during my Mata Vaishno Devi Yatra that these places exist to date and are highly revered by crores of Hindu devotees. In fact, she meditated for 9 long months in the cave of Adi Kumari.
Temple of Bhairon Nath ji
It is believed by lakhs and crores of Hindus that the huge boulder which I saw at the mouth of, the actual Gufa is nothing else but the petrified torso of Bhairon Nath ji. While he was breathing his last, he repented and realised the blunder he did and begged for forgiveness. Mata Vaishno Devi, being the benevolent Goddess she is, granted him divine forgiveness and salvation.
Thanks to a boon that Mata gave to her tormentor Bhairav Nath, the Mata Vaishno Devi Yatra is still considered incomplete if devotees leave Vaishno Devi cave temple without having a darshan of Bhairon Nath. Darshan of the severed head of Bhairon Nath is done only after the darshan of Mata Vaishno Devi. You can reach Bhairon temple by either walking, palanquins or by taking a ropeway. Temple of Bhairon Nath ji is a top place to visit near Mata Vaishno Devi Bhawan.
Where is Mata Vaishno Devi located?
The holy shrine of Mata Vaishno Devi Gufa Mandir is located on the famous Trikuta Hills, just 13 kilometres away from Katra, the base town below. It is one of the most important Hindu pilgrimage centres in the union territory of Jammu and Kashmir. This detailed travel guide on Vaishno Devi ji has all the information that you will ever need.
Soul Window Facts
Did you know that Trikuta Hills has also been mentioned in Rigveda, the ancient Hindu scripture?
Where is Katra located?
Katra is a very popular small town located on the foothills of Mata Vaishno Devi Temple. Located in the Reasi district, it is just 45 kilometres and 1 hour away from Jammu city via NH144 and NH44.
Shri Mata Vaishno Devi Shrine Board
The famous Shri Mata Vaishno Devi Shrine Board was set up in the year 1986. Since then, it is managing the huge crowds that gather at Mata Vaishno Devi every day and every year.
Maa Vaishno Devi Mandir – Second Most Visited Temple in India
Did you know that in the year 2015 alone, as many as 88 lakh, mostly domestic Hindu devotees visited Maa Vaishno Devi. No wonder, Mata Vaishno Devi is the second most visited Hindu pilgrimage destination of India.
This number is continuously increasing every year. When I asked my porter if foreigners also come here? To my surprise he replied that yes, Shri Mata Vaishno Devi shrine is also visited by Non-Hindu foreigners every year.
Helicopter Service for Mata Vaishno Devi Temple
In case you are old, different abled, busy, pregnant, recovering from an injury, have lots of extra cash, or even a Travel Vlogger or One of India's top Travel Bogger like me then you might want to avail the reasonably priced Helicopter Service for Mata Vaishno Devi Temple. The Helicopter ride from Katra to Sanjichatt near Vaishno Devi Bhawan and from Sanjichatt to Katra is only INR 1730 per person on way and INR 3460 for a round trip. It takes just 8 minutes to cover the distance.
You can read my Complete Guide on Helicopter Services in Vaishno Devi .
How to reach Vaishno Devi?
Rail: Mata Vaishno Devi Mandir, the popular Hindu religious site, is located just 13 kms away from both Katra Railway station and Katra town.
Air: Nearest airport from Katra is the Jammu airport which is located just 50 kilometres away.
Bus: Buses to Katra are easily available from Jammu. Both air conditioned and Non-AC buses are available.
Road Trip: You can do road trip from Jammu or Phagwara or New Delhi on smooth road like we did. We drove all the way from Ghaziabad, stopped for 2 days at Phagwara and drove from Phagwara to Mata Vaishno Devi. It was a fun filled and safe road trip. Watch out for monkeys on some roads though. Do not feed them.
How long is the walk to Vaishno Devi Temple?
There is a walk of 13 kilometres from the base in Katra to the Bhawan in Mata Vaishno Devi Mandir. The Mata Vaishno Devi Yatra begins at Banganga and passes through Ardhkuwari and Sanjhichatt before ending at Bhawan, the final abode of Maa.
Climb Up: I and my friends Amit and Kavita had started the walk early morning in November. It was a pleasant walk and we didn't feel tired even after reaching Bhawan.
Climb Down: While returning from Bhawan, it became sunny and we started to feel tired, so we did a mix of walking and riding a vehicle, a battery car. After walking for more than half the path, we hired the vehicles which ply for some distance during the chadai here.
Inclines: Both, the ascend as well as the descend to Mata Vaishno Devi Mandir are smooth. The incline happens gradually. The most difficult part (though I found it very easy) were the initial 5-6 kilometres.
How difficult is Vaishno Devi trek?
I personally found the Vaishno Devi trek to be quite easy for both a high-altitude trekker like me or a novice. You can buy a wooden stick for as low as INR 50. Trekkers like me use trekking poles a lot to distribute their body weight. I didn't need it but you must use it if you feel the need. This information packed detailed travel blog elucidates on all the information you will need before embarking upon Mata Vaishno Devi Yatra.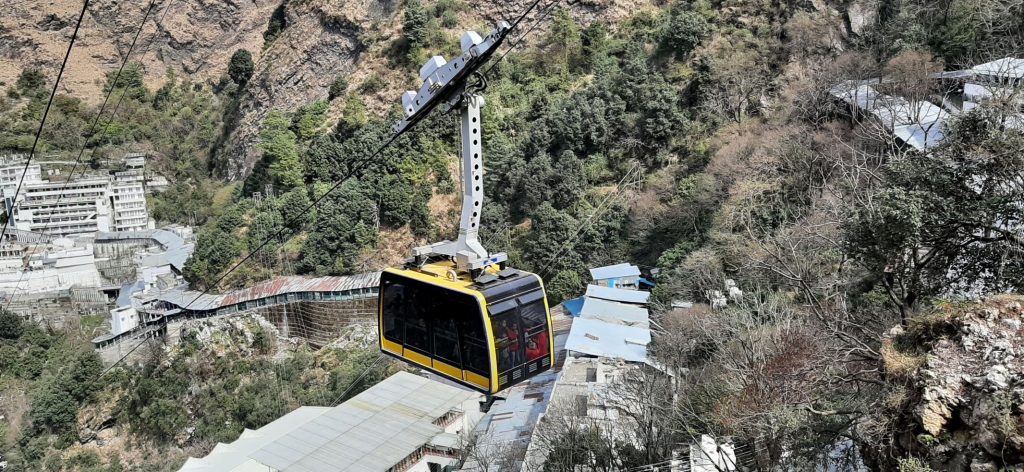 Ropeway or Udankhatola of Mata Vaishno Devi
Is ropeway available at Vaishno Devi? Yes, the recently introduced ropeway or Udankhatola is located in the Bhawan area on the top. This was one of the most ultra-modern and smart ropeways, I had ever seen in India, followed by the modern ropeway I saw for Mahakali Mandir in Pavagarh in Gujarat.
This ropeway plies between Mata Vaishno Devi cave and the nearby Bhairon Ghati. You can reach Bhairon Ghati by foot too but I advise taking the Udankhatola, for the sheer experience. I and my friends took this short ride which took just 2-3 minutes (But longer for the wait) and offered nice views since the enclosure is totally transparent.
There was no space left for sitting, so we remained standing, which is OK because it doesn't take very long and you get better pictures and videos while standing, Like I did! Cable car started in Vaishno Devi just few years ago.
Vegan and Vegetarian Food Guide in Mata Vaishno Devi Mandir
By strict orders, only and only Vegan and Vegetarian Food is available in Katra and Mata Vaishno Devi Mandir. Many restaurants offer pure vegetarian Sattvic food in Katra town.
Madhuban Restaurant: Located within the bustling Katra Market, the famous Madhuban Restaurant offers great Sattvic Food. They do not use onion, garlic, eggs etc in their dishes. I had my lunch and dinner in Madhuban Restaurant during both my visits. They have a vegan café (Think Soya Milk Coffee!) running successfully in Shirdi as well.
Also Read: Sattvic Vegetarian Food I had in Kailash Mansarovar Yatra.
Are alcohol and cigarettes allowed in Katra and Mata Vaishno Devi Mandir
Alcohol and cigarettes are strictly not allowed for consumption in both Katra and Mata Vaishno Devi Mandir. Some people do smuggle alcohol and cigarettes in these areas but I would advise not to. You must visit the holy Mata Vaishno Devi Mandir with a pure mind and without any substance abuse and consumption of meat.
What is the best time to visit Mata Vaishno Devi Temple?
Navratra in October is when Hindu devotees visit in huge numbers which can go up to lakhs of people in a day. Navratra is when Hindus celebrate the victory of Good (Devi) over evil (Asura or demons). The biggest Navratri celebration of India happens in Mata Vaishno Devi Temple. It is a good time to be in Vaishno Devi, Jammu, but brace up for huge crowds, jostling for space, non-availability of hotels and chaos. But if you can manage it then you must visit during Navratri.
Winter: Expect snow fall in the month of December and January. Make sure to carry woollens, monkey caps, raincoat, umbrella, windcheaters and gloves. The Shrine Board provides free blankets which can be deposited again.
Summer: may and June are the hottest months in Vaishno Devi, Jammu.
Monsoon: It rains the most in July in Jammu. Expect sporadic rainfall in Jammu in the months of August and September as well. I visited in August and the weather was perfectly fine. The shaded path will ensure you will not get wet.
Also Read
Read my full Guide to Weather in Vaishno Devi to plan better. I have written and published many related travel blogs on Mata Vaishno Devi and other Hindu destinations my blogs A Soul Window which has often been mentioned as number 1 travel blog of India apart from being listed as best Indian travel blog several times.
How long it takes to complete Mata Vaishno Devi Yatra?
We took around 3-4 hours to reach at Bhawan. We had taken only 5-7 minutes break 4-5 times during the yatra to Mata Vaishno Devi Dham. However, we were young and fit. In case, you are performing the yatra to Mata Vaishno Devi with differently abled, old people or kids in the group then you must take adequate rest. Time taken should not be a matter of concern in such a scenario.
In case, you are short of time then I recommend you to take the palki ride or helicopter ride to ferry unfit and old devotees.
Soul Window facts
Did you know that over 3,64,643 pilgrims visited Vaishno Devi during Navratra of 2019.
How many people visit Mata Vaishno Devi Temple in a year?
In the year 2018 and 2019, around 50 lakh people visited Mata Vaishno Devi Temple in one year. The years 2011-2012 saw the higest footfall between 2000-2020 when the holy shrine saw a whooping 1 crore people offering their prayers at the holy gufa or cave.
Below is a list of how many devotees visited per year in chronological order.
1986 – 13.96 lakhs
2012 – 1.04 crores
2013– 93.24 lakhs
2014– 78.03 lakhs
2015– 77.76 lakhs
2016– 77.23 lakhs
2017– 81.78 lakhs
2018– 85.87 lakhs
How much Mata Vaishno Devi Temple earns?
Needless to say, one of the richest Hindu temples of India and the world is Mata Vaishno Devi Temple. Much of its income can be attributed to just donations from the devotees. The donations include huge cash, gold and silver jewelleries etc.
As much as INR 117 crore or USD 16 million is earned by Mata Vaishno Devi Mandir in a year. As per some claims, INR 2,000 crore, 4,700 kgs of silver and 1,800 kgs of pure gold were donated by rich and poor Hindus alike in the last 2 decades, viz 2000 to 2020.
Which famous people visited Vaishno Devi?
Swami Vivekanand and Sikh Guru, Guru Gobind Singh Ji have visited Vaishno Devi.
Akshay Kumar, Bollywood actor is another famous person who has an interesting Vaishno Devi Story to share from his childhood.
Actors Ayushman Khurana, Priyanka Chopra and Rajkumar Rao with Patralekhaa are other famous celebrities who visit Mata Vaishno Devi.
Who is allowed inside Vaishno Devi?
The Muslim porter we hired told me that Christians, Sikh and people from foreign nations and other faiths are also allowed inside the Mata Vaishno Devi Temple. In fact, to my utter surprise many foreigners, who have nothing to do with Sanatan Dharm also visit Mata Vaishno Devi Temple. That said, majority of people who visit are devout Hindus.
Mata Ka Bulawa: My Experience
Mata ka Bulawa is a popular phrase used by Hindu pilgrims. It means that unless and until Mata Vaishno Devi herself wants you to visit the Hindu shrine, you can not visit it. I experienced it myself. During my first trip, I and my co traveller, had to leave from the main security gate of Mata Vaishno Devi Temple because of lack of time. We had actually visited Katra for a travel blogging related campaign and despite spending a night in Katra we failed to hike up to the sacred darbar of Mata.
My second visit was unplanned too. I had no intention of visiting Mata Vaishno Devi Temple. I was feeling down and devastated due to a major personal setback. My friend Amit and Kavita suggested we go to Rishikesh and Haridwar. We had finalised it until Amit made last minute plan to go to Mata Vaishno Devi Temple.
I said yes without thinking much and the next thing we know is we are stuffing our faces with gulab jamuns in Katra market. Not only did we have a very peaceful and prolonged darshan (which is rare) at Mata ka Darbar, but we also healed ourselves from personal loss and suffering. Indeed, you cannot visit Mata Vaishno Devi Temple unless and until Mata calls you!
I experienced the same with my impromptu trip to Kailash Mansarovar Yatra. Not every one gets a chance to visit the abode of Shiv Bhagwan in their lifetimes. Very few people get this opportunity for a small window period. Again, I did not plan a trip to the sacred Kailash Parbat and holy Mansarovar Lake in Tibet.
It was sheer destiny that one fine day, thanks to Scout My Trip and Madhuban Food, I recived the call, "Abhinav pack your bags, you are going to Kailash Mansarovar Yatra." I had not even realised how important this trip was and how lucky I was to be chosen for this journey until I found myself crying in front of Kailash Parvat. I am sure Shiv ji handpicked me for this journey of a lifetime.
Where to stay in Katra
Luxury hotel
I stayed in Lemon Tree Hotel
Pro: Great luxurious and spacious rooms, nice food and huge lobby
Cons: Lemon Tree hotel is not walking distance from Katra market. But if you have a car, it is just few minutes' drive away from Katra market.
Guest Houses
Many yatris also prefer staying at guest houses set up by Shri Mata Vaishno Devi Shrine Board. These guest houses include Saraswati Dham, Vaishnavi Dham, Niharika Yatri Niwas, Ashirwad Bhawan, Kalika Dham and Shakti Bhawan. These are located in close proximity with both Katra Bus Stand and Katra Railway Station.
Languages spoken in Mata Vaishno Devi
Hindi is the most understood and spoken language in Mata Vaishno Devi apart from local dialects. Some people can also understand and speak English.
Photography Tips for Mata Vaishno Devi
The best photography vantage point is just when the trek to Mata Vaishno Devi dham is about end. Do click the moment you see the first glimpse of Bhawan. The views from a local viewing platform near the temple of Bhairon Nath ji is also a great place to not just take pictures and video but also soak in the lovely views.
How many days to spend in Mata Vaishno Devi?
2 days are enough to visit Mata Vaishno Devi. We stayed in Katra for 3 nights and 3 days. Since we drove all the way from Phagwara to Mata Vaishno Devi, we rested for the first night. The next day, entire day was spent in darshan and hiking, on the third day we rested and left the next day.
What to wear in Mata Vaishno Devi?
You should wear good shoes irrespective of any season. Since it involves lot of walking, therefore it is a good idea to wear comfortable shoes. In summers, a simple cotton T shirt, dhoti-kurta, salwar suit and saree are fine for men and women respectively. If you are doing the yatra to Mata Vaishno Devi in winter, make sure you wear woolen clothes, thermal wears and gloves etc.
Timings of Mata Vaishno Devi
Since Timings of Mata Vaishno Devi is one of the most important Hindu Pilgrimages of India, the shrine is open 24 hours and 365 days a year.
Local Transport for sightseeing in Mata Vaishno Devi
Locally autorickshaws are available. The autorickshaws can drop ypu to the main entrance from where trek to Mata Vaishno Devi begins. Vehicles such as taxi, cabs, autorickshaws are available here throughout the day, including late night and early morning.
ATM in Mata Vaishno Devi
There is no dearth of ATM in Katra and Mata Vaishno Devi. However, most of the ATMs are concentrated in the Katra area. It is advised to withdraw some cash in Katra itself before starting the hike to Bhawan. Digital currency is not accepted at most places here.
Solo Trip Tips for Mata Vaishno Devi
It is very easy to go on a solo trip to Mata Vaishno Devi. You do not really need any guide to show you the route of trek to Mata Vaishno Devi Bhawan. It is a fairly simple and easy yatra and can be easily followed by an experienced solo traveler like myself without any help.
Backpacking Budget Travel Tips for Mata Vaishno Devi
There is hardly anything you can spend on while visiting Mata Vaishno Devi. The only things we spent during our Mata Vaishno Devi trip included car fuel, hotel expenses, nominal food cost, porter fees (we didn't need, we wanted to support locals).
Mata Vaishno Devi is a very low-cost destination. In fact, it was one of my most pocket friendly places to visit.
Luxury travel Tips for Mata Vaishno Devi
In case you have deeper pockets, you can skip the trek and choose to fly to Mata Vaishno Devi Bhawan via a more expensive helicopter. However, it lacks the charm of a trek and the camaraderie you share with other devotees.
Many luxury hotels are also located in Katra. This is where you can splurge of luxury in Katra and Mata Vaishno Devi area.
Is Mata Vaishno Devi safe to visit?
Yes, Mata Vaishno Devi is a very safe destination. There are so many good Samaritans here who will help you on every turn, if required. However, stay guarded for any stampede like situation especially during holidays such as New Year, Navatari, Diwali etc.
Apart from this, devotees who trek as early as 5 a.m., like we did, find Mata Vaishno Devi to be very safe.
Festival of Mata Vaishno Devi
Expect huge crowds on festivals such as Navaratri, Diwali and New Year. This is when Mata Vaishno Devi receives most number of footfall.
Toilet facility in Mata Vaishno Devi
Impressive clean toilets are available at every step even throughout the trek to Mata Vaishno Devi. I was impressed with the cleanliness and fresh airy feel of the toilets at Mata Vaishno Devi.
Souvenirs Shopping Guide to Mata Vaishno Devi
Numerous shops line up the streets in and around Mata Vaishno Devi. On the first night before sleeping, we roamed around the market of Katra and even shopped for some souvenirs.
Metallic idols of Gods and Goddesses from the Hindu pantheon, trinkets, pooja samagri, decorative items and even good quality dry fruits are some of the souvenirs you can shop for when visiting Mata Vaishno Devi and Katra.
Conclusion: Why visit Mata Vaishno Devi?
People who ask if Mata Vaishno Devi is worth a visit have no idea about its spiritual importance. Crores of Hindu devotees visit Mata Vaishno Devi every year without any advertisement or pomp and show.
The view from my Soul Window is devotional!
Pin this blog to save the blog and plan a trip later!
Related Blogs
Below are some travel blogs on Jammu and Kashmir
Helicopter Ride in Vaishno Devi
Gulmarg city guide
Other related Blogs
Pavagarh Temple of Gujarat
Manila Devi Uttarakhand
Durga Mandir, Aihole
Radha Rani temple of Barsana
Sarnath travel diary
Maharana Pratap and Haldighati
General Zorawar Singh and his victories
Top Travel Blogger from India