Last Updated on December 5, 2019 by asoulwindow
I had always wanted to attempt ziplining but kept postponing it. Also known as fox flying, it is a simple sport where one is safely harnessed to a thick metallic wire and released only to be stopped in the middle of the wire. After an easy drop of the first half, the fun is in completing the next half by pulling one's body on the rope to reach the other side.
Though the narrative makes the sport look like a cushy job, it has its own challenges. The strenuous part is pulling your body for the large part of the sport. Having put on some weight recently, I did find it a bit demanding but not impossible. My trick was to take it slowly and also soak in the views beneath and around me.
Our wire was tied across a river in the middle of the Jim Corbett National Park. There was a thin stream of water which carried in it tiny fish. The river was not voluptuous but was semi dry. That however did not take away from its beauty. Come monsoon and the same river would become unrecognizable.
As soon as we landed on the other side, we were escorted to our next adventure sport, equally exciting and another first for me. Read about it in the links below.
Spread the love, share this blog
Be a part of my journey on social media. The content I create there is different from this blog.
Pls subscribe/follow/like: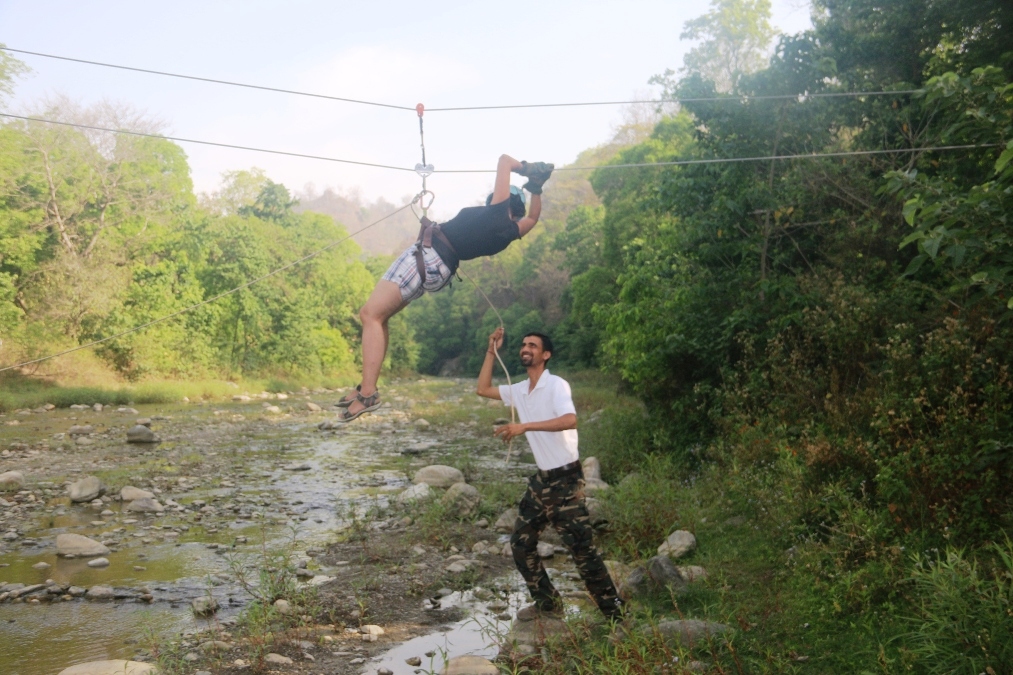 Related blogs :
Corbett Iris Spa and Resort : Jungle beyond Tigers
Note: I was hosted by Corbett Wild Iris Resort and Spa. The resort conducts many such adventure sports within the forest. Check their website for more info or ask me in commenst below. I was accompanied by travel blogger/journalists Mrs. Alka Kaushik, Mr. Dipanshu Goyal, Ms. Parnashree Devi, Ms. Swati Jain, Ms Suhana Sajwan
WARNING : COPYRIGHT TO ALL THE IMAGES AND TEXT HERE REMAINS WITH ME. YOU CAN NOT JUST LIFT THE CONTENT AND USE IT WITHOUT MY PERMISSION. STRICT LEGAL ACTION WILL BE TAKEN IF CONTENT IS STOLEN. YES, I AM SERIOUS.
Credit : The first picture is by Parnashree Devi , rest are by Dipanshu Goyal
Top Travel Blogger from India