Last Updated on March 24, 2023 by asoulwindow
Shivpuri in Rishikesh Camping and River Rafting
It is now a known fact that Rishikesh is one of the best places for camping and white river rafting on the Holy Ganga River of India. In fact, both the activities viz. camping and white river rafting are done together in Shivpuri and Rishikesh. Here is all you want to know about Camping in Shivpuri Rishikesh!
Information about Shivpuri in Rishikesh
No wonder, adventure enthusiasts from New Delhi, Noida, Gurgaon in North India and people from other Indian states and foreign countries head to Shivpuri and Rishikesh for a memorable camping and adrenaline packed rafting holiday. This comprehensive guide on camping in Shivpuri will help you plan a perfect camping and rafting trip in both Shivpuri as well as Rishikesh in Uttarakhand, India.
Where is Shivpuri located?
Located in backdrop of the picturesque Shivalik range of mountains, Shivpuri is located in Uttarakhand in North India. Shivpuri is situated just 16 kilometers away from the very popular Hindu pilgrimage Rishikesh. There are many tourist places in Shivpuri. The robust Rishikesh tourism has helped catapult Shivpuri on to the world tourism map.
Thanks to its proximity with Delhi NCR region, Shivpuri makes for an amazing weekend destination from New Delhi, Ghaziabad, Noida, Gurugram etc.
Why is Shivpuri in Rishikesh world famous?
What is special about Shivpuri? Well, Shivpuri is world famous for its pristine river beaches, lofty mountains, adventure activities, cozy campsites, great organic food, fresh air and scenic locations. The holy River Ganga that flows here is another magnet that pulls for devotees and tourists alike.
The foreigners call it as Ganges River. Shivpuri camping is on the bucket list of most people, especially in the NCR region of North India. The picnic spots of Shivpuri Rishikesh are fast gaining popularity, thanks to the outdoor adventure sports it offers. Rishikesh Uttarakhand has few parallels.
Nomenclature of Shivpuri
Shivpuri in Rishikesh is named after the famous Hindu God Shiv Bhagwan. It is said that Shivpuri is the abode of Shiv ji. No wonder, a very famous Hindu temple called as Neelkanth Mahadev Mandir is located in Shivpuri. Thousands of Hindu devotees throng the Neelkanth Mahadev Temple every day to offer prayers.
Places to see in Shivpuri and Rishikesh
Not many know that there are many interesting places to see in around Shivpuri. Camping in Shivpuri Rishikeshdoesn't have to be aboutcocooning inside the luxury tents.There is so much you can do around Shiv Puri Rishikesh.Shivpuri is surelyworth a visit. The best part is that the sightseeing places of Shivpuri, Rishikesh and Haridwar are located quite close to each other.
This list of best places to see in Shivpuri will help you plan an amazing holiday here. The most important places to visit in Shivpuri are as below:
Neelkanth Mahadev Mandir
During my second visit to Shivpuri in Rishikesh, I paid my respects at the world-famous Shiva temple, known as Neelkanth Mahadev Mandir. I was fortunate to visit the temple on Monday, considered to be an auspicious day for devotees of Shiv Bhagwan.
I offered bel leaves, milk and honey on the Shivling here. Some devotees also tie sacred threads and even bath at a water tank here. It is a very busy temple, especially during the weekends.
For elders and differently abled, be warned that the way to the temple is long. Devotees must park their cars in the parking area and walk from there. Though the path is straight, it can still be a difficult walk for many, especially elders.
The views around Neelkanth Mahadev Mandir is scenic. Expect lush green mountains, punctuated with irregular cute homes. The road to the temple is equally beautiful. On my second trip, my friend Amit Manral drove on the narrow mountain roads, even as I kept looking at the jaw dropping views from the windows.
The area outside the Neelkanth Mahadev Mandir is lined with shops selling pooja samagri, statues of Hindu deities, prasad for offer, non-alcoholic cold drinks and food.
Visiting Neelkanth Mahadev Temple is one of the best free thing to do in Shivpuri, Rishikesh.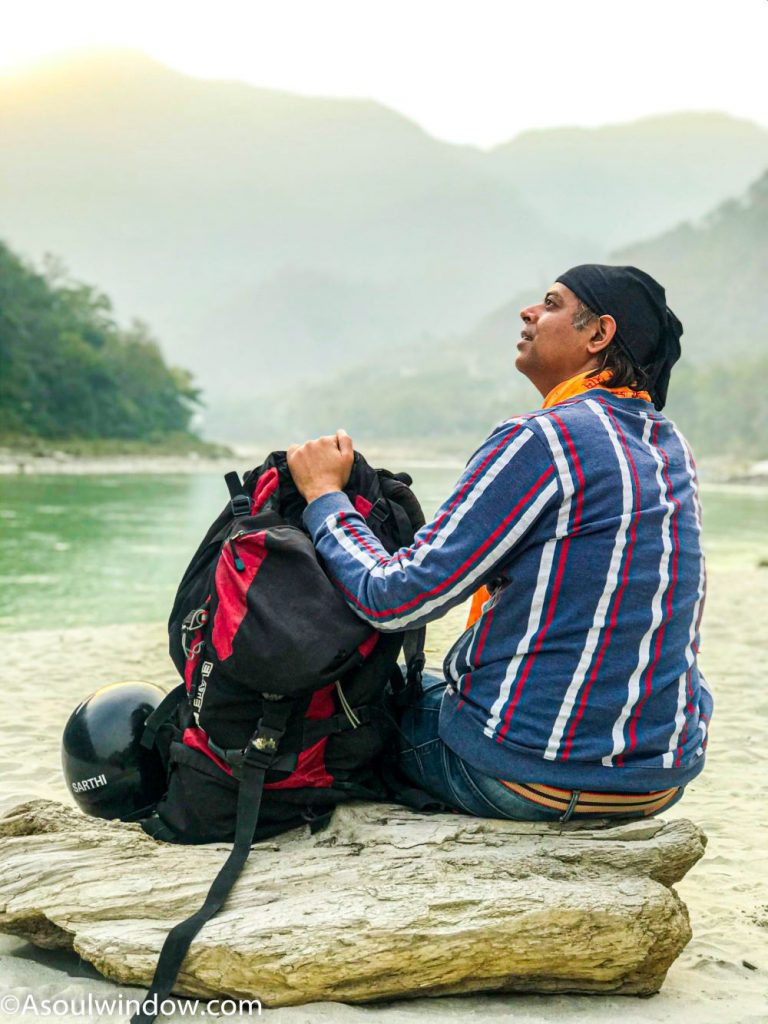 Goa beach of Shivpuri
During the evening, I and my friend Jeetendra Sharma visited the famous Goa Beach, which is located very close to Stay In Camp and Camp In Shivpuri. It has nothing to do with Goa. It's just that the locals call it Goa Beach. It is one of the best places to visit in Shivpuri near Rishikesh.
You can either walk up to the Goa beach or take a bike here. We had the entire river beach to ourselves and saw one of the most stunning sun-set by the holy Ganga River. This river is sacred to Hindu people across the globe. There are many such stunning river beaches in and around Shivpuri which very few people know about.
This hidden gem is one of the top offbeat places to see in Shivpuri in Rishikesh.
Marine Drive of Shivpuri
Not many know about this secret offbeat place near Shivpuri Rishikesh. The Marine Drive of Shivpuri is not to be confused with the Marine Drive of Mumbai or Lucknow. Located close to the Stay in Camp and Camp in Shivpuri, we drove to the Marine Drive and were stunned by its grandeur and undulating vistas.
The patterns made by the white sandy beaches around the river were visually stunning. A colossal suspension bridge, much like the more famous Laxman Jhoola in Rishikesh connected the Badrinath road to the other side of the bridge.
We enjoyed our drive till here. Absolutely zero crowds, empty roads and pleasant weather made it a memorable excursion from Shivpuri in Rishikesh. To reach Marine Drive of Shivpuri, we arrived from Stay In Camps and Camp in Shivpuri via the Badrinath Highway on bike. Public transport is also available till and from here.
Keep your eyes peeled for Sanuj Hotel and Restaurant as you drive on the Badrinath road from Rishikesh or Shivpuri. Marine Drive of Shivpuri is located right next to road side Sanuj Hotel. Address is Badrinath Road, Byasi. Phone number is 941214696.
Neer waterfall
This offbeat place to visit near Shivpuri lies on the road between Rishikesh and Shivpuri. Neer waterfall is very popular with both tourists and locals alike. We took an inward road from the highway to arrive at Neer waterfall.
Strangely, the entry to Neer waterfall is ticketed. One needs to buy tickets much before arriving at the waterfall.
Some people love to swim at the Neer waterfall too. It was easy to reach Neer waterfall for us as we were on a self-driven bike. Visiting Neer waterfall can be a bit tedious via public transport. It is located near Shiv Puri Rishikesh.
Random beaches of Shivpuri
Not many know that there are many big and small random River beaches in and around Shivpuri in Rishikesh. Many of the beaches are not even named.
However, you must ensure whether a particular beach is safe or not. Not all beaches of Shiv Puri Rishikesh are safe for a swim. Shivpuri Camping on the beach is also very common.
White water river rafting in Shivpuri and Rishikesh
The good news is that white water river rafting starts from Shivpuri. This is why most travelers prefer to stay in Shivpuri and not Rishikesh. You can enjoy the camping experience in Shivpuri followed by a White-water River rafting experience from Shivpuri to Rishikesh. You can then chill in Rishikesh and return back to your campsite in Shivpuri or leave for home.
In case you plan to leave for your home after rafting then I suggest that you should stay in Shivpuri for at least 2-3 days to enjoy the nearby offbeat places before indulging in White water river rafting.
From Shivpuri to Laxman Jhoola in Rishikesh, the white-water-raft distance is 16 kilometers on Ganga River. The raft route takes approximately 3 hours to complete. You can also decide to have a shorter one, but I recommend the longer classic route. Once you reach Shivpuri near Rishikesh, you will get many on the spot offers as well.
Some well-known River Rapids of Shiv Puri Rishikesh are:
Cash flow
Clubhouse
Double Trouble
Golf Course
Hilton
Initiation
Return to Sender
Roller Coaster
Tea Off
Top Things to do in Shivpuri
There are so many exciting things to do in Rishikesh and Shivpuri. Most camping sites run tour packages which includes stay in luxury camps, river rafting and other adventure activities such as:
Beach Camping
Body Surfing
Beach activities
Cliff Jumping
Jungle Trekking
Jungle Walks
Nature trails
Kayaking
Mountaineering
Cliff jumping
Rappelling
Rock Climbing
Yoga sessions
Vegetarian barbeque night outs
Camping in Shivpuri near Rishikesh
I ensured that I stayed in Shivpuri which is located just 18 kilometers and 30 minutes away from Rishikesh via National Highway 7. I stayed at the lovely 'Stay In Camps', located in a hidden valley, facing a river.
Stay in Camps and Camp in Shivpuri, offers luxury camps as well as budget stay options for groups. I and my friends Jeetendra Sharma stayed at one of the luxury camps. All the luxury camps, including mine faced the river, valley and the upcoming railway station.
Camp in Rishikesh and Camp in Shivpuri which are managed by Manu Prakash Tyagi, who is also a top travel blogger from India, also attract adventure enthusiasts from across India.
Stay in Luxury Camps of Shivpuri
The luxury camp of Shivpuri I stayed in was appointed with all necessary modern frills. The tented camp has clean linen, twin beds, side tables and charging stations. The good part was that the beds inside the camp were huge and one tent could accommodate 4-5 people easily. This is a great idea as friends can split the cost when traveling in group.
Each luxury tent had its own attached bathroom. The bathroom had clean western style W.C., washbasin and shower area. The floor of washroom was cemented and well drained.
Each tented luxury camp had its private sit out area (chairs and table) where we used to sit during the evenings for leisurely chats and snacks. I found the green lawn around the campsite perfect for a barefoot walk on the grass early morning. During the night, the campsite looked fairy tallish, what with light music, colorful lights and bonfires enhancing the ambiance.
Cost of Luxury Camps at Stay In Camps, Shivpuri
Shivpuri camping packages are not necessarily expensive.
INR 1,500 per person on quadruple sharing basis.
INR 1,700 per person on triple sharing basis.
INR 2,000 per person on double sharing basis.
Shivpuri camping and rafting, if done together, costs even lesser, especially when the cost is spilt with friends. Rafting camps in Shivpuri can easily arrange for a white-water rafting session on prior notice.
Shared Dormitories are also available for budget travelers or solo travelers.
Check in – 12 noon
Check out – 10 a.m.
For early check in you need to pay INR 100 per hour per person. Late Check out is also chargeable.
Zero Budget Camping in Shivpuri
Stay In Camp has this unique concept of Zero Budget travel. By availing this facility, backpackers on very low budget in Rishikesh can do camping at very low prices. Shivpuri Rishikesh Camping can be fun and still not burn a hole in the pocket. Rafting camps in Shivpuri are actually very low cost than what people expect.
Facilities at Stay In Camp and Camp in Shivpuri
The Stay In camp has a huge well maintained swimming pool where you can chill all day, when not in a mood of going anywhere. You can also enjoy DJ music and bonfire during the evening and night. DJ music and bonfire are available till 10 p.m.
Camp in Shivpuri has a unique pool which is continuously filled with a natural water stream cascading from the hills.
My favorite activity at Camp in Shivpuri and Stay In Camp was to walk up to the river early morning. Not only did I get some beautiful shots and videos but also enjoyed nature's bounty.
Activities at Stay In Camp & Camp in Shivpuri
The good news is that Camp in Shivpuri and Stay in Camp offers several activities you can pick from.
Sky Cycle (Highest and longest in India) – Price is INR 1,000
Giant Swing – Price is INR 600
Sky Cycle and Giant Swing combo – Price is INR 1,400
Water Zorbing (1st time in Rishikesh) – Price is INR 500
Cricket Simulator – Price is INR 500
Reverse Bungee – Price is INR 1200
Zip Zap Zoom (Superman Shot, Eagle Flight, Ladder Climbing and Burma Bridge) – Price is INR 1,500
Bows and Arrows – Price is INR 250
Bowling Alley – Price is INR 350 per game
Indoor Games Combo (Bowling Alley/Cricket Simulator/Bows & Arrows) – Price is INR 1,000
Zip Lining – Price is INR 600
Rappelling – Price is INR 500
Slithering – Price is INR 500
Rock Climbing – Price is INR 500
Snooker – Price is INR 200 per hour
Archery – Price is INR 300 per 5 shots
Commando Net Climbing – Price is INR 400
Eagle Flight – Price is INR 800
Tyre Wall Climbing – Price is INR 400
Superman Shot – Price is INR 900
Off roading
High Rope Activity
Level 1- Wave Dancing, Sky Walk, Zig Zag walk, Tyre Walk, Pipe Traverse, Swinging Bridge, Commando Net, Deep Bucket, Horizontal Plank Climbing, Tunnel Passing. Price is INR 500.
Level 2 – Post Breaker, Bubble Dance, Tyre Traverse, Floating Land, Beam Balance, Island Walking, Burma Bridge, Butterfly Walk, Bat Rush, Ring Balance. Price is INR 700.
Full Rope curse (30 activities) – Price is INR 1200
Sky Tour (Sky Cycle, Giant Swing, Superman Shot, Eagle Flight, Ladder, Climb, Burma Bridge) – Price is INR 2,600
Park Access (Minus Water Zorbing, Superman Shot and Eagle Flight – Price is INR 3,500
Full Park Access (All of the above-mentioned activities) – Price is INR 4,500
Coach – If you want to hire a coach, you can pay INR 100 extra per person on scheduled time. The coach is available at 10 a.m., 12 a.m., 2 a.m., 4 a.m. All prices include GST.
Vegan and vegetarian Food Guide
Good food is never away while camping in Shivpuri. We enjoyed the food at both Camp in Shivpuri, Stay In Camp and random cafes of Rishikesh. Shivpuri is a small place, so do not expect fancy urban restaurants and cafes. Most of the meals are available only within the hotels and campsites of Shivpuri. Small dhabas on the way also sell good food but they are few.
The good news is that meat is NOT allowed in and around Rishikesh because of Government rule and religious sentiments. This has led to an amazing variety of vegan and vegetarian food in and around Rishikesh.
Expect to enjoy a delicious plate of healthy North Indian Thali, South Indian food, pastas, pizzas, sizzlers, mocktails, lip smacking desserts like Gulab Jamun, Rasmalai, Cheese cakes, banoffee pies, Tiramisu etc.
My friend even managed to order a delicious plate of healthy Khichdi in the mostly continental Freedom Café. It is a delight to sample food in the very ambient restaurants and cafes of Rishikesh. Alcohol is also not allowed in and around Rishikesh.
Food at Stay In Camp and Camp in Shivpuri
From lip-smacking Paneer dishes, healthy daal, roti, rice and salad for lunch and dinner to poori bhaji, delicious poha, tea, sweets, bread toast for breakfast and assorted pakoras, peanut mixture, papad for evening snacks, I enjoyed the food served at Stay In Camp.
The best part was that the ingredients were locally sourced and organic. I found the food to be healthy, filling and yet light for digestion. This is great if you are planning a lot of adventure activities.
Breakfast timings are – 8: 30 a.m. to 10 a.m.
Lunch Timings are – 1 p.m. to 2 p.m.
Shopping Guide: Souvenirs of Shivpuri
You can shop for some indigenous local products in and around Shivpuri and Rishikesh. The best part is that it will not burn a hole in your pocket. Shopping here is one of the best things to do with family and kids.
While we were driving around Shiv Puri Rishikesh, we stopped at a road side stall selling assorted local lentil and cereals. I picked up the local cereal of Uttarakhand called as Jhangoora (INR 100 a packet). I made dalia, kheer, upma and pulao and an Uttar Pradesh style Tehri out of it.
I also picked up mixed daal or lentils. The grains are much bigger than what we get in cities. At times I make a protein packed salad of mixed daal while at other I just make it like it is supposed to be – a spicy daal.
From Rishikesh, we picked Khadi lower pants for as less as just Rs. 250 each. Jeetendra bought some cool T shirts, metallic idols of Hindu deities and local wooden toys for his son in Mumbai where he came from. Shivpuri near Rishikesh has no dearth of shopping avenues.
Bonfire: Shivpuri in Rishikesh
We enjoyed a warm bonfire in the lawns of Camp in Shivpuri and Stay In Camp. We didn't even realize we spent many hours as we chatted the evening away over some snacks and chai. Aren't the best memories and conversations made up of this?
Shivpuri Rishikesh Camping always come with bonfire. In fact it is a top thing to do in Shiv Puri Rishikesh.
Rent a bike in Shivpuri and Rishikesh
Bike rides around Shivpuri are very popular. We drove aimlessly and discovered new places around Shivpuri.
The best way to explore Rishikesh and Shivpuri is to rent out a bike like we did. The weather was nice so we enjoyed snaking our way through mostly empty roads of Shivpuri and slightly busier Rishikesh. We enjoyed exploring new places on a whim and fancy.
This is not possible in public transports and even private taxi with an impatient driver. We loved just driving to places off the tourist map and exploring new under promoted but gorgeous destination. We would have not known this side of Rishikesh and Shivpuri had we not rented a bike here.
We even ended up seeing new places in the already explored Rishikesh. For example, we lost our way in a quaint Ashram in the middle of Rishikesh we had no idea about. We also biked around the residential quarters of Rishikesh where no tourists ever go. I saw this side of Rishikesh for the first time despite visiting here many times earlier.
Cost of bike rental per day – INR 500
Cost of fuel is extra.
Why stay in Shivpuri
I have been to Rishikesh many times but had always missed Shivpuri due to unawareness. I found the entire Shivpuri area less crowded, peaceful and visually stunning. The grand views and empty roads of Shivpuri showed me something new beyond the much-explored Rishikesh.
This comprehensive guide on Shivpuri Rishikesh Camping will make you want to make your travel plans soon. Camping in Shivpuri is fun!
Where to stay in Shivpuri-Best Camping sites
Some of the best campsites where you can stay in and around Shiv Puri Rishikesh are Stay In Camp, Camp in Shivpuri and Camp in Rishikesh. You can also stay in some beach side campsites or jungle camps.
I loved the quiet location of the Stay in Camp, Camp in Shivpuri and Camp in Rishikesh and the dramatic views it offers. These campsites are also located to some stunning places of interest, heard of and unheard of.
Why I also loved Stay in Camps and Camp in Shivpuri was its proximity to Rishikesh. We loved driving to Rishikesh from Stay In Camp in Shivpuri and Camp in Shivpuri several times in the day. On one day we spent all day exploring Rishikesh (again).
On another day, we explored Shivpuri on a bike all day and drove to Rishikesh in evening to catch the amazing live Aarti at the Pramarth Niketan in Rishikesh. I found it to be quite different from the Aarti I saw in Ayodhya or Varanasi, both in the adjoining Indian state Uttar Pradesh in North India.
Also, we saw one of our best sunrises here. It was straight out of our drawing books from childhood. When in Stay in Camp, you will be assured of the view of Sun peeping between the mountains and birds flitting in and out of the scene. In the silence of the night, I could also hear sporadic calls by Peacocks right in my tent. It is moments like this which grew on me as you will not experience it in other places.
Excursions from Shivpuri
You can make an easy day trip to Rishikesh and Haridwar from Shivpuri in Uttarakhand. The top activities to do in Rishikesh are as below –
Walk on Laxman Jhoola
Walk on Ram Jhoola
Walk on Mata Janki Jhoola
Attend evening Aarti at Parmarth Niketan
Attend evening Aarti at Triveni Ghat
Café Hopping. Do visit the lovely Freedom Café overlooking Ganga river.
Marine Drive of Rishikesh
Visit Book Stores
Walk on white sand along the Ganga River
Learn Yoga and meditation at an ashram.
Visit Beatles Ashram
Stay in an active Ashram.
Visit Har Ki Pauri in Haridwar
Visit Patanjali Yogpeeth which is a renowned medical and research institute in Ayurveda and Yoga. You can enroll here for a Yoga and Ayurveda course for a fee.
Plan a trip to Badrinath Dham
You can also club your trip to Shivpuri in Rishikesh with Badrinath Dham which falls on the same route. It is a major Hindu pilgrimage.
How to reach Stay In Camp and Camp in Shivpuri
It is very easy to arrive at Camp in Shivpuri and Stay In Camp. You can take public transport from Rishikesh such as shared Tata Sumo (INR 20 per person) or buses. You can book a private cab or rent a scooter (I loved it) from Rishikesh to Shivpuri as well.
From Shivpuri also, you will easily get the shard cabs to Rishikesh. The cabs do not operate late night so plan your day ahead. Private cab and scooty is always a more flexible and more enjoyable option.
Local Transport for sightseeing in Shivpuri and Rishikesh
It is easy to find local Transport for sightseeing in Shivpuri and Rishikesh. Tata Sums, taxis and buses ply on the route frequently. However, finding public transport after dark can be difficult. So make sure you return to the hotel before dark (which actually is no fun!)
How to reach Shivpuri in Rishikesh
It is very easy to reach Shivpuri and Rishikesh from New Delhi. There are no airports or railway station in Shivpuri as of now. Rishikesh is however well connected with other parts of India. I arrived from Ghaziabad so it saved me time as the distance between Rishikesh and Ghaziabad and some places in Noida is lesser than distance between Rishikesh and New Delhi or Gurgaon.
Road Trip– It is a pleasure to drive down to Rishikesh from New Delhi or Ghaziabad. Since the travel time is so less, one does not even get tired driving on the Rishikesh New Delhi route. The roads are good here and you will find great vegetarian and vegan food throughout the route. The road becomes more scenic as you approach Haridwar and Rishikesh.
Railway– You can get down at Haridwar railway station or Rishikesh railway Station as per your plan. Both are well connected with New Delhi and other major towns and cities of India. I and Jeetendra traveled from Ghaziabad to Haridwar in train.
After exploring Haridwar during the Kumbh Mela, we moved to Shivpuri in Rishikesh in a private cab arranged by Stay In camp. You can hire an easily available shared autorickshaw as well. It is pocket friendly and convenient.
By Air – Rishikesh does not have its own airport. The closest airport from Rishikesh is located at the big city Dehradun, also in Uttarakhand. This domestic airport is called as Jolly Grant Airport. The other close airport is at New Delhi of course.
By Bus: Buses to Shivpuri are easily available from Rishikesh and Haridwar.
Distances from Shivpuri in Rishikesh
Below are the distances from Rishikesh and nearby places in ascending order. This will help you plan your trip and include places.
Distance between Rishikesh to Shivpuri, both in Uttarakhand is only 18 kilometers and it takes 35 minutes via NH7
Distance between Rishikesh to Haridwar is only 20 kilometers and it takes 35 minutes via NH34 and NH7.
Distance between Rishikesh to Dehradun is only 43 kilometers and it takes 1 hours via NH7.
Distance between Rishikesh to Mussoorie is only 74 kilometers and it takes 2 hours via Mussoorie road andNH7.
Distance between Rishikesh to Meerut is only 159 kilometers and it takes 3 hours via NH334.
Distance between Rishikesh to Ghaziabad is only 203 kilometers and it takes 4 hours via NH334 and Upper Ganga Canal Road.
Distance between Rishikesh to New Delhi is only 241 kilometers and it takes 5 hours 21 minutes via NH334.
Best time for Camping and River Rafting in Rishikesh
Winter – From September to April, the weather in Shivpuri and Rishikesh is the most pleasant. The best time for Camping and River Rafting in Shivpuri and Rishikesh are these winter months. You can experience extreme cold in the months of December and January with sunny afternoons, which is also great for camping and rafting, just a little colder.
Winter is when the weather of Shivpuri is at its best.
Summer – The months of May and June are very hot in Shivpuri and Rishikesh. That said, it is still possible to indulge in water sports like white water rafting in Shivpuri and Rishikesh. Many people avoid summer due to high temperatures.
Monsoon – It rains heavily in July and August, the monsoon months and thus most white-water rafting is closed during this period. That said, camping and exploring Rishikesh and Shivpuri in monsoon is very unique and enjoyable.
Who should visit Shivpuri?
Shivpuri is an ideal destination for solo travelers, budget travelers, backpackers, luxury travelers, honeymooners, couples, family with kids, senior citizens, corporate groups, group of friends and also foreigners. Holiday in Shivpuri is always enjoyed by all types of travelers.
Solo Trip Tips for Shivpuri in Rishikesh
Shivpuri can easily be visited as a solo traveler. Thanks to the robust public transport of India and low-cost accommodations, it is easy to manage as a solo traveler in Shivpuri. That said, most people come to Shivpuri in Rishikesh as a group traveler. People love to travel to Shivpuri with friends and family because it is that kind of a place.
Spend time with friends and family in Shivpuri
It is a great idea to plan a trip to Shivpuri and Rishikesh with friends and family. I enjoyed spending time in Rishikesh and Shivpuri with my college friend Jeetendra Sharma. I noticed many youngsters with friends having the time of their life at a low cost in and around Shivpuri and Rishikesh. Traveling solo here can be fun as well but if you can manage a fun company then you would enjoy the destination even more.
Backpacking Budget Travel Tips for Shivpuri, Rishikesh
It is easy to go low budget in Shivpuri in Rishikesh. Shared public transport, affordable hotels and campsites, cheap adventure activities and low cost of food makes Shivpuri a pocket friendly budget destination.
Luxury travel Tips for Shivpuri, Rishikesh
There are many high-end luxurious resorts and 5-star hotels in remote corners of Shivpuri. These places offer the best of amenities and are spread across a large area. The drawback of such resorts are that they are located far away from most points of attractions of Shivpuri.
I personally prefer accommodation which is located at walking distance from the major tourist attractions.
ATM in Shivpuri
Shivpuri is still a small place. Do not expect many ATMs here. It is a good idea to carry cash as many shops do not accept digital payment here either.
How many days to spend in Shivpuri?
I had spent 2 days in Shivpuri. This included a brief trip to Rishikesh as well. However, I would suggest that you must stay for 4 to 5 days in Shivpuri to enjoy its full potential and let it grow on you.
Soul Window Observations
I have observed that most travelers visit Haridwar and Rishikesh and head back to the messy urban life. Even the people who stay in Shivpuri for white water rafting do not stay here enough!
It is a good idea to spend some quiet time in Shivpuri while reconnecting with yourself and nature. Slow travel can be best enjoyed in the solitude and peace of Shivpuri. Give it a chance.
Conclusion: Why Visit Shivpuri?
Camping and white-water river rafting from Shivpuri to Rishikesh on the holy Ganga River is a fun and affordable activity. It is a great destination which is best enjoyed with family and friends. The ease to reach Shivpuri and Rishikesh from New Delhi makes it all the more desirable.
Besides being visually stunning, the positive aura of Shivpuri in Rishikesh is refreshing for the mind, soul and body. Great organic vegetarian and vegan food served in local style is another reason why you will enjoy your trip to Shivpuri and Rishikesh.
Shivpuri, which makes for a great weekend getaway from new Delhi and NCR region, is off the beaten track. This detailed travel guide on Shivpuri in Rishikesh spills beans on unusual places to see here.
A memorable stay at Camp in Shivpuri, Camp in Rishikesh and Stay in camps completes the Shivpuri and Rishikesh trip within backpacking budget.
The view from my Soul Window is rejuvenating!
Pin this blog to save the blog and plan a trip later!
Top Travel Blogger from India