Last Updated on December 6, 2021 by asoulwindow
Shri Krishna Janmbhoomi birthplace Mathura: Complete Guide
Information about Shri Krishna Janmbhoomi
Historical records have proved that it is the birth place of the Hindu God Shri Krishna. Several excavations conducted over the years have established this lesser-known fact. During my visit to Shri Krishna Janmbhoomi, I gained new perspectives about this holy Hindu pilgrimage. Who destroyed Krishna Janmabhoomi? All your questions are explained in great details in this blog.
Do you know which avatar of Vishnu is Krishna ji? Shri Krishna, who is the 8th incarnation of the Hindu god Vishnu ji, is a much-revered deity from the Vaishnavism sect of the Hindus.
This detailed blog is based upon my several visits to Shri Krishna Janmbhoomi, both during the day and night. Shri Krishna Janmbhoomi is the most important place to visit in Mathura. In fact, the entire tourism in Mathura revolves around Shri Krishna Janmbhumi. Also addressed as Prem Bhoomi, it is the most important place to visit in Mathura.
About Shri Krishn Janmbhoomi Asthan
Despite being encroached by illegal Islamic construction, Shri Krishn Janmbhoomi Asthan is a sprawling and beautiful complex. Steeped in rich history and spirituality, Mathura is waiting to be rediscovered!
Lakhs of Hindu pilgrims visit Mathura on a daily basis, irrespective of weather conditions and season. Wide open spaces, jhankis, clean precincts, water fountains and a few monkeys complete the Janmbhoomi experience, making it one of the top things to do in Mathura.
Read this blog to understand the secrets and mysteries associated with Janmasthan in Mathura.
Nomenclature of Shri Krishna Janmbhoomi
Shri Krishna Janmbhoomi is also known as
Prem Bhoomi
Krishna Janam Bhumi
Janmabhoomi temple
Sri Krishna Janmasthan
Shri Krishna Janmasthan
Shri Krishna Birth Place
Sri Krishna Janmabhoomi
Krishna Janmabhoomi temple
Shri Krishn Janmbhoomi Asthan
The Krishna Janmasthan Temple Complex
Katra Keshavdev temple (This was the original name of Shri Krishna Janmbhoomi, thousands of years ago)
Katra Keshav Dev refers to the 13.37 acres of land which marks the Shri Krishna Janmsthan.
Note: I have used the above-mentioned names in this blog interchangeably. They all mean the same.
Where is Shri Krishna Janmbhoomi located?
Sri Krishna Janmbhoomi is located in Mathura, just 2 hours train ride away from New Delhi. Mathura is situated in the sacred land of Uttar Pradesh in great North Indian plains. Most of the major points of attraction of Chaurasi Kos Parikrama of Braj Bhoomi such as Gokul, Raman Reti, Raskhan Ki Samadhi, Nandgaon, Barsana, Vrindavan and Govardhan are located just 1-2 hours away from each other.
Do watch my videos and read my information packed travel blogs on all of these spiritual places related to Shri Krishna. Visiting Janmbhoomi is one of the best things to do with family and kids in Mathura.
Mathura is one of the holiest cities of Hindus as this is where Shri Krishna birthplace, the most sacred Hindu pilgrimage, is located.
Birthdate of Lord Krishna: When was Krishna Ji born?
18th July 3228 B.C.E. is considered to be the birth date of Krishna ji.
And when did Krishna ji die? Shri Krishna went to Vaikuntha on 18th February, 3102 B.C.E.
This means that Krishna ji lived for 126 years and 5 months.
Below is a Panchang that corresponds to 18th July 3228 B.C.E. , the birthdate of lord Krishna.
Karna = Kaulava – 16s:16:22
Karna = Taitila – 29:12:14+
Month = Shravana (Amanta)
Moonrise = 24:50:01+
Moonset = 12:04:15
Moonsign = Vrishabha – 26:36:58+
Nakshatra = Rohini upto 13:23:01
Paksha = Krishna Paksha
Sunrise = 05:40:32
Sunset = 19:28:10
Sunsign = Simha
Tithi = Ashtami upto 16:16:22
Yoga = Vajra – 28:04:07+
Do visit lord Krishna birth place in Mathura and seek his blessings.
Where was Krishna Ji born?
Here is Shri Krishna janam story in detail. Lord Krishna birth place is in Mathura. Krishna ji was born in a jail or prison in Mathura. Kans, the evil maternal uncle of Krishna ji was warned during a prophecy that his nephew, if born will kill him.
This had made him paranoid and Kans imprisoned his sister Devki maa and brother-in-law Vasudeva ji in Mathura. In his mad pursuit, he killed each and every child who was born to the couple in prison.
Kans made many conspiracies to kill Krishna ji, but he failed each time. Eventually, Krishna ji was successful in killing Kans and restored peace in Mathura. This is why Krishna ji was born in a prison and was later taken care of by his foster parents Nand Baba and Yashoda Maa.
Many people still think that Krishna ji was born in Gokul, which is far from true. Gokul was where Krishna ji and his brother Balram ji were raised secretly by their foster parents Nand Baba and Yashoda Maiyya. During this trip, I had visited Gokul as well. Do read my blogs and watch videos on these places.
Inside the Garbhagriha of Shri Krishna Janmasthan
I walked past the security check and the Geeta Mandir to arrive at the Janmsthan. As I entered the temple premises, a calm cocooned me from the chaos outside. I walked towards the sanctum sanctorum or the garbhagriha with small steps, in an attempt to slow down and feel the place. The divine ambience of the Garbhgriha grew on me as I stepped inside.
To my surprise, no huge idol was to be seen at the place where Shri Krishna was born. I had expected that! Instead, I had darshan of few pictures of Krishna ji displayed on a pedestal. A pujari watched over. The red walls of the prison filled me with warmth.
The devotees fell silent, some murmured prayers and many others did Dandavat Pranam. The first time I did Dandavat Pranam was on several occasions during the Govardhan Parikrama. I performed Dandavat Pranam again at Janmsthan. This was the first time I did Shashwat Dandvat Pranam inside the temple.
I had seen many people do dandvat pranam earlier, especially in South India such as Brihadeeswarar Temple in Thanjavur in Tamilnadu.
I stayed for as long as I could inside the Shri Krishna Janmasthan, Krishna birthplace closed my eyes and tried to imagine the Mahabharat Era, when the birth of Shri Krishna took place in Dwapar Yuga. I had goosebumps! It is that kind of a place!
My experience inside the Janmasthan, Lord Krishna birthplace in Mathura, was nothing less than what I experienced during the epic Kailash Mansarovar Yatra in Tibet and visiting Shri Ram Janm Bhoomi in Ayodhya. Do read my detailed blogs on these important historical places of India.
Legend behind birth of Shri Krishna Bhagwan
The place where Lord Krishna birth place in Mathura is located today was once a jail under the rule of cruel Kans. I am sharing below some interesting facts on Shri Krishna janam story.
It is common knowledge that Bhagwan Shri Krishna was born in this jail or prison to his biological parents Vasudeva ji and Maa Devaki. He took birth in Rohini Nakshatra in midnight. This is why Shri Krishna Janamashtami is celebrated each year during midnight!
As the fate willed, Kansa, the evil ruler of the Vrishni kingdom and the shrewd maternal uncle of Krishna ji, and the king of Mathura in those times had imprisoned his parents.
Kansa was afraid of the yet unborn babies of his sister and brother-in-law because as per a forecast, in future, the child of Devaki would one day be the reason of his end. As per the prophecy, the 8th son of Devki Maa and Vasudev ji would kill Kansa, also spelled as Kamsa.
Fearful of the child which was not even born yet, Kansa desperately started conspiring. Kansa was successful in killing 6 new born babies of Devki Maa and Vasudev ji. However, their 7th and 8th children escaped his wrath and were left unscathed due to a divine intervention.
After jailing his siter and brother-in-law, he would therefore kill every child which the couple gave birth to. Despite all the evil attempts, the prophecy came true one day as Vasudev ji was able to rescue Krishna ji soon after he was born.
When Balaram ji was conceived, he was transferred from one womb to another. Krishna ji, who was born in the jail of Mathura, was rescued by Vasudev ji and taken to the nearby Gokul. Yashoda Maa and Nand Baba, the foster parents of Krishna ji and Balram ji had raised them in secrecy. You can also visit a temple devoted to Astabhuja Maa Yogmaya. Located next to the entrance of the prison cell, is the temple where Astabhuja Maa Yogmaya manifested herself.
Eventually, even in his child form, Krishna ji was able to perform many miracles and killed all the demons sent by Kans. At last, thanks to his divine powers, Kans was also killed by Shri Krishna. There are many such lesser-known facts around the Shri Krishna janam story.
Why is Shri Krishna Janmasthan world famous?
Do you know where is the jail in which Shri Krishna was born? It is in Mathura. This is why, unarguably, Shri Krishna Janmasthan is the most important place to visit in Mathura-Vrindavan-Gokul circuit, perhaps as important as a parikrama around the Govardhan Parbat.
It is the dream of every devout Krishn Bhakt to visit Shri Krishna Janmasthan at least once in his or her lifetime.
In fact, Mathura has continued to be a spiritual hub since 6th century B.C.E. This is why Lord Krishna birth place in Mathura is world famous. It is also a great place for solo budget travel, like I did.
Who built Shri Krishna Janmbhoomi?
As per the historical records, Vajranabha, who was also the great grandson of Bhagwan Shri Krishna had commissioned the first temple at this very spot.
Over the years, the temple was destroyed and rebuilt by different kings in different eras.
Islamic Attacks on Shri Krishna Janmasthan: Who destroyed Mathura temple?
Who destroyed Mathura temple? Namaz is offered 5 times a day in Idgah Masjid and the temple bells never stop in the adjacent Shri Krishna Janmbhoomi. But is it really a sign of brotherhood and bonhomie? Turns out, not all is well here! Let us now understand the Shahi Idgah mosque history.
Who destroyed Shri Krishna Janmasthan in Mathura? This is a commonly asked question! So many times, the Shri Krishna Janmasthan has been destroyed and rebuilt in Mathura.
Several cruel Islamic invasions in the past few centuries resulted in massive damage to the temples of Mathura. Suffering and neglect followed next. The immense damage that was caused to this sacred Hindu destination by Muslim plunderers can still be seen.
Some people still ask, "Why did ancient Muslim rulers not destroy the Krishna Janmabhoomi temple in Mathura as they did with the Ram Janmabhoomi in Ayodhya"
So, who exactly broke Mathura temple? Well, did you know that the last assault done on the Shri Krishna Janmbhoomi was led by the Mughal invader Aurangzeb? He controlled the land from 31.07.1658 to 3.03.1707. and he indeed destroyed the temple.
Such was the audacity of Aurangzeb that not only did he illegally encroached the land in Mathura but also built Shahi Eidgah mosque or Idgah mosque in a predominantly sacred Hindu place. The mosque was built on the raised plinth of the original Hindu temple.
As confirmed by reputed historians Dr. Shri Vasudev Sharan Agarwal and Shri Krishna Dutta Vajpayee, the original site of old Katra Keshavdev temple (which is also called as Keshav Rai) was where the real birthplace of Shri Krishna existed. Unfortunately, that land is illegally occupied by Shahi Idgah, which was forcefully built by Aurangzeb after destroying the existing temple.
From the Brahma lipi and shilalekh discovered from here during excavations, stunning new information has seen the light of the day. The ancient inscriptions stated that a man named as Vasu had built a temple, toran dwar (gate) and vedika (fence) on the site of birthplace of Lord Krishna.
Are there Muslims still living in Mathura?
Yes, India is the nation which has the largest Muslim population outside of Muslim-majority nations such as Middle East, South Asia, Central Asia etc. Needless, to say, I saw many Muslims living near the Shahi Idgah and Jama Masjid. Both are located at walking distance from Shri Krishna Janmbhoomi.
Shri Krishna Janm Bhoomi History: Time Line
To understand the history of Krishnajanm Bhoomi and the controversies surrounding it, we must have a hard look at the time line of history of Krishna Janm Bhoomi. Can we expect a Krishna Mandir in Krishna Janambhoomi instead of the Mosque that Aurangazeb built after demolishing the temple that stood there? To understand this, we first have to understand the history of Shri Krishna Janmbhoomi dispute case.
Here is how the events unfolded in Mathura over 5,000 years. I am explaining some lesser-known facts in this blog in great detail. Several secrets and mysteries associated with Shri Krishna Janmasthan of Mathura are explained below in great detail. Following are some of the major highlights of the Sri Krishna Janmabhoomi case.
Prehistoric Ancient Era
The original Katra Keshavdev Mandir was constructed by Vajranabh ji.Hewas the grandchild of Shri Krishna. During the extensive archaeological excavations around the Janmbhumi complex, several terracotta items and pottery, dating back to 6th century B.C.E. have been unearthed.
50-57 B.C.E.
Shri Krishna Janmsthan has also been mentioned in the oldest excavated inscription. This inscription is from the year 50-57 B.C.E. This was when King Mahakshatrap Shodas ruled from here between 80 to 57 B.C.E.
Mahakshatrap Shodas was the son and heir of King Mahakshatrap Rajubul. Mahakshatrap was a title awarded to both the father son King duo.
Another very important inscription of Shodas was excavated from a well in Mathura Cantonment area. It is likely that this ancient inscription was a part of the now destroyed Katra Keshavdev Mandir.
This is a significant discovery because this is the most ancient available discovery which mentions the existence of a Krishna Temple in Mathura. That makes Janmasthan, Krishna birthplace one of the most important historic destination of India.
Followers of both Hinayana and Mahayana form of Buddhism co-existed under the rule of Shodas and they used to often have major differences. From a Brahmi Lekh excavated from the Kankali Teela of Mathura, we now know that under the rule of 'Swami Mahakshatrap Shodas', Amohini, who was a Jain Bhikshu or monk, had built a Jain Vihara.
Queen Kambojika, who was the wife of King Mahakshatrap Rajubul had commissioned a Buddhist Vihara on the banks of Yamuna River in Mathura. Shodas had donated some land for this purpose.
Coins of Mahakshatrap Rajubul and Shodas
Greek influence in Mathura is very easily notable. The coins Mahakshatrap Rajubul and Shodashave a striking resemblance with the coins issued by Indo Greek King Strato or Stratha in Sanskrit language. The Kings who were friendly with the rulers of Mathura also issued similar looking coins.
The two kinds of coins excavated from the times of Shodas are:
Coins with Laxmi ji figure: In these coins, image of Hindu Goddess Lakshmi Mata in a standing posture is depicted on one side of the coin while Abhishek of Laxmi ji is depicted on the other side. It is possible that these coins were issues when father of Shodas, Mahakshatrap Rajubul was still alive.
Coins with Laxmi images of Mahakshatrap Shodas: In these coins, images of Mahakshatrap Shodas have been portrayed on the ancient coins which also indicates that after the death of Mahakshatrap Rajubul, Shodas had full controland decision-making powers.
1st century C.E.
As per many archeological findings, it has been established that a Vaishnava temple existed on the Janmbhoomi site as early as 1st century C.E.
3rd century C.E.
During the extensive excavations, Yasha Vihara, a monastery was unearthed around the same site along with several Jain sculptures. Yasha Vihara was located withing a sprawling Buddhist complex. These findings belonged to the glorious Gupta era, which is also known as the Golden Age of Indian History by many historians.
The Guptas ruled on much of Indian subcontinent between early 4th century C.E. to late 6th century C.E.
388 C.E. or 4th century C.E.
The Mathura pillar inscription of Chandragupta II. The Mathura inscription is dated back to 388 C.E.
400 C.E. or 5th century C.E.
During the reign of King Vikramaditya, a grand temple was also constructed on the same site in the year 400 C.E. In those days, Mathura was an important center of culture, art and commerce. This was also the time Buddhism and Jainism flourished in Mathura along with Hinduism. Many Buddhist viharas, monasteries and Jain temples dotted the landscape. From the excavated objects we know that even for Jains and Buddhists, Shri Krishna Janmbhoomi was considered a holy place.
8th century C.E.
Some ancient inscriptions which can be dated back to late 8th century C.E. reveal that the Rashtrakutas made generous donations towards the site.
1017/1018 or 11th century C.E.
As per historical records, in the year 1017 or 1018 C.E. the cruel invader Mahmud of Ghazni attacked Mahaban, which was the old name of the nearby Vridavan.
As per Al Utbi, who was the scribe or record-keeper of Mahmud of Ghazni,
"In the centre of the city there was a huge and magnificent temple, which the people believed wasn't built by men but by the angels… Any description of the temple, either in words or in pictures, would fall short and fail to convey its beauty."
Al Utbi had mentioned the above said famous quote about Mathura city (near Vrindavan) in Tarikh-i-Yamini.
As per Mahmud of Ghazni,
"If any one wished to construct a building equal to it, he would not be able to do so without spending a hundred million dinars, and the work would occupy two hundred years, even though the most able and experienced workmen were employed."
Needless to say, much like many other Islamic invaders and plunderers, who invaded India over many centuries, Mahmud of Ghazni alsoordered to burn, destruct, destroy and demolish all the idols of Hindu deities and sacred temples. The treasures and idols made of Gold and silver were of course looted away and siphoned off to other places.
1150 C.E. or 12th century C.E.
King of Mathura, Shri Vijaypal Dev was responsible for reconstructing the famous Katra Keshavdev Temple of Mathura in the year 1150 C.E.
As per a medieval Sanskrit inscription excavated at birthplace of Lord Krishna, a person known as Jajja had constructed a grand Vishnu temple in Vikrama Samvat 1207 as per Hindu calendar or 1150 C.E. as per Gregorian calendar.
Some historians have concluded that Jajja could have been a vassal of Gahadavala king. The Gahadavala dynasty had ruled over much of the present Uttar Pradesh and Bihar in the 11th and 12th century C.E. Their capital was based in the holy city of Kashi also known as Banaras or Varanasi. It is said that this grand Vishnu Mandir was 'brilliantly white and touching the clouds'.
1500 – 1600 C.E. or 16th and 17th century C.E.
This was when Shri Krishna Janmbhoomi was destroyed brutally by Sikandar Lodi.      
1515 C.E. or 16th century C.E.
Chaitanya Mahaprabhu, the founder of Gaudiya Vaishnavism had visited Mathura in the year 1515 C.E. or early 16th century C.E. This has been mentioned in the holy scripture "Chaitanya Charitamrit", which was composed by Krishnadasa Kaviraja in the year 1557 in Bengali and Sanskrit language.
Chaitanya Mahaprabhu is credited with popularizing the congregational chanting of the names of Shri Krishna and the Hare Krishna mantra.
We know from Tarikh-i-Daudi, the records of one Abdullah, that 16th century was also when the pious temples of Mathura and the city itself was damaged by Islamic plunderer Sikandar Lodhi of Delhi.
What's more Sikandar Lodhi had also stopped Hindus from practicing their faith. Hindus were prohibited from bathing in the holy river or even shaving heads on the river banks.
Abdullah served in the court of Mughal barbarian Jehangir.
Soul Window Thoughts
It is sad that the same Sikandar Lodhi who was responsible for several invasions, murders, loot and destruction is still celebrated in New Delhi. Even today, there are several gardens and parks in the honor of Sikandar Lodhi. The atrocities of the past have been conveniently whitewashed.
1600 – 1700 C.E. or 17th and 18th century C.E.
1618 C.E.– This is the time when the Lord Krishna birth place in Mathura was renovated by Raja Veer Singh Deva of Orchha in Madhya Pradesh. He was the Bundela of Orchha which is located in present day Madhya Pradesh.The reconstruction of the temple was done in the year 1618 C.E. at the cost of 33 lakh Indian Rupees. Raja Veer Singh Deva was a contemporary of Jehangir.
1650 C.E.: European Evidences
It was in the year 1650 C.E. that Jean Baptiste Tavernier (1605-1689 C.E.), a well-known traveler from France in Europe, had paid a visit to Mathura. In his accounts, Tavernier has clearly mentioned the existence of a grand octagonal temple, constructed in red sandstone in Mathura.
The famous Italian Mughal scribe Niccola Manucci has also mentioned about a temple in his records. In his book Storia do Mogar, Manucci has mentioned about the destruction of the temple by Aurangzeb.
1669-1670 C.E. : Who built Mathura Masjid?
It is said that Dara Shikoh, who was assassinated by his own brother Aurangzeb, had patronized the temple. Dara Shikoh is widely known as Hindu sympathizer.
Shikoh had even donated a railing to the temple, which was predictably destroyed by Abdul Nabi Khan as per the instructions by Aurangzeb. Abdul Nabi Khan was the governor of Mathura in the Mughal era.
Abdul Nabi Khan was killed in the year 1669 as the Jat Rebellion of Mathura. As a result, Aurangzeb got insecure. Needless to say,the temple didn't last long as the Islamic plunderer Aurangzeb razed down the Katra Keshav Dev Mandir in the year 1670 C.E. and built Shahi Eidgah by force. Birthplace of Lord Krishna was mercilessly encroached upon.
Aurangzeb had destructed the sabhamandapa, also known as the assembly hall of the original temple and the garbha griha or sanctum sanctorum was spared his wrath.
What was once a holy temple, as revered as Mecca and Medina of Saudi Arabia in Middle East was suddenly a mosque. To this date, the mosque stands tall as a reminder of the gory past of Mathura and the atrocities it suffered.
1700 – 1800 C.E.
Renovation of the temple was done by the great Maratha Empire. In the year 1770, the powerful Marathas had won the war with Mughals and kicked them out of Mathura. They had restored the temple. Aurangzeb died on 3rd March 1707.
1800 – 1900 C.E.
In 1803, British colonizers snatched the land from Marathas by deceit.
In the year 1804, Mathura fell under the control of the British colonizers. This was when the ownership of the land of Katra was transferred to Raja Patnimal by East India Company as a result of an auction the latterorganized in 1815.
Raja Patnimal, who was a rich banker from modern day Varanasi or Banaras, wished to build a grand temple on the site. He however, failed to do so. The property was passed on to his heirs after he passed away.
1900 – 2000 C.E.
1935 C.E.
This was the era of continuation of litigations. Shri Raj Krishna Das, who was a descendent of Raja Patnimal and the later owner of the Katra land, had to face major legal challenges thrown at him by deceit.
The Muslims of Mathura filed two civil suits against Shri Raj Krishna Das, claiming ownership of the land where Lord Krishna birthplace in Mathura and Shahi Eidgah was located, all 13.37 acres of it. Luckily, Raj Krishna Das ji won both the suits in the year 1935.
The Allahabad High Court rightly ruled in his favor both the times in 1932. It was a landmark decision. Madanmohan Chaturvedi ji and Kailash Nath Katju ji, a prominent Hindu politician had aided Raj Krishna Das ji in winning both the lawsuits.
1944
In the year 1944, on 4th of February renowned educationist and Hindu politician Shri Madan Mohan Malviya ji, a Hindu Mahasabha member, bought the land from Shri Raj Krishna Das ji. The title of the land was transferred to him along with Shri Bhikhen Lal ji Aattrey and Goswami Ganesh Dutt ji. He had paid Rupees 13,000 for acquiring the land which was a huge amount in those days.
Hindu industrialistfrom thefamous Birla family, Shri Jugal Kishore Birla, who is also the eldest son of Shri Baldeo Das Birla, had helped him by providing financial help in acquiring the land.
1946
Unfortunately, Pandit Madan Mohan Malviya ji passed away on 12th November, 1946 in Prayagraj.
1951
After the death of Pandit Madan Mohan Malviya ji, Shri Jugal Kishor Birla established Shri Krishna Janmabhoomi Trust. On 21st February, 1951, the trust was officially registered as Shri Krishna Janmasthan Seva Sansthan and the land was thus acquired by the Birlas. Birlas had wanted to build a temple for Krishna ji at the birthplace.
1953 – 1982
Jugal Kishor Birla ji (23 May 1883– 24 June 1967), the scion of wealthy Birla family, commissioned the construction of a new Krishna Mandir in collaboration with Shri Jaidayal Dalmia, who was another famous Indian philanthropist and industrialist.
Shri Vishnu Hari Dalmia, the eldest son of Jaidayal Dalmia ji continued to serve the trust till his last breath. Anurag Dalmia, who succeeded him and is the grandson of Jaidayal ji served as Joint Managing Trustee on the Trust.
It was in October 1953, that the construction of the temple began. It was just empty plot till now. The place where Shri Krishna was born was marked with just a stone plate. An image was clicked here on 1949, way before the Janmasthan temple was built in the year 1953. One can clearly see the bare land in the picture. The land was eventually cleaned and levelled. The picture is commonly available on the internet.
1982 was the year when the construction of Shri Krishna Janmbhoomi temple completed at Krishna birthplace. Shri Ramnath Goenka, another famous industrialist had contributed towards the construction of the temple. Many small and big Hindu business families had contributed in building the temple.
1968 Janmbhoomi Agreement
In the year 1968, Shree Krishna Janmasthan Seva Sangh and the Shahi Eidgah committee arrived at a compromise after years of legal battles. As per the new agreement, the temple land was granted to the trust. The management of Shahi Eidgah was awarded to the Eidgah committee. Unfortunately, legal claim of the Shree Krishna Janmasthan Seva Sangh on the Shahi Eidgah was also dissolved.
Ganesh Vasudev Mavalankar, who was a politician from Indian National Congress, was the first chairman of the Shree Krishna Janmasthan Seva Sangh who had signed the compromise agreement. However, his legal authority to sign agreement is contested.
M. A. Ayyangar, Akhandananda Saraswati and Ramdev Maharaj succeeded him respectively. Nrityagopaldas is the present-day chairman.
1991: Places of Religious Worship Act of 1991
Do you know about Places of Worship (Special Provisions) Act, 1991? Do you know what the law or act is about and why is it challenged by various Hindu organizations? Here is all you want to know about Shree Krishna Janmasthan dispute, explained in detail.
Babri Masjid gets demolished in Ayodhya. A Vrindavan resident, Shri Manohar Lal Sharma famously filed a petition inthe Mathura District Court. In his petition, he challenged the 1969 agreement.
He also filed petition to reverse the Places of Religious Worship Act of 1991. This act was passed by P V Narasimha Rao-led Congress government, in the year 1991.
As per this act, it aims at prohibiting the conversion of any religious place and preserving the religious character of a place as it was on 15th August, 1947, the day of Independence of India from British. This is mentioned in the sections 3 and 4 of the Act.
This act came to life when the Ram Mandir movement was at its peak. In fact, the law was introduced just a year after the Babri Masjid demolition in Ayodhya.
As per section 4(2), all the pending court cases, proceedings, suits and appeals with regards to conversion of a place of worship, as on 15th August, 1947 would be invalid as and when the Act begins.
As per section 5: the act was not applicable for Ram Janma Bhumi-Babri Masjid dispute. The act also didn't apply on any proceedings, appeal or suit which is related to the Ram Janma Bhumi-Babri Masjid dispute. We all know that finally a grand Ram Mandir has been constructed in Ayodhya after winning the case.
Bharatiya Janta Party had opposed the law while it was being introduced. Their claim was that Centre has absolutely no power to legislate on pilgrimages and burial grounds which are under the state list. Cleverly, Government back then, used its residuary power under Entry 97 of the Union List to enact the Places of Religious Worship Act of 1991law.
2000 – to today
What is Krishna Janmabhoomi issue? Mathura court has dismissed plea of Krishna Janmabhoomi case. Does it mean that Hindus now have to adjust with a mosque which was made after breaking temple?
Places of Worship (Special Provisions) Act, 1991 was challenged by Ashwini Upadhyay, who is an advocate as well as a member of Bhartiya Janta Party, the largest political party of the democratic world.
As per Ashwini Upadhyay, the cut-off date of 15th August, 1947 is "arbitrary, irrational and retrospective" and stops Hindus, Sikhs, Buddhists and Jains from appealing in court and reclaim their holy temples which invaded, looted, damaged, destroyed and encroached upon by fundamentalist barbaric Islamic invaders from mostly Middle East and Central Asia.
Official records from the Mughal administration dating back to 1670 state the same.
It is common knowledge that Idgah Mosque stands where the actual Shri Krishna Janmsthan exists. Civil suit has been filed in Mathura court to reclaim that land.
Re-building of the Kashi Vishwanath Temple from Gyanvapi at Varanasi and Krishna Janmabhoomi Temple is the fundamental right of Hindus enshrined in the Indian Constitution.
Summary of Mathura Dispute
Can we expect a Krishna Mandir in Krishna Janambhoomi instead of the Mosque that Aurangazeb built after demolishing the temple that stood there?
Unfortunately, the Shree Krishna Janmasthan-Shahi Idgah dispute continues to this date despite enough archeological and written proofs that Shri Krishna Janmbhoomi was the actual place where Shri Krishna was born in a prison.
Devout Hindus have incessantly requested the removal of the Shahi Idgah so that they can peacefully worship at the temple, which is as important as Mecca or Medina in Saudi Arabia in Middle East or Vatican City in Europe.
As per the suits filed by Hindus, the 1968 agreement is legally invalid because it was achieved via false submissions.
The question remains that: Can Krishna Mandir in Mathura be made like Ram Mandir in Ayodhya Is any case being fought to free Mathura?
Many Hindus want Indian Muslims to return Shri Krishna Janambhoomi and Kashi Vishwanath mandir sites on their own to Hindus with apologies. The forcibly built mosques there were after all build after destroying Hindu temple.
It is also strange that ISKCON doesn't come forward for reclaiming the Shri Krishna Janmabhumi in Mathura.
Soul Window Observation
It is common knowledge that countless Hindu temples were brutally damaged by Islamic invaders for many centuries.
Whether it is Somnath temple in Gujarat in West India, Shri Jagannath Puri in Odisha, Dhruv Stambh or Qutub Minar of New Delhi, Nalanda University in Bihar or Sri Ranganathaswamy Temple of Tiruchirappalli in Tamilnadu, these temples were mercilessly vandalized and damaged, their golds and silver looted by plunderers. Do read my detailed blogs on those places.
The atrocities of the past have not been hidden. In those days, it was common to break old religious structures and build new religious shrines, using the same building material. I observed the same during my visit to Amman Citadel in Jordan in Middle East.
Slogan
"Ayodhya to sirf jhanki hai,
Kashi aur Mathura baaki hai."
Ayodhya is just a teaser. Matters of Kashi (Varanasi) and Mathura are left to be resolved.
This is been the slogan of the champions of Shri Krishna Janmbhoomi cause.
Soul Window Thoughts
This Mathura dispute stands as a parallel to the infamous Gyanvapi mosque in the holy city of Varanasi, also known as Kashi or Banaras. Gyanvapi mosque was built by destroying an older temple of Vishweshwar. The Gyanvapi mosque stands today at the same spot.
The Vishweshwar temple was damaged completely by Mughal invader and plunderer Aurangzeb in the year 1669. I have written many blogs on the ancient city of Kashi and Mathura. Do read them and plan a trip to Kashi and Mathura soon.
Shopping In the Shri Krishna Janmbhoomi
I saw many shops within the Shri Krishna Janmabhoomi complex. Shops sold pooja samagri, idols, clothes for Krishna ji, and even sweets, prasad and food. Yes, you can buy Lassi, Peda and Rabri etc inside the Janmbhoomi complex at designated counters. You can also pick some clothes for yourself. The prices are reasonable and nominal.
Best time to visit Shri Krishn Janmbhoomi Asthan
It is a great idea to visit Lord Krishna birth place in Mathura during Janamashtami, Diwali and Holi because the temple complex is drowned in festivities and celebrations on a grand scale.
Where is Shri Krishn Janmbhoomi Asthan located
Shri Krishn Janmbhoomi is located only 4 kilometers away from the Mathura Junction Railway Station near Deeg Gate Chouraha.
Places to see near Shri Krishna Janmbhoomi
Keep some extra time, as there are many places to see near Shri Krishna Janmbhoomi. The good news is that most of the major attractions of Mathura are located at walking distance from each other. Some of the main places to see in Mathura are as below:
Yogamaya Mandir
Also known as Jogmaya temple, this temple is devoted to the eight-handed goddess Yogmaya. Yogmaya Mandir is situated within the Shri Krishna Janmasthan complex and against the rear wall of the Shahi Eidgah. Yogmaya ji, who took an avatar of Maa Vindhyavasini, is sister of Shri Krishna. She was an incarnation of Durga Maa.
Legend of Yogmaya Mandir
Yogmaya ji was born on the day Shri Krishna was born. As we know Kans, the maternal uncle of Krishna ji and Yogmaya ji wanted to kill him as it was predicted that the end of Kans will be from the hand of his sister's child. Yogmaya ji who was born on the same day, tricked Kans and served as a substitute to Krishna ji. She quickly disappeared but not before warning Kans that his death will be caused by Krishna Bhagwan, her brother.
It is said that the odd 200 people who are in charge of the maintenance of Yogmaya Mandir are the descendants of the same people who had been talking care of this temple since 5,000 years, i.e. the age of the Yogmaya Mandir.
Expect huge crowds of devotees in Yogmaya temple during Navratri.
Who destroyed Yogmaya Temple?
The present temple was reconstructed in the year 1827 C.E.
Mahmud Ghazni had attacked 27 temples in Mathura and Yogmaya Temple is one of them. Later, Mamluks, attracted by prosperity of Mathura, had invaded this holy land as well.
Unfortunately, a rectangular Islamic style hall was forcefully added to the temple premises. Thanks to the plunder of Islamic invaders, the original architecture of the temple (300-200 B.C.E.) is lost forever.
Samrat Vikramaditya Hemu is credited with the reconstruction of Yogmaya temple. Do not forget to pay a visit here when in Mathura.
Geeta Mandir or Bhagavata Bhawan, Mathura
The lesser-known place called as Geeta Mandir, which is located inside the Shri Krishna Janmabhoomi is a must visit. Geeta Temple, which was constructed by Birla group, is a very large temple which is located right next to the main garbhagriha of Janmbhoomi. Contrary to the spartan interiors of the main shrine, the Geeta Mandir is vibrant, I observed.
I was spellbound the moment I entered the Geeta Mandir and had divine darshan of the huge 6 feet tall idols of Radha ji and Krishna ji. The beatific smile on the face of divine couple, had me stare lovingly at them. They wore green clothes during my visit.
I was lucky to have their darshan in the nick of time because as soon as I had a satisfying darshan, the curtains were drawn by the main pujari aka priest. It is one of the most beautiful and largest idols of Radha ji and Krishna ji I have ever seen.
Constructed in red sandstone, Geeta Mandir is one of the main attractions of Mathura. The beautiful idols of Shri Krishna and Laxmi Narayan ji are outstanding. On one of the walls, I also noticed depiction of various avatars of Vishnu ji.
The idol of Hanuman ji, who faces north direction is also much revered. Idols of Shri Ram, Sita Mata and Laxmi ji are also worshipped inside the Geeta Mandir. The idol of Sri Mahavishnu with an ever-rotating Sudarshan Chakra on his hand, is outstanding.
Chariot called as Geeta Rath is also not to be missed. It reminds me of the chariot marks of Shri Krishna in Rajgir in Bihar. Do read my detailed blog on Rajgir. There is also a special jhanki in the Geeta Mandir complex.
One needs to take some easy 50 steps to visit Geeta Mandir. For senior citizens and differently abled, there is a lift service which they can avail.
Geeta Mandir, which is also known as Birla Mandir is a very well maintained and super clean temple. A visit to Shri Krishna Janmabhoomi is incomplete without paying a visit to Geeta Mandir. Geeta mandir is located on the Mathura Vrindavan Road.
Construction of Bhagavata Bhawan began on 11th February, 1965 and deities were installed on 12th February, 1982. There is no entry fee at Geeta Mandir. It is a free thing to do Mathura.
Shrimadbhagwat Geeta Inscriptions
The walls and ceilings of Geeta Mandir are embellished with pictures of various episodes from Hindu history. Sacred shlokas from vedas, the ancient scriptures have also been displayed here. Verses from Shrimadbhagwat Geeta have also been written on the walls of the Geeta temple.
Shri Krishna left behind thought provoking ideas through Shrimadbhagwat Geeta which is still relevant in modern times. He had shared the knowledge of Bhagavata Gita to Arjun ji during the battle of Kurukshetrra between Kauravas and Pandavas. Bhagavata Gita is a sacred scripture and is revered since the Mahabharat era.
Do not miss the verses of Bhagavad Gita engraved on the copper-plates which embellish the sacred walls of the parikrama marg (circumambulation) of the main temple here.
Soul Window Facts
Did you know that on one of the walls of the Meguti Jain Temple of Aihole near Pattadakal and Badami rock cut temples in Karnataka, we can still find the mention of Mahabharata. The date of Mahabharat has been clearly mentioned in this medieval inscription. This proves that Krishna ji had actually existed in Dwapar Yuga. I have also visited the famous Krishna temple known as Guruvayur temple near Thrissur in Kerala. I had gone there to see annual Puli Kali festival. It is located near Alapuzzha backwaters and Fort Kochi.
The point I want to make here is that whether it is Somnath or Dwarka of Gujarat in West India or North India or South India, Krishna ji is worshipped with equal reverence and enthusiasm. Do read my comprehensive blogs on these places and watch the videos on You Tube. Search for A Soul Window Travel Blog. I work hard to bring untold stories like these from across India.
Keshavdeva Mandir
Located towards the south of Eidgah, the famous Keshavdeva Mandir is a must visit place in Mathura. Commissioned by Shri Ram Krishna Dalmia in fond memory of his mother Jadiadevi Dalmia, the Keshavdeva Mandir was inaugurated by Hanuman Prasad Poddar on 6th September, 1958.
Hanuman ji was a trustee of renowned Geeta Press, a philanthropist, magazine editor and an activist during Independence of India. You must visit Keshavadeva temple if you love going off the beaten track.
The construction of Keshavdeva Mandir began on 29th June 1957.
Cave Jhanki inside Janmbhoomi complex
Just as I entered the premises of Lord Krishna birth place in Mathura, I saw a special cave jhanki, towards my left. I bought the entry ticket from a counter nearby and entered the cave displays. It is a small gallery, built in the shape of a cave. The gallery displays various leelas which were performed by Krishna ji.
The music plays in background as the devotees have darshan of each leela with full devotion and surrender. A glass wall separates the people from the idols. I saw pilgrims, touching the glass walls respectfully, closing eyes and folding hands.
Some of the leelas displayed here are those of Ukhal Bandhan, Raas Leela, stealing makhan, killing pootna etc. The idols are colorful and beautiful to look at. The path is covered with sand and all the devotees must walk here barefoot, as a sign of respect.
It is a nice display of jhanki. I noticed some random littering on the sand, which is strange because visitors are not allowed to carry anything inside except wallet. The displays also need come cleaning. The jhankis or displays I saw at Prem Mandir of Vrindavan is still the most beautiful and well-maintained ones I have seen yet. There is a small entry fee here. Another open-air jhanki is displayed right next to it. It is free to visit.
Visit Bhagavat Bhavan
When in Mathura, devotees also visit the lesser known Bhagavat Bhavan which is devoted to Shrimad Bhagvat. There are 5 temples which are located here. The temples here are devoted to Hindu Gods and Goddesses namely Subhadra ji, Shri Balram and Shri Jagannathji. It will remind you of Shri Jagannath Mandir in Puri in Odisha.
Do not forget to visit the much-revered Radha-Krishna Yugal Sarkar.
Shri Keshveshwar: Pray to Mercury Linga
Mercury Linga which is a form of Shri Keshveshwar or Lord Shiv is a top attraction here. Hindu pilgrims believe that merely by having a darshan of mercury Linga is same as having darshan of twelve Jyotirlingams. Devotees also offer prayers to the mercury Linga in the hope of washing away all their sins.
Other temples of Shri Krishna Janmbhoomi
While the Shri Krishna Janmasthan is the main attraction here, you can also pay your respects at other temples located in the vicinity. Several small and big temples, devoted to Gods and Goddesses from the Hindu pantheon are located within the Shri Krishn Janmbhoomi complex
That said, the main Krishna temple remains to be the most revered of all the temple here. Krishna Bhakts stand silently in long queue for that one glimpse of their beloved God.
Only faith binds them together!
Potara Kund
In the list of places to visit in Mathura, Potara Kund is the most popular. This huge water tank is located just few steps away from Shri Krishna Janmasthan Temple Complex. You can easily walk till here, irrespective of age. Potara Kund was where Maa Devaki used tow ash clothes of infant Krishna ji. Also known as Pavitra Kund, this step walled water tank is a sight to behold.
It was also the place where Krishna ji took his first bath. I have seen many such sacred kund, water tanks, Sarovar in Barsana, Nandgaon and Goverdhan during badi parikrama. None of those tanks were as large and visually stunning as Potara Kund.
Built by Mahadji Scindia in 1782, it was restored by his descendants in the year 1850. I was lucky to see the fountain show at Potara Kund which was no less than the fountain show of Vrindavan gardens of Mysore in Karnataka in South India.
I had confirmed about the fountain show from a local shopkeeper in the morning. The fountain happened as I waited for it at one of the benches near the Potra Kund.
Even if you are not able to catch fountain show, rest assured that your eyes will be treated with spell binding lighting at the Pavitra Kund. The color of the lights changes after every few seconds. It is magical to say the least.
Potara Kund is located towards the South East of Janmasthan, Krishna birthplace. Oma kachori wala is located right next to it. There are many monkeys here, so do not eat things in the open as they might snatch it.
Shri Krishn Janmbhoomi Museum
You must also visit the nearby museum. It will help you acquaint with the history of Shri Krishna Janmasthan. Many museum displays are items which were discovered here during excavations by Archaeological Survey of India aka ASI. Do visit these places near Mathura Krishna temple.
Vishram Ghat, Mathura
This historical riverfront is not just photo worthy but also has a rich past. It is said that Shri Krishna rested here after killing Kansa, his maternal uncle. This is why Vishram Ghat is an important place for Krishna devotees. The aarti of sacred River Yamuna ji is a must attend.
I saw many people performing various rituals, taking boat rides and just sitting silently on the ghat. You can hire a rickshaw to reach here. Though you can walk till here from Janmsthan but a rickshaw is a better option. Shared battery rickshaw is also available.
There are many morelesser-known and unheard of ghats located right next to Vishram Ghat. These are some of the top offbeat places to see in Mathura. You must visit these unexplored hidden gems of Mathura if you have extra time.
Just sitting at Vishram Ghat quietly is the one of the top things to do in Mathura, Uttar Pradesh, India. Locals also visit Vishram Ghat as a picnic spot in Mathura.
Dwarkadhish temple, Mathura
This massive temple is thronged be devotees all day long. It is located within the narrow lanes that lead up to the ghats of Mathura and Jama Masjid. Vishram Ghat is located at walking distance from Dwarkadhish temple. This is one of the most important sightseeing places in Mathura.
Jama Masjid, Mathura
Standing as another reminder of Islamic attacks and invasions in Mathura, Jama masjid is located very close to Dwarkadhish temple. Tall minarets of the mosque make it easy to spot it within the congested and traffic lanes of this part of Mathura. Do not forget to visit the back side of the mosque to see the vegetable and utensils market. It is one of the unusual places to see in Mathura.
Timings of Shri Krishna Janmbhoomi
Shri Krishna Janmbhoomi is open throughout the day. Here are the timings of Shri Krishna Janmbhoomi as per season:
Summer: 6:30 a.m. to 9 p.m.
Winter: 6:30 a.m. to 8 p.m.
I had visited during both morning and night. The ambiance of Janmbhumi is very different in day light and evening lights. It is therefore recommended to stay near Janmbhoomi and visit the holy temple during both day and night.
I was told by the security personnel that the main garbhagriha remains open throughout the day while the other shrines inside open after 3 p.m.
Entry Fee of Lord Krishna birth place in Mathura
There is no entry free for Janmasthan. Much like all of the Hindu temples, Janmasthan is a free thing to do in Mathura. That makes Mathura a pocket friendly destination as all top places to see in Mathura have no entry fee.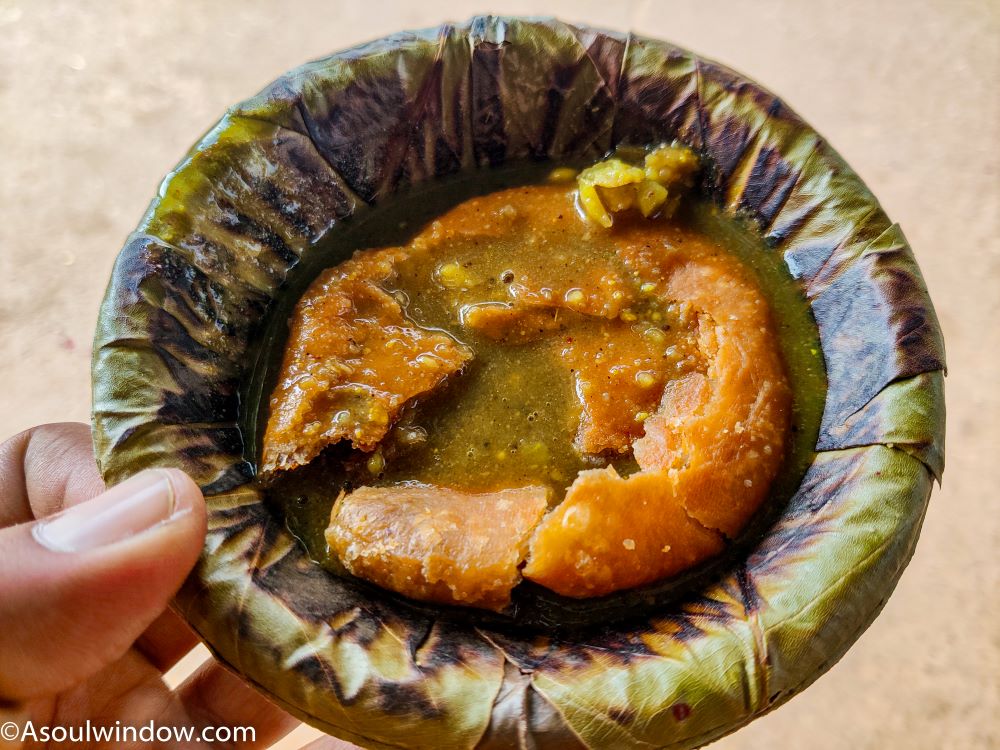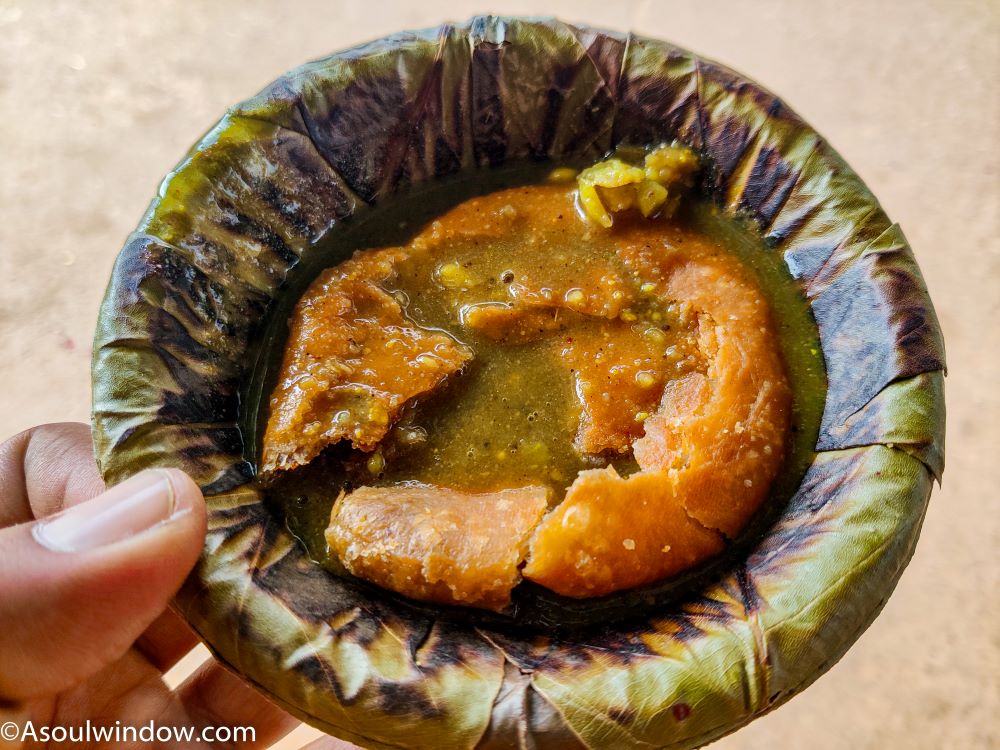 Vegan and Vegetarian Food in Mathura
Below are the best places to eat in Mathura
Oma Pehalwan Kachori Wala: Kachori, Bedhai in breakfast. Near Janmasthan and Potara Kund.
Bhojnalaya: Pure veg sattvic meal. Near Janmasthan.
Main Brijwasi Pede Wale: Kachori, Bedhai, excellent poori sabzi in breakfast.
Girraj ji Chat Bhandar: Nice Dahi Bhalla, Alu Tikki and Panipuri.Near Janmasthan
Brijwasi: Good quality peda, meals, snacks, namkeen and chaat. Near Janmasthan, Krishna birthplace.
Brijwasi Mithai Wala and bakery: Good quality snacks, bakery items, Badam milk, gajar ka halwa (in winter). Near Tilak dwar and Holi gate.
Shriji chat bhandar: I sampled Alu tikki and cheela there. In Chatta Bazaar. Near Holi gate and Tilak dwar.
Do read my detailed blog on best food to eat in Mathura. I have mentioned about each place to eat in Mathura and many more in great details.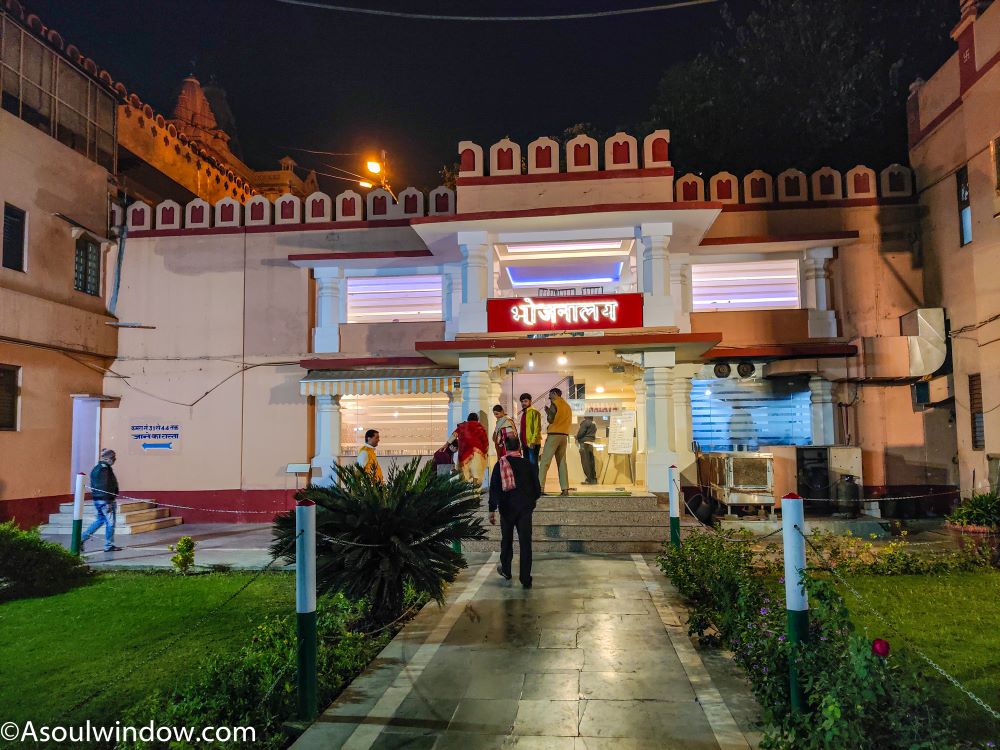 Where to stay near Shri Krishna Janmbhoomi, Mathura
The very vibrant town of Mathura is full of hotels, lodges, guesthouses, dharamshalas, hostels, dormitories, in all possible budgets. From swanky 5-star luxury properties to budget accommodation, the choices in Mathura are varied.
Abhishek of Shri Krishna
A bhog or prasad is offered to the God which is distributed to the family members, neighbors and friends. The bhog for Abhishek of Shri Krishna contains the following:
Milk
Curd
Kheer
Kakdi
Honey
Mishri
Ganga Jal
Desi Ghee
Coriander
Cucumber
Aata Panjiri
Festivals at Shri Krishna Janmbhoomi
India is a land of festivals. Some of the biggest festivals of India are celebrated in Mathura with much enthusiasm and fanfare. It is a good idea to time your Mathura visit during the below mentioned festivals. Many festivals are celebrated in Mathura on a grand scale.
Radha Ashtami
Radha Ashtami, which is observed as the birth anniversary of Radha ji is also celebrated on a grand scale in the Janmbhoomi complex. Radha Ashtami falls after 15 days of Janmashtami, which is, on the Ashtami Tithi, or the eighth day of Shukla Paksha in the month of Bhadrapada, as per Hindu calendar.This corresponds toSeptemberas per the Gregorian calendar.
Janamashtami at Shri Krishn Janmbhoomi
Shri Krishna Janmashtami is the most popular festival celebrated in Shri Krishna Janmbhoomi and Mathura. The devotees and the temple management celebrate Janamashtami on a grand scale and with much fanfare. After all, Shri Krishna was born in Shri Krishna Janmbhoomi of Mathura.
Visiting Shri Krishna Janmasthanduring Janamashtami is preferred by many devotees. During the Janamashtami festival, all roads lead to Mathura. Therefore, expect huge crowds.
This is when the temple comes alive with festivities on a massive scale. Not only the priests but the local people, devotees and tourists begin the birthday celebration of Shri Krishna from midnight onwards. This is so because Shri Krishna was born during midnight.
Shri Krishna Janmashtami falls mostly in the month of August.
Shri Krishna Janamashtami Celebrations at home
Growing up in small town of Kanpur (In Panki) and Prayagraj, I and my friends used to decorate a room of our home with jhanki on Janamashtami. We used to buy various idols showcasing the different life stages of Krishna ji.
The next step was to creatively display the idols in life like displays. Think, a motor operated moving chakra, a miniature flowing river and river banks made from actual sand. Think Vasudev ji crossing the river with Krishna ji on his head. Think Bal Krishna performing leelas and stealing makhan from the pots.
We used to visit the homes of each other and appreciate the jhankis of others. In fact, some Government organisations used to have their own Jhankis which we used to see. My dad used to take us there on a scooter, me mostly standing ahead of the front seat.
Soul Window Observations
Unfortunately, the westernized children of today know nothing about the above-mentioned practices. The parents should revive these activities which not only celebrated the birth of Krishna ji but also helped bond with the community.
Krishna ji was born at the stroke of midnight. As kids, we used to excitedly wake up till 12:00 a.m. because that was when Krishna ji was born. The celebration was done by cutting cucumber as it is considered auspicious.
Naal Chedan: Why cucumber is cut on Janamashtami
Cucumber is symbolic of the umbilical cord which separated Devaki Maa from the infant Krishna ji. This is why the stem of cucumber is cut on Janamashtami to symbolize the birth of Shri Krishna. This process is called as Naal Chedan.
The cucumber used for Naal Chedan musthave some leaves and stem. On the day of Janamashtami, cucumber is placed next to the idol of Krishna ji and it is separated from stem at the stroke of midnight because that was when Shri Krishna took birth.
The cucumber is separated from the stem with the help of a coin. Many people also blow Shankh or conch shell while performing Naal Chedan.
Excursions from Shri Krishna Janmbhoomi
There are many tourist attractions and unusual places to visit near Shri Krishna Janmbhoomi, Mathura such as:
Agra
Barsana
Nandgaon
New Delhi
Vrindavan
Govardhan
Gokul and Raman Reti
How to reach Shri Krishna Janmbhoomi, Mathura
It is very easy to reach Mathura from New Delhi, Gurugram, Noida, Ghaziabad and Alwar and Bharatpur. In fact, Mathura is the easiest weekend destination from Delhi NCR. It is a pity that I took so long to travel to the sacred Braj Bhoomi.
Local Transport for sightseeing around Shri Krishna Janmbhoomi
Battery rickshaw, pedal rickshaw, auto rickshaws and buses etc are easily available in Mathura. Most of the major points of attractions of Mathura are located close to each other. Therefore, during my Mathura visit, I had used the battery rickshaw and pedal rickshaw only once. Most of the exploring was done on foot.
By rail
There is a railway station in Mathura which is well connected to many small and big cities of India. I had arrived in Mathura from Ghaziabad near New Delhi via a super cheap sitting chair car in a train. It was a neat and clean train and took just 2 hours.
And it costs less than what it costs for a coffee at Starbucks. I visited Mathura as a quick and low budget weekend getaway from Mathura. I travelled there as a solo, budget traveler.
By air
It is a shame that Mathura does not have an airport, despite being such an important Hindu pilgrimage. The closest domestic airport near Mathura is located in nearby Agra.
The closestinternational airport from Mathura is situated in New Delhi, capital of India. Many pilgrims prefer to hire a private cab, self-drive or take a bus or train from New Delhi (150 kilometers) and Agra (56 kilometers).
By Bus
Many buses leave for Mathura from New Delhi. In case, you have failed to reserve a seat in train, you can book a bus last minute. It is also cheap to travel in bus.
By road trip
The road network between New Delhi and Mathura is well developed. It is very easy and quick to travel to Mathura from New Delhi, Ghaziabad, Noida and Gurgaon via a car. You can self-drive or hire a cab.
Distances from Shri Krishna Janmbhoomi, Mathura
Distance between Mathura and Vrindavan is 155 kilometers and it takes around 2 hours via Taj Express Highway and Yamuna Expressway. However, it took me way less via local public transport.
Distance from Mathura to Gokul is also not much. I was able to visit most places such as Vrindavan, Gokul, Govardhan, Barsana and Nandgaon within 1-1.5 hours from Mathura via shared public transport.
Frequently Asked Questions
Solo Trip Tips for Shri Krishna Janmabhoomi
It is easy to go on a solo trip to Lord Krishna birth place in Mathura for both males and females. It is a bustling city with all modern frills. The robust public transport and amenities make Mathura an easy destination for solo, budget backpackers.
Backpacking Budget Travel Tips for Shri Krishna Janmabhoomi
It is very easy to go low budget in Mathura. In fact, much like most of Odisha, Mathura and nearby places were one of the most low-cost places I visited ever.
Public transport is easily available. The food cost is also very low. I was also able to find good budget hotel at very low cost.
Luxury travel Tips for Shri Krishna Janmabhoomi
Mathura is a well-developed city, so you will be able to find luxury hotels easily here. You can also book a luxurious car for a trip in the entire Braj Bhumi belt.
ATM near Shri Krishna Janmabhoomi, Mathura
Since Mathura is a bustling city, it is easy to find ATMs and banks here.
Is Shri Krishn Janmbhoomi Asthan safe to visit?
I was impressed to see strict security checks before anyone enters the temple precincts of Shri Krishna Janmbhoomi Complex.
What is allowed inside Shri Krishn Janmbhoomi Asthan
While entering the Shri Krishna Janmbhumi, I had taken along only my wallet, hotel key, footwear and a cap which I wore. Cap is allowed inside, however, I was asked to remove my cap and show it to the security at the entrance gate.
Following are not allowed inside the Shri Krishn Janmbhoomi Asthan:
Any camera, whether action camera, DSLR, point or shoot or mobile cameras
Mobile phones
Electronic keys
Bags
Shoe Rack inside Janmbhoomi
I had visited the Janmbhoomi twice. During the morning visit, I had submitted my slippers along with the bag at the locker. I realized it was a bit uncomfortable walking on the embossed tiles inside. Therefore, in the evening, I carried along my flip flops and submitted it inside a shoe counter which is located within the Janmbhoomi complex. This service is free of charge.
Locker facility at Shri Krishna Janmsthan
2 lockers are available right outside the Lord Krishna birth place in Mathura. While the larger locker is where I had submitted my huge backpack, the smaller locker is meant for only mobile, cameras and other electronics. The charges at locker are very low.
I noticed that people even submit suitcases and large bags in the large locker. Both lockers are very well managed and people are given a token so that they can easily claim their belongings after having the darshan.
Is photography allowed inside Shri Krishna Janmabhoomi?
No. Photography and Video film making is rightly strictly prohibited inside the Shri Krishna Janmabhoomi premises. Like others, I was able to take videos, do Vlogging, click pictures and selfies at the entrance to the Krishna Janmabhoomi and Keshav Deo temple.
Taking videos and images at the Shri Krishna birth place jail is strictly prohibited.
Are non-Hindus allowed in Shri Krishna Janmabhoomi, Mathura
No, Muslims are not allowed inside Shri Krishna Janmabhoomi.
Is meat and liquor allowed near Shri Krishna Janmabhoomi, Mathura?
No, meat and liquor are strictly prohibited in the close vicinity of Shri Krishna Janmabhoomi.
Dress code for Shri Krishna Janmabhoomi
Much like most spiritual places such as Karbala in Iraq or Mecca in Saudi Arabia, or closer home Ajmer Dargah in Rajasthan, Tawang monastery in Arunachal Pradesh and Golden temple in Amritsar, it is advised to dress modestly inside the Shri Krishna Janmabhoomi, as it is one of the most revered Hindu pilgrimages globally.
Females: Women and girls should wear sari, suits. Even jeans and pants are allowed.
Male: I, as a brown male, wore jeans and shirt and I was allowed. Dhoti Kurta, shirts, full length pants are allowed inside Shri Krishna Janmabhoomi. Avoid shorts.
Is it safe to visit Shri Krishna Janmabhoomi?
Yes, despite the dispute around Shri Krishna Janmabhoomi, I found it very safe to visit for both solo male travelers, solo female travelers and family.
In fact, there is added security at Shri Krishna Janmabhoomi. Also, it is a pedestrian zone which means no heavy vehicles and four wheelers are allowed to ply on the road in front of Shri Krishna Janmabhoomi.
Best Time to visit Shri Krishna Janmabhoomi, Mathura
Shri Krishna Janmabhoomi, Mathura is a year-round destination. You can pay a visit here throughout the year. A true devotee doesn't care about rain, heat and extreme cold. He will still visit the temple of his beloved God, come what may. This is why, you can see people visiting Shri Krishna Janmabhoomi, Mathura on a daily basis.
That said, below is the weather of Mathura which you will expect in various seasons:
Winter: I visited Krishna Janmabhoomi temple in the month of November, around my birthday (Yes, I am Scorpio). The weather was just perfect. It was neither too cold and not hot at all. Even during the afternoon, it was pleasant. I traveled in just T shirts, lowers and slippers during my solo, budget trip to Mathura.
December and January are the coldest months in Mathura. Expect nice weather in Mathura in September, February and March. The festival of Holi falls in March, making it a good time to experience the world-famous Holi festival of Mathura, Vrindavan, Barsana, Nandgaon, Govardhan etc.
Summer: It is common knowledge that April, May, June are the summer months in Mathura. Located in North Indian plains, Mathura is particularly very hot in June. Expect high temperatures during these months.
Monsoon: It rains a lot in July in Mathura. August is also a rainy month in Mathura. Shri Krishna Janmashtami falls in the month of August. It is a great idea to time your Mathura visit during Janmashtami and participate in the grand festivities. Temperatures in Mathura is moderate during these months.
How many days to spend around Shri Krishna Janmabhoomi?
1 day is enough for darshan inside the main shrine of the Shri Krishna Janmabhoomi, birthplace of Lord Krishna. I had however stayed for 2 days in Mathura. I had visited Gokul, Raman Reti and Raskhan Ji Ki Samadhi on the second day though.
Within 1 day, I was easily able to visit Shri Krishna Janmabhoomi two times, once in morning and then in night. On the same day, I was also able to visit the nearby Potra Kund on foot. I took a battery rickshaw to visit Dwarkadhish temple, Vishram Ghat, Jama Masjid, local markets and what not. What's more? I was even able to sample food at all the best places to eat in Mathura. On foot of course and all this in a day!
Conclusion: Why visit Shri Krishna Janmbhoomi
After Ayodhya how do Hindus now liberate Krishna Janambhoomi and Kashi Vishvanath temples from illicit Islamic occupation? All we can say is that appeals are still being made in the courts and suits are filed. Only time will tell what fate awaits Mathura.
Let me know that as an Indian will you support a legal recourse to claim the right to pray at Kashi Mathura just like the Ram Janmabhoomi case?
Shri Krishna Janmabhoomi temple, which has been a holy place for Hindus since thousands of years is a must visit place in Mathura. Every day, lakhs of Hindu devotees visit Shri Krishna Janmbhoomi and offer their prayers to, as whites say it, Lord Krishna.
Birthplace of Lord Krishna, located in the holy land of Uttar Pradesh is also close to other spiritual places such as Varanasi, Prayagraj, Ayodhya and even famous Buddhist sites such as Kapilvastu, Shravasti, Kushinagar etc.
To summarize
Pay your respects at the birthplace of Shree Krishna
Offer prayers at Potara Kund, Yogmaya Mandir and Mercury Linga
Pay a visit to the museum
Grasp the culture around Shri Krishn
Coincide your visit with Janamashtami
The view from my Soul Window is Jai Shri Krishna!
Pin this blog to save the blog and plan a trip later!
Related blogs:
You may want to read these related blogs as well.
Blogs on Uttar Pradesh
Top places to see in Mathura
Where to eat in Mathura
Birth place of Shri Chandrashekhar Azad
Hot balloon Festival in Taj Mahal
First Dussehri Tree of the world
Dhangadhi – Border of India and Nepal
Dudhwa National Park and Tiger Reserve
Birdwatching in Dudhwa National Park
Lakh Bahosi Bird Sanctuary of Kannauj
Blogs on Shri Krishna
Guruvayur Temple near Thrissur
The Sri Ranganathaswamy Temple
Shri Jagannath Puri
Mysteries of Shri Jagannath Puri
Mahaprasad of Shri Jagannath Puri
Top Travel Blogger from India