Last Updated on June 29, 2017 by
THE MAJESTIC PRINCESS IS THE NEW CRUISE by the popular Princess Cruise. Though I have been traveling close to 10 years now, but cruise has still not fallen on my radar until I decided to board my maiden cruise voyage aboard Majestic Princess facilitated by Cruise Professionals.
Post the Bollywood blockbuster 'Dil Dhadakne Do' by maverick director Zoya Akhtar, Indians have taken a fancy for cruise. I had seen it before in movies like Mann and Humraaz but it didn't really caught my fancy then.
That was the first time my curiosity was piqued and it peaked when my friend Neha Dwivedi regaled me with her stories from a cruise she did in Singapore. I have studied hotel management. Some of my friends and one of my cousins have also worked in many departments of a cruise such as Food and beverage service, kitchen etc. They had also enticed me with interesting cruise stories.
No wonder when an opportunity to board a cruise from Dubai to Kochi came my way, I was excited and couldn't wait for it to begin. Having experienced it now, I have been recommending a cruise vacation to all and sundry, including my family.
It is a new trend amongst Indian to spend time on cruise and why not. Here are some of the reasons why more Indians should experience a cruise vacation.
A Cruise vacation is much cheaper than a regular Holiday:
Yes, you read it right. Even I was surprised to discover this. One week long vacation on a cruise or more will be always cheaper than a week long vacation via other means. If you board from Dubai like I did from India, you will save flight cost on one side. You will only have to bear the cost from say, India to Dubai as you can disembark or board from your country. I started at Dubai and disembarked in Kochi, India which is my country.  Thus you save one way cost.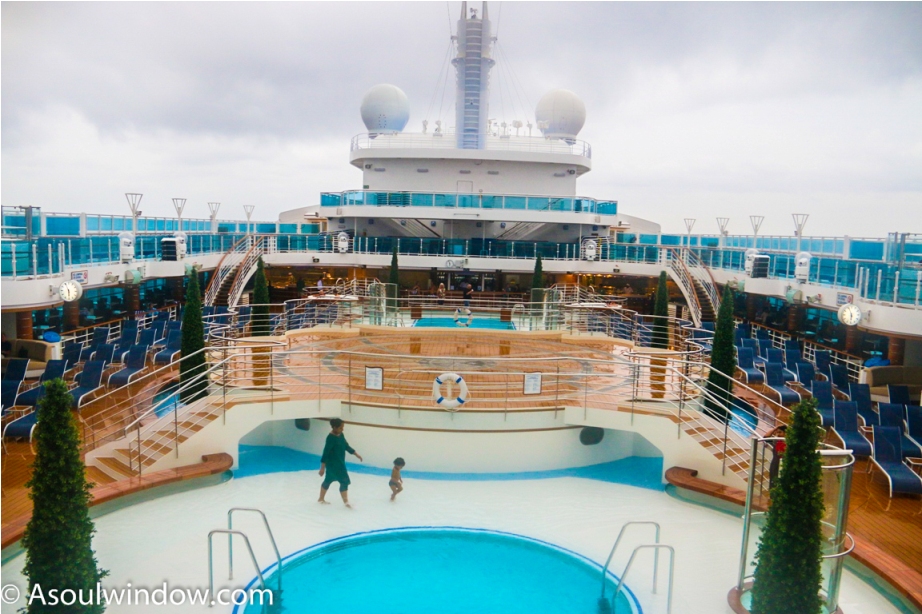 The cruise prices start at US$ 100 per person per day for base cabin category. This includes cost of the cabin, ocean transportation in the itinerary, all meals and entertainment on board the ship. Imagine walking into select restaurants of your choice and order anything or pick any cake or full meal 24 hours without having to pay again and again. The Majestic Princess had certain restaurants and bars where you had to pay as per order, while there were many restaurants and even ice cream parlours where you can eat all day, no questions asked.
There are also many entertainment shows going on all day. Passengers can participate in dance classes, violin and saxophone concerts, art auctions, grand musicals, lessons on how to manage weight, LGBT meets, solo traveler meets, acrobats, DJ nights and even Bollywood nights. All of these activities are inclusive. Our group demanded popular Marathi song, 'Zingat' and voila, they had it!
However items of personal nature – liquor, shopping, dining in specialty restaurant, spa services, casino etc. are not included in the cost. When compared to the cost for a room in a decent hotel in a metro city, the inclusions in a cruise far outshine the over-all benefits and facilities provided. The prices are dynamic and vary on different sail dates and cabin type.  Also, the passengers must consult a travel agent such as the  Cruise Professionals specifying their needs for the correct quote.
  2. A Cruise is a perfect place to bond with family and friends:
Indians love to travel with family. No matter how much your social media feed is inundated with cool posts from solo travelers, the truth is that most Indians prefer traveling in groups, mostly with family and friends. It is not a co-incidence that the movie Dil Dhadakne Do was a family drama set in the cruise. A cruise is a perfect place for group vacation. Owing to the overwhelming logistics aspects, group travel is always the most difficult form of travel when compared to other styles. Since everything is taken care of in the cruise, the family can relax and enjoy rather than running from pillar to post trying to get things done. It is like commissioning a wedding planner to take care of the family wedding.
Also, since you can't escape the ship sometimes for days at a stretch, you end up spending quality time with each other. Thanks to the many activities on board, it is the perfect place to strengthen bonds, forge new one or even do some soul searching in lonely spots. Cruises are a cheerful place. The moment you enter one it uplifts the mood with its positive vibes. Indians never miss an opportunity to celebrate life.
The cruise just gives them more excuses to feel good and cheery. Think of your family, extended family or friends having a whale of a time in the cruise. I met some families from India on Majestic Princess and abroad who have been cruising for more than 20 years now. It sure is an addictive passion. As awareness is growing, more and more Indians are showing an inclination towards cruises. And in case it is your birthday or anniversary, be ready for surprises!
A CRUISE VACATION IS HASSLE FREE:
There is no denying that cruise is the most comfortable way of vacationing. Once you are aboard a ship most of the logistics are taken care of. One big relief is that you don't have to pack and unpack the luggage as you move from one destination to other. For example, when Majestic Princess made a day stop at Abu Dhabi, all I did was wake up, have a bath followed by a breakfast and take a taxi ride to the Grand Mosque. I returned in few hours to a made up room, sumptuous lunch and good cheer. The cruise moved in the night towards Oman and then India. Of course, it is possible via road and air transport as well, but it comes with inconveniences and time wasted in formalities.
The thrill to be embarking on a journey on the cruise alone carries great aspirational value among Indian travelers thus counting for a huge rise in the percentage of travelers opting for cruises. Nearly 70% have been generated for the last 10 years and 40% of the total pax number have been generated in last 5 years alone. Cruise industry is the sole industry that exceeds its expectations every year.
Facilities on board cruises are top notch:
The cruises are designed in a fashion that it caters to people across class, gender, age etc. It is spacious and big enough for easy movement. No wonder I saw many passengers on cruise who were wheelchair bound. The egalitarian nature of the cruise makes it appealing to a diverse range of travelers. It has facilities for all kinds of need. Despite a varied demographic aboard Majestic princess, it catered to the needs of people from different cultures.
I was delighted, for example to find samosa, aaloo bonda , dal, rice, aaloo-gobhi and other vegetarian Indian dishes on the menu. Thanks to the heavy presence of Indian chefs (along with chefs from other European and Asian nations), the food tasted homely. That said, a huge variety of authentic continental and Asian dishes were also available for the adventurous souls.
Presence of housekeeping attendant on each floor is a big help. The huge range of Food and beverage outlets, duty free shops and entertainment options are world class.
The vibes and the camaraderie on a cruise are unparalleled:
The Majestic Princess was populated with passengers and staff from nations as varied as Australia, China, India, Philippines, U.S.A, U.K. and many more nations. The person next to my room was an  Australian. I along with my friend Swati Jain met another Australian John from Australia. Few minutes of conversation later he gifted us a kangaroo pendant made up of pure gold. He must have had a heart of gold!
It was amazing to see citizens of so many countries following the instruction of the dance teacher in the grand atrium area flawlessly. Their bodies moved in rhythm and they danced as one belying the cultural or language barriers. I had so many small talk sessions inside the lift as I navigated 17 floors of the ship. The fact that you end up seeing the same set of people every day helps you forge bonds with people from cultures you knew nothing about.
My friend Neha Dwivedi, who loves cruises sums up a quintessential cruise experience perfectly, "A good cruise offers you the best of nature and also gives you an opportunity to engage with some of the finest man-made experiences. The time stops at the cruise, mobiles don't work and internet is patchy and expensive. The serene sunrises and sunsets from the decks at dawn and dusk, coupled with soft breezes slapping the cheeks, taste of sea salt flirting with the tongue, the sound of waves etc didn't make me miss the land.
The indoors of a cruise is a different world altogether- the magnanimous structures and the grandeur enticed me. The plethora of endless activities, a pool in between a vast stretch of sea is an unthinkable of an experience in itself. The gigantic ship sailing without a wobble or shake is something to be experienced personally. All this coupled with some exquisite cuisines, and unmatched entertainment of all ages, makes up for a wholesome family vacation. "
Spread the love, share this blog
Got any question/comments, ask in the comment section below so that it can benefit other readers.
Email me for collaboration: [email protected]
Be a part of my journey on social media. The travel content I create there is different from this blog.
Pls subscribe/follow/like:
WARNING : COPYRIGHT TO ALL THE TEXT AND PICTURES SHARED HERE REMAINS WITH ME. YOU CAN NOT JUST LIFT THE CONTENT AND USE IT WITHOUT MY PERMISSION. STRICT LEGAL ACTION WILL BE TAKEN IF CONTENT IS STOLEN. YES, I AM SERIOUS.