Last Updated on December 5, 2019 by asoulwindow
WHY AAMOD AT BHIMTAL, UTTARAKHAND IS THE BEST PROPERTY FOR BIRDWATCHING IN SATTAL!
Aamod At Bhimtal is where you should stay not only if birdwatching is your focus but for regular vacation as well. Located at an elevation of 1370 meters above sea level, it offers you a stay amidst unbridled nature and comforting luxury.
It is one of the best places to stay in Bhimtal for birders. I have been to Nainital also but honestly I found Bhimtal and Sattal much more pleasant. It's much more secluded, with little human construction and is hardly commercialized. Despite being a weekend, Bhimtal is not crowded like its more famous cousins.
At pristine places like these, properties in the league of Aamod At Bhimtal offer city dwellers quick escape from the realities of their daily grind. But what it also offers to the avid birdwatchers is lifetime memories of flirting with nature and the avian species.
I am impressed with the sheer number of birdwatchers and wildlife photographers here. They have come from as far as Mumbai, Kolkata, Delhi in India and even other countries. No wonder Bhimtal and Sattal are called a paradise for birdwatchers. I got many rewarding bird shots within the property and some secret places just 10 minutes away from Aamod At Bhimtal. I saw many of these species for the first time.
ARRIVING AT AAMOD AT BHIMTAL
I easily arrived here using GPS and guidance from locals. Me and my differently abled wildlife photographer friend Sudeep Garg made a 8 hour long road-trip from Lucknow to Bhimtal. We started at 4 am from Lucknow and arrived at 12 a.m. on the doorsteps on Aamod At Bhimtal. I caught up on sleep in the Innova car itself. Because we had less time, so we left for the evening session of bird-watching as soon as we had lunch. We freshened up and left the hotel by 3 p.m. just in time to spot exotic bird species!
THE LOCATION OF AAMOD AT BHIMTAL
The location of Aamod At Bhimtal makes it instantly likeable. It is nestled right in the middle of an oak and pine forest. It is just 10 minutes away from the still offbeat main lake of Sattal. The way to Sattal lake passes through a road which offers birds's eye view of Garuda lake, Sattal lake and Studio point! The views are awe inspiring. Some people stopped by and soaked in the views.
I wish we had that luxury, as we were always running late for bird-watching! One could evn walk upto this point during morning and evening. A kachcha rasta (uneven dirt path) leads to the upper road directly. You need to walk left just as you leave the property. Vehicles also ply here. But be warned, walk only when you have leisure time and not in a hurry to reach at the view point.
WHY AAMOD AT BHIMTAL IS A GREAT PLACE FOR BIRD WATCHERS TO STAY?
It is also a great place for birdwatchers to stay because many exotic birds can be easily found within the property. We spotted great barbet, emerald dove and the rare mountain bulbul within the property! The other birding spots were also at walkable distance or just 10 minutes drive away.
MORE ABOUT AAMOD AT BHIMTAL
Aamod At Bhimtal is a sprawling property. Their tagline, 'paradise unplugged' is apt! The moment you enter the property, dense greenery welcomes you. Different varieties of trees, plants and shrubs have been planted within the property campus. Though the property is on multi level, yet it is senior citizen friendly! Lifts are available to access the above floors. The pool area, banquet, conference hall, table tennis hall and the restaurant are all located close to each other on ground floor or one level up and down. This makes it very convenient for guests to hop from one area to another without having to walk too much.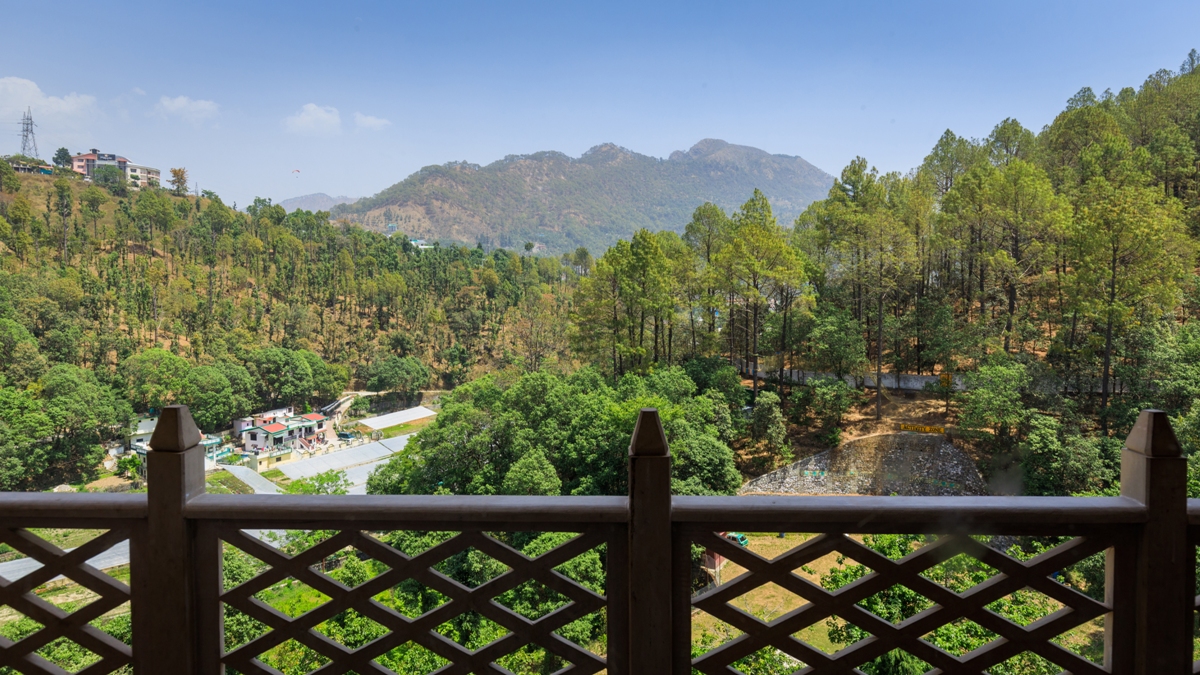 ROOMS OF AAMOD AT BHIMTAL
The first thing which I rushed to check was its large balcony. That's what gives this property an added advantage. The views were so amazing that I didn't move from the balcony area for 30 minutes as soon as I arrived. My room faced lush green forests in the distance. I could also see the pool area of the property from my balcony.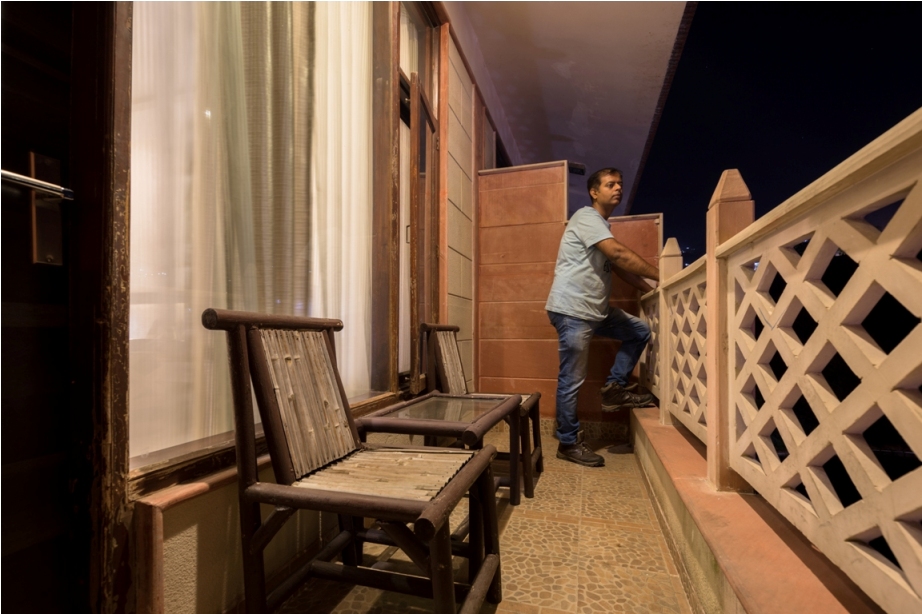 The balcony has 2 comfortable wooden chairs and a table. Every time we ordered food and beverages in room, we made sure we enjoyed it in the balcony.
The room was spacious. The large windows separated the balcony from the room. This means that if you want to enjoy the views from the comfort of your bed, that was possible. The flow of light natural light didn't require me to switch on the lights in the day. The weather was just perfect and I didn't even need to switch on the AC.
Apart from the usual TV, side tables, writing tables and wardrobes, the rooms also had a manu card and a small guide to places of interests nearby. It's a pity that we could not see all the places of attraction as our main focus was bird-watching. Never mind, this gives us an excuse to return to the beautiful Aamod At Bhimtal.
The washroom was average size. There was no bath tub in my washroom. The hot shower was nice. The shower area was more spacious than the ususal size we see in luxury hotels.
OTHER FACILITIES AT AAMOD AT BHIMTAL:
There is a lot you can do at Aamod At Bhimtal. There is never a dull moment here. You can do below activities here, arranged by the expert activity manager at Aamod At Bhimtal:
Bird Watching: As I mentioned already, it is one of the best places in India for birdwatching. I will let the pictures do the talking!
Treks and hikes: There are many trekking trails around the property. Their in house trek leaders will guide you through.
Jacuzzi: They have a luxurious Jacuzzi room where you can indulge in the privacy of a wooden hut. The tub faces the sprawling verdant valley separated by a huge glass window.
Lake hopping: You can visit famous lakes of this region such as Nainital, Bhimtal, Sattal, Garuda Taal, Nal Damyanti Tal, Naukuchiatal etc. You can do boating followed by walk around the lakes or vice the versa.
Temple hopping: Old temples like Bhimkeshwar temple and Godhakhal temple are nearby.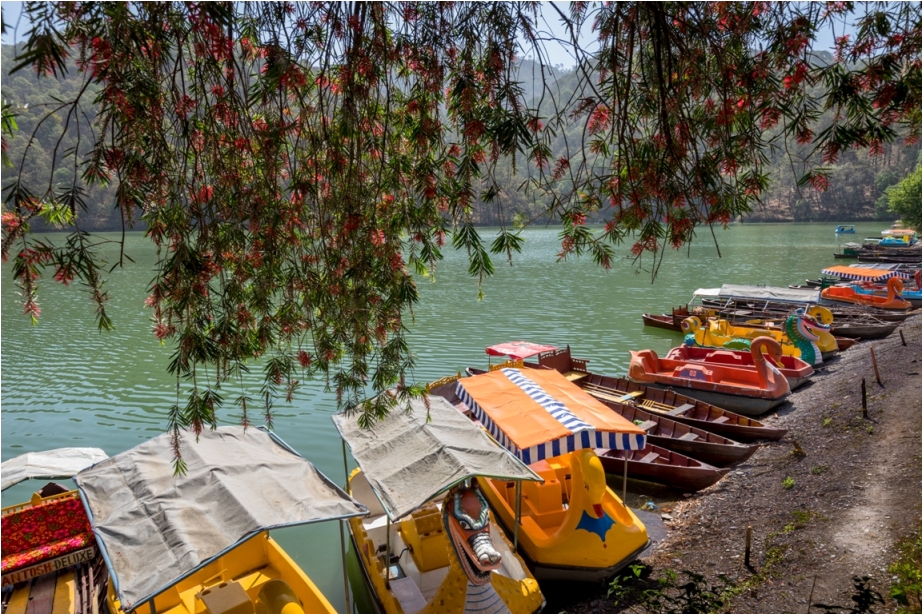 Excursions: You can also plan trip to Ranikhet, Almora, Binsar Wildlife sanctuary, Mukteshwar, Shitlakhet etc.
ADVENTURE ACTIVITIES AT AAMOD AT BHIMTAL, UTTARAKHAND:
The activity area of Aamod At Bhimtal is huge. One can indulge in basketball, paint ball, badminton and even ziplining and rappelling. You can also test your brains and brawns while attempting the Burma Bridge, Rope Bridge Walk, Commando Net etc.
What's more, they also offer cycling! Cycling here is very pleasurable. Expect empty roads (even on a weekend), lush greenery, fresh air, chirping of birds. This place is tailor made for cycling. What's not to love?
FOOD AT AAMOD AT BHIMTAL, UTTARAKHAND:
We tried both Indian and continental, buffet and a la carte (room service)
Breakfast- The breakfast buffet had something for everyone. I settled for the fruit juices, buttermilk, healthy idli, poha and sprouts. For those who are not watching weight, they had sinfully delicious chola bhatura, puri bhaji and stuffed parathas.
Lunch and Dinner: The buffet again had a good variety. I liked Paneer kali mirch particularly. Sudeep raved about the noodles and the Chinese style gravy with exotic vegetables. They also served healthy phulkas, daal and rice for weight watchers. I enjoyed their delicious kheer and variety of ice creams for dessert.
Room Service: The room service was impressive. The order was taken and delivered with accuracy. The time taken to deliver the order was also quick. The food was served hot, covered with lids and aluminum foils.
We ordered dahi ke kebab and cold coffee after a long tiring day of shoot. Both were done to perfection. We enjoyed the meals in the balcony, soaking in the views. The cutlery and crockeries were cleared as soon as I requested them over a call.
And oh, I forgot to mention, they welcomed us with complimentary rhododendron juice locally called buransh. The juice is extracted from a local flower.
AAMOD AT BHIMTAL IS ALSO A FAB DESTINATION FOR WEDDING DESTINATION, OFFSITES AND OTHER EVENTS:
The day I arrived, young professionals from a multinational company were vacationing at the Aamod At Bhimtal. They had come for offsite. They did team building activities in the activity area, did conferences in the hall and later parties by the pool.
When they left, Rotary club members were having a gala time in the property.
It is also a great place for training programs, brand launches, book launches, workshops dealer meets, seminars, literature festival, the works!
You can also celebrate your special moment such as birthday parties, weddings, engagement and even honeymoon and marriage anniversary celebrations. You name it, they will make it happen!
HOW TO CONTACT AAMOD AT BHIMTAL?
You can book a memorable trip to Aamod At Bhimtal by clicking this link or by contacting them as below:
E mail of Aamod At Bhimtal: [email protected]
Phone contact of Aamod At Bhimtal: 9213022540 | 9213022541 | 9213022542
Best Time for birdwatching in Bhimtal and Sattal:
October to June is the best time for birdwatching in Sattal and Bhimtal. Winter is the best time for easily spotting Upper Himalayan birds.
The view from my #SoulWindow has exceeded my expectations.
Spread the love, share this blog
Got any question/comments, ask in the comment section below so that it can benefit other readers.
Email me for collaboration: [email protected]
Be a part of my journey on social media. The travel content I create there is different from this blog.
Pls subscribe/follow/like:
WARNING: COPYRIGHT TO ALL THE TEXT SHARED HERE REMAINS WITH ME. YOU CAN NOT JUST LIFT THE CONTENT AND USE IT WITHOUT MY PERMISSION. STRICT LEGAL ACTION WILL BE TAKEN IF CONTENT IS STOLEN. YES, I AM SERIOUS.
MORE IMAGES OF AAMOD AT BHIMTAL
Top Travel Blogger from India