Last Updated on December 18, 2019 by asoulwindow
Top Things To Do and Places To See In Dubai, United Arab Emirates – Complete Guide!
This blog is about the top things to do and the top places to visit in Dubai. My first experience with Dubai was when I was invited to experience a memorable luxury cruise from Dubai to Fort Kochi in India. It was a different world altogether. Even though Dubai is a Middle Eastern nation, I found it to be quite different from Jordan, another Middle Eastern nation that I had visited earlier. All you need is a handy Dubai travel guide to plan a trip to this country soon.
Here is my guide on the top things to do and the top places to see in Dubai. You should book Dubai Tour Packages which makes it easy to travel around Dubai and also because it covers most of the places of interest. You can also apply for your Dubai Visa Online. It is an easy process, which has also contributed in making Dubai one of the most accessible travel destinations of the world.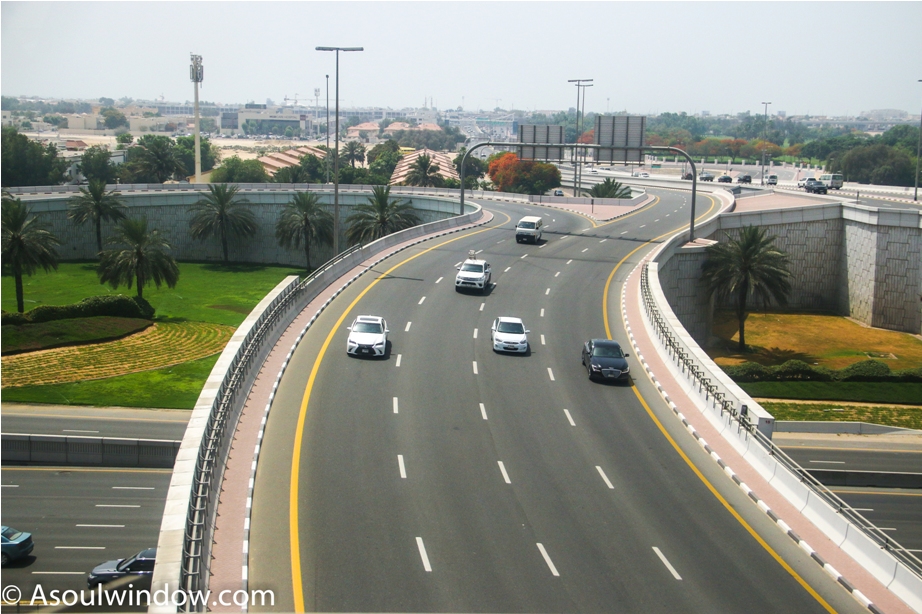 Global Village: Top Place to See In Dubai, U.A.E.
Imagine a place where you can sample the cuisine, lifestyle and culture of more than 70 countries under one roof. Expect street food, fine dining, spirited performances, shopping, luxury and much more.
Burj Al Arab Jumeirah: Top Place to See In Dubai, U.A.E.
We have all seen the pictures of Burj Al Arab, haven't we? If you have deep pockets, don't miss an opportunity to sip a glass of wine at the Skyview Bar. Shaped like a sail, it is just as fascinating from the outside. It is not an overstatement to say that it is one of the finest and most luxurious hotels of the world.
Burj Khalifa: Top Place to See In Dubai, U.A.E.
Everyone knows that Burj Khalifa remains the tallest building of the world. At 829.8 meters, it allows you to soak in the views of Dubai from the Observation Deck on the 134th floor. You can also enjoy the view from an open area connected to the Dubai Mall near 1 Sheikh Mohammed bin Rashid Boulevard. A conveniently-located metro station makes it easy to travel to and from the mall.You should not miss the fountain show that happens at the foot of the Burj Khalifa.
The Dubai Musical Fountain Show: Top Place to See In Dubai, U.A.E.
The Dubai fountain show takes place every evening in an open area accessible via The Dubai Mall. It repeats every 30 minutes and looks great in the night. However, do try to reach just before it gets dark and enjoy the show in both daylight and darkness. I have seen many fountain shows during my travels, but this one stands out as one of the best alongside the one at Brindavan Garden near Mysore, India. The one at Dubai is the world's largest choreographed musical fountain though. Some statistics will put things in perspective: the fountain is 900 feet long and water goes up to 500 feet. And the best part? It is free.
Kite Beach: Top Place to See In Dubai, U.A.E.
Visit Kite Beach to spend a relaxing evening with your family. If you wish, you can choose to burn calories on the jogging and walking tracks or load up in one of the restaurants and cafes. If none of it appeals to you then there are always the many water sports to keep you busy. Or you can always play a game of volleyball!
Souks of Dubai: Top Place to See In Dubai, U.A.E.
Souks are nothing but al fresco marketplaces where local shopkeepers sell everything from gold, spices and perfumes, to Goli Soda, fridge magnets, souvenirs and clothes. These souks are a must-visit as they have a vibrant atmosphere and you can pick up some amazing deals at really reasonable prices. Do not miss the world's largest ring at the nearby Gold Souk. Most of the old world souks of Dubai can be found in the Deira and Bur Dubai area.
The Dubai Mall: Top Place to See In Dubai, U.A.E.
The Dubai Mall is quite famous amongst locals and tourists alike. When I visited the mall, it was Ramadaan. Most of the food shops were unfortunately closed but the shops selling luxury clothing, electronics, etc.left me gaping. The mall is indeed the epitome of luxury. Besides luxury items, you can also buy duty free cosmetics, toiletries, toys, groceries, etc. from the Dubai Mall. The mall can be accessed by the metro but tale note that there is a long walk from the Metro Link Bridge to the mall. You can get down at Burj Khalifa or the Dubai Mall Station. Regular feeder buses to the Dubai Mall are also available frequently.
Ibn Batuta Mall: Top Place to See In Dubai, U.A.E.
If you are a shopper (I am not), then Ibn Batuta Mall will keep you busy.With 270 retail stores and 50 restaurants, there is a lot to do in Ibn Batuta Mall. And the best part areits awe inspiring interiors.
Bur Dubai: Top Place to See In Dubai, U.A.E.
Bur Dubai is the soul of Dubai. And it was also my most favourite part of Dubai. This area is filled with in Indian restaurants, cheap grocery stores, souks, etc. Many Indians, Pakistanis and Bangladeshis call it home along with the locals. I was delighted to find amazing Indian food (South Indian, Gujarati, Maharashtrian, etc.) at reasonable prices here. You can even see Bollywood stars like Amitabh Bachchan or Kareena Kapoor promoting jewelry and soaps from the billboards. Do visit the nearby historic Al Fahidi Fort.
Dubai Creek: Top Place to See In Dubai, U.A.E.
The Dubai Creek is a great place to soak in the local culture. It is a good idea to take a traditional wooden boat taxi for a throwaway price of 1 Dirham. The wooden boat is called abra. If you are not a boat person, then you can enjoy a stroll on the neatly paved path along the creek. It looks particularly beautiful in the evening.
Palm Jumeirah: Top Place to See In Dubai, U.A.E.
The controversial and famous Palm Jumeirah is worth a visit for its grandeur. Known as the eighth wonder of the world, Palm Jumeirah is the largest man-made island of the world. It is a lively area and home to world-class luxury shops, spas, beaches, cafes, restaurants, entertainment options, and even villas and apartments.
Dhow Cruise: Top Thing to Do In Dubai, U.A.E.
The Dhow Cruise on the calm waters of Dubai creek in Old Dubai is the quintessential Dubai experience. It is a cruise on the traditional wooden dhow (boat). You can enjoy food, drinks and even live music and Tanura dance while the boat glides past the city. The beautiful lights of the city will be your constant companion.
Belly Dancing: Top Thing to See In Dubai, U.A.E.
Belly dance is a traditional Middle Eastern dance. The western world gave it the moniker, Belly Dancing. Dubai has some of the finest Belly Dancing shows and you can enjoy them in hotels, restaurants and even deserts.
Dubai Museum: Top Place to See In Dubai, U.A.E.
If you are in Bur Dubai district, you should pay a visit to the Dubai Museum. It is located inside the old worldly Al Fahidi Fort.You can acquaint yourself with the Emirati lifestyle and culture. I could not visit it as I arrived here late night. Make sure you visit it between 8:30 a.m. to 8:30 p.m. On Fridays, the Dubai Museum opens at 2:30 p.m. Entry fee is only 3 Dirham per adult and 1 Dirham for kids under six.It is a very small museum and can be viewed in very less time.
Al Bastakiya: Top Place to See In Dubai, U.A.E.
Located between Dubai Creek and the Bur Dubai district, this part of Dubai is rich in history and culture. It is a pleasant departure from the high-rises and glitzy malls of Dubai. Slow down here and spend some time in a café or art gallery or explore the historical monuments.
Dune Bashing: Top Thing to Do In Dubai, U.A.E.
Dubai is a great place to enjoy the thrilling dune bashing. Though I did dune bashing in Mleiha in Sharjah (and enjoyed it!), many who have done dune bashing in Dubai vouch for it as well. Imagine a Land Cruiser navigating the impermanent sand paths at an angle of 45 degrees. Now, imagine yourself inside the Land Cruiser! Exciting, isn't it?
Ski Dubai: Top Thing to Do In Dubai, U.A.E.
It might seem unbelievable but you can attempt skiing in Dubai. Indoors, though. Trust Dubai to make anything happen. At Ski Dubai you can enjoy tube slides, zip lines and many other exciting activities. I didn't go there but someone told me it's a fun place for families.
Wild Wadi Waterpark: Top Thing to Do In Dubai, U.A.E.
Imagine going down a slide at a thrilling speed of 80 kilometers per hour. The rides at JumeirahSceirah tower are memorable. Choose from 30 rides at the Wild Wadi Waterpark.
IMG Worlds of Adventure: Top Thing to Do In Dubai, U.A.E.
IMG Worlds of Adventure is the biggest indoor theme park of the world. It houses some of the most thrilling rides and has a section devoted only to dinosaurs. Kids love it, so do adults!
Besides these top places, other top places that you must visit on your trip to Dubai are Jumeirah Beach, Jumeirah Mosque and Dubai Frame.
Spread the love, share this blog
Got any question/comments, ask in the comment section below so that it can benefit other readers.
Email me for collaboration: [email protected]
Be a part of my journey on social media. The travel content I create there is different from this blog.
Pls subscribe/follow/like:
WARNING : COPYRIGHT TO ALL THE CONTENT SHARED HERE REMAINS WITH ME. THE IMAGES AND TEXT IN THIS BLOG ARE BY ME UNLESS MENTIONED OTHERWISE. YOU CAN NOT JUST LIFT THE CONTENT AND USE IT WITHOUT MY PERMISSION. STRICT LEGAL ACTION WILL BE TAKEN IF CONTENT IS STOLEN. YES, I AM SERIOUS.
Top Travel Blogger from India