Last Updated on January 6, 2020 by asoulwindow
SO WHAT ARE THE TOP 32 PLACES TO SEE IN AMRITSAR ?
ABOUT AMRITSAR TOURISM
There are so many places to visit in Amritsar. Amritsar tourism is booming and how! Places to see in Amritsar are spread across a large area. But the best tourist places near Amritsar can be visited in a day. Top places to visit in Amritsar such as Jallianwala Bagh, Harmandir Sahib and the Partition Museum are located next to each other and you can easily walk through all the places. Top Places to visit near Amritsar such as Attari-Wagah border and Sadda Pind may require you to spare an extra day. Kindly use this free guide and enjoy Amritsar Sightseeing.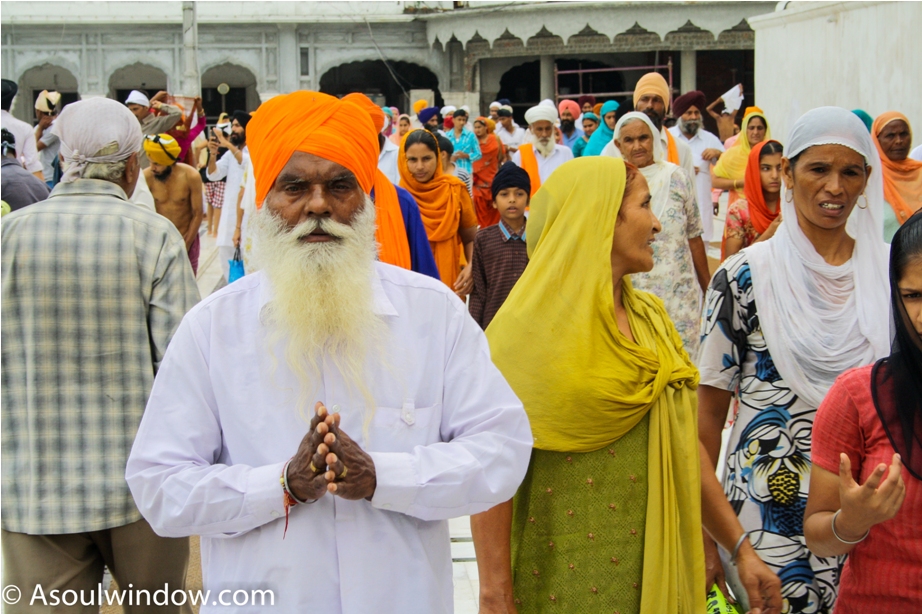 MY EXPERIENCE OF AMRITSAR
It was my first trip to the agriculturally and culturally rich Punjab and my Punjabi (Sikh) friend (With a very 'unsikh' name – Abhishek Singh, that is) happily agreed to accompany me as he is but naturally, too fond of the place! One of our common friends Divesh from New Delhi knew of my plans of my upcoming trip to Delhi. (I used to live in Mumbai at the time of writing) So knowing my penchant for travel, he texted me, "Dude I am sure, you have some trip in mind! Let's plan a whacky trip once you are in Delhi!" I replied, "Yup am off to Amritsar with Abhishek, join us." And there we were, on an all boys trip to the religious centre of Sikhism- The spiritual Amritsar.
Boarding an on the spot AC Bus (At a throw away Rs. 450/-) from the famous Kashmiri Gate Bus Station in Delhi, we chatted the night away, laughing and discussing life, old times and mostly trashing the ghastly Sunny Deol dances of the film 'Ziddi' played on the complimentary on board TV.
In between, we tried to convince the Sikh conductor of our bus to allow us to get on board some alcohol. He politely declined. Disappointed, we took out our frustrations on criticising and mocking the still playing film and its melodramatic actors, the norm of 90s Bollywood (To think I once immensely liked this same film!). Now it served as a perfect punching bag! But we grinned and shed our boxing gloves once the Bus driver halted at a Restobar, on the way. Half an hour to eat,drink,pee,smoke,whatever, we were told. 1St thing we did was order 2 pegs of whiskey each, 2 Aaloo Parantha (I am a vegetarian) for me and Naan and Chicken Tandoori for my Carnivorous friends. Once, the order came we were awed to see the quantity and size of the order, especially the chicken tandoori. It could easily feed 5 people. Burp!
Lesson # 1: When in Punjab, always order less, less ultimately becomes more!
We tried hard to eat the stuff our faces in 10 minutes flat. Then I peeped from the window and found to my horror that the bus was moving . We ran after gulping our pegs and leaving half the food uneaten to claim our seats and my expensive DSLR camera which was lying unattended (Stupid me!) in the bus. I even had to leave 1 peg of whiskey untouched. Quickie was never my style, eh! Later we laughed at this soft adventure of ours in the bus and lamented how never before had we paid a ridiculous Rs.1100/- for a dinner that wrapped up in flat 10 minutes. The mood is set for the next morning!
Next morning we took a ride from Amritsar Bus station to Golden Temple. Here we explored many options for the accommodation facilities given by the temple. A huge Dharamshala (Impressively very clean, despite the size and rush) rests just opposite to the Temple. There are many open baths and toilets and rooms at Rs.100/-. But we nixed the idea because the rooms would be available only post afternoon. So we took a decent room nearby at Rs.450/-
PRAKASH UTSAV
Fresh and scrubbed, we were pleasantly surprised to find carnival like festivities on road. Turned out, we had landed up on a pious festival of Sikhs, i.e. Prakash Utsav. So we spent good 45 minutes seeing and clicking various on road processions, sword-fighting, dancing, men smashing things on the head of other fellows etc. After savouring every moment of this bonus spectacle, we moved to the footwear section of the Golden Temple aka Harmandir Sahib.
I was a bit taken aback to see old men take my chappals and touch it with their head as a mark of respect before submitting in the open lockers. It is a norm in Gurudwara, my friend Abhishek told me. I have never seen something like this elsewhere!
MAIN PLACES TO SEE IN AMRITSAR
HARMANDIR SAHIB AKA GOLDEN TEMPLE – PLACES TO VISIT IN AMRITSAR:
Harmandir Sahib and nearby areas are the most important places to visit in Amritsar. I loved soaking in the atmosphere of the pious temple. I and my friends sat for a long time by the holy Amrit Sarovar. I wanted to sit there for eternity. It was that peaceful! But for practical reasons (paucity of time), we took our Halwa prasad and joined the queue of devotees who waited patiently for their turn to enter inside the Golden Temple.
It was 1 in the noon and we had not eaten anything.
Lesson # 2: Have a breakfast and then stand in queue.
Being a festival, it took us 2 hours in the queue. But even in the queue, it was not chaotic. Rather people were devoutly singing and chanting in peace! Plus the picturesque view of pond, volunteers handing out water to the devotees and unique water sprinkling fans only helped.
Jallianwallah Bagh Massacre Memorial
Then we moved to the infamous Jallianwallah Bagh Massacre Memorial (Located at walking distance from the Golden Temple) and wondered with disgust that how did we allow a British Officer General Dyer order to kill 2000 defenceless and innocent Indians on April 13th, 1919. It was one of the most tragic events in Indian freedom struggle. 'The Martyr's Well' where 200 people jumped to save their life and honour but died anyhow is still preserved. So does the original bullet marks. It was heart-wrenching indeed!
Jallianwallah Bagh Massacre Memorial is a grim reminder of evil, cruel and cunning British era in Bharat aka India. Those were the dark 200 years of India when British exploited the world indiscriminately. Even a British girl who was traveling with me in Amritsar was ashamed of it.
As I visited the small museum in the Jallianwallah Bagh Massacre Memorial premises, I could not believe Indians were publicly flogged naked by the British. Some of the pictures displayed in the museum were disturbing. Even in that era we had many Indians licking the boots of debauched British officers, much like today's pseudo liberals.
I don't like visiting Jallianwala Bagh. But we all should! To remind ourselves how we allowed stupid British officer to kill scores of unsuspecting kids, women and children. Many jumped in a well, many tried to climb the walls and were shot at. There was no place for escape.
We should Never forgive. Never forget. And Never let them get away with it. This surely is one of the top places to visit in Amritsar. A poignant one at that!
ATTARI WAGAH BORDER OF INDIA AND PAKISTAN – TOURIST PLACES IN AMRITSAR !
Brooding, we moved to our room to get ready for Rs.100/- return trip to and from the Attari- Wagah Border, 1 hour ride from Golden Temple. We fixed the taxi at our hotel itself, though too many touts inundate the streets coaxing you to buy the ride. I was excited to see the Pakistani and Indian army indulging in one upmanship. The route to Wagah border has the village like feel to it. Nothing great but still feels exciting to know that Lahore is just 27 kilometres away. Another high point is to see the board near Attari: 'Welcome to the world's biggest democracy: INDIA'.
Then we returned to our hotel and relaxed. Hotel Sita Niwas is one of the popular hotels in Amritsar near Golden Temple. It is not one of the best hotels in Amritsar but good enough for us. Since we reached on a festival 'Prakash Utsav' so there were amazing fireworks in the night. I wanted to sit there for an hour but had to leave to catch the bus to Delhi. How much it crushed my soul to not see the Golden Temple by the night, despite being so close to it. Though I was in rickshaw but my mind was stuck in Harmandir Sahib. We anyhow ended up waiting for 3 hours in the bus, as it ran late, I still so regret it.
Lesson # 3: Never board a private bus, especially in North India. They are never on time, badly managed, and take a lot of stops before moving. (Before boarding the bus, we again ordered food at a small time 'dhaba' while clandestinely sipping whiskey from our coke bottles. This time again, we ordered food and had to leave half of it uneaten. Remember lesson # 1?
Partition Museum – This newly built museum chronicles the tumultuous partition of India into two (now 3) nations viz India, Pakistan and Bangladesh. The partition Museum houses some very rare letters, domestic objects etc which belonged to those affected by the partition. It recreates the poignant tales of separation, loss and the sufferings. Some of the galleries are difficult to get in to. You can also hear the recorded narrations by some of the victims of partition. It is located at the Townhall, walking distance from Jallianwala Bagh and Harmandir Sahib.
OTHER PLACES TO VISIT NEAR AMRITSAR
There are many interesting places to visit near Amritsar which many tourists and pilgrims skip due to lack of knowledge. You can use this free guide and include some lesser known gems in and around Amritsar.
Amrit Sarovar – This is the holy pond that surrounds the Harmandir sahib. A small area is open for pilgrims to take a holy dip in Amrit Sarovar.
Akal Takht – It was founded by Guru Hargobind, the 6th Sikh Guru in the year 1606 C.E. The literal meaning of Akal Takht is the 'Throne of the immortal'. It is located right opposite the Golden Temple. What makes it important is the fact that it is the highest political institution for Sikhs from across the globe and it is one of the 5 sacred takhts of the Sikhs people. Location – 2 kilometers from main Amritsar city.
Bathinda Fort – It is believed that the historical figure Razia Sultan was confined here. Located in Bathinda, it is believed that Guru Nanak Dev, Guru Tegh Bahadur and Guru Gobind Singh paid a visit to Bathinda Fort. Originaly King Dab and King Kushana had built this fort. Later a Gurudwara was built by Maharaja Karam Singh keeping in mind its spiritual significance.
Location – 1 km from main Amritsar city
Bibeksar Sahib – This is a sacred site for Sikhs as the followers of Hargobind Singh ji, the 6th guru of Sikhs had congregated here. It was built by Maharana Ranjith Singh. It is located around Bibeksar Sarovar.
Location – Bibeksar Sahib is located 2 kilometers away from Amritsar main city.
Dukh Bhanjani Ber Tree – It is located within the Golden Temple complex. You will notice many devotees offering prayers to the tree. Located on the banks of Amrit Sarovar, it is a much revered 400 years old jujube tree. Sikhs believe that Guru Nanak ji, the 1st Sikh Guru had taken rest here. He used to sing Gurbani in praise of Wahe guru at this very spot.
It is believed that the husband of Bibi Rajni was cured of leprosy after taking a holy dip in the Amrit Sarovar near the Dukh Bhanjani Ber Tree. Dukh Bhanjani means the 'Remover of pain and suffering'.
Location – Dukh Bhanjani Ber Tree is located 2 kilometers away from Amritsar main city.
Laxmi Narayan Mandir – Also called as the Durgiana Temple, this Hindu temple interestingly looks like the Harmandir Sahib. Pilgrims come here to worship Vishnu ji, Hanuman ji and Laxmi ji. Much like Golden Temple, there is a sacred pond around the main temple. The foundation of this temple was laid by Gur Shai Mal Kapoor. His statue can be seen at the main entry gate of the temple. Langar is also served here all day. The Sat Narain Mandir is home to the idols of Radha Krishna and Sat Narayan ji. A rare copy of handwritten Ramayan is housed in the much revered Goswami Tulsidas Mandir. The statue of Hanuman ji in a sitting posture is found here. You can even see a daily fountain show in the evening.
Location – Durgiana Temple is located at just 1 kilometers away from main Amritsar city.
Gobindgarh Fort – Originally called as the 'Bhagian da Qilla', t was commissioned by Gurjar Singh in the 18th century or 1760s. History buff will love this place as it is houses a museum explain the past of Punjab. The famed Kohinoor Hira or diamond used to be housed in Tokshakhana which is located in the fort vicinity. Additions inspired by French architecture were made by Maharana Ranjit Singh. You can east good local food at the Ambarasi Zaika. It was home to Garrison Commanders during the Raj.
Location- 1 kilometers away from city centre
Goindwal Baoli – Since it is considered to be the birth place of Guru Arjan Dev ji, the 5th Guru of the Sikhs. He was born here on 15 April 1563. Needless to say, it is a major pilgrimage site for all Sikhs. Also known as the axis of Sikhism, the step well was built by Guru Amar Das in the 16th century. Langar is served throughout the day here. The pilgrims believe that if you take a holy dip in the water here it helps you attain Moksha. Sikhs also recite Japji Sahib in Goindwal Baoli which also helps in attaining Moksha. There are a total of 84 steps here. Located on the banks of the Beas river, the stepwell has separate entries for both male and female.
Location – Goindwal Baoli is located 40 kilometers away from main Amritsar city.
Guru Ke Mahal – It is home to the sacred Granth Sahib. It is located near the Harmandir Sahib. It is said to be the birth place of Shri Guru Teg Bahadur Ji and Baba Atal Rai Ji. It was founded by Guru Ram Das ji in 1573 C.E. He and his family used to live here in a cottage.
Location – 5 kilometers from the main Amritsar city.
Gurudwara Baba Atal Rai – Built in the memory of Baba Atal Rai, it is a nine storey tower. Each story represent one year of Baba Atal Rai's life as he lived for just 9 years. Baba Atal Rai was the son of Guru Har Gobind Singh ji. It is Amritsar's tallest tower.
Location – 2 kilometers away from the main Amritsar city.
Gurudwara Bir Baba Budha Sahib – Also called as Bir Sahib, it was home to Baba Budha ji for most of his life. He was instrumental in appointing the next 5 gurus of Sikhism. He is said to have lived for 125 years. He was the 1st Granthi, whom Guru Nanak Dev, the 1st Sikh Guru blessed himself. Guru Hargobind Singh Ji was born to Guru Arjan Dev ji after the blessing of Baba Budha. This is why till date many childless couples come to Gurudwara Bir Baba Budha Sahib seeking blessing.
Location – Right at the centre of Amritsar main city.
Gurudwara Chheharta Sahib – Located in Chheharta Sahib village, it is known for its ancient well which has medicinal properties. It is a must visit place in Amritsar. Guru Arjan Dev ji had dug a huge well here to commemorate the birth of Guru Hargobind ji, his son and the next guru of Sikhs. People can still see the Persian wheels which were originally installed here to pull water from the well. The Gurudwara sees huge influx of people during the annual festival of Basant Panchami. The festivities include community dining, wearing yellow clothes and turbans and even Free medical services.
Location – It is located 8 kilometers away from the main Amritsar city.
Gurudwara Mata Kaulan – Built in the memory of Bibi Kaulan, it is located towards the west of Harmandir Sahib. She was a Muslim woman who adopted Hinduism and became Guru Har Gobind Singh ji's disciple for which she was disowned by her father. Kaulsar Sarovar, named after her is first such holy pond which is named after a Muslim woman. It is located adjacent to Gurudwara Mata Kaulan. She was laid to rest here.
Location – 2 kilometers away from main Amritsar city.
Harike Wetland – Locally called Hari-Ke-Pattan, it is a paradise for bird watchers and photographers. Many Endangered migratory and indigenous birds call it home every winter. More than 375 bird species are found near the Harike Lake making it one of the most bio-diverse regions in not only Punjab but also in India. It is both, a sanctuary and a Ramsar site. Some mammals found at Harike Wetland are common mongoose, Indian otter, wild boar, jackal and the jungle cat.
Location – Harike Wetland is located 60 kms away from Amritsar city.
ISKCON Mandir – Also called Sri Gaur Radha Krishna Mandir, it is devoted to Shri Krishna and Radha, Hindu deities.
Location – Moni Chowk. 2 kms away from main Amritsar city.
Khair-ud-din-masjid – Built by Mohamed Khairuddin, it is of historical importance. Do note its impressive architecture.
Location – It is located 1 kilometers away from main city of Amritsar.
Khalsa College – This 124 year old college, sprawling across a 300 acre campus is remarkable for its unique Indo-Saracenic architecture. A blend of Indian and Mughal architecture, it was designed by Bhai Ram Singh. It is located on the field where Guru Hargobind ji achieved his first victory in a battle. An identical college was built in Lahore in now Pakistan at the same time. Bollywood films such as Sarbjit, Junooniyat, Rab Ne Bana Di Jodi and Veer Zara were shot in the Khalsa College of Amritsar.
Location – It is located 3 kilometers away from main Amritsar city.
Maharaja Ranjit Singh Museum – As the name suggests this former palace is home to ancient coins, beautiful paintings, and weapons used by Maharaja Ranjit Singh. There is a statue of King himself on a horse in the Rambagh gardens in same location.
Location: It is located just one kms away from the main Amritsar city.
Mata Lal Devi Mandir – Also called as Sheesh Mahal, this temple is devoted to Lal Devi, a female saint. The shining mirrors on the walls make it look stunning! One needs to bow their head down and crawl to arrive at the main shrine via an artificial cave. Childless couple visit this temple as it is known to have fertility improving capabilities.
Location – 1 kms away from Amritsar city.
Pul Kanjari – Also called as the Taj Mahal of Amritsar, it is located near the Attari Wagah border. It was the resting place for halts for Maharana Ranjit Singh everytime he traveled with his troops between Lahore and Amritsar. His fortress surrounds a Hindu temple, a mosque, a pond and a Baradari. There is a war memorial located here which commemorates the Indo-Pak war of 1971.
Location – Pul Kanjari is located 30 kilometers away from Amritsar city.
Punjab State War Heroes Memorial And Museum – This unique war museum is devoted to the bravery of Punjab's soldiers who are known for their boldness. You can even see displays of photographs from the Indo Pak war of 1965 and 1971. Built with Nanakshahi bricks, it houses some rare weapons, illustrations, paintings, photographs and artefacts. Also on display are 3 tanks, INS Vikrant, decommissioned aircraft carrier ship MiG-23 and a 45 meters long stainless steel sword. Most people visit this museum before attending the Beating Retreat ceremony at the border. So reach early if you want to see the Punjab State War Heroes Memorial And Museum.
Location: It is located close to the Indo Pak Attari Wagah border.
Sadda Pind – Do not miss visiting Sadda Pind while returning from Attari Wagah border. It recreates a typical Punjabi village. You can have good food, enjoy live music and can even stay here.
Shri Ram Tirth Mandir – This temple is associated with many tales of the Hindu epic such as the birth of Luv Kush, the twins of Shri Ram and Sita ji. Built in lime yellow stone, Shri Ram Tirth Mandir holds a fair which lasts for five days. It happens every year around 2 weeks after Deepawali, the biggest Hindu festival. More than 1,00,000 people congregate to celebrate on this occasion. Hindus also take a holy dip here on the day of Purnamashi and release light lamps in water. Hindus hold the belief that this absolves them from their sins.
Location: Shri Ram Tirth Mandir is located 12 kilometers away from main Amritsar city.
Tarn Taran Sahib – Located in Tarn Taran Sahib village, this Gurudwara is very sacred to Sikhs. Built by Guru Arjan Dev, the 5th Sikh Guru, in Mughal architecture style, Tarn Taran Sahib has the largest pond or Sarovar of all the Gurudwaras. The pilgrims hold the belief that the water of the Sarovar can cure them of leprosy and other ailments as it has medicinal value. The pond exists since 1590 C.E. when Guru Arjan Dev started the process of making the pond. You can still visit the exact point.
Location – Tarn Taran Sahib is located 21 kilometers away from the main Amritsar city.
Water Parks of Amritsar
Bliss Aqua World – It is a fun place to hang out with family and friends, especially in the hot months. There are many rides and activities which will keep you occupied all day!
Location – It is located 18 kms away from the Amritsar city.
Rainbow Resorts Water Park – Apart from the many rides and activities such as paint ball facility, go-karting and boating etc, this water park also has an adventure park, many dining options, swimming pools and even a separate hall for kitty parties and other events.
Location – It is located 18 kilometers away from Amritsar main city on the Atttari border road.
Sun City Water Park – Locals and tourists alike love to visit Sun City Water Park as it allows them to enjoy roller coasters rides, water rides, aqua dancing and many more adventure and fun activities. There are also many swimming pools here.
Location – It is located just 4 kilometers away from the main Amritsar city on the Batala road.
Thunderzone Amusement and Water Park – This is another park popular for its proximity to Amritsar. It is also the largest water park of Amritsar. Running since the year 2002, this park is popular amongst kids and adults alike for its rides such as roller coaster, Columbus, music bob, mono train, swinging chair etc.
Location – It is located just 4 kms away from the main Amritsar city.
TIPS FOR SENIOR CITIZENS/DIFFERENTLY ABLED
On my third trip to Amritsar, I was traveling with parents. I chose Amritsar to travel with my elderly parents as it is one of the easiest places to travel to. It's a dream come true. I know its super easy and super cheap to visit Amritsar.Still it was a dream for me to visit Amritsar with my parents. I had been planning this trip since past 2 years.
Earlier my parents made me cancel the tickets last minute saying it was 'too cold'. Thing is they prefer traveling in North India only in 2 months – November and February due to the good weather in these months. So if I miss a year, I got to wait it out for 12 months. Finally, I was able to show them the places I had loved and enjoyed.
Preach – Always make out time to travel with your parents. It is so satisfactory to see them enjoy a new place.
Why Amritsar is an ideal choice to travel to with elderly people?
Amritsar is plain so no climbing any slopes.
The only steps you need to take are in Golden Temple. The temple does have a chair on which people can sit and go up and down the slider. This was the first time I had seen something like this. I was impressed to see that chair for elderly people. For those who can't take stairs, they can sit on this chair and it slides up and down the railing. Very cool and thoughtful. Sikhism indeed is one of the most progressive religions.
There are battery rickshaws available at every step. It is much better than Uber and Ola in Amritsar. Since the roads and lanes of Amritsar are very narrow, the local rickshaws suit better for quick navigation.
Good, nutritious vegetarian food is easily available.
There is a lift in the Partition Museum to go on 1st floor. However, when we visited, there was no electricity and we were told that the generator is not capable of operating the lift.
At the Wagah Attari border, you can talk the battery operated car as soon as you park your vehicle. It will drop you to the entry gate of the ceremony ground. My parents, however, walked up to the area.
The policemen and army people were kind enough to offer V.I.P. seats to my parents seeing their age. They had refused me though. After a few requests they allowed me to join them too.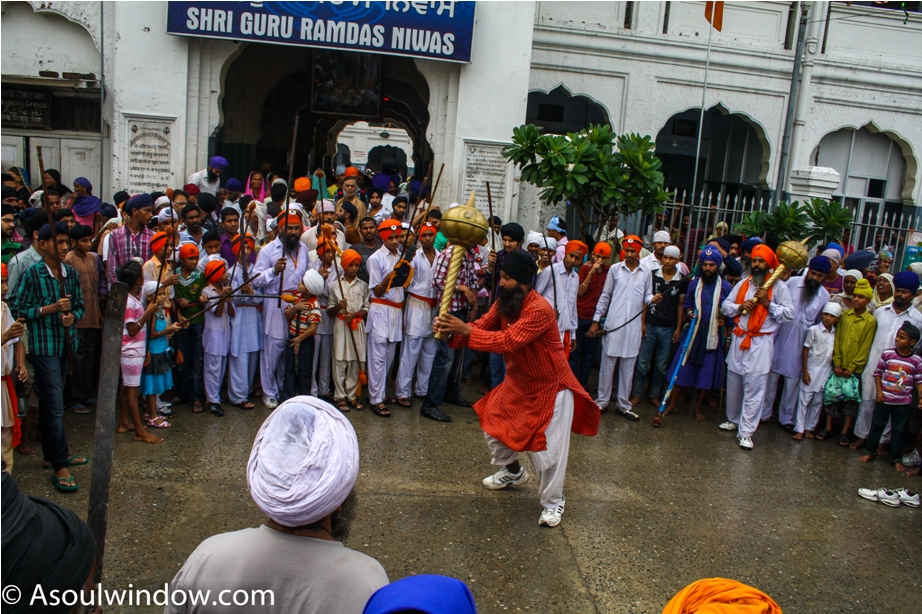 SHOPPING IN AMRITSAR
We shopped for local papads and daal badi which were huge. My mom also shopped for phulkari dupatta. I picked up some souvenirs from Attari Wagah border. Some of the best places for shopping in Amritsar are as below –
Katra Jaimal Singh Market – This market is known for its clothes. You can buy the local phulkari clothes, sarees and men's clothes. It is located near Hall Bazaar. Local rickshaws at the Partition Museum keep announcing the ride to 'kapda market'. (Clothes market). My parents shopped phulkari clothes from a shop called Raja Exclusive near Arya Samaj Mandir building in Katra Jaimal Singh Market. They have nice collection but seemed a bit over priced to me. Also, our battery rickshaw guy insisted that we buy there. So there might be a nexus. Their products are good. Price and bargaining is in your hand. Just saying!
Guru Bazaar – It is the oldest market of Amritsar. You can buy silver jewelries here.
Hall Bazaar – A very popular shopping area of the Amritsar city, you can buy Pakistani jooti (shoes), phulkari clothes, jewelry and even books in Hall Bazaar.
Manjit Mandi – Come to Manjit Mandi to buy local snacks, shelf food, pickles and Amritsari papads. Although you can find these anywhere in Amritsar.
Shashtri Market – People come to Shashtri Market to buy blankets and woolen items.
Katra Mohan Singh – Bridal glass bangles are sold here.
Mishri Bazaar – Come here to pick up some crisp good quality dry fruits.
VEGETARIAN FOOD TRAIL IN AMRITSAR
There is a lot you can eat in Amritsar. In fact it is a vegetarian paradise. The vegans can also find dairy free dishes easily but you have to inform in advance that you do not want ghee (clarified butter) and other dairy products as most of the food has butter or ghee in it. I have a separate blog on the top vegetarian and vegan food to eat in Amritsar. Because there is too much too eat (and write home about!) Think of assorted kulchas, dahi badas, rajma chawal, thali, daal makhani, lassis and so on!
HOW TO REACH AMRITSAR
Luxury buses between Amritsar and Chandigarh
I didn't know that these days they have 'business class' in Volvo buses too. Was such a comfortable ride from Amritsar to Chandigarh. The extra leg room in the seats we chose was worth it. It costs less than a cab from Amritsar to Chandigarh and has better comfort. It was a first for me. The good news is that the charging points were actually working. My India is changing for sure! The bus did not have toilet though!
Price for 3 for the 'business class' – Rs. 1760 only. Ain't it much better than the more expensive and uncomfortable private taxi?
Where – From platform number 7 of Amritsar bus stand. There are many buses available throughout the day. I booked the one that starts at 1:00 p. m.
Buses from Delhi to Amritsar –
I paid just Rs. 395 for a comfortable early morning (7 a.m.) non AC roadways bus from the Kashmiri Gate in Delhi. It was easy. I am happiest when solo tripping. Even if it is brief! My train from Lucknow to Delhi stopped right next to the ISBT. I just walked to the bus as it waited for passengers on the platform. Different vendors have different rates. It costs around INR 400 to 500 roughly for Non AC and INR1100 for AC buses. It is possible to find a bus on the spot like I did. I advise you to book bus tickets to Amritsar and back to Delhi in advance during big festivals and public holidays though.
Many buses are available from ISBT. If you are looking at an overnight journey then you can catch one of the many buses, mainly around 2200-2300 hrs. You will reach within 7-8 hours.
You can also find buses from behind the Red Fort or Lal Kila in old Delhi. The overnight bus costs around INR 688.
Train between Amritsar and New Delhi –
Regular Non AC Buses and Volvo buses from ISBT, Kashmiri Gate are available but you can also catch trains between Amritsar and New Delhi as it is economical, convenient and faster. Plus you have toilets.
There are many trains going towards Amritsar from New Delhi and vice the versa because it is a popular route. Old Delhi railway station is better with options and the fare is relatively cheaper. Train journey is always easy when you have to traverse an eight hour journey. The mostconvenienttrains are Shatabdi, Shaan-e-Punjab etc.
Flights between Amritsar and New Delhi –
It takes only about 50 minutes to fly between New Delhi and Amritsar. Both the cities have a well connected airport.
WHERE TO STAY IN AMRITSAR – HOTELS IN AMRITSAR
Sifti Guest House – On my second visit, I stayed at Sifti Guest House. I thought that with such crowds it will be difficult to find a room at Rs. 500 a day. I was wrong. It's India and everything is possible here. From luxury resorts to shady hotels, I adapt easily. I got this narrow room (Even train bogeys are broader) right next to Jallianwala Bagh and the Golden Temple. Please see pictures for details. It was not the best of hotels in Amritsar but I preferred it over hostel as I get privacy, good location and a private attached bathroom. There are many such hotels in Amritsar near Golden Temple. You will find plenty of budget hotels in Amritsar near Railway station too. They also organize taxi and local tours.
Phone number of Sifti Guest House- 9464440242
Address of Sifti Guest House – 9, Brahm Butta Market, Near Guru Ram Dass Sarai, Amritsar.
Hotel Sita Niwas – I stayed here for just INR 500. Hotel Sita Niwas is a big hotel located near Harmandir Sahib or Golden Temple. It is a comfortable and safe hotel. Hotels in Amritsar are present at every corner. So you can even walk in. But it is better to book hotel in advance. If you are on low budget, you can stay at Hotel Sita Niwas.
Teg Royal Tarn Taran Road – I can claim to stay in many hotels in Amritsar due to my multiple visits to Amritsar. I have also stayed at Teg Royal Tarn Taran Road. The cost of the rooms here was under INR 2,000 for 3 people for 2 days without any meals. It was a nice hotel with a wonderful staff. Their only disadvantage is average food (which is a sin if you serve in Amritsar!) and far away location. I would personally prefer to stay near Harmandir Sahib. The battery rickshaw charges around INR 150 from Harmandir Sahib to Teg Royal Hotel.
Hostels in Amritsar – If privacy is not an issue with you (which it is with me), then you can opt for many backpacking hostels such as Nutz Backpackers, Manje Bistre, Backpacker's Nest, Blue Eye Backpackers, HK Backpackers Hostel, Pillow Dormitory etc. Expect to find a bed on low budget ranging between INR 220 to INR 500 per night, often with breakfast.
BEST TIME TO VISIT AMRITSAR
As is true for all religious places, Amritsar is a year round destination. Weather wise, pls follow the below chart –
September to March is the best time to visit Amritsar.
December and January are the coldest months in Amritsar. My third visit was in November. It was the most perfect season of Amritsar.
April to June is extreme hot in Amritsar. My second visit was in June, which was not very bad weather wise. I had a good time.
July and August is the rainy season in Amritsar.
SAFETY TIPS – THE DRUG PROBLEM OF PUNJAB!
Everyone from police to rickshaw walla on my 3rd trip to Amritsar warned me about keeping my mobile and wallet inside my pockets and hide my DSLR camera too while traveling in Amritsar and elsewhere in Punjab. They instructed the same to my parents. They said drug addicts snatch valuables indiscriminately from moving bikes because powder की लाइनों का रखेगा कौन हिसाब. (Drug addicts!)
I knew that drugs are still big in Punjab as I saw many policemen checking my bags during the bus from Delhi to Amritsar on my second trip. A taxi driver said that the local Government is the culprit. They made the locals a drug addict to make money. And the main culprit, who is responsible for ruining families, is now punished by God as his son is suffering from cancer. I saw even more massive Drug problem in Australia. To read about the more visible drug problems of the so called best city to live in the world – Melbourne, pls click
LAST WORD ON TOP PLACES TO VISIT IN AMRITSAR
I was horrified to see such huge crowd on my second visit to Amritsar in June. My first visit to Golden Temple was very peaceful and I hardly saw any crowds. This time though, even at 12 a.m. the roads feel like 7 p.m. This is not what I bought the ticket for. I am told it's like this every Saturday. Yes, I had arrived on a weekend! There are many places to visit in Amritsar which I had planned for the next day!
I was amused to see that all the shops were open even at midnight, kesar lassis flying off the shelves, people trying to sell me clothes. It was crazy. I was wary of stepping inside the Golden Temple premises.
I was wrong.
Sikhism never disappoints me. Whether it's a Gurudwara in Ladakh or Amritsar, the kind of discipline and devotion to offer selfless service I have seen in Gurudwaras is not seen anywhere else in the world.
Despite the massive crowds, the volunteers served free food and water and even sherbets to everyone. Of course, vegetarian! The young male volunteers who looked like they are an IIM passout were sweeping floors and brooming despite hordes and hordes of devotees thronging the temple premises even at midnight. Even the slippers (chappal) which I had deposited for free were given back to me in 10 seconds. Not to mention, everyone behaved so well.
All this is subject for a major case study. Just how do they do it? And much of the job is not even paid. This is Incredible India indeed!
All my worries vanished the moment I saw the first glimpse of the Golden Temple. It's still peaceful and beatific. I could not take my eyes off.
I could have had free meals all day in Amritsar. As soon as we entered Amritsar our bus was stopped and we were offered free food and drink through bus window. In fact even calling it free feels wrong. It's more of a Prasad. This happens only in India! I just wish all of us behaved like that. What's stopping you from going to the top places to visit in Amritsar.
Top Travel Blogger from India