Last Updated on October 5, 2022 by asoulwindow
The second day of the Poonhill Trek was the most difficult.  We were supposed to climb 3767 stairs, mostly uphill. I have trekked much harder than this during the Everest Base Camp trek in 2015. However, I was not prepared for 3767 steps. After completing successful Everest Base Camp trek, I had not done a real trek. I gained around 20 kgs after shifting to Delhi towards the end of 2015. I was saddened at my state when I was huffing and puffing during a simple trek in Sursingdhar (India) which was just an hour's walk on proper roads and jungle. It was followed by trek to Tiger's Nest Monastery in Bhutan. It was an easy trek too and I fared well. I was afraid if I would be able to do a 4 day long hardcore trek in Nepal.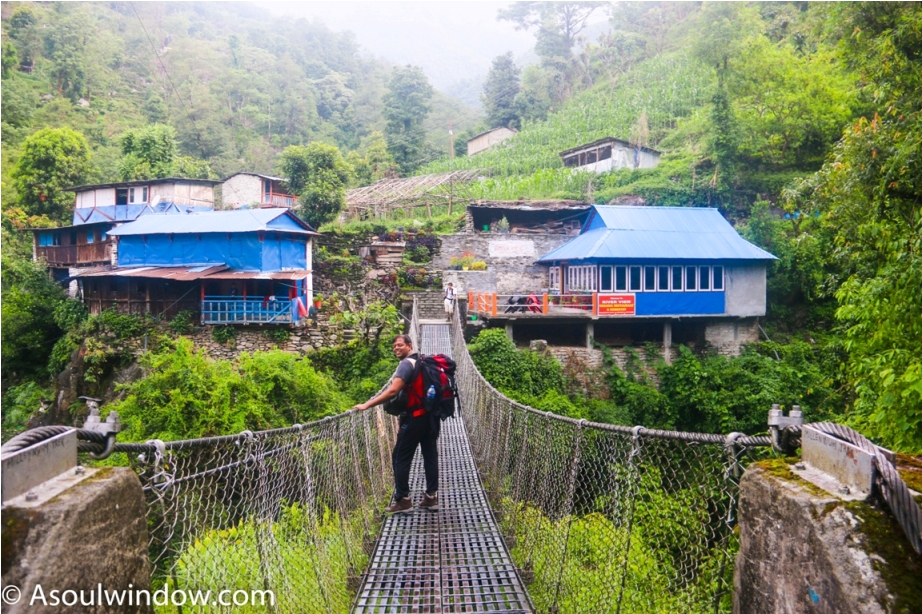 Much to my surprise, I managed to trek well, without much hassle barring a slight knee problem in last 2 days. On day 2 of Poonhill trek, I managed to walk a total of 7500 steps, including around 3767 steep stairs, most of it ascending. I trekked for 11 hours on Day 2. On a total I managed to trek upto 60 kms in 4 days. I was pretty happy with my performance and quite kicked to try the treks I have always wanted to do in Maharashtra, Uttarakhand, Himachal Pradesh and some international destinations in coming days. The fact that Poonhill Trek overlapped the route of Annapurna Base Camp trek is sowing new dreams and goals. I don't want to conquer the mountains. I want to experience mountains with respect and responsibility. Hope I lose more weight soon and embark on more treks. Day 2 of Poonhill trek made me very happy with my improved fitness.
6:40 a.m.: We started our day, fuelled by a breakfast of Tibetan bread with peanut butter and jam. The sky was till overcast and made our start pleasant. A large suspension bridge swallowed us within 5 minutes of the start of trek. A signboard told me it's 6 hours to Ghorepani from here. The infamous steep stairs showed up within 15 minutes of the trek. Dominated by horses through most of the trail, it was a quiet, tranquil trail to Ghorepani. We passed through picturesque 'mountain' villages and hilly settlements. We were accompanied by school kids heading to school. We interacted with them and exchanged smiles.
I stopped in a bid to gift them the chocolates which I was carrying. I placed all my bags on a rocky surface. Just as I pulled a small bag, it dragged along my camera and it hit the hard rock floor. My heart sank as I saw that the UV filter is cracked. I was worried that my Canon 18-135 mm lens might have also been damaged. I tried hard to remove the UV lens but in vain. My co trekkers Jennifer, Swati and trek leader Prasanna tried to help, but the UV filter got stuck. The smithereens of broken filter threatened to rub the lens and damage it. The cheerful atmosphere suddenly turned grim. My chuckles gave way to silence. Horrified, I didn't even feel like trekking anymore.
9:30 a.m.: It had become sunny by now, but my sunshine smile was nowhere to be seen. We made a pit stop at a tea house at Ulleri. It was a beautiful place. I overheard people saying that you get fabulous views of the Annapurna range from this tea house. I would have been excited in normal situation. But the apparent damage to my lens usurped all my attention. Never mind, the cloud had enveloped the Annapurna range as soon as we arrived at the tea house in Ulleri. So, none of us saw the promised good view. Seeing me worried, Mark came to my rescue. He gave me the idea of pulling the remaining shreds towards me with the help of a fork. It worked! And smile returned back to my lips. We celebrated it with cookies, cakes and tea.
10:30 a.m.: Prem Kumari Restaurant (Contact- 9745030607) marked our entry into a village. It was a tin roofed room. We filled our water bottles for INR 100 for 2 litres. Prem Kumari, the owner was churning a brown paste. It was millet dhido, a local delicacy. She offered me some with curry. It was a sticky bland pulp. Its lack of taste was compensated by its high nutritional value. A little ahead two ladies were making garlands from tiny locally sourced flowers for their kids's school function.
Soon, we were back in civilization where everything from a beer to juice, Pringles, fruits and even hats were available. Many buildings close to each other jostled for space. Despite the number of modern construction, it was pleasant to walk here thanks to an absence of vehicle and low human population.
11:40 a.m.: Leaving behind the terraced hillsides full of corn fields, we entered a lush green forest of rhododendron trees. Small cemented bridges, water streams, small number of stairs marked this breather of a walk. We were blanketed from the sun, thanks to the thick canopy of the tree branches above us. Locals collected wood nonchalantly as we navigated our way through neatly paved stairs. I remember hiding my camera inside my raincoat as it started to rain through most of this stretch.
4:30 p.m.: 'Welcome to Ghorepani Poonhill' The Gate to Ghorepani welcomed us with this sign. Smile returned on our exhausted faces as we knew our hotel was nearby. A large numbers of horses blocked our way hyperactively participating in mating sessions. A pet dog was displeased at the amorous horses and barked at them incessantly. Disturbing a mating animal is the most dangerous thing one can do. I spotted the safest way to navigate the stairs as a local helped me in keeping the horses at bay.
5:00 p.m.: Me and Swati arrived at the hotel, freshened up and strolled around the property. We spotted a platform which offered unhindered view of the misty valley. 2 dogs sat there, as if contemplating. The clouds and thick fog didn't allow the view of the Annapurna range. It didn't matter. Swati, a yoga practitioner started her Yoga sessions as I concentrated on the beauty of the valley. Post her yoga sessions, both of us closed our eyes and meditated for God alone knows how many minutes. At places like these, moments like these, silence is the only activity one should indulge in. After sometime we joined other trekkers in the huge ground floor dining hall only to rush out again when Derek pointed out at a shiny white mountain just before sunset. I didn't rush to my room for the camera. I just sat there lost in the beauty of Annapurna range.
10:00 p.m.: We retired to our room after a late night conversation with Mark (UK) and Derek (USA), our co trekkers. The next day was big! We had to wake up at 4 a.m. to reach Poon Hill. Agenda: To catch Annapurna range bathed in the early morning sun rays!
Let's talk facts:
Lunch break at Green View Lodge in Nangethanti. I chose Dal Bhat which was nice.
Where I stayed in Ghorepani: Hotel Hill Top. It was the biggest hotel we stayed in the entire Ghorepani Poonhill Trek. Their dining area is huge. He rooms are basic (Only bed). Go for rooms with views of the village. There are two western style toilets on the first floor. Asian style toilets are on the ground floor. Charging is free. Wi Fi is paid. They have great tasting food. Do go for their apple fritters and vegetarian enchilada. The large campus is great for evening or early morning conversations over walk.
Phone: 9846304311, 9846707576
Trekking Time from Tikhedunga to Ghorepani:
I started in Tikhedunga: 6:30 a.m.
I reached Ghorepani: 4:30 p.m.
(My trekking time is more than usual as I took time to compose pictures and videos and matched pace with co trekkers. Usually trek on the Tikhedunga to Ghorepani route takes around 6 hrs)
Distance between Nayapul to Tikhedunga via trek route: 17 kilometers
Date: 26th May 2017 (Winter is a better time for this trek)
Height gained on Day 1 of Poonhill Trek.
Tikhedunga: 1540 meters.
Ghorepani: 2900 meters
Grade: Difficult
The views from my #SoulWindow are hard earned!!
You would love these related blogs on adventure sports (Pls click to read):
Day 1 of Poonhill Trek in Nepal- Nayapul to Tikhedhunga
Day 3 of Poonhill Trek in Nepal- Ghorepani to Tadapani
Day 4 of Poonhill Trek in Nepal- Tadapani to Ghandruk and Kimche
Guide to Tiger's Nest Monastery aka Paro Taktsang
6 Exciting monsoon treks in Sahyadris, Maharashtra
Great shoes for treks- Wildcraft's Amphibia Sphere Outdoor Adventure and Trekking Shoes
White Water Rafting in Punakha, Bhutan
Hot Air Balloon near Taj Mahal
Body surfing in Jim Corbett National Park
Ziplining in Jim Corbett National Park
Ladder Climbing in Jim Corbett National Park
Spread the love, share this blog
Got any question/comments, ask in the comment section below so that it can benefit other readers.
Email me for collaboration: [email protected]
Be a part of my journey on social media. The travel content I create there is different from this blog.
Pls subscribe/follow/like:
WARNING : COPYRIGHT TO ALL THE TEXT SHARED HERE REMAINS WITH ME. YOU CAN NOT JUST LIFT THE CONTENT AND USE IT WITHOUT MY PERMISSION. STRICT LEGAL ACTION WILL BE TAKEN IF CONTENT IS STOLEN. YES, I AM SERIOUS.
Top Travel Blogger from India