Last Updated on June 22, 2022 by asoulwindow
Information about Nalasopara Stupa
At present, Nalasopara is one of the most densely populated town, located near Mumbai.
Nalasopara Stupa is managed by ASI or Archaeological Survey of India. Nalasopara Stupa has been assigned the status of a protected national site by the Government of India. I noticed several remains of the Buddhist ruins scattered across the premises. Many of these sculptures are badly eroded and damaged over the years.
Sopara was once a very prominent center of faith and trade. Nalasopara Stupa was declared to be of national importance under the AMASR act or 'Ancient Monument and Archeological Site and Remains Act, 1958' by the Indian Government'.
The stupa was built with a lot of devotion and even now thousands of Buddhist monks visit the stupa on a regular basis, with the same reverence. Not many know about Buddhism in Maharashtra. This is why you should visit Sopara Stupa.
Sopara Stupa is a nice weekend getaway from Mumbai, Navi Mumbai, Thane, Kalyan or even Pune. This historical destination can be visited easily if you read this information packed travelogue. Information on Sopara Stupa is very rare.
This is why I have shared startling facts about Sopara Stupa with you what mainstream media and old school traditional guide books never share. The deep insight in this blog will acquaint you with the Buddhist history of Maharashtra. My blog A Soul Window has been awarded as the best travel influencers India several times.
Here is all that you wanted to know about the Buddhist Sopara Stupa of Maharashtra.
Why is Nalasopara Stupa famous?
What is special about Nalasopara Stupa? Hundreds of years ago, the area in and around the Buddhist Stupa of Nalasopara served as the hotbed of Buddhism. Nalasopara Stupa is one of the first Buddhist centers in western India. What also makes Nalasopara Stupa famous is the fact that it is one of the rarest and oldest stupas found on the western coast of India.
Sopara Stupa is also an oddity because most of the other Buddhist places in Maharashtra such as Kanheri Caves, Ajanta and Ellora were carved out on solid rocks while the Sopara Stupa is a stand-alone built structure.
The sheer antiquity of Sopara Stupa makes it special. Nalasopara Stupa is one of the most important and yet little-known sites of historical significance in and around Mumbai. Not many know that Dr. Babasaheb Ambedkar had also visited Nalasopara Stupa to offer prayers.
Despite being so rich in history, the Sopara Stupa remains a hidden gem. It is one of those offbeat places in Mumbai which even the locals do not know about. This is why you should visit this lesser-visited place and make it more popular.
Nomenclature/Etymology of Sopara Stupa
In old times, Nalasopara was also called as Sururaka, Sopare, Sopra, Supara, Shurparka, Shurparak Nagari, Shoorparaka or Shurparak. Nalasopara is sometimes also spelt as Nallasopara, Nala Sopara or Nala-Sopara.
The ancient name ofSoparahas its roots inthe Pali Vadmay. Some also called it Uppara.
Shurparka, the historical name of Nalasopara was named after Boddhisat Suparaka, who was the former birth of Bhagwan Gautam Buddha. Mention of Supparaka has also been observed in the Buddhist Jataka tales.
Local people also call Nalasopara Stupa as 'Burud Rajacha Kot'of Merdes village, the literal meaning of which is 'Fort of the Basket-making King'.
Some historians also say that Sopara was the legendary port of Ophir. Ophir was the place where the biblical kings had purchased Indian products such as peacocks, ivory and sandalwood in the 8th century B.C.E.
As per Claudius Ptolemy, Sopara was Soupara. Sopara Stupa is also known as Nala Sopara Stupa or Nala Sopara Stupa.
Mention of Sopara in Mahabharat
Very few people know that the mention of the city of Shurparaka or Sopara has also been observed in the Hindu Epic Mahabharat. Sopara is mentioned as a holy place in Mahabharat. It was at Sopara that the Pandavas brother rested for some time while they were proceedings to Prabha or Verval in Kathiawad from Gokarn in north Kanara (present day North Karnataka).
As per Mahabharata and the Puranas, Śūrpāraka was reclaimed from the sea, so that Lord Parashurama can stay here. This is also why Sopara was a major tirtha for the Hindus.
Where is Sopara Stupa located?
The cluster of the ancient archeological sites of Nalasopara Stupa is situated on the Nalasopara-Nirmal Road, somewhere between the Vaitarna creek and Vasai creek in the Palghar district. The 2,500 years old Sopara ancient Buddhist Stupa is located near Wagholi, Nalasopara West, Nala Sopara, Maharashtra, India.
One needs to pass through farms to arrive here. There is dense greenery and several towering coconut trees present in the premises of Nalasopara Stupa. Many flowering plants are also present in the garden here. It is a beautiful location, despite the cacophony of traffic just 2 kilometers away.
Architecture of Nalasopara Stupa
The foundation of the Nalasopara Stupa can be easily seen around the mound. Gorgeous sandalwood carvings embellished the Sopara Stupa. Steps are located on the eastern side of the Stupa. Mud and bricks were used to build the Stupa.
I was amazed to see that even in that era when the facilities were not there, the Sopara Stupa was constructed in a perfect round shape. Who knows ancient Indians had advanced knowledge of geometry, the proof of which may have been lost with time!
Gates and entrances of Sopara Stupa
The remains of a gate, much like Sanchi Stupa were observed by the excavators, right in the middle of the southern wall of the Stupa of Nalasopara. A mobile compass app can help you find the directions when you visit Sopara Stoopa.
The main entrance was located right in the middle of the Eastern wall of the ruins of stupa. This is also confirmed by a sign board, which was in dilapidated state, reflecting the apathy of Government.
A smaller and ancient idol of Buddha Bhagwan is placed typically inside a stone compartment on a platform near the main entrance. You can also see a modern statue of Buddha placed outside this rectangular altar like platform. I noticed something similar in Sanchi Stupa as well.
You can also see a rather modern gateway at a road junction, located in close proximity with the Nalasopara Stupa site. This gateway is embellished with Buddhism related themes, carvings and sacred Buddhist inscriptions. Belonging to early medieval period, these structures are known as bharvaka. It is common to see the carvings of ganas holding up the roof on the capitals of pillars.
Ancient Pillar: Buddhism in Maharashtra
A pillar unearthed near the excavation site of Nalasopara (West) established the fact that Gautam Buddha had indeed visited this stupa himself. However, the discovery of this stupa was made by chance.
When the local workers were digging up the ground for the landscaping of the garden that surround the stupa, they discovered this ancient pillar. What makes this pillar special is the fact that an image of Gautam Buddha was observed carved on the pillars!
Shri Bikhoni Sangamitra, who is also the founder of the Buddha Vihar, confirmed that this proves that Gautam Buddha Bhagwan himself paid a visit to the Sopara village or Sopara Gaon. The Ashokan inscriptions were discovered much before the discovery of the pillars. I am sure, if the ASI excavates more at Nalasopara Stupa site, they can end up with even more discoveries!
Dimensions of Nalasopara Stupa
How Big is Nalasopara Stupa? This is a commonly asked question. The mound that we see today is approximately 65 yards at its base. This mound is as tall as 18 feet. Diameter of the stupa was a whooping 268 feet.
Here are the details on the dimensions of the Nalasopara Stupa. This wall, made up of stone and brick, measures 56 feet in the North and South direction whereas it measures 96 feet to the east-west of the mound. You can now imagine the sheer size of Sopara Stupa. It sure was built on a grand scale!
History of Nalasopara Stupa
Historical significance of Sopara Stupa is immense, irrespective of the apathy by local Government. Nallasopara Buddhist stupa stands as testimony to the fact that this region near Mumbai once served as the hotbed of Buddhism. In fact, the Sopara Stupa is one of the oldest manmade architectural marvels on the west coast of Indian subcontinent.
The ancient port city of Nalasopara once served as the capital of Aparant, which was the name of Konkan region in those times. Sopara also served as the capital of the Satavahana Dynasty during approximately 4th or 5th century C.E.
Before the Satavahanas, the Western Kshatrapas or Western Satrap ruled here. There had been many wars for the control of Sopara.
According to the Sanskrit text Mahavamsa (VI, 46,47), Vijaya who served as the 1st ever king of the Sinhalese Kingdom of present-day Sri Lanka, sailed all the way from Sopara or Supparaka to what is now Sri Lanka.
Sopara was thus a prominent cultural centre in those times. Sopara had immense importance in the early historic period and early medieval era whether it was serving as an important maritime trade route or spirituality.
Name of Sopara has been mentioned in various scriptures whether Brahminical, Jain or Buddhist. Each scriptures represent various stages of the history of Sopara Stupa. The fact that Sopara was one of the major administrative units controlled by the Satavahanas also finds a mention in the inscriptions discovered in Kanheri, Karle, Naneghat and Nashik.
Between 500 B.C.E. to 15th century C.E., the name of Sopara has been mentioned in different contexts for 2,000 years continuously. As per a finding in a cave of Nasik, it is mentioned that as many as 32,000 coconut plants were gifted to Buddhist Bhikshus who used to live near Ram Teerth This dates back to 100 C.E. Interestingly, Ram Teerth is still present in the name of Ram Kund.
Downfall of Sopara
Between the pre-Ashokan era to the 3rd century C.E. and later from the 9th century C.E. to the 13th century C.E., Sopara enjoyed fame and popularity. However, any mention of Sopara between the 4th and 9th century C.E. are missing from the historical records. It is possible that Sopara lost its fame in this era.
Effect of siltation caused due to rising sea levels could be one of the factors that led to the downfall of Sopara. Today Nalasopara is a nondescript residential colony on the outskirts of Mumbai. You can see youngsters practising dancing and hip hop on the Nalasopara railway Station, oblivious to the thousands of Buddhist history that stands silent, just 2 kilometers away.
Fort city of Buddhist Sopara
I also wonder if there was a fort in Nalasopara once upon a time? During excavations, the archaeologists found an earthen wall along with 14 coarse stone walls. These walls were constructed with stone blocks of different sizes.
In its heydays, Sopara was a very rich and bustling city of West India. As per the book Divyavadana, there was a huge fortification wall in Sopara. There were as many as 17 different gates on the fort walls. Unfortunately, none of that can be seen today.
Soul Window Thoughts
Very often, we see people making fun of Nalasopara in popular culture, mostly owing to the way it sounds as per the modern lingo. From mostly substandard Bollywood movies to crass comedy shows, Nalasopara has borne the brunt.
The uneducated script writers of these movies and shows have zero knowledge or respect for what Nalasopara is! It is time we stand up against such substandard and mediocre content in the name of comedy.
I have visited many Buddhist places in India such as Kapilvastu and Ganwaria, Kushinagar, Shravasti, Vaishali, Bodhgaya, Kaushambi, Sarnath etc. Lumbini in Nepal is also one of the best Buddhist places I have visited. It is a pity then that we talk loosely about such places of high spiritual significance.
Who built Sopara Stupa and why?
Who constructed Sopara Stupa? According to the book Divyavadana, the world-famous Nalasopara Stupa was built more than 2,500 years ago by a trader known as Poorna. He was a resident of Sopara.
Why was Sopara Stupa constructed? This is a frequently asked question. The Sopara Stupa was built by Poorna in reverence of Gautam Buddha Bhagwan.
In those days, the famous trader known as Aharta Punna of Sopara visited Shravasti during on one his trade related tours. He met Gautama Buddha for the first time in Shravasti, which is now located in my home state Uttar Pradesh.
After listening to some discourses directly from Buddha Bhagwan, he made up his mind to renounce the worldly affairs and instead started receiving initiation to become a Bhikshu from Gautam Buddha. He was eventually included in the Sangh by Buddha.
He was highly impressed and influenced by the teachings of Buddha. When, with permission of Gautam Buddha, he came back to his home in Nallasopara, he commissioned the construction of a beautiful Vihara from Sandalwood aka Chandan wood and bricks.
Interestingly, coin from the Satavahana era was discovered inside one of the reliquaries. This proves that perhaps during the Satavahan rule, the Stupa was opened again and enlarged.
Who was Poorna of Nalasopara?
The Buddhist Scripture Divyavadana is an anthology of 36 Buddhist avadanas or narratives. It also has 2 sutras which focusses on the lives of important Buddhist figures that roamed the earth throughout history. We know about Poorna from the second story of Divyavadana, known as Poornavadnam.
The story of Poorna is also mentioned in the cave number 2 of Ajanta, also in Maharashtra. This can be seen above the door. This means that the story of Poorna is at least 1,500 years old. Father of Poorna was a rich merchant while his mother was a Dasi. Brothers of Poorna didn't use to treat him well.
But Poorna was intelligent, talented and hard working. This helped him create a lot of wealth. Poorna even did as many as 6 sea voyages. The money he earned from his trade, he later offered to Bhagwan Buddha. As instructed by Buddha Bhagwan, Sopara spreads Buddhism in Sopara. Gautam Buddha himself visits Sopara and converts many people into Buddhism.
There is a place called as Padna Hills in Goregaon, Mumbai, where some old inscriptions were found. As per the inscriptions, a sage known as Musalak Dutt used to live here. Bhagwan Buddha had also converted Musalak Dutt into Buddhism.
Another interesting story about Poorna is that he had attained the stage of Arahant. As per the Buddhist teachings, arahant or arhat is a person who has achieved insight into the true nature of existence and attained nirvana.
According to Mahayana Buddhist traditions Arahant are those disciples who have gained advanced knowledge as they tread towards the path of Enlightenment. The Arahant is just a stage below full Buddhahood which Bhagwan Gautam Buddha had achieved.
Did Gautam Buddha Visit Nalasopara Stupa?
Not many know that the Sopara Stupa was inaugurated by Gautam Buddha himself. The trader Poorna converted into Buddhism after meeting Lord Buddha. After building the Nalasopara Stupa, he invited Gautam Buddha to inaugurate the stupa. Gautam Buddha stayed in Nalasopara for 7 days along with 500 Bhikshus who came with him. Buddha also gave deeksha of Buddist faith to people.
13 pieces of Bhiksha Patra or begging bowl of Gautam Buddha was also excavated here. This proves that Gautam Buddha himself visited Sopara Stupa. Unfortunately, it is now in the custody of British Museum in London.
When was Nalasopara Stupa constructed?
How old is Sopara Stupa? Buddhism in Maharashtra is older than you think. How many places are there in the world where you can randomly pick up a brick or stone which is as old as 2,500 years old?
The story of Poorna, which includes the story of Sopara and the story of arrival of Gautam Buddha Bhagwan gives us evidence of the age of the Nalasopara Stupa.
Nalasopara Stupa was constructed in 2nd century B.C.E. The Nalasopara Stupa was enlarged in the 8th century C.E. The historians have concluded this date as the time when Sopara Stupa was built because the Ashokan edict which was found in Bhuigaon Village belongs to the 3rd century B.C.E.
The city of Sopara and the bustling Sopara Port did exist in the 2nd century B.C.E. and 3rd century B.C.E. but the historians and archeologists have still not able to establish clearly if the stupa existed back then. The Satavahana coin also throws some light on the age of Nalasopara Stupa. I have elaborated on the same in other section of this detailed blog.
Nalasopara remained a very important place for both trade and spirituality between 3rd century B.C.E. to the 9th century C.E.
Who excavated Nalasopara Stupa?
How did this historical place buried under a pile of soil come to light? Is this the first excavation done by an Indian man? Yes, the excavation of Nalasopara was indeed the first Indian archeological excavation. Till then, only western people used to carry out excavations in India. It was also the first of its kind excavation in Maharashtra.
Did you know that Nalasopara Stupa was first excavated by an Indian man known as Pandit Bhagwanlal Indraji, as early 7th April, 1882? Pandit Bhagwanlal Indra ji was a renowned archaeologist, epigraphist as well as a numismatist. This is a little-known fact.
This is one of those rare places where an Indian commissioned the excavation independently. This is why it was a very important archeological excavation in India. The entire Sopara Stupa which we see today was entirely covered in mud when Bhagwanlal ji started excavation here.
He had also written a long article on the Nalasopara excavation for the Asiatic Society. In those times, Pandit Bhagwanlal Indraji was the only Indian archeologist who was awarded the honorary doctorate by a foreign university
This was the first time when an Indian and a Hindu had commissioned excavation. Bhagwan Lal Indraji (1839–1888) was a renowned scholar and rare Indian archaeologist in the 19th century.
He was also a member of the Bombay branch of Royal Asiatic Society. He was accepted as an honorary member of Royal Asiatic Society in the year 1887.
Not much of the original splendor of Sopara Stupa has remained to be seen. But from the foundations, we can easily figure out that it was once a rich and vibrant town with fine details and architectural brilliance, especially for that era.
Further Excavations in Sopara
Sopara was excavated many times. Below is a timeline of excavations which took place in Sopara since the 19th century:
1882: Pandit Bhagwanlal Indraji was the first Indian and person to excavate the site of Sopara on 7th April, 1882. Most of the major findings belong to this excavation.
1939 to 1940: Excavations at Sopara was done by M.M.Qureshi who worked with ASI or Archaeological Survey of India. During this excavation, many stone lintels were discovered. Some shards of plain glazed ware of the Muslim period were also observed here. The most striking discovery, however were the 2 small stupas, which were unearthed towards the south direction from the main Sopara Stupa.
1972: Anwar Munshi discovered several Satavahana lead coins at Sopara during excavations.
1956: In the coastal village of Bhuigaon, a fragment of 11th important rock edict was excavated.
1993: While excavating, rare objects from the past such as fragments of Roman amphorae red polished ware, a ring well and glass were found. These findings were dated back to the early centuries of the Common Era or C.E.
Excavated finds from Sopara
What other things are found around Nalasopara Stupa apart from the Stupa? As per Shri Kurush Dalal, there are several small and round votive stupas here, but they are important ones nonetheless. A beautiful late period stone votive stupa has also been discovered here.
Votive Stupas, as we know were constructed for commemorative visits. I have seen many Votive stupas in several Buddhist places across India. The Votive stupas are built mostly near an already famous main stupa where Buddhist monks and devotees visit on a regular basis.
During the excavations by Bhagwan Lal Indra ji, he discovered walls which surrounded the stupa once. It was 4 feet in width. If you look at the ground, you can still see the ruins of what may have been a cubicle or gate or a wall. There were 4 towers in the 4 corners of this Buddhist site. In the south direction of Stupa, a building with many small rooms was discovered.
Kurush Dalal is a faculty member in the Center for extra mural studies, University of Mumbai. There is a small park nearby, which also has the statue of Gautam Buddha. However, it looks more modern.
During the excavation by Pandit Bhagwandas Indraji in April, 1882, he discovered the following in the center of the stupa:
Silver and Sphatik boxes were also found. Silver coins from 1st and 2nd century C.E. from the Satavahana Era were also found here. King Gautami Putra Satakarni of Satavahana dynasty used to rule then. 7 reliquaries made of metal, were found. Each reliquary was contained in another reliquary.
Reliquary are container which hold holy relics. The last and the smallest reliquary was made up of sphatik which contained ash, golden flowers and a small diamond. It is possible that it was the ash of Gautam Buddha. Apart from being Buddha's relics, it could also be the relics of some other renowned Bikhkhu.
Similar objects have also been found during excavations in other Buddhist sites as well. A gold coated ornament was also place right above the dome. It was in the shape of 'T'.
Several architectural ruins and tanks have also been observed in the areas which are located close to the villages in and around Sopara. Most of the ancient relics are concentrated between the creek and the stupa.
Other objects found from areas in and around Nalasopara include
Maitreya Buddha
Under the supervision of Pandit Bhagwan Lal Indraji ji, on the first day of excavation, 6 to 8 feet of digging was done. On the second day, 4 feet of digging was done. On third day, 13 feet of mud was excavated which went as deep as the base of the stupa. This was when the stone coffer was discovered.
Many idols of Gautam Buddha were found inside the coffer. One of the bronze idols was that of Maitreya Boddhisattva, the future Buddha. Presence of statue of Maitreya Buddha inside the stupa startled the archeologist. It indicated that some important relics may be present inside the Stupa, which they were.
The age of huge stone coffer which contained 8 bronze images of Maitreya Buddha can be traced back to 8th and 9th century C.E. or the medieval era. To put things to perspective, these idols are around the same time when Islam came into existence.
Discovery of begging bowl of Buddha
A small copper casket was also found between the statue of Maitreya Buddha and other Buddha idols. When the copper casket was opened, it startled everyone! The copper casket contained a silver casket, which contained a stone casket, which contained a crystal casket and which further contained gold casket. Every casket contained small flowers made up of gold.
When the gold casket was finally opened, it contained golden flowers along with 13 very small pieces of bowl made with porcelain or as we call it in India, Chini Mitti.
The presence of golden flowers in each casket was a clear indication that something important is present at Nalasopara Stupa. It was finally ascertained that these were indeed the pieces of the original begging bowl of Gautam Buddha.
Islamic Invasion
There used to be a grave of some Ramzan Khan on the top of the Stupa when it was covered with mud. This was before the excavation was started by Bhagwanlal ji. There was also a person known as Sheikh Amir, who had dug up 6 feet of earth atop the stupa and built a structure there.
As many as 4 people could stay there. Sheikh Amir was a plunderer who used to hide all the stolen items here. Eventually, he was asked to leave from here and the stupa was made free of illegal encroachment.
During the first excavation which was between 6 to 8 feet deep, many belongings of Sheikh Amir, most of which were stolen petty items such as coins, glass bottles etc.
Visit Museum
In order to protect the objects unearthed from the Nalasopara Museum, they have been shifted to the museum of Asiatic Society of Mumbai. You can still visit the museum and see the findings displayed for common public. Nalasopara Stupa and the museum are some of the best historical sites in and around Mumbai. It is a great place for those interested in archeology.
The rock edicts of Ashoka can be viewed by general public in the well-maintained Chhatrapati Shivaji Maharaj Vastu Sangrahalaya in the Fort area of South Mumbai.
Sopara Port: Ancient trade route of Maharashtra
In ancient times, the Sopara Port was an important port with high international reputation. Sopara was a very big sea port or bandargah of West India. Nallasopara or Nalasopara once served as a major port town in what is now Maharashtra.
In fact, the Sopara port is one of the oldest ports and ship building yards of India. Traders from far-away lands used to visit Sopara in an era when there was no sophisticated transport or communication channels. Many traders used to pply from North to South direction over the seas.
In old days, the port at Nalasopara had strong trade ties. Through Nalasopara port, ancient India maintained trade ties with ancient cultures of Arabia, Rome, Mesopotamia, East Africa, Greece, Egypt, Cochin, Malabar, South West Asia and even Parthians etc. Traders who used to come from these countries also helped spread Buddhism.
Many different types of boats and vehicles used to arrive at the port of Sopara. They used to ring a variety of ingredients with them. Sopara Port was located near the Sopara Stupa in old days. The traders also used to pass through the famous Naneghat Pass. Do read my travelogue on the Naneghat Trek.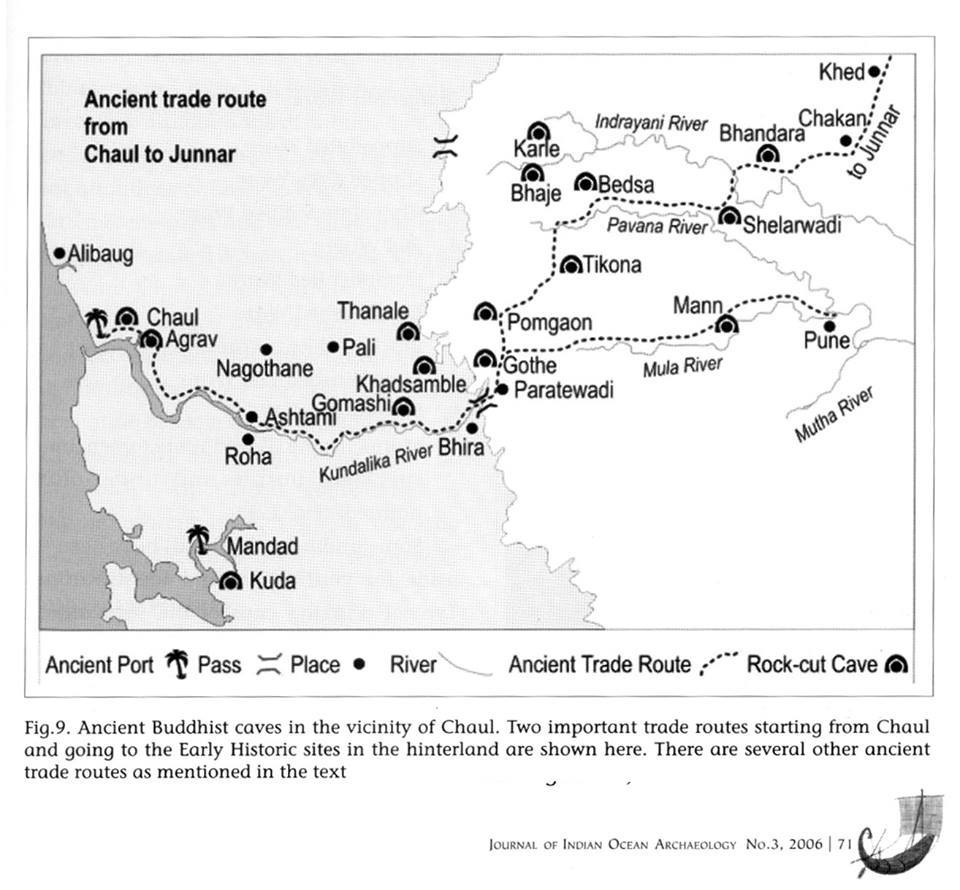 The traders used to carry the products and ingredients along with them for selling and buying. For example, the Romans brought wine with them while the Indians sold spices, silk, cotton. In fact, Indians also exported live animals and birds such as peacocks, monkeys and elephants.
If you walk around the Bhatela pond, you can still seea bundergah or landing place. Ruins of a Portuguese jetty and customs house are also located here.
Soul Window facts
2,500 years ago, the sea used to be present way deeper in what is now a bustling village. There were many sea channels which used to touch the busy Sopara town. During the excavations, even the ancient landing spots were identified by the archeologists. Even today the sea channels can be identified on the Google maps.
In fact, not many know that the ancient habitation site of Sopara was as far as 2 kilometers away from the main Sopara Stupa. It used to overlook the dry creek on the south and Thane creek on the on the east.
During the excavations, the archeologists also discovered that the sand of the sea was also found mixed with earth. This helps in concluding that in those times, the expanse of the sea was far deeper inside the Sopara town.
As per some historians, King Hiram of Tyre had brought items such as almug trees, precious stones and gold for Solomon from Sopara. Back then it was known as the land of Ophir.
Indigo Trade
The cotton cloth which was exported from India to other nations was known as Indigo dye muslin. It is clearly mentioned in the book called as Periplus of the Erythraean Sea. Natural Indigo Dyed Organic Cotton Muslin Fabric were malmal clothes which were colored with neel (indigo). This cloth was in high demand in Rome. You can still see the use of Indigo in places like Chandni Chowk in old Delhi.
In fact, as per the historical records, the senators of Rome in 4th and 5th century C.E. used to discourage the local people from buying the Indigo cloths from India as it was creating trade deficit. Their balance of trade was disrupted.
Did Maharashtra cause the decline of the mighty Roman Empire? Not many know that, it is also said that Maharashtra in India was in a way responsible for the downfall of the Roman Empire. The Indians said that if the Romans want Indian products, then they have to pay Rokda or Rok. This created a huge balance of trade deficit to Roman Empire.
Traders used to go to Konkan and deccan from Naneghat pass. From here they used to go to many other places for trade. Sopara had grown to be a very important port for trade. Most of the traders here were Buddhists, therefore with time, the importance of Sopara Stupa only grew in stature.
Jain Connection with Sopara
As per the Jaina writers, King Shripala married Tilakasundari whose father happened to be the King Mahasena of Soparaka.
As per Vividha Tirtha Kalpa, a Jain text composed by Jinaprabha Suri in the 14th century C.E. he addresses Soparaka as one of the 84 Jaina tirthas sthal or sacred pilgrimages. In his text, he also describes an image of Rishabhadeva which was present in Sopara when he was around. This image is no where to be found now though.
Satavahana and Kshatrapas Connection
Between 1st century B.C.E. and 2nd century C.E., during the rule of the Satavahana dynasty, the Sopara port used to be a busy one. This was also the time where a lot of trade used to happen with other nations like Rome. Due to this the Satavahana Kingdom also prospered.
The Greco Roman period trade routes or Indo Roman trade which happened over the vast Arabian Sea in those days.
Places like Junnar, Kalyan, Sopara, Naneghat, Paithan and Amaravathi (Dhanyakataka) came directly under the reign of the powerful Satavahanas.
When the copper casket was opened, a silver coin was also found in it. This coin belonged to King of Satavahana dynasty, Gautami Putra Yajna Sri Satakarni. He was also the brother of Vashishtiputra Satakarni. Gautami Putra Yajna Sri Satakarni reigned in 2nd century C.E.
It is then that Bhagwan Lal Indra ji picks up the famous book Geographica written by Claudius Ptolemy in 1st century C.E. A mention of some king of Ujjain was found in Geographica. Sopara used to be an important commercial centre during his era. conen
From here, Bhagwanlal ji establishes the lineage of the Satavahana dynasty. He also discovered that Rudradaman, who was a king from Kathiawad in present day Gujarat was also a contemporary of Yajna Sri Satakarni.
Rudradaman was a Śaka King who belonged to the Western Kshatrapas dynasty. Rudradaman was also the reason why the Satavahana Empire declined as they were on a war with each other. Rudradaman ruled in the 2nd century C.E. This established the fact that Yajna Sri Satakarni ruled in 160 C.E. The fact that his coin was found here proves that the Nalasopara Stupa at least belonged to 160 C.E. or 1,900 years old at least.
The Girnar Rock inscription of Rudradaman which is also called as The Junagadh rock inscription of Rudradaman also contains inscriptions by Ashoka, Rudradaman I and Skandagupta. It is one of the edicts of 14 edicts of Asoka.
Inscriptions and Edicts of Ashoka
What is the relation of Emperor Ashoka with Nalasopara stupa? Did you know that the archeologists have unearthed 2,300 years old inscription at Nalasopara Stupa? This inscription was commissioned by the powerful Mauryan ruler Ashoka. During excavations, Ashokan edicts were found in an Islamic graveyard, located close to Ramkund.
The fact that the inscription was found here determines how significant Sopara Stupa site is. Ashoka registered his involvement in Nalasopara after 200 years of Mahaparinirvana of Gautam Buddha. He wanted to commemorate the visit of Gautam Buddha to Nalasopara. This is why he left behind some edicts or shilalekh.
Not many people know that the 8th and 9th edicts of king Ashoka out of a total of 14 Ashokan edicts or stone tablets had been unearthed from the site around Nalasopara Stupa. Apart from the Stupa itself, these lesser-known edicts of Ashoka, proves that the ancient Sopara was indeed a significant Buddhist site some 2,500 years ago.
We all know about that historical event when Mahendra and Sanghmitra, the son and daughter of Ashoka-the great, visited all the way to what is now the island country of Sri Lanka from Bodhgaya of Bihar in North India. They had carried along the branches of the sacred Bodhi tree of Bodg Gaya.
But did you know that Mahendra and Sanghamitra had also made a stop at the Nalasopara Stupa during this epic journey? Not many know about this little-known fact. It is also quite possible that Sanghamitra and Mahendra started their journey to Sri Lanka from Nalasopara itself. Their aim was to spread the Buddhism faith as far as they could.
The 9th rock Ashoka rock edict was discovered in the Bhuigaon village near Nalasopara. Mauryan Empire started to expand in Maharashtra between 321 B.C.E. to 181 B.C.E. It is quite possible that the Mauryas arrived in Sopara from what is now the West Indian state Gujarat.
As per the translations of edict done by A.L. Basham, Ashoka refers to himself as "Piyadassi" or the handsome one and "Devanampiya" or 'Beloved of The Gods'.
Similarity of Sopara Stupa with Sanchi Stupa
Archaeologists and historians have observed a striking similarity between the Nalasopara Stupa and the well preserved Sanchi Stupa in Madhya Pradesh. While Sanchi Stupa is world famous, Sopara Stupa remains a lesser-known place.
You can see the bricks clearly on the Sopara Stupa. These were the part of Pradakshina Patha of the stupa. Pradakshina Patha are the mostly circular paths in a stupa where devotees walk in clockwise direction to pay their respects. This ambulatory pathway is quite similar to the one in Sanchi Stupa.
Circumambulation around holy temples and stupas is common in both Hinduism and Buddhism. This is quite similar to the Pradakshina Patha we see in Sanchi Stupa and even Shanti Stupa of Leh in Ladakh or other modern World Peace Pagodas.
Sanchi Stupa dates back to 3rd century B.C.E. even before the existence of Christianity and Islam. Since the designs of Sanchi Stupa and Sopara Stupa is very identical, it is also believed by some historians and archeologists that Nalasopara Stupa may even be older than we think! However, the only solid proof of the age of Sopara Stupa we have, is that of the Satavahana coin which was unearthed here.
Some archeologists and historians also feel that the Sanchi Stupa was made as a replica of the Sopara Stupa.
Relation with Kanheri Caves
Both Sopara Stupa and Kanheri Caves are some of the unusual places to see in Mumbai. Sopara Stupa had strong ties with the Buddhist Bhikkhus of nearby Kanheri caves. I have visited both the Buddhist historical sites and now I can connect the dots easily. Perhaps, due the existence of the Sopara Stupa, the Kanheri caves were expanded and several Buddhist Bikshus started to live here long term.
Kanheri caves, which is also located in Mumbai is another ancient Buddhist site within the metropolitan city. The teachings of Buddha Bhagwan were spread in different regions by the monks who stayed in Kanheri Caves via Sopara. In those times, several Buddhist monks visited Kanheri via the route of Sopara seeking knowledge and further advertisement of the faith.
Chakreshwar Mahadev Temple: Sopara Temple
There are many places of interest near the Sopara Stupa. Located at a corner of the Chakreshwar Talav (pond) in Nalasopara area, this Shiva Temple is home to some idols from 9th century. A rare Agni idol which dates back to the 2nd century is also present here. Chakreshwar Mahadev Temple is located very close to the Nalasopara Temple. You can have a free walking tour in this temple of Nala Sopara. This temple of Sopara is off the beaten track.
This peaceful retreat overlooking the Chakreshwar lake, is off the beaten track. You must plan in advance so that you can visit both Chakreshwar Mahadev Temple as well asNalasopara Temple on the same day. Many parts of the original Chakreshwar Mahadev Temple have been reconstructed.
Unfortunately, since the European invaders badly destroyed the original temple, the present day Chakreshwar Mahadev Temple is made with modern materials. Needless to say, it is no patch on what we lost, the old temple structure, that is.
The modern construction materials can never match up with the architectural brilliance of ancient Hindus. It seems like the idol of Nandi ji which faces the holy Shivlinga in the garbhagriha of the temple is an old one. Do not miss visiting this Nalasopara Temple, which is located near Chakreshwar Lake in Nallasopara West.
Carved idols at Chakreshwar Mahadev Temple
Some of the notable idols here include carved idols of Shiva Bhagwan and Maa Parvati. Their son Ganesh Bhagwan is shown on the left of Parvati ji. Another idol depicts, Naga- the serpent God covering the head of Shiva Bhagwan. Many idols and statues of deities from the Hindu pantheon lie scattered along the wall of the compound here. These are carved very beautifully.
Harihara Idol
An idol of Harihara is also worth mentioning. Harihara is a combination of both Vishnu Bhagwan and Shiv Bhagwan. The beautifully carved idol of Harihara here has an unusual crown with two skulls. It reminds of the depiction of Mahakala. Fish and Coiled Serpent are its other features.
Soul Window Observations
I also saw many coiled serpent carvings in Chalukyan heritage sites of Badami and Aihole as well. The Durga Temple of Aihole also has similar depictions. I saw idol of Harihara caved in the temples of Pattadakal in North Karnataka as well.
Gajalakshami Idol
Another carved idol of Gajalaxmi or Maa Lakshmi with elephants stands out. Two elephant figures or gaja flank both sides of Lakshmi Mata, as she sits pretty in the yogic posture of Padmasana on the lotus flower. The elephants shower Laxmi Maa with water from their trunk.
As is common with the depiction of Goddess Laxmi ji, she is depicted with 4 arms. While her upper arms hold lotus flowers, her lower arms form the Varadamudra and Abhya Mudra, a hand gesture. This beautiful depiction of Maa Laxmi with elephants signifies abundance, good luck, wealth and prosperity. You can search for this Ashtalakshmi form of Laxmi Mata online as well.
Brahma Idol
The idol of Brahma ji, creator of the world is also notable. Brahma ji is depicted with four faces, each of which represent the ancient Hindu scriptures of Veda, viz Rig Veda, Sam Veda, Yajur Veda and Atharva Veda. As is common with the depiction of Brahma ji, we can easily see the crown and beard on the idol.
The Trimurti of Elephanta caves which also represent Brahma ji can be compared for perspective. Do not miss seeing the four bearded heads and the ayudhas of Brahma when visiting Chakreshwar Tirtha near Sopara Stupa. Also noticeable are the Kamandalu, palm leaf manuscripts of the four Vedas and the rosary of beads.
Sruk or Pali, which commonly serves as the ladle with which the Brahmins pour desi ghee on the yagnas or the ritual fires are also worth noticing.
Portuguese Invasion
As we know the ruthless Portuguese invaders were known for plundering and loot. They caused massive destruction in not only Goa but also several temples in the Bassein region. They were on a destruction spree. I am explaining all the details in this exhaustive blog on Sopara area so that you don't have to look elsewhere for additional information.
No temples were spared their wrath. They gained control of this region from another Islamic invader called as Sultan Bahadur Shah of (present neighboring state) Gujarat. This region was handed over to the Portuguese as per the treaty of 1533. The Portuguese had apparently helped him to counter the threat which the Mughals posed.
Akkalkot Swami Math
Akkalkot Swami Math, which has the samadhi of Swami Mayuranand, is also a must-see when visiting Chakreshwar Mahadev Temple. The roof of the Math is made with tiles, while wooden beams and pillar form other features of the Math.
It is a very neat and well-maintained spiritual place. Peaceful places like these always attract me. Located just minutes away from the cacophony of the Nalasopara Station, it is a secret haven that few know about. As you will walk around the verandah, you will stumble upon more Hindu deities here. Do note the fine carvings done on the stone idols. This Ashram is off the touristy trail.
Top things to do near Sopara Stupa
What is there to do in Sopara Stupa area? There are many free things to do in and around Sopara Stupa. Below are some of the top things to do near Sopara Stupa with family and kids or even solo:
Meditate
Visit Museum
See the details
Talk to the locals
Visit nearby ponds
Visit nearby Hindu temples
These are some of the most unusual things to do in and around Sopara Stupa. Since Sopara Stupa is situated away from the crowds, it is a pleasure to do meditation here. This unexplored place must be felt rather than visited.
International Pilgrimage Site
Throughout the year, the devout followers of Buddhism from India and abroad visit Nalasopara Stupa, irrespective of the climate conditions.With growing awareness, there has been a gradual rise in the number of Buddhist pilgrims visiting Sopara Stupa. Several sightseeing attractions places around the Stupa help anyways.
I hope after reading my comprehensive blog on Nalasopara Stupa, more international pilgrims from South East Asian Nations such as Laos, Thailand, Cambodia, Vietnam and other Buddhist nations such as Sri Lanka, Japan, Korea, Mongolia, Taiwan, Myanmar etc visit Nalasopara Stupa.
At present, several local people live near the Nalasopara Stupa. The infrastructure here still remains poor. Every evening, several local people pay a visit to the Sopara Stupa. They enjoy the lack of crowds and fresh air while chatting away the evenings on the benches which border the stupa.
Plans are already on to build a local museum, meditation centre and mini theatre at the Sopara Stupa site. Information packed film on the Sopara Stupa will also be shown in the auditorium.
Lack of attention and Government apathy
Sopara Stupa has all the potential to become a major tourist attraction of Mumbai. There are many tourist places in Sopara which can be developed. Most of the major attractions are located a quick ride from each other. Nearby Virar is anyways a picnic spot for local people of Mumbai.
During my visit to Sopara Stupa, I was crestfallen to see that such a historical site is still being neglected by the Government. The apathy and the lack of desire to promote this stupa is disappointing. A place like Nalasopara has all the potential to become the centre of the Buddhist circuit of Maharashtra Tourism, only if the authorities wake up.
Interestingly there are many ancient Buddhist sites in East coast of India, all of which have been preserved in a far better way. The Indian states of Andhra Pradesh and Odisha, for example have many Buddhist sites.
Even my home state Uttar Pradesh and the neighboring Bihar has preserved ancient Buddhist sites like Sarnath, Kaushambi, Shravasti, Kushinagar, Piprahwa, Bodhgaya and Nalanda very well. On the contrary, on the western coast, there is only one big Buddhist Stupa.
This is why we should preserve the Nalasopara Stupa well and do more research on it. It is a very important site for both heritage studies as well as international tourism.
While the Government has forgotten this major Buddhist site, it is the duty of an average Indian to visit Nalasopara Stupa and try to learn more about it. This is also why I wrote this detailed guide to Sopara Stupa.
Despite the apathy, Sopara Stupa is not to be missed. You should make an effort to visit Sopara Stupa on your own.
Soul Window Suggestions
I hope that the Government of Maharashtra take steps to do more near-shore and off-shore marine archaeological exploration. More excavations need to be done in Sopara. Who knows we learn new things about the true extent of the ancient port city of Sopara.
I hope this blog puts the coastal town of Nalasopara once again on the global map. Please do share this blog on Nalasopara Buddhist Stupa with friends and family, so that more people are aware of our rich Indian heritage!
The state government of Maharashtra, ASI, MTDC or the Maharashtra Tourism Development Corporation as well as VVMC or the Vasai-Virar Municipal Corporation are responsible for the upkeep and further excavations of the Nalasopara Stupa. If they will, the stupa area can be easily developed as an attractive international tourist spot, especially for the Buddhist pilgrims.
Buddhist Circuit of Maharashtra
Some of the most important Buddhist places in Maharashtra are
Ellora Caves
Bedse Caves
Ajanta Caves
Pagoda in Gorai
Mahakali Caves
Pitalkhora Caves
Elephanta Caves
Ghorawadi Caves
Jogeshwari Caves
Pandavleni Caves
Dikshabhumi in Nagpur
Igatpuri Vipasanna Center
Chaityabhoomi in Dadar, Mumbai
Buddhist cave near Bibi Ka Maqbara, Aurangabad
Kondana Caves (Near Karjat – 30 kms away and Lonavala)
Karla and Bhaja Caves of Lonavala-Khandala and Lohagad Trek
Kanheri caves near Kandivali and Borivali in Sanjay Gandhi National Park, Mumbai
Excursions from Nalasopara Stupa
Sopara Stupa makes for a quick, easy and low-cost weekend destination from Mumbai, Thane, Navi Mumbai and Pune.
The creek or the mouth of Ulhas River, which is located nearby is a must-visit place. Vasai creek, which is located just before the Ghodbunder Road junction can also be visited. I had also visited the dilapidated and lonely Ghodbunder fort on a different occasion. Below are some nearby places from Sopara Stupa.
Kanheri Caves
Ambarnath Mandir
Ulhasnagar for Sindhi food
Water parks and resorts of Virar
Festival of Nalasopara Stupa
Buddha Purnima or Buddha Jayanti are celebrated on a grand scale at Nalasopara Stupa. Many minks visit and pray at the Nalasopara Buddhist stupa near Vasai and Virar. Vishakha Purnima aka triple Buddha Purnima is also celebrated with much fanfare at the Nalasopara Stupa. The devotional atmosphere here during Buddhist festivals is to be seen to be believed.
Triple Purnima is called so because on Vaishakh Pournima, three major incidents from the life of Buddha occurred. It includes his birth in Lumbini of present-day Nepal, attainment and finally Mahaparinirvana at Kushinagar. Buddha Bhagwan was born under a tree in Lumbini. He was the son of Mahamaya and King Suddhodan.
You can also see programs like Dhamma Desna, Shramner Shibir and Mahaparitran Path if you travel to Sopara Stupa during festivals. Full moon is considered very auspicious in Buddhist nations such as Sri Lanka.
During the Vaisakh Purnima, you can see 3 days long celebrations at the Buddha Stupa in Sopara. For example, the Pali language department of Mumbai University has been known to organise Shramner camp here. Huge Dhamma procession from Buddharupa to Buddhastupa is also carried out during festivals.
Other events during festivals include Buddha Pooja Path and Dhamma Desna. These are organised near the Stupa. Vaishakh Pournima is a very important festival of Buddhists which attract orange robed monks in large numbers. You can see the monks wearing their robes and carrying the bhiksha bowl (begging bowl) with them all the time when they visit Sopara during Buddhist festivals.
Vegan and Vegetarian Food near Nalasopara Stupa
There is no food stall in the complex of Stupa of Sopara. Food and water are available at Nalasopara Railway Station.
Is it safe to visit Sopara Stupa?
Yes, it is very safe to visit Sopara Stupa in day. To be on a safer side, avoid after dark.
Souvenirs Shopping Guide to Nalasopara Stupa
There are no souvenirs shops here because it is still a very uncommercialised place.
Books on Nalasopara Stupa
Below are some of the references of Nalasopara found in literature over hundred of years.
Divyavadana
Divyavadana is an easily available book.You can buy Divyavadana online if you want to read more on the Stupa of Nalasopara.There are many manuscripts of Divyavadana. The oldest manuscript of Divyavadana belongs to 6th century C.E. China.
Periplus of the Erythraean Sea
The Periplus of the Erythraean Sea is a good book for references. It is a travelogue which clearly states that towards the south of Bharuch, there was an important port which was known as Suparaka
The book also states that the political situation in this region in those times were not stable. According to the book, the Western Kshatrapas or Western Satrap Kings were in conflict with each other. This also establishes the political importance of the Sopara Stupa.
Volga to Ganga
Famous Indian travel writer, Rahul Sanskritayan has also mentioned about the trades that happened in Sopara in his acclaimed book, Volga to Ganga.
Gujaratno Jay
Gujaratno Jay by Shri Zaverchand Meghani is a Gujarati language novel which elucidates on the Jain history of Sopara. As per this novel, the parents of well-known Jain brothers Vastupal and Tejpal spent some time in Sopara after they ran away from their home.
The Porwad brother Vastupal and Tejpal are also credited with building the world famous Dilwara Temples of Mount Abu in Rajasthan between the 11th and 13th century C.E.
Geographica
This book is oenned by certain Claudius Ptolemy. It dates back to 1st century C.E.
Photography Tips for Nalasopara Stupa
The golden hour during morning and evening are the best time to take pictures of Nalasopara Stupa.
Hire local tourist guide in Sopara Stupa
Hiring a local tourist guide is always a good idea.
Languages spoken in Nalasopara Stupa
Marathi and Hindi are spoken and understood by all here. English is also understood by few. The signboards here are in Marathi language.
Toilet facility near Nalasopara Stupa
Toilets are present in Nalasopara station.
Entry fee of Sopara Stupa
Entry is free at Sipara Stupa. You can take a free self-guided tour here.
Backpacking Budget Travel Tips for Sopara Stupa
Visiting Sopara stoopa is very inexpensive. It is the most pocket friendly Buddhist place I have visited. Since it is a quick weekend break from Mumbai, you will not be spending much.
Solo Trip Tips for Sopara Stupa
It is possible to travel to Sopara Stupa smoothly. Sopara Stupa is apt for solo budget travel due to various reasons.
Luxury travel Tips for Sopara Stupa
You can do a packaged tour which includes stay at luxury hotel and air-conditioned car.
Where to stay near Nalasopara Stupa
Nalasopara has some hotels but do not expect very luxurious ones. Luxury hotels are in Mumbai.
Timings of Nalasopara Stupa
Sopara Stupa is opened from sunrise to sun set.
Best Time to visit Nalasopara Stupa?
Nalasopara Stupa is a year-round destination. However, winter is a good time to be in Nalasopara. Buddha Poornima is also an auspicious occasion to visit Nalasopara Stupa.
Winter
Expect cooler climate in Nalasopara in the month of November, December, January and February. However, it is not as cold as North India during winters or the Buddhist destinations of North East India and Ladakh. The weather is mostly mild and pleasant here in winter months.
Summer
March, April, May and June are very hot in Nalasopara. It can still be visited if you are hydrated well. Temperature of Nala-Sopara is very high in summer.
Monsoon
Nalasopara Stupa is surrounded by dense canopies of trees. Fed by the torrential rains of this part of Maharashtra, Nalasopara Stupa looks even more gorgeous in monsoon months. It is possible that if you visit Nalasopara Stupa during monsoon, it may be covered in ugly plastic sheets. The climate of Nala Sopara is cool but humid during rains.
Duration of Visit in Nalasopara Stupa
How many days to spend near Nalasopara Stupa? What can I do in 1 day around Nalasopara Buddhist Stupa? You can easily see all the ruins of Nalasopara Stupa within 2-3 hours. If you do not study the monuments as deeply as me, then you can also complete your Nalasopara Stupa visit within half an hour.
What can I do in 2 days around Nalasopara Stupa? If you stay for more time around Nalasopara Stupa, then you can visit nearby attractions such as Ambarnath Shiv Mandir, Sindhi colonies of Ulhasnagar, beaches and water parks near Virar etc. The beaches of Virar are picturesque. You can easily visit all the points of attractions here in one day.
Itinerary for Nalasopara Stupa
Nala Sopara is a must-visit place for history buffs. Here is an itinerary.
Visit Chakreshwar Mahadev Temple and Nalasopara in the morning
Next, visit Ambarnath temple
You can also combine a trip to Ulhasnagar to eat Sindhi snacks during evening.
Soul Window Travel Tips
Visiting scenic beaches of Virar is optional depending on the time you have.
Local Transport for sightseeing in Nalasopara Stupa
It is easy to hire an autorickshaw from the local railway station of Nallasopara. The fully reserved rickshaw can also take you to all the must-see places in and around Sopara. This weekend escape from Mumbai is that easy!
How to reach Nalasopara Stupa
Due to Government apathy, no signboard can be seen which can lead you to the Nalasopara Stupa.
Rail
You can board the Western Railway Local Train to reach Nallasopara.
Air
Chhatrapati Shivaji Maharaj International Airport of Mumbai is the nearest international airport from Sopara Stupa.
Road Trip
You can easily bike down to Sopara Stupa.
Bus
Buses to Sopara Stupa are also possible
Distances from Nalasopara Stupa
Distance between Ambarnath in Mumbai to Nalasopara is 65 kilometers and it takes 2 hours to reach via Parol Road.
Distance between Virar in Mumbai to Nalasopara is 6 kilometers and it takes 15 minutes to reach via Yashwant Gaurav Road.
Distance between Kandivali in Mumbai to Nalasopara is 42 kilometers and it takes 1 hour and 15 minutes to reach via Western Express Highway and NH48
Distance between Thane in Mumbai to Nalasopara is 42 kilometers and it takes 1 hour and 15 minutes to reach via Ghodbunder Road and NH48
Distance between Kalyan in Mumbai to Nalasopara is 53 kilometers and it takes 2 hours to reach via Parol Road.
Distance between Ulhasnagar to Nalasopara is 57 kilometers and it takes 2 hours to reach via Parol Road.
Distance between Dombivali in Mumbai to Nalasopara is 59 kilometers and it takes 2 hours to reach via Parol Road.
Distance between Vashi in Navi Mumbai to Nalasopara is 75 kilometers and it takes 2 hours to reach via Western Express Highway.
Distance between Pune in Maharashtra to Nalasopara is 191 kilometers and it takes 4 hours and 15 minutes to reach via Mumbai – Pune Highway, Bengaluru – Mumbai Highway or Mumbai Highway.
Local Railway Station Route to Nalasopara
Below are the important stops of local railway junctions. The below routeof Local Railway Station to Nalasopara will also give you an idea of other places near Nalasopara.
Conclusion: Is Nalasopara Stupa worth visiting?
Why visit Nalasopara Stupa? Here is an overview. In a nutshell, the obscure protected site of Nalasopara Stupa deserves all our love and attention. The bottom line is that Buddhism in Maharashtra has existed since 2,500 years and it is our duty to visit the Sopara Stupa, appreciate it and preserve it for the posterity.
What makes Sopara Stupa a holy Buddhist pilgrimage is the fact that Gautam Buddha himself paid a visit to this place during his lifetime. Being an ancient trade route, it is also connected to other important tourist places of Mumbai as the Satavahana era Naneghat Pass near Junnar and Kanheri caves which I have visited and documented in other travel blogs.
The view from my Soul Window is older than time!
Pin this blog to save the blog and plan a trip later!
Top Travel Blogger from India