Last Updated on January 5, 2022 by asoulwindow
Rajgir Tourist Places – Complete guide!
Information About Rajgir Tourist Places
Rajgir, the historical place in Bihar is an important stop on the Indian Buddhist circuit. Apart from Hindus, Rajgir also holds special importance for Hindus, Buddhists and the Jain community of India.
Lord Buddha used to frequently come to Rajgir. In fact, Buddha has stayed long term in Rajgir on several occasions. He spent his time meditating and propagating ancient Buddhist philosophies under the patronage of presiding Kings. One of his sermons converted King Bimbisara into a Buddhist.
While visiting Rajgir tourist places, I realised I was walking back in time. Very few places evoke such sense of the past. Rajgir tourism indeed is full of surprises at every few steps. Places to visit in Rajgir are still in excellent state of preservation. Here is all you wanted to know about Rajgir of Bihar in North India. This information packed detailed travel blog on Rajgir explains the sightseeing places and history of Rajgir from all aspects.
Why is Rajgir Famous?
Rajgir is a world-famous destination. It is known for various reasons. Rajgir has served as the capital of many ancient Indian empires. What makes Rajgir famous now is that Buddhist monks, travellers and pilgrims visit the twin cities of Nalanda and Rajgir in large numbers.
Recently, Rajgir has also become famous for its skywalk. It is one of the few skywalks in India. Another Indian skywalk I have been to is in Pelling in Sikkim. It was the first skywalk of India.
Though some people call Rajgir as hill station of Bihar, you cannot compare it with Shimla or Manali of Himachal Pradesh or Mussoorie in Uttarakhand. Howevere, most places to visit in Rajgir are located in scenic places.
All said and done, Rajgir was a famous place in not just modern times but ancient era as well. This is why Rajgir attracted luminaries from Hinduism, Buddhism and Jainism. You must visit Rajgir tourist places to understand the rich history of Bihar.
Thanks to the ancient historical monuments of Hindu, Buddhist, and Jain traditions, the international tourist destination of Rajgir is a must visit place in Bihar.
History of Rajgir
Apart from epic Mahabharat era history, Rajgir has a rich recent past as well. Did you know that the city of Rajgir was Magadha Mahajanapada or Magadha Kingdom's first capital? It remained a capital till 5th century B.C. Later, the son of Ajatshatru, Udayin (460 -460 B.C). Udayin was a ruler from the Haryanaka Dynasty.
In the year 413 B.C., Shishunaga (413-395 B.C.) had founded the Shishunaga dynasty. He had made Rajgir his first capital until it was relocated to Pataliputra on the banks of Ganga maiyya later.
I realised how historical Rajgir is as I walked along the 2,500 years old Cyclopean wall, spread across a large area. In fact, the famous King Bimbisara, who was the Magadha ruler from the Haryanka dynasty, had offered a forest monastery to Bhagwan Buddha here. I stopped and looked around, trying to join dots of the various histories Rajgir hides within its soil.
Ceramics as old as 1000 B.C. has been excavated from Rajgir making it one of the most ancient places in India. What's more, Rajgir is located close to another historical place called Nalanda University which was destroyed by barbaric Islamic invaders.
Also read: Who destroyed the Martand Temple in Srinagar
Ashoka and Maurya link with Rajgir
Rajgir went on to become one of the most powerful empire on Earth in ancient India– The Mauryan Empire. Some famous place in Rajgir are from Maurya period.
I realised how historically significant Rajgir is when I learned that Ashoka- the great, a powerful Mauryan emperor, has travelled to the Buddhist pilgrimage Bodhgaya (also in Bihar) via Rajgir. This was when Ashoka had placed the Vajrasana aka enlightenment throne or diamond throne in Bodhgaya.
It was at this spot that Gautam Buddha attained enlightenment. You can see the Vajrasana even today.
Ashoka has established one of his famous Ashokan pillars with elephant capital here. In fact, as per some records, King Ashoka breathed his last at one of the hills of Rajgir.
This reminds me of Chandragiri hill opposite Shravanabelagola in Karnataka, where the father of Ashoka, Chandragupta Maurya spent his last days.
Soul Window Thoughts
We all know both Hollywood and Bollywood have done immense damage on many levels. I am trying to unlearn those, one step at a time.
I was excited when Ashoka movie was released. I was in my early 20. Maybe even a teen. Except for a powerful opening shot, much of the movie turned out to be just that, a movie.
It had useless crowd-pleasing songs, a mind-numbing romantic sub plot and unimpressive war scenes.
They also made a huge error in Ashoka movie, they forgot to show Kaurwaki (Kareena Kapoor) carrying an Armani bag! Enough said!
Nomenclature of Rajgir
Originally Rajgir was known as Rājagṛiha literal meaning of which is Royal-mountain. Alternatively, it also means 'Royal House' or 'Abode of royals' or the 'House of the Kings'. In Pali it was known as Rājagaha. It is also spelt as Rājagṛha.
In Mahabharat, Rajgir has been addresses as Grivarj or Girivraja. Other ancient names of present day Rajgir are Rajgruhi, Rajgriha, Kusagrapura, Barhadrathapura and Vasumati. Since it is also surrounded by many holy hills, Rajgir is also known as Panchpahari.
Where is Rajgir located?
Rajgir is a municipal council in the Nalanda district in the Magadh region. Rajgir is located close to Patna, the capital of Bihar in North India. Located in a green valley, Rajgir is surrounded by 7 famous hills namely Vipula, Sona, Udaya, Vaibhara, Chhhatha, Ratna and Saila.
The lesser known Panchane River passes through the outskirts of Rajgir. All the Rajgir tourist places are concentrated near each other.
Mahabharat connection with Rajgir: Ranchor story
History of Rajgir can be traced to the Mahabharat times. King Jarasandha, one of the most famous characters from Hindu epic Mahabharat has its links with Rajgir. It is thus no surprise that a mention of Rajgir has been observed in Mahabharat. Mahabharat, we all known happened thousands of years ago.
Jarasandha was the King of present day Rajgir in the Mahabharat era. King Jarasandha had waged war with Hindu deity Shri Krishna 17 times. Krishna ji was an ally of the 5 Pandava brothers who were also at loggerheads with Jarasandha.
However, the tactful and intelligent person that Shri Krishna was, he left the battlefield during the 18th war. This also earned him the sobriquet 'Ranchor' or 'ranachorh'. Ranchor means one who leaves the battlefield. Krishna ji had called it quits because he wanted to prevent further destruction and loss of life.
This is why, many famous places in Rajgir date back to the times of Mahabharat, which is estimated to be more than 5,000 years old.
Also read: Connection of Aihole Inscription with Mahabharat
Jainism connection with Rajgir
Rajgir is a revered place for both Buddhism as well as Jainism. The founders of both the ancient religions have their links with the historical city of Rajgir. Did you know that Munisuvrata bhagwan, the 20th Jain Tirthankar was born here?
In fact, you must also visit the 1200 years old ancient temple devoted to Munisuvrata ji along-with other Jain temples. The 4 Kalyanakas of Munisuvratnath are also associated with this temple. Buddhist and Jain scriptures also mentioned it. However, only the names of the places have been mentioned. No specific geographical locations have been mentioned.
An important Jain pilgrimage, Rajgir has close ties with arihant Mahavira. The 24th Tirthankara, Lord Mahavir spent 14 years of his life at both Rajgir and the nearby Nalanda. Much like Buddha whose first sermon was delivered in Sarnath near Varanasi in Uttar Pradesh, Mahavira delivered his first sermon in Rajgir.
For 4 months in the monsoon also known as Chaturmas or Chaumasa, he used to stay at one place in and around Rajgir aka Rajgruhi. Back then, Rajgir was the capital of King Shrenik, who was one of his followers aka Shravakas. There are around 26 old Jain temples located on the 5 peaks. Some of these temples date back to 5th century B.C.E.
Buddhism link with Rajgir
Rajgir is equally important to the Buddhists as some of the most important Buddhist sites are present in Rajgir. In fact, both Gautam Buddha (Buddhism) as well as Mahavira (Jainism) taught their disciples their beliefs in the 6th and 5th century B.C. In fact, Rajgir is one of the most important places where Lord Buddha preached.
Chinese link with Rajgir
Many places have been mentioned by Xuangzang and Faxian, Chinese Buddhist monks who traveled to India in ancient times and spent quality time in Nalanda and Rajgir, studying Buddhism. Much of what we still know about ancient Bihar state is due to the records written by them. They have also mentioned about several places which the historians and archaeologists are still trying to identify and find.
The account of Xuangzang had enabled historians to divide this ancient city into New and Old Rajgir. New Rajgir is located closer to the modern town. The old Rajgir refers to the place where most of the ruins are concentrated. Surrounded by low lying Rajgir Hills, old Rajgir is nestled in a valley. This area also comprises of the outer fortification, inner fortification and the famous Cyclopean wall.
Soul Window Observations
As a Hindu Rajput from Uttar Pradesh (Originally from Srinagar in Uttarakhand) I have grown up listening to tales from Mahabharat and Ramayan, two great Hindu Epics. It was overwhelming for me to see all those places come alive. You must therefore visit Rajgir in Bihar to see actual sites where some events from Mahabharat took place.
Places to see in Rajgir
There are many places to visit in Rajgir. Most people think that Rajgir has just a few points of attraction. However, that is far from truth. The kind of places Rajgir hides in its dense forests can give a run to the most historical places of the world.
The best places to visit in Rajgir are located close to each other. Let us see below what Rajgir tourism has to offer to the discerning tourists. Below is an exhaustive list of places to see in Rajgir, Bihar.
Rajgir Skywalk or Glass Floor Bridge
One of the recent places to see in Rajgir is the famous Rajgir Skywalk or Glass Floor Bridge. Needless to say, the Rajgir skywalk is one of the best places to visit in Rajgir.
The Rajgir skywalk is one of the top things to do, thanks to the breathtaking views it offers. It is one of its own kind of places in India. Adventure sports such as air cycling is also one of the major attractions for tourists in Rajgir.
The glass skywalk bridge measures 85 feet long and 6 feet wide. It is located 250 feet above the green valley. Up to 40 visitors can stroll on the skywalk at one time. However, only 10-15 people are allowed to walk together in the D sector or the last end of the skywalk. Tourists are both scared and thrilled to walk on this completely transparent skywalk. It gives an illusion of walking in the air. Howevere, the 15 mm glass mirrors of 45 mm thickness ensure the safety of tourists.
Nature safari, zip line and zip cycle are other major attractions of Rajgir skywalk. Hope you enjoy visiting this newest addition to Rajgir Sightseeing. This is an exciting picnic spot for not only people of Bihar but for tourists from across the world as well. Rajgir Skywalk is one of the best things to do with family and kids.
With my blog A Soul Window, I try to bring such offbeat places to the readers. I feel lucky that after I was fired from my job for travelling too much, I worked hard to be now known as No. 1 travel blogger from India. My blog A Soul Window has been listed as Top Indian travel Blog dozens of times. This is the most comprehensive travel guide on Rajgir of Bihar ever.
Soul Window Observations
The Rajgir skywalk is the 2nd finished skywalk glass bridge of India. I had also visited the 1st skywalk glass bridge in Pelling in West Sikkim. Do read my detailed travel guides to Pelling and the nearby charming village of Uttarey in West Sikkim.
Son Bhandar Cave
Also known as Swarna Bhandar or Sonebhandar, these are two man made caves which are visited by the tourists in large numbers. Son Bhandar Cave is the top place to see in Rajgir Bihar.
These ancient artificial caves were hollowed out from a single huge rock. Of all the famous Rajgir tourist places, Son Bhandar is the most visited attraction.
Some historians argue that these are Jain cave chambers while others say that these cave date back to the Maurya period (319 to 180 C.E.) However, the famous Maurya polish which I saw on a pillar in the Buddhist Sanchi Stupa in Madhya Pradesh is nowhere to be seen here. A much inferior polish can be seen here though.
Much like the Barabar cave, also in Bihar, the entrance of Son Bhandar is trapezoidal and the shape of the main cave is rectangle. It also has a pointed ceiling. However, stone used to make artificial Barabar Caves are not as hard as the granite used to make Barabar caves. This means that more effort, skill, time and technique was required to make the latter.
The two ancient Jain caves present at Son Bhadra caves are western cave and eastern cave. From the inscriptions we know that human activity in these caves date back to between 3rd century C.E. and 4th century C.E. These caves were initially meant for Jain monks.
I was moving around a cave, when the tourist guide pointed out a carving of the Jain Teerthankaras. A carving of Lord Mahavira can also be seen in a relief sculpture of the wall of the cave.
The caves originally had 2 storeys. However, due to fragile nature of the cave, tourists are not allowed to go on the upper floor. Thanks to a strong earthquake in 20th century, the caves suffered much damage. I try to go a little far to see what lies above, but in vain.
The historians and archaeologists have drawn parallels of Son Bhandar Cave withthe Barabar caves andthe Nagarjuni cave (Makhdumpur), the oldest surviving rock cut cave of India.Both these ancient cavesbelong to the Mauryan period and are located in Bihar.
Since these caves resemble so much in architecture it is concluded by historians that they must have been built during around the same time.
It is possible that these ancient caves are more closely associated with the Digambar sect of Jainism. We know this from the written accounts of Xuanzang who mentioned about the Vaibhar hill of Rajgir.
He elaborated that Jain Digambar used to stay here for meditation. Over centuries, Hindus occupied these caves. We know this after ancient sculpture of Vishnu bhagwan was discovered here from a cave mound.
These are some of the lesser-known facts about Rajgir. Now you know why it is one of the most famous places in Rajgir. While visiting places in Rajgir, make sure that you cover all these places. Visiting this cave is also a free thing to do in Rajgir.
These amazing facts are not found in traditional or old school travel guide books. I research well before writing information packed detailed travel guides.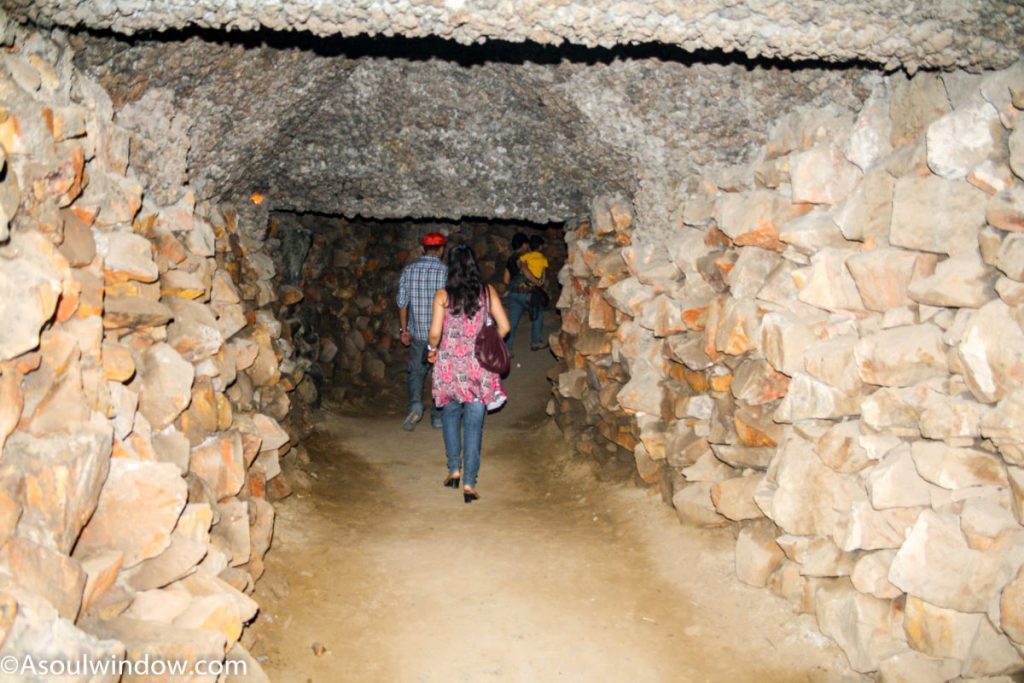 Secret of Son Bhandar Cave
Do you know about the mystery of the historic destination of Son Bhandar caves? Don't tell anyone but do you know, it is said that the hill which sits right behind Son Bhandar is studded with real gold? It is said that the wives of King Bimbisar, Rani Kaushalya and Rani Chilla had donated all the wealth and gold to Jain Muni Vairadeva when their son Ajatshatru had jailed Bimbisar.
Many believe that the treasure is still intact here. The two straight vertical lines and one horizontal line cut in to the rock can still be seen today. This seems to be the doorway to the lost treasury of King Bimbisara.
Being an ascetic, Jain Muni Vairadeva had no use of such wealth. He had therefore hidden gold in this 2500 years old cave by chanting a secret mantra. No one has been able to decode that mantra yet. An image of Lord Mahavir was carved on the wall after closing it so that it misleads people into believing that no wealth lies hidden here.
In fact, there is one door here which people say it the gateway to the 'hill of gold'. However, no one has been able to open it, much like how no one has been able to climb atop Kailash Parbat in Tibet. It is said that the guards used to live in the front cave and the treasure used to stay deposited at the back cave.
Since the past 100 years, Sonebhandar caves are a part of research by scientists, archaeologists and historians, with little to no success. No one has been able to solve the mystery of Son Bhandar Cave yet! The Mughals tried to break open and failed.
Even the British tried breaking it through targeted Canon attacks from the window of cave but failed. Much like how the British tried to solve the secret of Lepakshi temple in Andhra Pradesh in South India. I was horrified to see the signs of Canon balls on the cave walls. When it failed to break the wall, they even tried to cut it open. Gladly, none of their evil tricks worked. It is also said that the secret code was stored in the Nalanda University. But sadly, that knowledge was lost when barbaric Islamic invaders burnt down the university.
Indian scientist Dr. Jagdish Chandra Basu told the British that it could be broken with dynamite but it will lead to an explosion of sulphur and radium due to hot water spring that originates here. This is why this plan was abandoned.
The only way to open the walls is to chant the mysterious lipi mantra which no one knows. No one has also been able to decipher the ancient Shankhlipi script written on the walls here. This script might be the solution. Ow you know, it is a famous place in Rajgir for a reason!
Shankhlipi Script Inscriptions
I looked closely at the strange ancient inscription in the shell script also known as Shankhlipi. I asked a local tourist guide about what this script means. He told me that it is an ancient Indian script, which no one has been able to decipher yet. He further tells me that this is no ordinary inscription. The inscription states a mantra which if recited properly will help in opening this secret door and get access to all that gold.
The greedy British plunderers had tried hard to find and loot all the gold but they failed. I moved on to see other carvings on the walls of the unique ancient cave. The guide told me that these were one of the finest specimens of stone carving in India.
Cunninghum, the British archaeologist studied the Son Bhandar caves and he established analogy with Buddhist Saptaparni cave. For a long time, it was debated if the historical cave is Buddhist or Jain until an ancient inscription was identify and deciphered. It was located on the south wall of the cave.
From the inscriptions we now know that Son Bhandar Cave were built by Jain Muni Vairadeva. He was a Jain ascetic. This also suggests that the caves belong to the 4th century C.E. This ancient inscription in Gupta script is located at the entrance of the cave. However, some historians beg to differ.
Their argument is that the inscription might just indicate at a redevelopment work at a later stage. Since the cave structure resembles the Barabar caves, therefore many historians have concluded that it was built during the Maurya era or the time of Ashoka-The great (260 B.C.). It might have even been the first of artificial caves in India. Bihar state tourism has many such hidden gems.
Soul Window Facts
This reminded me of the mystery of another place in South India. Did you know that one of the chambers of Padmanabhaswamy Mandir in Thiruvananthapuram has been similarly locked! In ancient times it was locked by chanting Naga Paasam mantras.
It can now be opened only by chanting secret Garuda mantra. However, the knowledge has been lost to time and no one knows the mantras now. It is suspected that there could be crores of money and gold inside. In another chamber gold worth INR 90,000 crore had been found here.
Bimbisar's Jail
Another important gem from the Rajgir tourist places, it is said that Bimbisar was held captive here by his own son Ajatashatru. Rajgir was a capital city during the reign of Bimbisar (558-491 B.C.) and Ajatashatru (492-460 B.C.).
Interestingly, Ajatashatru had also moved the capital later to Pataliputra, now known as Patna. It is not clear if Bimbisar or Ajatshatru constructed this historical place in Rajgir. Visiting places in Rajgir is incomplete without seeing the famous jail of Bimbisara.
I looked at the Bimbisar's Jail carefully, crestfallen to see that not much is left of it now, except a few ancient bricks. Bimbisara was the last king of Magadha. He ruled from Rajgir.
Bimbisar was a Buddhist while his son Ajatshatru was a Vaishnavite and his wife Rani Kaushalya followed Jainism. Devdutt was the brother of queen Kaushalya. Devdutt was the paternal cousin of Buddha Bhagwan and they didn't get along well.
It was Devdutt who brainwashed the impatient Ajatshatru in to believing that his father Bimbisara was wasting all the royal money on Buddhism. This is why Ajatshatru jailed his own father Bimbisar and instructed the security guards not to feed him anything so that he dies soon.
Between the attempts to kill Bimbisara, Ajatshatru had a baby boy Udayin. He was very happy with the birth of Udayin and realised that even his father would have been happy when he was born. He decided to release his father Bimbisara. When Bimbisar realised that Ajatshatru was approaching, he thought that he was coming to kill him, fearing which he licked the diamond ring he was wearing and died on the spot.
A devout converted Buddhist, it is said that Bimbisara had chosen this place as the site of his incarceration so that he could easily see Bhagwan Buddha walking towards the famous Griddhakuta Hill. Bimbisara Jail is thus top place to see in Rajgir.
Jarasandh Ka Akhara, Rajgir
There is another interesting event from Mahabharat. Jarasandh was blessed with a special boon. He was invincible. Even if any of the limbs of Jarasandh were dismembered, it would immediately re-join by itself. This made it tough for Bhima during the wrestling match with Jarasandh. Bhima, as we all know, was the most burly and strongest of all the Pandava brothers.
Jarasandha had the power of 10,000 elephants and Bhima had the power of 60,000 elephants and yet, due to his boon, Jarasandh was invincible.
After sometime during the match, Bhima ripped apart the body of Jarasandh into two and flung the two halves in the opposite directions. This is why the body parts of Jarasandha never joined back despite the boon. Bhima was finally able to kill the invincible Jarasandh. This famous event from Mahabharat took place at Jarasandh Ka Akhada. In the Jarasandh Akhara, martial arts used to be practised in those days.
Some say that the knee mark, elbow mark and foot marks made during the wrestling match can still be still be seen in Jarasandh Ka Akhara. It is one of the most famous places in Rajgir.
Jarasandh's Baithak or Pippala cave
Baithak of Jarasandh or the Pippala cave is located on the sacred Vaibhava Hill above the Hot water springs. This naturally formed rectangular stone must have served as the watch tower in ancient era. This is indeed an unusual place to see in Rajgir.
Over the years it also became the resort of holy men and pious hermits, which is why it was named as the Pippala cave. It was also named as Jarasandh ki baithak after Jarasandh who ruled here. Jarasandh walked the earth during the same time when Lord Vishnu took the avatar of Shri Krishna on earth. This is another free thing to do in Rajgir.
Saptaparni caves
It was here that the first Buddhist council was held under the supervision of Maha Kassapa in 483 B.C.E. right after Buddha breathed his last. Therefore, this famous place in Rajgir is a sacred Buddhist site. Visit this offbeat site if you want to get away from the crowds.
Saptaparni cave is located on one of the nearby hills. It is located just few kilometres away from Son Bhandar caves. It is a natural cave which is from the times of Gautam Buddha. Presently a Rajgir tourist spot, it is a must visit. I am sure you had no idea that Rajgir has so many hidden tourist places. Rajgir tourism has many such hidden gems scattered around the hills too.
Maniyar Math at Rajgir
Also known as Maniar Math, the Maniyar Math at Rajgir is one of the top places to see in Rajgir. A stupa like structure topped with a conical corrugated iron shade welcomed me as I stopped here. During excavations, a small Hindu temple devoted to snakes was identified here.
Based upon the evidences that survived the test of time, the historians have concluded that snake Gods were worshipped in Maniyar Math originally.
Mani Naga, which has been mentioned in the Hindu epic Mahabharat as well, is the presiding deity here. Naga Shilbhadra is revered here.
During the Shaiva period, this place was a prominent temple for Naga devotees. I have seen people worshipping Naga in Guruvayur temple and Mammiyur temple in Kerala and various ancient temples of Karnataka.
This octagonal temple is located near the central area of Old Rajgir. It is surrounded by round cylindrical walls which has niches at regular intervals. As per the Jain records, it is also known as Nirmaan koop of Rani Chalanna and Sheelbhadra. During excavations, several ancient statues from the 1st century C.E. were unearthed from here.
Not much is left to be seen here except some images and idols snake Goddesses and Gods and goddesses from the Hindu pantheon done in stucco. The stucco Buddha images on the outer walls of this hollow Stupa are also worth noting.
The 1.2 meters thick walls that surround the well like structure here measures 3 meters in diameter. The 0.6-meter-tall images of a garlanded Shivlinga, Nagi image, dancing Shiv ji with 6 arms and Vishnu ji with 4 arms are most notable here. The unusual image of Ganesh ji depicts snakes wrapped around his body.
I slow myself down and notice some idols from a bygone era. Impact of the Dhanusha from the Gupta dynasty can be seen here as well. Maniyar Math is located on the way towards Son Bhandar Caves and Hot water springs.
A fine specimen from the Gupta era (320-550 C.E.), this unusual cylindrical temple is a must visit in Rajgir. Maniyar Math is open from 7 a.m. to 7 p.m. Maniyar Math at Rajgir is a must visit place. It is located near the other famous places in Rajgir.
Shri Krishna's Chariot tracks
Shri Krishna fought 17 times with Jarasandha, so it is natural to find the signs of his presence in Rajgir. The marks of Chariot tracks of Shri Krishna can still be seen today in Rajgir. I am amazed to see so many places associated with Lord Krishna in different parts of India.
Located near the monuments associated with Jarashandh, these chariot wheel marks stretch up to 30 feet long. It is said that these deep marks got imprinted on the rocks when Shri Krishna Bhagwan arrived in Rajgir. Such was the power and speed of the chariot that the imprints can still be seen today.
What adds to the mystery of the place is a secret code nearby. Located close to this spot is an engraved ancient script, which dates back between 1 C.E. and 5 C.E. Historians and archologists have still not been able to decipher this script.
This is one of the best places to visit in Rajgir. These chariot marks are located close to the Son Bhandar. Did you know about this place of Rajgir tourism?
Ajatshatru Fort
This is another unusual place to visit in Rajgir. This ancient fort dates back to the time of Buddha Bhagwan. As I roamed around it, I noticed that not much of it is left now barring some remains of the foundation. This fort was named after the then ruler Ajatashatru.
To be able to see the remains of thousands of years old ancient fort was surreal for me. No other country in the world can claim to house so many ancient heritage sites. It is one of the most well-known Rajgir tourist places.
Jeevak Aamravan
Also known as Jivika's Mango Garden, it is another tourist site in Rajgir. Jeevak Kaumarbhritya (525 B.C. – 450 B.C.) was an excellent ancient doctor. Jivaka was the royal physician during the reign of Bimbisara.
He was in fact the first 'historical doctor' of India and the world. He had advanced knowledge of the medical science. He mostly used plants and herbs for medicines.
Jivika was a physician and roamed the earth during the times of both Gautam Buddha and Bimbisara. Jeevak has been credited with successfully curing historical figures such as Bhagwan Buddha, Avanti King Chand Pradyot and Bimbisar – the famous Magadh emperor. Jeevak had cured Buddha Bhagwan once using simple medicines. It is evident from Mahavag of Vinay Pitak.
It was here in Jeevak Aamravan, where Jeevak used to stay and run his hospital. Also known as Jeevak Ambvan, the ruins of this place can be still seen today. In those times, dense mango garden used to surround Jeevak Aamravan. Buddha bhagwan and his disciples use to stay in the gardens.
We have been able to learn so much about the life and times of Jivika, thanks to the Tripitak literature written in ancient Pali language. Detailed mentions of the 'medical miracle' of Jeevika have been mentioned in Tripitak.
Jeevak Aamravan is located near the ropeway of Rajgir. Today, however, there is not much left to be seen here except a few scattered ruins. Jeevak's mango garden is still worth a visit and is one of the top places to visit in Rajgir.
Karnada Tank in Rajgir Bihar
This tank is very sacred to the followers of Buddhism. It is said that Gautam Buddha used to have his bath in this holy tank. Many people do not know about such Rajgir tourist places.
Yesthivana or Jetthiyan
Presently known as Jetthiyan, Yesthivana was a well-known garden during the times of Gautam Buddha. A sapling of the great Mahabodhi tree has been planted here or the sacred Ananda Bodhi tree. Yesthivana has found mention in many holy Buddhist texts and scriptures. You can see many Buddhists from Sri Lanka, Thailand, Indonesia, Malaysia etc meditating at Yesthivana.This nature park is serene and quiet.
Yesthivanais located near the Tapovan area. As per the local hearsay, it is here that Buddha met King Bimbisara before the latter was converted into a devotee and a follower of Buddha. The 6 feet tall carved statue of Buddha Bhagwan is another main attraction here.
Cyclopean walls: Rajgir tourist places
Cyclopean walls refer to the construction of walls in ancient times without the use of mortar and instead using huge stone blocks. This technique was used in ancient days in India, Greece and Italy etc for fortification. By using huge stone slabs, the ancient architects were able to bring down the number of joints thereby increasing the strength of the walls.
The guide told me that in this type of stonework, huge limestone boulders were used to make the walls. No mortar was used in building these. Instead, the stones were roughly filled with little or no clearance between two adjacent stones. To the uneducated eyes like mine, the boulders might appear to be unworked. However, hammer was used to make it work and small chunks of limestone was added in the gaps between the massive limestone boulders.
The ancient cyclopean walls of Rajgir which run with large breaks along the verdant hills are one of the prime attractions of Rajgir. The Cyclopeans walls of Rajgir in Bihar stretch for as far as 40 kilometres or 25 miles. It was built in the ancient times to protect the ancient city of Rajgriha or the modern Rajgir from invaders, external enemies and evil forces.
An example of excellent administrative capabilities of the great Maurya Empire rulers, these Cyclopean walls of Rajgir were constructed by the rulers of Maurya dynasty before 3rd century B.C. It is a surprise that many of the remains can still be seen today.
I saw some local people walking carelessly on the Cyclopean walls, perhaps unmindful of its significance and past. Massive undressed stone were used to build these ancient walls. Places such as these surely deserve better maintenance and the UNESCO World Heritage Site tag. Visiting places in Rajgir comes with many such surprises.
This Mauryan Age Wall is one of the best places to see in Rajgir. Needless to say, it is one of the best places to visit in Rajgir.
These Cyclopean Walls are also found in European nations such as Italy and Greece. Very few of such walls remain in the world. The walls of Machu Pichu in Peru in South America are similar but they are not known as Cyclopean walls.
Soul Window Thoughts
It is a pity that not many Indians know that the Cyclopean walls of Rajgir are the oldest examples of Cyclopean masonaryin the entire world. This is whyI keep urging Indian tourists to visit historical places such as Rajgir and Dholavira in Gujarat to understand the rich culture and history of ancient India.
More and more Indians should visit their own country and know who they are and where they are coming from. Years of mindless invasions from Central Asia and Europe have made Indians submissive and blind to their own strength and wealth. It is time we reclaim our lost glory and talk to the world as an equal. What do you think? Let me know in the comment section below.
Rajgir Ropeway: Rajgir tourist places
One of the best things to do in Rajgir is to take the famous Rajgir Ropeway. The Rajgir Ropeway takes tourists and pilgrims to the top of the Ratnagiri Hills which houses major points of interests such as Japanese peace pagoda aka Vishwa Shanti Pagoda, monasteries built by Japanese and hot springs devoted to Surya aka Surya Kund.
Although, there is an option to walk all the way up to Ratnagiri, I chose to take the Rajgir Ropeway for the experience and also because I visited Rajgir and other places in Bihar in the hottest month of June. However, some people still chose to walk the path as the famous Gridhra Kuta falls in the midway.
This ropeway in Rajgir was built in the year 1960 by Fuji Guruji, who was also a Japanese spiritual leader. For me personally it was fun to sit in the ropeway in Rajgir. One local kid from Bihar even waved at me and I took his picture. He asked me to send the pictures to me as our cable cars moved hurriedly in opposite directions. However, he didn't share any platform I can send the pictures on? E-mail? Facebook? Ropeway in Rajgir can be fun too,eh!
Gridhra Kuta: famous place in Rajgir
Also known as the hill of the vultures, Bhagwan Gautam Buddha spent months here meditating and preaching. Gridhra Kuta is a prominent pilgrimage for several global Buddhists because it was here that Gautam Buddha delivered some of his famous sermons. Atanatiya Sutra, for example was delivered by Buddha right here. Atanatiya Sutra is a famous sermon.
What's more? King Bimbasara and many others were introduced to Buddhism by Lord Buddha right here at Gridhakuta in Rajgir. This makes Rajgir some of the most important sacred Buddhist sites across the world. It is one of the most historical places in Bihar and also one of the most important of all Rajgir tourist places. Rajgir tourism is incomplete without visiting Gridhra Kuta.
Vishwa Shanti Stupa
Also known as Japanese Peace Pagoda, I had accessed it via the cable car. This Japanese style Buddhist pagoda was constructed in 1969. It is the oldest of such Buddhist pagodas in India and is one of the 80 peace pagodas built around the world.
As the name suggests, it was built to spread the message of non-violence and peace. Built entirely in marble, it looks stunning. Perched atop the Ratnagiri hill, it is one of the highest peace pagodas of the world. It is a famous place of Rajgir.
The Vishwa Shanti Stupa was conceptualised by world famous Buddhist monk Nipponzan Myohoji and it was constructed by the Japanese monk Fujii Guruji. It is located near the Venu Vana. It is one of the main tourist places in Bihar.
I did a parikrama or kora around the stupa, to see the 4 golden statues of Lord Buddha. The statues depict various life stages of Buddha Bhagwan such as birth, enlightenment, preaching and death aka Mahaparinirvana. The golden Buddha images here are a must see.
The other Vishwa Shanti Stupas I have visited are located in Vaishali and Buddha Smriti Park Stupa in Patna in Bihar, Deekshabhoomi Stupa in Nagpur and Global Vipassana Pagoda in Mumbai, both in Maharashtra. I visited a World Peace Pagoda in Pokhara in Nepal as well.
Colorful Buddhist flags flutter in the air at Vishwa Shanti Stupa of Rajgir. I looked out from one end and was gifted with sweeping bird's eye views of the valley below. Gridhakuta was also partly visible from the top. There was peace, serenity and tranquillity in the surroundings. I did not see many tourists around here. It is one of the most modern of all Rajgir tourist places. All the famous places in Rajgir are located near this Vishwa Shanti Stupa.
Venu Vana Kalandakanivapa
While visiting places in Rajgir, do not miss the Venu Vana. It is a man-made forest. Venuvana was the first offering by the powerful King Bimbisar to Gautam Buddha. King Bimbisar had built and donated Venuvana Vihar for Buddha Bhagwan to reside. It is said that Lord Buddha stayed in Venuvan and preached in this bamboo grove for 3 years, viz the second, third and fourth vassa aka rain retreats.
After the Mahaparinirvana of Buddha (death), the monks retired here to rest post First Council in 483 B.C.E.
It was built at the spot where Gautam Buddha used to meditate thousands of years ago. Hindus and Buddhist monks still sit and meditate here for hours. Having visited this place myself, I can vouch for its tranquillity and serenity.
It is one of the offbeat places to see in Rajgir as many tourists skip it due to lack of information. The Surya Kund nearby is used during the Bihari festival of Chhath. There is also a pond and thick bamboo forests here. It is a popular Rajgir tourist spot.
Shri Ramkrishna Math: Places to visit in Rajgir
Another place to visit in Rajgir, Shri Ramkrishna Math is a spiritual organisation. It is not sponsored by Government and is active in many humanitarian causes and social services. It is a lesser-known place to see in Rajgir tourism.
Rajgir Heritage Museum
The newly built Rajgir Heritage Museum acquaints tourists, travellers and pilgrims about the rich history of Rajgir, Nalanda and Bihar. Precious archaeological finds such as bronze images from the Pala and Gupta dynasty, Hindu stone sculptures, ancient terracotta objects and Buddhist stone pieces from a bygone era have been displayed here. Most of these historical objects had been unearthed from Rajgir, Nalanda and nearby historical sites in Bihar.
You must visit other museums of Bihar such as Vaishali Museum in Vaishali, museum in Nalanda, Folk art museum in Patna and Patna Museum. You will have better understanding of the rich history of Bihar once you visit these places. Rajgir sightseeing is incomplete without a visit here.
Veerayatan Jain Museum
Established by Sadhvi Chandana ji in the year 1971, Veerayatan Jain Museum is a must visit place in Rajgir. This little-known hidden gem is off the beaten track. You can understand various aspects of Jainism through the various models that are displayed here. This unusual place of Rajgir is not to be missed.
The main places to see here are a Jain temple, a museum, a school etc. It also houses an eye and dental hospital, training centre for teachers and a Dharamshala. Of all the places to visit in Rajgir, Veerayatan Jain Museumstands out for its uniqueness.
It is a nice place to study the ancient history, culture and religion prevalent in these areas. Located right beside a mountain, it is a peaceful and quite space. This ashram by Jain community is worth a visit. It is located just a kilometre away from the Laxmi Narayan Mandir.
I was amazed to see the finer details with which lives of each one of 24 Tirthankaras was displayed. Fashioned like dollhouse like dioramas, I had not seen any-thing like this before. There are more than 50 dioramas here. Located at the foothills of the sacred Vaibhavgiri Hills, it sprawls across 50 acres of land.
Made from metal and wood, the 3 D panels here bring alive a bygone era. Artist Arharya Shri, who also lives here has also exhibited some of his best works here. Do visit this art gallery and also the Brahmi Kala Mandiram another art gallery started by Acharya Shriji. More than 300 guests can be accommodated at the Atithi Nivas here. Veerayatan Jain Museum is open from 9 a.m. to 5 p.m.
Sariputra Stupa: Rajgir tourist places
Another place of interest in Rajgir, the unexplored Sariputra Stupa is a must visit. It is located close to the Ghora Katora lake on the peak of the Giriyak Hiills. This Buddhist stupa is devoted to Sariputta who was one of the two main disciples of Bhagwan Budhha.
It is a lesser-known place of Rajgir and not to be missed. Unheard of offbeat places like these make travel exciting for me.
Lakshami Narayan Mandir aka Tapodharma
It is located right next to the Brahmakund hot water springs and is frequented by Hindu devotees. On Hindu festivals, the temple sees an influx of crowds. It is said that a Buddhist monastery used to exist here.
This Hindu temple his devoted to Bhagwan Vishnu and Lakshmi Mata. It is one of the most popular places to visit in Rajgir.
Rajgir Brahma Kund Hot Springs
You sure need a nice healing bath after visiting places in Rajgir. This top place to see in Rajgir is known as both Brahmakund and Hot Springs. Known for its medicinal and healing properties that cure several skin diseases, I saw many people having bath in enclosed chambers or springs that had access to the hot spring water.
In fact, there are 7 hot water springs in Rajgir called as the Saptarishis. These water spring merges at one point. I walked around and offered my prayers and donation at various Hindu temples that surround the hot water springs. Yes, there are many interesting small and big Hindu temples devoted to deities from the Hindu pantheon.
The Laxmi Narayan Temple is the most notable here. Most pilgrims visit the temple after having a bath at the hot water springs. Saptarni caves which is located behind the hills are said to be the source of the hot water springs. The water temperature here hovers around 45 degree Celsius.
No wonder, people from Bihar and far away head to Rajgir as it gains popularity as a winter resort, thanks to the availability of warm water ponds here. The other hot water spring I have visited are Manikaran near Manali in Himachal Pradesh and Yumthang Valley near Lachung in Sikkim.
Makhdum Kund
Also known as Makhum Kund, this historic shrine is located next to Vipula hill of Rajgir. Devoted to a Muslim Sufi saint, Makhdum Shah, it is an odd and unusual place to see in Rajgir which is rich mostly in Hindu, Buddhist and Jain history. Since Islamic invaders plundered much later in India, so this is the newest of all religious places here.
Muslims come in large numbers here, also attracted by the hot water spring which is located here. The water spring is named after him. As per the folklore, in 13th century C.E. the Islamic saint Makhdum Shah roamed in the forests of Rajgir for close to 12 years. Built in regular Islamic architecture, this Muslim shrine is open from 8 a.m. to 7 p.m.
Ghora Katora lake
This lake is shaped like a horse; therefore, it is named so. Ghora means horse and Katora means bowl in English. Many tourists just like to sit here quietly and soak in the ambiance. There is an impressive 70 feet tall Buddha statue which is located in the middle of the lake.
You can also enjoy boating here with friends and family. It is located in a remote location so it is advised to visit Ghora Katora lake early in the day. There are some benches around this man-made lake. It is a nice picnic spot for families.
The path to this lake passes through forest and mud tracks. Also, you can even spot a Nilgai on a lucky day! What's not to love? This is offbeat travel at its best! Rajgir tourist places such as these make it a popular destination.
Pandu Pokhar
It has an interesting connection with Mahabharat. Spread across 22 acres, Pandu Pokhar is an offbeat place to see in Rajgir. It is said that a swale was created here during the times of King Pandu, the father of Pandavas. Pandu, in the Mahabharat era had attacked Rajgir and converted it in to a horse stable.
Today, tourists come at this pond to unwind, relax, do boating and enjoy the surrounding natural beauty of this place. You can also camp here and enjoy vegetarian meals. This is another picnic spot of Rajgir.
Tam Tam Padao
Sadly, many people do sight-seeing in Rajgir on a Tonga. I do not recommend it as it is cruel to the horse. I saw many Tonga wallahs beating their horses to make them move or stop. You might be tempted for a Tonga ride thanks to other travel writers glamourising them and also because the Tonga wallahs decorate them attractively but refrain. You can help stop this outdated practise by not being part of crimes against animals.
Excursions from Rajgir
After you are done visiting places in Rajgir, you can consider going to the below mentioned nearby excursions from Rajgir. Most of these nearby places have links to ancient history of Bihar. Below are the list of places to visit near Rajgir Bihar.
Kundalpur
Lord Mahavira was born at Kundalpur. Two famous lotus lakes, namely, Dirga Pushkarni and Pandava Pushkarni together with a Jain Temple make the famous Jain pilgrimage. This place near Rajgir is a must visit.
Pawapuri
Also known as Apapuri, Pawapuri is a religious place to visit near Rajgir. Located around 38 kilometers away from Rajgir, Pawapuri is a major Jain Pilgrimage. It is here that Bhagwan Mahavir died. He was cremated at this very spot around 500 B.C. Lord Mahavir was the founder of Jainism and the final Tirthankar. Jalmandir which is located right in the middle of the pond is a recently built temple. It is accessed via a bridge. Samoshanran, which is also a Jain temple is located nearby.
It is said that the huge tank was excavated here because much soil was removed from around his funeral pyres. The holy ashes of Lord Mahavira, much like those of Gautam Buddha were in high demand.
This marble temple reminded me of my stay at the lake resort near Bundi and Chittorgarh in Rajasthan. Kota and Jaipur, also in Rajasthan have similar lake palaces and temples.
Rajgir Wildlife Sanctuary
Also known as the Pant Wildlife Sanctuary, it is one of the rare wildlife destinations of Bihar. Pant Wildlife Sanctuary is spread across 35.84 square kilometres in the Nalanda district. It was established as a protected wildlife sanctuary in the year 1978.
Not many know that Rajgir Wildlife Sanctuary is home to rare wild animals such as small Indian civet, jungle cat, Indian crested porcupine or the common blue bull aka Nilgai and Spotted deer or Chital. Some of the avian life found in abundance here are painted sandgrouse, Eurasian thick knee, painted spurfowl etc.
Amphibians and reptiles found here include ornate narrow mouthed frog, Jerdon's bullfrog, Indian bullfrog, Indian tree frog, Bengal monitor lizard and so on. Located in the south Gangetic plains, Pant wildlife sanctuary is a must visit place in Bihar. I bet you didn't know about this secret of Rajgir tourism!
Nalanda University
Nalanda University was one of the biggest universities of the ancient world. I am proud that India has been home to such intellectual spaces when most of the world was figuring out how to live. Sadly, the cruel Islamic invaders destroyed the Nalanda University by mindlessly burning it down.
Unfortunately, Islamic attacks across the world is still common as can be seen with destruction in Iraq, Syria and closer home, ancient Buddha statues of Bamiyan in Afghanistan.
Also visit the Hiuen Tsang Memorial Hall when in Nalanda. And have you read my detailed blog on Nalanda? MostRajgir tourist places are located near Nalanda.
Bodhgaya
One of the most important Buddhist pilgrimages apart from Shravasti, Kapilvastu and Sarnath in Varanasi, all in my home state Uttar Pradesh, Bodhgaya is a must visit place near Rajgir! Whether you want to do pin-daan, visit holy rivers, go monastery hopping, meditate in the lawns near the scared Bodhi Tree or simply have a darshan at the Bodh Gaya temple, there are many things to do here. I have written a detailed blog on Bodh Gaya as well.
Vaishali
Did you know that the first democracy of the world was established right here in Vaishali? You can visit some rare historical places such as Kolhua, Buddha's relic stupa, Ashokan pillar, world peace pagoda, ruins of Vishal fort and Vaishali Museum here. It is one of the most ancient sites in India and is a must visit. Do read my detailed blog on Vaishali.
Patna
What was once an important historical capital is a chaotic city. Patna which is still a capital of Bihar was known as Pataliputra in earlier times. Even today, you can see the vestiges of the past in the Mauryan era site Kumhrar and in the artefacts rich Patna Museum.
The famous Hanuman Temple near Patna Railway Junction, the long Gandhi Setu, the vibrant Gandhi maidan, the historical Golghar and the Buddha Park are some of the main places to visit here.
Madhubani
If you want to visit the homes of people who make Madhubani paintings, you must visit Madhubani village. Not only can you meet National Award-winning artists, but you can also see them at work. Some people also stay in Madhubani for long term to learn the nuances of the local Madhubani art form.
Barabar Caves
These hill caves are the oldest surviving manmade rock cut caves of ancient India. Located in Makhdumpur region, these ancient caves belong to the Maurya period (322-185 B.C.E.). Rare Ashokan inscriptions have also been found here.
Perfectly polished granite surfaces can be seen inside the caves. Hindu inscriptions can also be seen here. While you are visiting places in Rajgir, you can easily club a trip to Barabar Cave.
Bihar Shariff
Some of the places to see in Bihar Shariff are the ruins of Odantipuri aka Uddandapura or Odantapura. It was an ancient university of India, much like Nalanda. Buddhist studies and culture flourished here until Muslims attacked.
Dating back to 8th century B.C., it was predictably burnt down by cruel Bakhtiyar Khilji from Mughal army. India would have been something else had these Muslim invaders not attacked it several times and destroyed ancient Indian knowledge.
Other places to see in Bihar Shariff are tomb of Malik Ibrahim Vaya and tomb of Makhdum Shah Sharif-Ud-Din.
Festival of Rajgir
There are many festivals which are celebrated in Rajgir across the year. You can time your Rajgir sightseeing around these places.
Earlier known as Rajgir Nritya festival or Rajgir dance festival, it is the main festival of Rajgir. This unique festival takes place near the main attractions of Rajgir in the winter month of November.
Rajgir Mahotsav
Apart from Indian classical dance performances, other things to do in Rajgir Mahotsav are participating in mehndi contest and martial arts competitions, attending mahila utsav, checking out food plaza and exploring the Gramshree mela.
Chhath
It is an annual festival celebrated by Biharis across the world.
Makar Sankranti
This is another popular Hindu festival celebrated across India.
Sariputta World Peace Walk
The Sariputta World Peace Walk happens during the winter months. This event is attended by important Buddhist monks, dignitaries, members of Bhikkhu Sangha, staff from Nalanda, students of NNM and local villagers. Chanting the sacred Sammaditthi Sutta, the spiritual walk goes along a designated path.
The main aim of Sariputta World Peace Walk is to keep alive the tradition of Sāriputta, especially on the pious occasion of parinirvāṇa anniversary of Gautam Buddha on Kartikā Pūrṇimā. It mostly falls in the month of October or November.
Purushottam Maas Mela
Malmaas is an extra month in the Hindu lunar calendar. Malmas comes after every 32 months, 16 days and 8 hours. Malmaas is used for striking a balance between Solar year and lunar year. This extra month is also known as Adhik Maas. It is said that Hindu Gods and Goddesses sepnt this extra month in Rajgir.
To celebrate the same, people from near and far congregate at Rajgir and participate in the festivities. It is also known as the Malamasa mela. It is a little-known fact aboutRajgir tourism.
Shopping Guide to Rajgir
When in Rajgir, do not forget to pick Buddhist souvenirs from the shops near the main tourist spots. Packing in bags full of Khaja from Silao is also a good idea. Khaja has a long shelf life and can stay fresh for days at end.
Vegan and Vegetarian Food in Rajgir
Do not forget to buy loads of fresh Khaja when in Rajgir and Nalanda. Silao which lies between Nalnada and Rajgir sells lip smacking Khaja. You can taste both sweet and savoury khaja in Silao. Neatly stocked piles of Khaja vied for my attention, and despite not having a sweet tooth, I gave in.
The moment I had the first bite of Khaja of Bihar, I slipped into a food coma. The melt in mouth food was crispy, its layers, thinner than a wafer and delightfully sweet. The flaky, multi-layered pastry has a shelf life of many days, which is why I also bought many khajas for home.
When travelling in summer, also watch out for the delicious, highly nutritious and low cost Sattu drink. High in protein, it also helps in warding off heat. I had it several times during my Bihar trip. You can easily find it on the road side carts for a throw away price. I had it while returning from the border town of Phuentsholing in Bhutan to Siliguri in West Bengal.
For a perfect filling meal, rich in protein and carbohydrates, order a thali of rice, daal (lentil) and thinly sliced alu bhujia, something I saw commonly sold on the streets of Ranchi in Jharkhand as well. Jharkhand after all was carved from Bihar.
Solo Trip Tips for Rajgir
I did a solo trip on backpacking budget in Rajgir. It was very easy and safe for me as a young, brown Indian male to travel in rural Bihar. That said, I also know many of many female Indians who have travelled across rural Bihar without any issue.
To summarise, Rajgir, Nalanda and other places in Bihar are safe for solo travel. Hotels with private room, that are cheaper than a hostel in big cities are available in Rajgir and Nalanda, making it apt for a solo budget traveller.
In case you are not comfortable doing a solo trip on your own, you can book a Rajgir tour package. However, trip package of Rajgir would cost more than self-managed solo trips. Personally, I found the solo budget travel in Rajgir more than satisfying.
I try to avoid the set itineraries of places to visit. I find it limiting and half-baked experiences. My my practical advice to solo travellers is to book a trip to Rajgir without any worry.
Backpacking Budget Trip Tips for Rajgir
Visiting places in Rajgir and worried about the expenditure? As far as budget travel is concerned, Rajgir is a perfect low-cost destination. There is not much you can spend on in Rajgir and Nalanda. These are value for money destinations. You can see all the famous place in Rajgir and still not break the bank. The major places of interest in Rajgir have no entrance fees. This helps bring down the cost.
The only money I spent in Rajgir and Nalanda were on:
Rajgir expenses
Patna Bus stand to Bihar Shariff bus fare
Bihar Shariff to Rajgir rickshaw
Rajgir sightseeing vehicle hire
Sky Cab to Vishwa Shanti Stupa, Rajgir
Guide fees
Lunch of Litti Chokha
Dinner
Hotel
Nalanda expenses
Rajgir to Nalanda bus
Nalanda entry fees
Nalanda Guide fees
Chips breakfast
Bhelpuri Lunch
Khaja snacks
Vehicle from Nalanda ruins to main road
Nalanda to Bihar Shariff bus
Shared rickshaw to Bihar Shariff bus stand (I was dropped midway)
Bihar Shariff to Patna bus stand
These are the only activities and things I had spent on during my trip. I am not mentioning the prices as they are subject to inflation. However, rest assured most of the above-mentioned particulars didn't cost me much.
In fact, it was one of the places where I didn't spend any big amount. For example, I didn't even take a room in Nalanda. Instead, I walked all day with my light back pack and left before dark.
Since most Rajgir tourist spot are located close to each other, therefore very less amount of money is required to see all the top attractions.
Luxury Travel Tips for Rajgir
The visit to tourist attractions of Rajgir will still be low even if you want to splurge on luxury travel. The most you can spend on in Rajgir is a stay in luxury hotel and hiring a dedicated cab for visiting all the main sightseeing places of Rajgir. If you have a deeper pocket then you can also hire a cab from Patna to Rajgir and back too.
Is Rajgir safe to visit?
Once upon a time, crime and targeted kidnapping for money used to be commonplace in Bihar. It is not the same anymore. Despite the bad press Bihar still gets due to its recent lawless past, it is one of the safest places to travel to. For all you know, it might even be safer that the gun rich streets of New York. Just have faith and go here with an open heart.
You need to practise basic rules such as not flashing your money, not going out after dark etc. In fact, on one night, I walked alone with my camera and backpack in dark alleys and no one bothered. That said, I do not recommend doing it. It might have been my lucky day! However, visiting places in Rajgir is still safe, especially during the day time.
How to reach Rajgir
It is fairly easy to reach Rajgir from Patna and anywhere in Bihar. I had arrived at both Nalanda as well as Rajgir from Patna via a government run public bus. Since Rajgir tourism is already well established, you will find good connectivity here.
Though Rajgir can't be called a weekend destination from New Delhi despite the proximity, Rajgir sure is a great weekendgetaway from Patna and other places of Bihar in North India.
By air: There is no airport in Rajgir. The nearest airport from Rajgir is at Bodhgaya. Gaya airport has connecting flights to international cities such as Bangkok in Thailand, Colombo in Sri Lanka and Kathmandu in Nepal. Another option to reach Rajgir by flight is at Patna airport. You can arrive at Rajgir from these airports via taxis, connecting trains and buses etc
By Railways: It is very easy to arrive at Rajgir by trains. Thanks to the robust infrastructure of Indian Railways, Rajgir has its own railway station. Rajgir railway junction is located just a kilometre away from the major points of attractions in the city centre. Rajgir railway station is connected with many places in Bihar and outside.
The bigger railway stations near Rajgir are Gaya Railway Sttaion and Patna Railway Station. The railway stations at Patna and Gaya are connected with more railway stations in India than Rajgir.
The oddly named Bakhtiyarpur is another railway station near Nalanda and Rajgir.
By Road Trip: The roads in Bihar are in excellent condition. I and my local host in Patna, Rahul Sahni drove all the way from Patna to Bodh Gaya and it was a breeze. Similarly, driving to Nalanda and Rajgir from Patna is also pleasurable, especially in winters.
You can also stop at the road side dhabas for piping hot teas, sattu sharbat and litti chokha. You can also hire a private taxi from Patna. Also having your own car means that you can visit all the Rajgir tourist places at your own pace, whims and fancies.
By Bus: I had explored both Nalanda and Rajgir via public buses as a solo budget traveller. It was easy to find direct buses to Nalanda from Patna. Both privately run and state-run buses are available. The buses drop you right at the entrance of Nalanda University ruins. You can take a connecting bus from Nalanda to Rajgir after sightseeing in the former.
I prefer the latter (Government buses) for its punctuality, less stoppages and low fares. You can also get buses to Rajgir from Bihar Sharif, Pawapuri, Gaya and nearby Nalanda. Indian transport managements are best in the world after all.
Distances from Rajgir
There are many places in and around Rajgir. You may need 2 days in Rajgir if you want to see the best places here. After sightseeing in Rajgir, you can head to other nearby excursions such as Nalanda, Bodhgaya, Vaishali, Patna, Bihar Sharif etc. Below is the distance chart of places near Rajgir in ascending order.
Distance between Silao to Rajgir is 8 kilometres and it takes 20 minutes via NH120.
Distance between Nalanda to Rajgir is 14 kilometres and it takes 30 minutes via NH120.
Distance between Madhuban to Rajgir is 14 kilometres and it takes 30 minutes via NH120.
Distance between Pavapuri to Rajgir is 20 kilometres and it takes 30 minutes via NH120 and Bihar Mokama Road.
Distance between Bihar Sharif to Rajgir is 25 kilometres and it takes 45 minutes via NH120.
Distance between Barabar caves in Bhagalpur to Rajgir is 50 kilometres and it takes 1 hour and 30 minutes via Islampur-Rajgir-Parwatipur road.
Distance between Gaya to Rajgir is 60 kilometres and it takes 2 hours via NH120 and Bhindus-Chamandih road and Atari-Jethian-tapovan-Banganga route.
Distance between Patna to Rajgir is 104 kilometres and it takes 3 hours via NH20 and NH31.
Distance between Vaishali to Rajgir is 125 kilometres and it takes 3 hours and 30 minutes via NH20 and NH31.
Where to stay in Rajgir
Thanks to the regular international arrival and booming Rajgir tourism, there are many hotels to stay in Rajgir. You can choose from budget hotels to mid-range and even luxury hotels in Rajgir, depending upon your budget. Most of the hotels and lodges are located at close proximity with the major Rajgir tourist places.
Stay in a Buddhist monastery: It was early in the night and had become dark. I was looking for hotel when I knocked the door of a Buddhist monastery. Few hesitant monks showed up from the entrance gate. When I asked them if I could stay in the monastery, they ran back to seek permission. They returned to tell me that they would not be able to accommodate me for the night. I found a shabby budget hotel nearby. Try your luck. You never know!
Hotel Diamond Plaza near Yesthivana and Venuvan is a budget hotel in Rajgir. This 3-star hotel is located a short walk away from the Rajgir Rajgruhi Munisuvrat Kalyanak Swetamber Jain Mandir. It has basic rooms, free wi-fi and free parking space.
Best Time to visit Rajgir?
It takes around 2 days to visit Rajgir in its entirety. That said, you can still manage to see the best of Rajgir in one day as most of the places of interest are located in close proximity with each other.
Winter: Winter is the best time to visit not only Rajgir but pretty much anywhere in Bihar and North Indian plains. The weather is perfect in winter months except for the extreme temperatures in December and January.
However, I enjoy traveling during extreme winter as well. The weather is best in the months of September, October, November, February and March when it is neither too cold and nor too hot but moderate.
Summer: You will not believe when I tell you that I travelled solo to Rajgir and Nalanda in the extreme hot month of June. Yes, I had some leaves at work (I was working then) and wanted to see these places, come what may! Yes, it was not very comfortable but not impossible wither to travel in Bihar in summer. April, May and June are the summer months in Bihar state.
Monsoon: If you want to feel what monsoon is like in Bihar then go for it. Gautam Buddha and Lord Mahavira also spent many monsoon months here. You would surely want to repeat their experiences. Mid-June, July and August are the rainy months in Rajgir and Bihar state. Tourism in Rajgir can thus be enjoyed in rainy season as well.
How many days to spend in Rajgir?
Rajgir can easily be covered in one day. So, what can I do in 1 day in Rajgir? The major points of attraction of Rajgir can easily be seen in one day. If you are just a regular tourist
What can I do in 2 days in Rajgir? It is a Frequently asked question on Rajgir. If you want to go deeper and see more places to visit in Rajgir, then you must stay for longer. You can also use this extra time to meditate at the same spots where Gautama Buddha Bhagwan must have meditated thousands of years ago.
Many Buddhist devotees from South Asian and South East Asian nations such as Sri Lanka, Thailand, Cambodia, Vietnam, Singapore and even China, Korea, Taiwan and Japan stay for much longer in Rajgir Bihar.
ATM in Rajgir
Rajgir has very few ATMs, so to be on a safer side, do withdraw lots of cash from Patna, the capital of Bihar. Patna has many ATMs at every step. Digital payment may not be accepted at many places in Rajgir since it is a village. Therefore, it is a good idea to carry lot of cash in Rajgir for general travel expenses.
Local Transport for sightseeing in Rajgir
Strangely, the horse driven Tonga is very popular in Rajgir. I find it exploitative for the animal, therefore I recommend that you instead book a local rickshaw for sightseeing in Rajgir. The top places to see in Rajgir are located close to each other but you will still need a vehicle.
Photography Tips for Rajgir
Rajgir is visually stunning! You can still click some amazing shots at the Rajgir skywalk. The beauty of Rajgir enhances in the monsoon months when rains bathe the valley with a certain freshness. You can also click nice pictures and videos of Buddhist monks and their ceremonies. It is always nice to ask before shooting pictures.
Also, if you are in to heritage photography, the ruins of Rajgir serve as a good subject.
UPSC exam
Questions on Rajgir are commonly asked in competitive exams of UPSc and IAS etc. If you are preparing for UPSC Civil Services Preliminary Exam for for IAS, IFS, PCS etc, the you must read this blog on Rajgir carefully. It answers all your commonly asked question.
Languages spoken in Rajgir
Bhojpuri, Maithili and Hindi are commonly spoken in Rajgir. English is also spoken and understood by many in Rajgir especially in the area which are located around tourist attractions of Rajgir. If you know basic Hindi or English, you will not face any communication issue in Rajgir.
Toilet facility in Rajgir
Clean toilets are available near places of interests such as World Peace Pagoda and other sites.
Soul Window Travel Tips
If you are traveling in summer, ensure you carry at least 2 litre water bottle all the time.
Summer also means mangoes. Make it a habit to eat at least a few mangoes in a day, if travelling in summer.
Rajgir tourism is well developed so you do not need to worry about modern day frills. That said, do not expect city like facilities and luxuries.
It is advised to carry cash in both Rajgir and Nalanda as digital money is not accepted by most local vendors here. I had actually run out of cash in Bihar Shariff. I wasted time in locating an ATM in Bihar Shariff. Luckily it was working.
Conclusion: Why visit Rajgir?
The best of Rajgir tourist places deserve your time and attention. In India we do not value our ancient heritage despite the fact that India is the cradle of civilisations. Modern Indians must understand and celebrate their heritage by visiting these ancient Rajgir tourist places.
While exploring the main places to visit in Rajgir, I realised about the rich history and cultural heritage of Bihar. What is now reduced to Rajgir tourist spot was a centre of spirituality once upon a time. Tourism in Rajgir has immense potential as it already attracts many Buddhist pilgrims from South East Asian nations.
Important to the followers of Hinduism, Jainism and Buddhism, Rajgir is a melting pot of cultures and religions. Rajgir places to visit such as Sri Krishna's chariot marks, Akhada of Jarasandh, Cyclopean walls, Bimbisar's jail, Gridhakuta etc takes one back in time.
Luckily, Rajgir tourism is growing thanks to Government efforts and Indians who are awakened to study their own heritage and culture.
The view from my Soul Window is ancient!
Pin this blog to plan for later!
Related Blogs
Bihar Blogs
Below are some of the best places I have visited in Bihar and documented.
Trip to Darbhanga
Bodhgaya Guide
Vaishali Guide
Nalanda Guide
Patna Guide
Blogs on Buddhist Destinations
Below are some of the best Buddhist places I have visited and documented on my travel blog A Soul Window – the No. 1 travel blog of India.
Piparahwa Stupa Guide
Kushinagar Guide
Shravasti Guide
Lumbini Guide
Tawang Guide
Bomdila Guide
Dirang Guide
Nubra valley Guide
Lamayuru Monastery Guide
Mulbekh Monastery Guide
Dharamshala Guide
Sanchi Stupa Guide
Gangtok Guide
Pelling Guide
Uttarey Village Guide
Lachung Guide
Yuksom Guide
Dambulla Caves Guide
Mechuka Guide
Namchi Guide
Thimphu Guide
Paro Guide
Punakha Guide
Chimi Lhakhang Guide
Haa Valley Guide
Chiu Gompa of Tibet Guide
Top Travel Blogger from India