Last Updated on May 26, 2021 by asoulwindow
TANGO AND CHERI MONASTERIES in Thimphu and Cycling in Bhutan are often overlooked by the tourists in Bhutan. Our car covered 15 kilometers (30 minutes) from the Thimphu City to arrive at the gushing Wang Chu River.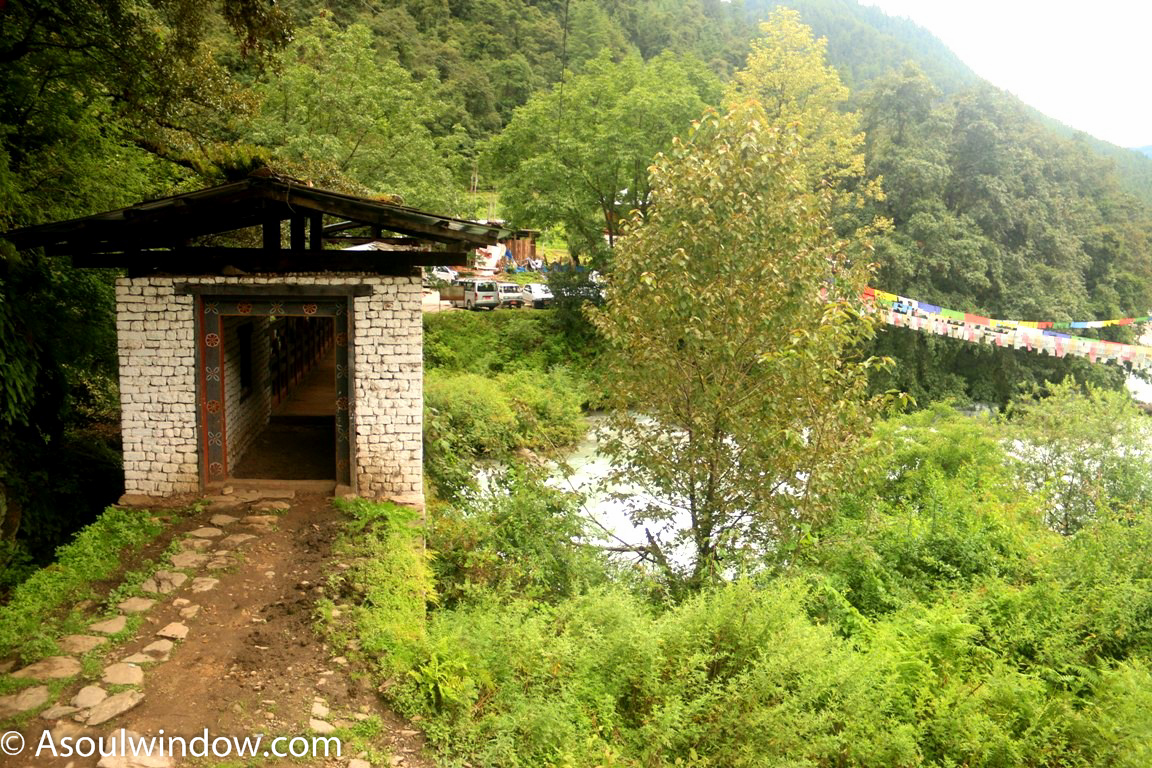 Some furry street dogs rested under the huge penis painting on the wall. (Read here about why they paint penis on the walls in Bhutan?) The wooden bridge transported the tourists on the other side. A huge painting of Guru Ringpoche dwarfed everything around it. Hundreds of small stupas in bright colors laid on the foot of the painting and in the crevices and cuts of the mountains. Devotees put these as offering along with Bhutanese and Indian notes which no one steals. There was absolute silence in the air except the chirps of the birds and the sound of the river. The air was even fresher than the pleasant capital city of Thimphu..
Due to paucity of time, we decided not to hike up to the Tango and Cheri Monastery. Though I am sure it must have been an exciting hike. The lack of tourists makes it an exclusive experience to be enjoyed in solitude or with a loved one. Bhutan Bookings, the group with whom we were traveling, carried cycles for all 5 of us bloggers in a separate vehicle. As soon as the cycle was allotted to me, I wasted no time in hitting the pedal. 2 of us decided to walk the entire stretch though.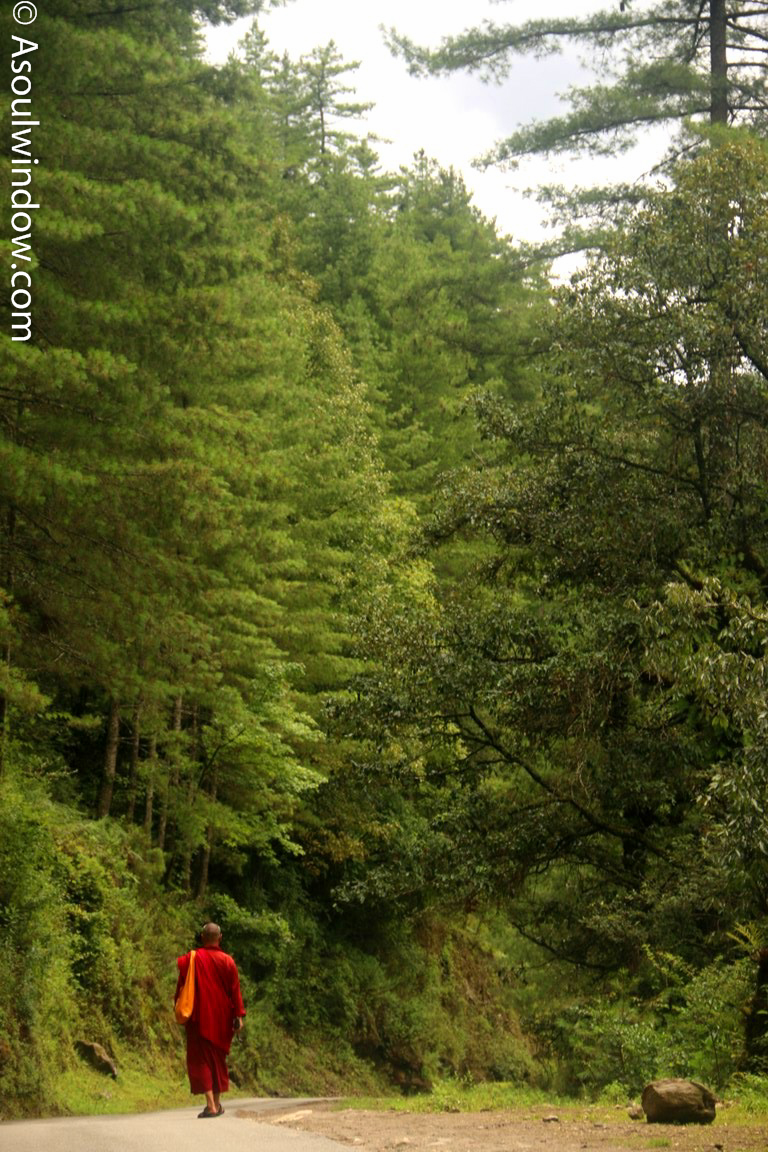 The rest of us started together and then kept finding and losing each other as we rode on our pace and stopped at our own whims. The best thing about cycling is that it offers a more immersive experience. Rather than just passing through your destination, cycling helps you slow down, observe things minutely and absorb more. I did not know that Thimphu has great locations where one can cycle. Thanks to Bhutan Bookings which made us discover this joyful activity.
We passed a rural hut, built entirely from wood. It was a departure from the official Bhutanese architecture. I stopped to see the hut closely. As I turned my head I was scandalized to see tiny structures peeping from green mountains.
The monastery looked like the Tiger's Nest. What made it different was the fact that a) there were many buildings in concentration, b) the mountain was greener and of course, c) the fact that it is easier to reach there. The river and the street docile dogs were my constant companions in the initial stretch. The air was perfumed with the dense foliage everywhere. A lone monk passed by. His maroon robe complimented the yellow flowers and dark green hills.
We made a pit stop near a small Stupa for water. There was no way we were not stopping at the bridge ahead. I parked my cycle on the wayside and stood on the bridge. I was gobsmacked at the volume of water which gushed noisily through the dense forest on either side.  The prayer flags fluttered over the violent river. A little ahead another religious shrine stopped me in my tracks. A woman with few kids was offering prayers. A little ahead was the dramatically installed water powered prayer wheels.
The inclines became steeper by now. I pedaled harder only to be rewarded with breath taking views of the verdant valley before. Charming bridges, clear water, tiny houses and tall prayer flags waving elegantly in the distance gave it a dream like quality. I decided to sit here for few minutes. Soon, all my other friends joined me, including those who chose to walk the stretch. We spent some time here and decided to call it a day. The cycles were loaded again in the vehicle and we drove off to have an authentic Bhutanese Lunch in the Folk Heritage Museum.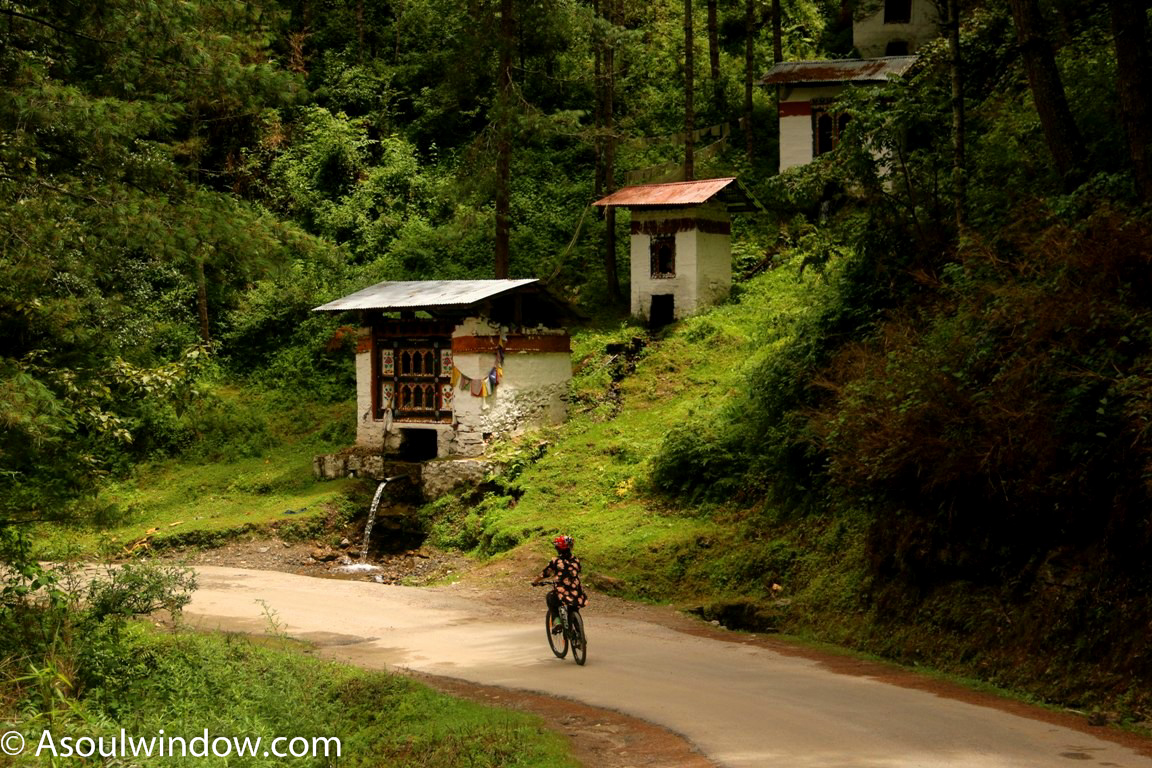 Soul Window Tips:
Wear loose pants. Cotton track pants are best.
Carry water bottles. There are no shops en route.
Wear helmets.
No need to be scared of the street dogs. They are few and are docile.
Keep at least 2 hours extra to hike up to the Tango and Cheri monasteries.
It is great activity to be enjoyed with friends or family.
Responsible Tourism- My Moral Policing
You are passing through a village. Don't disturb the locals.
Don't litter the place.
Don't play loud music. Enjoy the silence.
YOU MAY ALSO LIKE THESE BLOGS ON BHUTAN:
A QUICK TREKKING GUIDE ON TIGER'S NEST MONASTERY AKA PARO TAKTSANG
WHY THEY PAINT PENIS DESIGNS ON THE WALLS OF BHUTAN
DRAYANGS: THE DANCE BARS OF BHUTAN
THE HAA VALLEY: BEST KEPT SECRET OF BHUTAN
ALL YOU WANTED TO KNOW ABOUT PARO
MUST DO THINGS IN THIMPHU: 30 EXCLUSIVE PICTURES
WHITE WATER RAFTING IN PUNAKHA: WHEN I JUMPED IN THE RIVER
Disclaimer: My trip was sponsored and all the logistics were taken care of by Bhutan Bookings. Click here to plan your vacation in Bhutan with them.
Spread the love, share this blog
Got any question/comments, ask in the comment section below so that it can benefit other readers.
Email me for collaboration : abhinav21@yahoo.com
Be a part of my journey on social media. The travel content I create there is different from this blog.
Pls subscribe/follow/like:
I was accompanied by travel bloggers – Dipanshu, Manjulika, Swati and Parnashree in the fun company of Sonam Karma and Dipanjan from Bhutan Bookings. Click on their names to read their stories from Bhutan.
WARNING : COPYRIGHT TO ALL THE IMAGES AND TEXT HERE REMAINS WITH ME. YOU CAN NOT JUST LIFT THE CONTENT AND USE IT WITHOUT MY PERMISSION. STRICT LEGAL ACTION WILL BE TAKEN IF CONTENT IS STOLEN. YES, I AM SERIOUS.
Top Travel Blogger from India