Last Updated on December 5, 2019 by asoulwindow
BLOGGING HAS GIVEN ME opportunity to stay in some of the finest hotels and resorts. But often many luxury properties fail to touch your heart and forge a personal bond with you. The smaller properties and home stays are often the better bet.
Mövenpick Resort and Residences, Aqaba is a rarity. Despite its huge size and a large number of staff, everything this resort does exudes warmth and friendliness. I interacted with many of the staff members and each one of them has attended to the guests with utmost care, willingness and a broad genuine smile.
One of the front office staff Naser Herzallah chatted with us for a long time even after his duty hours was over. When we asked him if we can visit his home for a deeper immersive cultural experience, he did not take even a second to invite us to his home. We could not visit his home due to lack of time.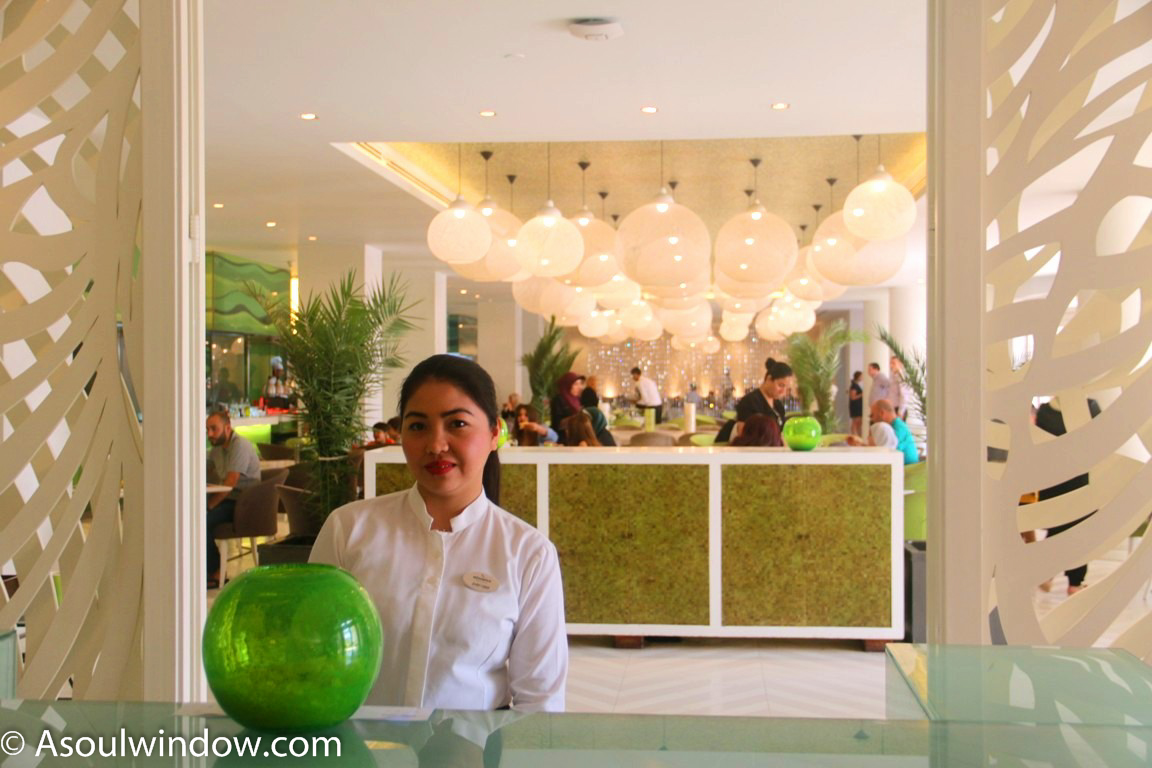 The next morning, the many Filipino girls at the Palm Court Restaurant & Terrace won our hearts with their attentive and friendly service. They anticipated our need and would leave no stones unturned to give us a memorable experience. The vibrant restaurant has an indoor dining option as well as an outdoor section.
It serves breakfast, lunch and dinner. I sampled only breakfast which comprised of a wide array of Middle Eastern and European cuisine. The live cooking made the ambiance lively.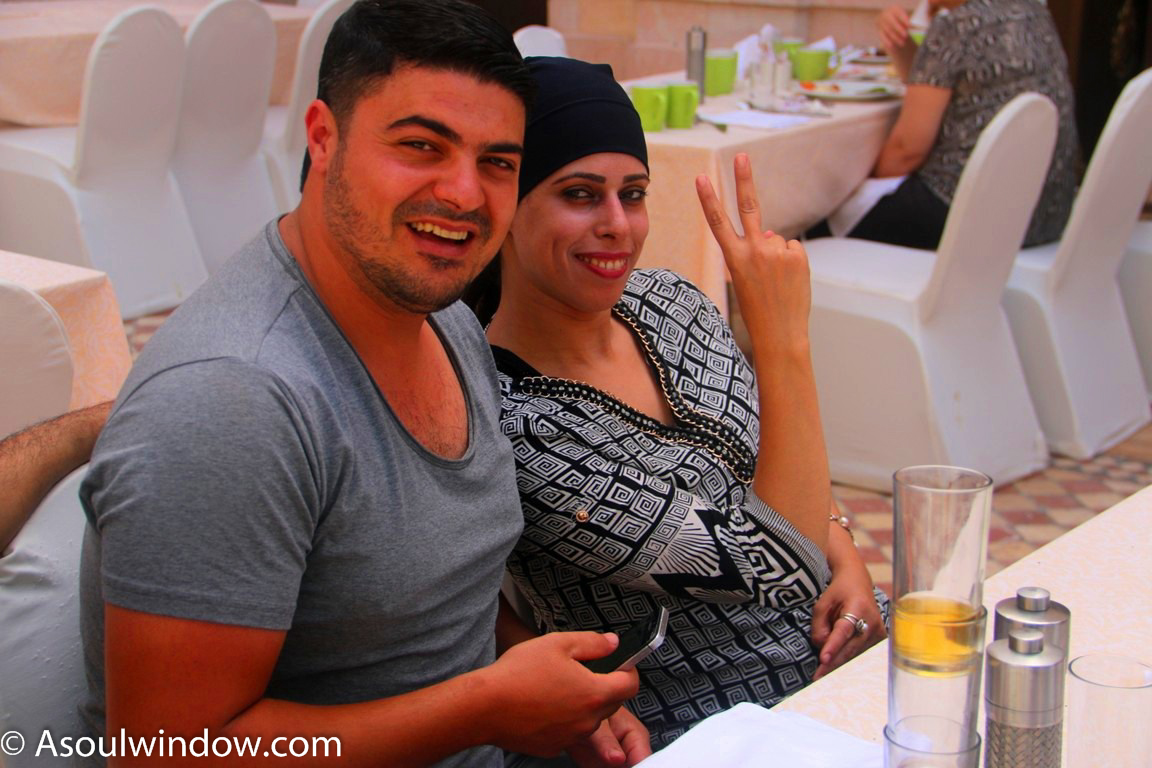 Apart from the buffet, the restaurant also offers à la carte dining menu. The second day, I dined in the private dining room which was quieter and less packed. I particularly liked the youthful décor of the restaurant.
My suite was huge and airy. Its windows and 2 terraces opened to sweeping views of the Aqaba city. Some of my co travelers got even better views of the ocean. Balcony was my favorite part where I would spend all my leisure time watching the city over a smoke. The bathtub helped me fight the tiredness, thanks to a busy day of travel. The sitting area was huge, none of which I could use due to lack of time. The suite even had a kitchen and a large refrigerator.
Where Mövenpick Resort and Residences, Aqaba wins is its attention to detail. It sure knows how to delight its guests. I was delighted to see a local craft on my bed. It was a gift to me from the resort along with the cookies and delicious dry fruits. Even the bathroom slippers in the hotel were not a bland white. It was colorful and depicted local art.
The resort is so gorgeous that I couldn't resist saving some time in the early morning for a property round. There is a bridge which connects the main building to another. This bridge is on the top of the road called King Hussein Street. It was very creatively used for an al fresco Jacuzzi pool. We arrived at the private beach of the hotel from where it offered many water sports. Ala'a Salman, one of the jovial staff took us on a tour. Though he knew little English but we communicated well between smiles and wallahs.
He even showed us the border of neighboring countries from the hotel. He was another staff member who touched our heart and exceeded our expectations. I like the way people from different countries work here as a team. A co traveler told me his room was serviced by a very friendly attendant from Patna, Bihar! Who would have thought?
Ms. Layali Nashashibi, Director of Communications and PR, herself showed us some of the ethnic decor of the resort and educated us about the history of Mövenpick chain and its core values.A brilliant and vivacious lady, she patiently answered all our questions and offered us the famous Mövenpick ice cream.
I have always valued human interactions more than the material comforts in a luxury property. Not all of them do it well. Very small percentage of luxury hotels get that right. Fortunately, Mövenpick Resort and Residences, Aqaba is one of them.
And oh, Don't forget to eat the famous Mövenpick Ice Cream if you go there!
RELATED BLOGS:
AQABA- THE ONLY COASTAL CITY OF JORDAN WHICH BORDERS EGYPT, ISRAEL AND SAUDI ARABIA
AMMAN CITADEL- THE CONTINUALLY HABITATED WALLED CITY
AIR ARABIA- HOW TO TRAVEL TO JORDAN ON A BUDGET AND IN STYLE
Spread the love, share this blog
Got any question/comments, ask in the comment section below so that it can benefit other readers.
Email me for collaboration: [email protected]
Be a part of my journey on social media. The travel content I create there is different from this blog.
Pls subscribe/follow/like:
NOTE: I was invited by Jordan Tourism Board to Jordan on a Press Trip
WARNING: COPYRIGHT TO ALL THE IMAGES AND TEXT HERE REMAINS WITH ME. YOU CAN NOT JUST LIFT THE CONTENT AND USE IT WITHOUT MY PERMISSION. STRICT LEGAL ACTION WILL BE TAKEN IF CONTENT IS STOLEN. YES, I AM SERIOUS.
Top Travel Blogger from India