Last Updated on April 29, 2018 by
LUXURY RESORT AMAYA LAKE, DAMBULLA- NICE PLACE TO STAY IN SRI LANKA NEAR SIGIRIYA:
This blog is about my stay at the luxury resort Amaya Lake, Dambulla in Sri Lanka. It is located near Sigiriya, Dambulla Caves, Anuradhapura, Minneriya National Park and Polonnaruwa.  
During my recent visit to Sri Lanka, I stayed in many beautiful properties. I had heard a lot about the eco-friendly hotels and resorts in Sri Lanka. So, I was curious to see for myself. I had read a lot about Sri Lankan properties in magazines like Lonely Planet, National Geographic; their writers singing paeans on the same.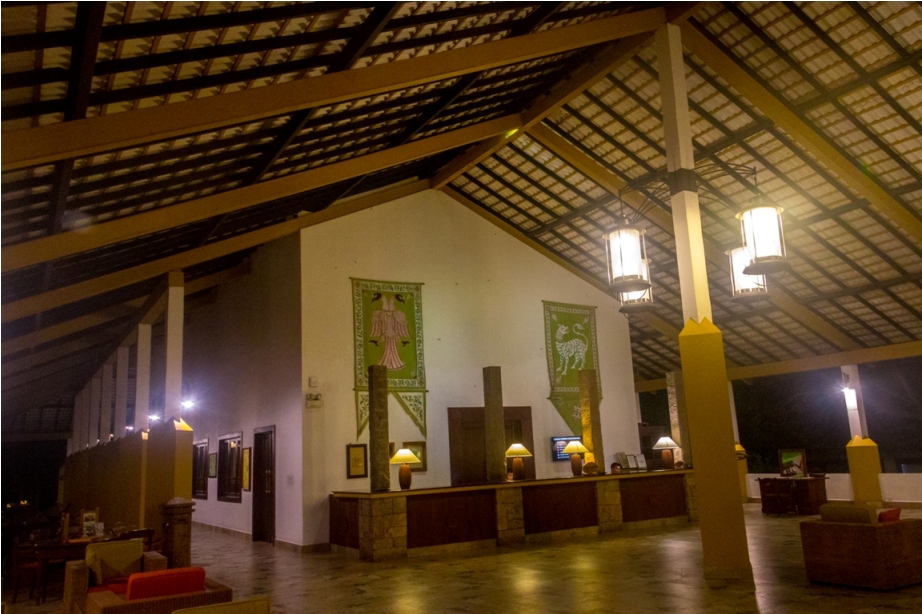 During my Sri Lankan sojourn, the first property I stayed in was Amaya Lake, Dambulla. As they say the first impression is the last impression. I am glad Amaya Lake Dambulla impressed me and raised the bar for me. It was exactly the kind of property the above mentioned magazines talked about! Nestled amidst nature, Amaya Lake, Dambulla is a sprawling property. Thankfully, it is not a vertical and clinical building. The property is in fact a collection of tastefully done up individual rooms at equal distance from each other.
ARRIVING AT AMAYA LAKE, DAMBULLA- NICE PLACE TO STAY IN SRI LANKA:
As soon as we arrived in the nondescript Colombo airport, we headed towards Amaya Lake, Dambulla. En route, we briefly stopped at the beautiful Kurunegala lake. It is an offbeat destination and is known for the huge Buddha statue in white. It is located on the elephant rock (locally called Ethagala). Kurunegala is an important place as it was once an ancient royal capital for approximately 50 years.
As soon as we inched closer to Amaya Lake, Dambulla, we were impressed by the huge Kandalama Reservoir is it set adjacent to. It was late noon when we arrived. We could see some water birds in the distance. The locals had a bath to beat the humid Sri Lankan weather. Local buses plied on the empty roads running parallel to the lake.
WARM WELCOME AT AMAYA LAKE, DAMBULLA- NICE PLACE TO STAY IN SRI LANKA:
The moment we entered Amaya Lake, Dambulla, we were greeted by local women who started beating drums in foot tapping rhythm as soon as we stepped out of the car. They wore local dresses and played the drums with gusto and smile.
We were ushered in the lobby by a staff. Much like India, lamps were lit in the lobby in our welcome. We were offered hot towels and wood apple juice. Also known as bel sherbet in India, wood apple is my favorite as it is not only beneficial but also delicious. Refreshed, we soon did our check-in. The process was smooth and quick. The lobby was one of the largest I have seen. Tall ceilings, use of wood, pastel colors gave it a warm character. The entire property exudes both luxury and simplicity at the same time.
ABOUT AMAYA LAKE, DAMBULLA- NICE PLACE TO STAY IN SRI LANKA:
Before I entered my room, I was curious to check out the property. The lavishly designed al fresco bar and dining areas overlooked the large swimming pool area.  The spa was also at one corner of the swimming pool. I didn't avail the spa facility but it looked good.
I denied the battery car which was offered to me to reach my room. Since the property is spread over acres of land, the rooms are located at quite a distance. However, battery car is available. One of my friends ordered it from her room and it was delivered at her door step within 2 minutes after the call. Impressive!
It reminded me of my stay at Java Rain Resorts in Chikmagalur in India. Many South Indian hotels also offer similar kind of hospitality services and experiences. The Java Rain Resort is designed on the similar lines. Both properties have huge individual rooms, enveloped by plants and trees on all corners. Both properties are spread over the large area and offer battery cars to move between places.
During the night, both properties are lit in beautiful lamps, lined throughout the path, giving it a fairy tale feel. Both are located in the middle of nature. Silence and water bodies make it all the more calming! I, thus chose to walk and absorb. Walking is the best way to soak in a place and allow it to grow on you. Thanks to the umpteen trees lined throughout the pathway, the shady walkway was a pleasure to walk in. The rooms are well marked and you need no assistance to find your room. The property is also adjacent to the huge lake so you can do a morning walk in complete bliss.
THE ROOMS AT AMAYA LAKE, DAMBULLA- NICE PLACE TO STAY IN SRI LANKA:
It's huge! The room at Amaya Lake, Dambulla impressed me with its sheer size and understated luxury! The design is brilliant and unique. The rooms have two sections. One is living room and the other is bedroom. It is multi level. Both the rooms are not connected by a door but instead the passage is open and accessed through 3-4 stairs.
The living room has a comfortable sofa, large mirror, cupboard, central table, a mini bar and a television. The bar stocked local beer. The furniture is done in dark wood, lending it a touch of class and warmth. Although I have not watched television for past 10 years now, but I was impressed to find that my room had 2 TVs. Yes, there was a TV room in my bedroom also. The bedroom had another huge wardrobe in dark wood and had 2 side lamps on side tables. There was another rack under TV which made it easy for me to arrange my luggage.
Both the windows opened to lush green gardens on either side. It was curtained with a beautiful colorful cloth. The access to the washroom was through the bedroom.
THE WASH ROOMS AT AMAYA LAKE, DAMBULLA- NICE PLACE TO STAY IN SRI LANKA:
The washroom was spacious. As with all the other things at Amaya lake, the size of washroom was huge too. It had separate areas for washbasin, enclosed shower panel, bathtub and W.C. The toiletries were of high quality, neatly packaged and arranged near the wash basin.
FOOD AT AMAYA LAKE, DAMBULLA- NICE PLACE TO STAY IN SRI LANKA:
The food was not only presented well but was also delicious. I had availed both a la carte and the buffet at the property. The portion size of the club sandwich and the potato wedges was huge. It was filling and that is what I had for lunch as soon as I arrived. The buffets were elaborate and there was choice to pick from Indian, Sri Lankana and continental.
Being a vegetarian , I asked the chef to guide me through the vegetarian fare. This is important as some of the sambols (Sri lankan chutneys) may contain dry and powdered Maldive fish and shrimp. The chef was very helpful. I sampled local aubergine curry, jackfruit curry, kiri hodi and string hoppers. The breakfast buffet was also lavish. I was quite happy to see Indian Masala Dosa being made live on the counter.  The choice of desserts was also wide. The food overall was healthy, nutritious, light and great for vegans and vegetarians alike.
THINGS TO DO NEAR AMAYA LAKE, DAMBULLA- NICE PLACE TO STAY IN SRI LANKA:
The property is set in the heart of Sri Lanka's Cultural Triangle. Thus there are so many exciting things to do in and around the property. In fact, some of the must visit places in Sri Lanka are just 20 minutes ride away from the property.
Walk by the Kandalama Reservoir, especially in the evening. You can also cycle in quaint
Head for a boat ride in the Hiriwadunna lake. The locals offer homemade food and drinks after the ride. The sunset from here is amazing. Also, I saw the first glimpse of Sigiriya fortress here.
Visit the centuries old Dambulla caves and be awed by its beauty.
Sigiriya, the eighth wonder of the world is also nearby.
Watch the amazing cultural shows at night in the property.
Other attractions nearby are Anuradhapura, Minneriya National Park and Polonnaruwa.
The view from my #SoulWindow is calm!
ALSO READ:
AMAZING BUSINESS CLASS OF SRI LANKAN AIRLINES
THE ULTIMATE VEGAN & VEGETARIAN FOOD AND DRINKS GUIDE TO SRI LANKA
VEGAN RECIPE OF DIFFERENT TYPES OF SAMBOL
Spread the love, share this blog
Got any question/comments, ask in the comment section below so that it can benefit other readers.
Email me for collaboration: [email protected]
Be a part of my journey on social media. The travel content I create there is different from this blog.
 Pls subscribe/follow/like:
Disclosure: As is common in the travel industry to host the writers and bloggers for reviews and media reports, I was also invited on the press trip to cover it. However, my views are not influenced by the sponsorship. It is my responsibility to give truthful information to my readers on my blog and I have adhered to that personal policy while writing this blog.
This particular trip was supported by Sri Lankan Airlines in association with association with Outbound Konnections Reps Pvt. Ltd.
Outbounds Konnections can be reached at [email protected]
WARNING: COPYRIGHT TO ALL THE TEXT SHARED HERE REMAINS WITH ME. YOU CAN NOT JUST LIFT THE CONTENT AND USE IT WITHOUT MY PERMISSION. STRICT LEGAL ACTION WILL BE TAKEN IF CONTENT IS STOLEN. YES, I AM SERIOUS.