Last Updated on March 26, 2022 by asoulwindow
Information about Kushinagar
Kushinagar in Uttar Pradesh near India-Nepal international border is the biggest Buddhist pilgrimage of the world. Associated with Gautam Buddha, the founder of Buddhism, Kushinagar is one of the most sacred places of world.
Kushinagar temples are always buzzing with spiritual activities and rituals. Why is Kushinagar India sacred? Do you know what is the importance of Kushinagar? Let us find out what happened at Kushinagar?
I have explained all about Kushinagar in this information packed travelogues in great detail. This exhaustive guide is based on my own experience. I had visited Kushinagar along with my friend Jeetendra Sharma. We had studied M.B.A. together in Lucknow University. It was a short and sweet road trip across Buddhist Circuit of Uttar Pradesh.
Last Words of Gautam Buddha
"All conditioned things are impermanent. Strive on with diligence (for your own liberation)"
Last words of Buddha, Digha Nikaya 16.
(As seen by me on the signboard of Buddha's Relic Distribution Site, Aniruddhawa village).
How and when did Buddha die?
Gautam Buddha, who is also called as Shakyamuni, Siddhārtha Gautama or Siddhattha Gotama, died at the age of 80 after having his last meal served by Cunda. The nature of the illness of the disease or food poisoning due to which Gautam Buddha died remains unsettled.
As per accounts by Bhikkhu and Oskar von Hinüber, Gautam Buddha died due to mesenteric infarction, which is a common symptom of old age. They denied that the death of Gautam Buddha happened due to the popular theory of food poisoning. Oskar von Hinüber was an Indologist, Pali language expert and an eminent Buddhist scholar.
The sacred Buddhist text Mahaparinibbana Sutta of the Digha Nikaya records all the details pertaining to the last days of Gautam Buddha, his death and the events which unfolded after his death. It is a part of Sutta Pitaka, 1 of the 3 streams ofTheravada Buddhist tradition. This is how we know much about how and when did Buddha die? Buddha death place is considered very sacred.
Where Did Buddha die in India?
Where did the Buddha take his last breath? Where is the death place of Buddha? Bhagwan Gautama Buddha died in Kushinagar. This is why Kushinagar India is the biggest Buddhist pilgrimage of the world.
What did Buddha do at Kushinagar? Buddha was traveling and preaching in his final days. According to the records of Mahaparinibbana Sutta, after Gautam Buddha consumed his last meal served by Cunda, he continued to travel along with his followers, disciples and companions.
Eventually, Gautam Buddha became very weak and failed to travel any further. Their entourage stopped at Kushinagar. Ānanda, the chief attendant of Gautam Buddha had prepared a place for rest in a grove of Sala trees. Crores of people visit Buddha death place every year and pay their respects.
Why is Kushinagar Famous?
Why is Kushinagar important to Buddhism? Kushinagar is an international tourist place which attracts Buddhist devotees from across the globe.
Kushinagar is famous across the world and Buddhist nations because of following reasons:
Kushinagar was the place where Bhagwan Gautam Buddha died or attained Mahaparinirvana, the ultimate salvation.
Kushinagar is also the place where the body of Gautam Buddha was cremated.
It was in Kushinagar that the corporeal of Buddha Bhagwan was distributed in 8 parts.
Nomenclature of Kushinagar
What is the old name of Kushinagar? During the Ramayan era, Kushinagar was known as Kusha, after the son of Shri Ram. Kasia Bazaar and Kushavati were other old names of Kushinagar. While Kushinagar was known as Kusavati in the pre-Buddha era, it was addressed as Kushinara in a post Buddha world.
Etymology
The word Kushavati is possibly derived from the Kusha grass. Grown in abundance in this region, Kusha grass was preferred by Gautama Buddha for his meditation sessions. Even to this date, Buddhists revere the Kusha grass as it served as a seat for meditation of Buddha.
Where is Kushinagar located?
Where is Kusinara now? Kushinagar is located in my home state Uttar Pradesh on the Kushinagar-Devariya Marg in North India. Kushinagar is also located in close proximity with other destinations in Buddhist Circuit such as Sankisa, Kaushambi, Shravasti, Piparahwa aka Kapilvastu in India and Lumbini and Tilaurakot in Nepal.
Many people also ask that if Kushinagar is in Nepal? The answer is no. Kushinagar was never a part of Nepal.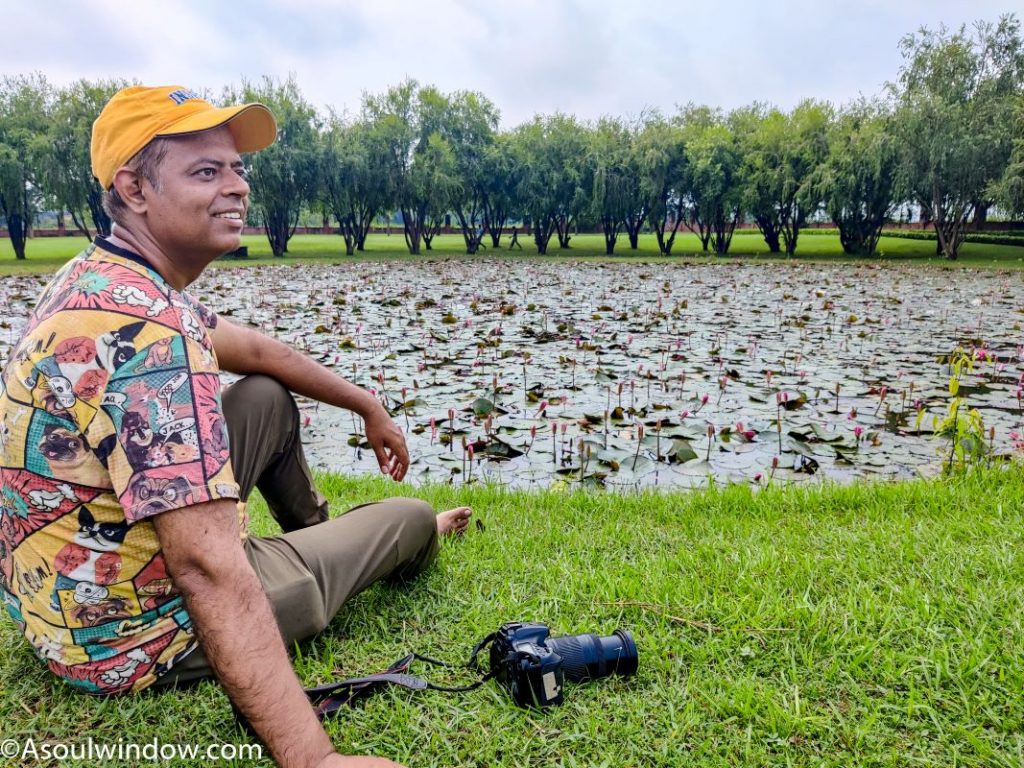 History of Kushinagar
The capital of the Mallas, Kushinagar was one of the 16 mahajanpads in the 6th century B.C.E. Kushinagar has had an interesting history over the years. Great Indian dynasties such as Mauryas, Shunga, Kushana, Gupta, Harsha and Pala had control over Kushinagar over centuries.
Till as late as 12th century C.E., Kushinagar was a thriving place until it was lost of time and fate. Madan Singh, the brave Rajput, was the ruler of the nearby Padrauna in 15th century C.E.
Let us look at the timeline below where the events from history unfolded.
This will give you a fair idea of 'what happened when' in Kushinagar.
Mahaparinirvana: 487 B.C.E.
It was in Kushinagar that a seriously ill Gautam Buddha arrived after 45 years of spreading and preaching Buddhism. It was in Kushinagar that Buddha Bhagwan addressed the sangha for the last time. Kushinagar was also where Lord Buddha ordained his last disciple. Finally, in the year 487 B.C.E., Gautam Buddha attained Parinirvana.
Maurya Era: 260 B.C.E.
One of my favourite historical figures Samrat Ashoka or the Mauryan emperor Ashoka-the great had visited Kushinagar as well in 260 B.C.E. In fact, King Ashoka has commissioned many Buddhist stupas and caityas in order to commemorate the place where Buddha attained Nirvana.
Kushan Era: 50-250 C.E.
Between 50 and 250 C.E., during the glorious Kushan period, expansion and addition to existing Buddhist sites was observed.
Gupta Era: 320-647 C.E.
Between 320 C.E. and 647 C.E., Kushinagar witnessed its golden era under the rule of the powerful Gupta empire. It was in the Gupta era, that the major expansion work of Parinirvana Stupa was carried out in Kushinagar. The reconstruction of Parinirvana Temple and the installing a colossal statue of reclining Buddha also took place during the Gupta period.
Excavations: March 1877
It was Alexander Cunningham, a British archaeologist who observed the presence of ruined reclining Buddha statue and a huge vaulted chamber. He concluded that the chamber was constructed around 637 C.E. The Parinirvana temple, reclining Buddha statue and many of the ancient Buddhist stupas were excavated and restored to their former glory by March, 1877.
Islamic Invasions: Who destroyed Kushinagar?
There were several Islamic attacks on Kushinagar due to which many stupas, statues and temples had been broken and turned into ruins.
Top places to see in Kushinagar
Despite being a very small destination, there are so many places to visit in Kushinagar. This is the most comprehensive travel guide on Kushinagar. Below are some of the most important places to see in Kushinagar.
Parinirvana temple and Stupa
Parinirvana temple is also known as theMahaparinirvana temple or Nirvana temple.This was the place where Gautam Buddha attained Parinirvana which means he achieved Nirvana before his death. This is why Kushinagar is the holiest of all Buddhist destinations of the world. Mahaparinirvana, the ultimate salvation is also spelt as Mahaparinibbana.
The top most important places to see Kushinagar is the Parinirvana Stupa. What makes Kushinagar the most important Buddhist pilgrimage in the world is the fact that it was in Kushinagar that Bhagwan Buddha died. Also known as the Mahaparinirvana of Buddha Bhagwan, the final moments of Lord Buddha were spent in what is now Kushinagar.
What we see today is a modern temple which was constructed by Indian Government in order to commemorate the 2500th year of Mahaparinirvana aka 2500 B.E. (Buddhist era). A colossal statue of reclining Buddha is housed inside the Parinirvana Stupa. A mention of Parinirvana Stupa has been observed in the historical book from 14th century known as Jami' al-tawarikh.
This temple was constructed in the year 1956 C.E. Both Parinirvana temple and Stupa are located next to each other. The beatific Buddha statue which measures a whopping 20 feet or 6.1 metres long rests peacefully on a stone slab. Built on red sandstone, it is curiously painted in a vibrant golden colour.
The head of Buddha Bhagwan is oriented towards north direction. He is depicted lying on his right side.
Why is Gautam Buddha Bhagwan shown as reclining? Well, this is how Buddha ji lied down when he attained the august state of Nirvana.
Unfortunately, during the restoration work carried out by Alexander Cunningham, the huge statue of reclining Buddha was discovered in pieces. The broken statue was reassembled along-with the fragmented pieces. The Parinirvana Temple was also repaired. The Archaeological Survey of India had also rebuilt the roof of the Parinirvana temple.
Alexander Cunningham observed that "the reclining statue of Buddha was visited by Hwen Thsang in the year 637 C.E. Building arches were known and practised by Hindus in those times."
Timings of Parinirvana Temple
Parinirvana Stupa of Kushinagar is openfrom 7 a.m. to 5 p.m.
Southern Ruins of Parinirvana Temple
These are ruins located towards the south of the stupa. There are several small stupas located in the southern direction. All of these are scattered around the main stupa and the raised platforms.
It is likely that these stupas were constructed by the followers of Buddhism who kept visiting Kushinagar over many years. The brickwork in the 2 notable bigger stupas is worth a dekko. These stupas are surrounded by a tall wall. These are one of the oldest structures found in Kushinagar. Some other ruins are also found here.
There is another rectangular shaped Stupa nearby. There is a long structure made of bricks inside the Stupa. It looks like a grave. Statues of meditating Gautam Buddha used to flank the 1.5 metres tall door here.
It is estimated by the historians that this cluster of ruins were constructed 7th and 8th century C.E. It is evident that heavy construction work underwent in Kushinagar right from Maurya period to 10th century C.E.
Northern Ruins of Parinirvana Temple
These are ruins located towards the north of the Parinirvana mandir and stupa. The remains of ancient buildings here are some of the oldest ones discovered in Kushinagar. The ruins here seem to date back to the powerful Mauryan period. The bricks used in these ruins can be distinguished as they as thicker, longer and wider. Many Mauryan bricks were recovered during excavation in Kushinagar. An ancient inscription or shilalekh and statue of a woman was also unearthed from here.
I walked around the many small stupas located in this cluster of ruins. Ruins of 2 square shaped buildings appear to be remains of an ancient Hindu temple. There is a tall wall here which touches the platform of Nirvana temple.
2 Viharas, a rectangular garden and several rooms with verandas in all directions were also found here. I was aghast to know that more of similar viharas which were found here were covered and grass, plants were grown over it in the year 1956. The inscription on the seals recovered from viharas date them to 9th and 10th century C.E.
However, even more ancient remains of long ruins exists in a lower part when you walk in the North West direction from the gate of Nirvana mandir. This ancient holy place is where many valuable articles were unearthed from. Some of the main objects discovered here are:
Seals with dates
Mahaparinirvana seals
Ancient idols and statues
Seals from Bhikshu Sangha
Remains of old terracotta vessels
Image of Samadhi of Buddha between 2 Shaalvriksh.
Statue of Maitreya Buddha in standing posture. It is made of terracotta.
Silver coins which belonged to the times of Damasena who was a Western Kshatrapa ruler.
From the inscriptions and above-mentioned objects, we know that these articles date back to around 4th century C.E. This is an important place of interest in Kushinagar.
Western Ruins of Parinirvana Temple
I was stunned to see ruins of 3 vihara on raised platforms. These were located just 91 metres or 298 feet away from the Parinirvana Temple. There are two wells located here and the main entrance, predictable faces east here. Much like most Buddhist monasteries, remnants of 28 rooms have been discovered around the Viharas.
It is possible that the Vihara was reconstructed at the same spot several times. This explains why it is built on a raised platform. Many seals were discovered from this site which indicates that it was built around 9th century C.E. Metal vessels were also unearthed from here.
There are many other vihara and large courtyards located in this area. Many of these Vihara served as the residential complex of Buddhist Bhikkhus and were built between 1st century C.E. to 7th century C.E.
In fact, during excavation here, a golden coin was discovered from the era of Chandragupta II (c. 375 – c. 415 CE). This corresponds to 4th century. The remains of a manuscript belong to Kushan era, which is 1st century, had also been discovered here.
Another interesting find here was pieces of a sandstone statue of Gautama Buddha built in Mathura style. Built in standing pose, the sculptor of this statue was named as 'Deen'. The name of the sculptor along with its date of creation (5th century C.E.) was clearly mentioned.
It is quite possible that 'Deen' was also the sculptor who built the statue inside the Parinirvana Temple.
Eastern Ruins of Parinirvana Temple
It is not clear that why the buildings in the eastern ruins were built. It is possible that these are also remains of an ancient stupa. There is no mention of this in records of Hiuen Tsang aka Xuanzang (604-662 C.E.).
Therefore, it is possible that it was built after 7th century C.E. Or who knows, we might just make a new discovery in future excavations. Some of the biggest bricks were used in the construction in these parts. Such bricks were widely used during the Maurya era.
Ramabhar Stupa: places to see in Kushinagar
Here is all that you wanted to know about Ramabhar Stupa. Located near the Buddha Ghat, Ramabhar Stupa or the Makutabandhana Chaitya is one of the top places to see in Kushinagar. A significant Buddhist Pilgrimage site, what makes Ramabhar Stupa so important is the fact that it was here that Bhagwan Buddha was cremated.
It is also said that a portion of ashes of Buddha Bhagwan were also kept here originally by probably the ancient Malla Republic rulers.
Still not many know that the location of Ramabhar Stupa was the exact spot where Lord Buddha attained Mahaparinirvana after he breathed his last in the year 483 B.C.E.
Malla Kings, who were a contemporary of Bhagwan Buddha, are credited with the construction of the circular Ramabhar Stupa in Kushinagar. It is possible that the Ramabhar Stupa is named after the pond or mound which is located next to it.
Also known as Mukta Bandhan Vihara or Mukut bandhan Chaitya, the Ramabhar Stupa is one of the holiest places for Buddhist pilgrims in the entire world. Kushinagar tour is incomplete without a visit to Ramabhar Stupa.
Located next to a pond, the diameter of Ramabhar Stupa is a whooping 154 foot or 47.24 metres at bottom and 34.14 metres or 112 feet at top. Ramabhar Stupa was excavated in the year 1910 C.E. Seeing and touching the ancient bricks here guarantees goosebumps!
Distances of Ramabhar Stupa from other major attractions of Kushinagar
Wat Thai Temple: 1 km
Parinirvana Stupa and Parinirvana Temple: 2 kms
Kushinagar Bus station: 4 kms
Timings of Ramabhar Stupa
Ramabhar Stupa of Kushinagar is open for tourists from 6 a.m. to 6 p.m.
Buddha's Relic Distribution Site: Aniruddhawa village.
While returning from Ramabhar Stupa to our hotel near the Chinese temple, Birla mandir and Burma Stupa, we also stopped at the Buddha's Relic Distribution Site in the Aniruddhawa village. This lesser-known place is where the corporeal remains of Lord Buddha was distributed to 8 kings. It is a very important Buddhist destination and still very few people visit it.
Even the locals do not know much about it. A signboard will help you find the location of this sacred site. This signboard appeared on the road just between Ramabhar Stupa and Matha Kura Shrine. You will also see a glimpse of rural homes and local lifestyle of Uttar Pradesh while visiting the Relic Distribution Site of Buddha in Aniruddhawa or Anurudhwa village.
Buddha Ghat of Kushinagar
Located on the banks of the Hiranyavati River, the Buddha Ghat was constructed to commemorate the cremation of Gautam Buddha. He was cremated near the banks of the river. It is not an overstatement to call Hiranyavati River as the Ganga River of Buddhists. Like how the Ganga River is sacred to Hindus, Hiranyavati River is sacred to Buddhist pilgrims.
Hiranyavati River which was neglected for decades by the Government, looked beautiful and peaceful when I visited Kushinagar. It is now being given its due respect and landscaping and cleaning work is done.
Stairs for Buddhist pilgrims, proper lighting, planting of lemon grass, facilities of drinking water, toilets and even boating is available near the Hiranyavati River at the Buddha Ghat of Kushinagar.
Hiranyavati Ghat had been used by locals for cremation. Earlier people used to dump garbage in the area around Hiranyavati River and Buddha Ghat. I was impressed to see the new spic and span version of Buddha Ghat.
Buddha Ghat is located at walking distance from Ramabhar Stupa. There are also many Hindu temples and sacred trees in the premises of Buddha Ghat. Clean benches are placed right next to the flowing water of sacred Hiranyavati river for tourists and pilgrims to sit on. I noticed that not many people visited Buddha Ghat. Or maybe I arrived too early.
The main ghats where tourists must visit are:
Buddha Ghat on Kushinagar Devariya Marg.
Karunasagar Ghat on Kasya Gorakhpur Marg.
Hiranyavati Ghat on Kasya Devariya Marg.
Matha Kuar Shrine: Place to see in Kushinagar
A huge Buddha statue which probably dates back to 10th or 11th century C.E. is housed inside the famous Matha Kuar Shrine. We know about the date of the construction of statue from a mostly illegible medieval inscription which was found on the pedestal of the serene Buddha statue. We also know from the medieval inscription that the Buddha statue of Matha Kuar Shrine was commissioned by a local Kalachuri chieftain.
This exceptionally beautiful Buddha statue measures a whooping 10 feet or 3.05 metres in height. This medieval statue depicts Buddha Bhagwan in the Bhumisparsha Mudra under the holy Bodhi tree of Bodhgaya. The Bhumisparsha Mudra is the earth touching posture of Buddha.
This unique Buddha statue was carved from the blue stone which was brought all the way from the holy Gaya region.
Discovered by Carlleyle during the extensive excavation work carried out in the year 1876 C.E., the medieval statue of Buddha is top attraction of Matha Kuar Shrine. When the colossal idol of Buddha was discovered here, it was found in 2 broken pieces.
Luckily, the priceless Buddha statue was soon restored by the archaeologists. Once the statue was re-joined to its original state, it was housed inside Matha Kuar Shrine in the year 1927 C.E. The temple was built in 1927 as well.
The original temple was located in the western direction. Originally an ambulatory path surrounded the Buddha statue where probably Buddhist monks performed kora or circumambulations. It is also known as parikrama by Hindus.
Towards its east direction, a Buddhist monastery and open courtyard existed. There were many rows of rooms built in East, South and North direction.
Located just few metres away from Mahaparinirvana Temple and Parinirvana Stupa, Matha Kuar Shrine is a must-see place in Kushinagar. Matha Kura Shrine is built within a huge monastic campus. Originally, the complex was a part of several group of many temples and monuments that once surrounded the Mahanirvana temple and the main Stupa.
Japanese Meditation Park of Kushinagar
Situated near the Nirvana temple, the Meditation Park is apt if you are looking for a yoga or meditation session in the tranquillity of a well-manicured garden. You can see maroon robed Buddhist monks chanting and meditating here.
Surrounded by tall Sal trees and flowering plants, the serene ambiance of meditation park of Kushinagar is located at walking distance from most of the major attractions of Kushinagar.
What is there to do in Kushinagar? There is not much else you can do here except sit, relax, meditate or maybe even take a quick nap. There are some raised platforms and man-made water bodies located near the gardens.
Also known as Japanese meditation park, it was constructed in 1992-1993 in collaboration of India and Japan. The golden Burmese Stupa is located right next to the meditation garden.
Buddhist Museum of Kushinagar: Must-see place
Located near the Tibetan temple, the Buddhist Museum or Kushinagar museum is one of the best places to visit in Kushinagar. The several exhibits at the archaeological museum acquaints the visitors with the life and times of Buddha Bhagwan.
Some of the best displays at the Buddha Museum of Kushinagar include statues, ancient sculptures, relics of Buddha, terracotta items, ancient coins, items recovered from Kushinagara and Kushana era artefacts that were found in Mathura.
Established in 1992-1993, the Buddha Museum of Kushinagar is located opposite Indo Japan & Sri Lankan Buddhist Centre. The spiritual energy of the garden engulfs the visitors as soon as he enters it.
Timings of Museum
The Kushinagar Museum is open from 10:30 a.m. to 4:30 p.m. It is closed on Mondays.
Birla Shiva Temple, Kushinagar
I started my Kushinagar tour with a visit to a Birla Shiva Mandir. Ironically, in a predominantly Buddhist pilgrimage, the first place I visited was a beautiful Hindu temple. I was lucky that I visited a Shiv temple early morning on a Monday: A sacred day for Shiv bhakts. What was unusual about this Shiva mandir was its architecture and the Garbhagriha.
Most Shiv temple globally have a sacred Shivling who Hindu devotees pray to. However, in the Birla temple of Kushinagar, we saw a breathtakingly beautiful marble idol of Shiv Bhagwan.
Shiv ji is depicted in a dhyan mudra (meditation), sitting in an erect posture on a tiger skin. This posture means represents the communion of Jeevatma (mortal humans) with Parmatma (soul of God).
It is unusual to see statues of idols of Shiv ji in the main garbhagriha or sanctum sanctorum of the temple.
That said, right at the entrance, the complex also had another small temple which enshrined a temple. Devotees offered milk and flowers and started their day with positivity and good energy, which a Hindu temple offers. Always!
There is also a Shri Birla Hindu Buddha Dharamsala in Kushinagar. Birla Shiva Temple of Kushinagar is located right opposite the Vietnamese temple. It is open from 6 a.m. to 8 p.m. Entry is free here.
Miniatures of Kushinagar Uttar Pradesh
You can also see the miniatures of world-famous Buddhist shrines in Kushinagar. This is one of the best hidden gems in Kushinagar.
Some of the miniature of 8 important Buddhist destinations in Kushinagar are:
Ellora Caves of Maharashtra
Bodh Gaya of Bihar
Sarnath of Uttar Pradesh
Shravasti of Uttar Pradesh
Nirvana Temple of Uttar Pradesh
It is located near the Vietnam Chinese temple. This place reminded me of my visit to 7 wonders in Kota in Rajasthan and Chardham of Namchi in West Sikkim.
Vietnamese Temple of Kushinagar
Also known as Linh-Son Vietnam Chinese Buddhist Temple, it is a must-see place in Kushinagar. A blend pf typical architectural style of Vietnam and China can be noticed here. Linh-Son Buddhists from Vietnam take care of this temple. This temple is one of the first few temples which we noticed during the start of our free walking tour in Kushinagar.
Some of the highlights of the Vietnamese temple are a Vihara, Dharma Hall, meditation hall and even a school. This temple also houses replicas of other Buddhist destinations. The architecture of the double storeyed temple is impressive.
Myanmar Stupa & Temple (Burmese Temple aka Burma Temple)
Also known as Samridhi Chaitya Stupa, it was constructed by Kushinagar Bhikshu Sangh. This colossal golden stupa of Kushinagar was built between the years 1997 and 2005. It was the first monastery when I started my tour of Kushinagar.
As I entered the monastery premises, I noticed a teacher instructing the schoolkids to do their morning prayers and exercise. This school is run by the monastery and is located within the temple complex.
I craned my neck to admire the 108 feet tall Pagoda, shining bright under the morning sun of winter. Interestingly, the Burmese Pagoda measure the same in diameter. I realised this as I did parikrama or kora around the sacred stupa.
As I circumambulated around the stupa, I noticed 4 beatific metallic statues of Bhagwan Buddha resting in 4 separate cardinal directions. Rows and rows of life-size statues of robed Buddhist monks with the begging bowl surrounded the stupa, as if giving me company on the parikrama or kora.
Apart from the school, the monastery also runs and manages a government Ayurvedic hospital, Homeopathic clinic and even Dharamshalas such as Chandramani guest house and Nepali Dharamshala.
What's more? Myanmar Buddhist Vihar is also in charge of performing the daily ritual prayer in the very sacred Mahaparinibbana temple, which is located at walking distance from the stupa.
In fact, the annual Buddha festival, celebrated on Buddha Poornima is also organised and managed by the Myanmar Buddhist Vihar. It is a must-include places in Kushinagar Packages. Entry is free here. There are indeed many free things to do in Kushinagar Uttar Pradesh.
Chinese Temple in Kushinagar
Chinese Temple is the first Buddhist temple I saw as I started my walking tour of Kushinagar. It is a huge temple with multiple levels. You can see Chinese style architecture and decorations even before entering the temple premises. Chinese Temple of Kushinagar is located near the Birla Shiv Mandir and Burmese Stupa.
Wat Thai Kusinara Chalermraj Buddhist Temple and Monastery
One of the top places to see in Kushinagar is Wat Thai Kusinara Chalermraj Buddhist Temple and Monastery. The typical Thai architecture, a stunning idol of Bhagwan Buddha and lovely gardens are some of the highlights of this Thai monastery.
Expect lots of flowers here during the winter. I have visited Thailand several times and can vouch for the authenticity of this Thai Temple in Kushinagar, India. It was as good as visiting Thailand again.
Tibetan Buddhist Temple of Kushinagar
Not many known about this lesser-known place in Kushinagar. Tibetan Buddhist Temple of Kushinagar is an offbeat place to visit. It has a beautiful monastery with an impressive idol of Gautama Buddha. A portrait of His Holiness Dalai Lama is placed next to the golden statue of Buddha.
There are lovely manicured gardens, Stupa and residential quarters in the campus of Tibetan Buddhist Temple of Kushinagar. If your timing is right, you can see hundred of butter lamps lit here. This is a free place to visit in Kushinagar.
Japanese temple in Kushinagar
The Japanese temple in Kushinagar is another interesting place to visit in Kushinagar. As is common in Buddhist destinations such as Vaishali, Bodhgaya and Nalanda in Bihar, many Buddhist places have temples from different South East nations. Japan is one of them. This is easily among the best places to visit in Kushinagar.
Sri Lankan Buddhist Temple in Kushinagar
When in Kushinagar, you must see the Sri Lankan Buddhist Temple in Kushinagar. You need to climb a few stairs to arrive at the main temple here.
As a huge domed bricked structure swallows you on first floor, you will find yourself engulfed by the spiritual aura of the shrine. An unusual idol of Gautam Buddha gives company to several Buddhist ritualistic objects and myriad ink paintings on the walls.
This temple was constructed in collaboration of Sri Lanka Buddhist Centre with AIK World Buddhist Culture Association Japan.
Korean Temple of Kushinagar
The recently built Korean Temple of Kushinagar is a must-visit place here. Managed by a South Korean society, this temple was built in the year 2000. There are rooms on ground floor but only Koreans can stay here.
The temple where Buddhist devotees worship the idol of Gautama Buddha is housed on the first floor. The Korean temple is located near Government Buddha Museum and Kushinagar Clinic. This is a free thing to do in Kushinagar.
Village walks in Kushinagar
Behind the spic and span roads of Kushinagar, lies a quaint village. If rural tourism excites you then you will love this experience. Much before Kushinagar was catapulted as an international Buddhist site, it was just another village of Uttar Pradesh.
Even today, during my Kushinagar visit, I could see and experience the village life of Kushinagar as I tried to search the Buddha's Relic Distribution Site in the offbeat Aniruddhawa village. By the way, did you know that my father's name is also Aniruddha?
Farms, homes, cattle and lush greenery greeted us as we navigated our way through the narrow lanes of the Aniruddhawa village. Even though I have been born and brought up in urban places of Uttar Pradesh such as Varanasi, Prayagraj, Lucknow etc, it was a novel experience for me.
You can just walk/drive here by yourself or hire a guide/rickshaw at a reasonable rate. It is an unusual thing to do in Kushinagar.
Maitreya Buddha Statue
Much like the 108 feet tall Maitreya Buddha Statue near Nubra valley and Mulbekh Chamba in Ladakh, plans are on to construct Maitreya Buddha Statue in Kushinagar as well. The grand statue of Maitreya Buddha Statue will be built next to the Parinirvana mandir, where Shakyamuni Buddha passed into Parinirvana.
The Maitreya Project was the brainchild of Lama Thubten Yeshe (1935-1984). Maitreya Project was initiated by Lama Yeshe in the year 1982. This was when he came back from his first trip to remote Tibet ever since he along-with many Tibetans left their land in the year 1959.
Lama Thubten Yeshe was the co-Founder of the Foundation for the Preservation of the Mahayana Tradition. Maitreya Buddha is also known as the future Buddha.
Soul Window Thoughts
Who would have thought that the Bhojpuri speaking land of Uttar Pradesh has links with Tibet in the Himalayas? And who would have thought that the very land of mostly Buddhist Tibet is also sacred for Hindus and Bon people of Tibet?
During my visit to Tibet as I performed the sacred Kailash Mansarovar Yatra, I was left speechless at the sheer energy of the place. Known as the abode of Shiv Bhagwan, the mere act of meditating in the shadow of the sacred Kailash Parbat turned me in to tears.
Do read my blogs on Kailash Mansarovar Yatra. It is the most ultimate of all Hindu pilgrimages. Whether it is the sacred Mansarovar lake, the inauspicious Rakshas Taal, the border town Taklakot aka Purang, Tibetan towns Kyirong and Saga etc, there is a lot to see in Tibet.
Abhinav Siingh of A Soul Window has been listed as the most successful travel blogger in India and top Indian Travel Bloggers on Youtube several times.
Excursions from Kushinagar
There are many interesting places in and around Kushinagar. Depending upon your budget and time, you can easily club these excursions by private cab or public transport such as train and buses. Some of the best places to see near Kushinagar are listed as below:
Kuber Asthan
Kuber Asthan is built by Lord Kuber, who is a God of wealth and a devotee of Shiv Bhagwan. Kuberasthan is located 20 kilometres away from Kushinagar and 9 kilometres from Padrauna on the Padrauna-Turkpatti road.
It is generally very crowded on Monday and on the festival of Mahashivratri. It is situated on a serene location. It sure is a must-visit place.
Sun Temple at Turkpatti Mahuaa
The Sun temple of Kushinagar dates back to the Gupta era. During excavations, 2 statues of Sun God, made in black stone were unearthed from here. The idol of Surya Bhagwan can be traced back to 4th-5th century C.E., which corresponds to the glorious Gupta era. Yes, this place is that old. It is a pity that it is still a lesser-known place.
The ancient idols, which belies the modern structure of temple, are still worshipped in the Garbhagriha.
Turkapatti Sun Temple is located an odd 25 kilometres away from Kushinagar. Do not miss this offbeat place near Kushinagar. It is one of the rarest Sun Temples of India. Monday and Friday is an auspicious time to be here.
Also read: Who damaged the Martand Sun Temple of Kashmir?
Kurukulla Asthan
This Hindu shrine which is devoted to goddess, Adi Shakti known as Kurukulla Devi was built by Nagarjun. Kurukulla Devi is the first and original power of the Universe.
Located in a tranquil place, people often visit this temple to meditate and do yoga. A thick forest and a river which surrounds the Ashram adds to its serenity. Kurukulla Asthan is situated just 8 kilometres from Kasia-Tamkuhi road.
Devraha Asthan
This temple is devoted to Jain Tirthankaras. It is an unusual place to see near Kushinagar.
Sidhua Asthan
Devotees throng Sidhua Asthan to offer their prayers in the temples devoted to Durga Maa and Hanuman ji. People also offer prayers over the holy fire in the Yagyashala. Located in Siddhanath, Sidhua Asthan is an offbeat place to see near Kushinagar.
Hindu Sadhus congregate here to improve their understanding of matters related to spirituality and religion. Many people also meditate here. This is an unexplored which is located away from the crowds.
Fazil Nagar or Pavanagar
Fazil Nagar is also called as Pavanagar. It was in Sathiyaon Village where Gautam Buddha is supposed to have his last meal. He fell ill in Kushinagar shortly after the meal and passed away. This is why Fazil Nagar is considered as a cursed place. Fazil Nagar is located 55 kilometres away from Deoria and only 69 kilometres away from my parent's hometown in Gorakhpur.
Pava stupa of Padrauna
Pava stupa is a very important place historically and spiritually for both Jains as well as Buddhists. Pava stupa of Padrauna is a lesser-known hidden gem near Kapilvastu. The ancient Pava, the city of Mallas, which is now known as Padrauna, dates back to the time of Buddha Bhagwan and Mahavira Bhagwan. Pava is located 15 kilometers away from Kushinagar in east direction.
Pava is significant in Buddhism because this is the place where Gautam Buddha had paid a visit to during his last journey. Do include Pava in your Kushinagar trip.
Padrauna Ke bauk
Being from Gorakhpur, my mother used to jokingly call me पडरौना के बउक or Padrauna ke bauk every-time I goofed up! Bauk means a fool! Balkuria ke bauk is also common. Balkuria is near Kushinagar.
Some relate it to goiter (ghengha) and limited mental capabilities which happened here due to lack of iodine in the well water and some attributed it to lack of education. However, things have improved now and in fact, Rajesh Singh who was the winner in Kaun Banega Crorepati Hindi and Bhojpuri also belongs to Balkuria.
Some also say, it was because some people here preferred to hear only loud sounds. I feel it is same se "Alibagh se aaya hai kya" (Have you come from Alibagh).
Last Meal of Buddha by Cunda
While coming from Bhogagama, a tributary village, Buddha Bhagwan had stayed at the wild mango grove of the blacksmith named Cunda. It was Cunda who had invited Gautam Buddha for a meal. He unfortunately ended up serving the last meal to Gautama Buddha.
This was also when Cunda Sutta was preached. After Buddha left Pava, he proceeded towards Kushinagar after crossing the Kakkuttha River, which fell on the way. Thus, some of the final moments of Gautam Buddha Bhagwan were spent in Pava and Kushinagar.
Did Buddha die of eating pork?
Sūkara-maddava has been recorded as the last meal of Gautam Buddha in Mahāparinibbāna Sutta of the Dīgha nikāya.
Sūkara-maddava was the last meal of Buddha which was served to him by Cunda. Since the literal meaning of Sūkara-maddava is 'soft pork', many falsely believed that Gautama Buddha died of eating pork.
Even the followers of Theravada tradition believe that Buddha ate pork as his last meal. I had closely observed Theravada tradition of Buddhism in Itanagar of Arunachal Pradesh and many places in Sri Lanka.
This myth about death of Buddha has been famously debunked by Mahāyāna Buddhists. They are firm that Buddha was a vegetarian and didn't consume meat. Buddha was a proponent of ahiṃsā was also against any kind of slaughter of animals.
It is also possible that Sūkara-maddava stood for 'pig's delight'. It could be a type of mushroom which the pigs foraged for and loved to eat, thereby explaining the use of the word Sūkara (pig).
It must be noted here that 'pork' in Pāli translated to sūkara-maṃsa and not sūkara-maddava as was believed by some. It has been thus concluded that much like how dog is not an ingredient in hot-dog, similarly, pork is not an ingredient in sūkara-maddava. In a nutshell, the answer is clear that Gautama Buddha did not die of eating pork.
Why Buddha died after eating mushroom?
Some scholars say that Gautam Buddha died from eating a poisonous mushroom or truffle. It is not very clearwhat Gautam Buddha actually ate as his last meal.
As per another school of scholars, Sūkara-maddava was a variety of mushroom that grew in the region. As per some claims, Cunda, the smith had served Buddha a stew which was made with 'fungus grown on a sandal wood tree'. This has been mentioned in the Chinese text Dirghāgama.
Dirghāgama is a respected work and is an equivalent of Dīgha nikāya of India. This had settled the debate on Sūkara-maddava to an extent. No many know that the fungus which is known as the 'ears of the sandal wood tree' is still eaten by many people in China.
As per botanical study by R. Gordon Wasson, Sūkara-maddava was indeed an Indic mushroom. R. Gordon Wasson had done extensive research in Odisha as well as Bihar, along-with his associate Heim. R. Gordon Wasson had concluded that Sūkara-maddava is the name of a fungus called as Pūtika.
What did Buddha say at the end of his life?
'Vayadhammā saṅkhārā appamādena sampādethā'
The above Pali phrase is translated as:
All saṅkhāras decay. Strive for the goal with diligence (appamāda).
These were the last words of Gautam Buddha. Buddha Bhagwan has announced to the sangha that he would soon attain Nirvana. The next thing Buddha did after announcement was ordaining Subhadda into the order personally. Subhadda was the last novice who was ordained.
As Gautam Buddha was breathing his last, he told the Buddhist monks to continue work towards their spiritual liberation by following his teachings. Buddha told to the Sangha at large that from now on, after he dies, Dhamma and Vinaya will be their teacher. He even confirmed if anyone had any doubts about his teachings. No one raised any doubt.
What does nirvana stand for?
It was after his last address that Gautam Buddha performed the final meditation and died. This stage is known as parinirvana or the final Nirvana. Parinirvana means the end of rebirth and suffering achieved after the body dies.
Who was near the death bed of Buddha?
Who attended Nirvana at Kushinagar? Ananda, who was the first and most faithful disciple of Gautam Buddha was the only person who was near the death bed of Buddha.
Gautam Buddha had told Ananda that Cunda or Chunda should not be held responsible for his passing. Buddha added that Cunda had in fact, achieved great karma by feeding him his last meal.
Gautam Buddha also told Ananda that he should be remembered in only 4 places viz.
Lumbini: Birth place of Buddha in 571 B.C.E.
Bodh Gaya: Buddha was enlightened here
Sarnath: Buddha preached his first sermon here
Kushinagar: Buddha died here.
Festival of Kushinagar
Buddha Purnima
Every year, on the occasion of Buddha Purnima, Myanmar Buddhist Vihar organises Buddha festival. Buddhist monks, tourists and locals arrive in Kushinagar in large numbers to take part in the annual festival.
Itinerary of Kushinagar-Shravasti-Kapilvastu-Lumbini Buddhist Circuit
We had travelled to Kushinagar by car from Lucknow. This is the itinerary we followed.
Day 1- 2nd October
We left Lucknow at 8:00 a.m. and reached Shravasti by 11:30 a.m. After completing sightseeing in Shravasti, we left at 5:15 p.m. and drove towards Barhni on the India and Nepal border. We stayed in Barhni overnight at Dashmesh Guest House. While chatting up with the dhaba-owner, we made an impromptu last-minute plan to visit Lumbini in Nepal during dinner.
Day 2- 3rd October
We left Badhni early morning at 7 a.m.
Before we reached Shohratgarh, we stopped at a picturesque railway crossing with undulating rice field and natural lotus ponds. It was a sight to behold. The weather and temperature were as good as it could get.
We arrived in Shohratgarh by 8 a.m. and had a breakfast of fresh poori with and odd combination of alu-chana-matar-soyabean (all vegan).
Next, we reached Ganwaria by 10 a.m. We could have reached one hour earlier but we had spent some time in shopping for some daily essentials in Shohratgarh. Distance between Shohratgarh and Kapilvastu is only 28 kilometres and it takes only 1 hour via Kapilavastu Road and Chilhiya – Shohratgarh Road.
Next, we headed towards the Piparahwa Stupa and Kapilavastu Museum. We completed sightseeing of Kapilvastu by 12:30 p.m.
On day 3 itself, we had been able to pack in a lot. We were able to reach Kakrahwa from Kapilvastu by 1: 15 p.m. and by 1:28 p.m. I was crossed over to Nepal. We completed our Lumbini tour by sunset and returned to Kakrahwa.
By 6:15 p.m. we were on our way to Kushinagar from Kakrahwa. We had stopped for a local sweet samosa and pakora-tea at a local dhaba. We then stopped at Shri Ram Dhaba at Jungle Chawri on Ganga Pandey Road of National Highway 28, Gorakhpur. We had an excellent meal of rice and naan with daal fry, tamatar sev and lip-smacking paneer dishes. You must eat here. It was one of our best meals on this route and didn't cost much. You can contact Shri Ram Dhaba at 9005029322
By 10:15 p.m. on day 2, we had arrived in Kushinagar. We were amazed that we had been able to pack in Barhni-Piparahwa (Kapilvastu)-Ganwaria-Kakrahwa-Lumbini-Kushinagar in just few hours. That is the benefit of hiring a car. We had found a hotel on arrival in Kushinagar and dozed off soon.
Day 3- 4th October
We started our Kushinagar sightseeing at 8:00 a.m. on foot. Our hotel was located near all the major attractions of Kushinagar, so we decided to do the famous free walking tour of Kushinagar. We were able to see all the top places to visit in Kushinagar by 12:00 p.m. We left Kushinagar by 12:30 p.m. and headed towards Maghar – Samadhi of Sant Kabir Das.
We arrived in Maghar by 2 p.m. We spent a good one hour here talking to the Pandit ji and Maulwi. At 3:15 p.m., we left Maghar and headed towards Ayodhya – Birth place of Shri Ram. But before that we stopped at Ravi Singh Dhaba and Family Restaurant near Raj Global School, NH – 28, Malorna, Sant Kabeer Nagar.
I absolutely loved their thali which comprised of Daal fry, Alu Bhujia, Paneer, roti, rice and salad. Their rich kheer laden with coconut and dry fruits was one of the best I ever had. Ravi Singh Dhaba and Family Restaurant can be contacted at 9450665644, 9838976033. You can call them up if you are not able to find their location on National Highway 28. We stopped at another place for tea at 5:40 p.m.
By 6:15 p.m., we had reached Ayodhya. We had a good darshan at the busy Hanuman Garhi and left Ayodhya by 7 p.m. We arrived in Lucknow by 10 p.m.
Again, we were happy that we were able to pack in the best places to see in Kushinagar-Maghar-Ayodhya-Lucknow within a few hours.
We had actually saved one day, as we had expected that it would take us 4 days to completer the Buddhist circuit of Uttar Pradesh. But we were surprised that we were easily able to explore the best of Buddhist places in Uttar Pradesh, plus bonus places such as Barhni, Kakrahwa and Lumbini in Nepal.
Souvenirs Shopping Guide to Kushinagar
There are several places in Kushinagar where you can shop for Buddhist souvenirs. From beautiful statues of Gautama Buddha in various mudras to stickers, magnets etc, you can buy a variety of souvenirs in Kushinagar. I had bought books on Kushinagar and Kapilvastu (Piprahwa) from a book stall outside the Mahaparinirvana Temple, which is also the top place to visit in Kushinagar.
Books recommendation on Kushinagar
I am proud to say that the book on Kushinagar was written by one of my relative Shri Bhagwat Singh ji (1914-200). He had also served as the principal of Buddha Inter College of Kushinagar. He was born and brought up in Kushinagar. It is a very detailed book and shares some rare information on Kushinagar.
Vegan and Vegetarian Food in Kushinagar
It is easy to find great vegan and vegetarian Food in Kushinagar. We had delicious samosa and chola outside the Birla Temple of Shiv Bhagwan. We also had fresh coconut water and sugarcane juice from roadside carts. For full meals, the hotels and restaurants of Kushinagar serve great tasting vegetarian and vegan food, which are mostly Awadhi, Indian-Chinese and Punjabi.
Poori-bhaji, sweets, jalebi and even fast food is easily available in Kushinagar. You can have lunch and dinner at the Pathik Niwas or any other hotels of Kushinagar. Also try to eat the original Kala Namak Chawal, a local speciality which was also consumed by Gautama Buddha Bhagwan himself.
Solo Trip Tips for Kushinagar
It is very easy to travel to Kushinagar. Thanks to great connectivity, safe surroundings and easy availability of low-cost hotels, Kushinagar makes for a great place for solo budget travellers like myself.
Backpacking Budget Trip Tips for Kushinagar
Kushinagar turned out to be one of the most low-cost places I have ever travelled to. The only thing I spent in Kushinagar was hotel and food. The cost of air-conditioned hotel and food is also very low in Kushinagar. All the places of interest in Kushinagar are located so close to each other that we actually walked from one attraction to another.
Luxury Travel Tips for Kushinagar
If you are a luxury traveller, you can simply book a cab from Lucknow and book a luxurious hotel in Kushinagar. Kushinagar might not have umpteen luxury facilities like nearby Lucknow, but some of the hotels in Kushinagar are 5-star. Needless to say, Lucknow has far more variety of world-famous 5-star hotel chains.
Expenses in Kushinagar
The expenses in Kushinagar are very low, because there are many free things to do here.
ATM in Kushinagar
There are some ATMs in Kushinagar. Lucknow has many more ATMs. In case you are planning to drive to Shravasti and Kapilavastu next, please ensure that you withdraw some money at Kushinagar because the other places do not have as many ATMs.
Is it safe to visit Kushinagar?
Yes, it is very safe to visit Kushinagar. Since, Kushinagar is a highly spiritual place, the security here is good. Also, the local people of Kushinagar are mild mannered and friendly. You can safely travel to Kushinagar in day and night.
Where to stay in Kushinagar
Kushinagar, being one of the most important spiritual destinations of the world, has hotels for all budget types. From luxurious 5 star stays to budget hotels and even a stay in a Buddhist monastery is a possibility in Kushinagar Uttar Pradesh.
Photography Tips for Kushinagar
I was able to take stunning shots of Parinirvana Stupa with a foreground of a water body next to it.
Taking pictures of the reclining statue of Gautam Buddha inside the Parinirvana Stupa is prohibited.
The 108 feet tall Myanmar Stupa & Temple or the Burmese Temple is a great spot for some photography. It is the most visually stunning edifice in Kushinagar.
Hire local tourist guide in Kushinagar
It is a good idea to hire a local guide who can show you the offbeat places to see in Kushinagar for a reasonable fee. The guides in Kushinagar speak good Hindi, English and other languages.
Languages spoken in Kushinagar
Hindi and Bhojpuri are the main language spoken in Kushinagar. Kushinagar after all is located in the Hindi heartland of India. It was also the first time I saw many Bhojpuri speaking Buddhist monks. Since many international tourists also visit Kushinagar, the guides can also speak good English and South East Asian languages.
UPSC Exam question on Kushinagar
Questions on Kushinagar are frequently asked in exams of UPSC Civil Services Preliminary Exam for for IAS, IFS, PCS. In this comprehensive guide on Kushinagar, you will find the answers to all the commonly asked questions on Kushinagar and Mahaparinirvana of Gautama Buddha.
Toilet facility in Kushinagar
Clean toilets are available at some places. The free public toilet I used near Mahaparinirvana Stupa was not clean though.
Entry fee in Kushinagar
Most of the top attractions of Kushinagar are free to visit. In fact, I did not pay any entrance fee at any of the tourist attraction of Kushinagar. I had not spent anything during the 4 hour long free walking tour in Kushinagar.
That makes Kushinagar a very pocket friendly and inexpensive place to see in Uttar Pradesh.
What to wear in Kushinagar
Kushinagar is a highly spiritual place. You must dress modestly. Avoid wearing short pants and short skirts in Kushinagar. One must dress as per the place. I was able to visit Kushinagar in just a pair of jeans and a cotton T shirt in October. From November to February, do carry woolens in Kushinagar.
Best Time to visit Kushinagar?
Winter
Winter is the best time to be in Kushinagar. We had visited Kushinagar on 2nd of October, which is the onset of pink winter in North Indian plains of Uttar Pradesh. The weather of Kushinagar was very pleasant during our visit. However, it did get a little warm post afternoon in Kushinagar in October. Comparatively, Shravasti and Kapilvastu were much colder since they are located closer to the Himalayan foothills of terai region.
Summer
Summers are hot in Kapilvastu. Having said that, it is still possible to visit Kushinagar in summer. You can stay cool by taking air-conditioned cars and staying in air-conditioned hotels.
Monsoon
Kushinagar is a popular destination in rainy season as well due to low temperatures and lovely weather.
How many days to spend in Kushinagar?
1 day is enough to see all the top places of Kushinagar. It took us just a few hours to visit all the sightseeing attractions of Kushinagar. You can take more or less time depending on your interest. We had preferred to park our car and walk to all the points of attraction in Kushinagar because they are all located on a same path. You can choose to take along your car.
Local Transport for sightseeing in Kushinagar
While returning from Ramabhar Stupa in Anurudhwa, we were tired of walking since morning. We had hired a shared battery-operated rickshaw which quickly dropped us at our hotel.
How to reach Kushinagar
The historic destination of Kushinagar is an easy and quick weekend destination from Lucknow, the capital of Uttar Pradesh. Below is a guide of all modes of transport to Kushinagar.
By car
Like us, you can make a memorable road trip to Kushinagar and other places in the Buddhist Circuit of Uttar Pradesh such as Shravasti, Piprahwa, Kapilvastu and Lumbini (Nepal). Located in the terai foothills of Himalayas, the places here are scenic.
By air
Kushinagar international airport has flighst from major place sin India and abroad. Another closest international airport from Kushinagar is located in Lucknow, the capital of Uttar Pradesh.
By train
There is no railway station at Kushinagar. Lucknow railway junction is the closest option.
By bus
Buses from Lucknow to Kushinagar are also available easily. You can sit on any Basti bound bus from Lucknow.
Distances from Kushinagar
Distance between Gorakhpur to Kushinagar is 55 kilometres and it takes around 1 hour 15 minutes via Gorakhpur-Kushinagar Road and Kasia-Gorakhpur Road.
Distance between Maghar to Kushinagar is 84 kilometres and it takes around 2 hours via NH27 and NH28
Distance between Basti to Kushinagar is 122 kilometres and it takes around 2 hours and 35 minutes via NH27 and NH28.
Distance between Kapilvastu and Piprahwa to Kushinagar is 163 kilometres and it takes around 3 hours 30 minutes via NH27 and NH28.
Distance between Ayodhya to Kushinagar is 195 kilometres and it takes around 4 hours via NH27 and NH28.
Distance between Shravasti to Kushinagar is 239 kilometres and it takes around 5 hours 15 minutes via NH27, NH28 and SH26.
Distance between Lucknow to Kushinagar is 325 kilometres and it takes around 6 hours 15 minutes via NH27
Conclusion: Why visit Kushinagar?
Is Kushinagar worth a visit? To summarize, Kushinagar is one of the most important places to visit for Buddhists from India and across South East Asia. It was in Kushinagar after all, where Bhagwan Gautama Buddha had breathed his last and attained Mahaparinirvana.
In a nutshell, the Parinirvana Stupa, Ramabhar Stupa and Buddha Ghat attracts not only Buddhists but people from all walks of life. Being an easy weekend getaway from Lucknow, Kushinagar is an easy place to get to.
The view from my Soul Window is austere!
Pin this blog to save the blog and plan a trip later!
Tales from Shravasti
Top Travel Blogger from India