Last Updated on March 26, 2022 by asoulwindow
About Kapilvastu
Kapilvastu in Uttar Pradesh, India has been identified as the place where Gautam Buddha spent much of his growing up years in. The ancient city of Kapilavastu was a prosperous place as it served as the capital of the famous and powerful Shakya clan.
Piprahwa and Ganwaria are the two main Buddhist pilgrimage sites in Kapilvastu of India. While Ganwaria has been known as the residential complex of Kapilvastu, Piprahwa was the centre for religious activities.
The Buddhist sites at Salargarh, Pipri Kot, Ghoswa Tila are the other major Buddhist destinations, located near Indian Kapilvastu.
What makes Kapilvastu such an important historical Buddhist place is the fact that King Suddhodana and his wife Queen Maya used to call Kapilvastu home. Gautam Buddha had spent the first 29 years of his life in Kapilvastu, which is the prime of his life.
Buddha lived here along with his wife and their son Gautam Buddha. Then known as Prince Siddhartha Gautama, he is said to have left Kapilvastu at the tender age of 29 years.
The same has also been mentioned in ancient Buddhist text such as Pāli Canon. Since, it was the capital of the Shakyas, where Suddhodana, father of Buddha Bhagwan ruled, it is concluded that Kapilvastu was where Lord Buddha spent his childhood.
This is the most comprehensive travel guide to Kapilvastu of India, Piprahwa Stupa and Ganwaria excavation site. I have researched on Buddhist Circuit of Uttar Pradesh for a long time before writing this detailed travel guide to Kapilavastu. The valuable information which I have shared here is no-where to be found in old school, traditional guide books.
Nomenclature of Kapilvastu
From the ancient Buddhist scriptures, we know that Kapilvastu was named so after a Vedic sage known as Kapila. The other name of Kapilvastu is Kapilbastu. Kapilvastu of India is not to be confused with Kapilvastu of Nepal, which is just across the border.
Soul Window facts
Did you know that Siddharth Nagar was named after the childhood name of Gautam Buddha which was Siddharth?
Where is Kapilvastu located?
Kapilavastu is located in the terai region of Siddharth Nagar in Uttar Pradesh. Birth places of Buddha which is known as Lumbini of Nepal is located in the north direction of Kapilvastu.
While district Maharajganj is located towards the east of Siddharth Nagara, district Basti is located in south and the border of Balrampur district is located towards the west.
Indo Nepal border Badhni or Barhni (where we stayed) and Kakrahwa (we crossed over to Nepal from here) are also located near Piprahwa and Kapilvastu.
The other major tourist attractions located near Kapilvastu are Shravasti, Kushinagar, Maghar, Sohelwa Wildlife sanctuary, Katarniaghat Wildlife sanctuary, Dudhwa national park, Lucknow etc.
History of Kapilvastu: The Piprahwa Debate
What is the secret of Piprahwa Stupa? This is a frequently asked question and a burning topic since a long time. Different scholars and historians have held various views on the historical site of Piprahwa.
I am explaining the mystery of Piprahwa Stupa in great detail here. From the historical records we know that prince Siddharth (before he became Gautam Buddha) was raised in 3 palaces which were home for monsoon, summer palace and winter palace.
This is why historians and archeologists have concluded that Tilaurakot and Piprahwa could have been a part of Kapilvastu. Interestingly, archeological remains were excavated in both Tilaurakot of Nepal as well as Piprahwa of Uttar Pradesh in North India, thus adding fuel to the long-standing controversy surrounding the exact location of Kapilvastu.
Kapilvastu in Chinese text
As per an ASI signboard at Piprahwa,
"During extensive excavation at Piprahwa, earliest relic-casket with Brahmi inscription were found here. These inscriptions mentioned erecting of the Buddhist stupa over the corporal relics of Sakyamuni or Lord Buddha.
It is also attested from the descriptions of Chinese traveler Fa-Hien, who in the 4th century C.E. found it like a desert with neither King nor people, except for a congregation of priests and about 10 families of lay people.
Later, during the 7th century C.E., Hiuen Tsang, who was also a world-famous Chinese traveler also paid a visit to the places in Kapilvastu and wrote similar accounts of the Buddhist sites. It is clear from old Chinese texts that the site remained in same condition even after many centuries."
The mention of Kapilvastu has been found in the records of the famous Chinese travelers Fa Hien aka Faxian and Hiuen Tsang aka Xuanzang, who traveled to India in 4th century C.E. and 7th century C.E. respectively. These Buddhist monks from China made early pilgrimages to many other Buddhist sites in India as well such as Vaishali, Rajgir and Nalanda University in Bihar in North India.
Fa Hien had clearly mentioned that Lumbini was around 9 miles east of Kapilvastu. While traveling in the Buddhist circuit of Uttar Pradesh in India and Lumbini in Nepal, I realized that this is still true. The Kapilvastu of India aka Piparahwa is really that close to Lumbini in Nepal. However, that said, the accounts of Hiuen Tsang, who traveler later, differed.
History of Kapilavastu as per Indians
Therefore, as per Führer (1897) and P.C. Mukherjee (1898), Tilaurakot which is located in the Taulihawa district of Nepal, was the actual site of Kapilvastu.
During the excavations led by P.C. Mukherjee, 4 objects made with sphatik and 1 object made with selkhadi pathar (stone) were discovered.
Thanks to the discovery of ancient sites at both the places, it is also possible that perhaps there were two Kapilvastu which existed back then, one at Piparahwa in India and another at Tilaurakot in Nepal.
Mrs. D Mitra from Archeological Survey of India aka ASI, led an excavation team in the Terai region of Nepal in the year 1962 C.E. Extensive excavations were carried under her tutelage in Tilaurakot and Kodan. Despite the mammoth efforts, she failed to find any evidence which suggested that Tilaurakot was the ancient city of Kapilvastu.
She concluded that if Nyagrodharma (not to be confused with Nyagrodhika town) meant Piparahwa which is quite possible, then the site of Kapilvastu must exist in the mounds of Piparahwa and not Tilaurakot which is located close and yet quite far away.
Mrs. D Mitra also states that the ancient inscription of the reliquary which was unearthed in the Piparahwa stupa along with the accounts of Chinese pilgrim traveler Fa-hsien regarding the distance of Lumbini with Kapilvastu are proofs enough that Piparahwa and Ganwaria of Uttar Pradesh, India are indeed the actual Buddhist sites which was known as Kapilvastu in Buddha's times.
However, some scholars and Nepalese people continue to address Tilaurakot as Kapilvastu. In fact, many official Nepalese records mention Tilaurakot and Taulihawa district of Nepal as Kapilvastu.
Soul Window Thoughts!
I also doubt what if it's the same land which extended all the way from Tilaurakot in Nepal to what is now Piparahwa in India. After all, there were no international borders back then.
Also, during my road trip across the Buddhist circuit of India and Nepal, I found most Buddhist sites such as Lumbini, Tilaurakot, Piparahwa, Shravasti and Kushinagar to be located in great proximity with each other.
What if it was just one big kingdom? And what if we have not excavated enough?
Inscription of Piparahwa: Kapilvastu of India
One of the inscriptions or abhilekh unearthed in Kapilvastu, Piparahwa stated,
"Sukiti bhatinam sa-puta-dalanam,
iyam salila nidhane Budhasa bhagvate sakiyanam."
Historians have translated the inscription as below,
"The relics of Buddha Bhagwan was installed here by Sukriti brothers along with their sister, son and wives."
It is clear from Piprahwa inscription that the relics of Buddha were placed here by Sukriti along with his family.
Written in the ancient Prakrit language and ancient Brahmi lipi (From Maurya period) orscript, this inscription was discovered on the lid of a steatite casket. The inscription mentions about Gautam Buddha, the community that surrounded him and about the Sakyas.
This is why some historians firmly believe that the sites of Piparahwa and Ganwaria in Uttar Pradesh, India is where Kapilvastu of Buddha's childhood existed. The inscription also mentions the enshrinement of Buddha's relics by the Shakyas.
It is concluded by archeologists and historians that the inscriptions date back to 3rd century B.C.E., much before the time of Ashoka – the great!
Also read: The Aihole Inscription on Mahabharata
Other evidences
Thanks to the famous Buddhist text Mahaparinibbanasuttanta, it is a well-known fact that upon cremation of Gautam Buddha in Kushinagar, also in Uttar Pradesh, India, the Shakyas of Kapilvastu were one of the 8 claimants who were handed over a portion of Buddha's relics.
Much like the other relic stupas of Buddha, found across the ancient land of India, the Shakyas too built a stupa enshrining the pious relics of Buddha.
Some scholars also hold the belief that the inscription and casket found in Piparahwa is not the original one which was enshrined in the Piparahwa stupa at the time of Buddha's death or Mahaparinirvana.
This is so because the inscription is believed to be dated to the 3rd century C.E. while Buddha passed away in the year 483 B.C.E. It is quite possible that the inscriptions and caskets discovered by Peppe belonged to a much later period. It could have been engraved during renovation and reconstruction of the stupa. The caskets discovered by Peppe were found 10 feet deep in stupa of Piparahwa.
Excavations at the Piparahwa Stupa
This led to further excavations at the Piparahwa Stupa. What archeologists found was nobody's expectations. Approximately 6 centimeters thick mud deposits were unearthed at a spot which was much lower than the spot discovered by Peppe. These were located near the last structure of burnt bricks and chamber. The 2 chambers measured 82 x 80 x 37 centimeters.
Separated with 65 centimeters of pebbles and yellowish compact clay, these chambers were similar in shape. These chambers were located 6 meters from the head of Piparahwa Stupa. The trench for this discovery was made in the North east quadrant. The shaft which Peppe had bored could also be observed during these later excavations.
Discovery of Bone ashes relics
What excavators found blew their minds! Many neatly placed sacred relics were unearthed in the brick chambers. The soapstone casket and dish, packed with much care were one of the biggest discoveries made here.
Fragments of charred bones were found in the casket. Hidden behind the protection walls of the bricks, a larger soapstone casket was discovered. The lid of this casket was found in broken condition. Charred bones were found in this casket as well when the archeologists removed the layer of mud which had accumulated over centuries. These caskets were found in the northern chamber.
The red ware dish was covered by another dish which was broken into 3 pieces at the time of discovery. The archaeologists could not conclude the contents of the dish as it was badly damaged and full of mud. However, no bone fragments were discovered in the dish. These discoveries were found to be much older than what Peppe had discovered.
Who built Piparahwa Stupa?
This is why it also indicated that the Piparahwa Stupa was built by Sakyas of Kapilvastu when they were handed over their share of Buddha's relics after he was cremated in Kushinagar, just few kilometers away.
Kapilvastu Excavations of 1973
The Piparahwa aka Kapilvastu excavations of 1973 were carried out mostly around the ruins of eastern monastery. Around 40 terracotta seals with inscriptions were discovered here. They lied buried 1.05 and 1.75 metres under the ground. The mostly round sealings were found scattered. Some sealings were also oval in shape. These sealings are written in the ancient Brahmi script of the 1st-2nd centuries C.E.
Some of the inscriptions on sealings as per their classification are as following:
Om Devaputra Vihare Kapilavastu Bhikshusamghasa (group 1)
Maha Kapilavastu Bhikshusamghasa (Group 2)
The sealings in 3rd group mention the name of monks of those times. Sarandasasa is one of them.
Soul Window Facts
Interestingly, the inscription of Om Devaputra Vihare Kapilavastu Bhikshusamghasa (first group) was also noticed on the pot lid discovered in the eastern monastery in the year 1974.
From the mention of Kapilvastu on the inscription of pot lid and the sealings, it become clear that the actual Kapilvastu where Bhagwan Gautam Buddha spent his childhood days was indeed Piparahwa in the present Uttar Pradesh in India.
The discoveries also made it clear that the monastery was inhabited by the monks of Kapilvastu. The mention of the word Devaputra suggests that Kushan Kings had commissioned the construction of the monastery.
When was Piprahwa Stupa built?
It is now a known fact that the Sakyas of Kapilvastu had built the Piparahwa Stupa over the pious relics of Buddha Bhagwan.
In fact, the Piparahwa aka Kapilvastu stupa was originally built in the 3rd century B.C.E. and later additions were made by the Kushan Kings. The Kushans constructed a square base with niches.
So, who places those sacred caskets in the deep brick chambers? It was the Shakyas Kings of Kapilvastu. The 5 caskets in a huge coffer and other objects were kept in Kapilvastu Stupa in 3rd century B.C.E. The caskets unearthed by Peppe belonged to the Kushan era.
Findings
The above-mentioned evidences such as findings from monasteries and the Shakyan stupa of Piparahwa helped establish the actual location of Kapilvastu of Buddha's times. It is also known as Kapilbastu.
Soul Window Facts
Did you know that the relics discovered later could belong to 5th-4th century B.C.E. One of the factors which led to this conclusion by the archeologists was the fact that the caskets were discovered in deposits which were similar to the Northern Black Polished Ware which was prevalent between 700 B.C.E and 300 B.C.E.
However, as per new studies and discoveries, Indian archeologists have concluded that the era of Northern Black Polished Ware aka NBPW could date back to 1200 B.C.E. as is seen in the Nalanda district in Bihar, the neighboring state of Uttar Pradesh in North India.
A place known as Juafardih (ancient Kulika as per Xuanzang) is where earliest records of Northern Black Polished Ware have been unearthed. Juafardih is located just 3 kilometers away from the famous ruins of ancient Nalanda University. Do read my blog on Nalanda which I visited during a tour of Buddhist circuit in Bihar.
What's more? Similar archeological sites have been excavated in Ayodhya in North India and Ter Kala Dheri and Akra in Bannu in Khyber Pakhtunkhwa in Pakistan (what was once India).
From carbon dating, we know that the Ayodhya site dates back to 13th century B.C.E or 1000 B.C.E. and the Bannu site dates back to 1000-400 B.C.E. and 900-790 B.C.E.
These new NBPW datesare rewriting the history of Indian subcontinent. It was later replaced by red ware pottery.
About Piprahwa Stupa
All you wanted to know about Piprahwa Stupa is shared here. Piprahwa is the main place to see in Kapilavastu of India. Prince Siddharth had spent the first 29 years of his life in Piprahwa. As I looked at the ruins, it appeared more of a monastery rather than a royal palace.
There are several monk quarters and other ruins which reminded me of my trip to the ruined premises of Nalanda University in Bihar. Do read my blog on who destroyed Nalanda temple.
Abhinav Siingh of A Soul Window has been mentioned as the most travelled person in India and Best travel influencers India many times.
It was at Piprahwa Stupa that the Shakyas Kings had buried a part of his remnants which they brought all the way from the nearby Kushinagar after the Mahaparinirvana of Gautama Buddha. They had then built the Piprahwa Stupa above the relics of Buddha.
Piprahwa Stupa was built over 3 phases in different periods.
Phase 1
In the first phase a tall Stupa made of mud was built here, much like how Hindus used to bury their sacred. A small chamber was built with bricks in the middle of this stupa. This is where a part of sacred bone ashes of Buddha was kept. A Pradakshina Path was built around the mud stupa.
Phase 2
Another Pradakshina Path was built around the above-mentioned structure in phase 2. In this stage, the stupa was made on two levels. This was when the casket with inscription in Brahmi lipi was kept. Relics of Buddha were kept in this casket, making it one of the most important archaeological find!
Phase 3
In phase 3, the size of the Piprahwa Stupa was enhanced after it was surrounded by broader and stronger hathpathua or hand-made bricks. This was also when the round shape of Stupa was re shaped as a square stupa. The diameter of the gumbad or dome had also increased in stage 3. The proof of ornate bricks around the stupa have also been unearthed on all sides of stupa.
Why is Kapilvastu famous?
What is so special about Kapilavastu of India? Identified as the ancient Kapilvastu, the sites such as Piprahwa and Ganwaria hold immense importance in the history of Buddhism. Kapilvastu has been frequently mentioned as a glorious town and native place of Lord Buddha in sacred Buddhist literature and text.
Being the capital of King Suddhodana, who was father of Gautama Buddha and the chief of the famous Sakya clan, Kapilvastu hold immense significance.
Kapilvastu is directly associated with the childhood of Buddha Bhagwan who had spent much of his early life here as the privileged prince Siddhartha. When Buddha was 29 years old, he had left behind his home, son, wife and all the royal privileges in order to seek salvation and truth.
This famous episode is called as the Mahabhinishkraman or the great departure in the Buddhist literature. This is why Kapilvastu is famous across the world.
Why is Piprahwa stupa world famous?
What is special about the Piprahwa stupa? The otherwise nondescript border village of Piprahwa has always been famous ever since it houses the ancient Buddhist stupa.
But what really makes Piprahwa stupa world famous is the fact that many historians and archaeologists have concluded that this was where a portion of ashes of Buddha were buried by the Shakyas. These ashes were handed over to his own Shakya Clan after the Mahaparinirvana.
Piparahwa of Kapilvastu of India is also famous because Gautam Buddha had spent much of his childhood here. Kapilvastu is also famous because it is the capital of the powerful Shakyas. This is why, since more than 2,000 years Kapilvastu of India has been a significant religious and historical place.
No wonder, the devout Buddhists from as far as Japan, Myanmar, China, Sri Lanka, Thailand and Nepal visit Kapilvastu of India frequently.
Places to see in Piprahwa Stupa Complex
Below are some of the top places to see in Piprahwa Stupa complex:
Stupa
Shrine 1
Shrine 2
Public Hall
Votive Stupa
Eastern Monastery
Western Monastery
Northern Monastery
Southern Monastery
Below is a detailed explanation of the historical sites of Piprahwa and Kapilvastu.
North Vihara of Piprahwa stupa
The remnants of this Vihara are located towards the north of the main stupa at Piprahwa. It is a small site when compared to other viharas discovered here. There is a large square shaped courtyard in the middle of the North Vihara. There are 16 small rooms with verandas located on all 4 sides of this courtyard.
The remnants of another Vihara are discovered between the North and East Vihara. The walls here are not as thick. This Vihara is rectangular in shape. Rooms surround another courtyard here.
South Vihara of Piprahwa
This square shaped Vihara is located towards the southern direction from the main stupa of Piprahwa. The main entry of South Vihara which has a width of 5.60 meter, faces the auspicious east direction.
There are a total of 21 small rooms that surround the courtyard here. What impressed me was that they had even built a sophisticated drainage system for the exit of water in the courtyard.
East Vihara of Piprahwa
This Mahavihar is located towards the North East direction of the main stupa of Piprahwa. The main entrance of the east vihara faces towards west direction. Ruins of 2 rooms have been observed on one side of the main entrance here.
There are a whooping 33 small rooms that surround a courtyard here. Remnants of verandas have been discovered here too. These rooms were plastered with mud. The East Vihara here was constructed over 4 stages in different periods. The initial Vihara was built by Shakya Kings and donated to the main Bhikshu Sangha.
Partial changes in layout were made to the East Vihara during all the 4 phases. However, the main entrance of the East Vihara always faced towards west.
Nyagrodharam Vihar is the other name of East Vihara of Piprahwa. In the times of Buddha, there used to be several Peepal trees (a fig tree or Ficus religiosa) here. Gautam Buddha used to meditate here under a colossal Pipal tree. This was the place where Nyagrodharam Vihar was built. He was visited by Mahanama Shakya. Buddha visited Nyagrodharam Vihar several times.
I looked around and saw many Peepal tree in the vast gardens of Piprahwa Stupa campus. Even today, there are many Peepal tree at many places in Kapilavastu of India. This is one of the reasons people across India worship Peepal tree and it is considered inauspicious to destroy a Peepal tree in both Hinduism as well as Buddhism.
Western Vihara of Piprahwa
Located just 100 meters away from the main stupa of Piprahwa in the west direction, it is a must-see place in Kapilavastu. Comparatively, this is a taller structure here. I saw a mango garden located towards the north direction of West Vihara.
The western vihara of Piprahwa was constructed with hathpathua aka hand-made bricks. Built in 3 different phases, the size of this vihara is comparatively smaller. This square shaped vihara faces east direction. Ruins of 2 small rooms have been excavated on one side of the main entrance here.
During excavation in Western Vihara of Piprahwa, iron nails and ancient coins etc were unearthed from here.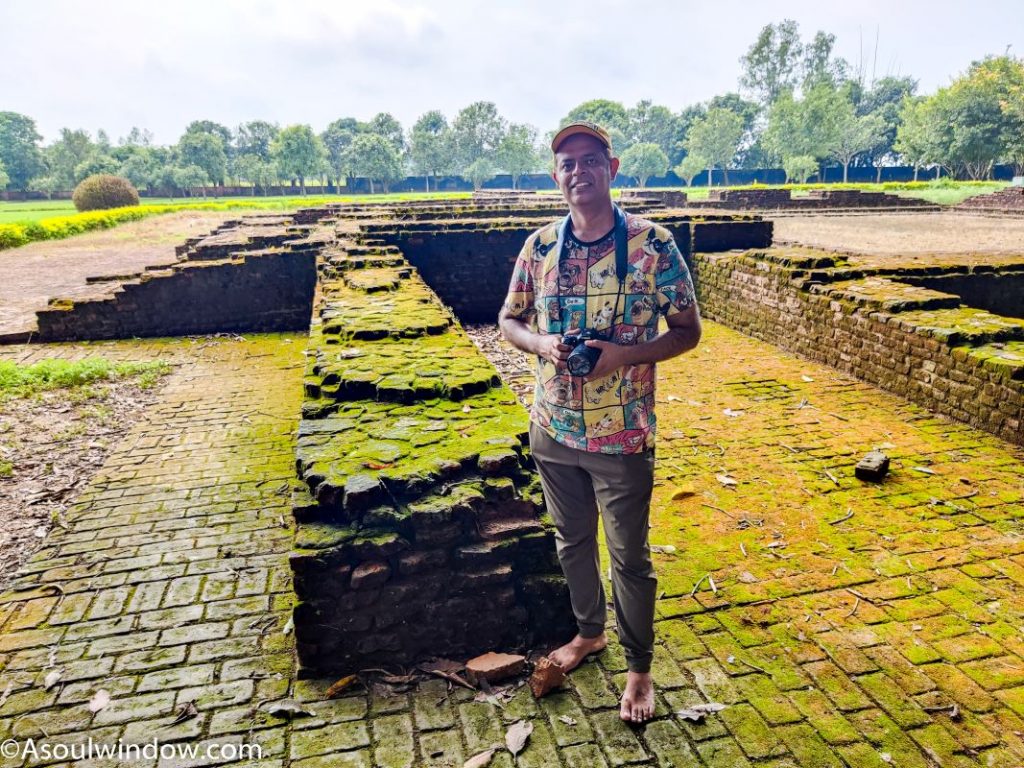 Soul Window Facts
It is said that Mahaprajapati Gautami used to stay here with other bhikkhuni or bhikṣuṇī. Did you know that Mahāpajāpatī Gotamī was the step-mother, maternal aunt (mother's sister) and foster-mother of Bhagwan Buddha?
This is also a lesser-known fact that Mahaprajapati Gautami was the first woman who had sought ordination for women. She did this directly from Buddha Bhagwan. This is how first bhikkhuni (Buddhist nun).
Manauti Stupa
As I walked around the Piprahwa garden, I noticed the ruins of a small Manauti Stupa which was located towards the south direction of Piprahwa stupa. It is a badly damaged structure. Not much is left of a place which was used for Manauti and worshipping Gautam Buddha. Ruins of a small, square shaped stupa nearby have also been excavated here.
Nyagrodharam Van
When the Buddha visited Kapilvastu (Piprahwa) for the first time, he had stayed at Nyagrodharam Van. This forest was known as Nyagrodharam Van because there were many Peepal trees here. Gautam Buddha used to meditate here and give Dharmopadesh or sermon to his followers, devotees and Bhikkhu here.
The Shakya Kings had built a huge Vihara known as Nyagrodharam here and gifted it to the main Bhikkhu Sangh here. Visiting here is an unusual thing to do in Kapilvastu.
This is also where Rajkumar Nand or Sundarananda Shakya (half-brother of Gautama Buddha) and Rahul received Pabbajjā or Pravrajya. Pravrajya is the process of leaving the worldly affairs and adopting an ascetic lifestyle.
This is also where Buddha performed his 15th Varsha Vass. Even today, the Buddhist Monks meditate during Varsha Vaas at places such as the Royal Thai Temple of Bodhgaya in Bihar. Varsha Vaas or the rainy retreat is an important ritual observed by many devout Buddhists across the world.
Where is Kapilvastu aka Piprahwa located?
Lying in the foothills of the great Himalayan range, the ancient Buddhist destination of Piprahwa aka Kapilvastu of India is located near Naugarh which is the headquarters of Siddharthanagar district in Basti near the border of Uttar Pradesh in India and Lumbini in Nepal. My father lived for some time near Kateshwar Park in Basti.
History of Kapilavastu Piprahwa
Kapilvastu was discovered in the year 1891 C.E. It was discovered much later after the site of Lumbini or Rummindei was identified in the terai region of Nepal. I had visited Lumbini after the Kapilvastu trip. It was where Bhagwan Buddha was born.
Excavation by William C Peppe
Colonial historian William C Peppe has been credited with the excavation of the Piprahwa Stupa or Stupa of Kapilvastu, India in the year 1897-1898 C.E. It was then buried under mud and dense bushes and plants had claimed it. However, I am sure that the locals always knew of it.
Relics of Buddha and ancient Brahmi inscriptions were also discovered in Piprahwa Stupa. This indicates to the involvement of kinsmen in burying the relics of Bhagwan Buddha. 5 caskets, related sacred objects were discovered in a large sandstone box, buried approximately 18 feet below the top of stupa.
Excavation by K.M. Srivastava
Talented Hindu archaeologist K.M. Srivastava did unprecedented excavation of Piprahwa Stupa on a large scale. The intensive excavations of Piprahwa Stupa were carried out under his tutelage from 1971 to 1974 and 1977.
One of the key discoveries made by Shri K.M. Srivastava was the casket which mentioned about the consecration of the corporal relics of Sakyamuni aka Buddha.
One large Stupa, Buddhist Vihara and 4 ancient Buddhist monasteries were also discovered during the excavations in Piprahwa under the supervision of Mr. K.M. Srivastava.
Buddha Paripath
Thanks to the upcoming Buddha Paripath funded by the Japanese government, the ancient sites of Piparahwa and Kapilvastu is being developed into an important Buddhist Circuit route straddling between both India and Nepal in South Asia.
The Indian government has been compensating with hefty money and buying land from the local landowners, including the agricultural fields of my mausi's Tau Sasur (maternal uncle in law) in order to build the Buddha Paripath or the Buddha Circuit in this part of India.
Places to see in Kapilvastu
Ruins of ancient Buddhist monasteries can be seen all across Kapilvastu and nearby places such as Shravasti and Kushinagar. During my visit, I observed numerous ancient structures such as an old stupa and Buddhist monasteries located around the main stupa.
Two more localities, namely Ganwaria and Salargarh, which holds secrets to the remains associated with the ancient town of Kapilvastu are also located nearby.
Piprahwa Stupa
It is surprising that such an impressive Buddhist Stupa is not as popular as Stupas of Sarnath or even Kushinagar, despite being located so close to it. The main stupas here is the most ancient and sacred of all the places of interest in Kapilavastu.
It is the top place to see in Kapilvastu. Piprahwa Stupa is located on the Birdpur-Aligarhwa road in Siddharth Nagar District of Uttar Pradesh.
Kapilavastu Museum aka Piprahwa Archaeological Museum
Kapilavastu has great historical and spiritual significance. In order to educate the Buddhist devotees, travellers and tourists, a museum was set up in the year 2009. The museum is built very close to the site of Piparahwa stupa.
Kapilavastu ArchaeologicalMuseum displays some of the very rare finds which showcases different aspects of life of Gautama Buddha. It also throws light on ancient history of Kapilvastu of India. The antiquities which were recovered from places associated with Kapilvastu are exhibited in kapilvastu Museum. Some of the important displays of museum are terracotta figures, arrow-heads, sealings, antimony rods, bangles, beads, old coins and pots.
The items excavated from Ganwaria and Kapilvastu have been neatly displayed in the galleries of Kapilvastu Sangrahalaya. Similarly, many pictorial depictions of important events from life of Buddha are also on display here. It is an important point of attraction in Kapilvastu.
It must be noted that the asthi-kalash or the casket which contained the bone ashes of Buddha is displayed at Indian Museum of Kolkata at present.
Kapilavastu Museum is located at walking distance from Piprahwa and driving distance from the excavated site of Ganwaria (1 kms). The museum of Kapilavastu is managed by ASI or Archaeological Survey of India.
Ganwaria Archaeological Site near Piparahwa
The mound of Ganwaria was next excavation site in Piparahwa. In fact, arriving from Barhni aka Badhni, the last Indian town at the India-Nepal border, it was Ganwaria which appeared first in our route.
I could have missed it as our car wheeled away. This place of interest is not well known after all. It was a deserted site in the middle of nowhere, I observed. Just a security guard and a self-appointed unlicensed tourist guide manned the entrance of Ganwaria.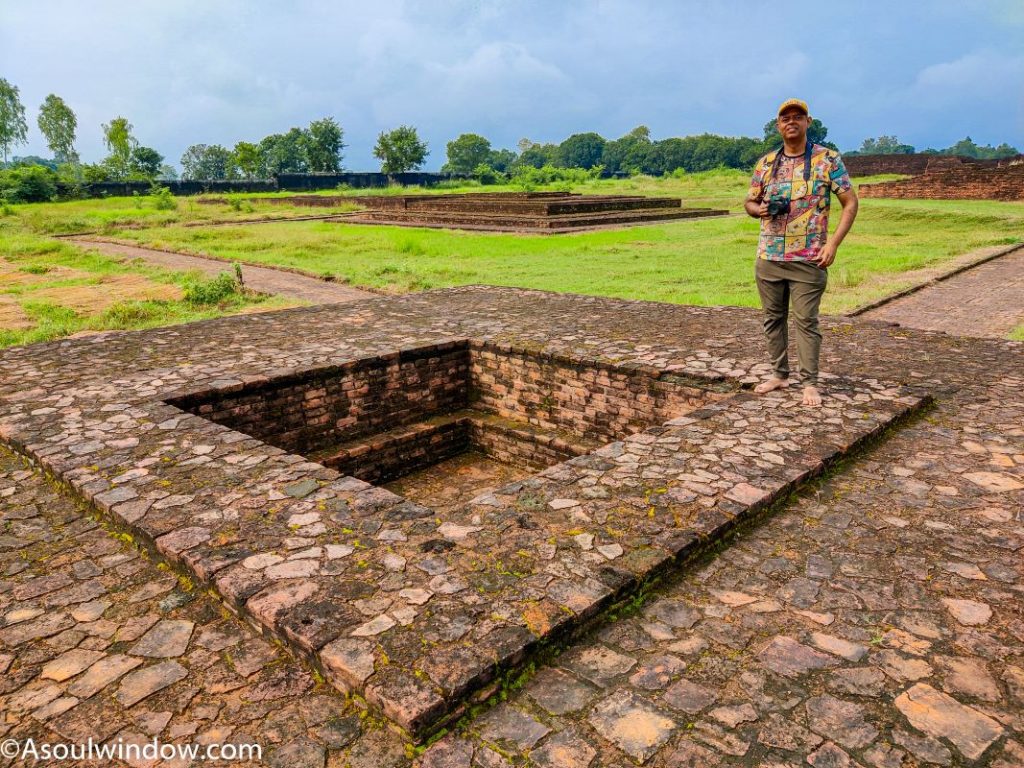 The height of Ganwariya Teela was originally 22.9 feet or 7 meters. Plants and shrubs had claimed it until it was restored. Even today, I observed growth of some plants on some ancient structures in Ganwaria. Objects from the times of Buddha had been excavated here.
Ruins of old temples and ancient residential quarters have been unearthed from Ganwaria. Many historians conclude that what is now Ganwaria andPiprahwa was where ancient city of Kapilvastu existed. It was the capital of the Shakya Kingdom. It is significant for devout Buddhist because Siddhartha Gautam spent the prime of his youth, i.e., the first 29 years in Kapilvastu.
Ganwaria is located just a kilometre away from Piparahwa in the Southwest direction. Ganwaria is located towards the west of Birdpur- Aligarhwa Marg on the Indo-Nepal Border.
4 stages of construction in Ganwaria
Structures such as votive stupas and various monasteries and temples have been found in Ganwaria site. With so much exposed during the excavations, much is probably still buried under mud and undergrowth. Archaeologically, the development of Ganwaria can be assessed into 4 stages.
Phase 1
The first stage represents the pottery tradition of fine grey and black polished wares.
Phase 2
The well-known NBPW or Northern Black Polished Ware marks the second stage. NBPW is linked with the era of Buddha Bhagwan. The houses of burnt bricks are discovered to be from the 2nd phase of Ganwaria.
Phase 3
Third stage is attributed to the glorious Shunga era. Extensive development at the site of Ganwaria was done during the 3rd and 4th phase.
Phase 4
Fourth stage is equated with the powerful Kushan period. Huge number of terracotta figures from the 4th stage has been unearthed from here. No wonder, the excavators have denoted it as a 'mine of terracotta'.
Ancient Residential complexes
This is where monks used to live in ancient times.
Big Residential Quarter at Ganwaria
Ganwaria was a residential site. Since Ganwaria is located so close to the Piparahwa Stupa, it becomes clear that it is indeed the place Bhagwan Buddha grew up.
As per the ASI signboard at Ganwaria site,
"A 38-meter square shaped huge building is found at the western side of the site which consists of a courtyard of 16.70 square meters.
Initially, this was provided with 25 rooms only but is later stage, one more room was added to it. It is possible that this was the residence of some important person.
It has been identified as the palace complex of Kapilvastu by the excavators."
The local guide told me that the ancient structures before my eyes were the residential complex of Suddhodhana, the Sakya King of his capital Kapilvastu.
2 colossal structural complexes made with burnt bricks were unearthed in the ancient site of Ganwaria during the excavation by the archaeologists. Their entrances were located in the east direction. The larger structure, which was located on the western side of the mound measured 30 square meters. I gawked at it with admiration, impressed by its grandeur and antiquity.
It had 25 rooms and a gallery at each of the 4 corners. The complex was completed in 5 phases. An additional room was added later by partitioning the room, making the total count to 26. I noticed that the rooms which were located on the either side of the main entrance of the complex were also the largest ones.
I could not help but observe the structure more minutely. The outer walls, for example had a width of more than 2 metres while the inner walls measured 1.70 meters. One interesting observation made by archaeologists was that the main entrances of the sites of Ganwaria were not in the direction of the stupa as was the case of all the monasteries unearthed in Piparahwa.
In its initial days, the floors of the structure were made up of lime mixed with brick concrete. However, in the phase 3, use of burnt bricks became more common. With a childlike enthusiasm, I ran towards the ring well which belonged to the structural phase 1.
This well, located in the north west corner, measured 85 cms. All the rooms and galleries faced an open courtyard that housed the well and measured 25 square meters.
The biggest residential structure found in Ganwaria faces east and is located on the western side of the site. It is square in shape. It measures 39 square meters. The courtyard here measures 29 square meter.
This structure is built with hathpathua or hand-made bricks. 26 rooms surround a sprawling courtyard here. All the rooms have a covered veranda which faces the courtyard on aangan.
Remains of 2 rooms have been seen next to the main entrance of this residential complex. The sophisticated drainage system used in the construction here is impressive. This narrow drainage can be seen in courtyard. The walls here and thick and it is possible that this residential structure was multi storeyed. This building was suitable for a stay in summer, winter as well as monsoon.
Small Residential Quarter at Ganwaria
Located close to the above-mentioned bigger residential complex in the North East direction is another smaller residential quarter. It was probably built over 5 different phases.
It measures 40 meters. 21 small rooms surround the courtyard which has a floor built with hand-made bricks. A well is located in the North East corner of the courtyard. Two large rooms flanked the either sides of the main entrance of this complex which faces east direction.
Another Residential Quarter at Ganwaria
Another Residential Quarter is located in Ganwaria close to above mentioned places of interest. Located in the north direction of the small residential quarter, this building also includes small rooms, galleries and a well in a courtyard, the floor of which is constructed with hand-made bricks. Unfortunately, the northern part of this structure is poorly damaged. "These tourist attractions should get more visitors", I told myself.
Temples at Ganwaria
During excavations, ruins of many temples and other structures have been found in Ganwaria. 2 of these temples have grand lay out and were built on a large scale. The other two shrines are much smaller in size. These were probably built in the 4th phase. The Ganwaria site is an unusual place to see in Kapilvastu of India.
Temple 1 and 2 of Ganwaria
Temple 1 and 2 of Ganwaria are located towards the east side of the residential complexes. These are much smaller in size.
Temple 3 in Ganwaria
Located towards the east of residential complex, Temple 3 of Ganwaria is a must-see place in Kapilvastu of India. It is rectangular is shape. Remains of a stupa can be seen on the North East corner of this temple. It is likely that it is a part of the temple only. The main entrance of this temple faces west. It is possible that this temple was built over 2 separate phases.
Temple 4 of Ganwaria
Temple 4 is located in the eastern side of the Ganwaria Teela. It is also rectangular in shape. Interestingly, I noticed that this temple is built on a square raised platform. Proofs of Pradakshina Path around the platform have also been unearthed. The main entrance of temple 4 faces west.
Findings at Ganwaria
Since Ganwaria was a residential complex, I discovered that many Royal palaces (Raj Mahal), wells, Santhagar, Kootagar and small and big houses existed here. Since Ganwaria was the centre of capital of Kapilvastu, it was surrounded by a 25 feet tall wall or Parkota.
Some of the objects which were unearthed from Ganwaria were:
Silver coins
Several metallic objects
Statue of a head with kundal
Copper coins from Kushan era
Beads made of glass and stones
Statue of Buddha in Kamalasana
Statue of male and female figure
Statue of a child in the lap of mother
Soul Window Thoughts!
I had goosebumps as I navigated my way through the unkempt undergrowth. I am walking in the land of Buddha. In my home state Uttar Pradesh. Near the international border of India and Nepal. And my history books at school never taught me all this. Pinch me, someone!
Excavation at Ganwaria
The site of Ganwaria was extensively excavated during Indian archelogy team between the year 1974 and 1975 along with the excavations at the nearby Piprahwa site.
Structures from 4 primary cultural periods have been unearthed at Ganwaria viz
First phase: 800 B.C.E. to 600 B.C.E.
Second phase: 600 B.C.E. to 200 B.C.E.
Third Phase: From Shunga period to 1st century C.E.
Fourth Phase: 1st century C.E. to 3rd century C.E.
During the extensive excavations at the mound of Ganwaria, several antique objects and pottery were unearthed from here by the archaeologists. Thanks to the discovery of these ancient objects, we now know that some of these dates back to the 8th century B.C.E. Now, that's quite old! Evidences have proved that Ganwaria site was inhabited till as late as 4th century C.E.
Discovery of exotic specimens of the Northern Black Polished Ware (NBPW), red ware vases, grey ware etc are worth a mention here.
In fact, let us divide these into segments for better understanding:
Period 1: In this era, typically dishes hadgrey bottoms and red rims.Other wares of phase 1 included black polished ware, polished red ware dishes, red ware vases and bowls, often painted in black colour.
Phase 2: DeluxeNorthern Black Polished Ware was commonly used.
Phase 3: Sunga times. After the era of Northern Black Polished Ware.
Phase 4: Kushan era
Soul Window Observations
The ruins of Ganwaria near Piparahwa Stupa had sturdy buildings and complexes which stood the test of time. The ancient remains of a great civilisation stood testimony to one of the most important historical figures produced by India ever: Bhagwan Gautam Buddha.
With followers in several Asian nations, most of the important Buddhist sites are found in India and some in the adjoining Nepal.
It is indeed a matter of great pride for India! In white nations, they would have made a jackpot out of such ruins. India and other non-white nations of Africa, Asia, South America, Carribean, Central America etc are different. Not everything is about money here!
Soul Window Thought!
More than 2000 years later, we are still using wells and burnt bricks in our day-to-day life. Not much has changed since the time of Buddha and still nothing is same as before, I told myself, sotto voce!
Lakes of Kapilvastu
I was surprised to discover that there are dozens of lakes around Kapilvastu which are even bigger than Nainital of Uttarakhand. Bajha Sagar, Marthi, Batua, Levad Taal, Majhauli and Pathra Taal are some of the prominent water bodies in Kapilvastu.
In fact, the famous bird Surkhab, which migrates all the way from Siberia have also been spotted in Pathra Taal, Levad Taal and Majhauli. These are some of the best tourist places in Kapilvastu.
If you want to go off the beaten track, you must visit these lesser-known lakes of Indian Kapilvastu.
Bajhan Jheel
Also known as Bajhan Taal, it is located just 2 kilometers away from Kapilvastu in west. This pristine lake is spread across an area of 177 hectares. The capacity to hold water here is 180 million cubic feet. Impressed by its size, British landlords had built canals from the Bajha jheel. The canals were used for irrigation of crops in the agricultural fields which still surround this terai belt.
The international border with Nepal is located north of Bajhan Jheel. A small town named as Bajhan Bazaar is located towards the south of Bajhan lake. You can take a free walking tour here. It is also a popular picnic spot for local people.
Marthi Majhauli Jheel
The huge lake of Marthi Majhauli Jheel is situated just 1 kilometre away from Kapilvastu in North East direction. The massive Marthi Majhauli lake is spread across 86 hectares. The capacity to hold water here is 135 million cubic feet.
The water from this lake too is used to irrigate the agricultural fields through man-made canals. Tall piers (baandh) surround all corners of this huge lake. The abundant lotus flower transports one to the times of Buddha. With modernity hardly corrupting this part of India, I am sure that the ancient pushkarini or temple tanks must have looked similar.
During winters, many birdwatchers head to Marthi Majhauli Jheel as it attracts thousands of migratory birds from different nations. Many wild animals and exotic birds roam the forest that surrounds the Marthi Majhauli Jheel. Do not miss visiting this prominent sightseeing attraction in Kapilvastu.
Forests around Kapilvastu
We had visited Kakrahwa in India to cross border and reach Lumbini in Nepal. Did you know Kakrahwa and Majhauli have dense forests with amazing biodiversity? This hidden gem is located away from the crowds.
Mahindra Vihar
Mahindra Vihar is an offbeat place to visit in Kapilvastu. This Math is named after Mahendra, the son of great emperor Ashoka. Buddhist devotees can often be seen praying at Mahindra Vihar. It is a small Math. Mahindra Vihar is located just 500 meters away from Ganwaria Teela. Mahindra Vihar is situated towards the west of Birdpur Aligarhwa road.
Salargarh Teela
Salargarh is a village located in the Birdpur Block in Siddharth Nagar. Salargarh Teela is located 500 meters away from Kapilavastu. Ruins of a Buddhist Vihara are found here. But due to lack of maintenance, it is going through much damage.
Several small and big rooms have been excavated at Salargarh Teela. Much of the north most part of the Vihara is badly damaged. It is a free thing to do near Kapilvastu.
Sagarhawa Teela
Ruins from the Kushan Era have been unearthed around Sagarhawa Teela, which is located just 200 meters away from Piparhwa. The layout of Sagarhawa Teela is different from that of Piparhwa. The stairs which lead to the entrance from where one can reach the Math was built in north. A small Stupa was also unearthed from a site near Sagarhawa Teela.
Gargajwa Teela
Just 30 years ago, the pillar which was located here measured 20 feet tall. It was built with hand-made bricks. The locals used to call it Gargajwa. Unfortunately, due to lack of protection, the height of the pillar has reduced to a mere 4 feet.
If not protect urgently, this precious vestige of Buddhist heritage of India can be forever lost to time.
Gargajwa Teela is located west of Dhoswa village aka Dhuswa Village on the Naugarh-Kapilavastu road.
Pipri Kot Teela
A damaged Pipri Kot teela has been found in Pipri village, which is located east of Madhubeniya village in Birdpur block. You can arrive here via Naugarh-Kapilvastu road. Archaeological department has protected it with a wall. However, it looks like a lot of excavation is yet to be done here. This unexplored site is not to be missed.
Siddharth University
Siddharth University is located just 1 kilometre away from Piparahwa Stupa. The foundation stone of Siddharth University was laid on 30th October, 2013, Wednesday. Education started here since the 2015-2016 session.
Yogmaya Mandir of Siddharth Nagar
Located in the Jogiya Village in Siddharth Nagar,Yogmaya Mandir is a must visit place in Kapilvastu. It is said that if a Hindu devotee offers Prasad and Kadahi to Devi Yogmaya Mata, who is the presiding deity here, then his wishes are fulfilled. Mondays and Fridays are the most auspicious daya for prayer at Yogmaya Temple.
People also come to the temple to perform mundan ceremony of their young kids.
If you are visiting Siddharth Nagar during Karthik Poornima, then do not forget to take a holy dip in the nearby river. This is the time when a 2 day long fair or mela is organised in the precincts of Yogmaya Temple. This is a lesser-known fact that earlier Yogmaya Temple was known as "Mahamaya temple" after the name of the mother of Gautam Buddha.
Bharat Bhari Temple in Kapilvastu
Bharat Bhari Temple is one of the most famous places to see in Siddharth Nagar. Situated 5 kilometres away from Domariyaganj Block in Siddharth Nagar District on the border of Basti District and Siddharth Nagar, Bharat Bhari Mandir is thronged by Hindu devotees all day. It is 65 kms west of district head-quarters of Naugarh.
Tourism in Kapilvastu: Soul Window Suggestions
Ganwaria, indeed is most important place to see in Kapilvastu along with Piparahwa Stupa. The impressive size, exceptional constructional features, corporeal relics of Buddha and abundant antique objects discovered here makes wonder why it is not well protected, maintained and promoted aggressively?
Piparahwa Stupa is very well maintained. Kudos for that. But I also saw a local teenager dancing absurdly (he had a script and an idea!) next to the Piparahwa Stupa for Instagram. The site of Ganwaria was badly maintained.
I saw plastic bottles inside the ancient well and other Buddhist sites. A local also told me that some people also destroyed the site partially in a bid to find valuables. I am sure many such loots happened since centuries. And all that is left bow are some brick structures.
Excursions from Kapilvastu
There are many major attractions located near Kapilvastu and Piparahwa. Other Buddhist places around Piparahwa are Parigawa of Shohratgarh, Bharat Bhari temple of Dumariyaganj and Dharmsinghwa, which are also Buddhist places.
Below are some of the best and offbeat places to visit near Kapilvastu. These places are located off the beaten track.
Buddha Deeh Teela, Maharajganj
Buddha Deeh teela, which is located in Maharajganj district. There is a small hillock here which is spread across 2 acres. People also live here. There is also a Dev Temple here. As per the locals Buddha Deeh teela is associated with Gautam Buddha. Bricks from ancient times have also been excavated here.
Khamhaura teela
Khamhaura teela or Khambora Teela, which is located just 1 kilometre away from Buddha Deeh teela was 10 feet tall earlier. However, with time, its height has decreased. As per local people, mant Peepal tree were found here earlier. At present, several Devalay are located here.
Buddha Deeh is located on Nichlaul-Siswa road. Buddha Deeh Teela is just 6 kilometres away from Nichlaul in south direction. It is the most offbeat place to visit near Kapilvastu.
Gharmauli Teela
A Buddhist stupa from the times of Gautama Buddha was found here. Gharmauli Teela is a lesser-known place which can be dated back from the glorious Kushan era to the Gupta era.
We know this, thanks to the objects discovered in Gharmauli teela during excavations. Gharmauli Teela is located in the jungles of Bagapar in Maharajganj district.
Rajdhani Village Teela
The Archaeological department of India had excavated the Rajdhani Village Teela in the years 2004 and 2005. Remains of an ancient stupa were unearthed here. This huge stupa measures 25 metres x 25 metres. It was a round shaped stupa. There was a wide stair towards the north for prayers.
Pieces of black pottery from 8th century B.C.E. were discovered here. Silver coins, coins from Kushan era, idols from Maurya period, toys etc were also found here.
At present temples devoted to Shiv Bhagwan and Hanuman ji are located here. Sadhus (Hindu holy men) also reside here. Srinagar Taal, which is located near Rajdhani village could have been a Pushkarni (temple tank) in ancient times.
Rajdhani Village is located on the Farenda/Pharenda – Nautanwa National Highway in Maharajganj district. Rajdhani Village is situated just 3 kilometres away towards west of Mohanapur Dhaal. Rajdhani Village is located 38 kilometres away from Kapilvastu in south east. Distance between Banrasiya Khurd and Rajdhani village is 9 kilometres in west.
Banrasiya Khurd Teela
Partial excavations were done at Banrasiya Khurd Teela in the year 1991. The stupas discovered here dated back to Gupta era. There are several such teela located across Banrasiya Khurd and Banrasiya Khurd Kala. The teela located in east direction is the tallest. Bricks and pieces of vessels from ancient times are still scattered in the fields around this village. There is an urgent need to preserve these places for the posterity.
In fact, the Chakdah village, which located near Banrasiya Khurd village is named after Buddhist symbols. While 'Chak' means the Buddhist Dharma Chakra, 'Dah' stands for Pushkarini.
There is a small teela located towards east of Prathmik Vidyalaya of Banrasiya Khurd. Idol of a devi or goddess is worshipped here. The local people call her Budhia Maai (Old mother). This idol has an uncanny resemblance with idol of Mahamaya in Lumbini.
Banrasiya Khurd village is situated in Nautanwa Tehsil of Mahrajganj district of Uttar Pradesh. Banrasiya Khurd is located 9 kilometres east of Eksadwa village of Nautanwa Tehsil of Maharajganj. Distance between Kapilvastu and Banrasiya Khurd is 53 kilometres. Other nearby places are Kevtalia, Yogiyabari or Jogiyabari in India and Betakuiya and Mahdeva in Nepal.
Banrasiya Khurd and Banrasiya Kala ka Teela are located towards east of Kapilvastu.
Other places near Kapilvastu of India
Below are some of the top places to see near Piparahwa. Some of these unheard-of places are waiting to be explored.
Maghar
Ayodhya
Lucknow
Shravasti
Fazil Nagar
Kushinagar
Katarniaghat
Kuber Asthan
Lumbini, Nepal
Devraha Asthan
Kurukulla Asthan
Tilaurakot, Nepal
Dudhwa National Park
Pava Stupa of Padrauna
Sohelwa Wildlife Sanctuary
Kishanpur Wildlife Sanctuary
Kakrahwa (Indian border town)
Sun Temple at Turkpatti Mahuaa
Badhni aka Barhni (Indian border town)
Kaushambi:This Buddhist pilgrimage is located near Prayagraj.
Sankisa in Farrukhabad:This Buddhist place was known as Sankasya in older times.
Things to do in Kapilvastu
What is there to do in Kapilvastu? If you have some extra time, then I would suggest you to sit down near the Pushkarni in Piprahwa Stupa complex and meditate for a while. This is the best way to connect with Gautam Buddha and this historical place. Visiting Kala Namak rice field is another top thing to do in Kapilvastu.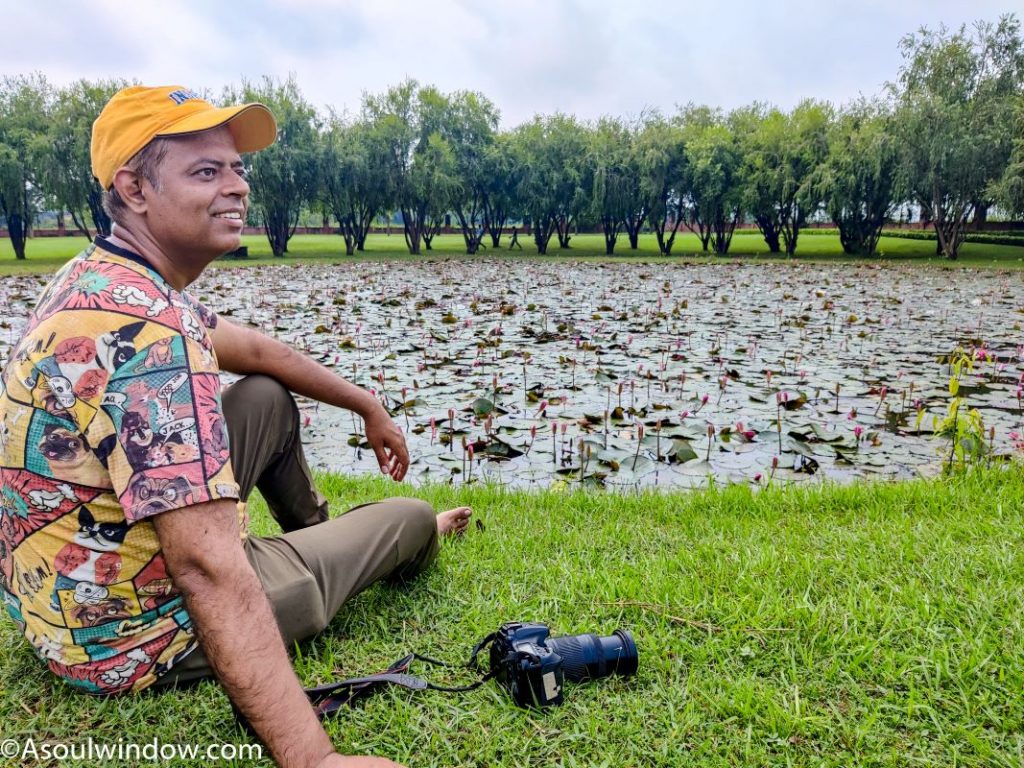 My Piprahwa Connection
My dad says he has seen a pyramidal stupa in Bakhra! "It was like a towering volcano that had just burst", he added dramatically, then paused for a minute trying to rethink. My Tai ji (paternal aunt) and her family also belong to Bakhra.
My Mausa ji (maternal uncle) also lives in Piprahwa near the India Nepal border. It is a village near Birdpur in the Siddharthnagar district. I remember seeing an ancient Buddhist Stupa during my childhood visit to Piparwaha in monsoon. Piprahwa is not to be confused with Piparwah of Madhya Pradesh in central India.
I remember red bricks peeping from green grass even as I had a stomach ache. Piprahwa is located in my home state Uttar Pradesh.
Pipra Naik
The in laws of my maternal aunt live in a village called as Pipra Naik which is located near Piprahwa. Pipra Naik came under Basti earlier but now it is a part of Siddharthnagar district.
Kodara Grant is the main post office of Pipra Naik. You can easily take a train from Gorakhpur or Lucknow to Naugarh or Ahirauli railway stations both of which are located close to Pipra Naik. Distance between Siddharth Nagar and Pipra Naik is just 3 kms.
Piparwaha to Lucknow takes just about 3-4 hours via train and 5 hours and 30 minutes via NH27 and NH28. Piparwaha and Lucknow are just 290 kilometers apart.
Distance between Piprahwa and Kapilvastu is just 22.5 kilometers via Hulaki road and it takes around 45 minutes to cover the same. Distance from Piprahwa to Lumbini in Nepal is just 65 kilometers. Lumbini is a famous World Heritage Site.
Attend a local Buddhist sermon
When I visited Piparhwa stupa, I noticed local Buddhist teachers giving sermon to other local Buddhist devotees in a mix of Hindi and Bhojpuri. It was interesting for me to see that as I had never seen a Buddhist monk speaking Bhojpuri before.
Festivals of Kapilvastu
Buddha Purnima
It is a major Buddhist festival, which is celebrated by crores of devout Buddhists in not only Kapilvastu and Siddharth Nagar but across the world. Buddha Purnima, therefore is the main festival observed by local Buddhists and the foreigner Buddhists who have relocated here.
Kapilvastu Mahotsav
Siddharth Nagar district was formed on 29th December, 1988. It was separated from the Basti district. The Uttaranchal tehsil or taluka such as Naugarh, Bansi, Etawah, Dumariyaganj were included in the district of Siddharth Nagar. Shohratgarh was added as fifth tehsil later.
In order to commemorate the formation of Siddharth Nagar as a district, Kapilvastu Mahotsav is celebrated every year here. The Kapilvastu festival also aims to send across the messages of Buddha which he had left behind. Various cultural and educational functions are organized every year during Kapilavastu Mahotsav.
Vegan and Vegetarian Food in Kapilavastu
You can have some Vegan and Vegetarian snacks and meals at road side dhaba in Kapilvastu. Expect vegetarian thalis, samosa, poori-bhaji etc. Try to eat Kala Namak Rice.
Is it safe to visit Kapilvastu?
Yes, it is very safe to visit Kapilvastu. However, do not venture here late in night as you can be stranded in dark with no one to help you. Kapilvastu is situated in a very remote place.
Souvenirs Shopping Guide to Kapilvastu
There are no souvenirs shops in Kapilvastu. You can buy Buddhist paraphernalia in Kushinagar, Shravasti or nearby Lumbini in Nepal.
ATM in Kapilvastu
I did not see any ATM near Piprahwa and Ganwaria. It is better to carry cash here from Lucknow, Kushinagar or Gorakhpur which have more ATMs.
Photography Tips for Kapilvastu
Kapilvastu is a sacred place, so I do not recommend going too invasive with photography. You can take shots of Piprahwa Stupa and the beautiful lotus pond nearby.
Hire local tourist guide in Kapilvastu
There are no trained guides at Kapilvastu. In Ganwaria, I had paid a small amount to an unofficial local person who offered to explain about the site to me. At Piprahwa Stupa, the local guard told me about this historical place free of charge.
Languages spoken in Kapilvastu
Hindi and Bhojpuri are most commonly spoken language in Kapilvastu. English is not understood and spoken by many here, except some monks or Government officials.
Books recommendation on Kapilvastu
I had bought a book named as Kapilvastu (Piprahwa), written by Shripati Prasad Chowdhury from a street book stall outside Parinirvana temple of Kushinagar. Buying from local writers always give a closer view on the place.
One of my relative Shri Bhagwat Singh has also written a book on Kushinagar. The Hindi book is known as Kushinagar Digdarshan and is easily available at book stalls of Kushinagar.
Excavations at Piprahwa and Ganwaria by Shri K.M. Shrivastava is also a good read. It was published by Director General, Archaeological Survey of India, New Delhi.
UPSC Exam question on Kapilvastu
This is the most comprehensive guide on Kapilvastu. The questions asked in UPSC Civil Services Preliminary Exam for for IAS, IFS, PCS are answered in this information packed travelogue.
Toilet facility in Kapilvastu
Clean toilets are located in the premises of Kapilvastu Museum and Piprahwa Stupa.
Entry fee of Kapilvastu
We had to pay a very small entry fee at Piprahwa Stupa and the nearby Kapilvastu Museum. Entry ticket is same and subsidized for citizens of India and other people from the BIMSTEC member states such as Thailand, Bangladesh, Sri Lanka, Nepal, Bhutan and Myanmar.
Travelers from other nations have to pay more. Entry is free for children up to age of 15 years old. There is a small camera fee also. One ticket is for one entry.
Backpacking Budget Travel Tips for Kapilvastu
Kapilvastu is a pocket friendly and inexpensive destination. The only money I spent in Kapilvastu were on vehicle and very small entry fee at Piprahwa Stupa. Museum of Kapilvastu also has a small entry charge.
Solo Trip Tips for Kapilvastu
Kapilvastu is NOT an easy place to travel to as a solo backpacker. Lack of transport, no options in hotels and long distances make it a difficult place for solo travelers. That said, it is not impossible to travel solo in Kapilvastu. You can hire a local vehicle or even go on a bike ride in the picturesque terai landscape of this place.
Luxury travel Tips for Kapilvastu
There are no luxury facilities in Piprahwa or Kapilvastu. It is place with very basic amenities. The nearest place where you can avail luxury are Kushinagar, Gorakhpur and Lumbini in Nepal.
Where to stay in Kapilvastu
There are no proper hotels, lodges and guest houses in Kapilvastu because it is located in a very remote place. We had stayed in Badhni aka Barhni on the border of India and Nepal. The hotels in Barhni were also below average.
Timings of Piprahwa Stupa
The Piprahwa Stupa and museum are open from sun rise to sun set.
What to wear in Kapilvastu?
During the Kapilvastu trip in October, I was able to see all the major sightseeing places in just a T shirt and pant. The weather was very pleasant in October. The weather of Kapilvastu remains mild in November too as compared to December and January when temperatures dip. This is when you must wear thermal clothes and woollens. Other months can be easily managed in light cottons.
Best Time to visit Kapilavastu?
Winter
I visited Kapilavastu of India in the first week of October. The weather was perfect during this time. The months of December and January are very cold here. Other months when Kapilvastu has a pleasant weather are November, February, March and April. This is also when many Buddhist pilgrims come for a vacation in Kapilvastu.
Summer
You can plan Kapilvastu trip in summer as well but it can get very hot during the afternoon. The soaring temperatures deter many from traveling to Kapilvastu during summer.
Monsoon
Monsoon is also a good time to visit Kapilavastu. If you have a private vehicle, then Kapilvastu tour in rainy season is not a hassle. Rainy months are after all very significant in Buddhist theology. The climate during rains is very soothing here.
Duration of Visit in Kapilvastu
How many days to spend in Kapilavastu? What can I do in 1 day in Kapilvastu? I was able to cover all the major attractions of Kapilvastu within a few hours. You can read my itinerary in the blog on Kushinagar.
Most people do not stay at Kapilavastu of India due to lack of facilities. Few hours or 1 day is enough to visit Kapilvastu. Our holiday in Kapilvastu was easily managed within few hours.
Local Transport for sightseeing in Kapilvastu
Local autorickshaws do ply around Kapilavastu. But they are hard to find around Piprahwa Stupa and Ganwaria. This is why it is better to visit these tourist attractions and pilgrimage sites with a privately hired car or autorickshaw or hired van or hired bus, if you are in a large group.
Where to stay in Kapilvastu
This is a commonly asked question. Unfortunately, unlike Kushinagar and Shravasti, there are no places to stay in Piparahwa or Kapilvastu. Most Buddhist devotees and tourists stay in Kushinagar or Shravasti and make a day trip to Kapilvastu. We had stayed in a very basic hotel in the messy border town of Barhni or Badhni. Badhni also has a railway station.
How To Reach Kapilvastu aka Piparahwa Stupa, India
Piparahwa Stupa is located just 23 kms north of Naugarh and 9 kms away from Birdpur, also in north. When we plied from Naugarh to Lumbini, Birdpur fell on our route. Kapilvastu makes for an easy and quick weekend destination from Lucknow.
By Car
I and my college friend Jeetendra Sharma had hired a car from Lucknow which showed us the best of Kushinagar, Shravasti, Kapilvastu, Piprahwa and Lumbini in Nepal within a span of few days. I would highly recommend to hire a car here. The route is also one of the most scenic I have seen in Uttar Pradesh.
Our driver was very good and drove with perfection. Since Kapilvastu of India is located in an international Buddhist circuit, the roads on this route are in excellent conditions.
By hiring a private car, we had the luxury of stopping at our whims and fancies. I can vouch for several beautiful spots on the way such as Kala Namak Rice fields, Ghaghra River etc. Since we had a car, we also sampled some of the best food on dhaba on the way.
By Rail
Naugarh lies on the Gorakhpur -Gonda loop line on the North Eastern Indian Railway line.
By Bus
From Naugarh Bus station, travellers can easily reach Kapilavastu via Birdpur town. Since Birdpur is located just 8 kilometres away from Piparahwa, it is easy to hire a taxi from Birdpur at low cost.
Via Flight
The nearest airport from Kapilavastu is located at Kushinagar International Airport. The second next international airport is located in Lucknow, the capital of Uttar Pradesh.
Reach Lumbini in Nepal via India
We had taken a cab ride from Kapilvastu to Lumbini early morning. We had stopped at the bustling Kakrahwa market on the Indian side. We had parked our car in Kakrahwa. Being Indians, we had crossed the international border on foot without visa or passport.
It was very easy and didn't cost us anything. Once we crossed the border, we hopped on to a local bus which dropped us right at the entrance of Lumbini – The UNSECO World Heritage Site of Nepal. This was a last-minute decision to visit Lumbini and it turned out to be very easy as an Indian citizen.
You can also visit Lumbini from Gorakhpur via Sunauli (India side) and Bhairahawa (Nepal side). On my first trip to Nepal during Everest Base Camp trek, I had crossed from this border and reached Kathmandu on a very low budget.
Distances from Kapilvastu
Distance between Naugarh and Kapilvastu is 20 kilometres and it takes only 29 minutes via NH28 and Kapilavastu road
Distance between Kakrahwa (Border with Nepal) and Kapilvastu is 33 kilometres and it takes only 33 minutes via NH28 and Kapilavastu road
Distance between Barhni (Border with Nepal) and Kapilvastu is 48.3 kilometres and it takes only 1 hour and 40 minutes via NH730
Distance between Lumbini in Nepal and Kapilvastu is 36 kilometres
Distance between Shravasti and Kapilvastu is 130 kilometres and it takes only 3 hours and 40 minutes via NH730
Distance between Kushinagar and Kapilavastu is 164 kilometres and it takes only 3 hours and 40 minutes via NH27 and NH28.
Distance between Lucknow and Kapilavastu is 289 kilometres and it takes only 5 hours and 40 minutes via NH27 and NH28.
Conclusion: Is Kapilvastu worth visiting?
Why visit Kapilavastu? In a nutshell, Kapilvastu of India, which is home to Piprahwa Stupa and Ganwaria, the most important Buddhist sites of world, is worth visiting. The place where Gautam Buddha spent his early years, practiced and preached Buddhism, shaped Buddhism and also spent his last few days, holds immense importance in world history.
Located within the Buddhist circuit of Uttar Pradesh near Lumbini and Indian-Nepal border, Kapilvastu is close to prominent Buddhist sites such as Shravasti, Kushinagar etc. To summarize, Kapilvastu, one of the most sacred Buddhist pilgrimage places in the world, is worth coming back to again and again.
Do share this exhaustive travel guide with your friend and family. Abhinav Siingh of A Soul Window has been awarded as the most famous Travel influencers in India many times.
The view from my Soul Window is so important in world history!
Pin this blog to save the blog and plan a trip later!
Related Blogs
Top Travel Blogger from India