Last Updated on September 11, 2022 by asoulwindow
Information about Kala Namak Rice of Uttar Pradesh
Kala Namak Rice of Uttar Pradesh is world famous due to its unique fragrance and texture. Cultivated since the times of Gautam Buddha, it is also called as Buddha Rice. It is grown in the terai region of Himalayan Foothills near India and Nepal border.
What is black salt rice? Move over the world-famous Basmati Rice. Kalanamak rice, a non-basmati scented rice variety which is majorly grown in the terai region of Uttar Pradesh has outshined Basmati Rice in Uttar Pradesh at least.
Nomenclature of Kala Namak Rice
What is the English name of Kala Namak Rice? Kala Namak Rice is also known as black salt rice. Other names of Kala Namak Rice are Kala Namak Chawal, Siddharth Nagar Rice and Buddha Rice.
Etymology: This unique variety is named so because of the black color of its husk. The Hindi word 'Kala' means black while the word 'Namak' means salt.
Buddha Rice
The story of Kala Namak Rice dates back to the time when Gautam Buddha returned to Kapilvastu after enlightenment.
As per a record by Chinese traveler, Fa Hien, Gautam Buddha received a grand welcome by local villagers when he returned to Kapilvastu after enlightenment. As he walked towards forest of Bajhan, the locals at Mathla village asked him for prasad or the holy food. Then he handed over the grains to the villagers and asked them to grow it in marshy lands.
He added,
"This rice will have a typical aroma which will always remind people of me."
Since then, Kala Namak Rice has been grown in the region around Siddharth Nagar and Kapilvastu.
Soul Window Facts
Fa Hien (337 CE – c. 422 CE), who was also known as Faxian, Fa-hsien or Sehi is known across the world for his travelogue, A Record of Buddhist Kingdoms aka Foguo Ji.
He was a Chinese Buddhist monk, traveler and translator. It is remarkable that he began his tough journey from China to India on foot in order to gain access to Buddhist philosophy at the age of 60. Through his travelogues, we know much of early Buddhism in India.
Kala Namak rice variety is surely the best one in Uttar Pradesh. Buddha approves with a smile!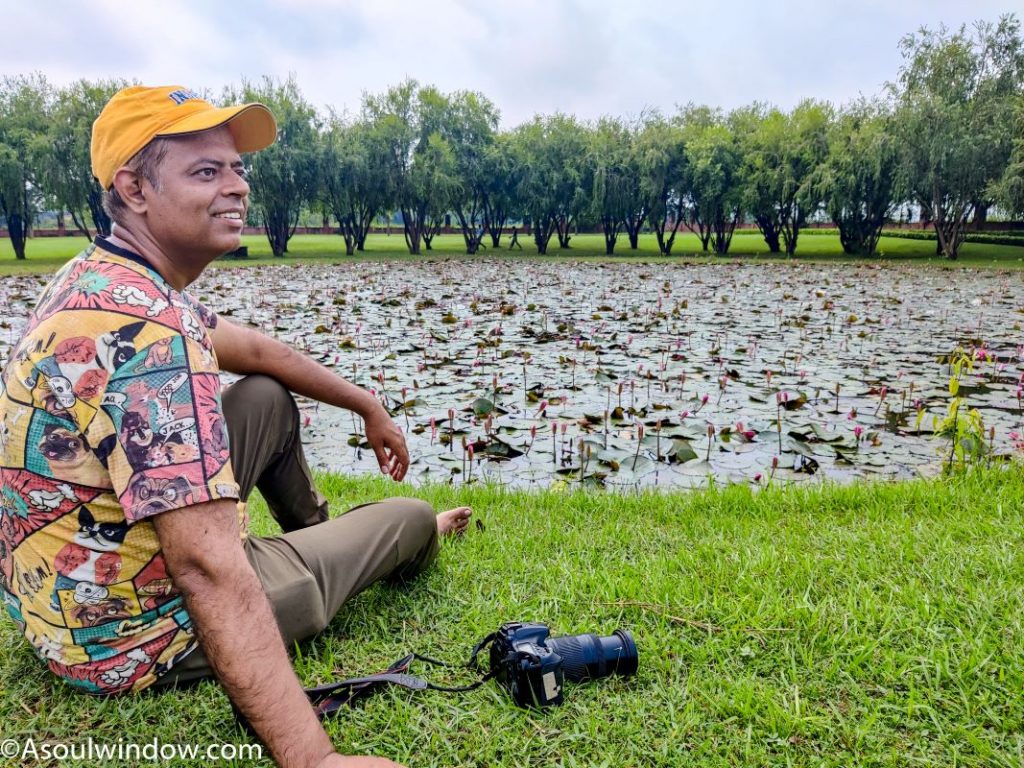 History of Kala Namak Rice
There are enough evidences which prove that the Buddha Rice has been cultivated in and around Siddhartha Nagar from the glorious Buddhist era (600 BC) or even much more before that.
Apart from being the childhood home of Gautam Buddha, Kapilvastu of India is also world famous for its special variety of rice known as Kala Namak. The farming of Kala Namak Rice has continued in the area around Kapilvastu since the times of Gautama Buddha Bhagwan. This means that Kala Namak Chawal is cultivated in the land of Buddha since 600 B.C.E.
In fact, during the excavations in Aligarhwa around Kapilavastu, huge quantity of carbonized rice was discovered in on room. It is concluded that this room served as a dining hall or kitchen store. These fossilized grain of Kalanamak rice were some rare finds which established many facts.
British Intervention in production
William.C. Pepe, who was a British serving in Alidapur, had stopped the indigo cultivation and started cultivation of jadhan dhaan (paddy) on a big scale. He had bought Kala Namak Dhaan all the way from Burma aka Myanmar and encouraged its cultivation in and around Siddharth Nagar.
His British colleagues Edcan Walker and J H Hemprey who were Jamindars in Mohana and Birdpur respectively joined him in the producing Kalanamak Rice in large quantities. 4 huge water reservoirs or lakes namely Majhauli, Marthi, Moti and Bajha lake were built in Siddharth Nagar in order to provide irrigation for huge production of black salt rice.
I visited lakes during my trip to Piprahwa Stupa, Ganwaria and Kapilvastu. You can read about these historical places in my exhaustive blog on Kapilvastu of India.
Exploitations by British in Kalanamak rice production
What many mistake as a conservation effort by British to preserve Kalanamak Rice was more of a business idea. Unfortunately, bonded labor was used and locals were exploited to produce this rice. Much of what was produced was shipped all the way to England aka Britain.
On seeing the huge demand for the Buddha Rice, the British gained control of Alidapur and Birdpur estates by deceit. These were the lands around Kapilvastu which still produce much of Kalanamak Rice.
Farming of Kala Namak Chawal
The 'matiyar domat' soil of this area is considered very suitable for Kala Namak rice cultivation. The irrigation of the field was done via canals from Bajhan Jheel, Marthi-Majhauli Jheel even in those days.
Qualities of Kala Namak Rice: Smell and texture
What makes Kala Namak Rice produced in Kapilvastu special is that it has a very special fragrance and a dense sticky texture. It is said that the lovely smell of rice Kala Namak is a gift of Buddha Bhagwan. That makes it a divine rice.
What's more?
Kala Namak rice is also one of the most delicious and softest rice varieties I have eaten ever. It also has a wet texture. What is interesting is that the same Kala Namak Rice, if grown elsewhere loses its properties, especially the sweet and subtle scent of rice.
Since Kalanamak rice has medium amylose content of around 20%, it becomes sticky, fluffy and softer. Most rice varieties with amylose content ranging between 16% and 22% have similar texture.
Kalanamak Rice versus Basmati Rice
Which rice is better? Kalanamak Rice or Basmati Rice? This is a frequently asked question.Kala Namak Rice is not as dry and firm as Basmati. For comparison, with 24 % amylose content, Basmati Rice has higher levels, due to which the grains are dry and firm.
Also, smell of Buddha Rice is even stronger than the smell of famous Basmati Rice varieties. In fact, except for the length of grains, Kalanamak Rice outshines even the best of Basmati Rice when it comes to other parameters of quality traits.
Kala Namak Rice: Childhood memories
Kala Namak, a fragrant variety of rice, which is also my father's favourite, is grown in and around Piprahwa. Some people also call it Siddharth Nagari Kala Namak Rice. The unpolished and aromatic rice grew on me as I started to appreciate its nuance.
My Nana or maternal father used to bring quintals of Kala Namak rice from the big market of Tulsipur. He always ensured that he always bought the original Kala Namak Rice.
"He used to bring 1-2 quintals of Kala Namak rice, all the way from the markets of Tulsipur to our home in Gorakhpur. The rice used to last for our family of 4 for a year.", my Mausi (maternal aunt) said fondly.
Tulsipur is also located close to the India and Nepal border. The Devi Patan Temple of Tulsipur is a famous Shaktipeeth. It is located very close to Balrampur, also in Uttar Pradesh, where my Tau ji (paternal Uncle) stayed for a few years.
Declining production of Kala Namak Rice
With time, production of Kala Namak Rice has gone down in recent years. Thanks to excess use of chemical pesticides and insecticides, the Kala Namak Rice has started to lose its smell and appeal.
My Mausi (maternal aunt) added that Gobar khad or cow dung manure is important for growing the Kala Namak rice. Due to the unavailability of the cow dung manure these days, many local farmers, including her in laws do not grow Kala Namak anymore. Masoori rice and Malaysia rice has replaced Kala Namak due to the similar properties and ease of growing of the former.
Before Indian independence in 1947, black salt rice was cultivated on around 22,000 hectares of land. This dropped to only 2,200 hectares by 2017.
That said, Siddharth Nagar is still synonymous with the divine rice variety known as Kala Nama Rice. It is indeed an ambrosia– The food of the Gods! Gautam Buddha Bhagwan approves!
Future of Kala Namak Rice
The yield of Kala Namak Rice used to be way less. Rising investment costs led to the unviability of production of Buddha Rice. Due to this, farmers stopped cultivating this unique rice. This is now changing.
Thanks to the efforts of Yogi Adityanath Government, the plans to revive the production of Kala Namak Rice in Siddharth Nagar and nearby places have shown positive results. With innovation and research, it is now possible to increase yield and reduce the cost of investment.
PUSA institute in New Delhi and Acharya Narendra Dev University of Agriculture and Technology, Ayodhya keep doing research on Kala Namak Rice to improve its yield and viability.
Health Benefits of Kala Namak Rice
Is Kala Namak Rice healthy? Below are some of the best health benefits of Kala Namak Rice:
It is said that since many Buddhists eat Kala Namak rice, they are blessed with a long and healthy life.
Patients of Alzheimer's disease, diabetes and blood pressure also consume Kala Namak Rice.
Kala Namak rice is said to prevent skin diseases and heart diseases because it contains antioxidant called as anthocynin.
Due to and amylose content of 20 %, Kala Namak rice has a fluffy and firm texture when cooked.
Where is Kala Namak Chawal grown?
This is a commonly asked question about Kalanamak Rice. Origin of Kala Namak Rice is in my home state Uttar Pradesh. I am proud that such a popular rice variety which was blessed by Gautam Buddha himself belong to U.P., my state in North India. Kala Namak Rice is only grown in the terai region in the Himalayan foothills of North East part of Uttar Pradesh.
Siddharth Nagar of Uttar Pradesh is the main area where Kala Namak Chawal is cultivated since the Buddhist period. In Siddharth Nagar alone, Kala Namak Rice is cultivated in an area of a whooping 5,000 hectares.
Kala Namak Rice GI tag
GI tag or Geographical Indication tag associates natural, agricultural and manufactured goods with a particular geographical territory, which is mostly its place of origin.
A rice variety as unique as the Buddha Rice deserves its own GI tag. Thankfully, The GI tag was given to Kala Namak Rice since it is a special indigenous rice of Uttar Pradesh.
Kalanamak Scented Paddy Production & Conservation Society had applied for the GI tag to Government of India and it was accepted.
11 Districts of Uttar Pradesh have been awarded the GI tag for production of the Buddha Rice. These places include:
Basti
Gonda
Bahraich
Shravasti
Balrampur
Gorakhpur
Deviapatan
Maharajganj
Sant Kabir Nagar
Devariya aka Deoria
Siddharth Nagar
Many of the above-mentioned places are also popular tourist attractions and fall on the Buddhist Circuit of Uttar Pradesh. They are located very close to each other.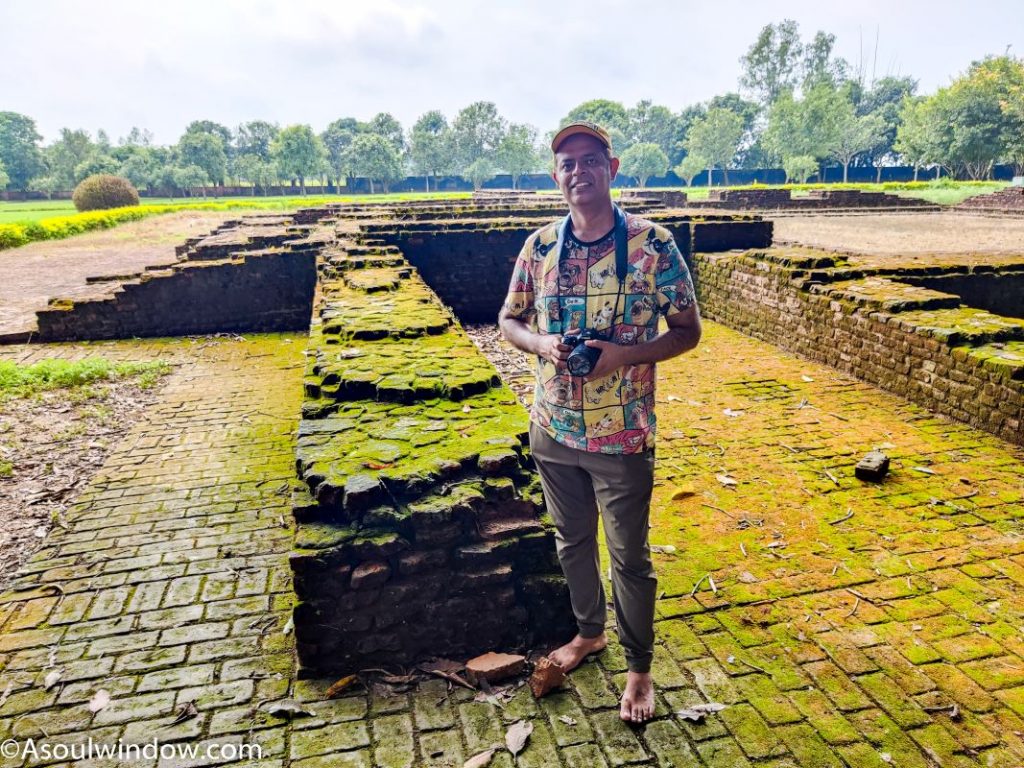 Which state will export black salt rice?
Uttar Pradesh exports Kala Namak Rice because it is the only and the largest producer of this special rice type. Kala Namak Rice export is done to various places.
During the British era in India, the shrewd British Zamindars had captured the areas around Kapilvastu and had a monopoly on rice production through deceit. The greedy officers exported much of produced Kalanamak Rice to Britain and made huge sum of money by exploiting local farmers. The locals were forced to do bonded labour.
Some smart businessmen from Gujarat in West India, then disrupted the monopoly of British. On realizing the huge potential to make money by selling Kalanamak rice, they formed a mandi at Uska Bazaar so that they could export premium quality Kalanamak Rice.
On being threatened with competition, the British constructed a rail route so that the rice could be carried away on maal gaadi or goods train. After India gained independence from British in the year 1947, Uska Bazaar fell to disuse.
Much was the nonfunctional status was to be blamed on the reservoirs gathered silt and sheer negligence. This is also what led to lesser production of Kalanamak Rice in what is now Siddharth Nagar of North East region of Uttar Pradesh.
Shopping guide: How to buy Kala Namak Chawal?
It is best to buy Kala Namak Rice from its place of origin, i.e. Siddharth Nagar and other nearby places in the terai belt.
During traveling through the Buddha Circuit of Uttar Pradesh, I visited nearby places such as Shravasti, Kapilvastu, Piprahwa, Ganwaria, Shohratgarh, Basti, Kushinagar, Balrampur, Barhni (India and Nepal border), Kakrahwa (Indo Nepal border), Lumbini (Nepal), Gorakhpur etc. Good quality Kala Namak Rice can be purchased from the above-mentioned places. It is also grown in Chandauli.
Since I lived in Lucknow for a long time, my father used to buy authentic Kala Namak Rice in the regular grocery shops of Lucknow. In case you are not able to travel to these places in terai region of U.P., you can also order Kala Namak Rice online. I often place online orders for Kala Namak Chawal when I am short of time.
Authentic versus fake Kala Namak Rice
It is very important to differentiate the authentic Kala Namak Chawal from fake Kala Namak Rice. Many shops will try to sell you fake Kala Namak Rice. These do not have any smell or nice texture. This is why, it is important to buy Kala Namak Rice from a trustable source.
What is the price of Kala Namak Rice?
The rate of Kala Namak Rice is slightly higher than other varieties of rice. That said, Kala Namak Rice price per kg is affordable.
The price of Kala Namak Rice often differs. The pricing of this special variety of rice is done as per its quality and mode of purchase, whether online or offline.
Is Kala Namak rice sugar free?
Kala Namak rice is a great choice for diabetes patients. I know many diabetes patients who love to eat Kala Namak Rice on a daily basis. It is a staple for many people. Due to the low Glycemic Index which ranges between 49% to 52%, Kalanamak Rice is known as Sugar Free rice. It is therefore, ideal for diabetes patients.
Kala Namak Rice nutritional value
Kala Namak Rice is bursting with health benefits and nutrients. It is also known to prevent diseases which are caused due to the deficiency of Zinc and Iron. The 11% protein of Buddha Rice is almost double of what is found in other rice. This makes it a great protein source for vegans and vegetarians like myself.
This nutria-crop also have several micro nutrients which help in combating health issues such as malnutrition, especially for the lesser privileged people.
Below is the nutritional value table for Kala Namak Rice
11% Protein
21% Zinc
12% iron
Omega 3
Omega 6
How to cook Kala Namak Rice
Let me share my recipe for cooking Kala Namak Rice in the traditional way. I found that Kala Namak Rice is fairly easy to cook. However, I also noticed that cooking Kala Namak Rice is not same as cooking other rice varieties.
Step 1
This is what I do to cook Black Salt Rice. I just wash the raw rice 2-3 times to get rid of any impurity. I noticed that the white liquid which shows up after washing is more concentrated and denser in Buddha Rice.
Step 2
After washing the Kala Namak Rice, I fill it with fresh water and cook it on low flame on gas. I also add little desi ghee for more flavours. I use only high-quality A 2 ghee which has grainy texture.
Step 3
After 10-15 minutes (depending on the quantity), I notice that the rice tends to get puffy. This is the indication that the Black Salt Rice is cooked. I also taste a few grains using a fork or spoon.
Step 4
When I feel it is cooked, I cover the rice and wait for 5-10 minutes so that all the textures settle and excess moisture is absorbed by the rice naturally.
Step 5
The Black Salt Rice is now ready to eat with daal and bhaji.
Kala Namak Rice after cooking
I have noticed while cooking that the cooked Kala Namak rice is much more softer and way fluffier when compared to the other varieties of Indian rice. Kala Namak Rice after cooking becomes very mushy, slightly sticky and exudes a special fragrant. This is the most complete and detailed recipe on Kala Namak Rice.
Also, after the cooking is done, elongation of rice also takes place. This quality of Black Salt Rice is valued very high in the international rice market.
What to pair Black Salt Rice with?
I like to eat Black Salt Rice with daal, rajma, chola, kadhi-pakoda, nimona (Uttar Pradesh special dish), Arvi-sarso curry etc. My mother also used to eat rice with just dry pakoras (fritters) and chilies. It tasted great.
I do NOT recommend making Pulao or Biryani with the Black Salt Rice because it is not long, dry, and separate like Basmati. Instead, Kalanamak Rice is sticky and puffy. This is also why you should not pair the Buddha Rice with Thai green and red curries.
This makes Kala Namak Chawal an ideal choice of rice to also make Khichdi, tehri, mango with sticky rice (Thai dish) etc.
You can also make desserts like kheer and payasam with Kala Namak Rice. It is very tasty.
Grain type
Kala Nama Rice is a medium grain rice that is wider in size. In its raw form, it looks very different from other rice varieties such as Basmati. It has a medium slender grain length.
Types of Kala Namak Rice
Kala Namak Rice has even more categories. The 4 different types of Kala Namak Rice can be classified as below:
KN 3
Kalanamak Kira
Bauna Kalanamak 101
Bauna Kalanamak 102
Kala Namak Rice festival
Also known as Kala Namak Rice Mahotsav, it aims at popularizing this special variety of indigenous rice of Uttar Pradesh.
Chief Minister of Uttar Pradesh, Shri Yogi Adityanath had launched the Kala Namak Rice festival for the first time with much fanfare. It was an unprecedented initiative by the Government. The previous governments of U.P. had ignored some of its biggest culinary assets- the Buddha Rice.
The Kala Namak Rice festival is celebrated in Siddharth Nagar to encourage and promote local agri products.
Conclusion: Why eat Kala Namak Rice
Is Kala Namak Rice worth eating? Here are my final words. I am sure that once you start eating Kala Namak Chawal for lunch and dinner, you will never look at any other rice variety such as Basmati. Kala Namak rice price per kg is also very affordable which makes it within the reach of common people. However, for the best taste and smell, you must buy the original Kala Namak rice. Also known as black salt rice, it is a must have ingredient in every kitchen!
The view from my Soul Window is so fragrant!
Pin this blog to save the blog and plan a trip later!
Related Blogs
Blogs on Buddhist Places
Following are some of the top Buddhist destinations which I have personally visited. I have written detailed articles on the same on my travel blog A Soul Window – the No. 1 travel blog of India.
Piparahwa Stupa
Kushinagar
Shravasti
Sightseeing in Lumbini
Sightseeing in Bodhgaya
Sightseeing in Lamayuru Monastery
How to reach Lamayuru Monastery
Sightseeing in Mulbekh Monastery
Sightseeing in Vaishali
Sightseeing in Nalanda
Sightseeing in Sanchi Stupa
Sightseeing in Uttarey Village
Sightseeing in Lachung
Sightseeing in Dambulla Caves
Sightseeing in Namchi
Blogs on Uttar Pradesh
Sightseeing in Radha Rani Mandir Darshan
Sightseeing in Mathura
Sightseeing in Goverdhan Parikrama
Sightseeing in Vrindavan
Sightseeing in Raskhan Samadhi
Sightseeing in Shri Ram Janmbhoomi
Ganga Aarti experience in Varanasi
Sightseeing from Alaknanda Cruise
Sightseeing in Maghar
Hot balloon Festival-Taj Mahal
Dhangadhi: Unheard of India-Nepal border
Bird watching & photography guide of Lakh Bahosi Bird Sanctuary
Hybrid tree of Haji Kalimullah Khan
Top Travel Blogger from India