Last Updated on July 1, 2018 by
IS MELBOURNE SAFE TO VISIT? THE HEROIN, DRUGS ADDICTION AND SUBSTANCE ABUSE IN MELBOURNE AND OTHER CRIMES. AUSTRALIA!
This blog is about safety tips for Melbourne, especially the CBD area and the North Richmond area. It is a hub of the heroin crisis of Melbourne. As a traveler, you must watch out for anti social elements, drug addicts and the syringes which can get very uncomfortable and dangerous at times.As much as I love reading edgy stories, I also love bringing such stories to you which do not make it to the glossy travel magazines and utopian travel blogs. This blog will inform you of the underbelly of Melbourne, I knew nothing about. Until I embarked upon my first international solo trip to Australia.

THE DRUG ADDICT IN WASHROOM OF MELBOURNE- MEETING THE WOLVERINE
It was early morning. I had just arrived in Melbourne by bus from Canberra. Though the bus had a toilet but I dreaded using it. It was dirty, dark and too small for my mountainesque body. So the first thing I did after stepping foot at the bus terminal in Melbourne was to find a public toilet. I soon found one though was disappointed to see it dirty too. I anyways had no option. A strange voice welcomed me as soon as I entered.
I entered one of separated WC cabins and pulled my pants down. As soon as I sat down on the dirty seat, the person from the cabin on my right started making disturbing sounds. It was incomprehensible. It was disturbing, animal like! It was the kind of sound a wolf will make while grabbing his prey by the neck. Or worse! Akin to a group of wild dogs eating a deer alive.
HE COULD HAVE EATEN ME ALIVE!
The beastly growls started getting wilder, alternated by massive unabashed farts (the kinds which release poop with it). I thought I had bought a ticket to a civilized so called first world! But 'civilized' people never lose their mind, said no one ever.
I could not see his face. I could have waited for him to finish his business and see him emerge from the cabin. From the little English words I could pick and the accent, I could make out it was a white. What could he have looked like? Shabby clothes? Decaying tooth? Matted unkempt hair? Drowsy eye? Torn jacket? Saliva dripping from the lips? Naked? Or a well dressed dapper young man who lost purpose in life just 2 days ago? I will never know. Soon his belongings started entering my cabin through the slit at the bottom end of the separation wall. A lighter, few coins, some farts and water. It was a horrifying mess. I was disgusted. And scared.
MELBOURNE, AUSTRALIA HAS A MAJOR HEROIN CRISIS:
I thought his face will appear from the slit and he will bite me. Or pull my legs and chew it. I had imagined him as a Wolverine reincarnate. I had had enough! I did not even start my business and got up. I zipped my pants, picked my backpack and left the mess that my cabin had become; thanks to the little gifts I was welcomed to Melbourne with. As I emerged out, I had a quick glance at the cabin of the Wolverine. It was still locked. I could not see the long claws. I didn't have the patience to see. The growls and farts had grown bolder.
The common area of the washroom was full of people. Chinese. Whites. Indians. They all heard it. No one cared. No one was shocked. It was perhaps a daily routine for them. I pretended to wash my hands and walked out. I took a deep breath and did not even try to find another public washroom to finish my business.
MY FIRST SOLO INTERNATIONAL TRIP STARTED IN MELBOURNE ON A HORRYFYING NOTE:
I should have recorded the sound or clicked a picture or video. But I panicked. It was the first day of my first international solo trip and this is how it started. This will always be my memory of my first day in the so called 'world's most liveable city.' In the days to follow, I would discover the drug problem and other crimes of Melbourne. You don't need a guided tour to see it. It's free! It is very visual.
It happens openly in graffiti overdosed alleys and lanes such as Hosier Lane and sometimes on the main road too. And so do the other crimes of the big bad city! The next day, I witnessed another horrifying crime. I thought I was in the middle of an Islamic terrorist attack; the kind where they run down a car on unsuspecting innocent civilians. Read the full story of that scene on my blog here.
I explored the Central Business District aka CBD area all day on foot, fuelling myself with lame vegetarian sandwiches (By evening I was sick of it). I saw many faces of Melbourne in a single day but what stayed with me and disturbed me the most was not the 'pretty and perfect' mainstream culture but the dark and depressing underbelly of Melbourne. The seedy lanes and alleys, inundated with kitschy and gaudy (at times classy) street art was home to beggars, drug peddlars and drug addicts.
DIRTY LANES, HUMAN URINE, SYRINGES AND
DRUG OVERDOSE- MELBOURNE, AUSTRALIA!
Dustbins overflowing with empty cans of alcohol, syringes and cigarette butts often spilled on to the roads. Human urine dirtied one of the lanes. A man was lying on the road unconscious. Another lady, high on the drugs was on the verge of crashing in one of the lanes at Hosier Lane. She was about to fall when one of her friends, also in a drug haze, pulled her in the nick of time and sat her down on the floor. It is easy to see people injecting themselves in open. I didn't find it safe to click pictures.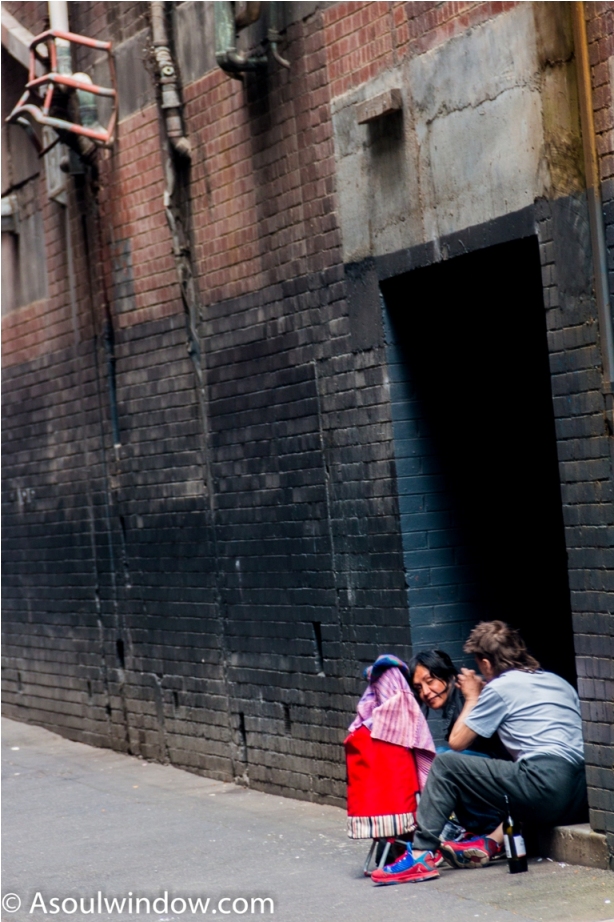 THE DRUG CRISIS OF MELBOURNE-AN OPEN SECRET:
It didn't happen on the main roads. Such incidents are common in the narrow alleys more.  Before the readers assume them to be an immigrant (always easy to blame), let me tell you all of the drug addicts I found were whites. Well dressed people, hair styled fashionably, tattoos in place, the works! Some are shabbily dressed and dirty though. This gentry is not to be confused with the many beggars and homeless people that roam the streets of Melbourne. However many white beggars of Melbourne are default drug and alcohol addicts. The deadly heroin epidemic of Melbourne has reached epidemic proportions.
I am not sure if Melbourne indeed is the most liveable city on Earth, as some reports suggested. However, there is no denying that it is a paradise for drug addicts for sure. I saw it for myself.
SOME FACTS ABOUT THE DRUG AND
SUBSTANCE ABUSE IN MELBOURNE:
North Richmond station is the hub of all drug deals. In fact the intersection where tram, bus lines and train intersect is also called as the Melbourne's dangerous 'heroin rectangle'. The northern end of the suburb is the place most go to buy heroin. Watch out for used needles on the streets.
The heroin problem is a real crisis in Melbourne what with 190 people died in Victoria alone as a result of substance abuse. It is the highest number since 1990s. Source: an article in The Age on the 28th March 2017
Heroin is easy to overdose on. If you see someone in trouble due to drug overdose, you call immediately call an ambulance on 000. Be sure before calling, the person might as well be just sleeping on the roads.
The North Richmond Community Health centre dispenses up to 88,000 clean needles per month through the vending machine.
Thanks to the low prices and apathy from Government, there is no slowing down of the heroin problem of Melbourne.
As per a report by The Herald Sun, it can cost you just $17 to $20 (six pack of beer or pasta with a drink) a pop as compared to earlier $50. The cheap drugs are finding many takers.
Heroine related deaths occur in public places including phone booth (The red boxes), parks, streets, public toilets and even at the door of people's home (horrors of the horror). This has been annoying the neighbors. Some of the residents are fed up with used syringes in their mailbox and doorsteps. The impressionable minds of kids are being exposed to the menace every day. And local residents are not happy about it. There has been a disturbing increase in young users.
During dry spells, addicts mix heroin with pills or liquid sleeping tablet.
It is not easy to quit the highly addictive heroin. The mental and physical trap that it is, the addict experiences severe physical pain and craving for more heroin when he or she tries to quit.
Government has been planning safe injecting rooms as a temporary solution to the ever growing heroin crisis in Melbourne, Australia.
IS IT SAFE TO VISIT CBD AREA IN MELBOURNE, AUSTRALIA?
If you are cautious and aware of the heroin crisis, there is no way you will be in trouble. It is a lively place, with modern amenities and a multi cultural feel to it. I can only speak from a male's perspective though. I found it safe as long as you are alert and use common sense. Below are some safety tips for Melbourne:
Mind your own business.
Do not make an eye contact with drug addicts.
Do not wear open toed shoes. Watch your foot. Avoid stepping on syringes lying on road.
Do not click pictures or make videos of drug addicts. I did not. You might end up in serious trouble.
You might come across addicts lying unconscious on footpaths or walking in a zombie like trance, wiping blood from their arms. Stay away. Do not react. Keep walking calmly.
Watch out for discarded syringes left carelessly on public benches in parks, tram stations or streets.
Do not walk alone in night.
Call police if things go wrong.
Avoid striking a conversation with drug addicts.
Say no to drugs peddlers.

I hope these tips help you in preparing for dealing with the very visible drug menace that has gripped the Melbourne.
Do check out this heart wrenching viral plea of a mother trying to save her homeless son from drug addiction in Melbourne, Australia.
The view from my #SoulWindow is disgusting!
Note: This blog is based upon my own observations, conversations with locals and post travel research.
ALSO READ:
Top 10 reasons why you should visit Canberra
Why Harris Park in Sydney, Australia is Little India
Sex Sells in Pushkar fair, Rajasthan
Why penis art is painted on walls of Bhutanese cities and villages?
Drayang Dance Bar Trail- The open Secret of Bhutan
Spread the love, share this blog
Got any question/comments, ask in the comment section below so that it can benefit other readers.
Email me for collaboration: [email protected]
Be a part of my journey on social media. The travel content I create there is different from this blog.
 Pls subscribe/follow/like:
WARNING: COPYRIGHT TO ALL THE TEXT SHARED HERE REMAINS WITH ME. YOU CAN NOT JUST LIFT THE CONTENT AND USE IT WITHOUT MY PERMISSION. STRICT LEGAL ACTION WILL BE TAKEN IF CONTENT IS STOLEN. YES, I AM SERIOUS.