Last Updated on June 5, 2021 by asoulwindow
FIRST DUSSEHRI TREE OF THE WORLD- OFFBEAT BUDGET FAMILY ROAD TRIP FROM LUCKNOW TO MANGO CAPITAL OF INDIA, MALIHABAD!
Did you know that the first Dussehri aka Dasheri Mango tree of the world still exists! It is located in a nondescript village called, what else but Dussehri village near Kakori in Lucknow district in Uttar Pradesh. On my way from Lucknow to Malihabad, the mango paradise, I made a pit stop at the famed enclosure which guards the precious mango tree. Despite its fame, it sees no tourists thanks to its remote location and difficulty in reaching. Originated in 18th century, the Dussehri aam or mango is famous for its sweet fragrance and irresistible taste. No wonder it is called the king of mangoes.
Malihabad is Dussehri paradise, we found out. Malihabad is the largest producer of Dussehri. There are 14 mango belts in Uttar Pradesh alone. Malihabad is the largest of them all with 30,000 hectares of land reserved for growing mangoes. No wonder, North Indian state Uttar Pradesh is the second largest producers of mangoes in India. The first position is claimed by South Indian state Andhra Pradesh.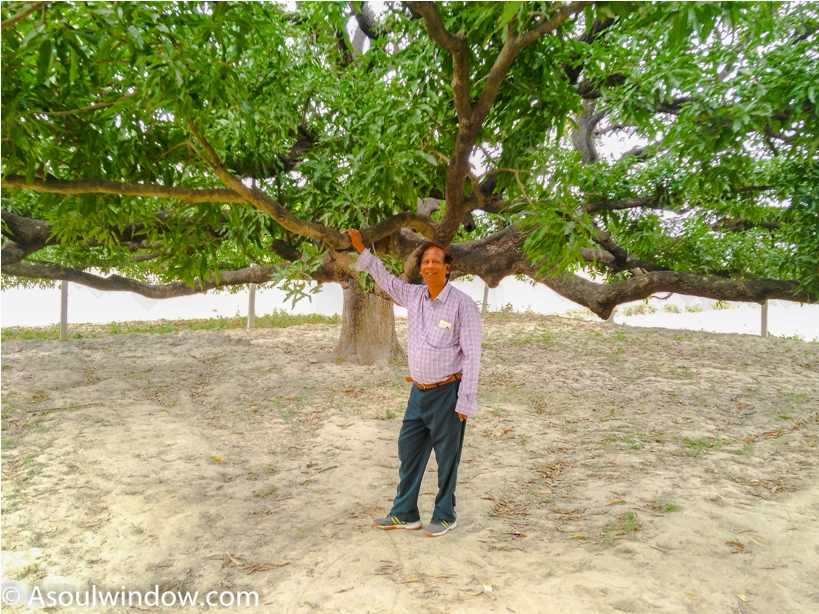 MIRZA GHALIB LOVED THE WORLD FAMOUS DUSSEHRI AAM:
Dussehri aam is also grown in Andhra Pradesh and outside India in Pakistan and Nepal.  Thanks to its long shelf life, Dussehri aam is also exported to countries like Malaysia, Philippines, Hong Kong, Singapore etc.
Also Read: Shri Ram Janm Bhoomi and other top Places to see in Ayodhya.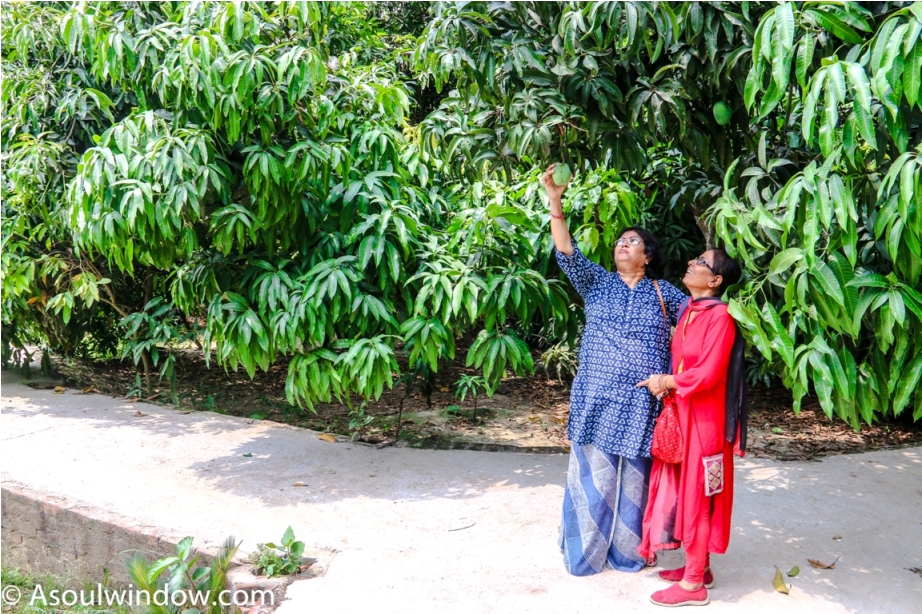 Did you know that the Dussehri mangoes of Awadh were so famous that even the renowned poet Mirza Ghalib could not resist the temptation. It is said that every time Mirza Ghalib traveled to Kolkata from Delhi to collect his pension, he made sure that a detour is made. He used to stop in Awadh to relish the sinful taste of Dussehri and other mangoes.
Also read: Bhavya Deepawali Mahotsav in Ayodhya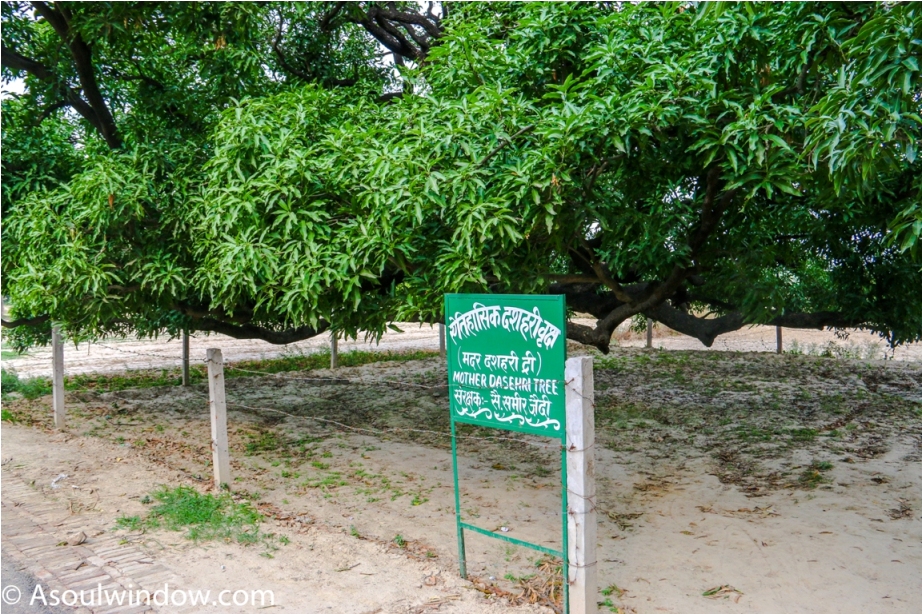 200 YEAR OLD HISTORICAL DUSSEHRI MANGO TREE IS IN KAKORI, LUCKNOW:
The mango orchards in Uttar Pradesh are mostly owned and managed by Muslims. Several families have been growing mangoes in the Dussehri belt of Lucknow for more than 200 years. The reason can be attributed to the fact that Nawabs patronized mango farming in Awadh and nearby areas. Not only did they guard the secrets to grow best mangoes but they were very 'orchard proud.' The vestiges of that era can still be found in the mango orchards of Malihabad and nearby areas.
Also read: Offbeat Trip to Dudhwa National Park and Tiger Reserve
The folklore has it that Dussehri aam originated from the 200 year old mother tree which still exists in Kakori. Some even say it is 300 years old. When I visited it, the only sign of the 'celebrity status' of the tree was a lockless fence around it and few men guarding it on a charpai (cot)nearby, wiping their faces every now and then, thanks to the extreme heat. The tree is guarded through the night also. In fact, there is an abandoned police station near the tree. Needless to say, it was set up only to guard the tree. Nawab Ansar Ali owned this tree and to date, every summer all the fruits from this particular tree go exclusively to his descendants who live in the city.
Also read: Dhangadhi – The offbeat India Nepal Border near Lucknow
The Dussehri mango tree looked odd and old but still strong. Unruly kids with unkempt hair, bare feet and untidy clothes played around it, no one daring rob the trees of its prized mangoes. This area is home to many other old trees of mangoes as well.
HISTORY OF 200 YEAR OLD HISTORICAL MOTHER DUSSEHRI MANGO TREE IN KAKORI, LUCKNOW:
It is said that the mangoes which grew on this tree was not made available to the commoners. It was a prized possession. A secret treasure! The Nawab was always presented the first fruit of the season. The craze for Dussehri mango was immense. During the rule of Nawab Asaf-ud-Daula a farmer's tree was seized because the government didn't want the common people to buy the fruit.
INTERESTING STORY ABOUT THE ORIGIN OF
MOTHER DUSSEHRI TREE:
In mid 19th century, mango farmers who crossed Dussehri village had to pay a toll tax of 5 mangoes from each lot. A dispute between the both parties angered the farmers and they abandoned all the mangoes unceremoniously. It is believed by the locals that one of the seedling germinated and is now what we call the Mother Dussehri. Soon, the grafts from this tree were grown in orchards of Malihabad and Kakori and the rest is history.
Also read: My stay in Hyatt Regency, Lucknow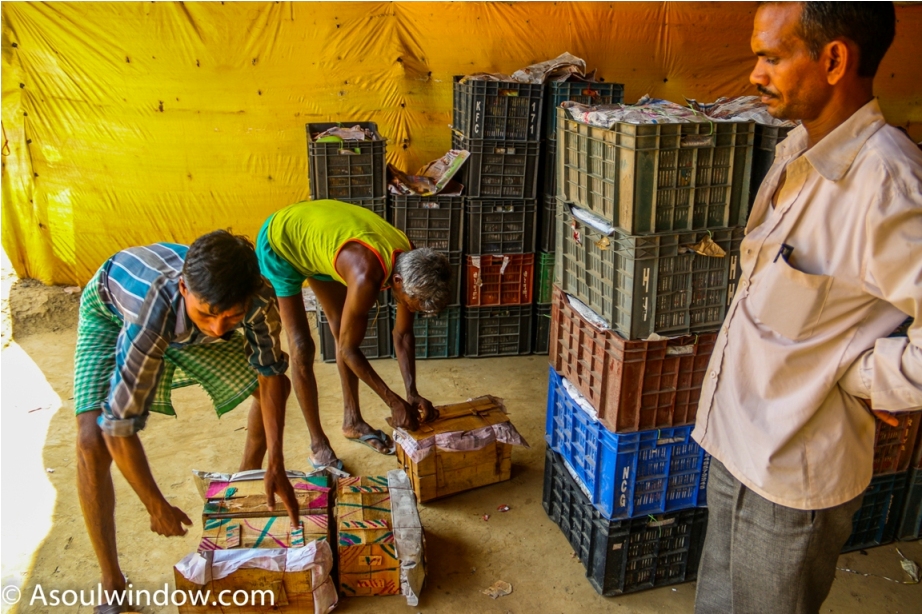 HOW ARE AFRIDI PATHANS FROM AFGHANISTAN CONNECTED TO MALIHABAD?
Eventually, Dussehri mango became available to commoners. People started trading it in Awadh region and it soon gained immense popularity. The Afridi Pathans from Afghanistan further raised the Dussehri belt of Lucknow. They settled in this region around 200 years ago as Mughal period inched closer to its end. The first mango orchards were established by the Pathans.
Also read: The story of Dilkusha Kothi in Lucknow
WHY WE VISITED MALIHABAD IN EXTREMELY HOT WEATHER:
My main aim to visit this part of the region in the extreme heat of June was not this tree though. I and my parents had braved the sun because it was the right time for a mango trail. Not many are fond of Indian summer. It is extremely hot. Temperature crossing the 50 degrees mark in North India is normal. The abundant mangoes which Indian summers bring with it are one of the saving grace.
WHEN WE MET THE PADMASHREE KALEEM ULLAH KHAN:
Kaleem Ullah Khan is famous not only in Malihabad or Lucknow but also beyond. Thanks to his unprecedented contribution to mango farming and horticulture, he has been awarded the honour of Padma Shree by Indian government. He is also known as the 'Father of mango Grafting'. His famous mango tree which grows more than 300 varieties of mangoes in one tree draws travelers and notable personalities and scientists from across the world.
Also read: Story of Begum Samru of Sardhana in Meerut
MY COMPLICATED RELATIONSHIP WITH MANGOES:
Having been born and brought up in various cities of Uttar Pradesh, one of the largest and most populated states of North India, I have been surrounded by mango zealots all my life. Almost all of my family members are mango fanatics. I was an aberration when I was a child.
I was not much fond of mangoes till I shifted to Mumbai in 2008. While the mango terrorists in my family used to coax me into eating mangoes, I always found an excuse to live a mango free life. Not that I had any knowledge that mango can make me fat. It is just that I didn't like mangoes. Maybe because it is too much of a work to eat mangoes. That explains why grapes are my most favourite fruits. It is easy to eat grapes. And let's not even talk about Kiwi. I once almost stabbed myself while trying to peel an unripe kiwi in my luxurious room in Khyber resort and spa in Gulmarg.
Also read: Where to find Pink Kashmiri Tea in Lucknow
It was only after I shifted to Mumbai that I realized the true worth of Mumbai. I was not much fond of expensive and over rated Alphonso mangoes. It is nice and well marketed and all that jazz, but I missed the amazing variety of mangoes which my own state Uttar Pradesh offered. Having grown up smelling and occasionally eating varieties like Chausa, Johari Safeda, Langda, the rare Gaurjeet, I still used to run away from the mango plate which my mother neatly peeled, cut and placed in a plate in order to lure me into eating it.
I continued doing the crime of rejecting mangoes consistently. After I returned from Navi Mumbai in Maharashtra after spending 7 years in Vashi, I hogged on mangoes like there was no tomorrow. Since the summers of 2016, I eat at least 1 mango every day during the season. I have become a complete convert. Ironically, Dussehri is not my favourite mango. I am a huge Chausa fan. The taste is distinct and other worldly.
Also read: Epic Road Trip to Kailash Mansarovar Yatra
INTERESTING FACTS AND TRIVIA ABOUT MANGOES:
Sanskrit word of Mango is amra which mean 'of the people'
Johari safeda is named so because the erstwhile Nawab of Awadh loved the taste of mangoes gifted to him by Fakir Mohammad Khan Goya so much that he presented pearls to him as a gesture. And the name Johari Safeda stuck. Its literal meaning is pearls of the jeweler.
Chausa mango belongs to Cheensa village in Sandila. The original tree was owned by a widow. The local landlords aka zamindars bought its fruits for a sum of Rs. 100. Thus it was privately relished by a privileged few for many years. Its mass marketing and availability outside Sandila began when a commoner tasted it for the first time. It is now a very popular variety of mango and one of my personal favourites.
Malihabadi Dussehri was awarded the Geographical Indications (GI) status in 2010 by Geographical Indications Registry of India.
In early 1900s, more than 1300 varieties of mangoes used to be farmed in Malihabad.
Dussehri is the first mangoes which fill the markets every summer season.
Also read: How I became the Top Travel Blogger Of India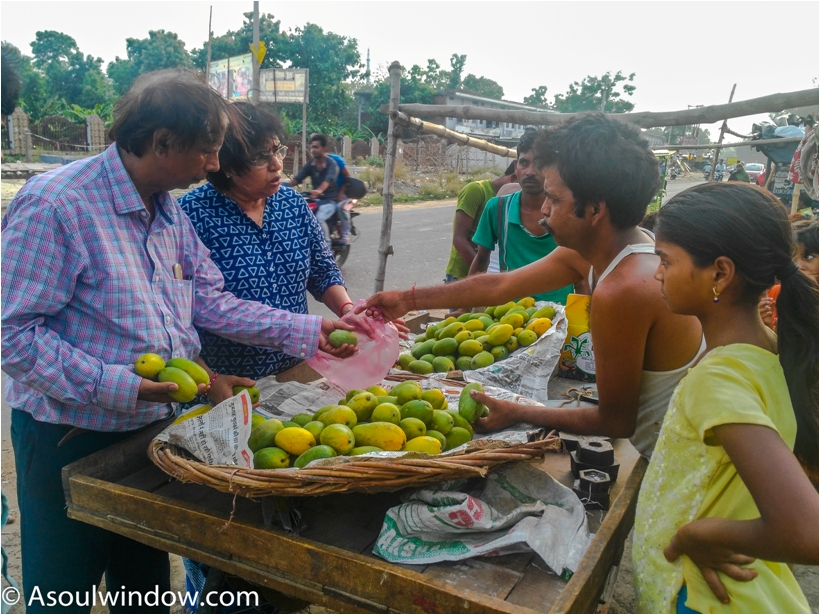 HOW TO REACH DUSSEHRI VILLAGE FROM LUCKNOW:
Dussheri Village is near Kakori in Lucknow district. It is merely 10 kilometers away from the city of Lucknow. It is 17 kilometers away from Hazratganj in Lucknow city. The Dussheri village falls in the Lucknow- Malihabad road. It is a budget trip since it is very close to Lucknow and you do not have to spend any money on stay. You can make a day trip with your family and friends. My dad hired a car and visited Malihabad along with me, my mother and my mausi (maternal aunt)
You can ask any locals for direction as the tree is quite famous here.
Also read: Who destroyed Martand Mandir in Kashmir
BEST TIME TO GO TO MALIHABAD AND DUSSEHRI VILLAGE FOR A MANGO TRAIL:
Summer though unbearable is the best time to go to Malihabad and enjoy the bounty of nature. June first week is when the markets are inundated with mangoes. May and June is also the time when the trees will be loaded with mangoes and the streets of Malihabad are filled with sweet smell of mangoes.
The view from my #SoulWindow smells so divine!
Also read: The mysteries and miracles of Shri Jagannath Mandir
Spread the love, share this blog
Got any question/comments, ask in the comment section below so that it can benefit other readers.
Email me for collaboration: 21abhinav21@gmail.com
Be a part of my journey on social media. The travel content I create there is different from this blog.
Pls subscribe/follow/like:
WARNING: COPYRIGHT TO ALL THE TEXT SHARED HERE REMAINS WITH ME. YOU CAN NOT JUST LIFT THE CONTENT AND USE IT WITHOUT MY PERMISSION. STRICT LEGAL ACTION WILL BE TAKEN IF CONTENT IS STOLEN. YES, I AM SERIOUS
Top Travel Blogger from India