Last Updated on March 25, 2022 by asoulwindow
Information about Bithoor
Bithoor aka Bithur is located just 24 kilometer and 45 minutes away from Kanpur in Uttar Pradesh, North India. I grew up in Kanpur. Memories of my formative years, growing up in Officer's colony of Panki in Kanpur, included frequent trips to Bithoor, located on the banks of the calm Ganga maa, revered by crores of Hindus!
Group of families known to my parents used to come here to have a dip in Ganga.
I remember we taking a boat to reach a sandy shore where we would undress to our bare minimums and jump into the holy Ganga River. I also remember someone telling me from a boat that this is where Dhruv did his tapasya or this is where Nana Sahib lived.
Bithoor was also after all the place where Sita Maa lived as a Sadhvi with her sons Lav and Kush in Valmiki Ashram.
What's more? Bithoor was one of the locations where the famous War of Indian Independence of 1857 was played out. Much water had flown under the bridge. I moved to live in various cities such as Prayagraj, Lucknow, Mumbai, Delhi and very briefly in Bangalore.
Even some Bollywood movies have been shot in Bithoor. I wanted to relive these fading childhood memories and visited Bithoor again as an adult in his 30s.
Bithoor, which is a weekend getaway from Kanpur and Lucknow, is a unique historic destination of Uttar Pradesh. Holiday in Bithoor is thus very popular.
I am sharing some amazing lesser-known facts about Bithoor in this comprehensive blog. This information packed article answers all the frequently asked questions about Bithoor in great detail. There are so many unusual places to see in Bithoor. Let me show you how.
Nomenclature/Etymology of Bithoor
The literal meaning of Bithoor is Beeron Ka Thaur, which means the land of the brave! It is no secret that some of the most courageous men and women from the history are associated with Bithur since ancient times. Bithoor is also known as Brahmasmatipuri, Brahmavrat or Utpalaranya. Such acts of courage have been observed in Bithur not only in ancient times but medieval and modern times as well.
Interesting Facts
Did you know that the original name of Bithoor was Bramhavat. Before settling for Bithoor, it was rechristened as Bithoba Nagar in the 19th Century.
Where is Bithoor located?
Bithoor is located on the banks of holy Ganga River near Kanpur, a bustling industrial city in Uttar Pradesh in North India. It is an unexplored place, located far away from the crowds.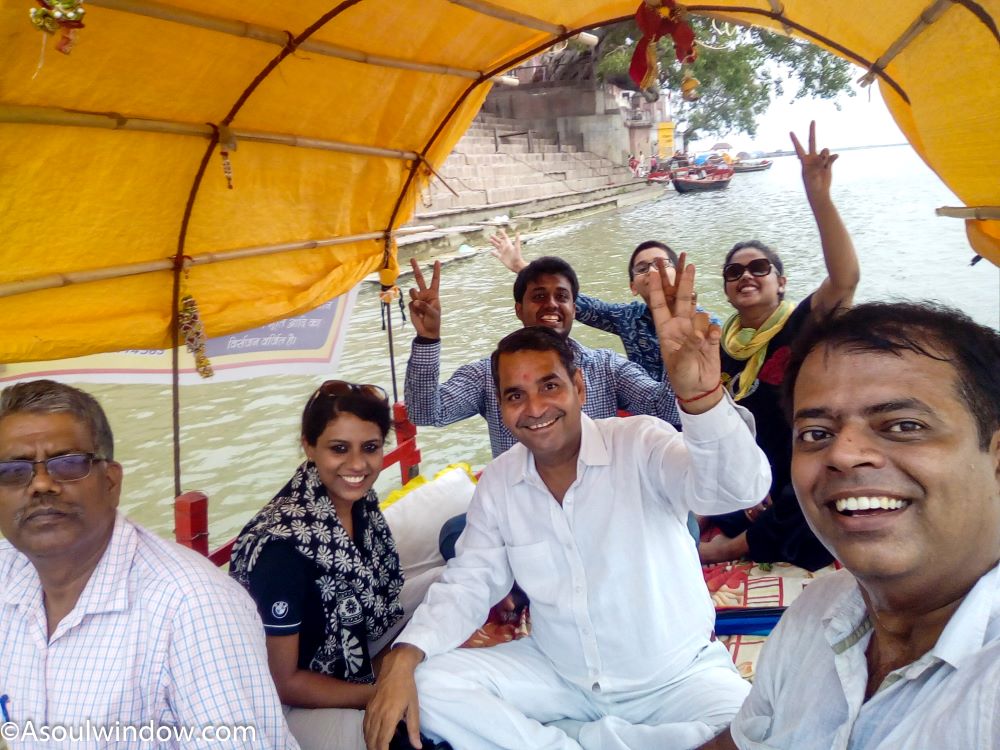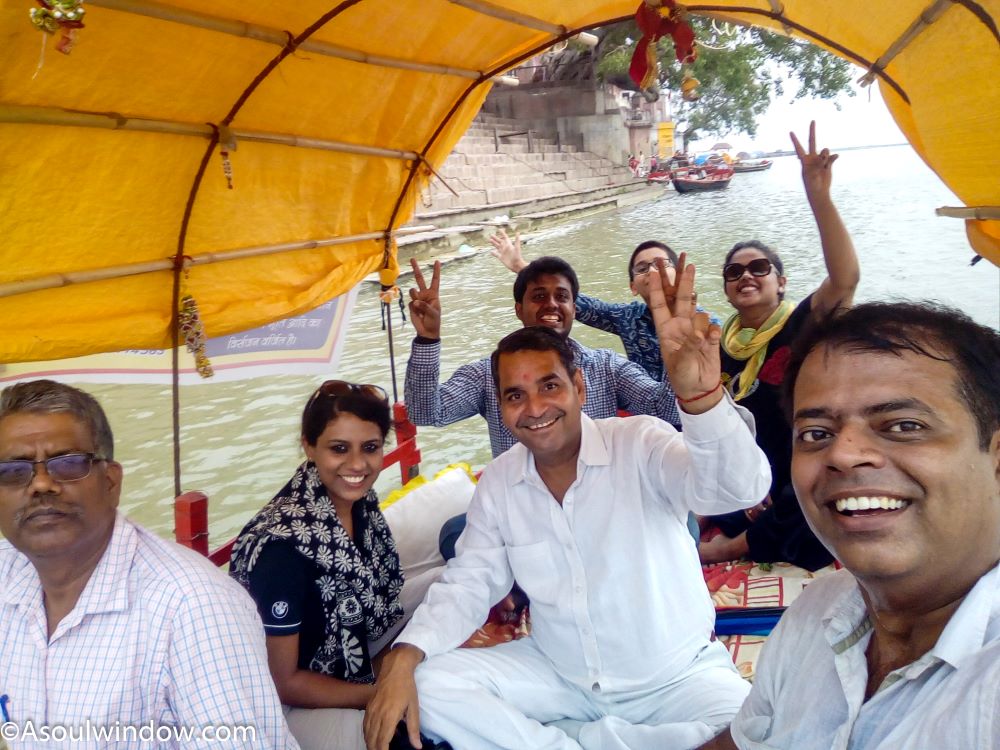 My Experience of Bithoor
Here are the highlights of my vacation in Bithoor Kanpur.
I had spent my childhood in Kanpur. I spent a large part of my childhood in Officers Colony of Panki Power House near Armapur in Kanpur. Growing up, not only was visit to Panki Mandir frequent but Bithoor was also our favourite picnic spot as family. I remember spotting peacocks and turtles on the rocks near Ganga River. We used to also take holy baths on the banks of Ganga River.
Recently when my friend Preeti Dwivedi, who is a resident of Kanpur invited me to re visit Bithoor (as an adult), I could not resist. Preeti and I were classmates in Institute of Hotel Management in Lucknow. Her sister Neha Dwiwedi and brother Abhishek Dwivedi, her father and maternal uncle offered to take me for a quick Bithoor tour.
Visiting Bithoor with locals
Not only did the hospitable Dwivedi family offer me a car ride to Bithoor but also showed me some hidden gems of Bithoor, which I had no about! While Mamaji regaled us with Kanpur jokes, the locals also kept us engaged with stories. We also met a Sadhu baba in his hut, which he claimed that someone tried to blow up with Dynamite. This is why I named him Dynamite Baba.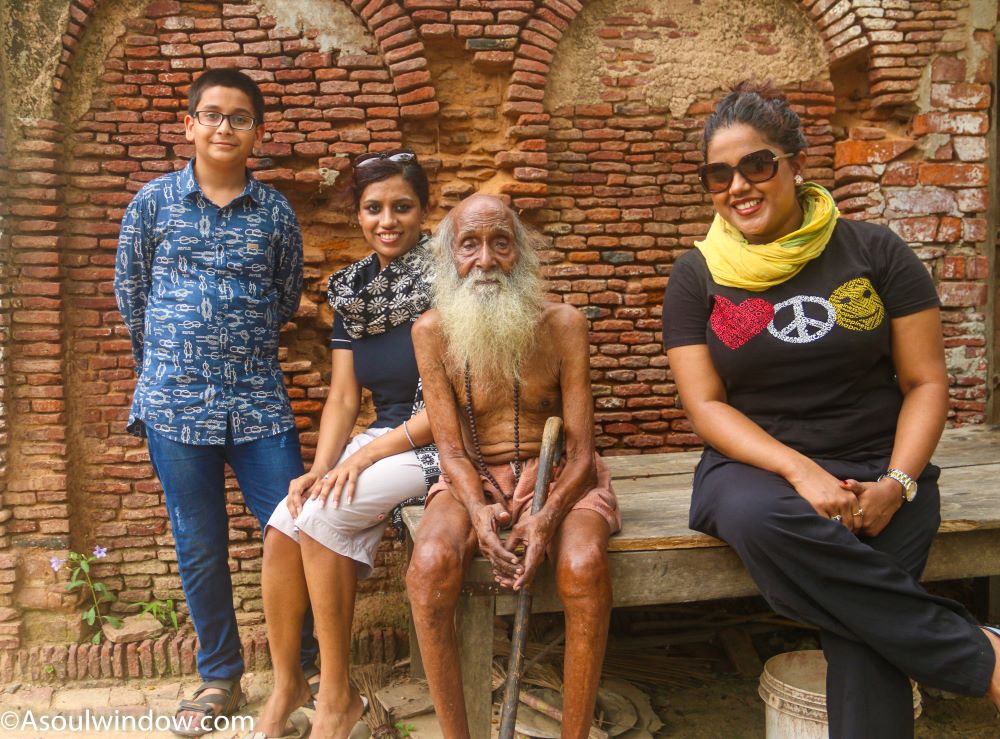 We temple hopped, took a boat ride on Ganga ji just before sun set and went off the beaten track. We discovered so many places in Bithoor which are not to be missed. All the childhood memories flashed before my eyes, as I re discovered Bithoor as an adult.
I keep going back to Bithoor as another friend of mine, Amrita Prakash lives in Armapur since a long time. I and Amrita had studied M.B.A. in Lucknow University later.
Modern History of Bithoor
Bithoor was one of the places where wildfire of the famous Mutiny of 1857 against the British invasion in India reached. Many important events from the Indian Rebellion Of 1857 took place in Bithur. The world-famous Jhansi Ki Rani, Laxmi Bai also called Bithur home for some time. I remember going to a high-profile party in Kanpur in the Cantonment or Cantt area. The entrance of the sprawling lawn had a signage where Kanpur was spelt as Cawnpore.
Role of Baji Rao II and Nana Saheb
Turns out that the British invaders used to call Kanpur as Cawnpore district in the United Provinces. Bithoor was once the headquarters of Nana Sahib. Shrimant Peshwa Balaji Bajirao Bhat also known as, Nana Sahib was the adopted son of Baji Rao II, who was the last Peshwa from the great Maratha Empire.
The British had deposed Peshwa Baji Rao II to Bithoor after numerous assaults. Bithoor, thus later became headquarters of Nana Saheb as he led the Mutiny of 1857 from Kanpur. The associated that helped Nana Saheb during the uprising were the famous Tatya Tope, Ram Chandra and Azimullah Khan. Predictably, the British suppressed mutiny, attacked ruthlessly and recaptured Kanpur and Bithoor on 19th July, 1857.
Connection of Ramayan with Bithoor
Bithur was my first favorite picnic spot in the good old 90s. As a child, I didn't know then that it is a major Hindu Pilgrimage associated with Ramayan, the Hindu epic. Though I have vivid memories of 'someone' telling me that this is where Luv and Kush, the twin sons of Bhagwan Shri Ram and Sita Mata were born. Much like me, they also grew up in Kanpur in Sat Yug.
After Sita Maa left her kingdom in Ayodhya, she did not go to her father's home in Janakpur in present day Nepal. Instead, Sita ji preferred to live the life of a pious Sadhvi in Sant Valmiki Ashram in Bithoor.
It is common knowledge that it was in Bithoor that Sita ji gave birth to her sons Lav and Kush. Her twin sons also spent their childhood in Bithoor and received education and training. It was also in Bithoor that Sita ji gave Agnipariksha.
Since so many important events of Ramayana unfolded in Bithoor, that makes it a very important spiritual place for Hindus.
Connection of Rani Laxmi Bai with Bithoor
The 'nanihal' (maternal home) of fierce female warrior Rani Laxmi Bai was at Bithoor. Bithoor has not only been significant in ancient times but also in medieval era when Rani Laxmi Bai gave a tough challenge to British invaders.
It was in Bithoor where Rani Lakshami Bai had spent her childhood. She had learnt warfare skills, barood making art, archery and horse riding in the holy land of Bithoor. Even today, there are many proofs of Peshwa culture found all over Bithoor. In fact, you will be surprised to known that the descendants of Tope family still live in Barrackpur.
We have also seen the same in the Hindi movie which featured Kangana Ranaut in main lead as Rani Laxmi Bai. The name of the blockbuster was Manikarnika: The Queen of Jhansi.
Marathi connection with Bithoor
Despite being located in Uttar Pradesh in North of India, the western part of India has also left a lasting impact of this sacred temple town.
Interesting Facts
Did you know that many Marathi people still call Bithoor their home? Marathis belongs to Maharashtra, which is located some odd 1290 kilometers away in West India. They are the descendants of the 5 families, the first ones who migrated to Bithoor along with Baji Rao II and Nana Saheb, and never left.
They still live in Bithoor and nearby places and own permanent property here. They include: Hardekar, Moghe, Sapre, Sehajwalkar and Pinge. I am sure you had no idea about this. Even if you were a local of Kanpur.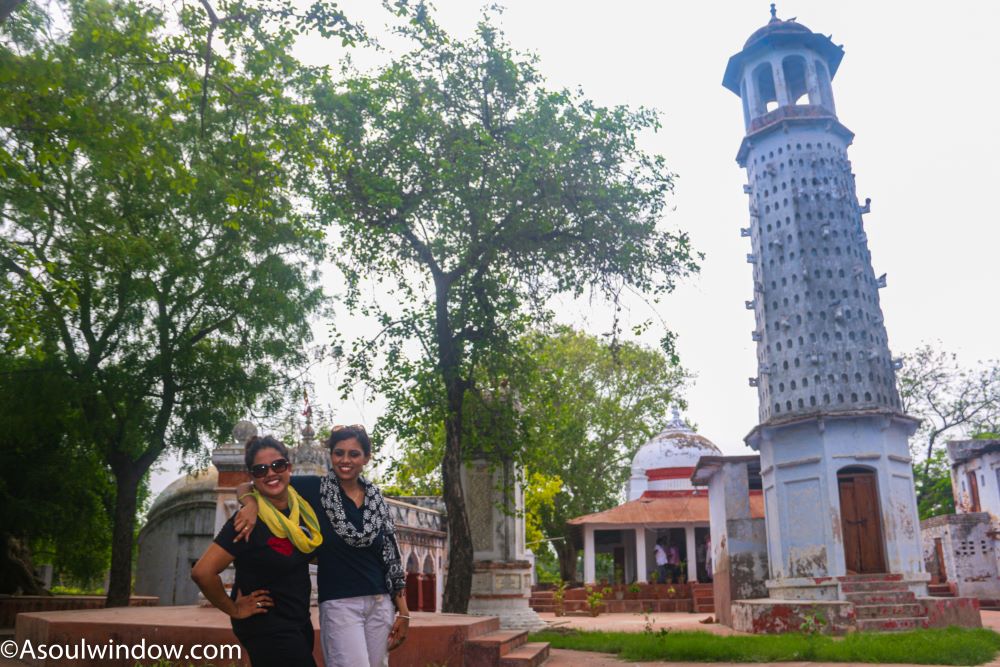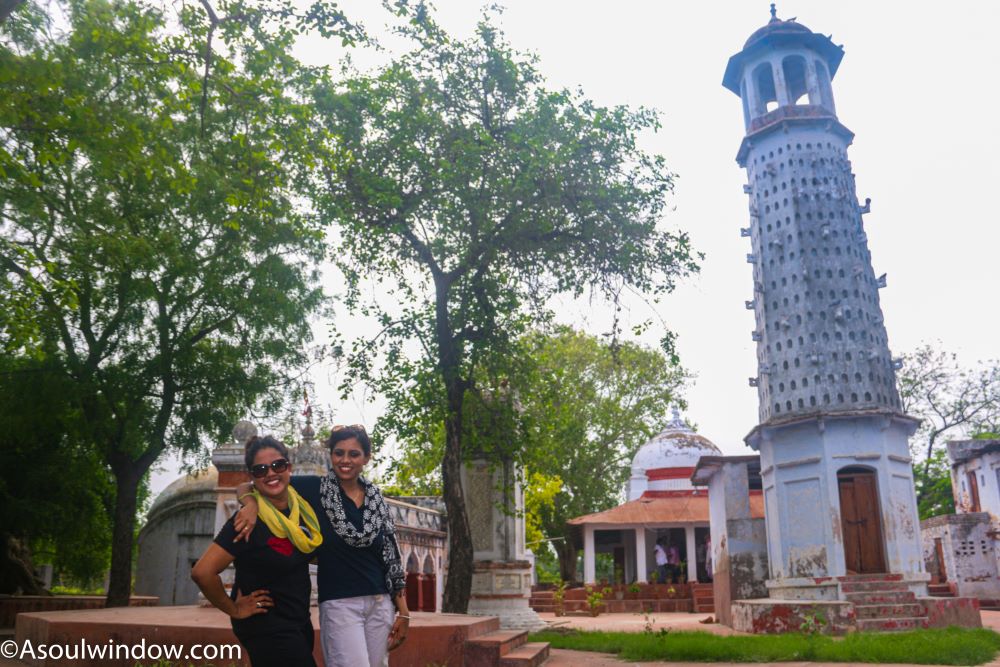 Who would have thought of another Maharashtra flourishing silently in Hindi heartland of India?  We also visited a place where they had Maharastrian style Deep Mala or Deepastambha at the Valmiki Ashram. I saw it at many places such as Wai near Mahabaleshwar and Panchgani in Maharashtra.
Mutiny of 1857 and Bithur
Bithoor, which is calm and spiritual today, has a gory past I had no idea about as a child interested more in those dives in holy Ganga. The Indian rebels had killed more than 300 British people during the Mutiny of 1857. Prior to the event, Britishers were hiding as they feared the Indians who wanted freedom from them.
During the famous Siege of Cawnpore, they were tricked into believing that the Indian side was looking for a truce. As a result, they emerged from their safe cocoons, only to be attacked by the rebels and killed.
This had a horrifying denouement. Under the leadership of Henry Havelock, not only did the British mercilessly killed and hanged more than 25,000 Indians, they also hanged their lifeless bodies to trees to set an example. So ruthless was their revenge that they spared none.
Soul Window Observations
Whether it was the innocent children or women or men, whether it was 5 years old or a 90-year-old person, they killed all without a modicum of humanity. The British occupied Bithoor from 1857 to 1947, mistreating people in their own homeland. The crimes of the past have still not been accounted for! This is one chapter of humanity, which the history will be ashamed of!
Bithoor Needs Promotion!
Bithoor which was grand, what with architectural gems dotting its landscape was visually stunning before the British destroyed its Hindu Temples, beautiful ghats and fort in order to suppress the Mutiny of 1857. It is a shame that to date Governments have neglected Bithoor.
Ideally, Bithur should be brought back to its old glory, by adding new memorials, museums, Temples and promoting them. This is my humble effort to catapult Bithoor again in the national consciousness through my detailed travelogues.
You can support the cause by just sharing this blog on social media. A Soul Window has been mentioned as one of the Top 100 travel blogs in India and Top Travel influencers in India several times.
Interesting Facts
Not many people, including the present residents of Kanpur, know that the most numbers of murders by British invaders during the Mutiny of 1857 which spread like wildfire across India, happened in Kanpur, Uttar Pradesh.
India, after all, was the only nation where so many courageous freedom fighters laid their lives without a second thought, with the sole aim of complete swaraj or absolute freedom from the British. We Indians owe our freedom to our forefathers!
Must Visit Places to see in Bithoor
There are many places to see in Bithoor. All the important points of attractions in Bithur are located in close proximity with each other. These tourist attractions of Bithoor are also favorite picnic spot for the local people.
Sita Maa Ki Rasoi
I also remember some-one showing me Sita Maa ki rasoi (kitchen of Maa Sita).
I saw few utensils and a belan aka rolling pin lying in a dilapidated building in a calm place surrounded by trees.
Sita Samadhi in Bithur
Sita Samadhi is located next to the Deepstambh in Valmiki Ashram. This was the place where Sita ji was swallowed by the earth. A square open pit marks the place. Several small temples such as Van Devi are located nearby. It is a must-see place in Bithur, Kanpur.
Valmiki Ghat, Bithoor
Valmiki Ghat is a major sightseeing attraction of Bithoor. The most important place to see in Bithoor, the holy Valmiki Ghat is a sacred place from the Ramayan era. This is where the most significant events from the Ramayan Yug unfolded. The greatest literature of the world Ramayan was composed here by Maharishi Valmiki ji.
When Sita Mata, left the Kingdom of Ayodhya, she lived ascetically in the Ashram in the care of sage Valmiki ji. Having renounced her throne and materialistic attachments, she lived a highly spiritual and self-disciplined life here.
In fact, Luv and Kush, the able sons of Shri Ram and Sita Mata were born here! Ayodhya, her kingdom, after all is just 240 kilometers and 5 hours away from Bithoor.
Bithur, which now is rows of ghats and temples interspersed with chaotic lanes and shops selling alien samosas was once a very calm and spiritual place. There used to be dense jungles in those days.
More than 100 crore people of India sleep and wake up with the teachings of Ramayan without even noticing it. I was therefore, crestfallen to see the Government apathy towards maintaining and celebrating the gem that Bithoor is.
Ideally there should have been a grand Hindu temple or a monument commemorating the events from Ramayan. But I see nothing of that sort except rows of modest temples.
Valmiki Ashram, Bithur
Valmiki Ashram is where both Luv and Kush received their education personally from Maharishi Valmiki. The Hindu devotees believe that the steps located in Valmiki Ashram are the steps to heaven. You can visit the many chambers located here. Lakhs of devotees visit here every year.
Interesting Facts
Did you know that Ramayan was written in Valmiki Ghat in Bithoor,Kanpur? The first poet of the world was Maharishi Valmiki ji, also known as Ādi Kavi, the first poet. He wrote the revered 4,80,002 words of the Hindu epic Ramayan on the pious soil of Bithoor. Ramayan is 4 times longer than the Greek Iliad.
Stairs to Heaven
There is a temple near Valmiki Ashram which has many steps. It is also known as stair to heaven. It is a must visit place in Bithoor Kanpur.
Patthar Ghat – Place to see
Do not forget to pay your respect at the much-visited Shiv Mandir. Built of a special 'Kasaauti' stone aka philosopher's stone, the Shivling in this Hindu temple is one of its kinds. It is said that the size of the Shivling here keeps changing. I am not sure but I must have seen that floating stone phenomenon in my childhood here.
The beautiful Patthar Ghat, built in red stone is a destination in itself. I kept my eyes peeled for the hidden art and architecture such as the Patthar Ghat at every during my multiple visits to Bithur in Kanpur. Tikait Rai, the then Minister of Avadh, has been credited with laying the foundation stone of the Patthar Ghat.
Dhruv Teela
Arguably one of the most famous places to see in Bithur, no boatman will move ahead without directing your attention towards the Dhruv Teela. That is the memory I retain from my childhood trip to Bithoor as well. Hindus firmly believe that Dhruv penanced, standing on one foot, on the same holy land of Bithur and thus was successful in pleasing Lord Brahma.
Satisfied, Brahma ji appeared before Dhruv and granted him a divine power to shine bright as a star till eternity. The events took place in sacred Dhruv Teela in Bithoor. Dhruv was the son of emperor Uttanpad. Hindu History is full of such interesting events.
Brahmavart Ghat
Did you know that the word Bithoor is a simpler version of Brahmavart? This holy ghat which was earlier known as Utpalaranya Forest is associated with Brahma ji.
Post a ritualistic bath, the Hindus queue up to worship the holy Khadau or wooden slippers. These are said to be the footprints of Lord Brahma. Though I have no memory of him, but I can recall my grandfather wearing a khadau. The last time I saw it was in an unlikely place, i.e., the tallest Shivlinga in Ziro, Arunachal Pradesh.
One of the most famous features of the Brahmavart Ghat is a nail of horse shoe lodged in the steps. It is said that it belongs to the horse of Brahma ji, imprinted here while proceeding for the sacred Ashwamedha Yagya. Needless to say, it the most important place to visit in Bithoor. It is also the main ghat of all the ghats located in Bithur.
The world has very few temples devoted to Brahma ji. I saw Brahma Temple in Pushkar which is always vibrant with the queues of devotees. I saw another Temple for Brahma ji in Brahmavart Ghat.
You will be surprised to know that Kanpur has 2 temples devoted to Brahma ji viz.
Brahmeshwar Mahadev Mandir
Hindus believe that Brahma ji established a Shivlingam in Brahmeshwar Mahadev Mandir. To this date, devotees worship the holy Linga. This temple is located within the precincts of the holy Brahmavart Ghat.
The temple also has a knot which is known as the center of the Earth. It is made on a ground. You can ask a local pujari (priest) to show it to you. Chances are they will show it to you without asking. Like it happened with us. This is one of the most important places for sightseeing in Bithoor.
Brahmakuti Mandir
You can see a rare sculpture devoted to Brahma ji in the Brahmakuti Mandir. It is located on the Kanpur Road. There are many such offbeat places in the lesser-known Bithoor.
Interesting Facts
As per the Hindu beliefs, Brahma ji, the creator of world, started making the human race after the Ashwamedha Yajna, right at Brahmavart Ghat in Bithur, Kanpur! His first creations were Manu and Shatarupa. This makes the Brahmavart Ghat one the most pious ghats in not just Bithur but entire India.
Siddhidham Ashram
Taken care of by Sudhanshu Ji Maharaj, the Siddhidham Ashram also called as Sudhanshu ji Maharaj Ashram ispopular withHindu devotees for the impressive replica of Kailash Parbat. I have been to the original Kailash Parbat during the Kailash Mansarovar Yatra in Tibet. It was a life changing journey for me. You can also visit a Radha Krishna Mandir in the Siddhidham Ashram.
Located on a sprawling area, the Ashram is a must visit when in Bithoor. Sudhanshu ji Maharaj also runs the famous Vishva Shanti Mission.
Also Read: Kailash Mansarovar Yatra
Nana Sahib Smarak
To commemorate the supreme sacrifice done by thousands of Indian freedom fighters, the 1857 Mutiny Memorial Park known as Nana Sahib Smarak was set up recently in Bithoor. The original fort, which was destroyed by British existed here once.
You can see the statues of great Indian warriors such as the brave-heart Rani Laxmi Bai from Jhansi, Nana Saheb, Tatya Tope and many other real heroes who selflessly participated in the Mutiny of 1857. In the museum located in the precincts of Nana Sahib Smarak, youcan seeancient coins, old postal stamps, artefacts from that era and royal orders.
ISKCON temple, Kanpur
The foreign funded ISKCON temple, Kanpur is also located in Bithur. Full form of ISKCON is International Society for Krishna Consciousness.
Interesting facts
Did you know that the famous Dhruv Tara (Dhruv Star) is named after Dhruv of Bithoor?
Cremation Ghat
Much like Manikarnika Ghat of Varanasi, Bithoor also has a cremation ghat where Hindus perform the last rites of their loved ones. Several pooja, ceremonies and sacred rituals take place in Bithoor throughout the day. People also come to the cremation ghat of Bithoor for Asthi Visarjan.
Boat Ride on Ganga River
What is there to do in Bithoor? We took a memorable boat ride on the tranquil Ganga River, just before the sun decided to bid adieu. Boat Ride is indeed the top thing to do in Bithoor. The duration of boat ride can be as long as you want I to be.
The boats of Bithoor are wooden, hand pedaled and had easily accommodated all of us together. Around 8-10 people can easily take a boat ride on the picturesque Ganga River in Bithoor.
Other places to see in Bithoor
There are many things to do and places to visit in Bithoor. Some of the other top must-see places of Bithoor are listed as below:
Lav Kush Mandir
Ram Janki Mandir
Sai Baba Mandir
Nana Sahab Smarak
Haridham Ashram
Jahangir Masjid
Excursions from Bithoor
There are many nearby places which you must visit. Some of the best places to see near Bithoor are mentioned as below:
Unnao
Sarnath
Varanasi
Lucknow
Ayodhya
Shravasti
Barabanki
Dhangadhi
Malihabad
Kushinagar
Naimisharanya
Frog temple of Oel
Dudhwa National Park
Piparahwa aka Kapilvastu
Nawabganj Bird Sanctuary
Jagannath Temple Kanpur
Bhitargaon Temple Kanpur
Festival of Bithoor
On the holy occasion of Makar Sankranti, Kartik Poornima and Maghi Poornima, lakhs of Hindu pilgrims head to Bithoor to participate in the mela (fair) and take a holy dip in Ganga River. The annual festivals of Diwali and Holi are also celebrated with fanfare in Bithoor every year.
Vegan and Vegetarian Food in Bithoor
Vegan and Vegetarian Food is easily available in Bithoor. From assorted chats and snacks such as samosa, aalu tikki, golgappa, dahi bada to full meals such as poori sabzi, thali etc is sold at every few steps in Bithoor.
Is it safe to visit Bithoor?
Yes, it is very safe to visit Bithoor. The holy pilgrimage site of Hindus that Bithoor is, it is constantly buzzing with religious activities. Both female and male travelers can feel very safe in Bithoor. At most, you might attract few stares or some vendors may nag you into buying things but that can be easily managed with a polite behavior.
I would advise you to not go swimming deep in Ganga. Some young people have drowned due to the depth. Not many realize that Ganga River doesn't have same depth every-where! While the shores can be shallow, the middle of the river can be very deep.
Souvenirs Shopping Guide to Bithoor
There are many shops outside temples and ghats which sell pooja samagri, fresh flowers and other things from dawn to dusk. Some shops of Bithoor are open even late in night. You may also buy some idols of Hindu Goddesses and Gods.
ATM in Bithoor
Bithoor has few ATMs but sometimes they might not have cash. It is better to withdraw some cash from the bigger city of nearby Kanpur, which has several ATMs at every few steps.
Photography Tips for Bithoor
You can get some stunning shots of Ganga River during sun rise and sun set. If you have good observation power, then you can easily click great portraits of Sadhu (holy men) and women in Bithoor. Ensure that you take permission before taking pictures of people.
I also noticed several beautifully painted doors and walls which makes for a lovely backdrop of a photo shoot. You can also take stunning pictures and videos of the sun set and sun rise in the scenic Bithoor.
Hire local tourist guide in Bithur
You can learn more about Bithoor if you hire local tourist guide. They can show you some hidden gems such as Maharashtrian structures such as Deep Mala in Bithoor.
Languages spoken in Bithoor
Located in the Hindi heartland, Hindi and Bhojpuri are the most spoken and understood languages in Bithoor. English is also spoken and understood by some people.
Toilet facility in Bithoor
There are many toilets located at various places in Bithoor.
Entry fee in Bithoor
The ghats and temples, which are the main places of interest in Bithoor are free to visit. Yes, you can take a free walking tour of ghats and lanes of Bithoor and not pay anything. There are many free things to do in Bithoor, which makes it such a low-cost budget destination.
Backpacking Budget Travel Tips for Bithoor
As I mentioned above, all the tourist places in Bithoor are free to visit. All the must-see sightseeing places of Bithoor can be easily visited on a low budget because there is no entry fee at any of the places to visit here.
After all, an inexpensive, pocket friendly destination like Bithoor is what a backpacker wishes for!
This also makes it top place to visit with family and kids.
Solo Trip Tips for Bithoor
Thanks to the robust public transport system which connects Bithoor with Kanpur, it is an easy place to see for solo travellers like me. The affordable hotels in Bithoor and Kanpur makes it easier for solo travellers.
Luxury travel Tips for Bithoor
While Bithoor doesn't have any luxury facilities, you will find many luxury services and products in Kanpur. Not many know that Kanpur is home to one of the richest industrialists of India.
Where to stay in Bithoor?
Bithoor has many low-cost accommodation options which also include Dharamshalas and guest houses. For more variety in lodges, hotels and resorts you can also explore options in Kanpur.
What to wear in Bithoor
Bithoor is a highly spiritual place, thus it is advised to dress respectfully in Bithoor. It becomes very cold in winter in Bithoor, which is why you should carry woolen clothes during Bithoor trip in winter. During Bithoor tour in summer, light cotton clothes suffice.
Timings of Bithoor
While most of the temples in Bithoor close after 8 p.m. to 9 p.m., the ghats of Bithoor can be visited 24 hours a day.
Duration of Visit in Bithoor
How many days to spend in Bithoor? Different people spend time differently in Bithoor.
What can I do in 1 day in Bithoor? Most people visit Bithoor as a day trip from Kanpur. You can visit all the major attractions of Bithoor within few hours from Kanpur.
What can I do in 2 days in Bithoor? I personally feel that a quaint and peaceful place like Bithoor deserves more time. Also, many Hindu devotees stay in Bithoor for many days as they take part in rituals and religious ceremonies.
Local Transport for sightseeing in Bithoor
I saw many autorickshaws and pedal rickshaws plying at most places of interest in Bithoor. It is easy to find a low-cost public transport in Bithoor.
Best Time to Visit Bithoor
This is a commonly asked question. All you wanted to know about weather conditions in Bithoor are discussed below in detail. Such information is not to be found in the guide books.
Summer
Bithoor is very hot in April, May and June since it is located in North India. Though you can visit it but avoid if you can. The temperature of Bithoor in summer is very high.
Monsoon
During Mid-June, July and sporadically in August, it rains heavily in Bithoor. This is also the time when weather of Bithoor is soothing.
Winter
Winter is the best time to visit Bithoor as it is much cooler. September is comfortable, neither hot not cold. From October you can feel a nip in the air. November is mildly cold. December and January are extreme cold months in Bithoor. February and March are pleasant to visit. Climate of Bithoor is nice during these months.
How to reach Bithoor?
Bithoor is an easy, quick and low-cost weekend destination from Kanpur and Lucknow.
By Air
Kanpur airport, which is located in Chakeri is just 44 kilometers and 1.5 hours away from Bithoor.
By Railways
Kanpur central is well connected to all major cities whether New Delhi, Kolkata, Chennai or Maharashtra (Pushpak Express – 12533, is popular). It is 23 kms and 1 hour drive away from Bithur. Railway station at Mohammadpur village, though not popular, is another option. Brahmavarta station was closed in the year 2005.
By Buses
Many buses ply to Bithoor from Kanpur. Just hop on one and save money while traveling. Some of the important bus stations of Kanpur are Azad Nagar Bus Station, ISBT Jhakarkatti, Fazalganj Bus Station and Chunniganj Bus Station.
By Road Trip
You can take a road trip from Kanpur and even Lucknow. The roads are in excellent condition. You can either self-drive or easily book a cab from Kanpur or Lucknow as per your movement in Uttar Pradesh. I have always found road trips the most convenient.
Conclusion: Why visit Bithoor?
Is Bithoor Kanpur worth a visit? In a nutshell, Bithoor is an unusual destination which reminds one of other spiritual places of U.P. such as Chitrakoot, Naimishairanya, Ayodhya, Mathura and Varanasi.
The immense historical, spiritual and religious significance of Bithoor is unparalleled. And yet it doesn't get as much promotion as other such holy places in India.
To summarize, Bithoor is one of the most offbeat and yet highly significant spiritual places to visit in Uttar Pradesh.
The view from my Soul Window is blessed by the God!
Pin this blog to save the blog and plan a trip later!
Related Blogs on Uttar Pradesh
Below are the comprehensive travel guides on other attractions of Uttar Pradesh. Most of these places to visit are revered Hindu pilgrimage sites.
Govardhan Parikrama Sightseeing
Mathura Sightseeing
Shri Krishna Janmbhoomi Sightseeing
Shri Radha Rani Mandir Sightseeing
Vrindavan Sightseeing
Shri Ram Janmbhoomi Mandir Sightseeing
Piparahwa Sightseeing
Kushinagar Sightseeing
Shravasti Sightseeing
Top Travel Blogger from India