Last Updated on June 16, 2019 by
AMARI PATTAYA THAILAND – BEST LUXURY RESORT AND SPA
I recently visited Pattaya again! The proximity to Bangkok, the capital of Thailand
MY STAY AT AMARI PATTAYA THAILAND
The fun vibes, the plethora of vegetarian Indian food options and the Pattaya beach make it a wonderful destination.  The fact that many Indian families visit Pattaya throughout the year as well is comforting.
I stayed at Amari Pattaya, the beachfront resort with all the goodness of a 5 star luxury property! My stay at Amari Pattaya was so good that I didn't want to leave the hotel in-spite of a vibrant city life that awaited me.
MY SECOND SOLO INTERNATIONAL TRIP – PATTAYA, THAILAND!
It was my second solo international trip (My first solo international was to Australia few years ago!) was but I, in fact missed company, especially because I had fun loving friends to enjoy Pattaya with on my last trip.  That said, I found new friends in the wonderful staff of Amari Pattaya, who delighted me with their unpretentious service and very friendly behavior!
I also vouch for the ultimate luxury they served to me at Amari Pattaya during my stay. The minimalist and classy decor, the alertness of staff, the amazing vegetarian/vegan and Indian options in food and proximity to most local attractions have delighted me beyond my expectations.
ROOMS OF AMARI PATTAYA THAILAND
Everyone who has stayed here has raved of the breathtaking views of Pattaya Beach from many of the rooms of Amari Pattaya Thailand. The view from my room had me glued to my sofa as well. I loved staring at the changing hues of the Pattaya skyline from the comfort of my luxurious room. The views in the evening were spectacular. The sunset views from the room will make you want to drop everything and soak in the beauty.
The view of the Pattaya beach from the Executive Club Ocean View Room is the most breathtaking. I will let this Instagram image do the talking!
My room was well appointed. I loved that they had placed 4 glass bottles of filtered and sealed water instead of the plastic junk we have become so accustomed to.
The TV was huge and so was the sense of space in the room. My room was very spacious, had ample space to keep the luggage.  My favourite place was the private little balcony which offered unhindered views of the Pattaya beach. I would often sit here in silence during the evening and night! It had almost become a ritual for me.
The décor of the room was minimalist and yet luxurious. Pastel colors dominated the theme. The fresh flowers in the room and the washroom added to the experience.
Some rooms at Amari Pattaya are duplex too, which is great for family and friends. These rooms even have a well appointed kitchen and a dining table and sofa setting. What's more? Extra bed is provided in the room on request.
This is ultimate 5 star luxury in true sense.
My room number was 1804, in case you want to repeat the experience.
WASHROOMS IN THE ROOMS OF AMARI PATTAYA THAILAND
The washroom in my room was huge, had compartments for the shower, bathtub and the W.C. area. These were separated by glass panels and had separate lighting. There were two wash basins, adjacent to each other.
The W.C. area even had blinds, which offered views of the beach, in case you can't have enough of the views. They even had space to keep mobile phones etc. And they had a toilet jet spray with W.C. everywhere in the hotel. This is great for the Indians and other Asians who are more accustomed to the toilet jet spray.
The shower area had hot shower at all times. And the force of water was just perfect! Needless to say, the quality of the shampoo, conditioner, body gel and soap etc was excellent!
EXECUTIVE CLUB FLOOR – AMARI PATTAYA THAILAND
Since I stayed at one of their best rooms at 18th floor, I had access to their fabulous Executive Club Lounge which has many benefits such as a quite breakfast with dining options different from their coffee shop, complimentary snacks and drinks all day and even private check in and check out. The best part: Many of their staff members remember my name even after I meet them after a day. That's some great attention to detail.
"It was wonderful to return to hotel as late as 11:00 p.m. and there was always someone to serve me a complimentary hot chocolate or coffee at the lounge with a smile."
I particularly loved their evening service which served assorted snacks and beverages. You can choose from the delicious mezze platter, salads, fruits, canapés, wines, whiskey, tea, coffee, juices etc.
"When the staff realized that I am a vegetarian, they made a special vegetarian spring roll, soup and sandwich for me. What's not to love!"
And all this is complimentary!
Just look at all the food pictures from the lounge section. Drooling is not optional. 
SUITES OF AMARI PATTAYA THAILAND
The hotel has two separate buildings,viz. 1) Amari Tower and 2) Amari Suites (newly built). The property is great for Indian families or for any family for that matter. The Uber luxurious suites (please see pictures) have direct access to the swimming pool. So that parents can watch over the kids from their ground floor balcony as they play in the outdoors.
The newly built suites are often booked by friends and families together. Not only can friends split cost but also enjoy staying together. The suites at Amari Pattaya are super luxurious, well appointed and have two bathrooms apart from the large dining area with kitchen.
GREAT LOCATION – AMARI PATTAYA THAILAND
I could not have asked for a better location. Amari Pattaya is very close to all the clubs, pubs, cafes and bars which make Pattaya Beach vibrant. It takes around 45 minutes to walk from the property on foot. I did that on the first day as I loved walking past the food and beverage outlets and the grocery stores. On return I switched sides and walked by the beach side. You can take the very cool songthaew for as less as 20 Thai Baht from the Amari Pattaya to the walking street. Alternatively, you can also hire a private cab or the bike taxis located every few steps in Pattaya.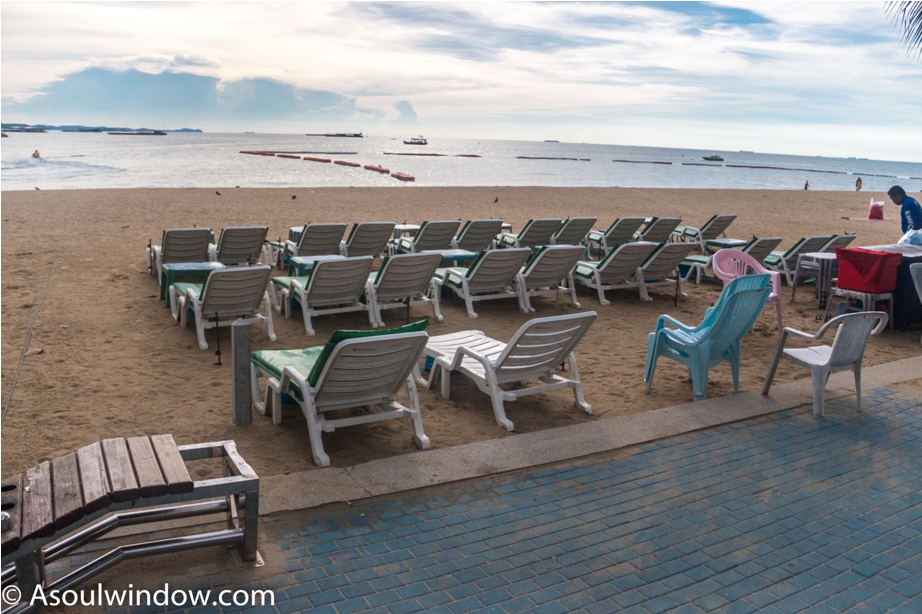 Amari Pattaya is also close to many other attractions of Pattaya. The huge Terminal 21 shopping mall is also at 10 minutes walking distance from Amari Pattaya. There are many shops and supermarkets from where you can pick grocery or fresh fruits at reasonable cost.
WEDDING DESTINATION – AMARI PATTAYA, THAILAND
Needless to say, that Thailand off late has become a preferred choice of Indians when it comes to destination wedding. Many Indians zero in on Pattaya as their wedding destination. Amari Pattaya has successfully hosted many Indian weddings in the past. The huge lawns, well appointed ballrooms and banquets and Indian chefs toiling in the kitchen make Amari Pattaya a perfect wedding destination.
KID FRIENDLY – AMARI PATTAYA THAILAND
It is not every-day that I see a resort making genuine efforts to make their property kid friendly. There is a lot for the kids at Amari Pattaya.
There is a water park with fun rides in the pool area, a kid zone with many activities to engage kids meaningfully, a special Kids check in at the front office, a spa exclusively for kids (Yes, it exists!) and even bunk beds in some rooms which can accommodate up-to 2 adults and 2 kids.
What's more? They even have a separate Kids' buffet for the breakfast in their restaurant called Food Gallery.
FOOD AT AMARI PATTAYA THAILAND
Amari Pattaya is great for not only business but also for leisure travelers and families. I saw so many Indians families staying here which explains why they have delicious poha, Idli, Vada, choley, upma and sambhar on their lavish breakfast buffet.
They even have Paneer (cottage cheese) dishes in the a la carte menu. The Indian executive chef from Chennai also served me my life's best Phad Thai. It was pure vegetarian as I requested.
When sampling local Thai dishes at Amari Pattaya, you can rest assured that the dishes have zero egg, no sea food, no powdered fish and no hidden fish sauce. The chefs at Amari Pattaya understand what a vegetarian or vegan meal is.
No wonder, may Indians choose to stay here. Food is a very important part of travels. Indians have many dietary restrictions. These days, many people from West and even the 'meat heavy' Arabic nations are turning vegans for ethical and environmental reasons. You can enjoy the lavish buffets or the many signature dishes from the a la carte menu without worrying if it violates your food choices.
IMPECCABLE SERVICE OF AMARI PATTAYA, THAILAND
What makes the stay at Amari Pattaya meaningful is the wonderful staff which delights you at every step with their proactive and anticipatory services.  The staff at Amari Pattaya makes a genuine effort to listen to you. No question is big or small for them. And no request is denied ever.
Being a hotel management student myself, I understand how important it is for the guests to be able to interact with a friendly and receptive staff. Even though I stayed for just a few days, many of the staff members remembered my name. Not that I am craving for attention, but when someone whom you met just a few days ago, remembers your name, it does feel good.
HOW TO BOOK A ROOM AT AMARI PATTAYA, THAILAND
You can click this link for booking a room and also for more information on Amari Pattaya, Thailand.
The view from my #SoulWindow is the epitome of luxury!
Spread the love, share this blog
Please follow the hashtag #ASoulWindow on Instagram, Twitter and Facebook for my free tips, pictures, videos and information on all things travel!
Got any question/comments, ask in the comment section below so that it can benefit other readers.
Email me for collaboration: [email protected]
Be a part of my journey on social media. The travel content I create there is different from this blog.
Pls subscribe/follow/like:
WARNING : COPYRIGHT TO ALL THE CONTENT SHARED HERE REMAINS WITH ME. THE IMAGES AND TEXT IN THIS BLOG ARE BY ME UNLESS MENTIONED OTHERWISE. YOU CAN NOT JUST LIFT THE CONTENT AND USE IT WITHOUT MY PERMISSION. STRICT LEGAL ACTION WILL BE TAKEN IF CONTENT IS STOLEN. YES, I AM SERIOUS.
Click below image to follow me on Instagram for free travel tips and content:
MORE PICTURES OF AMARI PATTAYA, THAILAND