A trip with my parents to Shirdi
Last year, when my parents were visiting me in Mumbai for the first time, I had planned a comprehensive itinerary for them. With trips to popular destinations around, I made sure that they get to visit some of the best places on the west coast apart from experiencing the overwhelming lifestyle of the metro. Just before they left, they wanted to visit Shirdi, a destination that was on their wishlist for a long time but never had an opportunity. We managed to avail the cheapest Shirdi taxi package which would include our travel and local tours in and around Shirdi.
Drive to Shirdi
Shirdi lies in the heart of Maharashtra, about 240 KM from Mumbai city. We started before daybreak and took the Mumbai – Pune Expressway until Pune and from there followed NH 60. It took us nearly five hours to reach, except for a couple of short breaks for breakfast and tea. By the time we crossed Pune, the sky opened into a bright day. Being September, it was neither warm nor very rainy. The monsoon had left the weather cool and pleasant and we enjoyed driving through the countryside of Maharashtra. We passed quaint towns and villages like Asangaon and Vihigaon. We made a quick stop at the beautiful Vihi Falls, sitting within a lush green enclave. The landscape from this point was completely different. The hilly terrain gave way to dusty, red trails and sparse villages. Soon, we left the highway and joined the Sangamner- Kopargaon Road, followed by country roads, flanked by sugarcane fields and light vegetation. Beyond the hills and coasts, we discovered a new aspect of Maharashtra's landscape in Shirdi.
Finally, around noon, we reached Shirdi and headed straight to Sai Baba Sansthan Temple. Fortunately, we were right on time for the MadhyanAarti, held every day at noon.
The temple at a glance
From the outside, the temple was a simple structure, dedicated to the godly saint. But inside it was warm and vibrant and well-ornate. The ceilings, walls, and pillars of the main shrine were covered in gold leaf. In the center of the sanctum, sat the main altar, decorated with flowers, where a small stone idol of Sai Baba rested in peace. A grand chandelier hung right above. Visitors were not allowed to touch the altar but were close enough to get a proper look. In front of the shrine in an enclosed section, the Samadhi (burial) of Sai Baba was kept, carved in marble and covered with the royal garb.
Although it was a weekday, we still had to wait in a long queue before we could make our way for the darshan. Looking at the crowd made me realize how sacred this place was; there were at least a thousand people at a time, each trying to get glimpse and blessing of the historic saint. Such, as we wonder, is the divine attraction, or perhaps, just faith.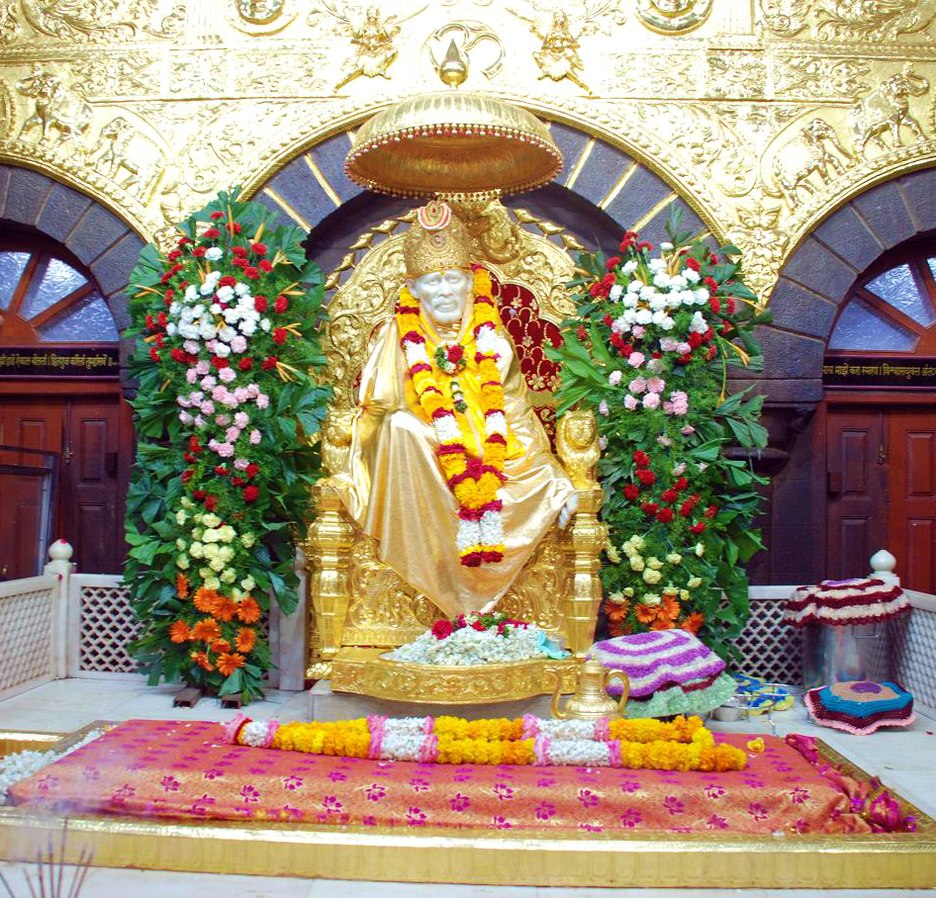 Tour of the premise
After we managed to get darshan and watch the aarti, we went around the temple complex for a detailed tour. The temple albeit is the main attraction of the Shirdi and defines everything about the town. The premise spread across a huge area of 200 sq. meters. We stopped by Gurusthan, a site maintained as the 'seat of Sai Baba' under a Neem tree. It is said that it was the first place where the saint was first seen. He would preach and share his teachings with followers sitting under the shade of the Neem tree. Even the tree is said to have survived all these years. A little further from the Gurusthan was Dhuni or the sacred fire. Legends are that this fire was used by Sai Baba to cook and has never died ever since.
We resorted to a small hotel near the temple to rest for a couple of hours and left for our sightseeing tour. Most of the significant sites of Shirdi are centered on Sai Baba and were close to each other. A visit to the Sai Heritage Village revealed details about the life and works of the legendary saint, where he spent most of his life, his travels, and his legends. From there we went to the Dixit Wada Museum, which preserved personal belongings of Sai Baba and some rare photographs. We also stopped by LendiBaug and Chavadi. The whole experience becomes very convenient when you book a top-rated cab from Pune to Shirdi.
At the end of the day, around late evening, we stopped by the temple one more time to see the night aarti. They say, this particular prayer session is special and so it was.
…
While Shirdi is a significant pilgrimage destination, we saw it as exploring a new place and experience the divine vibes of the holy town. It was also my first trip to Shirdi and without my parents' insistence, I would have never visited.
Disclaimer: This is a guest post. I have personally not been to Shirdi.
Please follow the hashtag #ASoulWindow on Instagram, Twitter and Facebook for my free tips, pictures, videos and information on all things travel!
Got any question/comments, ask in the comment section below so that it can benefit other readers.
Email me for collaboration: 21abhinav21@gmail.com
Be a part of my journey on social media. The travel content I create there is different from this blog.
Pls subscribe/follow/like:
WARNING : COPYRIGHT TO ALL THE CONTENT SHARED HERE REMAINS WITH ME. THE IMAGES AND TEXT IN THIS BLOG ARE BY ME UNLESS MENTIONED OTHERWISE. YOU CAN NOT JUST LIFT THE CONTENT AND USE IT WITHOUT MY PERMISSION. STRICT LEGAL ACTION WILL BE TAKEN IF CONTENT IS STOLEN. YES, I AM SERIOUS.